Treadmill is one among the common types of equipment used by gym enthusiasts and health buffs to perform cardiovascular exercise and leg power.  Most of the treadmills are powered by electricity and you can set them to a speed depending on your preferences. But today, we are talking about a treadmill which is powered simply by the user's motion.
Yes, you guessed it right! we are talking about the Woodway Curve a human-powered treadmill which has taken indoor speed and fitness training to a whole new level. It has no motor and no buttons to press. The curve of the treadmill lets it run without electricity, making the user exert effort and energy every time the user is doing running exercises or even walking. It provides a more intense exercise experience as the curve shape does not only targets the legs of the user but also the entire muscles of the hamstrings.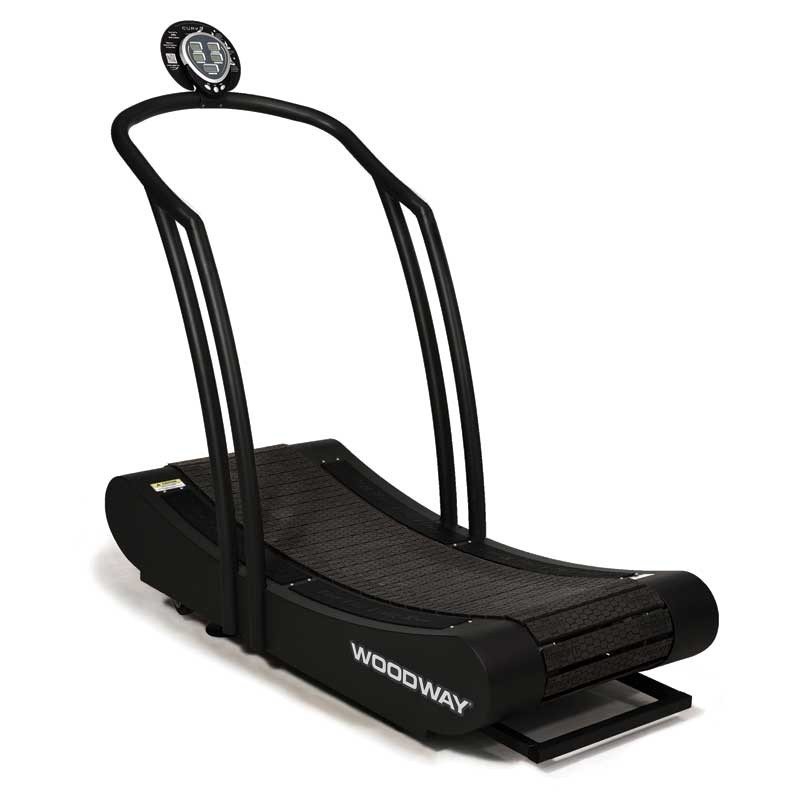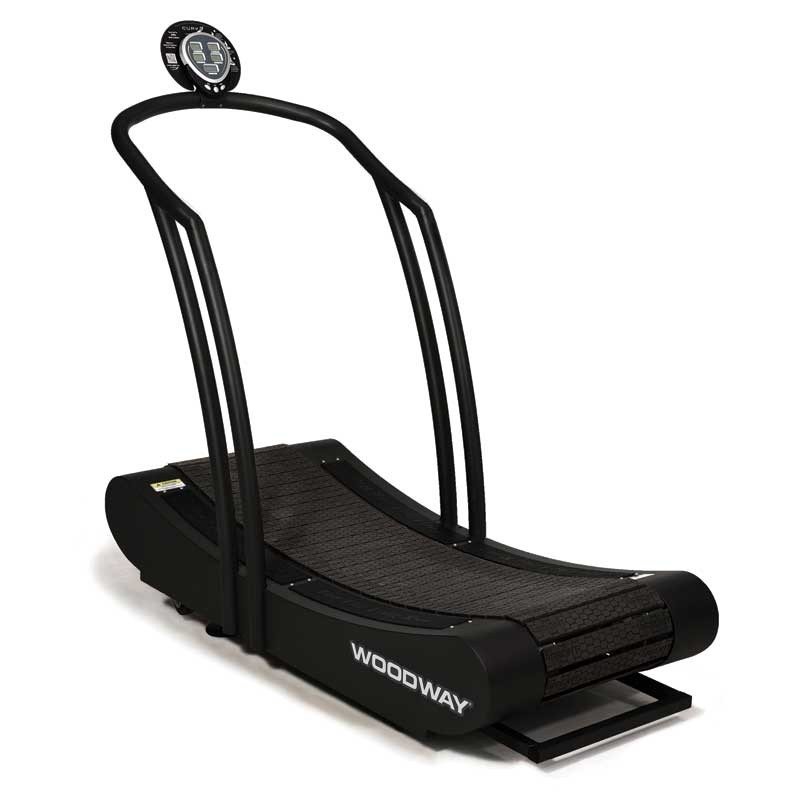 Woodway Curve creators claim that it burns 30% more calories than ordinary treadmills. The speed of this treadmill solely depends on the user's leg power. The treadmill floor is made of rubber slat gliding on 112 ball bearings with virtually no friction which makes it a zero-electricity-powered equipment. It has a rubber surface which is purposely installed to absorb harmful impact shock with every step for a more powerful toe-off and to avoid possible injuries. This treadmill is very popular among athletes and is also used in many fitness clubs and medical rehabilitation centers.


Pros
The non-motorized feature makes it a noise free running machine.
It does not requires electricity to operate.
It has thick shock absorbing cushion providing provide safe, responsive cushioning for knees, back and joints.
A battery powered monitor which keeps track of your workout data and displays information such as: time elapsed, speed, distance, calories burned and heart rate.
Wireless heart rate monitoring option to monitor your heart rate.
It comes with USB option for saving or exporting your daily workout data.
Maintenance free as here you don't have a motor to replace, you'll just have to pay for lubricants for the bearings of the treadmill.
High Weight Capacity.
It comes with a 5 years warranty on parts, 2 years warranty on electronics and a year warranty on labor.
Cons
Quite expensive.
The treadmill has a small running area of dimensions 17" width and 56" length which may create problem for people with longer strides.
It has no motor so it is operated manually by user's leg power. It does not creates any sound which can disturb your neighbors while working out. It will also provide you with an intensive workout experience since here you will be playing the role of motor as its belt movement is directly effected by the effort you exert.
No electricity used means contributing to the environment. It is used mechanically, so no electricity is involved thereby totally promoting health and wellness.
Woodway Curve is a solid heavy duty treadmill which does not requires time to time maintenance. It can serve up to  150,000 miles before its track and deck require any maintenance or replacement. You might have to lubricate the treadmill from time to time but that's not a very hard task at all.
This amazing simple and extremely effective treadmill comes with wireless heart rate monitoring option to monitor heart rate during workout session.
Curve Shaped Floor made of Rubber
The curve shape of the floor allows the user to exert more effort causing the burning of more calories. It makes you move the entire muscles of your body causing it to become a more extensive exercise.
The rubberized floor is a safety feature of the treadmill which prevents injuries. It also forces the user to have the proper posture in running. Other testimonies say that having the correct posture makes the exercise more effective.
Woodway Curve is quite famous for its high weight capacity, it allows a maximum weight of 400 pounds for speed over 4.0 mph and 800 pounds weight below 4.0 mph for lower intensity workout.
Benefits
Using Woodway Curve you can burn more calories other than running outdoors. You can use it indoors because it works quietly without creating any noise and it would not disturb a tired sleeping husband, baby or even your neighbors.
Moreover maintaining this equipment in your own homes is less expensive rather having a motorized treadmill which will cost you a lot when its parts or motor needs to be replaced. The fact that its eco-friendly means that it does not deviate on your advocacy of promoting health and wellness.
The concern that you might be able to workout less on this human powered machine is not a problem as it burns 30% more calories as compared to working on an ordinary treadmills. It can also correct your posture in running and improve your speed. This running machine is intended to those who are looking for a more challenging workout. The workout depends on your effort and it will just adjust to the speed that you can keep up with.

Final Verdict: Woodway Curve Treadmill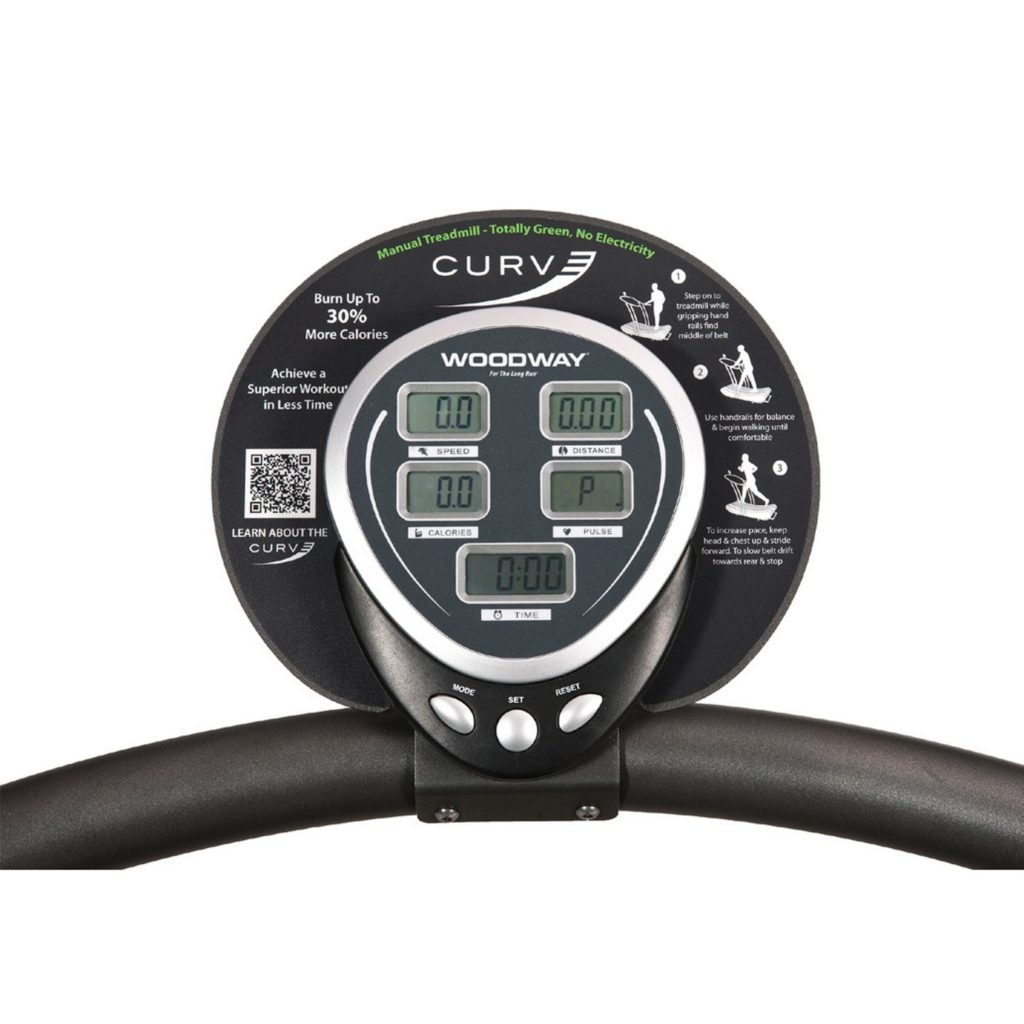 If you are a person promoting health and wellness, looking to improve your speed and pace in running and have a better workout, this is the perfect training equipment for you. It targets the muscles of hamstrings and glutes much harder than regular treadmills.
Being completely powered by the user it does not requires electricity thereby saving huge amount on your electricity bills, leading to a lower life-time cost of ownership. This Curve treadmill by Woodway should definitely be tried by health and wellness enthusiasts to promote green living and see for themselves the great effect on their body that they can benefit from this equipment.
What We Like?
It is totally Eco-friendly equipment.
It doesn't consume electricity.
Noise Free.
Maintenance Free.
Thick Shock Absorbing Cushioning.
Heart Rate Monitoring.
High Weight Capacity.
What We Don't like?
Costly Equipment.
Small running area.
Conclusion
The Woodway Curve treadmill is a very outstanding innovation of the conventional treadmill. This product is specially designed to help the health and wellness buffs and enthusiasts out there to have a better workout and revolutionized green standard of lifestyle living. It might be quite expensive but offers many advantages with very minimum service costs over the lifetime as compared to a traditional motorized treadmill.
The fact that it is non-motorized treadmill, it works quietly and does not consumes electricity. While considering the long run it will save huge amount on electricity bills as well as servicing costs. For those who have a good budget and are looking for heavy duty machine to provide them with a great workout, this is the best choice!.


Related Treadmills Review: 
Summary
Reviewer
Review Date
Reviewed Item
Author Rating