*TreadmillReviewGuru helps consumers find the best home fitness products. When you buy a product we recommend, we may earn a commission.
Last Updated: May 6, 2023
Struggling to find the perfect gift for the runner in your life? We're here to help! Running might seem like it requires little to no equipment, but there is plenty of gear that makes ideal gifts for any runner would appreciate. From treadmills to running shoes, and even protein powder and socks, we've created this list of best gifts for runners with various budgets in mind. Check out our top recommendations as well as other gift ideas and our runner gift guide below.
Why You Should Trust Us
Our team consists of fitness instructors and professionals who spend a lot of time running on treadmills and using various products. Our reviewers have run races and have experience using the products below. You can trust that we're recommending equipment and products that any runner will find beneficial because we've used them ourselves.
Our Picks For The Best Gifts For Runners Of 2023
Sneak Peek of the Best Treadmills:
Best Gifts For Runners
Check out our best gifts for runners.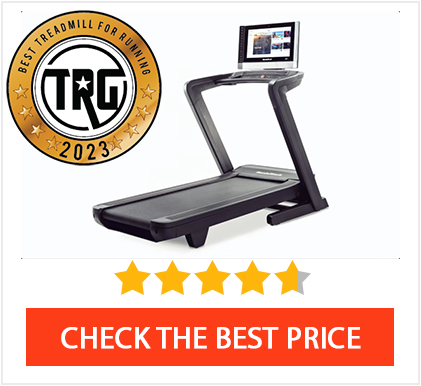 We are Treadmill Review Guru so, of course, we're going to recommend a treadmill (or a few). Maybe the runner in your life lives in a cold-weather climate and needs to train indoors. Maybe this is also a gift for you. Whatever the reason for needing a treadmill, this is our top recommendation.
You can find the NordicTrack 2450 on our list of the best treadmills as the best treadmill for runners. The 2450 has everything a runner needs and could want. The deck is large to offer enough room for any running stride and soft to lessen the impact on the joints. The motor is quiet and responsive, and at 3.6 HP it can handle miles and miles of use. The deck also inclines up to 15% and declines to -3% so it can mimic running outside. The decline might not seem like much, but it can make all the difference, especially for runners. Training on a decline works your anterior muscles while inclining works your posterior muscles. You'll definitely have well-balanced training options on the 2450.
Speaking of training options, you have the choice to subscribe to iFit on this NordicTrack treadmill. The 2450 has a 22" touch screen that is enabled to display iFit. iFit is a complete training platform that has thousands of classes led by instructors who are professional runners themselves. They guide you through indoor and outdoor workouts in studios and remote locations all over the world. iFit is very interactive and we love the outdoor classes, however, if the runner in your life prefers just hopping on the deck and running, there are free onboard workouts available as well.
Whether it is just to beat the heat or frigid temperatures or to train for a marathon, the NordicTrack 2450 is an excellent treadmill and would make the perfect gift for a runner.
Learn more about the NordicTrack 2450 Treadmill at our review.
Pros
The cushioning is very forgiving so you won't feel discomfort in your joints.
The 3.6 HP motor is ideal for all levels of training, including long-distance running.
The incline and decline range helps to mimic running outside.
iFit is an optional guided training platform to guide you through challenging workouts.
Cons
This treadmill requires wifi in order to use iFit.
The 22" touch screen can shake slightly when running at high speeds.
22" Touch Screen
Free iFit Trial For First Month
AutoAdjust (with a subscription to iFit)
Bluetooth Headphone Connectivity
Workout Fan
Two Removable Cupholders
Deck Folds Up
Motor: 3.6 CHP
Footprint: 81" L x 39" W x 59" H
Running Surface: 22" x 60"
Treadmill Weight: 353 lbs (In Box)
Weight Capacity: 300 lbs
Speed: 0-12 mph
15% Incline
-3% Decline
Warranty: 10-years for the frame, 2-years for parts, and 1-year for labor
Whether you're a casual runner or ultra-marathoner, the NordicTrack 2450 is a solid option. Plus, the motor is quiet to be used in most spaces and the deck folds up to save space!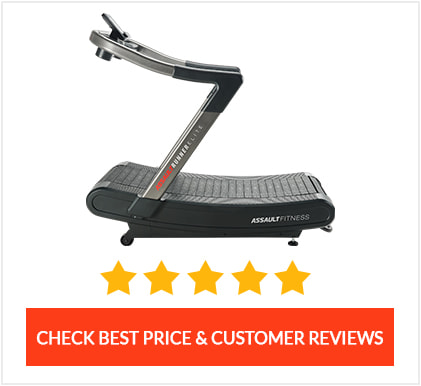 For the ultimate running experience, the AssaultRunner Elite is where it's at! The AssaultRunner Elite is ideal for running. To start, the curved deck has a rubber, slat belt that is designed to be incredibly durable. Assault Fitness backs it with a lifetime warranty.
The curved belt also helps to improve running mechanics. The curved design encourages runners to be positioned toward the middle of the deck. Running at this placement on the AssaultRunner Elite allows for a healthy midfoot strike. Running on the curved deck also engages more muscles.
The AssaultRunner Elite doesn't require electricity or wifi, so you can use it pretty much anywhere. Instead of the belt being controlled by a motor, it is controlled by your feet. So, as fast as you can run is as fast as the belt will move. The AssaultRunner Elite is commonly found in homes and training facilities around the world. It's rated for home and commercial use. Professional runners and athletes use the AssaultRunner Elite because of its durability and well-built construction.
Head over to our full review to check out more about the AssaultRunner Elite Treadmill.
Pros
This treadmill handles a lot of running and is designed to improve running form.
The belt is controlled by your feet so it will move as fast as you can, making it perfect for high-speed use.
The monitor is battery-powered and doesn't require electricity.
It is excellent for runners of all levels.
Cons
The manual belt can take some getting used to if you're a beginner.
The belt is slightly less cushioned than electric treadmills.
Battery-Powered LCD Display
Onboard Workout Programs
Curved, Manual Belt
62 Individual Rubber Slats
2 Cupholders
Non-Folding Frame
Transportation Wheels and Handle
Footprint: 70" L x 32" W x 64" H
Running surface: 17" x 65"
Treadmill Weight: 280 lbs
Weight capacity: 400 lbs
Speed: Unlimited
No Incline
Warranty: lifetime warranty for the belt, 10-years for the frame, 3-years for non-wear parts, and 1-year for parts and labor
If you're looking to help the runner in your life take their training to the next level, then this is the perfect gift. Its large weight capacity and impressive construction make this a highly, durable running tool.

A final treadmill recommendation that's a great gift for a runner, is the Sole F85. This treadmill is solid, stable, and powerful, plus it folds up. The Sole F85 is an excellent all-around treadmill and it's rated on our best treadmill list as the best treadmill for heavy runners. With a 400 lb weight capacity, runners of all sizes can expect to get a lot of use out of this one.
The Sole F85 Treadmill is one of our top-recommended because it is highly durable and doesn't require a subscription. Entertainment and training programs are important factors on treadmills, especially for runners spending a lot of time on them. The F85 comes with plenty of onboard workouts to choose from. Some are even customizable so you can create your own training session. There are also preloaded apps like Netflix to stream from. This means that while running you can stay entertained by keeping up with your favorite show.
The running surface is large at 22" x 60" and firm underfoot. There is cushioning in the deck to absorb the impact while running, but it feels more similar to training outside, making it great for those who are training for an outdoor event.
The 4.0 HP motor is a workhorse that is ready to handle everything you throw at it. Plus, the motor is quiet and adjusts evenly. The 12 mph max speed and 15% incline offer plenty of training options, and the deck folds up to save space when you're finished. The Sole F85 Treadmill checks all the right boxes.
Check out our full written review of the Sole F85 Treadmill.
Pros
The large weight capacity makes this treadmill durable and capable of handling users of all sizes.
The 4.0 HP motor is quiet and hearty, everything you could want for running miles and miles.
The touch screen has preprogrammed workouts and preloaded third-party apps.
The deck is large for all levels of use and folds up to save space.
Cons
The cushioning isn't as forgiving as other treadmills but it still offers plenty of shock absorption.
The fan output is weak.
10" Touch Screen
Preprogrammed Workouts
Preloaded Apps: Netflix, Youtube, ESPN, and News Outlets
Workout Fan
Two Cupholders
Storage Tray
Device Rack
Speakers
Folding Deck
Motor: 4.0 HP
Footprint: 82" L x 37" W x 66" H
Running surface: 22" x 60"
Treadmill Weight: 308 lbs
Weight capacity: 400 lbs
Speed: 0-12 mph
Incline Range: 15%
Warranty: Lifetime for the frame, motor, and deck, 5-years for electronics and parts, and 2-years for labor
The Sole F85 Treadmill makes the perfect gift for any runner. We love how durable the design is, yet it's functional and easy to use.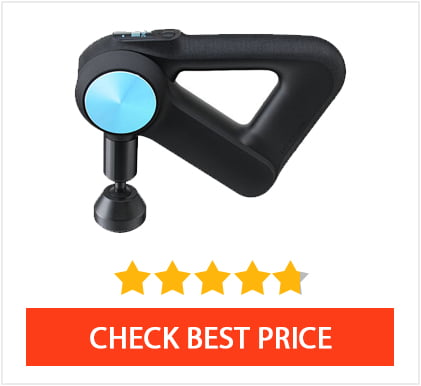 Recovery is an important factor to consider as a runner. When you're taxing your muscles from pounding the pavement, you want to be sure that you're giving your body the appropriate time and tools to repair before your next run. That's where the Theragun Pro comes in.
The Theragun Pro is arguably the best massage gun on the market, and definitely the most powerful. Made for personal and professional use, the Theragun Pro is an ideal tool for recovery and warming up, and cooling down. Percussive therapy stimulates blood flow, helps improve muscle soreness, and can boost performance. All of these factors make this one of the best gifts for runners.
What makes the Theragun Pro the most powerful is the 16mm amplitude and 60 lb stall force. The amplitude is the amount that the percussive therapy penetrates into your muscles and the stall force is the amount of pressure or weight, that can be applied to the machine while using. The patented triangular handle makes this ideal for self-use.
If you really want to treat the runner in your life, you'll buy them this and give them a massage.
Find out more about the Theragun Pro Massage Gun, here.
Pros
This is the ultimate recovery tool for post runs.
The amplitude and stall force make this a powerful tool for muscle soreness.
There are 5 different speed settings for percussive therapy depending on the level of discomfort.
There are 6 different attachments to target specific areas of your body differently.
Cons
This massage gun is fairly loud to use.
The level of percussive therapy might be too much for more sensitive users.
OLED Screen with Force Meter
Patented Triangular Handle
Multi-Adjustable Rotating Arm
5 Built-in Percussive Speed Settings
Connection To Free Therabody App
Customizable Percussion Settings
6 Attachments Included
Footprint: 10" x 7.1" x 3"
Product Weight: 2.9 lbs
Motor: QX150 Commercial-Grade Brushless
Stall Force: 60 lbs
Amplitude: 16 mm
2 Interchangeable Batteries
Zipper Carrying Case Included
Warranty: 2-years
Give the gift of comfort to a runner. Not only will their muscles feel great, but they'll be able to utilize the Theragun Pro for warm-ups and cool-downs.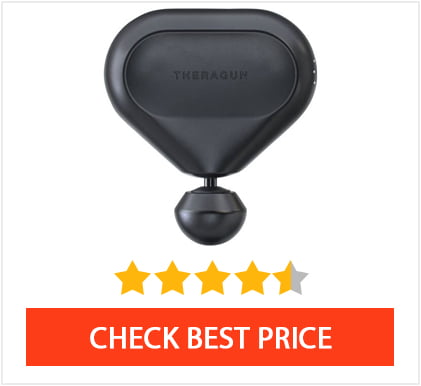 If the Theragun Pro is a bit overkill, or maybe out of your price range, the Theragun Mini is an excellent alternative. Don't be deterred, it's a small but effective recovery tool. Plus, it's a great size for traveling. That's why we've named it the best portable massage gun on this list.
While it might not be quite as high-end as the Theragun Pro, the Mini still has an impressive 12mm amplitude and 20 lb stall force. These two components paired together make for a powerful little massage gun.
For traveling, I can put this in my bag to take with me pretty much anywhere. One of our reviewers even took the Theragun Mini overseas to Switzerland in his suitcase without a problem. The Mini only weighs 1.43 lbs and fits in the palm of your hand. Plus, it comes with a soft case. The included standard ball attachment is one of my favorites for all-over use and targeting the muscles in my legs.
Head over to our review to learn more about the Theragun Mini Massage Gun.
Pros
The design is lightweight and small enough to take with you, wherever.
The 12mm amplitude helps to relieve tension and soreness effectively.
There are 3 preset percussive settings depending on the amount of therapy needed.
The triangular handle fits well in your hand to use all over.
Cons
It only comes with one attachment.
It generates some sound while in use.
3 Percussive Speed Settings
Standard Ball Attachment Included
Portable Design
Patented Triangular Handle
Comes In Multiple Colors
Footprint: 6" x 5.3" x 2.25"
Product Weight: 1.43 lbs
Motor: QX35 Brushless Motor
Stall Force: 20 lbs
Amplitude: 12mm
Power Adapter Charger
Soft Case Included
Warranty: 1-year
The Theragun Mini is a portable, yet effective tool for percussive therapy. It is best for warming up, cooling down, and relieving sore muscles from running. For the runner on the go, this is a wonderful gift.

Running works your entire body, however, your legs take the impact and recruit the majority of muscles worked. When it comes to soothing sore legs, the Normatec 3 Legs from Hyperice is the way to go.
The Normatec straps around your legs and provides compression therapy. Compression therapy helps to increase circulation and decrease pain. The Normatec 3 Legs can be used for recovery, as well as warming up whenever you need it. Any runner would appreciate this gift that alleviates delayed onset muscle soreness and other leg discomforts.
The Normatec 3 is made with durable material which wraps around your legs and feet. The zipper design makes for an easy-on and easy-off experience. There are 7 levels of compression depending on how much massage you need at the time. The control unit comes with adjustments for you to utilize the compression therapy where you need it and to control the ZoneBoost technology. This technology allows for treating specific areas. All in all, the Normatec 3 Legs is an excellent tool for recovering faster and enhancing running performance.
Pros
The compression provides a massage to help alleviate soreness in the legs.
There are 7 levels of compression and ZoneBoost technology to target specific areas of discomfort.
The control unit makes it easy to use and allows for quick adjusting.
They're made with premium, durable material to withstand the pressure from the compression and are easy to get on and off with the zippers.
Cons
The settings on the control unit might be hard for some users to see.
They only target the muscles in the legs, you have to purchase separate equipment for other parts of your body.
7 Levels of Compression
ZoneBoost Technology
Overlapping Zones To Eliminate Gaps In Compression
Bluetooth Connectivity to Hyperice App
Up to 3 Hours of Battery Life
2 Leg Attachments
Control Unit Footprint: 4" x 4.5" x 8.5"
Control Unit Weight: 3.2 lbs
Charger Included
Warranty: 1-year
Give the gift of comfort and massage to a runner with the Normatec 3 Legs. Compression therapy provides a relaxing experience to soothe sore muscles and even decrease swelling.

Strength training is extremely important for runners. Building muscle helps boost performance and can strengthen any imbalances you might have. By performing exercises like lunges and squats, you'll strengthen your legs and core which will help make running easier. Adjustable dumbbells are a convenient way to strength train.
Adjustable dumbbells are my favorite strength training equipment because they can work for pretty much anyone. Whether the runner you're shopping for is new to lifting weights, or a seasoned athlete looking to build muscle, power, and speed, adjustable dumbbells are easy to use and extremely versatile. Our best pick is the Powerblock Pro Series.
The Powerblock Pro Series adjusts up to 50 lbs per dumbbell, plus there are add-on kits to allow for 70 lb and 90 lb max. The weight is adjusted in 2.5 lb increments so as you get stronger, you can increase the weight as needed. This way you don't have to worry about plateauing. Plus, the encased cages are compact so you can lift a wide range of weights without sacrificing floor space in your home.
Pros
They adjust up to 50 lbs in each hand in 2.5 increments so you can pick the appropriate weight(s) for you.
They allow for total-body training and a wide variety of strength-training exercises.
The selector pin for changing the weights is rated for up to 500 lbs, making for a durable design.
These are popular and proven to be useful and stable.
Cons
The encased cage design might feel constricting for some, especially for those with larger hands.
They feel a little different from regular dumbbells.
Weight Ranging From 5 – 50 lbs Per Dumbbell
Add-On Kits Available For 70 lbs and 90 lbs Per Dumbbell
Color-Coded For Quick Adjusting
Replaces 28 Pairs of Dumbbells
Footprint: 12.5" L x 7" W x 7.25" H
Construction: Black Urethane Molded Over Steel Plates
Contoured Rubber Grip Handles
Auto-Lock Handle
Adjusts In 2.5 and 5 lb Increments
Warranty: 5-years
Adjustable dumbbells are a really beneficial, versatile training tool. The Powerblock Pro Series are extremely durable, and reliable, and have a lot of adjustability with the weight. These would make a wonderful gift for any runner.

From improved posture and endurance to increased speed and building muscle, running with a weighted vest has benefits beyond making your runs more challenging. And running with the right weighted vest definitely matters. You don't want one that jostles around like a kid running with a giant backpack.
The Aduro Sport Weighted Vest has a slim design that fits close to the body. The weight is built into the vest and it comes in various weight sizes ranging from 4-30 lbs. We love that you can select from a range of weights to purchase the vest in. In order for a comfortable experience, the weight is evenly distributed on the front and back. The straps extend over your shoulders and clip together at the chest for a snug fit. The adjustable straps help keep the Aduro from bouncing every stride, too.
The material is moisture-wicking and filled with iron as the weight, so you don't have to worry about the Aduro Sport getting smelly. An added bonus is the mesh pocket on the back. This holds items like your phone and keys on you while running.
Pros
The weight is evenly distributed and the design is streamlined to be comfortable while running.
It can be purchased in different weight sizes from 4 lbs up to 30 lbs.
The design works for other cardio activities in addition to running.
The iron inside the moisture-resistant material helps the vest from smelling with use.
Cons
The weight isn't adjustable.
The material isn't breathable, but the minimal design allows for more airflow while running.
Available In Weights From 4 lbs up to 30 lbs
Material: Neoprene
Adjustable Strap and Front Clip
Weight Type: Iron
Back Mesh Storage Pocket
Warranty: Optional 2-Year Protection
The slim, evenly distributed weight makes for a weight vest that fits snug and secure around you. If you're looking for a great gift for a runner, check out the Aduro Sport Weighted Vest.

When running outside, you most likely want a running belt to hold things like your phone, keys, gels, and whatever else you might need on you at all times. A running belt might seem minimal, but it is key for runners and would make a wonderful gift. Our best running belt pick is the Amphipod AirFlow Microstretch Belt.
While it looks small, the pouch stretches over 4 times its size to hold phones of all sizes and other essentials. This design keeps the Amphipod Belt breathable and minimal because it only increases to the size of what you put in it. We love how small it is. You don't have to worry about it getting in your way.
The Amphipod is stretchy and adjustable to fit securely around your waist. The clip isn't bulky either. Whether you're training for a race or are a casual runner, the Amphipod is an excellent option to keep the important things with you while running. So, you can listen to music without feeling your phone bounce all around. Plus, the zipper design makes it easy to grab what you need without having to stop.
Pros
This belt has a minimalist design to not feel bulky while running.
The pouch is made out of a very stretchy material to fit whatever items.
The strap is adjustable to fit snugly.
The details are reflective, for night running.
Cons
There isn't room for a water bottle.
9" x 2" Size
Adjustable Belt
Small Clip
4x Stretchable Pouch
Zipper Design
Reflective Details
If you're looking for an affordable, yet valuable running gift, then check out the Amphipod Belt. This running belt will hold all your personal items without feeling bouncy or bulky.

With all the different running shoes on the market, it can feel impossible to pick the right ones, especially for someone who will spend miles and miles running in them! If you're looking to give your friend or loved one the best running shoes, then check out the Brooks Ghost 14.
I can speak from personal experience that the Brooks Ghost Series are consistently comfortable running shoes. My first pair of Brooks took me through training for my first half-marathon and beyond. Brooks creates durable running shoes that are as popular as they are tried and true. For my pair, I wore them until they were ridden with holes and were sadly unwearable, however, they lasted well past my need for them. As other runners will agree, durability and comfort are key when selecting a great pair of running shoes.
The Brooks Ghost 14 has been updated with a thinner mesh on the upper for a more breathable design. This design is also seamless with a nice amount of room in the toe box. In addition to these comfy features, the collar has lovely padding to make the shoes feel secure and comfortable around your heels and ankles. With a mid-range level of cushioning in the midsole, the Brooks Ghost 14 is comfortable and appealing for a wide range of runners.
Pros
These are great, durable running shoes for handling a lot of use.
The mid-level cushioning makes for a consistent and comfortable feel with every stride.
Comes in wide and normal-width sizes.
Excellent for every day running on pavement.
Cons
They might feel a little heavier for some users.
Shoe Weight: 9 oz (Women's) and 9.8 oz (Men's)
Available Sizes: 6-12 (Women's) and 7-15 (Men's)
Comes In Wide and Normal Widths
Cushioning: Mid-Level
100% DNA LOFT Cushioning
Midsole Drop: 12 mm (Heel To Toe Drop)
3D Fit Print Upper
3D Print Fit Saddle and Heel Overlay
We love the Brooks Ghost 14 because they're consistent and will take you for miles and miles. The runner in your life will definitely appreciate wearing Brooks Ghost 14 running shoes the next time they hit the pavement.

Road running versus trail running is very different. You definitely want different running shoes for either activity. Our team has run races on roads and trails and we've found that the kind of shoe you have on your feet, matters. Our pick for the best trail running shoes is the Hoka Speedgoat 5.
Updated from the previous Speedgoat 4 to be lighter, yet still offer a max level of cushioning in the midsole, the Speedgoat 5 is what you want to wear on the trail. The traction is designed for various natural terrains to give you a good grip, yet comfortable support. We love that the Hoka Speedgoat 5 come in normal and wide sizes for men and women. They also fit fairly true to size, but you might want to go up a half size.
Fittingly with the name, the upper is completely vegan and cruelty-free, so no goats were harmed in the process. Plus, it is made of recycled materials to be more environmentally conscious. The Hoka Speedgoat 5 has a mudguard to protect the breathable, mesh upper from getting damp, and the small spikes on the outsole keep traction even in mud/watery conditions. For trail runners, you can't go wrong with gifting them a pair of Hoka Speedgoat 5 running shoes.
Pros
These are designed for trail running on all kinds of outdoor terrain.
These are best for neutral runners and they are comfortable with a large amount of cushioning.
The traction and mudguard make this ideal for even the rainiest and wet trail conditions.
They come in various sizes for men and women as well as in normal and wide.
Cons
They might not offer enough support for some runners.
Shoe Weight: 8.5 oz (Women's) and 10.3 oz (Men's)
Available Sizes: 6-11 (Women's) and 8-14 (Men's)
Comes In Wide and Normal Widths
Cushioning: Max Level
Midsole Drop: 4 mm (Heel To Toe Drop)
Cruelty-Free, Vegan Upper
Extended Heel Pull Tab
Mudguard
Vibram Megagrip with 5mm Traction Lugs (For Traction On Any Terrain)
For a comfortable, durable, and non-slip running experience on any natural terrain, the Hoka Speedgoat 5 running shoes are where it's at. Our reviewers swear by them for trail running.

Using a fitness tracker is very beneficial for things like keeping your pace, mapping your route, and heart rate tracking. The Garmin Fenix 6x Sapphire is the best fitness tracker on this list because of its smart, functional design and features.
The Garmin Fenix has a large interface for great readability, even in the sun, and a scratch-resistant lens. Not only will you be able to see your location clearly, but navigation while running and other activities like skiing, and golfing are possible with the GPS and preloaded Topo maps feature. Even when you're training in the mountains at high altitudes, the Garmin Fenix 6x Sapphire will be able to detect if you are having trouble acclimating.
This smartwatch will track your heart rate and blood oxygen levels while running, doing day-to-day activities, and sleeping. The PacePro feature helps guide your pace by analyzing the elevation changes during your run. You can also listen to music on Spotify and other platforms during your runs, too.
Pros
Tracks your workout metrics and location with GPS.
The sensors detect your heart rate and Pulse Ox while running, sleeping, and even for training at high altitudes.
The battery life can last up to 21-days in smartwatch mode.
The display is large, scratch-resistant, and readable even on sunny days.
Cons
The display isn't a touch screen but instead, has navigation buttons.
Size: 51 x 51 x 14.9mm
Fits Wrists From 163mm – 249mm
1.4" Sunlight-Readable Display
Scratch-Resistant Sapphire Crystal Display
3-Axis Compass
Preloaded Topo Maps
Ski Maps For Over 2,000 Ski Resorts Worldwide
Multi-Global Navigation Satellite With GPS, GLONASS, and Galileo
PacePro
Pulse Ox and Heart Rate Tracking
Connection To Spotify, Deezer, and Amazon Music
For the ultimate fitness tracker, the Garmin Fenix 6x Sapphire is an excellent training tool to track all your runs and more. This would make a useful gift whether the runner you know is training for a race or a recreational trail runner.

Nutrition is a very important aspect of training and health in general. For a runner, especially over long distances, fueling runs are crucial. Our bodies use carbohydrates for energy. Running requires a lot of energy so it's vital to keep your body fueled with carbs to avoid crashing. With depleted carb stores, you'll most likely be crawling across the finish line during your marathon rather than running across it ready for your medal. So, a boost from energy gels can help keep you going throughout your marathon or however long your run is.
Gu Energy Gel is a great gift for a runner. It comes in a variety of flavors like caramel macchiato, and birthday cake, as well as a fruity mix of lemon, watermelon, banana, blackberry, and orange flavors. The flavors are sure to entice any palate. Most importantly, they go down easy. The 24-pack will keep your runner friend fueled when they need to increase their glycogen levels.
Gu Energy Gel is vegan and comes in easy-to-use packets that fit in your pocket, running belt, or vest. Each pack contains 100 calories and electrolytes to help keep you hydrated.
Pros
These energy gel packs come in a wide variety of flavors to go down easy while running.
They come in a 24-pack to last through many long runs.
There are flavors with and without caffeine that are all vegan.
Every pack has 450 mg of branched-chain amino acids to help with energy levels and muscle cramping.
Cons
Some folks might get upset stomachs from taking energy gels.
One Box Contains 24 Packs
Flavors: Berry, Birthday Cake, Caramel Macchiato, Chocolate Outrage, Espresso, Fruity Mixed, Indulgent Mixed, Blackberry, Mint Chocolate, Mixed, Salted Caramel, Strawberry Banana, and Vanilla
Comes In Caffeinated and Non-Caffeinated Flavors
Vegan
450 mg of Branched-Chain Amino Acids Per Pack
100 Calories Per Pack
Contains Maltodextrin and Fructose)
Energy gels are important for supplementing long runs. This 24-pack of Gu Energy Gel has a great selection of flavors in convenient packs to take while running.

Like energy gels, protein powder can be beneficial for supplementing your diet with essential protein. Using protein powder in your diet can help maintain and gain more muscle. It can also help you get more protein throughout the day, which is something I personally struggle with. Our pick for the best protein powder for runners is Transparent Labs Whey Protein Isolate.
This whey protein isolate is derived from grass-fed cattle. We are impressed that Transparent Labs doesn't include any artificial sweeteners. Whey isolate is a great option for folks who are lactose intolerant or who have digestive issues when consuming milk products. The isolate has less lactose and is gluten-free.
One scoop of Transparent Labs Whey Protein Isolate contains 28 grams of protein, 0 grams of fat, and 2 grams of carbs. This protein powder comes in a variety of yummy flavors, so you're sure to find one you like.
Pros
Every scoop has 28 grams of protein to supplement your diet and preserve muscle.
The whey isolate has less lactose to be friendlier on the stomach for those with dairy sensitivities.
This protein powder is hormone-free, contains no artificial sweeteners or preservatives, and is gluten-free.
There is a wide selection of flavors to choose from.
Cons
It's not recommended if you are allergic to dairy.
This might not be best for meal replacement because of the low-calorie count and fast-digesting protein.
Serving Size: 1 Scoop
Calories: 120
Protein: 28 grams
Fat: 0.5 grams
Carbohydrates: 2 grams
Flavors: Milk Chocolate, Oatmeal Chocolate Chip Cookie, Chocolate Peanut Butter, Cinnamon French Toast, Strawberry, Mocha, French Vanilla, and Vanilla Peanut Butter
Protein is a vital macronutrient that is important for maintaining muscle. Protein powder is a great way to get in extra protein throughout the day. Check out Transparent Labs Whey Protein Isolate for a quality protein powder to gift a runner.
Other Gifts Ideas For Runners
How To Pick A Gift For A Runner
Here is our team's tips on buying the best gift for a runner.
Budget
In our list of best gifts for runners above, we've included a huge range of gifts when it comes to price. The type of gift you purchase will be largely based on your budget. While we all would probably like to be gifted a treadmill, it might not be a realistic gift for the runner in your life. It's important to factor in your budget when determining what kind of gift to buy.
Type Of Runner
What type of runner are they? Do they frequently hit the pavement, or can you most often find them on a remote trail off the beaten path? Maybe they alternate between running outside and running on a treadmill depending on weather and convenience. Are they preparing for a marathon? Whichever type of running they love to do, you want to make sure you select a gift that aligns with their goals. This could save you from splurging on a treadmill that your trail-running friend never uses. Or buying them a running belt that they don't need.
Running Level
Another important factor is to consider their level of running experience. A casual runner might not need energy gels, and a hard-core road marathoner probably won't need trail running shoes. You also will want to consider if they are layed up with an injury or just getting back into running, too. Of course, at the end of the day, it is the thought that counts, and your running friend will probably be grateful for whichever gift you get them, but ideally, you want to buy them something that they will use.
Frequently Asked Questions
What do runners need most?
It depends on what kind of runner they are to factor in what they need. First and foremost, running shoes, socks, and water bottles are important. Other gear like fitness trackers, energy gels, and running belts and vests will depend on the runner's preference and the type of running they do.
What should runners ask for for Christmas?
Runners should ask for things they need like running shoes and other gear like fitness trackers, hydration packs, and earbuds for example. It's important to be comfortable and prepared when you're out on a run.
What do you get someone when they finish a race?
Flowers are always a nice gesture to congratulate someone after they finish a race. Other nice gift ideas are taking them out to dinner, gifting them with a certificate to a spa, taking their photo with their medal post-race and framing it to give to them, getting them a holder to display their medal and even a new pair of running shoes are great gifts to give to someone after they finish a race.
What to get someone who is a runner?
Depending on what type of runner they are, what they could use, and your budget will determine what kind of gift you should get them. We recommend running shoes, treadmills, recovery tools, running belts, and more when considering the best gift for a runner. Check out our top recommendations below: