*TreadmillReviewGuru helps consumers find the best home fitness products. When you buy a product we recommend, we may earn a commission.
Last Updated: July 29, 2022
Fitness is an important part of our life and we have several tools to help us achieve our fitness goals. When it comes to working out, legs are the most neglected part of our body and most of us tend to focus only on the upper muscle groups. Half of our body's mass consists of quadriceps, thighs, calves, and buttocks. So one must never miss legs workout.

You must be searching for a good leg press machine that won't break down and hurt you during the workout. As when it comes to fitness, we all want durable fitness machines to promote our fitness regimen and live healthy lives.
This article will serve as a guide to a potential home gym owner, who not only wants the best leg workout machine but also wants a guide on how to choose the perfect one. Before now most of these workout machines could only be found in commercial gyms but presently thanks to technology and evolution, these machine manufacturers believe it is better to construct smaller equipment for personal and home use.
When getting a solid leg press machine for your home, it can be confusing to choose the best out of the hundreds of machines out there. With fitness machine makers claiming that theirs is the best, an individual could end up buying something that is not worth the money spent.
So, having tested out some of the leg press machines that are said to be the best, and compared observations with use, reviews from other fitness experts, below are reviews of the five best leg machines in the market.
These five include:
Best Leg Press Machines – Our Top Recommendations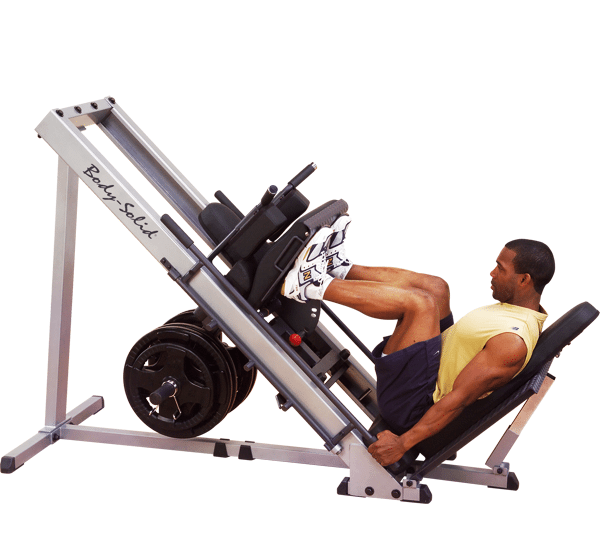 This machine was built with comfort and safety in mind. Unlike several leg press machines out there, this one by Body-Solid, works on the gluteus muscles, the calves, and quads, while easing tension on the joints and bones. In order words, you would not leave the machine feeling like you have been run over by a trailer.
That is not all; the leg press also doubles as a hack squat. In other words, you can get more than one exercise out of it. All you need to do is switch from one option to the other. For a standard home gym, consider this fitness machine for one of your first buy.
Pros
It has the option of leg press and hacks squat in one, with ease. You can easily switch from working on your legs to working on your thighs on the same machine.
It is designed in such a way that your quadriceps gets toned without pressure being put on your lower back, as most leg presses tend to do. It also gives user a full range of motion.
The ergonomic and sleek design includes a thick padding that gives comfort while working out. Double stitched and very firm to the feel, DuraFirm was used for the padding, which is about four inches in thickness. These are strategically placed at the back and shoulder areas of the machine. You will not feel the slightest discomfort while working out on this machine.
Makers of this machine put safety into consideration when designing it. It has three safety lockout positions, all of which ensure that a user never gets stuck in the machine while using it.
Inbuilt is also a Quad track roller, which glides easily while working on the quads and calf muscles, distributing your body weight evenly while you work out.
It gives enough room for people over six feet to work out comfortably on it.
Cons
The foot plate is narrow. If you have big feet, this could be a source of concern.
It does not come assembled. Coming in five different boxes, it might be difficult for a not-so-handy person to set up. You will probably have to employ the services of someone to help you out if you live alone. But rest assured that it can fit in your home gym.
Quad track roller system.
Support for back and shoulders.
Safety lockouts.
Diamond plate foot platforms for solid leg grip.
When assembled, the body solid leg press and hack squat machine weigh 317 lbs.
The maximum capacity it can take is 1000 pounds.
It measures 83 inches in length, 34 inches in width and is 56 inches high.
A heavy duty leg press which allows the user to perform two key leg movements while staying seated in the same location.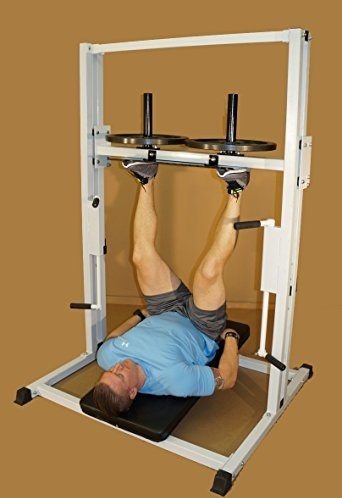 This is the second best home gym equipment that has been tested out so far. If you cannot afford to get a Body Solid Leg Press, you might want to consider getting this beast. It is similar to the former in many ways than one. People who used this machine observed that it is not exactly as awesome as Body Solid, but it also packs a punch.
Pros
Its sleek design ensures that stress is eased away from the knees while using this machine.
It comes with a back padding, very well stitched and three inches thick, offering reasonable protection for your back.
The steel footplate is wide enough for any size of feet to work with it comfortably.
It comes with both standard and Olympic weight bars.
It has heavy-duty stoppers, which are very important for a machine that works vertically.
The grade eight rollers mounted on it makes it easier for gliding of the parts as they go up and down.
It is not complicated at all like other leg press machines. Just set it up, and you're good to go.
Cons
If you live in a place where you have to share walls with a neighbor, or a neighborhood where people live in proximity to each other, then it is important to note that vertical leg presses are noisy equipment and this one is not an exception. So, you would have to lubricate it as often as possible, to keep the noise to a minimum, if you are considering getting one.
If the roller bolts are over tightened, the machine will not work very smoothly, and if not tight enough, there could be serious accidents. Therefore, the bolts have to be tightened just right.
Unlike most vertical workout equipment, this one is a bit wide, and so, takes up more floor space than is necessary.
There is no separate neck rest, so if you are working out on a rough surface, a pillow is very advisable.
Lifetime warranty.
Supports standard and olympic weight bars.
Has padding three inches thick.
This is one solid equipment. It is mounted on grade 8 heavy-duty rollers.
It weighs 200 lbs.
Measures 49 inches in length by 47 inches in width by 75 inches in height.
The footplate measures 30 by 15 inches; enough room to try out various leg positions while working out.
In all, it is a great equipment. If you want a leg press without fuss, then invest in the Premier Leg Press.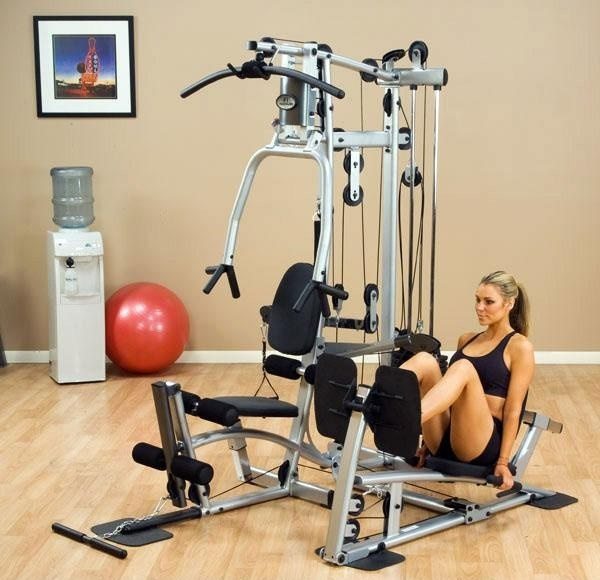 This equipment is not just awesome; it takes versatility to a whole new level. Following the Body Solid Leg Press and Premier Vertical Leg Press closely; it is the kind of machine that fitness buffs would not take for granted. After a session on this machine, its given that anyone who takes body fitness seriously would love it. What's more, it comes equipped with a leg press as a bonus.
Pros
It's a space saver. This is because it comes with many other workout equipments attached. If you are just starting to equip your home gym, then this is a good choice as you would not need to buy many other small equipments that you will be needing for your home gym setup.
The machine is built in such a way that a user can easily upgrade it as they become stronger with their workouts. The weight stack that comes with it is only 160 pounds, but it can take a weight stack of up to 210 pounds. Therefore, you can start out small and gradually stack it up as you go.
In addition to its numerous tiny inbuilt equipment, this beauty comes with two workout benches that you can adjust and work on your arms and abdomen as well.
The benches and back rest are all well padded, guaranteeing comfort while you sweat it out.
Ultimately, if you are looking to build a home gym that is comprehensive, look no further. This machine will give you that.
Cons
It is an expensive machine. If you are on a budget, then this machine is not for you, unless you are determined to save up for a while.
This machine would be an overkill if you already have other equipment in your home gym. Moreover, considering that it costs a lot, would be a waste of money too.
The machine has several stations for different kinds of workouts. They include:
High Pulley Station: For triceps press downs among other high pulley workouts.
Functional Pulley Station: For converging pulleys and exercises that have to do with the consistent and smooth resistance of muscles involved.
Low Pulley Station: For lower lats exercises, abduction and adduction of the legs, upright rows, and cable curls.
Mid Pulley Station: For abdominal crunches, triceps exercises and sculpting the areas of the abdomen.
Multi Press Arms: For chest workouts and development of the chest muscles. Also, the seats can be adjusted according to an individual's height.
Ten years warranty for the frame and one year warranty for the parts.
Workout benches included.
There is an allowance to stack additional leg press, for those who want increased resistance.
It is compact; saving space.
Weighs 384 lbs.
Comes packed in three separate packages.
However, if you want more value for your money and have little or no equipment of your own already, then the Powerline Home Gym would be an excellent choice.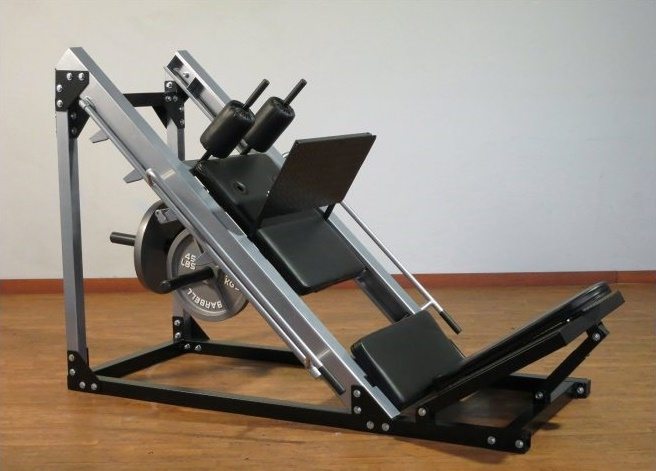 This is another beautifully crafted fitness machine. Working on the lower part of quadriceps without putting undue pressure on the knees, this machine can be used by both young and old alike, giving you defined muscles in no time.
Pros
You can comfortably work on your leg muscles on this machine while sitting and while standing as well. It is not restrictive at all and supports both hack squats, and leg raises.
The back padding is very snug. It is not just a three-inch of durable padding; this backrest is covered with Duraguard vinyl, making it resistant to sweat and liquid.
There are multiple settings on the backrests and foot plate, allowing the user to set the machine according to their size or preference. You can adjust it to four different positions, for different workout types.
The backrest is large. This means that size would not be a deterring factor for anyone working out with this machine.
Equipped with handles, you can simply position the rack with your hands when your muscles become too tired from any intense workout.
Cons
The instructions for assembling the XMark are not straightforward. This means that to set it up properly, professional help would most likely be sought.
If you try to max this machine out, the odds are that you would hear sounds that are creaky and not pleasant at all. However, this should not be much of an issue if you do not try to max out your machine.
Scratch resistant powder finish.
Large footplate.
Adjustable parts.
Safety locks.
Ideal for home use.
Lifetime warranty.
11 gauge 2 inches by 3 inches bodywork.
87 inches long and 36.5 inches wide.
1000 pounds capacity.
The XMark Leg Press is designed, keeping in mind to increase the intensity and resistance without putting pressure on the knees and joints. A good machine for all age group users.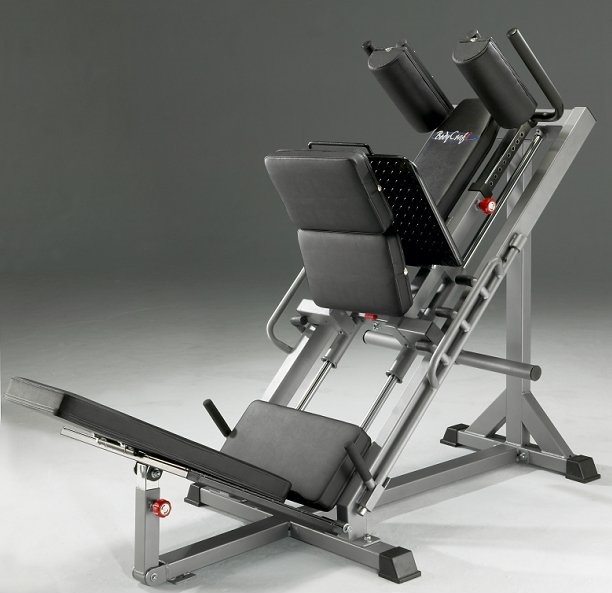 This is one sleek machine that speaks class. It is a hip and leg press machine, which also allows for hack squats, without taking up the whole of your gym floor. If space is your major constraint, then check this machine out.
Pros
The footplate is adjustable, so, when you want to hack squat, you can just fold it in. It can also be inclined to different angles while working out.
The inbuilt shoulder pads are also adjustable. Therefore, height is no problem when using this. Just adjust to your height and pump away.
It has an option for donkey squats, which cannot be found in many of its counterparts. This option is great in the sense that the worry of your spine being compressed as a result of heavy lifting, is eliminated.
The backrest is also adjustable for the same reason of wide range of use by individuals of different heights.
It is a compact equipment, taking up little floor space.
Cons
It is a pricey piece of equipment. You have to be either wealthy enough or a great saver who wants one of the best, to get the BodyCraft.
Assembling it is no piece of cake at all. To avoid accidents, you should not set this equipment up if you are not handy enough to.
Lifetime warranty.
Donkey squat option.
Industrial grade linear bearings.
Heavy gauge steel.
Weight capacity of 1000 pounds.
Measures 39 inches by 79 inches by 50 inches.
It is a pricey piece of equipment but worth the money and highly recommended, specially for fitness junkies.
Buyer's Guide
In addition to the above reviews, there are a few things to know before setting up your home gym with fitness equipment and machines.
Budget Is Necessary
Being fit is good for the health, but your pocket has to be considered when setting up your personal gym. There are a lot of expensive fitness equipment out there, as well as cheap ones. However, the fact remains that, to get the best or something close, you would have to spend more than pocket change. Look at how much you are able to afford before making a choice. Thankfully, one or two of the above machines are quite affordable.
Take Note of Space
It would not feel good to buy a machine that takes up space meant for other equipment. If you have a small garage or home gym space, either go for a narrow or compact machine, or one like the Powerline Home Gym that has other inbuilt equipment.
Reviews Are Important
That is the reason why this review was created; to help you make a good choice. With reviews, you will get a feel of what you want to buy, consider the pros and cons, and check out their specifications. Also, knowing which ones have the best reviews would help narrow down your choice(s.)
In conclusion, though people have their opinions of what the solid best leg press machines are, your preferences have to come first. Go for what you want and can afford and keep to stay healthy and fit.
Frequently Asked Questions
What are the benefits of a leg press?
Leg presses are used to build muscle in your legs and make them stronger. Having a strong lower body can help reduce the risk of injury and help you improve your performance in everyday activities. The leg press is a simpler exercise that doesn't require balance. It can also help you to lift heavier when you do deadlifts and squats.
Why should you not lock your legs on a leg press?
The leg press is meant to work the muscles in your legs. When you lock out your legs when you're fully extended, this causes the weight to go from the muscles to the joint. This places a lot of stress on the knee and can cause injuries. You should never lock out your legs when using a leg press machine.
What muscles does a leg press machine work?
Using a leg press machine will work your quads, glutes, hamstrings, and hip adductors. They even work your lower legs including the calves and shins. You can even change your feet stance to give certain muscles an even harder workout.
Is a leg press as good as squats?
Overall, squats are a better because they require more balance, coordination, and they work your core and back in addition to your legs and glutes. Squats also recruit more muscles because they require you to maintain a good posture, and your range of motion isn't limited like it is in a leg press.
Another factor is that in a leg press you're laying down, versus standing when squatting. It's because of all of this that many people can use more weight on a leg press than they can when performing squats. The leg press is the safer exercise out of the two though.