*TreadmillReviewGuru helps consumers find the best home fitness products. When you buy a product we recommend, we may earn a commission.
Last Updated: January 3, 2023
When you hear of suspension trainers, you probably think of TRX straps. The TRX Pro4 System is the tried and tested suspension trainer. It comes with everything you need to work out indoors or out, plus it's rated for personal and professional use. The TRX Pro4 Suspension Trainer can not only provide a full-body workout that you can do almost anywhere, but it's great for beginners all the way up to professional athletes. This TRX Pro4 Suspension Trainer review will dive into all the components of the system and how it worked for our reviewers.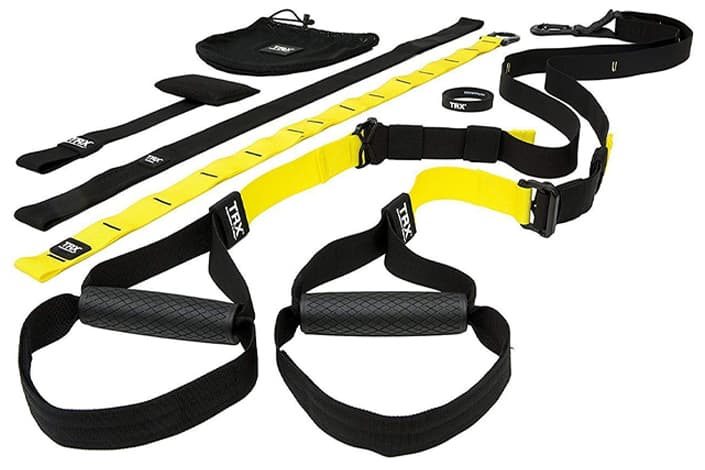 Why You Should Trust Our Review Of The TRX Pro4 Suspension Trainer Review
As fitness trainers and experts, we test all kinds of fitness equipment and products. We believe fitness should be accessible, especially at home. Whether the equipment is new on the market or a popular oldie but goodie, we try to get our hands on it and see how it works. When you read our reviews, know that we've spent the time using the product and are sharing our firsthand experience.
---
Pros
This suspension trainer system is tried and tested by users of all levels to be durable.
The TRX app offers live and on-demand workouts led by a variety of instructors.
The system offers total body training and over 300 different exercises to improve your balance, strength, and overall fitness.
The equipment is rated for professional and personal use.
You can use the system in homes, commercial gyms, and even outside.
The system is backed with a 10-year warranty from TRX.
Cons
The system is expensive.
It might not be best to anchor to lightweight doors.
---
Specs
TRX Pro4 Suspension Trainer Straps
Product Weight: 2 lbs
Weight Capacity: 350 lbs
Door Anchor
Suspension Anchor
Xtender Strap
Equalizer Loop
Locking Carabiner Clip and Key
Locking Carabiner Safety Tested to Hold More Than 700 lbs
D-Ring Sliding Adjusters
AntiMicrobial Rubber Handles
Padded Adjustable Foot Cradles
Mesh Carry Bag
Free Trial to TRX Training Club
TRX App Connects to Compatible Heart Rate Monitors
Warranty: 10-years
---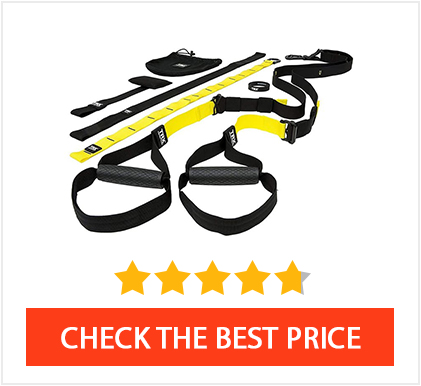 ---
In-depth Review of TRX Pro4 Suspension Trainer
Construction
Overall, the TRX Pro4 System is a complete suspension trainer. It includes commercial-grade straps that are proven to be durable by how popular TRX straps are. You can use them for professional and personal use. The TRX Pro4 Suspension Trainer has a 350 lb weight capacity so users of most sizes can use it.
Suspension Trainer
The suspension trainer consists of adjustable yellow straps. These are easy to adjust and work so you can anchor them to use in all kinds of settings. You want to adjust them so the foot cradles are about 3" off the ground.
Connected to these yellow straps is one long black and grey strap that loops through the equalizer which is top when the suspension trainer is anchored. The equalizer keeps the straps at the same length when you're using them. This is especially helpful when you're doing exercises that just use one strap, as well as all of the other exercises you can perform using the straps. The equalizer then connects to the locking carabiner.
The locking carabiner is a D-ring clip. This is what connects the system to whichever anchor you're using. The carabiner locks and comes with a key. This is handy if you plan on using the TRX straps in a public setting. It can also give you some peace of mind to ensure the clip doesn't come unclasped while you're using the TRX Pro4 Suspension Trainer. When locked, the carabiner is tested and rated to hold more than 700 lbs. This component definitely helps make the TRX Pro4 System feel incredibly durable, along with the industrial-grade nylon straps.
Handles And Foot Cradles
The handles might be the most impressive and my favorite component of the TRX Pro4 System. They're made of rubber and have a slightly spongy diamond-printed texture so you can really get a firm grip on them. It's important to have a good grip when you're doing any of the exercises that require you to hold the handles, like squats, rows, and chest presses. The handles feel really nice in your hands and when you're using them you don't have to worry about losing your grip.
Connected to the handles are the foot cradles. These are adjustable with velcro straps so you can fit your feet properly in them. The velcro is strong so you don't have to worry about it not holding when you have your feet in the cradles and you're bearing weight on the suspension trainer. The inner lining of the foot cradles is soft, so you can use them with tennis shoes as well as bare feet if that's how you prefer to train.
Suspension Anchor And Door Anchor
The different anchors that the TRX Pro4 Suspension Trainer comes with allow you to use this system pretty much anywhere. The suspension anchor is a yellow strap with a D-ring attached at the end. This anchor is designed to attach the TRX straps to objects like trees, poles, and sturdy gym equipment like squat racks. The suspension anchor also clips to the black Xtender strap, if you need more length. The suspension anchor strap is two straps stitched together with various gaps for you to loop and clip the end D-ring to. This makes this anchor feel really sturdy, durable, and versatile because it can work to fit around pretty much any appropriate object for suspension training.
The Pro4 System also comes with a door anchor. The door anchor is easier to use than the suspension anchor since most doors are the same. The door anchor is also pretty minimal, especially considering how sturdy it is to use. It consists of a short, black strap that is looped at one end and with a rectangular piece on the other. The carabiner clips onto the loop and then the rectangular piece drapes over the other side of the door (opposite of which you plan to use the straps on). You then shut the door and this piece anchors the suspension trainer from the door frame.
Something to keep in mind when using this anchor is that you should place it closer to the door hinges, rather than the doorknob. You also want to be sure that you have a secure door. You can technically use the Pro4 Suspension Trainer on either side of the door, but we recommend using it on the opposite side the door opens. When I used this on my bedroom door in my apartment, my door would pop open, unless I used it on the other side of the door, outside of my bedroom.
TRX App
The TRX app is surprisingly pretty vast. There are live and on-demand classes led by workout instructors using the TRX Suspension Trainer. There are also classes that focus on bodyweight movements without the straps. You can take full-body, core, upper body, lower body, stretching conditioning classes, and more in the app and online when you log in to your account. The TRX app has a pay-as-you-go option to pay per class, or you can purchase a membership for $5.99 per month.
All of the classes are filmed in an indoor studio with a white backdrop, black mats, and the Power Systems TRX S-Frame where the TRX straps are anchored and ready for the instructor to use. The classes are professional and there is a variety of instructors to choose from.
The app includes a FEED.fm music function to play music in the background of class. This consists of preselected playlists of songs compiled into four different genre stations: top 40, throwback, EDM/remix, and recovery. You can change between stations, skip songs, and pause the music at any time during class.
Functionality & Performance
The TRX Pro4 Suspension Trainer System works as a functional, versatile, total-body piece of equipment. TRX is known for its TRX straps, so when you purchase these, you're paying for the brand and the equipment's reputation for being the best in suspension trainers.
My favorite aspect of the TRX Pro4 is that it makes working out anywhere, be it at home, at the gym, or outside, accessible. This is an excellent piece of equipment if you're short on space, want a full-body workout, and want to work out anywhere. In our testing, we found the TRX straps to be durable and sturdy when mounted/anchored to a proper object.
The rectangular piece on the door anchor is covered in a fabric coating to help prevent any damage to the door/frame. I do think that this anchor isn't suitable for all doors, since not all are created equal. I have pretty lightweight, arguably cheap doors in my apartment, that my cat can even jostle open if she's determined enough. These didn't feel as secure as my patio door, or other dead-bolting doors. If you use this on a non-secure door, you may damage the door, the frame, and even yourself.
The TRX app is helpful to use with the Pro4 System, but it isn't necessary. It definitely gives insight into all of the workouts you can perform using the TRX Suspension Trainer, but if you're already well-versed you probably won't need it. It is best for beginners and those who love subscription fitness content and following along with an instructor.
The TRX Pro4 System is designed to be taken on the go. It only weighs 2 lbs and comes with a mesh bag to hold everything for easy transporting. The bag barely fits the suspension trainer, both included anchors (door and suspension anchor), and the Xtender strap. You have more room if you only pack the system with one anchor. It is really nice to be able to pack it up for tidy storage and for traveling though.
In addition to everything the Pro4 Suspension Trainer comes with, TRX also has other accessories and anchors and separate prices. This way, if neither of the included anchors works for you, the XMount, TRX Invizi-mount, or TRX door hinge anchor can be another solution. Both of these anchors are more permanent, too.
Warranty
TRX offers an impressive 10-year warranty for the Pro4 System. Set up is easy with the included directions.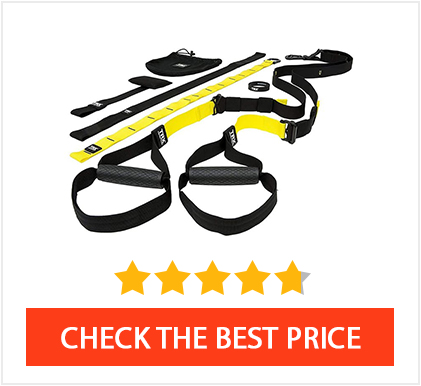 Bottom Line Review: TRX Pro4 Suspension Trainer
If you're looking for a piece of workout equipment that's proven to be effective, versatile, and offers total-body training that you can do practically anywhere, then the TRX Pro4 Suspension Trainer is for you. The TRX straps are suitable to work in your home, while traveling, outside, and in commercial gyms. They're even rated for personal and professional use. Beginners all the way up to Olympic athletes have used and had success with TRX Suspension Trainers. The Pro4 System is no exception. It is a little pricy, but you're paying for the durability and the fact that it is a tried and tested product.