*TreadmillReviewGuru helps consumers find the best home fitness products. When you buy a product we recommend, we may earn a commission.
Last Updated: August 25, 2023
Schwinn is an industry leader in manufacturing high-quality indoor exercise bikes. Schwinn's air bikes are some of the best on the market and are favored by both gym owners and residential users. Air bikes have become increasingly popular over the past few years as they have moved out of the realm of niche box gyms and into CrossFit spaces and even home gyms. Air bikes use fan blades to create air resistance as you pedal. They also have moving handlebars which allow for upper bodywork as well. The Schwinn Airdyne Pro and Schwinn Airdyne AD7 are the same bike — they both have the same specs and functionality. The difference is, the Airdyne Pro is marketed for commercial use and sold to gyms and personal trainers while the Airdyne AD7 is sold for residential use directly to consumers. The Airdyne Pro is priced slightly higher and only available from third-party commercial retailers while the AD7 is shipped for free from Schwinn for a lower price. Of the two, we recommend the AD7 based on its lower price tag. Either way, the Airdyne Pro and AD7 are excellent airbikes that provide unlimited max resistance, engage both upper and lower body, and have an upgraded console with 9 preloaded programs.

Air Bike Award: Best Airdyne Bike
The Schwinn Airdyne AD7 Pro was given the award of Best Airdyne Bike on our list of best air bikes. The AD7 Pro has impressive features and provides a heart-pounding workout. This is one of our favorite air bikes. Read on in our review to find out why we love this bike.
Who It's For: Those who want a quality Airdyne bike with an upgraded console and unlimited resistance
Schwinn has manufactured the Airdyne AD7 with several key features that make it a good buy for users who:
Want top of the line quality and durability
Are looking for an air bike that will develop both cardio and strength
Appreciate the quieter belt drive system that is more durable
Can mount and sit on the bike to exercise
Want more upper body training to coincide with cardio conditioning
Use HIIT sessions interspersed with their strength training routine
Have space for this hearty machine
Pros
One of the best air bikes on the market, the AD7 is great for those who want all the benefits of an air bike for a reasonable price
Schwinn is currently offering free shipping on this bike which saves you another hundred dollars!
Heavy and sturdy — it will fit right in with your other fitness equipment
Black and red styling looks good in any home or garage gym
10 year warranty is the most extensive we've seen for an air bike! This is a great warranty!
Handles have multiple hand positions including two horizontal grips
Includes a cup holder attached to console
Upgraded console has 9 preloaded programs
Cons
Bike is heavy
Console is not backlit
Air bikes are noisier than magnetic studio bikes
---
Single-stage belt drive

The belt drive offers smoother, quieter movement throughout the pedal stroke. The single-stage belt drive responds immediately to each rider's efforts, so the provides as much resistance as is necessary to match the strength of each user.

Telemetric, syncs with any Polar chest strap

Your heart rate will be displayed on the LCD screen for real-time HR training and feedback.

Multi-display, high-resolution LCD

This is the nicest of the Airdyne consoles. It has a crisp LCD screen with large digital numbers that are easy to see. The console comes with 9 preloaded programs.
Displays: Time, Distance, Calories, RPM, Watts, Pulse, Speed

Comfortable seat with fore/aft adjustments

Find the right fit on this bike by moving the seat both up and down as well as forward and aft.

53" L x 26.5" W x 53" H

Like other air bikes, the handles on this bike give it a more upright footprint, and we like how the console sits right between the center of the handlebars so you don't have to look down to see the metrics.

Bike weight: 113 pounds, Max user weight: 350 pounds

While the bike only weighs 113 pounds, it will support up to 350 pounds of user weight.

Console is battery operated, 2 D cell batteries required

The Airdyne AD7 does not have a plug and does not require an electrical outlet. The console is battery operated so you can place your bike anywhere for your convenience.

Great for HIIT training

Air bikes are favored by CrossFit gyms and powerlifters who want a quick burst of cardio to augment but not derail their strength training. HIIT training has been shown to be the most effective way to gain cardio conditioning without the catabolic effects of traditional LSD sessions.

Upper and lower body conditioning

Gain both upper and lower body strength by using both pedals and handles on the AD7.

Pedals or foot peg options

Isolate upper body strength by resting your feet on the foot pegs so all the fan motion comes from arm strength moving the handlebars.

Large flywheel fan with 26 blades

This impressive flywheel has 26 fan blades for maximum resistance and air flow. You cannot outwork the AD7 since it will match whatever power you can throw at it!

Great for HIIT training and upper and lower body conditioning

This bike cranks out a serious calorie burn with full body — upper and lower — conditioning. The fan resistance also makes those 10 second HIIT intervals feel killer.

Console is battery powered.

The Airdyne AD7 does not require electricity and does not need to be placed by a wall outlet. The console is battery powered — and everything else is just you.

Pedals or foot peg options

There are pegs attached to the flywheel to rest your feet when you want to isolate upper body motion by just moving the handles.
Construction:
Infinite air resistance
Single-stage belt drive
High-strength fan
Telemetric, syncs with any Polar chest strap
Multi-display, high-resolution LCD
Comfortable seat with fore/aft adjustments
53" L x 26.5" W x 53" H
Bike weight: 113 pounds
Max user weight: 350 pounds
Console is battery operated, 2 D cell batteries required
AC adapter ready
Console:
Upgraded console
9 preloaded programs
HIIT and Tabata intervals
Console is battery powered
Displays: Time, Distance, Calories, RPM, Watts, Pulse, Speed
Functionality:
Beefy steel frame
Enlarged flywheel with 26 blades
Great for HIIT training
Upper and lower body conditioning
Pedals or foot peg options
Pull/push handles for arm, back, chest strengthening
Console hovers over flywheel for easy reach
Great for CrossFit or supplemental HIIT sessions
Warranty:
10 year warranty on Frame
2 year warranty on Mechanical and Electrical parts
6 months warranty on Labor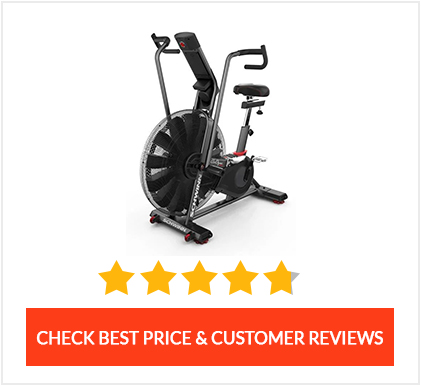 In-depth Review of Schwinn Airdyne AD7
---
Construction
Frame
Steel Frame
The Schwinn AD7 air bike is a hearty piece of exercise equipment that still manages to look stylish and chic. The black frame with white and red accents and lettering is striking. Schwinn wants users to know this bike will be a lovely addition to your workout space without looking like something you pulled out of the garage. Stabilizers on both the front and rear provide balance and both stabilizers have red leveling feet underneath that adjust up or down for more stability. The seat post is supported by a steel bar and has two adjustment points. The hearty drivetrain cover protects the belt drive from dust or other debris. It also has a textured step area to help riders get on and off the bike safely. The handlebars attach on either side of the flywheel for upper body work and the console sits between the handlebars for perfect view. One of our favorite features on this bike is the multiple handlebar grips. Two horizontal grips with an external vertical connector provide plenty of places to hold and engage different muscles in your arms, back and chest.


Again, we have to mention the impressive 10 year warranty on the frame. This bike is not only well built, but Schwinn has backed it up with a more extensive warranty than comparable models. The 10 year warranty used to only be offered on the commercial Airdyne Pro, but is now also available on the Airdyne AD7 making this a fantastic air bike for under $1000.

Seat Adjustment

The Airbike has two points of adjustment. The seat moves up and down as well as forward and aft. The handlebars are one solid piece and do not adjust up or down. The adjustment points are important for enabling users to find the right bike fit when using the AD7. Even if you only plan to do a quick HIIT session of 90 seconds on with a 30 second recovery, we recommend adjusting the seat before you begin. A seat that is too low will hurt your knees and a seat that is too high will hurt your posterior (you'll notice that one sooner). Either way, the AD7 allows different sized users to ride comfortably.
Flat Metal Pedals
The flat metal pedals will support any athletic shoe. There is not a strap over the top of the pedal, so make sure and connect the ball of your foot securely to the pedal while riding. The AD7 pedals are a lighter gray color that contrasts nicely with the dark frame. The pedals do have a rubberized surface and knobs along the sides so your foot doesn't slip.
Plug
The Airdyne AD7 does not plug in. The console is battery powered. You can place your Airdyne AD7 anywhere without needing close proximity to a wall outlet.
FlyWheel

Steel FlyWheel with 26 Air blades
The Airdyne Pro bike has a premium, 26-blade fan and a weighted inertia ring to ensure that bike output equalizes rider input. This system also helps enable safer start-ups and slow-downs.
The 26 steel blades move air through the flywheel at a speed that is determined by the rider. The faster you pedal and pull the handlebars, the faster the air blades move. This unique flywheel design is what makes air bikes so popular for HIIT intervals. Like an air rower, there is no max resistance. The flywheel is connected to both the pedals and handlebars — so you can isolate either upper or lower body as desired. If you want to work your arms during one interval, you can place your feet on the pegs attached to the sides of the flywheel. If you want to just pedal, remove your hands from the handlebars and you can isolate lower body strength. The combination of both upper and lower body training along with max resistance makes the Airdyne AD7 a fantastic training tool. It is not designed to be easy. Some of the strongest athletes in the world use this bike to train so expect to be challenged each and every time you use it.
Saddle
Comfort and Design

The Airdyne AD7 saddle is padded and slightly wider than comparable racing saddles. This seat is comfortable for an indoor bike. Schwinn designed the bike to challenge your strength — not your tush, so there's plenty of padding for comfort during your ride.
The seat is both sweat and moisture resistant and can be wiped down to sanitize after each use.
Handles


Most air bikes have standard handles with a single horizontal grip bar. The handles on the Schwinn Airdyne AD7 are our favorite handlebars on an air bike. These have two horizontal grips, which will engage different muscles depending on which one you use. The multiple grips are also good for different sized riders as taller riders will probably naturally prefer the higher grips and smaller riders have the option of the lower bar. A lifted edge off the corner of the top bar keeps your hand from slipping off which is another nice feature. The two horizontal bars are also connected via a vertical bar that can also be used as a grip. The handlebars flank the flywheel and the console so you can enjoy the air flow from the fan while you ride and also easily see and navigate the console as needed.
Console/Controls
Console


The Airdyne AD7 console has been upgraded from the AD6 and AD2 models. It has more functionality and more preloaded programs. Like other air bikes, this is a pretty basic console. It doesn't have a video screen or other fancy features found on studio bikes, but this is because air bikes are used differently. Rather than sit on the bike for hours, pedalling idly while you watch a program, air bikes are designed for high intensity training and short bursts of full power.
The console provides just what is needed for HIIT and interval training.
Computer Display

The bike console displays:

Speed
Miles per Hour
Watts
RPM's
Defined Targets: Distance, Miles, Time, Calories
Heart Rate

Interval Training Programs

20/10 interval button for 20 seconds of work, 10 seconds of rest
30/90 interval button for 30 seconds of work, 90 seconds of rest
A custom button also allows riders to set their own intervals as desired

Targeted Metric Programs

There are also four targeted training buttons for Time, Distance, Calories and HR

You can set your own targets for any or all of these metrics and work towards them throughout your training.

Rate Display

One of our favorite features on this console is the Rate display meter at the top. You can see your wattage in real time as you work along with calories, RPM's and speed.

Metrics can be adjusted to display calories, miles, Kilojoules or kilometers.
The console is battery operated and does not require a wall outlet.
Optional Accessories (all sold separately)
Schwinn Airdyne AD Pro AC adapter

You can purchase an AC adapter for the Airdyne Pro to power your device if you would rather not rely on battery power for the console.

Airdyne Air Diverter

The Air Diverter is a wind screen that limits the amount of air moving through the flywheel and onto the rider.
Equipment Mat
Schwinn also sells and equipment mat that sits under your Airdyne bike. This protects your floor from sweat that may (ok, will) drip down during your workout. It also holds you bike securely to the floor and limits both movement and noise if you are on an upper floor.
Functionality
Performance
The Schwinn Airdyne AD7 is a hearty air bike with a reinforced steel frame, comfortable seat, and extra thick air blades. The flywheel is bigger and wider than comparable air bikes and the wider air blades create more resistance. The Airdyne AD7 is heavy and difficult to move, but it feels very sturdy while riding. Compared to other air bikes, there is no rocking motion side to side even when pulling the handlebars as hard as possible. We find the Airdyne AD7 to be absolutely solid. The stabilizers are wide and have adjustable leveling feet underneath.
One thing we love about the Airdyne AD7 is the foot pegs on the side of the flywheel. These pegs spin gently for foot comfort. You have the option of isolating your upper or lower body as desired. For upper body only, simply place your feet on the pegs and pull the handlebars to move the airblades. Or you can just focus on lower body conditioning by removing your hands from the handlebars and just pedaling. Also, the resistance generated by the air blades and flywheel makes this an ideal training machine for athletes at all conditioning levels.
Air Resistance and Belt Drive
The Airdyne AD7 and Airdyne Pro features a 26-blade fan and a weighted inertia ring. The ring helps keep the fan blades spinning smoothly for a fluid feel in the pedals and handlebars.
Most air bikes use a chain drive system which can feel rough and is certainly noisier than belt systems. Also, the single-stage belt drive system allows riders to utilize every ounce of effort to generate resistance – with minimal loss of power for significantly greater efficiency. The single-stage belt drive responds immediately to each rider's effort, so users can capitalize on custom-generated resistance. Two-stage systems most often used on other air bikes lose some power in the transfer but the belt drive on the Airdyne is both smooth and quiet throughout the rotation.
Pre-programmed workouts
Interval Programs

20/10 Intervals: 20 seconds of work with 10 seconds of rest. This is a traditional Tabata style workout with a rest segment that is half the time of the work segment. This is extremely challenging since you have very limited recovery in between intervals. Eight 20/10 intervals takes 4 minutes and by the end we promise you will be completely out of breath! Use these for full body conditioning, or isolate upper/lower as desired.
30/90 Intervals: 30 seconds of work and 90 seconds of rest. This inverted Tabata interval program provides more rest which allows you to go all out during that 30 seconds. Don't assume that 30 seconds is easy! If you don't need every bit of the 90 seconds to get your heart rate down, you aren't working hard enough.
Custom Intervals: if you want to do 40/20's or 45/15's, you can set the interval work/rest intervals as desired.
Targeted TrainingThis allows you to customize your workout to achieve certain goals. You can set the Target to be distance, time, calories or HR.
Heart Rate Training: the console will sync with any Polar chest strap for targeted heart rate training. Heart rate training is a more accurate way to measure your exertion since your heart rate will respond to how hard your body is working. Heart rate training is very valuable on the Schwinn Airdyne AD7. Schwinn sells a Polar chest strap separately.
Noise Level
As mentioned above, the Schwinn Airdyne AD7 uses a belt drive system rather than a chain drive. Even though there is a bit of "whooshing" noise as the air moves through the flywheel, the bike itself is much quieter than comparable air bikes. Also, the movement of the air through the flywheel creates a nice air flow that acts as a fan on the rider. This helps keep body temperature under control and makes it easier to go out without feeling like you're going to overhead. The fan noise is present, and should be an expected feature of air bikes, but it isn't the heavy thudding or loud rattling found on other exercise equipment.
Storage / Folding


The Airdyne AD7 bike has wheels under the front stabilizer so you can tip the bike and gently roll it out of the way. Remove any water bottles or phones before moving your bike. The bike does not fold up, and it is a bit heavy and cumbersome to move. For a bike this size, we recommend finding a dedicated space to use it; however, it can be tipped and rolled when needed.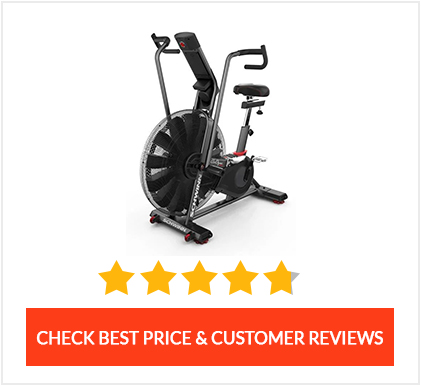 Bottom Line:
The Schwinn Airdyne AD7 and Airdyne Pro are the same bike with slightly different model names. The AD7 is our recommended bike for its great features and price. This air bike has many advantages such as a belt drive system which is both smoother and quieter than comparable chain drive systems. It also has a large flywheel with 26 rotating air blades to move air through the fan. This air bike has unlimited max resistance since it will generate power in accordance with the strength of each rider's power. The harder you pedal and pull, the more resistance is generated by the fan. This is one of the most attractive features of air bikes and why they are a favorite of serious athletes and CrossFit lifters. Rather than pedal for hours in a dark room, air bikes are designed for HIIT or interval training with extremely hard resistance that pushes you to your max in a matter of seconds. The console is upgraded with 9 preloaded programs and comes with both preset and custom interval programs. It also has a wattage meter on the top so you can see how much power is being generated with each pull. The frame of the Airdyne AD7 is a sleek black with a few chrome accents and crisp red lettering. The bike itself looks stylish and not like something you pulled out of the garage. The console is battery operated so you don't need electricity to operate it. You can place the AD7 anywhere in your home or garage without needing to be close to a wall outlet. Schwinn sells a few add-ons such as an equipment mat, wind screen for the flywheel and even an AC converter if you want to use power rather than batteries. We are impressed with the design and functionality of the AD7. This is an impressive air bike. It is quiet, easy to use, comfortable to sit on, has unlimited resistance, multiple hand positions and an upgraded console that is intuitive and easy to navigate. We recommend the AD7 as a good option for anyone looking for a quality air bike from a reputable company.