*TreadmillReviewGuru helps consumers find the best home fitness products. When you buy a product we recommend, we may earn a commission.
Last Updated: January 5, 2023

Echelon has made a name for themselves by offering tech-enhanced yet budget-friendly fitness equipment that rivals that of more expensive counterparts. The Echelon bike series provides several affordable alternatives to the Peloton bike, and now Echelon is emerging as a viable competitor in the rowing market with their quiet, magnetic resistance Smart Rower. Rowing is an excellent low-impact exercise which enhances cardio fitness and develops strength by targeting over 80% of your body's muscles. As a result, more consumers are looking for rowers that can be used at home, similar to a spin bike or treadmill. Echelon's Smart Rower syncs with your personal tablet to display their FitApp of rowing classes and content. A tablet holder just above the rower flywheel will hold most tablets securely, so you can access streaming content that helps you stay focused and engaged as you row. Magnetic resistance is silent, and the Smart Rower folds up when not in use to save space in your home. We are impressed with the features and content on the Smart Rower!
Who It's For: Users looking to gain the cardio and strength training benefits of rowing at home on an affordable Smart Rower
The Echelon Smart Rower is ideal for users who:
Are looking for a quality tech-enhanced rower with access to classes and content
Value affordability
Can use the space-saving design that folds in half
Want to use Echelon's FitApp on other compatible equipment, such as the Mirror or EX-bikes
Appreciate the integrated tablet holder that saves you money on an expensive screen but provides the same content
Recognize rowing as a great low-impact, high-yield training tool
Pros
Quiet and affordable!
No heavy screen attached to the end of the rower — your tablet syncs instantly for access to all FitPass classes and content.
Folds up vertically to save floor space
Only weighs 125lbs
Supports up to 300lbs
Silent magnetic resistance does not create noise or require maintenance
Lots of training options in FitPass including Live classes and Outdoor rowing routes
Cons
Newer piece of equipment, the bugs may not all be worked out yet
FitPass database of classes is currently expanding and may not yet rival other app options
Limited 1-year warranty
Bluetooth Enabled with Integrated Tablet Holder

The Echelon Smart Rower has an integrated tablet holder so you can stream FitPass rowing classes directly via Bluetooth. This way, you can watch and enjoy the benefits of rowing at home without having the added cost of an expensive screen attached to the rower.
32 Levels of Silent Magnetic Resistance

Other rowers use air or water resistance, both of which provide good resistance, but they tend to be very loud. Magnetic resistance is silent as magnets adjacent to the flywheel oppose its motion. Because there are no friction points, you can row at any level of resistance absolutely silently.
Foldable design

When you are finished with your workout, simply lift the bottom part of the rail and it will fold in half vertically to save floor space when not in use.
Handle buttons to increase/decrease resistance

The up/down buttons on the handle make it super easy to increase or decrease resistance while you row — this way you don't have to stop and reach forward to adjust the resistance on the flywheel or tablet.
Belt drive system and Silent Flywheel

A belt drive system attaches the handle to the flywheel. Belts are much quieter than chain drives, so this system again keeps the noise level low. Rowing motion is smooth as the belt moves in and out of the flywheel housing.
Your personal tablet syncs with Echelon's FitApp to stream classes and content, which include:
Indoor rowing classes
Outdoor routes
Live Classes
On Demand Classes
FitApp is compatible with other Echelon equipment such as Mirror or EX bikes

You do not need multiple subscriptions! If you already have Echelon equipment you can use one FitPass subscription for the rower, bike or Mirror!
Technology:
Bluetooth enabled
Integrated Tablet Holder
32 Levels of Resistance
Silent Magnetic Resistance ENGINEERING
Rail angle: 1.7 Degrees
Footprint: 86" x 21" x 48"
Foldable design
Contoured seat
Comfortable handle
Handle buttons to increase/decrease resistance
Belt drive system
Silent Flywheel
Smooth sliding rail design
Magnetic Resistance
300lb max user weight
125lb rower weight
Console:
Integrated tablet holder
Your personal tablet syncs with Echelon's FitApp to stream classes and content
Indoor rowing classes
Outdoor routes
Live Classes
On Demand Classes
FitApp is compatible with other Echelon equipment such as Mirror or EX bikes
Warranty
30-day money back guarantee
1 year limited warranty
---
In-depth Review of Echelon Smart Rower
Construction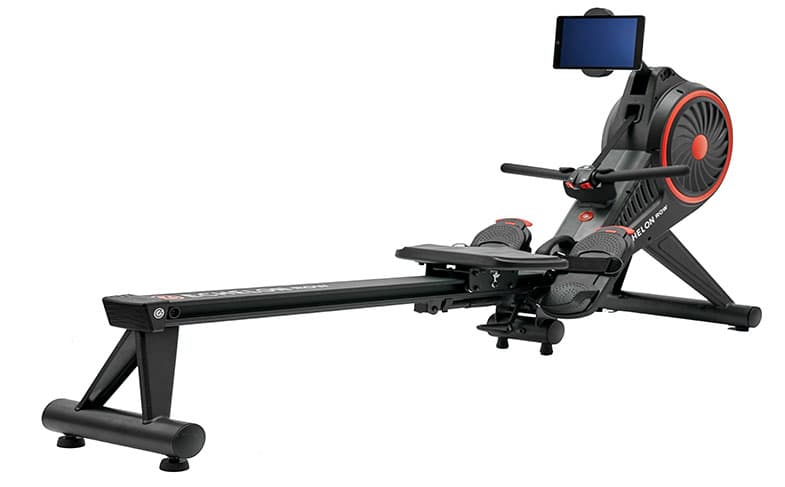 Frame
Like other rowers, the frame consists of steel stabilizers that hold the flywheel and suspend the rail. There is also a center stabilizer to support the front end of the rail and enable the rower to fold up. The rail sits at a 1.7 degree angle, so there is a gentle decline as you move from the back of the track to the catch. A latch holds the handle in place at the fore of the flywheel, which makes it easy to tuck it away when you are finished. Foot pedals are wide with supportive footboard underneath and straps along the top. Wheels under the front stabilizer enable you to tip and roll the rower as needed. Since it only weighs about 125 pounds, it is significantly lighter than other types of fitness equipment.
Geometry
Total Footprint:
Folded Footprint:
Rail length:
Rail height:
Saddle:
Pedals


As mentioned, the pedals are wide and will accommodate most types of athletic shoe. The pedal itself has a gentle texture so the sole of your shoe doesn't shift around. A wide strap comes over the top to be adjusted per each rower's foot size. The pedals are adjustable for different sized users. The sturdy footboards underneath support the pedals so you get a bit of ankle flex while rowing (which keeps the hips, knees, and ankles in alignment) but still provides a solid rowing drive.

Handle


The handle is one of our favorite features on the Smart Rower! Not only is it comfortable, it is also a good size — not too large for small hands or too small for larger hands. The slight padding keeps your grip comfortable and the resistance buttons on the end of each side of the handlebar make it easy to adjust resistance as needed.

On an air rower, resistance is modified by an intake vent (or the amount of water in a water rower). One of the primary benefits of an air rower is the harder you pull through the drive, the more resistance is created. This gives the person rowing control over the amount of force and resistance. The drawback is the obvious noise created as air moves through the vents and flywheel. With magnetic resistance, there is no difference in how hard you pull the handle. Because Echelon has added resistance buttons to the handle of the Smart Rower, you can still control the amount of resistance through the drive with your thumbs — rather than have to yank harder on the handle and belt. We prefer this system since it retains the benefits of air rowing but is silent rather than (really) loud.

Seat


The seat of the Smart Rower is contoured and comfortable. It slides cleanly over the rail. The seat should accommodate most users, but it may be a bit small for those approaching the 300lb weight limit.

FlyWheel


The flywheel on the Smart Rower is attached to the handle via a belt. When you pull the belt, the flywheel spins. Magnets adjacent to the flywheel oppose the spinning motion as they move closer, which is how magnetic resistance is created. We like not only how the Echelon flywheel is designed but also where it is positioned. Since it hovers slightly above the rail, with the handle catch just at the base, this allows the person rowing to sit upright rather than have to lean over at the end of each drive (release). We've tested rowers that are well-built and function fine, but the placement of the flywheel is too low and it results in poor posture while rowing. The placement of the flywheel on the Echelon Smart rower is just high enough to allow for upright torso and proper spine alignment. There are also vents on the sides of the flywheel housing to allow for air flow through the system.

32 Resistance Levels


Resistance increases as the magnets come closer to the flywheel. The opposing polarity between the magnets and the flywheel makes it harder to pull. Preset resistance levels are a nice addition on a rower, since very often there are only 10 settings and resistance varies depending on how hard you pull through the drive. Magnetic resistance levels make it so you can always find the same amount of resistance at each level. For beginning rowers or those just learning to row, it is nice to have preset levels so you can find the just the right amount of resistance that is always the same.

Console/Controls

Console


Your metrics and all programming is displayed on your personal tablet device. The FitApp screen shows readouts for your max and average Resistance, Output and Strokes per minute. Calories are also calculated. If you have or buy an Echelon heart rate monitor, your heart rate will be displayed on the screen as well. Programming is navigated from your tablet via Bluetooth connection from your device to the rower. When you change your resistance level on the rower handle, it will be displayed on the tablet screen. If you don't use a tablet or subscribe to the app, there is no digital readout of metrics, resistance or speed on the rower itself.

Tablet Holder

There is a tablet holder attached above the flywheel which should hold most devices securely. The tablet holder swivels side to side which is helpful if you are doing a combo class or one that is off the rower on the floor.

Noise Level

The magnetic resistance is completely silent. There is a bit of noise while sliding back and forth on the rail, and the belt drive makes a touch of resistance itself, but in general this is an extremely quiet rower with magnetic resistance.

Storage / Folding

The Echelon Smart Rower does fold in half, so you can lift the back of the rail and fold it vertically. It will lock into place for security when folded. This reduces the amount of dedicated floor space you need since you can fold it up and down.

Classes and Content

Pre-programmed workouts

There are no pre-programmed workouts on the Smart Rower. If you don't use the app, the rower will still work and the resistance levels can be adjusted on the handles, but you won't get any readout as to your metrics or what level of resistance you are on. But you don't need the app to use the rower.

FitApp Subscription

The FitApp subscription includes Live Classes, On Demand Classes, Outdoor rowing routes and indoor classes all led by a rowing instructor. There is also a Leaderboard feature that provides a competition factor for users. One FitApp subscription will work for all your Echelon devices. There are different price tiers for the app depending on if you choose a monthly, yearly, or two year plan. The monthly plan is $39.99 per month. Different plans also affect the monthly subscription and shipping cost of your rower.

---

Bottom Line:

The Echelon Smart Rower syncs with Echelon's FitApp to stream rowing classes and content to your personal tablet. An integrated tablet holder over the flywheel provides the perfect viewing spot and buttons on the handle allow rowers to increase or decrease resistance easily. As more people look online for workouts that can be done at home, the Smart Rower is designed to provide an excellent full-body training regimen with instant access to hundreds of classes and routes. We all have the best intentions when working out at home, but staying focused and maintaining interest can be challenging. The ability to stream classes directly to your machine helps tremendously as these are engaging and provide good cues for proper form as well as fun classes and gorgeous outdoor rowing routes. Echelon has really targeted a niche here by providing quality equipment that is quiet (thank you magnets!) and smooth, folds up when you are finished, and syncs with your personal tablet to provide online content. We love the resistance controls on the handle and the quiet belt drive augments the silent magnetic resistance so you can workout anytime in the comfort of your own home without disturbing those around you. The Echelon FitApp also syncs with other Echelon equipment, so you do not need a separate subscription if you already own an EX bike or either of the Echelon mirrors. Take an in-depth look at the Smart Rower today, we think you'll be impressed!