*TreadmillReviewGuru helps consumers find the best home fitness products. When you buy a product we recommend, we may earn a commission.
Last Updated: May 4, 2023
The Bowflex M9 Max Trainer gives you all you need to get a complete gym workout at home. Taking up half the space of most treadmills, this elliptical also comes with a free mat and free shipping. Even better is that the fully loaded M9 Max sports a reduced footprint making it perfect for smaller home workout spaces.
Your joints will thank you for the low-impact, high-intensity workouts the M9 Max offers. You won't be pounding the belt or pavement as you would with traditional jogging but will be gliding along with a smooth, natural motion. Smooth doesn't mean easy because this machine comes with 20 resistance levels, guaranteed to challenge even the fittest of users.
People who want both a stair stepper and an elliptical trainer, but don't have the room or the money for both, will be thrilled with the versatility of this machine.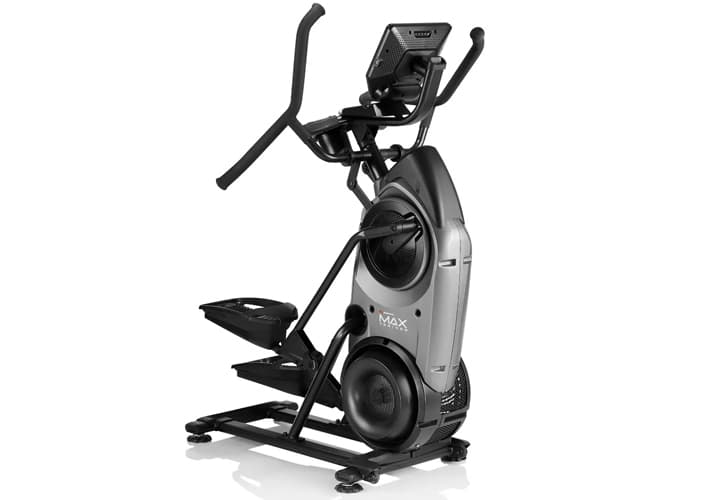 Bowflex moves further with its commitment to streaming with the JRNY digital fitness platform. The upgraded 10-inch high-definition touchscreen provides an array of workout settings, feedback, and crisp imagery. A complimentary one-year JRNY Experience trial comes with the purchase of the M9.
Whether you're being challenged by an online trainer or doing your own thing, the M9 Max will not disappoint, bringing you plenty of high intensity interval training to get your heart rate up and pushing your endurance to new heights.
Let's dig into this spec review and see if this is the piece of equipment you've been looking for.
Who It's For: People who want a calorie torching, full-body low-impact fitness experience on a quality, versatile hybrid-elliptical.
The M9 Max Trainer is designed for users who are:
Looking for a low-impact, high intensity workout.
Users who have little floor space for their workout equipment.
Exercisers who enjoy being led by a virtual trainer to reach their fitness goals.
Want an elliptical trainer and a stepper.
Pros
Fluid motion of an elliptical trainer rolled into a compact stair stepper machine
4-grip handlebars for both a stationary grip and active motion when desired
Compact footprint with enhanced functionality
20 Resistance levels for targeted goals and varied resistance levels
10" interactive touchscreen with access to third-party apps (Netflix, Hulu and Amazon Prime)
Can be used as an elliptical trainer or a stair stepper
Built-in journey membership free for 1-year, which includes customized training plans and the virtual trainer
Cons
Expensive compared to other elliptical type machines. But is also more versatile as it can be used as a stepper too.
The Max Total Trainer can be very noisy when in use — may not be ideal for working out in a bedroom if others are sleeping.
Only a 3 year limited warranty and only a 90-day labor warranty.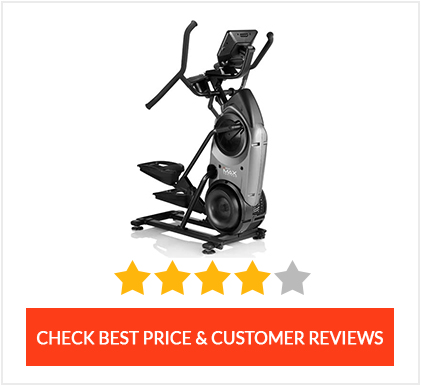 ---
Construction
Footprint- 49.2″ x 30.5″ x 65.1″
Max User Weight- 300lbs
Weight (assembled)- 148lbs
Minimum ceiling height- user height plus 15"
Pedal Height (max)- 19.1 inches
Functionality
Resistance- 20 levels
Onboard Bluetooth speakers make it easy to pair and listen to content from your phone or smart device.
Set-Up time will take more than an hour and will require two people.
While on the M9 Max, you can flip through your completed workout statistics on screens on the touchscreen console. But afterward, you can use the Bowflex™ JRNY™ App on your portable device to further evaluate your stats.
Wireless heart rate monitoring with the complementary Bluetooth armband.
Weighing in at only 148lbs, it only takes one person to move the M9 when you need to stow it away after use. The transport rollers make this a breeze.
The water bottle holder, media notch, and accessory holder are a familiar cardio machine convenience.
Warranty
Frame: 3-year warranty
Parts: 3-year warranty
Electronics: 1-year warranty
Labor: 90-day warranty
---
Spec Review: Bowflex Max Trainer M9
Console
The star of the M9 Max's interactive console is the 10-inch High Definition touchscreen. Not only is this upgraded screen your control center, but it's also a crisp window for viewing your favorite Hulu, Netflix, Amazon Prime Video, or Disney+ shows to help you pass the time on longer self-led workouts.
You'll need the JRNY membership to access these streaming options, but the first year is free with your purchase. With that membership, you will also receive coaching, custom workouts, virtual outdoor runs with Explore The World™, and workouts led by a trainer.
The built-in media shelf/notch makes it easy to stow your tablet, phone, or prop up a magazine while you train. The onboard Bluetooth speakers make it easy to hear instructors, music, or your favorite streaming shows.
Frame
The compact frame (49.2″ x 30.5″ x 65.1″) of the M9 makes finding a place for it easy. It's sturdy and stable but light, with a fully assembled weight of 148 lbs, making it easy to move when necessary.
Drive System
This stair stepper and elliptical hybrid bring the best of both machines while opening up the possibilities of unlimited speed. The drive system for the M9 Max Trainer uses both magnetic and air resistance to give you the challenge you've been looking for.
Resistance
The 20 resistance levels on the M9 Max are achieved through a combination of magnetic and air resistance. These levels will accommodate all users, from the novice to the well-accomplished. Using high-intensity interval training, short periods of intense speed, or just slow and steady strides, the M9 Max can smoothly switch between levels of intensity.
With your JRNY membership, you can track all your fitness progress and statistics.
Heart Rate Monitoring
The M9 Max gives you two options when it comes to monitoring your heart rate. First, you have the Contact Heart Rate (CHR) sensors that send your heart rate signals to the console to see your beats per minute. The sensors are integrated into the handlebars, so you simply grip the portion with the stainless steel face, and the M9 begins to sense your heartbeat. Both your hands must touch the top and the bottom of the sensors to complete the loop so your pulse can be detected.
The second way to monitor your heart rate is with the Bluetooth HR armband with the M9 Max Trainer. With the armband in place, there is no need to worry about holding the handlebar grips in a specific area, just work hard and watch your heart rate match your intensity.
Foot Pedals
Comfort is a huge consideration with home exercise equipment, and often this is overlooked for the sake of cost. Bowflex realizes a comfortable workout is paramount and built the M9 Max Trainer with oversized, textured pedals to give users plenty of space to find a position that is comfortable and safe regardless of the intensity of their workout. Foot size will not be a problem with these pedals.
Multi-grip handlebars
With four handlebar grips to choose from, you never have to overextend or stretch to adjust while working out. The moving handlebars can be gripped anywhere that feels comfortable, and the two stationary grips below the console allow for reading your heart rate. The data will be automatically sent to the JRNY app for tracking and observation.
This means that every user in your home can workout in comfort regardless of height and hand size.
Weight Capacity
The 300lb max user weight the M9 offers is adequate and falls in line with the standard max seen across the industry.
Programs
Basic Workout Types
You can do two types of workouts on the M9 Max Trainer, Steady State and Interval Training.
Steady State– This workout takes the user to a comfortable, challenging pace that can be maintained for the workout duration. A goal for a steady-state activity could be fat burning. This objective would involve targeting a heart rate range and maintaining that throughout the exercise. Steady State type workouts can help users build their stamina and endurance.
Interval Training– This workout takes a user through periods of high intensity to raise and lower their breathing, heart rate, and targeted calorie burn.
JRNY Membership Potpourri of Workouts
Individualized adaptive workouts– Real-time coaching right in your home with tailored workouts to help you meet your fitness goals.
High-Intensity Interval training– Shock your body into better shape with some HIIT, short explosive efforts followed by a period of rest.
Explore the world– Working out can get boring, but with JRNY's Explore The World™, you can spice things up by virtually training abroad with 50+ spectacular destinations around the world you can experience at your own pace.
Individualized adaptive workouts– Workouts explicitly designed for you along with real-time one on one coaching that will adapt as your fitness journey progresses.
On-demand classes– Need a little push, a little inspiration? Our world-class trainers know how to push all the right buttons to motivate you to get everything out of your workout.
Bluetooth Speakers
Bowflex has got you covered coming and going when it comes to sound on the M9 Max Trainer. The console is equipped with a Bluetooth® connection allowing you to pair your phone or other smart device and play your entertainment through the console speakers.
That convenience alone would be great, but this machine can also pair with your Bluetooth® headphones when you want to listen to onboard content discreetly. Your JRNY Membership gives you access to constantly changing playlists of music to keep you motivated.
Extra perks
Onboard JRNY® experience: A full year of JRNY access ($149 value) comes FREE with the M9 Max, but to continue using this excellent tool beyond that, a membership is required.
Integrated media/entertainment notch: Between the resistance knob and the console, you will find a notch perfect for holding a tablet, phone, or even the edge of a book.
Water bottle holder: Just below the resistance level knob in the center of the console, you will find a generously sized water bottle holder to accommodate most beverage containers.
USB Charging: Convenient onboard charging so your phone or other device is ready to go when your workout is complete.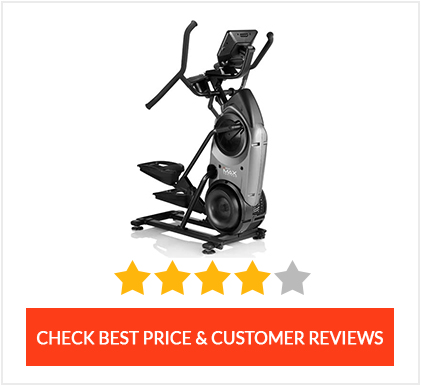 ---
Bottom Line Review: Bowflex Max Trainer M9
The Bowflex Max Trainer M9 is a great addition to the market. Combining the motion of both a climber and elliptical, this machine is built for speed and high-intensity training. The machine itself only weighs 148 pounds but stays stable and sturdy during exercise. But it's not so heavy that you can't move it. It's a bit noisy while in use, so be aware if you share a living space.
In terms of overall conditioning, the M9 is hard to beat. With 20 levels of resistance, users of all levels can test their limits. Maximizing speed with bursts of HIIT or remaining in a steady, slow stride is a plus. The M9 can help advance a new exerciser well into the upper fitness levels without having to change equipment.
Built with a 10" HD Touchscreen, this machine is designed to partner with the JRNY Digital Fitness Platform. The purchase comes with a free one-year membership. The subscription runs $149 per year or $19.99 per month after. The JRNY program works on other select Bowflex machines and can be downloaded onto other devices so that users can take it with them on the go. The program is compatible with other streaming entertainment programs.
The Bowflex Max Trainer line has always produced equipment with high rankings and better screens coming each year. The M9 has a more extensive and more dynamic 10-inch HD Smart Touchscreen, which we love.
This new model is less expensive than older models, and the switch from an included tablet to a screen might be the reason. It's reasonably competitive within the larger market for home fitness machines, although some elliptical-only machines are less expensive if money is a concern.
We feel a machine at this cost and complexity should include more than a three-year warranty. We hope to see more extended warranty periods in the future.
This is a versatile, high-quality cardio machine for home that we feel will work for many athletes.
Related Elliptical Reviews: