*TreadmillReviewGuru helps consumers find the best home fitness products. When you buy a product we recommend, we may earn a commission.
Last Updated: January 7, 2021



The Assault Fitness AirBike Elite is a popular air bike used by garage gym and CrossFit athletes throughout the world. This air bike is used in the CrossFit games and is known for being both challenging and consistent — making it a great machine for training and competition. The Assault AirBike Elite features a chain drive system, vented flywheel with 6 steel blades, a steel frame and pedal cranks, and cushioned seat that moves both fore/aft as well as up/down. The handlebars connect directly to the fan hub and pegs on either side of the flywheel offer a resting place for your feet when you want to focus on building upper body strength. Air resistance is unlimited; the harder you work, the more air is produced by the spinning blades. This makes the AirBike Elite the ideal training tool for athletes at all conditioning levels. Whether you are a new rider looking to shed a few pounds, or a conditioned CrossFit athlete who is ready to compete, the AirBike Elite provides customizable — and unlimited — training potential.
Who It's For: Athletes who want an AirBike Elite with no max resistance, a steel frame, and solid reputation
Assault has manufactured the Airbike with several key features that make it a good buy for users who:
Are looking for something reputable and well built
Desire both upper and lower body conditioning
Want equipment that will provide intense HIIT training
Appreciate the tried-and-true resistance of a chain drive
Can mount and sit on the bike with proper spine alignment
May want to compete against other AirBike Elite athletes
Use HIIT sessions to supplement their strength training routine
Have space for this hearty machine
Pros
More warranty coverage than the standard AirBike
Steel frame with sealed cartridge bearings for strength and durability
Two-way adjustable black leather seat is enlarged for comfort
Integrated windshield included; can be removed
Upgraded frame strength supports 350 pounds
Console is both ANT+ and Bluetooth compatible
Durable frame weighs 139 pounds and has transport wheels to roll as needed
Large steel flywheel creates unlimited resistance and will challenge any user
Great for HIIT training and cardio supplement to your existing strength routine
Does not require electricity or a wall outlet
Cons
Not foldable or compact
Around $500 more than the AirBike
Console is not as high-tech as others in this price range
Noisier than the Echo AirBike due to chain drive system
---
Chain drive system with unlimited resistance

The chain drive system on the AirBike Elite is the tried and true method for creating a smooth pedal stroke with consistent resistance. The flywheel air blades spin in response to each rider's power so there is literally no max resistance. This bike will work as hard as you do for the ultimate workout.

Steel frame construction with quality throughout

Solid steel cranks for strength and durability
ISIS splined system for crank, bottom bracket & bell crank
Solid aluminum seat post & slider provides the right bike fit for each rider

Two-way seat adjustment on padded leather seat with stylish stitching

Sports Seat Elite is 4-way adjustable: up, down, forwards, backwards

Bluetooth & ANT connectivity in console

Upload training data and connect your HR chest strap for real time data and accurate wattage

25" Steel Flywheel with Integrated removable windshield

The Elite model includes an integrated windshield that reduces air flow through the flywheel. You can remove it as desired.

All-metal pedals with cleated edges for grip

Forward & backward pedaling is possible on the AirBike Elite

Stationary foot pegs to rest your legs & isolate an upper body workout

The AirBike Elite is designed for both upper and lower body conditioning. You can also isolate either upper or lower by resting your feet on the foot pegs (so it's all upper body) or not using the handlebars (all lower body).

Corrosion resistant frame designed for strength and durability

The AirBike Elite includes sealed cartridge bearings in every pivot & moving part and was designed to withstand commercial use. It is also a great addition to any home or garage gym. The AirBike Elite will support up to 350 pounds of rider weight.

Footprint: 55.08" long x 26.26" wide x 55" high

The bike does not require electricity and can be placed in any room or corner. Make sure you have enough span for the moving handlebars. The bike weighs 139 pounds.

Upgraded LCD Display is hi-contrast for improved readability

Features Performance Tracking
Comp Mode
HIIT interval programs
Target programs
Heart-rate programs
Classic time, distance & calorie goal programs
Rest & Work LEDs
Construction:
Chain drive
Solid steel cranks
ISIS splined system for crank, bottom bracket & bell crank
Solid aluminum seat post & slider
Sports Seat Elite is 4-way adjustable: up, down, forwards, backwards
Moving handlebars with multiple grip variations
Bluetooth & ANT connectivity
25" Steel Flywheel
Integrated removable windshield
All-metal pedals
Forward & backward pedaling
Stationary foot pegs to rest your legs & isolate an upper body workout
Corrosion resistant frame
Sealed cartridge bearings in every pivot & moving part
Commercial durability
Supports up to 350 lbs
55.08" long x 26.26" wide x 55" high
Bike weight: 139 lbs
Front-mounted transport wheels
Self-powered console requires 2 x AA batteries (included)
Console:
LCD Display with performance tracking
Hi-Contrast with improved readability
Comp Mode
HIIT interval programs
Target programs
Heart-rate programs
Classic time, distance & calorie goal programs
Rest & Work LEDs
Bluetooth
Workout data for Time, Speed, Distance, Pace, Watts, Calories and Heart Rate
Functionality:
Steel frame
Large 25" flywheel
Great for HIIT training
Upper and lower body conditioning
Pedals or foot peg options
Pull/push handles for arm, back, chest strengthening
Upgraded console hovers over flywheel for easy reach
Warranty:
5-year warranty on bike frame
3-year parts warranty
1-year labor warranty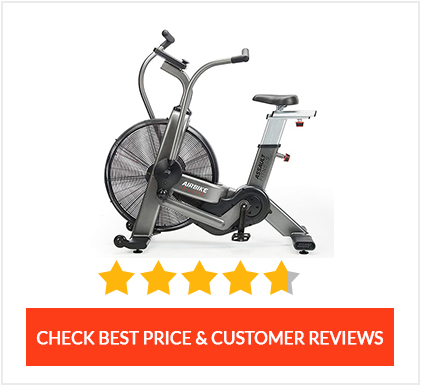 In-depth Review of Assault Airbike
---
Construction

Frame
Steel Frame
The Assault AirBike Elite has a sturdy steel frame. It features a chain drive with solid steel cranks, an aluminum seat post and moving handlebars. The frame is powder coated to be corrosion resistant and has reinforced with sealed bearings in every pivot. The AirBike Elite is commercial quality and supports riders up to 350 pounds. The bike itself weighs about 139 pounds, so it feels solid underneath as you ride. The Elite model is a step up from the Classic Assault AirBike, which has been an industry favorite for years. The AirBike Elite frame is a light gray color. The drivetrain, flywheel, handles, pedals and seat are all black for a striking contrast. Crisp white lettering with red accents makes this a chic air bike. While the Classic model is impressive, the Elite really steps up the game with a not only stronger, but more striking frame design.
Seat Adjustment

The AirBike Elite seat moves up and down as well as forward and aft. The handlebars connect to the flywheel hub and do not adjust. When using a bike, finding the right fit is important and will affect how it feels and performs. A gentle 25-35 degree bend in the knee is recommended when your lower foot rests on the pedal at the lowest point in the pedal stroke. To find this angle, sit on the saddle and extend one leg to the lowest position. You should be able to almost fully extend your leg, with just a slight bend in the knee. If your seat is too low, it will hurt your knees. If it's too high, you'll feel it in the perineum. Many times, AirBike riders will just jump on the bike and launch quickly into a HIIT session but not take time to adjust the seat. This can negatively impact your performance. Even though AirBikes are more of a cardio supplement and not often used for longer distances, saddle adjustment is still very important. Each rider should find the right fit and then adjust the bike as needed with each use. Having both an up/down adjustment as well as fore/aft makes it so the AirBike Elite should work for most sized athletes.
Flat Metal Pedals

The AirBike Elite features flat metal pedals with small cleats along the edges for proper foot grip. There is no strap to hold your shoe in — so make sure you have a solid foot placement with the ball of the foot connecting with the pedal for maximum power.
Plug
The AirBike Elite does not require electricity. The console is battery powered and comes with two AA batteries. You can place your AirBike Elite anywhere in your workout space without needing close proximity to a wall outlet.
25" FlyWheel

Steel FlyWheel
The 25" flywheel on the Assault AirBike Elite encases flat air blades that rotate around the hub as you move the pedals. Air bikes are a favorite of CrossFit gyms and other serious athletes because this type of resistance is virtually unlimited. The harder you pedal and pull the handlebars, the faster the air blades move, which increases resistance. The flywheel is connected to both the pedals and handlebars — so you can isolate either upper or lower body as desired. The flywheel on the Elite bike is a bit thicker and heartier than the Classic model. An included windscreen blocks a bit of the air that blows back up on the rider — and slightly reduces noise. But it can be removed if you want the benefit of more air in your face to cool down while riding.
Drivetrain
The AirBike Elite uses a chain drive system that connects the pedals to the flywheel hub. A chain drive is noisier, but also has a consistent resistance throughout the stroke. Belt drives are quieter and require less maintenance, but they also change the way the bike feels both underfoot and while you are pulling. The chain is protected by a drive shield that reduces dust and debris from entangling with the chain or sprocket. The newer Echo AirBike features a belt drive which is noticeably quieter — however the pedal stroke feels slightly different and since the AirBike and AirBike Elite are the models of choice for CrossFit games and other competitions, the chain drive system is recommended when training for these events.
Saddle

Comfort and Design

The AirBike Elite saddle is wider than the Classic and has additional padding. Granted, like all bike saddles, it is not the most comfortable seat you'll ever sit on, but for training purposes this one is a step up. The wider seat provides more support and the black surface is both sweat and moisture resistant. The seat can be wiped down to sanitize.
Console/Controls
Console


The console is one area where the Assault bikes don't quite offer all the advanced tech. The Elite console is a step up from the Classic with added Bluetooth functionality and more features. Be advised, the console is not backlit, so in low-light conditions it can be hard to see the numbers. However, in regular lighting, the digits are large and easy to see. While the Classic console only syncs with ANT+ polar chest straps, the Elite console will pair with Bluetooth or ANT+ devices so you can use pretty much any chest strap.
LCD Display

The bike console displays:

Time
Distance
Callories
Watts
Speed
RPM
Heart Rate (when using a chest strap)
Heart Rate (for compatible Polar chest strap)

There are 7 preloaded programs with buttons along the side of the console for interval and target training.

Interval program button for HIIT workouts, such as:

20/10 for 20 seconds of work, 10 seconds of rest
10/20 for 10 seconds of work, 20 seconds of rest

Target Programs for:

Target Time
Target Distance
Target Calories
Target Heart Rate

Along the bottom of the console are buttons for Start, Stop, Up/Down and Enter
The console is battery operated and does not require a wall outlet.
Rest and Work lights on the top of the console signal when to stop and go during an interval program. This is handy because the bike is often noisy when you are working hard and it can be hard to pay attention to how much time is left.
Functionality
Performance
Assault Fitness is a high-end fitness equipment manufacturer based in California, USA. Unlike other companies that sell hundreds of pieces of workout equipment, Assault only offers four training tools: the Classic AirBike, AirBike Elite, AirRunner and AirRower. All of these are high-quality air-powered machines that are well designed and targeted to serious athletes and niche gyms. Assault has a reputation for building consistent, quality machines and the AirBike Elite certainly fits that mold. The Classic AirBike is a great option for many users, but for those who want a bit more durability, slightly updated console, thicker frame, chic design and higher weight capacity, the Elite is a great choice. Many powerlifters and other athletes who strength train seriously may hover around the 300 pound weight limit on the Classic AirBike. Since the AirBike Elite supports up to 350 pounds, it is a better option for those who want a stronger frame. You can see the thicker steel frame on the Elite model. The flywheel, handles and pedals are all upgraded as well. This bike will take whatever punishment you can throw at it and match your intensity.
The foot pegs on the side of the flywheel act as foot rests when riders want to isolate upper body only. To isolate lower body, simply remove your hands from the handlebars. However, unlike other cardio equipment (try not to cringe at the definition), the AirBike provides a full body workout. The AirBike Elite will burn out your legs in no time and the rotating handlebars challenge chest, back, arms and core. Just a few minutes of HIIT training on the AirBike Elite is enough to challenge any athlete.
Resistance
As mentioned above, one reason Assault Fitness specializes in air resistance machines is because this type of resistance has unlimited power — the harder you pull and pedal, the more air resistance is generated by the air blades. Assault has done an excellent job here of taking the benefits of air resistance and designing a comfortable air bike that is easy to sit on and use. The bike can be noisy due to the amount of air moving through the fan, but you are working so hard you don't notice. The AirBike Elite is an industry favorite for consistent calorie burn and wattage and is often used in CrossFit competitions. The Classic has been regularly used in the CrossFit Games.
Pre-programmed workouts
The AirBike Elite includes different workout options:
There are Seven pre programmed workouts on the AirBike:

20/10 Intervals: 20 seconds of work with 10 seconds of rest. This is a traditional Tabata style workout with a rest segment that is half the time of the work segment. This is extremely challenging since you have very limited recovery in between intervals. Eight 20/10 intervals takes 4 minutes and by the end we promise you will be completely out of breath! Use these for full body conditioning, or isolate upper/lower as desired.
10/20 Intervals: 10 seconds of work and 20 seconds of rest. This inverted Tabata interval program provides more rest which allows you to go all out during that 10 seconds. Don't think this is easy! If you give it your all those 10 seconds are killer.
Custom Intervals: if you want to do 40/20's or 45/15's, you can set the interval work/rest intervals as desired.

Targeted Training Programs:

Time: Set a goal time to complete and then work until you achieve the set time.
Distance: Set a distance goal and then try to complete it in less time than your previous session.
Calorie Burn: Work to accomplish a specific calorie burn via distance, speed, intervals or any other method that kicks up your heart rate.

Heart Rate Training: the console is Bluetooth enabled so it will sync with any compatible chest strap for targeted heart rate training. Heart rate training is a more accurate way to measure your exertion since your heart rate will respond to how hard your body is working. Heart rate training is very valuable on the Assault AirBike Elite. The console provides a digital readout of your heart rate in real time.
Noise Level
The Assault AirBike Elite is noisy. Due to the use of both a chain drive and air resistance, the AirBike Elite creates a bit of noise during use. But the windscreen helps a bit with this — and, the AirBike Elite isn't a machine designed to be used in the corner of your family room while the rest of the family eats dinner. This is a targeted training tool best suited for a garage or gym space where you can sweat all over, go all out, and achieve your fitness goals.
Storage / Folding


The AirBike Elite doesn't fold. But there are two large transport wheels under the front stabilizer. You can tip the bike to engage the wheels and then roll as needed. The AirBike Elite is heavy though, so be careful when tipping and rolling it.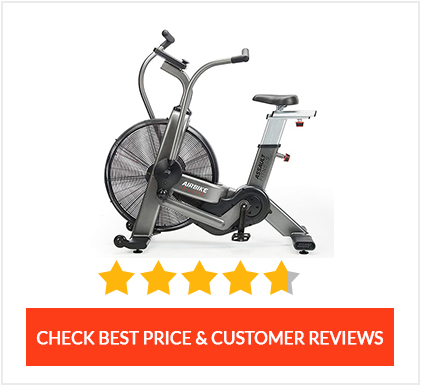 Bottom Line:
The Assault AirBike Elite is a step up from the Classic AirBike with a firmer frame (it weighs about 40 pounds more), wider saddle, upgraded console and all metal pedals. The bike is designed for intense training. The pedals will move both forward and backward and the air resistance generates power in response to each rider's strength. The large 25" steel flywheel has an integrated, but removable, windshield for noise and wind control. Remove the windshield to enjoy more air flow on your body while you ride. The handlebars have multiple grip positions so you can place your hands in any number of positions to engage different arm and chest muscles while pulling. There are also stationary foot pegs when you want to isolate upper body only. The large sport saddle adjusts both up and down as well as forward and aft and is wider and more padded than the Classic seat. The upgraded console also offers a few more training programs, although this is not the most tech-enhanced display. You get several interval training programs and targeted goal options, but we don't find this to be as expansive as the PM5 monitor on the Concept2 rower, but it does the job. The console does feature a Comp Mode and Rest/Work LED lights. It is also Bluetooth enabled. The 350 pound weight capacity also enables more riders to use the Elite, so if you hover around the 300 pound weight limit on the Classic AirBike, an upgrade to the Elite gives you more weight buffer. We are impressed with the Assault Fitness AirBike Elite. It will cost you about $500 more out the door, and the upgrades may not be necessary for all users. But if you are looking for a higher weight capacity, quality design, a reputable company, and intense air resistance training, the AirBike Elite is a fantastic choice.
Related Treadmill Reviews: