*TreadmillReviewGuru helps consumers find the best home fitness products. When you buy a product we recommend, we may earn a commission.
Last Updated: May 7, 2023
The Horizon 7.0 AT is a midrange model that's the most affordable treadmill in Horizon's Studio Series. Horizon makes treadmills that are functional, quiet, budget-friendly, quick-adjusting, and easy to use. The Horizon 7.0 AT is all of this and more. This treadmill folds up, transports well, and has compatibility to work with popular fitness apps like Zwift. The 7.0 doesn't require a subscription so once you pay for the treadmill, you don't have to worry about an extra monthly fee to access the content. Plus, at just under $1000 this Horizon treadmill is an excellent bang for your buck. In our Horizon 7.0 AT Treadmill review, I'll go over what you can expect before you bring it home.
Award: Best Treadmill Under $1000
The Horizon 7.0 AT Treadmill is one of our top recommendations. We love its price point, especially considering the overall quality. On our best treadmills for home use list for 2023, we've awarded the Horizon 7.0 as the best treadmill under $1000. If you're looking for a folding treadmill for walking, jogging, and running that you can use your device with for extra training and entertainment options, then the 7.0 is one to consider. This Horizon treadmill doesn't cut any corners when it comes to performance and functionality. It's quiet and compact, yet spacious enough to support most running strides and users. We highly recommend looking into this model if any of this aligns with your goals.
Why You Should Trust Our Review Of Horizon 7.0 AT Treadmill
Why should you trust our review of the Horizon 7.0 AT? Well, for starters, we spend a lot of time on treadmills and we've been testing all kinds of models from several different brands for years. Our team consists of fitness trainers, professionals, and enthusiasts who are passionate about helping people find the best fitness equipment for their homes. From Horizon, we've heavily tested the Horizon 7.8 AT and Horizon T101, so we were excited to test another treadmill from the brand.
During our testing of the 7.0, we also put it next to other comparable models like the Sole F63, NordicTrack EXP 7i, and Proform Carbon T7. We like to have direct comparisons between models so we can help you decide which model is best for you. I'll share how the Horizon 7.0 compares to these throughout this review.
---
Our Horizon 7.0 AT Treadmill Video Review
---
Pros
This is an affordable treadmill that comes with nice features and training capabilities commonly found on higher-end models.
The 60" long belt supports most strides for walking, jogging, and running.
The deck folds and unfolds to give you extra room when you're not using it, plus the treadmill is pretty easy to move.
The 3.0 CHP motor is quiet, quick to adjust, responsive, and supports light to moderate use.
The console doesn't require a monthly subscription and comes with onboard workout programs and is compatible to use with apps like Zwift and the Peloton App.
Cons
This model isn't best for heavy amounts of training.
The speakers and the fan are weak, so you're better off using your own.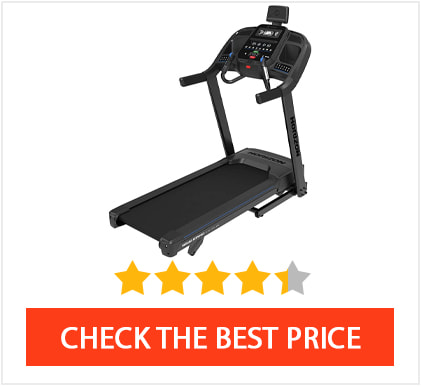 ---
7.25" LCD Hi-Contrast Screen
4 High-Contrast LED Windows
Workout Programs: 5k, calorie, custom, distance, fat burn, hill climb, manual, and target heart rate
Metrics Displayed: calories, distance, heart rate, incline, speed, and time
Bluetooth Connectivity to apps such as Peloton, Zwift, Studio, and other fitness apps
Bluetooth Speakers – Play music from your device through the speakers
Fan
Quick-Dial Controls
Device Rack
Audio In/Out Jack
Charging Port
Included Heart Rate Chest Strap
FeatherLigh Folding
Transportation Wheels
Footprint: 76" L x 35" W x 66" H
Folded Footprint: 48" L x 35" W x 66" H
Treadmill Weight: 277 lbs
Weight Capacity: 325 lbs
Running Surface: 20" x 60"
Motor: 3.0 CHP
3-Zone Variable Response Cushioning
Speed: 0.5-12 mph
Incline: 0-15%
Roller Size: 60mm/46mm Tapered
Step-Up Height: 9.5" (floor to top of side rail)
Step-Up Height Fully Inclined: 15" (floor to front top of side rail)
Deck Thickness: 0.7" (18mm)
Warranty: Lifetime for the frame and motor, 3 years for parts, and 1 year for labor
In-depth Review of Horizon 7.0 AT Treadmill
---
Preprogrammed Workouts and Third-Party Apps
One aspect that we really appreciate from Horizon is that their treadmills are simple to use and they let you choose how you want to be entertained when running. In a world where it's hard to not find a screen attached to a treadmill, we're glad to see Horizon incorporates limited tech on their treadmills. If you're looking for a treadmill that offers streaming content on a touch screen, we have plenty of models to check out like ones from NordicTrack, ProForm, and Bowflex. If you want options from a treadmill's console that functions more like a standard one you'd find in a gym, then you're in the right place.
These workout modes include 5k, calories, distance, fat burn, hill climb, and target heart rate. The programs include preset speeds, inclines, and set times. You can customize these modes with specific speeds and grades, as well as use the custom mode to make your own workouts.
There is also a manual mode to do your own thing. The treadmill will automatically adjust to the preset settings from the programmed workouts, but it doesn't adjust automatically in manual mode since you're able to control the treadmill as you go.
The Horizon 7.0 AT is Bluetooth-enabled to connect with apps like Peloton, Studio, and Zwift. So, if you like taking trainer-led treadmill workouts, you can stream Studio or the Peloton App while using the 7.0. You can also watch whatever you want on your phone/tablet and listen to the content through the 7.0's speakers. So, for entertainment, this treadmill gives you a good range to choose from.
Console
The display on the console is a 7.25" LCD screen. There are also 4 LED windows below that. As far as visibility, these displays are bright and easy to read. Note: These aren't touch screens, so you have to use the buttons to navigate through the programs.
I'll admit I had to peek at the manual to figure out how to get into the programmed modes. I think spending so much time using touch screens, makes me a little inept on equipment that has lower tech. Each workout program mode has an icon. These look like they could be buttons, but they're not. The round black button in between the stop and start is where you select the different programmed workouts. It would be nice if these could be buttons, but clicking through to select a user and customize a mode is easy enough. The console can save up to 5 profiles, so the entire family can have their own.
On the display, you'll see all of your metrics such as estimated calories, distance, incline, speed, time, and heart rate. Horizon includes a heart rate monitor chest strap so you can do heart rate tracking. We are pleased that it is included since many brands only offer this separately. There are also pulse grips on the front handles that will read your heart rate when you hold them, but it's more accurate to use the chest strap.
The 7.25" LCD screen also shows a track to give you a visual motivator when tracking your distance, and a bar chart to display where you are in the programmed workout. I think for metrics and visuals, this is all you really need on a basic display such as this one.
The console has a surprising amount of adjustment buttons. On the right and left-hand sides, there are quick-touch buttons. For instance, when you press 5 on the left side, the deck will incline to 5% and when you press 8 on the right side, the belt will move at 8 mph. We love using these buttons on treadmills that have them, like NordicTrack's and Sole's, but I've been enjoying using the blue roller adjustments on the front handles. I can quickly roll them with my thumbs to get to specific increments that I can't adjust to with the quick-touch buttons. Plus, below these on the inside of each handle is another button that you can preset a specific speed and incline level.
As mentioned above, the Horizon 7.0 AT connects to your device to play music or whatever content you're streaming on your phone through the treadmill's speakers. You can also use the play/pause, stop, next, and back buttons on the console to skip through songs when you're listening to music on Spotify for example. The circular black button where you select workout programs spins to adjust the speakers' volume. Unfortunately, the speakers aren't very loud, so we'd like to see them improved on a future model. My iPhone speaker is a lot louder in comparison.
The fan is small and pretty weak, too. I can feel the airflow when I put my hand in front of it, but it isn't powerful enough to reach my face when I'm walking and running. The Horizon T101 is more powerful and actually effective. You're better off plugging in your own fan if cardio leaves you in a pool of sweat as it does to me.
There is a pocket to put your water on each side of the display screen. It's large enough to hold other smaller items you might need nearby, too. They don't have a front ledge so I was nervous to place my large 40 oz Stanley Cup in them when I was running because the bottle leaks when it's tipped upside down. Smaller water bottles should be fine though.
There are also two places to set your device for streaming. One is a small ledge below the LCD screen, and the other is mounted at the top of the console, so your device can be closer to your eye level, depending on your height. If you're like Matt who's 6'5", you'll be looking down regardless. That's just the nature of most treadmills, especially more compact models like this one.
There is a small amount of shake, but it isn't distracting and my phone stays in place on both device racks.
Construction Quality/ Durability
Even though the Horizon 7.0 AT Treadmill is budget-friendly, it's still of great quality and actually pretty impressive. It's fairly lightweight at 277 lbs and can handle a good amount of weight with a 325 lb capacity. This is the same as the Sole F63. Considering the 7.0 is priced at just under $1000, this limit indicates a good design.
Frame
The steel frame is pretty standard from what we normally see on treadmills. The overall look of the 7.0 has been updated to all-black, which makes this treadmill look sleeker than the previous version. It isn't quite as hearty as the Horizon 7.8 AT, but it is about half the price. It's also a little more compact, so if you're looking for a treadmill that takes up less space, this is one to consider. The uprights are steel and they connect to the frame under the deck.
The console fits on top of the uprights. The small amount of movement in the console that I mentioned, is normal for treadmills in this price range. A steel crossbar under the console between the uprights would probably help prevent this, however, the shake is very minimal and only at higher speeds.
The handles are pretty standard on the 7.0. The side handles offer some balance assistance, but they aren't very long so if you have balance issues you might want to look into a treadmill with longer handles. The front handles offer assistance, however, I use the blue roller knobs on them to adjust the treadmill more than actually holding them.
Motor
The Horizon 7.0 AT has a 3.0 CHP motor. For running, this is on the low end of the motor sizes that we recommend. I wouldn't use the 7.0 AT for heavy training like running a marathon or even running for say 8+ miles per day because the motor isn't built for it. Instead, it is better for light to moderate use, think around 3-7 miles a day. The maximum speed this treadmill reaches is 12 mph and it has a 15% max incline. As far as training options, the Horizon 7.0 offers comparable training options to premium treadmills, like the 7.8 AT. The speed and incline range is higher than what we see on lower-end models like the ProForm Carbon T7. The motor is also more powerful than the T7 and the NordicTrack EXP 7i, which only have 2.6 CHP motors.
Horizon Treadmills are quick to adjust. As far as treadmills we've tested, Horizon treadmills are some of the fastest to adjust. We've noticed in using treadmills from Horizon, that there is a slight delay from when you push a button to when the belt starts adjusting. This is only about 2-3 seconds or so and even with this tiny lag, these treadmills are still some of the quickest to adjust.
When we tested the 7.0, we were happy to see that it adjusts quickly and evenly. It's actually really comparable to the 7.8 AT even though it has a smaller motor. It's also very quiet. The motor generates a low amount of sound and the incline feature hardly makes noise when the deck raises and lowers. So, if you're looking for a quiet treadmill, this one is an excellent choice. We're really pleased with how quiet the motor is.
Deck
I think this is the sweet spot when it comes to deck sizes. For length, this deck has enough room to support long running strides, and the width makes this treadmill more compact. If you like a lot of room width-wise, you might want to look into a model with a 22" wide deck like the 7.4 and 7.8 models. For most people though, this deck size will be plenty sufficient for everything from walking, jogging, running, and sprinting.
Even though this is an affordable midrange model, it has a good amount of cushion in the deck. It isn't quite as cushioned as the Commercial Series Treadmills from NordicTrack, but it is comfortable and helps reduce the impact that comes with running. It has more cushioning than the Sole F63. The profile is also pretty low at about 9.5" high from the floor to the top of the side rails when the treadmill is at a 0% grade. When fully inclined, the step-up height when measured from the floor to the top of the side rail at the front of the deck is 15".
Performance & Functionality
As far as performance, the Horizon 7.0 AT impressed us with how quiet the speed and incline are. It definitely doesn't sound like a treadmill that's under $1000 – in a good way! The motor generates a low amount of sound and the deck absorbs a lot of noise from your footfalls, so overall it's pretty quiet. We recommend looking into the 7.0 if you're in the market for an affordable treadmill capable of handling walking, jogging, and running. It's also great if you want a treadmill with a limited amount of tech. As far as the console and included workouts, this treadmill functions more like one you'd find in the gym. But it's nice to have the choice of using your device for streaming.
The 7.0 is also excellent if you like doing intervals because it is fast to adjust. I would look into the Horizon 7.8 AT if you want to do extensive training, though since this model has a motor to support that.
The 7.0 is foldable, which really helps if you need a treadmill that stores. The folding mechanism uses a hydraulic assist, like most models, so you get assistance when lifting the deck. Plus, the deck lowers slowly to the floor itself when it's unlocked. We prefer this feature as opposed to manually folding decks like the ProForm Carbon T7, however, the T7 folds up to be a little more compact.
For a treadmill capable of handling light to moderate running, it is pretty easy to move around. The wheels are a little small, but they work fine.
Warranty
Horizon has an impressive warranty that's included with the 7.0 AT Treadmill. Like the higher-end models in the Studio Series, this treadmill comes with a lifetime frame and motor warranty. The 7.0 also comes with 3-year parts and a 1-year labor warranty. It requires some assembly but wasn't difficult to set up. If you've put together treadmills before you'll probably be able to assemble the 7.0 yourself, but having 2 people for set up is recommended.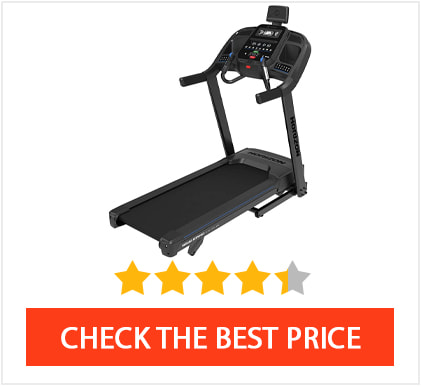 Bottom Line Review: Horizon 7.0 AT Treadmill
The Horizon 7.0 AT Treadmill is an affordable model that performed well for us. It's quiet, quick to adjust, and comfortable to run on. For running, it should handle pretty much all running strides and support light to moderate use. So, if you're looking for a treadmill to log 8-10+ miles a day on, we recommend looking into higher-end models like the 7.8 AT. The Horizon 7.0 though comes with some features that we typically see on premium models like a 12 mph max speed and 15% incline range. The cushioning is also pretty forgiving and helps lessen the impact that comes from running. Overall, this treadmill is foldable, fairly compact, easy to move, and comes with an impressive lifetime frame and motor warranty. If all of this sounds good and you like that the Horizon 7.0 AT doesn't require subscription workout content, then we highly recommend checking it out!