*TreadmillReviewGuru helps consumers find the best home fitness products. When you buy a product we recommend, we may earn a commission.
Last Updated: May 10, 2023
Nordictrack is one of the most prolific manufacturers of fitness equipment in the world. From bikes to bikes to elliptical machines, Nordictrack offers tech-enhanced equipment with impressive programming for any user. Below you'll find an overview of Nordictrack's exercise bikes including their studio cycles, upright bikes, and recumbent bikes.
Commercial Studio Cycles
Nordictrack's Commercial studio cycles are unique in that they incline and decline while you ride! An incline motor positioned under the frame lifts and tilts the bike to create a natural feeling of riding outdoors. The s27i, s22i, and s15i all include a full-color touchscreen with outdoor iFit rides that transport you to exotic locations all over the world.
---

The NordicTrack s27i currently has the largest touch screen found on an exercise bike. The 27 inch screen is large and makes viewing iFit's classes highly interactive. The outdoor classes are especially mesmerizing on the large pivoting screen. The s27i is NordicTrack's premium exercise bike and offers a lot of the same features of the s22i.
The incline and decline function definitely makes the s27i unlike your average indoor exercise bike. When inclined, the resistance feels harder to pedal against to simulate the feeling of riding up a hill. Alternatively, the resistance feels less intense when declined. The frame of the bike also pivots up and down to really make your ride feel realistic to riding outdoors.
The lightly padded, narrow racing saddle makes long rides ideal, and the spongy, textured handles offer multiple grip options. The adjustment buttons on the handles allow for quick adjusting while riding and are more convenient than your typical resistance knob, especially when programming the bike to go to a specific level. Of course, with iFit the s27i will automatically change the resistance and incline/decline of the bike to match the format of the class – this is one of our favorite iFit features!
Read our full review of the NordicTrack S27i Studio Cycle.
Specs:
Footprint: 57″ Long x 28″ Wide x 65″ High
27" Rotating & Tilting HD Touchscreen
Power Readout with Wattage
Automated Incline & Decline Drive System
Device Tray
AutoBreeze™ Fan
Water Bottle Holder
2-Sided SPD Pedals
-10% to + 20% Incline
SMR™ Silent Magnetic Resistance
Inertia-enhanced 32lb Flywheel
Two 3 Lb. Dumbbells are included
Max User Weight: 350 Lb
---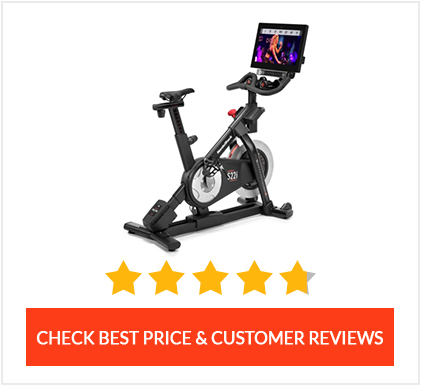 The NordicTrack s22i changed indoor cycling with the addition of an incline motor. This feature lifts and tilts the bike to match the incline or decline of the actual terrain. This increases your training variables and also makes rides feel more realistic. iFit also includes automated resistance and incline so the bike will automatically adjust both incline and resistance for you (automated control can be overridden at any time.) A 22" screen attached to the front of the bike showcases iFit indoor classes and outdoor rides all over the world. These are led by personal trainers who guide you along the trail or workout.
iFit has constantly updated classes and content and it incorporates a leaderboard into both classes and outdoor routes. There are no live classes, though. The s22i also has touch button controls on the handlebars so you can incline/decline or adjust the resistance as needed. There is also a fan mounted under the screen.
The s22i uses magnetic resistance so it is practically silent and doesn't take up much space in your home. The bike weighs around 200lbs and has a 350lb weight capacity. The s22i has flat pedals with cages that will hold any athletic shoe, and SPD clips. We love the innovation and design of the Nordictrack s22i. If you are in the market for something original and engaging, this is a great option.
Read our full review of the NordicTrack S22i Studio Cycle.
Specs
Footprint: 61″ Long x 22″ Wide x 58″ High
22" 360 Degree Rotating Smart HD Touchscreen
30W Premium Audio
2 Water Bottle Holders
AutoBreeze™ Workout Fan with four power settings
-10% to + 20% Incline
SMR™ Silent Magnetic Resistance
Inertia-enhanced 32lb Flywheel
Hybrid SPD & Toe Clip Pedals
Automated Incline & Decline Drive System
Two 3 Lb. Dumbbells are included
Max User Weight: 350 Lb
---

The NordicTrack s15i is one of our favorite bikes because it has all the same features as the s22i but with a slightly smaller screen and a more affordable price point. The s15i has a 14" touchscreen with a wide bevel that houses quick touch buttons for both resistance and incline. Like the s22i, this bike has a motor on the rear stabilizer that creates a -10% decline to +20% incline. The s15i features 22 digital resistance levels with manual controls for both on the extension grips.
The s15i also has automated incline and decline. The combination of the incline feature in addition to 22 levels of magnetic resistance makes the s15i as close as you can get to outdoor riding. This feature also significantly increases training variables as you can now combine resistance, speed, and incline to create greater climbing challenges. NordicTrack offers the S15i free when you purchase a 4 year subscription to iFit.
Read our full review of the NordicTrack S15i Studio Cycle.
Total Footprint: 60" Long x 22" Wide x 58" High
14" High Def Touchscreen with wide bevel for Incline and Resistance buttons
Automated -10% to +20% Incline
SMR™ Silent Magnetic Resistance
OneTouch™ Controls on Extension Grips
Digital Resistance with 22 Levels
32lb Weighted Flywheel
Spongy-coated multi-position handlebars
Saddle and Pedals can be swapped for any standard road bike pedals and seat
Three points of adjustment for correct bike fit
Two 3 Lb. Dumbbells are included and sit in a tray just below the console
Max User Weight: 350 Lb.
---
Nordictrack Recumbent Series
Nordictrack's recumbent bikes include the VR25 and R35. These recumbent bikes feature many of the same features as the studio bikes, but with more relaxed positioning that makes it easier to get on and off. Recumbent bikes tend to be larger and heavier than studio bikes, but are usually very stable and support a higher weight capacity.
---

The Nordictrack R35 combines comfort, tech, and convenience in one bike. The R35 has a padded, oversized seat that slides horizontally so you can find the right fit. A vented backrest and lumbar support increase your comfort on the bike, and the wide pedals will support any athletic shoe. We love the 14" touchscreen with high-def resolution and quality iFit content. The 25lb flywheel creates a smooth pedal stroke and 26 digital resistance levels allow for plenty of resistance variables. This bike will support up to 350 lbs of user weight, making it a good option for riders of all sizes. The one-touch controls and a clean console augment the bright touchscreen.
This combination of features makes the Nordictrack R35 a comfortable recumbent bike that will increase your cardiovascular fitness, muscular strength, and help you lose weight – all while exercising at home.
Read our full review of the NordicTrack R35 Recumbent Bike.
Specs
Smooth, Inertia-enhanced 25lb Flywheel
26 Digital Resistance levels
Silent Magnetic Resistance
350 Lb. User Weight Capacity
68" L x 24" W x 54" H Footprint
14" Smart HD Touchscreen
Syncs with Bluetooth Headphones
Live Touch Buttons
Dual AutoBreeze™ Workout Fan
Automatic Trainer Control
Indoor and Outdoor Rides
---

The NordicTrack VR25 is a comfortable bike that is ideal for anyone looking for low-impact training on a bike that is reclined and easy to use. With a padded seat and vented backrest, you can work hard and still stay cool. The step-thru design works great for those with mobility or joint issues.
The NordicTrack VR25 is a smooth, comfortable bike. Riders have the option to sit back and pedal gently while viewing their tablet, studying for a test, or even reading a book set on the lip of the console. iFit includes a wide array of classes and rides that will keep you interested and motivated. We love how NordicTrack engineered this bike to provide exceptional functionality for those who want to exercise without stress to their back or joints. The step-through design is ideal for any user but will work especially well for anyone with range of motion limitations. You can strengthen the powerhouse muscles in your legs and enhance your cardiorespiratory conditioning while staying comfortable and reclined. It's hard to go wrong with the VR25!
Read our full review of the NordicTrack VR25 Recumbent Bike.
Specs
StepThru™ Design
Oversized, Lumbar-Supported Cushion Seat
Extra-Wide, Ergonomic Foot Pedals with Adjustable Strap
AutoBreeze™ Workout Fan
68″ L x 21.75″ W x 60″ H Footprint
25 Lb. Inertia-Enhanced Flywheel
Commercial-Gauge, Solid Steel Construction
350 Lb. User Capacity
7" Smart HD Touchscreen
Two 2" Digitally Amplified Bluetooth® Speakers
Bluetooth® Smart Enabled
35 On-board Workouts
25 Lb. Inertia-Enhanced Flywheel
26 Digital Resistance Levels
---
Nordictrack Upright Series
Upright bikes are a hybrid exercise bike with an upright frame where the handlebars are set higher than the seat so riders can sit more comfortably without being leaned over. They are typically easier to get on and off since the saddle is lower.
---

The VU 29 is an upright bike with a 14" smart touchscreen that includes iFit free for the first month. It has automatic trainer control so the resistance will adjust to match the pre-programmed ride. This bike is relatively lightweight and the 19lb flywheel is easy to pedal. We appreciate how the resistance is quiet which makes it so you can ride this bike at any time.
Read our full review of the NordicTrack VU 29 Upright Bike.
Specs
14" Smart HD Color Touchscreen
30-day iFit Membership Included
Automatic Trainer Control
Integrated Pivoting Tablet Holder
Auxiliary Music Port
AC Adapter Included
Two 2" Digitally Amplified Speakers
Upright Frame
19 Lb Inertia-enhanced Flywheel
SMR™ Silent Magnetic Resistance
24 Digital Resistance Levels
325 Lb User Weight Capacity
---

The VU 19 is an upright bike with a 7" smart touchscreen that also includes iFit free for the first month. This is an affordable, lightweight bike that is easy to get on and off and allows the rider to sit upright for more comfort.
Read our full review of the NordicTrack VU 19 Upright Bike.
Specs
7" Smart HD Color Touchscreen
Free 30 Day Trial of iFit
59.4 " H x 24.9″ W x 43.6″ L Footprint
Integrated Pivoting Tablet Holder
Auxiliary Music Port
AC Adapter Included
Two 2" Bluetooth®3 Compatible Speakers
Upright Frame
SMR™ Silent Magnetic Resistance
24 Digital Resistance Levels
325 Lb User Weight Capacity
---
Other (bikes, rowers, ellipticals)
In addition to bikes, Nordictrack also offers treadmills, ellipticals, rowers, and other fitness equipment.
---
Pros / Cons of Nordictrack Exercise Bikes
Pros
Nordictrack bikes are consistently at the top of our best list due to their impressive features and solid engineering
Nordictrack does not believe that one-size-fits-all. They offer multiple bike models and options so users can find the right combination of features for their needs
The Nordictrack Commercial Studio bikes have incline and decline built-in along with automated resistance for a natural-feeling ride
Nordictrack has streamlined functionality so console layout and navigation are similar on all their machines. It is easy to understand and use any Nordictrack machine
iFit runs on all Nordictrack bikes. This means users are all getting the same excellent workout classes and options, even if they can't afford a high-end machine.
Nordictrack bikes feature some impressive technology with crisp graphics and attached touchscreens.
Cons
The incline motor is a new feature without a lot of data on durability or longevity
After the first year, iFit requires an ongoing subscription.
iFit Review:
iFit is Nordictrack's subscription service. It currently costs $39/month for a family plan (up to 5 profiles), and $180/year for an individual plan (1 profile). Often, Nordictrack will include the iFit family plan for free for the first 30 days with the purchase of any exercise equipment. iFit includes thousands of different workouts and classes for both on and off the bike.
Automated incline/decline and resistance
When you start an iFit program, the bike is automated to do what the trainer directs, which means users can ride hands-free while the bike automatically adjusts to match the class incline or resistance. This is a huge benefit and makes it easy to enjoy a class without having to constantly play with the controls.
Abundant indoor class options both on and off the bike
iFit classes are not limited to running on the bike. There are hundreds of other classes such as resistance training, yoga, stretching, aerobics, combo classes, HIIT classes, etc. You can log into iFit on your machine or from any personal device so you can take a class at any time in any location.
Outdoor rides all over the world
You are also not limited to indoor classes! iFit has outdoor routes all over the world! You can do a trail ride through Zion National Park. Bike the steel hills of New Zealand. Do a gravel ride through Colorado, or even participate in a Tour of Utah road ride.
Professional personal trainers lead and instruct as you work out
Each class, indoor or out, is led by a professional personal trainer. These trainers are engaging and make the content and programs helpful and interesting.
Updated and engaging content
Class content is updated regularly. New classes and routes will show up daily. Series classes may take you through various stages of an event, such as the Tour de France. You can select one of the different filmed routes in that event.
Leaderboard and other community features
iFit does have a Leaderboard, which connects users who are taking the same class. Filters on the Leaderboard allow you to adjust who you compete against and manage the leader criteria.
Affordable for what you get
iFit is one of the more affordable fitness subscriptions on the market when you consider that it is automated with your bike, has thousands of classes, and can be used on any personal device at any time.
Overall Rating of Nordictrack Bikes:
Nordictrack is one of the top-selling bike manufacturers in the world. We are consistently impressed with the quality, construction, and components of Nordictrack bikes. There's a model or option for every user, from their Commercial series bikes to the comfortable recumbent line and even the upright series.