*TreadmillReviewGuru helps consumers find the best home fitness products. When you buy a product we recommend, we may earn a commission.
Last Updated: November 21, 2023

Nordictrack Commercial 1750 Treadmill
A sleek design, 14" touch screen, and integration with iFIT make the NordicTrack 1750 a top recommended home treadmill for 2023.
| | |
| --- | --- |
| Star Rating: | 4.7 / 5 |
| MSRP: | $2499 |
| Overall Rating: | 84 |
| Workout Experience | 9 |
| Specs / Features | 8 |
| Dimensions / Storability | 8 |
| On-Board Workouts & Apps | 9 |
| Build Quality | 7 |
Summary NordicTrack 1750 Review: The Bottom Line
This NordicTrack Commercial 1750 Treadmill review showcases why this is one of the most popular treadmills on the market.
This model features an adjustable 14" touch screen that can be used on and off the treadmill for more well-rounded training when you subscribe to iFit. We love the simple and easy-to-use touch screen that offers a lot of variety and hands-free training with iFit.
The 1750 has a quiet 3.5 CHP motor that's powerful for interval and distance training and great for users of all fitness levels. The deck cushioning is absorbent to make for a comfortable running experience that's forgiving on the joints. Add to the mix that you can fold up the treadmill when it's not in use, it really is the whole package for home treadmills. For these reasons, the NordicTrack 1750 continues to be one of our top recommendations in 2023.
Editor's Note, 11/21/2023: This review of the NordicTrack Commercial 1750 was updated to include our specific testing of the motor's sound, maximum speed range, maximum incline, and performance based on using and testing this model for the past 7 months since this review first was published.
You can see where the 1750 ranks on the following award lists: Best Home Treadmills , Best Folding Treadmills, Most Quiet Treadmills).
What We Like
The 14" touchscreen displays iFit and is adjustable for training on and off the treadmill.
It's perfect for users of all abilities and for heavy use, like distance training.
The motor is powerful and quiet, plus the incline/decline can barely be heard above the drive motor.
The deck is excellent for most running strides, yet compact enough to fit in more homes, plus it folds up.
The console is highly functional, stable, and easy to use.
The cushioning is soft and comfortable to run on, especially if you have joint issues and discomfort.
The treadmill will automatically adjust during iFit workouts for hands-free training.
Areas for Improvement
Note: A monthly subscription to iFit is required to access the library of workouts and features. The treadmill can be used in manual mode without a subscription, but we highly recommend iFit to get the fully interactive and immersive training experience that the 1750 offers.
We would like to see 3rd-party apps like Netflix and YouTube added to the console for direct streaming along with iFit or for a device rack to be included to stream content from your own phone or tablet. For now, we recommend placing the treadmill in front of a TV to watch Netflix or other entertainment content.
---
179 (and counting) Treadmills Tested and Reviewed since 2010…
Whenever a treadmill rolls into our studio, our team of personal trainers, group fitness instructors, and treadmill experts each spend extensive time using the treadmill to assess the overall quality, performance, and features. We've been doing this for over a decade so we rely heavily on our experience using and reviewing a wide range of treadmills when it comes to testing each model. Our goal is to help you take home a treadmill that's reliable and handles what you need it to. It can already be challenging enough to keep up with a fitness routine, your treadmill shouldn't be the reason why you can't meet and crush your goals.
Fun Fact: When it comes to the NordicTrack 1750, we've tested every single model since 2010. In fact, we were part of the discussion way back in the day with NordicTrack to stop changing the name of this model and just leave it at the 1750. They used to change the numbers each and every year (which we thought was way confusing to consumers).
NordicTrack Commercial 1750 Treadmill Video Review
---
NordicTrack Commercial 1750 vs Similar Treadmills
Here's a quick overview of how the NordicTrack 1750 compares to other popular treadmills such as the Sole F80, Bowflex Treadmill 22, ProForm Pro 9000, and NordicTrack 2450 or Horizon 7.8 AT.
Treadmill
NordicTrack Commercial 1750
Sole F80
Bowflex Treadmill 22
ProForm Pro 9000
NordicTrack Commercial 2450
Price (MSRP)
$2,499
$1,899
$2,799
$2,299
$2,999
Bottom Line
A high-quality, interactive folding treadmill for most people that streams iFit and features forgiving deck cushioning.
A well-priced running treadmill that folds up and offers standard workout programs and Netflix streaming without an additional subscription fee.
An over-built, high-inclining foldable treadmill that streams JRNY content and handles a lot of use.
A compact, folding treadmill with a large, beautiful 22" touchscreen for streaming iFit while running.
A high-tech treadmill for runners that offers iFit workouts with a comfortable and enjoyable running experience.
Ratings
NordicTrack Commercial 1750
Sole F80
Bowflex Treadmill 22
ProForm Pro 9000
NordicTrack Commercial 2450
Overall Rating
84
82
81
76
86
Workout Experience
9
7
9
8
9
Specs / Features
8
7
9
8
9
Dimensions / Storability
8
8
6
8
8
On-Board Workouts
& Apps
9
8
7
9
9
Build Quality
7
7
9
6
8
Paid Programming – Cost
iFIT – $39/month
N/A
JRNY – $19.99/month
iFIT – $39/month
iFIT – $39/month
# of Onboard Workouts
1
17
10
2
2
Netflix / 3rd Party Apps
N/A
YouTube, Netflix, Prime Video, Disney+, Max, Peacock, Hulu, Spotify, ESPN, CNN, Audible, Kinomap
Netflix, Hulu, Prime Video, Disney+, Max
N/A
N/A
Display
14″ HD touchscreen
10.1″ touchscreen
22″ HD touchscreen
22″ HD touchscreen
22″ HD touchscreen
Dimensions (In Use)
78.5" L x 35.6" W x 64.7" H
82.5″L x 38″W x 66″H
85″ L x 39.6″ W x 70″ H
77.3″ L x 35.3″ W x 59.6″ H
78.5" L x 35.6" W x 65"
Treadmill Weight
293 lbs (in box)
274 lbs
336 lbs
263 lbs (in box)
303 lbs (in box)
Weight Capacity
300 lbs
350 lbs
400 lbs
300 lbs
300 lbs
Motor Size
3.5 CHP
3.5 CHP
4.0 CHP
3.6 CHP
3.6 CHP
Incline/Decline
-3% to 12%
15 incline levels
-5% to 20%
-3% to 12%
-3% to 12%
Warranty
10-year frame, 2-year parts, 1-year labor
lifetime frame, lifetime motor, 3-year deck, 3-year parts, 3-year wear items, 1-year labor, 90-day cosmetic items
15-year frame, 5-year mechanical parts, 1-year electronics & HD touchscreen, 2-year labor
10-year frame, 2-year parts, 1-year labor
10-year frame, 2-year parts, 1-year labor
Additional Features
AutoAdjust, AutoBreeze fan, dual speakers, ActivePulse, SpaceSaver Easy Lift Assist, OneTouch controls, Google Maps Workout Technology, integrated cup holders, soft cushioning
release lever, wireless charging pad, Bluetooth speakers, device rack, reading rack, fan, cup holders, speed/incline switches
SoftDrop folding system, ComfortTech deck cushioning, cooling fan, JRNY radio, incline handles, textured device shelf
AutoAdjust, CoolAire fan, dual 2″ speakers, ActivePulse, SpaceSaver Easy Lift Assist, QuickSpeed Button Control, Google Maps Workout Technology, integrated cup holders, soft cushioning
AutoAdjust, AutoBreeze fan, 30w dual speakers, ActivePulse, SpaceSaver Easy Lift Assist, OneTouch controls, Google Maps Workout Technology, integrated cup holders, soft cushioning
In-depth NordicTrack 1750 Treadmill Review: Testing & Analysis
---
Dimensions/Storability
The overall dimensions of the NordicTrack 1750 are 78.5" L x 35.6" W x 64.7" H. This treadmill's size is on par with other running treadmills with foldable decks, however, NordicTrack has managed to make the 1750 a little more sleek and easier to move without sacrificing its overall quality. Not only does the deck fold up and lock into place to save you room, but even when unfolded the 1750 doesn't take up an unnecessary amount of room in your home.
With that being said, this treadmill still weighs around 293 lbs when it arrives in the box, so it is pretty substantial and needs enough floor space to comfortably and safely use it. Along with ensuring the entire dimensions of the 1750 will fit, we recommend having a couple of feet surrounding the deck clear for when you use it. Along with floor space, proper ceiling height is also important to consider. This treadmill has around a 9.5" step-up height from the floor to the top of the side rails surrounding the deck when it's at a flat grade. You can factor in another 6" in deck height for the full incline. For someone who is 6'0" and an avid runner, we recommend at least an 8.4 ft high ceiling to use the 1750 and all of its features.
Folding it is simple and easy for most people. It only requires one person (and maybe just one hand). There is a lift assist in the deck so when you lift the backend to fold it up, you get help with the assist. This way you don't have to lift the entire weight of the deck. It locks when folded up and when you press the foot release bar underneath, the deck slowly lowers to the floor on its own. I love the folding feature on this treadmill! There are two wheels for fairly easy moving, too.
---
Onboard Workouts & Apps
An often overlooked aspect of treadmills is the onboard workouts and training features. The onboard workout programs and training content usually influence not only your experience but how often you'll use the treadmill. Many home treadmills nowadays come with touch screens that include subscription training content. The NordicTrack 1750 is one of those treadmills. In this NordicTrack 1750 review, I'll let you know what you can expect.
iFit
iFit is NordicTrack's premier fitness training platform that's available to stream directly from the 1750's touch screen. iFit is a streaming service that requires a monthly subscription of $39 per month to use. You can also purchase a 1-year, 2-year, or 3-year subscription when buying the 1750. Purchasing a year or more subscription to iFit allows you to save on the overall monthly price. A 1-year membership is $28 per month, a 2-year membership is around $22 per month, and a 3-year membership is around $17 per month. New iFit members also get a 30-day free trial, after that, you can choose to pay monthly, buy a 1-3 year membership ahead of time, or cancel.
So, what do you get with iFit on the NordicTrack 1750? Here's what you can expect.
iFit offers indoor studio classes and outdoor workouts all over the world. Both class types are led by knowledgeable instructors who guide and motivate you through the workout. There are over 180 instructors and over 16,000 classes. You can take classes on-demand whenever you want.
You'll see shots of the surrounding landscape occasionally, as well as the route map as you follow the instructor through the location. There are challenges and series to participate in, too. Often, series involve the same location or instructor and have the same theme throughout the bunch of classes.
You can even create your own routes with the Google Map feature. This lets you pick an area and draw the route you want. The screen will then comprise a collection of Google images of the location that change as you move further along the route.
In an iFit class and manual mode, all your workout metrics are shown at the top of the screen. You can change the music throughout the class because it isn't integrated into the workout. There are different genres of preselected song lists to choose from. The music options aren't my favorite, but it's nice to have a wide variety to pick from.
What makes iFit really valuable to me is the variety of classes. You can take running classes on integrated treadmills like the NordicTrack 1750 and other treadmills in NordicTrack's lineup, and then hop off and take a yoga class on a mat from the same screen. If you have other iFit-enabled equipment, you can take even more classes like cycling and rowing as well. iFit is a nice touch on the 14" touch screen and gives you even more versatility on the 1750.
OnBoard Workouts
While we recommend subscribing to iFit on the 1750, it isn't required to use the treadmill. iFit definitely provides a lot of variety and unique training features that really add value, but it might not be for everyone. Without iFit, there is a free featured iFit workout to take as well as a manual mode available. Manual mode displays a white screen with a track to show your metrics and you can adjust the treadmill as you workout. Manual mode is available to use with a subscription to iFit, too. We would like to see a few more iFit featured workouts available without paying for a full subscription to iFit. This would give you a bit more training options for free.
Manual mode doesn't require a wifi connection, but iFit does. Something to keep in mind is that outside streaming apps like Netflix and internet browsing are not available on the 1750, even with a subscription to iFit.
Console
I find the 14" touch screen to be easy to see and navigate. I can reach the screen well and I love that it is very adjustable. The screen tilts so users of most heights can see it, and it pivots to either side. This pivoting feature lets you take classes on and off the 1750. Some iFit classes use both the treadmill and mat, so you'll be ready to transition quickly, in order to keep up with the instructor.
A big aspect of the console that we assess when testing every treadmill is screen shake. A little bit of shake with treadmills that have attached touchscreens is usually expected. This small amount of screen movement coincides with your feet landing on the deck. However, outside shaking can be distracting and frankly annoying. When testing the 1750, we didn't experience any shaking of the screen when running. I love how stable the console is. The space between the handles and the entire console makes this treadmill sturdy to use.
We're big fans of the quick-touch buttons on both sides of the screen, too. The numbers are specific speed settings (right) and incline levels (left). I can simply press the 7 on the right and the treadmill will adjust to 7 mph. Plus, if I press say 5 and 3 right after the other, the belt will move at 5.3 mph. This is perfect for HIIT training and makes the console even more functional to use. Of course, you can also adjust the treadmill below the screen by using the speed and incline buttons, as well as on the touch screen. The speed increments can be adjusted by 0.1 increments, while the grade changes by 0.5%.
The 1750 can also adjust automatically when using iFit for a hands-free experience. This can be overridden anytime, but it's one of my favorite features of iFit because of its convenience. When you're taking an outdoor class, the deck will adjust to match the terrain and the speed will adjust based on the instructor's cues. The AutoAdjust feature takes a lot of guesswork out of your training. When you purchase the compatible heart rate armband from NordicTrack, you can track your heart rate on the screen and use the ActivePulse technology. ActivePulse adjusts the 1750's speed and incline based on your heart rate to keep you within specific heart rate training zones while you workout with iFit.
The front-facing speakers play iFit content clearly so that you won't miss a cue from the instructor. You can adjust the volume on the console and on the screen. There's also closed captioning for every iFit class. The speakers are Bluetooth-enabled to pair with headphones. Unfortunately, you can't pair your device to the speakers to listen to your own content or music. Only the content on the screen is available to hear through the speakers.
The fan is actually pretty powerful and effective. It has multiple settings but isn't adjustable to direct where the air is blowing. I'm 5'1" and it points at my face. The streamlined console is sleek but has minimal storage compared to the previous model, although we don't really miss this. Two cup holders can be used to hold your phone, personal items, and your water bottle. I've found them to keep my items secure, yet well within reach. The cupholders are fairly deep and should hold your water bottle still.
Unfortunately, there isn't a place to set your device for streaming content while you're using the 1750. With this design, you're locked into using the screen's content for entertainment which is your choice of the iFit membership, manual mode, or both.
---
Build Quality
The NordicTrack Commercial 1750 has a streamlined design that's made for home use. Something to make note of is that even though the word "Commercial" is in the title, the NordicTrack 1750 is built for home use, rather than commercial use, such as in a public gym. It's a great option for most home users because of its features and overall build which should meet and exceed even above average home runners. It is just not made to withstand the all-day foot traffic that commercial treadmills get. Commercial treadmills are also priced several thousands of dollars more than the 1750.
The 1750 has a 300 lb weight limit, which is standard for NordicTrack Treadmills. This means it should handle users up to that weight. Along with thoroughly using the 1750, we ran it through a series of tests to further gauge the overall build quality. You'll find the results of these tests below in our NordicTrack Commercial 1750 review.
Frame
Like other treadmills with folding decks, the 1750 has a steel frame that supports the base of the deck. From there, two steel uprights connect to the floor frame to extend up to hold the console and handles in place. These steel components make the 1750 feel very stable to use.
I especially like the side and front handles. The side handles extend back far enough to give you balance when you need it. Plus, the front handle is one continuous piece so you have a lot of area to grip. This makes the 1750 appropriate for users of pretty much all ages and abilities. The handles are covered with plastic that doesn't feel slippery, even after you're sweating.
Motor
The 3.5 CHP motor is designed to support heavy training. So, if you're looking to run a lot of miles per week or have multiple users in your household, the 1750 is a great option. The motor adjusts the incline, decline, and speed so your running experience is affected by the motor's capacity. All of our reviewers put it through miles of running, and it handled it with ease. It's also quiet and adjusts quickly. The 1750 takes around 23.5 seconds to go from 1 mph up to 12 mph. The Horizon 7.8 AT which is one of the fastest adjusting treadmills we've tested takes around 19.6 seconds to adjust between these speeds, so the 1750 is pretty quick to adjust, too. I enjoy HIIT training on the 1750. I don't have to wait for the motor to keep up with me.
For our Nordictrack 1750 Treadmill review, we tested its noise output with and without Matt running. Matt is our largest product expert tester at 6'5", 240 lbs. The decibel level at 3 mph without him using the 1750 was 51.5 dB and 56.7 dB when he was walking at that same speed. At 9 mph, the motor was 64.5 db on its own and 67 db while Matt was running on the deck. The starting ambient room noise was 34.5 dB. This noise is comparable to a washing machine which is said to have a 65-70 dB range, compared to when Matt was running at 9 mph.
So, the noise output is appropriate for most homes, even at its higher speeds while running. We noticed that the motor hood is low so you're less likely to graze it with your foot while running, too.
The 1750 has a 12 mph max speed. This is a standard range for treadmills in this price range and class. 12 mph is a 5-minute mile running pace, which translates to a pretty fast running pace for most and even an all-out sprint for some. So, users should expect to have plenty of speed range to work with. We tested the speed levels of the 1750 and found them to be very accurate.
The deck inclines up to 12% and declines to -3%. The -3% decline might not seem like a lot, but it helps with balance, works your anterior muscles, and is beneficial if you're training for a race that has downhill portions. The incline, on the other hand, engages your posterior chain. We measured the grade of the incline, decline, and deck when flat. The incline actually measured at 12.6%. The decline measured -1% and the deck when flat measured at 1.7%.
Although these numbers and measurements don't quite align on paper with the grades that NordicTrack says the 1750 adjusts to, a factor that isn't being considered here is the deck's cushioning. The cushioning is the level of give in the deck when your feet land while walking and running. NordicTrack has some of the highest levels of deck cushioning in their treadmills. This translates to a spring in your step feeling underfoot when running on the 1750, and if you were to watch someone run on this treadmill you'll see the deck lower slightly with each footfall, which is standard for most treadmills, especially ones with as shock-absorbing cushioning as the 1750. So, even though the grade of the deck when we measured didn't add up to the grades that NordicTrack listed, if you were to factor in cushioning those numbers come out to be pretty equal.
I know when I'm using the 1750, the full incline is challenging and feels consistent with other treadmills in this range. The decline range is also noticeable to help add some extra variety to my training and a flat grade on the 1750 feels flat when I'm using this treadmill.
The incline and decline adjust pretty quickly, like the speed settings. To get to the full incline level from a flat grade, the 1750 took just 15.5 seconds, and only 6 seconds to fully decline. This is consistent with other quick-adjusting treadmills, like Horizon's.
Deck
At 60 inches long, the length of the running belt is long enough to accommodate most runners. The belt size allows full stride lengths for running and sprinting for most people. The running surface is 20" wide. This is what I consider to be a sweet spot when it comes to deck sizes. It is large enough to support pretty much all users, while not taking up a lot of space. 22" is the widest we see on folding treadmill decks, so the 1750 is spacious but a little more compact than others because of its deck size. Since the deck is a large aspect of a treadmill's size, this means that the 1750 can fit a little better in more homes than comparable models from other brands.
One of my favorite aspects about NordicTrack Treadmills is the cushioning. NordicTrack has some of the softest cushioning we've tested on treadmills. The NordicTrack 1750 is a midrange model, but it has excellent cushioning. Whenever I'm looking to run long distances, the 1750 and NordicTrack 2450 are at the top of my preferred list for models I'm choosing to run on. I typically get a little bit of aches and pains in my legs when I run on concrete. I don't when I run on the Commercial 1750. Next to other treadmills, the cushioning is softer than the Sole F80, as well as both the Pro 2000 and Pro 9000 from ProForm.
If you have joint issues, the cushioning is really helpful with lessening the impact on your joints that comes with running.
Overall, the NordicTrack 1750 has a durable build quality that pairs nicely with its 3.5 CHP motor and ample deck. This is a treadmill that we've been able to use for extensive training ourselves, and we expect it to handle a lot of use for folks at home, as well.
---
Warranty
The NordicTrack 1750 Treadmill comes with a 10-year warranty for the frame. This backs up the solid construction and design. NordicTrack also offers a pretty standard 2-year warranty for parts and a 1-year warranty for labor. We recommend having two people set up the 1750.
---
Should You Buy The NordicTrack 1750
The NordicTrack 1750 is a treadmill that we recommend to most people because of its quality and features. If you are looking for a treadmill with tech features that you can run on, the 1750 is a great option.
We recommend it to people who want subscription training content on a treadmill that folds up. The 1750 is also excellent for those who need soft deck cushioning because of joint discomfort or if you want a really shock-absorbing deck to run on. If you are looking for a treadmill with firm cushioning that feels similar to running outside, you might want to consider a model from Sole or Bowflex.
For people who are exercise enthusiasts who want to add treadmill running to their routine though, the NordicTrack Commercial 1750 is one to consider. It's also an excellent choice if you love training with iFit because of its adjustable screen and AutoAdjust technology.
---
NordicTrack Commercial 1750 Treadmill FAQ's / Q&A's
Can you use the NordicTrack 1750 without a subscription?
Yes, you can use the 1750 without a subscription. Manual mode is available to use as well as a featured iFit workout. For most runners and those wanting a standard workout experience, manual mode will suffice. If you want guided workouts and access to other features like AutoAdjust where the 1750 automatically adjusts for you, then you'll need to subscribe to iFit, which we highly recommend. iFit allows you to get the most out of the 1750 and its features. If you don't want to pay for a subscription but want a comparable treadmill, then check out the Sole F80 and Sole F85 models. These treadmills include manual mode, some standard workout programs, and streaming from Netflix, all without an additional subscription fee.
Does the NordicTrack 1750 fold up?
The NordicTrack 1750 has a foldable deck. When you lift the back of the deck it folds up to lock in place against the console. There is a lift assist in the deck to help you fold it up and when unfolded, the deck lowers to the floor on its own.
Does the NordicTrack 1750 have Bluetooth?
The NordicTrack 1750 is Bluetooth-enabled to use with 3rd-party compatible heart rate monitors for heart rate tracking on the screen, such as ones from Polar, Garmin, Wahoo, and Whoop, as well as Bluetooth headphones. NordicTrack sells a heart rate SmartBeat armband separately from the treadmill that wirelessly connects to the 1750 for heart rate training, too. With your heart rate, you can utilize iFit's ActivePulse technology with a subscription to iFit. This means the 1750 will automatically adjust based on your heart rate to keep you within specific training zones. You can use your own Bluetooth headphones to pair with the speakers to listen to the content on the screen, you can't pair your device to listen to your own content on the treadmill's speakers, however.
Is NordicTrack worth it?
NordicTrack is one of the most popular treadmill and fitness equipment brands. They manufacture high-quality models that have nice tech features, great training options, and functional builds. NordicTrack is one of the top brands of fitness equipment that we recommend to people for home use. All of their equipment is enabled with iFit training content that really adds value to your workout routine, too.
Can you watch TV on the NordicTrack 1750?
You can't watch TV or use 3rd-party streaming apps like Netflix and YouTube on the NordicTrack 1750's touchscreen. You're locked into the included onboard workouts and library of iFit workout classes with a subscription to iFit.
Is your NordicTrack Commercial 1750 review a paid review?
No, our review of the NordicTrack 1750 is 100% unbiased. We were not paid by NordicTrack to review this treadmill (even though we would love them to pay us for the feedback we give them on their machines). All major brands send us their machines for us to review. We then test and review each product and recommend our best treadmills to our readers based on our testing.
So how do we make money and spend 100+ hrs reviewing a treadmill like the NordicTrack 1750? We earn a commission when you click on our links and make a purchase. This form of compensation doesn't cost our readers anything and allows us to not charge our readers for reading our content. We also earn a commission from pretty much every major fitness brand available – meaning we can recommend whatever treadmill we think is best for you. Think of us as an online store where you don't just have 1 or 2 brands to choose from..but instead can be expertly guided to the right treadmill by an actual product expert who has put hundreds of miles on each treadmill.
About the Author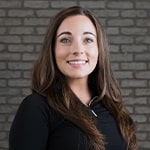 Sydney Kaiser, ISSA-CPT, ISSA Nutritionist Certification
Sydney is a certified fitness instructor, personal trainer, and sports nutritionist who combines her passion for fitness, health, and wellness with her passion for writing. After graduating from UC Riverside with a Master of Fine Arts in Creative Writing, she began teaching indoor cycling and Lagree Fitness group fitness classes to people of all ages and abilities. Raised in Central Michigan, Sydney grew up training and competing on the Arabian Horse Association circuit through both Regional and National levels in Dressage and Sport Horse classes. In college, Sydney went on to compete at the collegiate level as a Division 1 equestrian athlete. Here at TRG, Sydney relies on her extensive background in fitness when reviewing and recommending all kinds of fitness, recovery, and health-related products.
Related Treadmill Reviews: