Last Update: March 22, 2020
The NordicTrack 1750 is one of the Best Treadmills for Home Use. It is also consistently ranked in the Top Treadmills for 2020. With just the right ratio of features, the 1750 has universal appeal. A 1-year subscription to iFit with over 16,000 training options, and an expanded 10" HD full color touch screen on the 2020 model bring your workout to life! Cushioning in the deck, a powerful 3.75 HP motor, and sleek redesigned console also help make this your must-have in-home treadmill.

Treadmill Awards: Best Treadmill for Home Use 2020

The NordicTrack 1750 Commercial Treadmill is our best treadmill for home use for 2020. With fantastic features, solid build quality, and a home-budget friendly price, the 1750 is a great option for people looking for a treadmill for their home.
---
Who It's For: Those looking for the best features at the best price
The 1750 contains all the best features in an affordable, foldable treadmill. This is a great option for athletes desiring:
A generous, eye-catching HD touch screen
1-year iFit free
Streamlined frame and cushioning
Smooth, comfortable training
Foldable treadmill with wheels to roll out of the way
The best components at the best price
Pros
Top of the line features for a great price
Bright, eye-catching 10" touchscreen
Streamlined, easy to use console
1-yr iFit membership included
Cushioning in the deck can be turned on or off
Folds up for easy storage
60" belt provides long running surface
Built in speakers and Bluetooth Audio
Expansive Incline/Decline Range
Plenty of Speed but still quiet
Solid Construction
Cons
Only two fans on the 2020 model instead of three
Chest strap not included (but it will pair with any number of Bluetooth enabled straps)
No USB port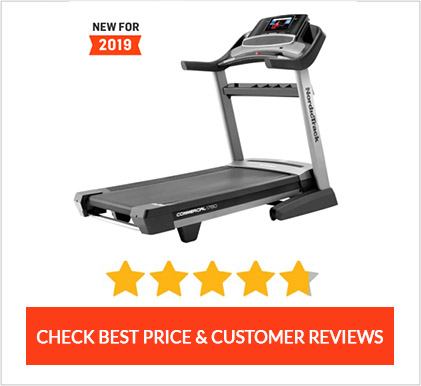 Our Video Review
---
10" Smart HD Touchscreen

The large, 10" HD Touchscreen is easy to see and responsive even when your hands are sweaty. The combination of a quality screen and engaging, interactive programs in iFit makes the 1750 not only fun to use — it also helps your training be more effective and interesting. Graphics are bright and I was impressed by the HD display and touchscreen capabilities. From the touchscreen, you can peruse iFit and choose your workout; as well as adjust speed, incline and display while using a program. The screen is snugly tucked into the console with a pivoting option so you can tilt it up or down to match your line of sight (and avoid annoying overhead glare).

Streamlined Console with Tablet Shelf

Intuitive and easy to navigate, the console enhances overall functionality of the 1750. QuickTouch controls for both speed and incline flank the screen and a wide shelf under the screen provides plenty of space to rest a tablet, phone or book. The console has been gradually updated over the past few years with a few minor tweaks each year. In 2020 NordicTrack increased the size of the screen from 7" to 10" which makes a noticeable difference. All iFit icons and program control buttons have been imbedded in the program so they don't clutter the console. Once you begin your workout, a white display bar at the top of the screen provides a real-time readout of calories burned, distance, speed, grade, etc. You can also control fan and volume via the touchscreen. Manual speed and incline controls sit right below the fans, at about thumb height. In all, console layout on the 1750 is intuitive. I've run on many treadmills and find NordicTrack's consoles to be the simplest and easiest to navigate.

Runners Flex™ Cushioning

A cushioned deck is an unusual feature on a folding treadmill, but it is a must-have! This feature reduces foot strike impact by 30% as compared to outdoor surfaces and makes running on the 1750 smooth and enjoyable. Using a simple lever on the side of the track, you can turn the cushioning off if you want to mimic real-road training. Personally, I think this is one of the reasons the 1750 continues to be one of the best selling treadmills. Running is great exercise, but the repetitive impact can be a problem over time. The Runners Flex cushioning is effective in reducing joint and back pain that can accompany frequent running.

SpaceSaver® Design with EasyLift™ Assist

The SpaceSaver design keeps the footprint of the 1750 compact even while open. EasyLift Assist makes it easy to fold up when you're done. I pushed it around a bit while it was locked upright to see if I could get it to unlatch. Thankfully, it is sturdy and secure when locked up so children and pets won't be able to accidentally open it. The hydraulic decline system slowly lowers the deck back to the floor. You don't have to manually guide it down, and it won't fall and damage flooring when descending.

Impressive -3% Decline to 15% Incline

Your workout is enhanced when you can add variability to your routine. The generous -3 to +15 incline range is impressive, especially for a folding treadmill. You can turn that incline up to torch more calories or set it low for a comfortable flat road. Most treadmills in this price point don't have decline options. QuickTouch controls will set incline right where you want it and manual options for smaller increments are at the bottom of the console. The incline has an auto-feature, so when using any onboard or iFit program, the deck will adjust for you as the program directs. I tested the treadmill to see how gently it pivots in between inclines. While running at 6mph, I was able to hold a steady pace with no jerkiness or instability while the deck pivoted up and down. The track adjusts smoothly, so even steep inclines won't throw you off balance. Handlebars at the sides of the rails and by the console provide added stability should you need them.

0 to 12 MPH Speed

Speed options are abundant on the 1750. Good luck matching that 12mph sprint pace! These hefty incline adjustments and wide range of speed options will keep you from reaching that dreaded fitness plateau or getting bored. The 3.75HP motor holds a steady pace no matter the speed.

Includes 1-Yr NordicTrack iFit® membership**

iFit is NordicTrack's signature online database of trainers and classes. The variety is impressive; pictures are crisp and sharp, and the trainers motivational. One of the benefits of having so many training options (16,000 different workouts is a lot), is that you can integrate variability into your training without having to go to a gym. You can easily incorporate drills such as rolling hills, intervals, speed, steep grades, etc. Additionally, with added strength training options, you can strengthen antagonist muscles to offset muscular imbalances inherent to running. Yoga and stretching help keep you flexible and strong to avoid that dreaded tight IT band. In my opinion, iFit is definitely worth the investment.
Be advised, you need WiFi to run iFit programs. When you first set up your treadmill, the screen will prompt you to log in and connect to your personal network. It will then automatically reconnect whenever you turn on the machine. Without WiFi you will not be able to run iFit.

22" x 60" Commercial Tread Belt

There is a surprising amount of track space on the 1750. At 60" in length it is a good 5" longer than comparable treadmills. The long deck allows for greater movement up and down the deck, which is nice when you are running sprints or working up a steep incline.

Two 3" Digitally Amplified Speakers and Bluetooth Audio

Dual 3" speakers tucked underneath the screen project clear sound. These have adjustable control for: Main Volume, Music, and Trainer so you can modify the sound as needed.

Dual AutoBreeze™ Workout Fans

Adjacent to the speakers, the fans provide nice air flow for your indoor room. The fans feature three power options and an auto-setting, so you can find the right amount of air flow. I found the fans to be very useful! When running inside, you can't always control the temperature. The fans provide nice air flow and are positioned about mid-sternum. They are not too noisy, even on high.
Construction
3.75 CHP DurX™ Commercial Plus Motor
2.5" Precision and Balanced Non-Flex Rollers
22" x 60" Commercial Tread Belt
78.8" L x 39.2" W x 63" H Footprint
Console
10" Smart HD Touchscreen
Bluetooth® Audio Capabilities
OneTouch® Controls
Two 3" Digitally Amplified Speakers
Dual AutoBreeze™ Workout Fans
Integrated Tray
Functionality
0 to -3 Decline
0 to +15% Incline
0 to 12 MPH Speed
Runners Flex™ Cushioning
SpaceSaver® Design with EasyLift™ Assist
Includes 1-Yr NordicTrack iFit® membership**
50 On-Board Workout Programs
EKG Grip Pulse
300 Lb. User Capacity
Warranty
10-Year Frame Warranty
2-Year Parts Warranty
1-Year Labor Warranty
In-depth Review of the NordicTrack Commercial 1750 Treadmill
---
Construction
Sturdy Frame
The 1750 is built to be sturdy but still light enough to fold up. The base of the running platform is constructed of steel side and cross beams to stabilize the deck without weighing it down. Steel feet at the base of the handrails extend 29" along the floor to hold it securely, even when folded. Composed of a composite material to keep the running platform durable and solid, the deck descends via a hydraulic system to bring it gently down onto the floor.
22" x 60" Deck
Runner's Flex Cushioning: is designed to reduce foot impact by 30%. There is tremendous value in this feature! Impact injuries and discomfort are common in runners because running is such a high-impact exercise. I can feel a definite difference in the cushioned deck on the 1750 when compared with running outside. The 1750 allows runners and walkers alike to enjoy a cushioned feel on a sleek surface while exercising indoors. The engineering behind this is simple: Four 3" springs, two in the back and two at midline, are situated directly under the side rails to support the base and provide the right amount of flex. When cushioning is turned "off," a bar spanning the underside of the deck is turned upward, bracing the deck to minimize flex. When it is turned "on" the bar moves downward, away from the deck to increase flexibility. I would recommend leaving the cushioning 'on' unless otherwise needed. This useful feature enhances comfort and reduces impact and fatigue.

Length/Width: At 22 inches wide by 60 inches long, the length of the running belt is long enough to accomodate most runners. Any longer and the machine would be top heavy when folded. The belt size allows for full stride length with just a little extra wiggle room along the sides. One item to note: When running on a treadmill, it is tempting to hover your body directly in front of the console. For walking and light running this works fine, but at an incline or running fast, you may find the sole of your shoe will occasionally graze the top of the hood. This has more to do with body positioning than the length of the deck, and it is easily rectified by repositioning closer to the midline of the platform.
Belt and Rollers: Nestled underneath the deck, the rollers support the belt as it moves along. The 1750 has large rollers and a 2-ply belt to create a durable and comfortable running surface.
3.75 CHP Motor
On the 2020 model, NordicTrack increased the size of the 1750 motor to 3.75HP. The motor is self-cooling, so it won't overheat even after extensive use. It is also designed to support multiple users or heavy training. The motor adjusts incline and speed so your running experience is affected by the capacity of the motor. I tested the 1750 motor under several conditions; using interval training, I jumped between speed settings quickly and often. The motor responded evenly without any hiccup during adjustments. Similarly, I also moved the incline and decline several times throughout and even during speed adjustments to see if the motor could handle both. Again it did fine. On review blogs, some users noticed a popping sound in the platform as it angles up and down, but I didn't experience this.
---
Console

Updated in 2020, the console on the 1750 has been simplified. Button array was streamlined to reduce any unnecessary clutter on the console. Icons pertaining to iFit navigation now appear on the touchscreen. Screen size was also increased from 7" to 10".
10" HD Touch Screen
The 10" touchscreen on the 1750 is easy to navigate and I found it responsive even with sweaty hands. The images and videos are colorful and easy to watch. I didn't find the screen too bright or dim. It also pivots up and down so you can find just the right tilt to avoid reflective overhead lighting. Because iFit is such a prominent component on the 1750, the added screen size really helps feature the eye-catching videography of the classes and outdoor locales.
Layout
The layout of the console is streamlined and simple, making navigation easy. Have you ever stood on a treadmill, trying to figure out where everything is, while the track runs absently beneath you? It's frustrating and a waste of time when you have to constantly look for buttons and controls on a treadmill. Thankfully, the layout on the 1750 is intuitive and designed for someone like me who wants to see the important stuff quickly and easily. QuickControl buttons are on either side of the screen — speed on the right, and incline on the left. Fan and Volume controls lie just beneath the screen with the speakers and fans themselves situated directly under that. In the lower right, there's a jack input for headphones and the flashing Bluetooth button. Manual controls for incline and speed are set lower, beneath the fans, at approximately thumb height. Start and Stop and the Safety Key buttons are also centered and easy to see. A front grip bar extends horizontally at the base of the console and features EKG heart rate sensors.
Two Fans
Dual fans provide three speed options and an automated setting. The first three settings adjust the fan speed to: Low – Med – High. Fan adjustments appear on the screen when you make any changes, but then the power bar disappears so it doesn't block your program. If you hit the control button four times, it sets the fan in auto-mode, so the speed of the fan will coincide with the speed of the belt. I love this auto-feature. The fan slows when you slow, so it corresponds naturally with what you need. The fans are powerful enough to be helpful, but they're not too noisy. I've noticed on other treadmills, sometimes the fans aren't strong enough to make any difference — and other times, they're powerful but loud.
Two Speakers
Two 3" Amplified Speakers sit next to the fans and provide plenty of volume. When running fast with the fans on high, I could still hear the volume just fine. The sound is crisp. The only feedback we would give to NordicTrack is to provide Closed Captioning for iFit programs.
Bluetooth Audio receptivity allows you to pair your phone with the treadmill so you can project your music to play through the 1750 speakers.
Extra Storage
Two large pockets sit on either side of the screen for any size water bottle or personal device.
A shelf just below the screen will hold a tablet or phone (it may block the screen depending on size).
An integrated storage tray below the console adds five extra pockets for keys, wallet, etc.
---
Functionality
The 1750 is everyone's best friend. It is designed to provide the most bang for your buck when it comes to in-home folding treadmills. With impressive speed and incline options, you can achieve some serious training on the 1750. Here is a breakdown of individual features:
Performance
Yes, it really is as good as advertised; and yes, we would recommend it to all our friends. Priced reasonably for everything that comes with, the engineering behind the 1750 is sleek and impressive. The tech supports and enhances the overall feel of each workout and the frame is solid yet still foldable.
+15% Incline to -3% Decline

Most folding treadmills don't offer a decline option. That -3% decline is nice when you want to give those legs a rest, are in active recovery, or are training for a downhill event. The variability of incline to decline also adds significant training options to your regimen. With a smooth motor that readjusts the incline steadily, the abundant incline range is a must-have for athletes and casual users alike.
50 Pre-programmed workouts

For those days when you just want to climb on the treadmill and go, the onboard programs provide lots of preset options for: intervals, hills, calorie burn, fat burn, etc. When you select any program, the display provides a graph of the full routine, so you know what to expect. A simple manual lap screen is also available. There's no audio in these programs, so they are great to keep track of your stats while you listen to music, a podcast or even read a book.
Subscription Options: iFit
iFit is NordicTrack's premier fitness database. iFit is constantly updated and offers over 16,000 different workouts.
Studio-based classes include: bootcamp, interval training, and combo routines that alternate strength training with running segments. The trainer provides direction as he/she works alongside you and other participants in the studio. iFit automatically adjusts the speed and incline for you at the direction of the trainer. (You can override this at any point — just hit any QuickControl speed or incline button to adjust as needed.)
iFit also offers outdoor runs in any number of exotic places. I joined the program: Hannah Eden takes Iceland which includes ten runs of varying lengths through the Icelandic Mountains. You follow along on the treadmill as she navigates the real terrain just ahead of you. The treadmill automatically inclines and declines to match the actual grade as you run. The scenery is breathtaking and Eden does a good job of keeping it interesting (while also managing to run and breathe).
Off-the-treadmill classes are also available. Log into iFit from any tablet or computer and from the Main Menu bar, select the "Daily Workout" tab. It will bring up class options like: kickboxing, yoga, HIIT, dumbbells or Fit in 15 (for when you only have 15minutes). You do not need to be by your treadmill to access these classes, which means you can use iFit even while travelling.
iFit provides enough options and programs that it eliminates the need for a gym membership. I would recommend perusing NordicTrack's website and the iFit website to see everything it has to offer. You will be impressed.
Noise Level
When running a fast pace: I conducted a speed test beginning at 3mph, then 6mph, and finally 8mph. I shut off all other noise from the treadmill (no speakers, no fan) and listened for the noise difference between running speeds. While there is increased rhythm at a high speed because foot cadence is increased, the noise generated while running is not overly loud on the 1750.
Running with the fan on high: Turning on the fan does create more noise, but because the fan is tucked in the console, people sitting to the side of me couldn't differentiate between when the fan was on low or high. They only noticed the slight motor sound as the fan ran.
Running with speakers at full volume: These are quality speakers and they create a clear sound. However, if you are running hard, with the fan on, listening to the speakers at a good volume, it's going to be noticeable to those around you. This isn't a negative feature — poor speaker quality would inhibit your overall experience. These speakers are similar to any TV speaker in a room, so just plan accordingly.
Difference in impact noise at incline/decline: There is a greater impact noise created at a low incline than when the platform is raised, probably due to the distance of foot travel. But noise at a flat grade is moderated by the cushioning in the deck, so you don't get that typical "thudding" sound inherent to treadmills.
Storage / Folding

Yes! It folds! The 1750 is a folding treadmill and a dandy one at that. Folding it is simple and only requires one person (and maybe just one hand). Just grab the bar at the base of the deck and lift. There is no "release" lever to raise the deck. It latches securely in place when folded up and will stay locked until you press the foot release bar underneath. As the deck descends, the hydraulic system will engage to gently rest it on the floor, you don't have to pull or push it down. I love the folding feature on this treadmill!
---
Items of Note
It is hard to have anything but praise for the 1750. On top of its many features, the 1750 folds up easily and you can move it around by pivoting it gently back on its wheels. The only minor suggestions we could offer would be for NordicTrack to add closed captioning to iFit programs and enable the Bluetooth Audio to connect to wireless headphones (right now you can send music from your phone to the treadmill speakers, but you can't get volume from the treadmill to sync wirelessly to your headphones.)
---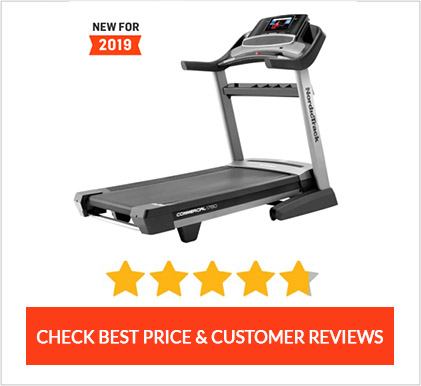 Bottom Line:
The NordicTrack 1750 is one of our Best Treadmills for 2020. It is also one of the most popular treadmills on the market — and with good reason. The 2020 model features an enlarged 10" touchscreen, navigable console, great incline/decline range, and abundant training options with iFit. Add to the mix the fact that you can fold up the treadmill when not in use and it's pretty much the prettiest girl at the ball. For these reasons, the NordicTrack 1750 continues to be at the top of our list for Best Buys.

Related Treadmills Review: 
Summary
Reviewer
Review Date
Reviewed Item
Nordictrack Commercial 1750 Treadmill Review
Author Rating