The NordicTrack Commercial 1750 treadmill has been carefully developed to help a wide range of users enjoy greater fitness and health benefits. As of 2019, this treadmill has undergone further upgrades, from a new 10" smart touchscreen to having a year of NordicTrack iFit membership included when you purchase this treadmill. The motor has also been upgraded, and the NordicTrack 1750 has a 3.75 CHP motor that you can rely on for smooth action running training as well as walking and jogging.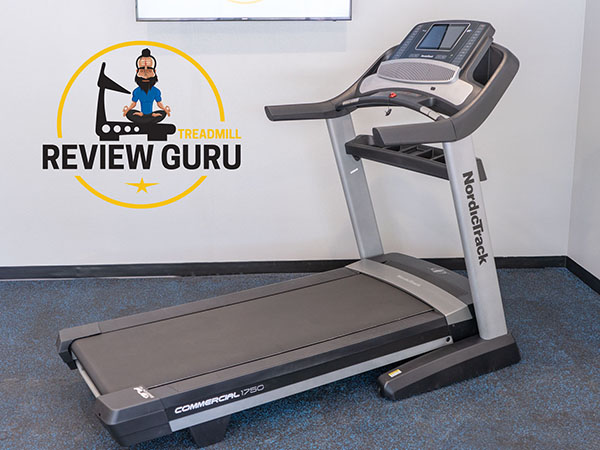 Along with these engaging features, you can also utilize the wide running belt. Some runners have a tendency to wander a bit while running, and with the 22" wide belt that is 60" long, you have plenty of area to move naturally. Also, while you exercise, you have plenty of options to create your own exercises, choose from the 50 built-in exercise programs, or sift through the huge bank of NordicTrack workouts you can access through iFit Coach.
With the help of the iFit Coach virtual personal trainers, you can use the Commercial 1750 to the max. The trainers can automatically adjust your speed and incline on the 1750, and with the incline range going from -3% up to 15% and the speed ranging from 0.5-12 mile per hour, there is plenty of room for improvement you can make while using this treadmill.
Also, as you workout, whether you are a walk/run believer or training for a marathon, the Commercial 1750 is built to support you. This treadmill comes with Runners Flex Cushioning, which is an adjustable cushioning designed by NordicTrack. With this treadmill cushioning, you can choose how soft or hard you want your 1750 to be, from simulating road-running conditions to cradling tender joints.
As you might be able to tell, I'm a pretty big fan of the NordicTrack Commercial 1750 treadmill. To help you make the most informed choice as to whether you should like the Commercial 1750 as much as I do, please feel free to keep on reading my in-depth review of this treadmill.
Pros
NordicTrack Commercial 1750 has a great balance between price and provided features.
Motor is powerful enough for serious runners and will support walkers and joggers for a smooth workout.
NordicTrack Commercial 1750 has easy speed changes between 0.5-12 MPH.
Plenty of running space to exercise, as the belt is 60" long and 22" wide.
High-definition, 10" touchscreen that you can use even when your hands are sweaty. Access NordicTrack iFit through this touchscreen for engaging workouts.
Runners Flex Cushioning is adjustable on the NordicTrack Commercial 1750, allowing you to enjoy a super-soft running surface or more road-like conditions when you exercise.
Along with a free year of NordicTrack iFit workout library access, you also have 50 workout programs available.
Max user weight capacity of 300 lbs supported.
Cons
Fewer fans to be found on this model when compared to the Commercial 2450 and Commercial 2950.
There are no USB ports on the NordicTrack 1750.
With the new additions, like the larger touchscreen, the Commercial 1750 has jumped up in price.
The NordicTrack Commercial 1750 has an impressive 3.75 CHP motor under its treadmill hood, powering you through the toughest runs without a problem. This motor runs at a moderate hum, which shouldn't disturb other people in your household while you are using your treadmill for a good workout. Also, thanks to the powerful motor in the Commercial 1750, you can smoothly and quickly transition between speeds and inclines.
SpaceSaver Design with EasyLift Assist
To help you save space when you don't need your 1750, this treadmill comes with NordicTrack's SpaceSaver Design, making so you can fold up the Commercial 1750. To help you with the folding, there is EasyLift Assist. This assistive tool comes in the form of a hydraulic air system that is under the treadmill deck. All you need to do is lift up the deck, and the system will engage to reduce the weight. Also, you can press the release latch and allow the deck to descend without touching the deck, and it will land lightly on your floor, rather than slamming down like other treadmills.
A feature everyone who uses the NordicTrack 1750 loves is the 10" smart-response touchscreen. The touchscreen is high-definition, so you can follow along with workout videos with excellent clarity and enjoy the stunning views that accompany the personal trainer-led video exercises. Also, you don't have to worry about sweating on the touchscreen. It is water-resistant, and will still respond if your hands are a bit damp with sweat. With the touchscreen, you will find finding workouts, sorting through your exercise data, and more is far easier than ever before.
If you haven't heard about iFit Coach, you may have been missing out on the workout training program that can make all the difference in your health and fitness. Designed by ICON—the parent company of NordicTrack—iFit Coach is an immersive personal fitness program with excellent personal trainers to lead you through awesome treadmill workouts as well as off-treadmill workouts, ranging from yoga to boot camp workouts. There are currently over 12,000 iFit Coach programs to choose from, with more being added to the workout library continually.
50 On-Board Workout Programs
On top of the huge array of workout programs you can access through NordicTrack iFit, you can pick from 50 different exercise programs that come installed on the 1750. These programs can challenge you in a variety of ways, from distance running to calorie burning exercises. You can also use the manual program setting to design your perfect workout.
Unlike most treadmills in this price range, you can decline on the Commercial 1750 as well as up your incline level. Going down to -3%, you can train your body to take downhill runs more easily, as well as challenge yourself by cranking up your incline level to 15%. You can move in increments of 0.5% between the various incline levels so you can build up to greater incline challenges as you exercise.
There are two ways you can monitor your heart rate on the Commercial 1750. One, you can use the handlebar grips on the treadmill. These grips, like on most treadmills, are not that accurate and should only be used to gain a rough estimate. Far more accurate is the iFit Bluetooth chest strap. This chest strap is adjustable and will accurately track your heart rate and communicate it with the NordicTrack 1750 as you work out, so you can both track your heart rate and have a more accurate idea of your exertion.
Another quality of life upgrade to the 1750 is it now comes with Bluetooth audio speakers. So, as you get ready for your treadmill workout, you can sync your smart device with the Commercial 1750 and wirelessly stream your music or other audio as you exercise and enjoy the excellent clarity that comes with streamed audio.
Not only is the NordicTrack Commercial 1750 recommended for serious runners who are training for marathons, but this treadmill is also perfect for those who are recovering from injuries or struggle with overuse injuries. Often, these injuries are due to pounding bones and joints against too-hard surfaces. With the Commercial 1750, you can use the Runners Flex Cushioning to make the 1750 as hard or soft as you want for your workout, as it can become road-running tough—without the damage to your joints—or make it softer and more flexible to cradle tender joints and feet.
If you've used a treadmill and felt cramped, then the Commercial 1750 is the right machine for you. This treadmill gives you plenty of room, with a 22" wide by 60" long running belt for you to use. Also, the belt is a commercial tread belt, which means it will hold up under the most intense workout sessions.
Individuals who weigh up to 300 lbs can use the NordicTrack 1750. The tough commercial frame of this treadmill should help reassure the concerned that they will be fine as they exercise.
You can enjoy long-term equipment protection when you buy the Commercial 1750. With this treadmill, you have a lifetime motor and frame warranty. Along with that coverage, you will also receive a 5-year parts and electronics warranty, which keeps you covered if you need any parts or electronics replaced. On top of that, there is a 2-year labor warranty.
Motor: 3.75 CHP
Incline: -3% to 15%
Speed: 0.5-12 MPH
Dimensions: 78.8" L x 39.2" W x 63" H
Folding: Yes
Running Area: 22" W x 60" L
Max User Weight: 300 lbs
Treadmill Weight: 309
Benefits
Other treadmills can only benefit a small, specific group of people, but the NordicTrack Commercial 1750 treadmill can work for just about everyone. It isn't overly pricey, especially if you take advantage of NordicTrack financing. With this treadmill in your home, you can appeal to everyone, from the walkers who don't want to walk on hard surfaces to the training runner who needs a highly durable treadmill that will stay comfortable.
This treadmill also offers some of the latest and greatest fitness technology. With the eye-catching touchscreen, you can find the perfect workout program and enjoy scenic runs from around the world, helping immerse you in ways other treadmills can't manage. You can also use the adjustable speed fan to help you stay cool and fight off the feelings of stuffiness that can come with indoor running on treadmills.
Final Verdict: NordicTrack Commercial 1750 Treadmill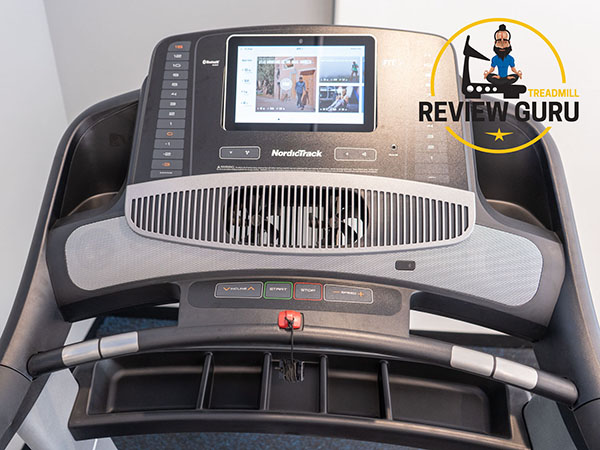 Even with the increase of price for the 2019 model of this treadmill, the NordicTrack Commercial 1750 is an excellent treadmill. You can make your treadmill workouts into something you look forward to, rather than an obligation when you use the great tech features. And, while you challenge yourself to improve, you can stay protected with the Runners Flex Cushioning absorbing much of the impact as you exercise.
Overall, this treadmill is ideal for a range of situations, from households who need to accommodate multiple users with different fitness levels as well as dedicated runners who need a reliable machine.
What We Like?
Powerful, quiet motor
Great price-to-features ratio
Easy-to-use touchscreen
Wide incline range
Plenty of running space
Ideal weight capacity
NordicTrack iFit Coach
Lots of built-in workout programs
Runners Flex Cushioning
Good warranty.
WHAT WE DON'T LIKE?
Costs more than the 2018 model by $100-$200
No ports for USB charging
Fewer fans available on this Commercial model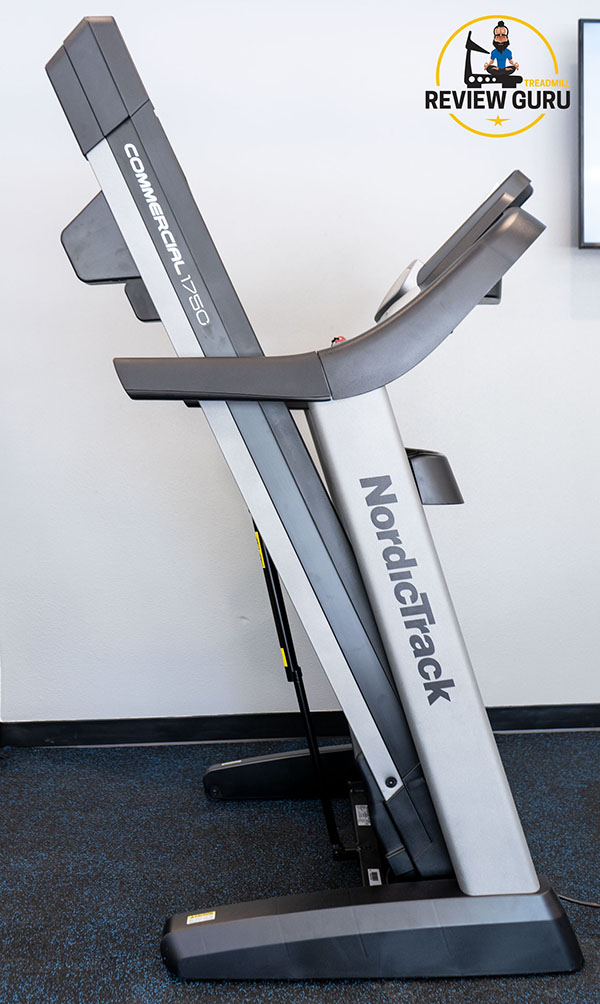 Conclusion
Out of all of the treadmills out there, the NordicTrack Commercial 1750 treadmill wins the title of best treadmill thanks to its excellent blend of features and pricing. While the 1750 is a little on the higher end for price, this treadmill beyond makes up for it by offering great incline, speed, and workout program features to suit everyone from the casual walker to the exercise enthusiast looking to hit new running personal records. As it can accommodate a huge variety of workouts and offers commercial quality at residential home gym prices, this treadmill is a fantastic choice as your next treadmill.
Related Treadmills Review: 
Summary
Reviewer
Review Date
Reviewed Item
Nordictrack Commercial 1750 Treadmill Review
Author Rating