*TreadmillReviewGuru helps consumers find the best home fitness products. When you buy a product we recommend, we may earn a commission.
Last Updated: May 12, 2023
The Commercial 1750 from NordicTrack has a sleek design and some nice upgrades. We're happy to say that the 1750 continues to perform really well, and these upgraded features are welcomed by our team. The 14" touchscreen really enhances your overall experience on this hearty treadmill because it has a crisp display and it's adjustable. The screen displays iFit content with a subscription so you can access thousands of workout classes. You'll get even more out of iFit with the pivoting screen so you can take classes off the treadmill, too.
Our review of the NordicTrack Commercial 1750 treadmill will walk you through all of the new updates.
It comes with a 12 mph max speed, as well as an incline and decline function. You'll get a lot of use out of this treadmill with its large 22" x 60" running surface and 3.5 CHP motor. Walkers, joggers, runners, and athletes of all levels are able to use and enjoy the NordicTrack 1750 Treadmill. In this review, I'll give an in-depth look at the NordicTrack Commercial 1750 and let you know how it performed for us.
2023 Treadmill Awards: Best Treadmill for Home Use
We have ranked the NordicTrack 1750 Commercial Treadmill our Best Treadmill for Home Use because it combines all the right features at a great price. This treadmill will fit in your home, provides abundant training content, has automated speed and incline, and has the Google Maps feature which allows users to create their own custom route. The 2023 model includes iFit free for up to five users for the first 30 days, which means everyone in your household can create their own iFit profile under just one subscription. This makes it the Best Treadmill for Home Use.
Why You Should Trust Our Review Of The NordicTrack 1750
Our mission is to bring you comprehensive reviews of home treadmills so you can determine what one is right for you. We thoroughly test all the treadmills we review to get to know each treadmill inside and out. Everyone on our team spends time logging miles, listening to the sound of the motor/incline, and checking out all the features of the console, including the workout content.
We do this with every treadmill, so we're able to draw similarities and differences when comparing different brands and models. We especially like to do this when we get a new or updated model of a treadmill. During this review of the NordicTrack 1750, we compared it to the previous year model, as well as the NordicTrack 2450, Sole F80, ProForm Pro 9000, and ProForm Pro 2000. You'll see our comparisons to these treadmills throughout this review.
---
Our NordicTrack 1750 Treadmill Review Video
---
Pros
The 14" touch screen displays iFit and is adjustable for training on and off the treadmill.
It's perfect for users of all abilities and for all-around use.
The console is streamlined, yet highly functional and easy to navigate.
It has a shorter step-up height to the deck and the motor hood is slim to stay out of your way.
The speed goes up to 12 mph and it inclines up to 15% and declines to -3% to add a lot of variety to your workouts.
It can be moved and folded up when not in use.
Cons
You need a subscription to get full access to the screen, and you can't watch outside apps like Netflix.
The cushioning isn't adjustable to be turned on and off, it always remains on.
---
14" Tilt & Pivot HD Touchscreen

The 14" HD Touchscreen pivots up to 360 degrees side to side. This way you can take classes on and off the treadmill.

SpaceSaver Design with EasyLift™ Assist

The SpaceSaver design keeps the dimensions of the 1750 compact even while open. EasyLift Assist makes it easy to fold up when you're done. The hydraulic decline system slowly lowers the deck back to the floor. You don't have to manually guide it down, and it won't fall and damage flooring when descending.

Smoother -3% Decline to 15% Incline

Incline and decline feature with a smooth and quiet incline tech. This allows you to stay stable so you don't have to hold the handrails while the deck inclines.

0 to 12 MPH Speed

Speed options are abundant on the 1750. Good luck matching that 12mph sprint pace! These hefty incline adjustments and wide range of speed options will keep you from reaching that dreaded fitness plateau or getting bored. The 3.5 CHP motor holds a steady pace no matter the speed.

Includes a 30-day free trial for iFit Family membership with up to 5 profiles

iFit is NordicTrack's signature online database of trainers and classes. The variety is impressive; pictures are crisp and sharp, and the trainers are motivational.

22" x 60" Tread Belt

There is a surprising amount of track space on the 1750. At 60" in length, it is a sufficient length for most users. The long deck allows for greater movement up and down the deck, which is nice when you are running sprints or working up a steep incline.

Premium Audio Speakers

The speakers are front-facing and can be heard loud and clear. They have adjustable control for: Main Volume, Music, and Trainer so you can modify the sound as needed.

Syncs with Bluetooth Headphones and Heart Rate Monitor

Will sync with your Bluetooth headphones so you can listen without having to use the speakers. It will also sync with a compatible heart rate monitor.

AutoBreeze™ Workout Fan

Below the speakers, the fans provide nice airflow for your indoor room. They have multiple air output settings.
Construction:
3.5 CHP Motor
2.5" Precision and Balanced Non-Flex Rollers
22" x 60" Tread Belt
340 Lb In Box Product Weight
Dimensions: 80" L x 38" W x 65" H
Console:
14" Smart Tilt and Pivot HD Touchscreen
Bluetooth® Headphone and Heart Rate Connectivity
OneTouch® Controls
Premium Audio Speakers
AutoBreeze™ Fan
Functionality:
0 to -3 Decline
0 to +15% Incline
0 to 12 MPH Speed
SpaceSaver® Design with EasyLift™ Assist
Includes 30 Days Free of iFit Family Plan membership
On-Board Workout Programs
300 Lb. User Capacity
Warranty:
10-Year Frame Warranty
2-Year Parts Warranty
1-Year Labor Warranty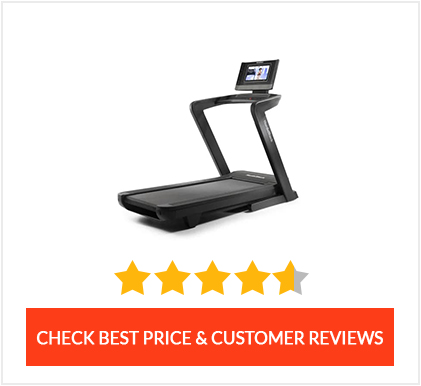 Changes From 2021 to 2022 Models
New sleek design
Larger Touch Screen: The screen has been upgraded from 10" to 14". The new screen also pivots up to 360 degrees side to side.
Cushioning: The cushioning on the deck is no longer adjustable, so it can't be turned on/off. Instead, it remains on to constantly provide shock absorption.
Lower Profile: The step-up height was around 10". It is now lower at 9".
Motor: The previous motor was 3.75 CHP. The new motor is 3.5 CHP but it performs, sounds, and adjusts just as quietly, quickly, and efficiently as the previous motor.
Smaller Footprint: 2021 model: 81" L x 39" W x 62.75" H 2022 model: 80" L x 38" W x 65" H
In-depth Review of the NordicTrack Commercial 1750
---
iFit Overview
iFit is NordicTrack's premier fitness app. iFit is constantly updated and offers indoor studio classes and outdoor workouts all over the world. Both class types are led by knowledgeable instructors who guide and motivate you through the workout. There are over 180 instructors and over 16,000 classes. You can take classes live and on-demand, too.
While I love both class formats, I'm always in awe of iFit's outdoor classes that are filmed on every continent. You'll see shots of the surrounding landscape occasionally, as well as the route map as you follow the instructor through the location. There are challenges and series to participate in, too. Often, series involve the same location or instructor and have the same theme throughout the bunch of classes.
You can even create your own routes with the Google Map feature. This lets you pick an area and draw the route you want to take. The screen will then comprise a collection of Google images of the location that change as you move further along the route.
iFit features a leaderboard in every class to show where you stand against other members who have taken it. All your workout metrics are shown at the top of the screen, too. You can change the music throughout the class because it isn't integrated into the workout. There are different genres of preselected song lists to choose from. The music options aren't my favorite, but it's nice to have a wide variety to pick from.
What makes iFit really valuable to me is there are a variety of classes. You can take running classes on integrated treadmills like the NordicTrack 1750 and other treadmills in NordicTrack's lineup, and then hop off and take a yoga class on a mat from the same screen. If you have other iFit-enabled equipment, you can take even more classes like cycling and rowing as well. iFit is a nice touch on the 14" touch screen and gives you even more versatility on the 1750.
OnBoard Workouts
While the monthly subscription to iFit gives you lots of workout options, you'll still have workouts to pick from without it. There is a free version of iFit that includes a few trainer-led workouts as well as preprogrammed workouts. These onboard workouts display a white screen with a track to show your metrics and the treadmill will adjust to the preset levels as you go. Manual mode can be found in iFit as well as with the onboard workouts. This is great if you like to just jump on and adjust the treadmill yourself.
Manual mode doesn't require a wifi connection, but iFit and the onboard workouts do.
Console
I find the screen's size to be easy to see and navigate. I can reach the screen well and I love that it is very adjustable. The screen tilts so users of all sizes can see it, and it pivots to either side. This pivoting feature lets you take classes on and off the 1750. Some iFit classes use both the treadmill and mat, so you'll be ready to transition quickly, in order to keep up with the instructor.
We're big fans of the quick-touch buttons on both sides of the screen, too. The numbers are specific speed settings (right) and incline levels (left). I can simply press the 7 on the right and the treadmill will go to 7 mph. This is perfect for HIIT training and makes the console even more functional to use. Of course, you can also adjust the treadmill below the screen by using the speed and incline buttons, as well as on the touch screen. The speed increments can be adjusted by 0.1 increments, while the grade changes by 0.5%.
The 1750 can also adjust automatically when using iFit for a hands-free experience. This can be overridden anytime.
The front-facing speakers play the iFit content clearly, so you won't miss a cue from the instructor. You can adjust the volume on the console and on the screen. There's also closed captioning for every iFit class.
The fan is quiet and provides a nice amount of airflow. It has multiple settings but isn't adjustable to direct where the air is blowing. One of our reviewers who is 6'5" can't get much use out of the fan because it points at his torso, instead of his face. The new streamlined console is sleek but has minimal storage compared to the previous model. 2 cupholders can be used to hold your phone, personal items, and your water bottle. I've found them to keep my items secure, yet well within reach. They're also removable.
Construction
During our testing, the new design of the NordicTrack Commercial 1750 proved to be stable and solid. It's sleek to look at, yet hearty and powerful to use. It does have a 300 lb weight capacity, so we don't recommend it for larger users though. The Sole F80 has a 375 lb weight capacity and is a better option for users over the 300 lb limit.
Frame
The Commercial 1750 is built to be sturdy but still light enough to fold up. The base of the running platform is constructed of steel side to stabilize the deck without weighing it down. Composite construction keeps the running platform durable and solid, and the deck descends via a hydraulic system to bring it gently down onto the floor. There are front wheels for easy moving, too. I actually find the 1750 to be easier to tilt and move compared to other treadmills like the previous model, ProForm Pro 9000, and Sole F80.
We don't experience any shaking of the screen when running. I really like the coating on the side handles too. It has a nice texture to prevent your hand from slipping. The front handle is a straight bar that extends horizontally. It's excellent in case you need it for balance assistance.
Motor
The 3.5 CHP motor is designed to support multiple users or heavy training. The motor adjusts incline and speed so your running experience is affected by the capacity of the motor. It feels just as consistent and capable as the motor on the previous model. All of our reviewers put it through a series of workouts, and it handled them with ease. It's also quiet and adjusts quickly. We noticed that the motor hood has been lowered so you're less likely to graze it with your foot while running, too.
The maximum speed is 12 mph. The maximum incline is 15% and the maximum decline is -3%. There's plenty of room for you to find settings that will get your heart rate up. We find this incline level to be challenging, and appreciate that the deck also declines. It inclines higher than the ProForm Pro 2000 which goes up to 12%, to give you a little bit more training options.
Deck
At 22 inches wide by 60 inches long, the length of the running belt is long enough to accommodate most runners. Any longer and the machine would be top-heavy when folded. The belt size allows for full stride length with just a little extra wiggle room along the sides.
The deck sits a little lower than the 2021 model at 9" versus about 10". The Sole F80 has a very low profile at 8" in comparison. The 1750 is easy to get on and off and sufficient for most ceiling heights. I recommend at least an 8' high ceiling though to use the full 15% incline.
The cushioning on the NordicTrack Commercial 1750 is designed to reduce foot impact by 30%. There is tremendous value in this feature! Impact injuries and discomfort are common in runners because running is such a high-impact exercise. I can feel a definite difference in the cushioned deck on the 1750 when compared with running outside. Next to other treadmills, the cushioning is softer than the Sole F80, as well as both the Pro 2000 and Pro 9000 from ProForm.
Keep in mind that the cushioning is no longer adjustable as it was on the previous model. This means that you can't choose to turn it off or on. The cushioning remains on when in use and will always provide shock absorption. This is beneficial if you have joint issues, or even if you run outside often to give your legs a little reprieve.
Functionality
The 1750 is designed to provide the most bang for your buck when it comes to in-home folding treadmills. With impressive speed and incline options, you can achieve some serious training on the 1750.
Most folding treadmills don't offer a decline option. That -3% decline is nice when you want to give those legs a rest, are in an active recovery, or are training for a downhill event. The variability of incline to decline also adds significant training options to your regimen. With a smooth motor that readjusts the incline steadily, the abundant incline range is a must-have for athletes and casual users alike.
The motor is extremely quiet when in use. It does get a little louder as the speed is increased, but that is to be expected on treadmills. You'll also get some extra sound from the foot noise, but it's pretty low on this deck. The side rails are also about 5" wide so they offer plenty of space to place your feet if you need to take a break.
Folding it is simple and only requires one person (and maybe just one hand). Just grab the base of the deck and lift. There is no "release" lever to raise the deck. It latches securely in place when folded up and will stay locked until you press the foot release bar underneath. As the deck descends, the hydraulic system will engage to gently rest it on the floor, you don't have to pull or push it down. I love the folding feature on this treadmill!
Warranty
The NordicTrack Commercial 1750 Treadmill comes with a 10-year warranty for the frame. This backs up the solid construction and design. NordicTrack also offers a pretty standard 2-year warranty for parts and 1-year warranty for labor. We recommend having two people set up the 1750.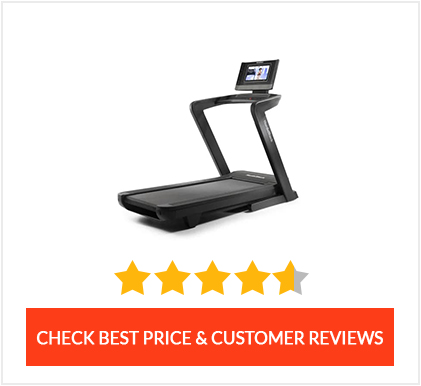 Bottom Line Review: NordicTrack Commercial 1750 Treadmill
The NordicTrack 1750 is our Best Treadmill for Home Use. It is one of the most popular treadmills on the market — and with good reason. This model features an enlarged 14" touch screen that is adjustable for users of all sizes and for the screen to be used on and off the treadmill. The 1750 is easy to navigate and use with a lot of training variety because of the 12 mph max speed, 15% incline, and -3% decline. Add to the mix the fact that you can fold up the treadmill when not in use and it's pretty much the best option out there. For these reasons, the NordicTrack 1750 continues to be at the top of our list for top treadmills in 2023.

Related Treadmill Reviews: