*TreadmillReviewGuru helps consumers find the best home fitness products. When you buy a product we recommend, we may earn a commission.
Last Updated: February 9, 2021
Looking for something different? Do you want to mimic an outdoor riding experience in the safety of your home? The Bowflex Velocore indoor bike allows users to lean from side to side while riding which requires greater core strength and balance. Think you are up for the challenge? Let's take a look at the Velocore to see what it has to offer.

The Velocore bike is designed to not only give you a great cycling experience but also adds more core engagement with a frame that will lean from side to side. Is it a gimmick? Could it be a valuable innovation? It's hard to tell right out of the gate. The Velocore has limited data on user experience and durability but we are always happy to see manufacturers looking to bring new experiences into the fitness market. For years indoor exercise options have been fairly basic machines that allow users to move repeatedly in a straight line — but a bike that leans? That's something new. In this Spec Review we'll take a look at the Bowflex Velocore to get a better idea of how it is made and whether or not it's worth the $2200 price.
Who It's For: Cyclists looking for something different, challenging and fun on an indoor bike
If you are the kind of person who wants something new and different, you'll love the Velocore. This bike is well-suited for those who:
Have good balance and core strength sufficient to allow for leaning side to side
Can climb up on a bike to exercise
Want a fully integrated experience with an attached touchscreen and content
Have a bit of cycling experience and/or are comfortable trying something new
Can afford the $2200 sticker price plus a monthly subscription
Have a strong wifi connection since it is required to fully operate the bike
Pros
We like that Bowflex is offering buyers two different options for screen size. Some users may absolutely need the 22" touchscreen, but others may be just fine with the 16" option which allows them to save money. We've used both 15" and 22" touchscreens and while the larger screen is a nice option, it isn't necessary for every rider and this is a good way to lower the cost without compromising build quality.
We like that Bowflex is thinking outside the box here. Granted, a leaning bike may not be for everyone (more on that later). But the innovation is valuable and may be just what some riders are looking for to stay more engaged and feel like they are really riding.
We like that the bike has a 175 pound steel frame. In order to get this sort of functionality, the Velocore bike needs to be fully stable on the ground. While this bike weight is higher than other exercise bikes, it is necessary to provide the stability needed for a leaning frame.
We like that the bike offers a 375 pound max user weight. Most exercise bikes max out at 300 pounds, and quite frankly there are many users who may be close to this weight limit and consequently question whether that is an acceptable option. 375 pounds opens the Velocore up to more potential users.
We like that the leaning feature is an option. You can lock the frame so it doesn't lean if you want, which makes it so riders who don't want to use this feature aren't stuck with it. Also if you have multiple riders in your home, different people can get the experience they want by locking or unlocking the frame.
We like that Bowflex offers their JRNY subscription for only $20 a month. This is half of what other subscriptions cost. Velocore buyers have the option of an affordable subscription that provides immersive content that further enhances the leaning feature of the bike. But users are not locked into this interface if they don't want to use it.
If you subscribe to Bowflex's JRNY app, you can use the Velocore touchscreen to also access Netflix, Hulu, Amazon Prime or Disney+. You have to have your own subscription to these sites, but then you are able to view them right on the touchscreen. Currently, no other manufacturer allows users to access other content on their touchscreen, so kudos to Bowflex for allowing this feature.
Cons
This bike is new and untested. Like all new designs, this will take some time to fully determine the quality and durability. We currently don't have any data on what to expect from the Velocore.
The leaning feature could possibly create a feeling of imbalance for some riders. Thankfully, Bowflex has allowed the Velocore frame to lock in place to eliminate the lean feature, but riders may not know beforehand if they will actually like this feature since it is different and unique.
This is a rather limited warranty. Only two years on the frame isn't overly reassuring.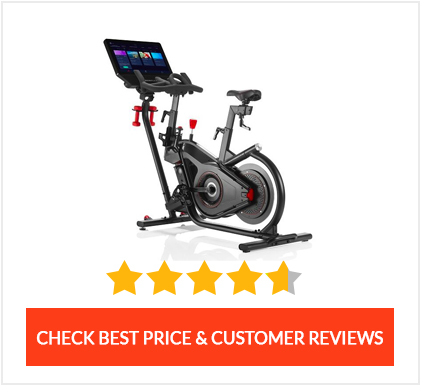 ---
Spec Overview of the Bowflex Velocore
---
Frame Design
The bike frame sits firmly on the floor while a hinging mechanism allows the seat, pedals and drive system to shift side to side. The touchscreen, frame and stabilizers all remain stationary. This design enhances the safety of the Velocore since the whole frame doesn't lean. Also, maintaining a set position for the touchscreen reduces the likelihood of dizziness or screen wobble. We are impressed with the innovative engineering that allows for both stability and a side-leaning option on the Velocore. We aren't sure this design will work for everyone, but it is new and innovative.
Leaning Mode vs. Non-Leaning Mode
Having both a Leaning and Non-Leaning option allows different riders to customize their experience as desired. Users who don't want to lean have the option to ride as they would on a regular bike. For those who want a greater challenge and a more realistic feel while riding, the leaning mode opens up these options.
Compact Footprint
The total footprint of the Velocore is 60" L x 24" W 55" H. This is roughly the same length as the Peloton bike (59") and the Nordictrack s22i (55"), so the bike doesn't take up much more space with the added functionality. The bike is the same width as other indoor cycles (Peloton: 23", Nordictrack s22i: 22"). But, you will need to leave lateral space on either side of the Velocore to allow for the leaning feature. In general you get a lot of functionality in a compact piece of exercise equipment.
Hybrid Pedals
The Velocore has hybrid pedals with an SPD clip on one side and a standard, flat pedal on the other that has a cage and adjustable strap. This allows riders who already own or prefer SPD cycling shoes to use those – or you can ride with any athletic shoe using the flat side of the pedal. This opens up options for different riders so you don't have to have cycling shoes, but you have that option if desired.
16" or 22" Touchscreen
The Velocore offers two different touchscreen options. For $1699 you can get the 16" screen and for $2199 you can upgrade to the 22" screen. Otherwise, all other functionality on the bike remains the same. It's nice that buyers have the option to select the screen they want without downgrading bike functionality as well.
Screen Angle
Regardless of screen size, both screens tilt up and down gently so riders can find the right angle for visibility.
Resistance Knob with 100 Resistance Levels
The Velocore uses a resistance knob which many riders prefer. It is placed on the top tube of the frame for easy reach. The Velocore has silent magnetic resistance which we would expect on a bike at this price point. Magnetic resistance doesn't require any contact or friction, so it is quiet and low-maintenance. You also get 100 resistance levels which just makes sense. Other bikes break their resistance levels up so there are 32 levels of resistance or 24 or even 16. Riders have a harder time understanding the difference between the levels or why level 16 would equal 100% resistance power. Having 100 resistance levels is easy to understand. Level 50 is about 50% total resistance, etc. Having this many resistance levels also breaks them up into smaller increments so you have more customization options.
Bluetooth Speakers
The screen does have Bluetooth speakers and you can also connect via wireless headphones.
App Options
The Velocore touchscreen is designed to showcase Bowflex's JRNY app. However, if you have a current subscription to JRNY, you can also access other web based apps like Disney+, Hulu, Amazon Prime Video and Netflix. This opens up a lot of options for riders who may enjoy JRNY but may also want the option of watching a show while they ride. In order to make this happen, users need a current JRNY subscription as well as any 3rd party subscription to Disney+, Hulu, etc. The extra subscriptions are not included in the JRNY price.
Weight Cages
The Velocore comes with weights which can be used on NON-leaning classes that incorporate upper body work. The weights sit on the stationary support arm that holds the touchscreen. These are included in the price of the bike. The inclusion of weights is a good indication that upper body work is incorporated into the programming.
Tablet/Phone holder
There is a tablet ledge just in front of the screen where you can place a phone or tablet if desired. It will block the screen a little, so be aware of this.
Water Bottle Holders
There are two cup holders on either side of the handlebar post. These are a bit flimsy and may not hold a hydroflask or other heavy water bottle, but they'll support plastic bottles. This is an important safety feature on a bike because it is not a good idea to reach down off the bike to pick up a water bottle off the floor. Even though you're exercising at home, having water bottles close by and within a safe reach is important.
---
As more people opt to exercise at home, the need for quality fitness products has significantly increased. Bowflex has been making fitness equipment for decades, so even though the Velocore is new, at least we are familiar with and have confidence in the manufacturer. More testing and durability data will be available with time. We are happy to see Bowflex offer two different size screens on the Velocore so users can opt for the $1700 version without losing any functionality. Magnetic resistance is a standard feature on a bike at this price point and we like the 100 levels of resistance as well as this metric makes sense to most people. In general, this looks like a quality player in the exercise bike industry. We look forward to testing the Velocore ourselves to see how that leaning feature really works!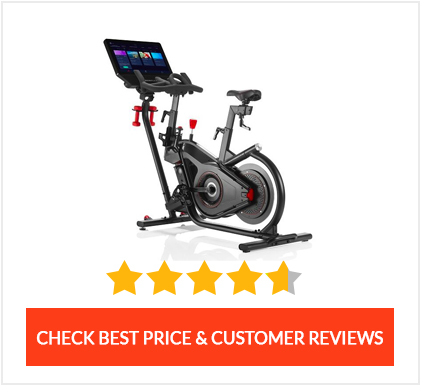 Bottom Line :
The Bowflex Velocore is an innovative bike. We're not sure everyone will love the leaning feature, and it may be ill-advised for certain users, but the frame appears stable and we are always happy to see innovation in the fitness market. We are excited to get this bike into our studio and test it so stand by a more detailed review.