*TreadmillReviewGuru helps consumers find the best home fitness products. When you buy a product we recommend, we may earn a commission.
Last Updated: May 5, 2023
Looking for something different? Do you want to mimic an outdoor riding experience in the safety of your home? The Bowflex Velocore indoor bike allows users to lean from side to side while riding which requires greater core strength and balance. Think you are up for the challenge? Let's take a look at the Velocore to see what it has to offer in our detailed review.
The Velocore design is an interesting concept. Can a leaning bike recreate the balance challenge of riding outdoors? The theory behind the Velocore is that by engaging the leaning feature, riders can activate the external obliques and recruit core muscles more than would otherwise be required on a stationary bike. While it certainly seems like this is the case, we found the leaning feature to be more effective for some riders than others while reviewing and testing the Velocore in our studio.
Awards: Best Exercise Bike For Core Strength
The Bowflex Velocore has a unique concept that is designed to activate more of your core when riding. The frame of the bike locks and unlocks so you can tilt and lean to each side. When leaning, you have to engage more of your abdominals. We like the innovation that went into this design and that is why we've named the Bowflex Velocore the best exercise bike for core strength on our best exercise bikes list.
Why Trust Our Review Of The Bowflex Velocore Exercise Bike
During our testing process, we are sure to try out and review all components and features on the equipment. When testing exercise bikes this includes things like the frame, pedals, resistance, and screen if one is attached. If there is an attached touch screen, we also use the screen's programming since this is a vital part of the overall experience on the bike. Testing exercise bikes is our thing and we know a lot from doing this over the years, as well as our experience teaching indoor cycling classes and using exercise bikes.
When creating this review of the Bowflex Velocore, we compared bikes with unique features and other comparable bikes on the market. Some of them included the NordicTrack S22i, Peloton Bike+, ProForm Studio Bike Pro 22, and the MYX II.
Our Video Review
---
Pros
Two screen size option 22″ and 16″
We love the innovation and outside the box thinking with the leaning feature
175-pound steel frame is solid and allows for a stable ride, even while leaning
375-pound max user weight allows for riders of all size
Workout variability provides different workout options for multiple users in your home
JRNY subscription is only $20 a month
If you subscribe to Bowflex's JRNY app, you can use the Velocore touchscreen to also access Netflix, Hulu, Amazon Prime or Disney+
Cons
The weights are difficult to reach from the seat of the bike
The leaning feature could possibly create a feeling of imbalance for some riders.
This is a rather limited warranty. Only two years on the frame isn't overly reassuring.
---
Construction:
Frame: Corrosion-resistant reinforced steel
Stabilizers: Front and rear stabilizers hold bike securely
Saddle: Racing style, narrow design, light padding
Pedals: Hybrid flat pedal + SPD clip
Flywheel: Iighted, rear placed under saddle
Footprint: 60" L x 24" W 55" H
Bike weight: 175 lbs
Max weight: 325 lbs
Ceiling Height: Rider + 16"
Console:
Screen: 16" or 22" Touchscreen, adjustable
Subscription: Bowflex JRNY
WiFi: Required for use
Bluetooth: Enabled to sync with included HR armband
Speakers: Yes
Fan: No
Functionality:
Resistance: Magnetic Resistance; Resistance Knob
Levels: Digital Resistance levels 1-100
Adjustment: Three adjustment points:

Seat up/down and forward/aft, Handlebars up/down

Weights: 3lb weights included
Warranty:
Frame & Parts: 2 Year Warranty
Labor: 1 Year Warranty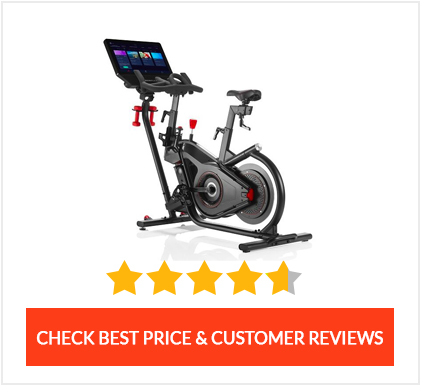 Bowflex Velocore In-Depth Review
---
Bowflex Velocore Frame Design
Frame Design
The bike frame sits firmly on the floor while a hinging mechanism allows the seat, pedals, and drive system to shift side to side. The touchscreen, frame, and stabilizers all remain stationary. This design enhances the safety of the Velocore so the whole frame doesn't lean. Also, maintaining a set position for the touchscreen reduces the likelihood of dizziness or screen wobble. I am impressed with the innovative engineering that allows for both stability and a side-leaning option on the Velocore. I'm not sure this design will work for everyone, but it is new and innovative.
Leaning Mode vs. Non-Leaning Mode
The Bowflex Velocore has quickly become known as the "bike that leans". Having both a leaning and non-leaning option allows different riders to customize their experience as desired. Users who don't want to lean have the option to ride as they would on a regular bike. For those who want a greater challenge and a more realistic feel while riding, the leaning mode opens up these options.
Compact Footprint
The total footprint of the Velocore is 60" L x 24" W 55" H. This is roughly the same length as the Peloton bike (59") and the Nordictrack s22i (55"), so the bike doesn't take up much more space with the added functionality. The bike is the same width as other indoor cycles (Peloton: 23", Nordictrack s22i: 22"). But, you will need to leave lateral space on either side of the Velocore to allow for the leaning feature. In general you get a lot of functionality in a compact piece of exercise equipment.
Hybrid Pedals
The Velocore has hybrid pedals with an SPD clip on one side and a standard, flat pedal on the other that has a cage and adjustable strap. This allows riders who already own or prefer SPD cycling shoes to use those – or you can ride with any athletic shoe using the flat side of the pedal. This opens up options for different riders so you don't have to have cycling shoes, but you have that option if desired.
16" or 22" Touchscreen
The Velocore offers two different touchscreen options. For $1699 you can get the 16" screen and for $2199 you can upgrade to the 22" screen. Otherwise, all other functionality on the bike remains the same. It's nice that buyers have the option to select the screen they want without downgrading bike functionality as Ill.
Screen Angle
Regardless of screen size, both screens tilt up and down gently so riders can find the right angle for visibility.
Resistance Knob with 100 Resistance Levels
The Velocore uses a resistance knob which many riders prefer. It is placed on the top tube of the frame for easy reach. The Velocore has silent magnetic resistance which I would expect on a bike at this price point. Magnetic resistance doesn't require any contact or friction, so it is quiet and low-maintenance. You also get 100 resistance levels which just makes sense. It is easy to estimate your work-rate in relation to resistance since level 25 is 25% resistance and level 50 is 50%, etc.
Bluetooth Speakers
The screen does have Bluetooth speakers and you can also connect via wireless headphones.
Weight Cages
The Velocore comes with weight which can be used in NON-leaning classes that incorporate upper body work. The weights sit on the stationary support arm that holds the touchscreen. These are included in the price of the bike. The inclusion of weights is a good indication that upper body work is incorporated into the programming.
Tablet/Phone holder
There is a tablet ledge just in front of the screen where you can place a phone or tablet if desired. It will block the screen a little, so be aware of this. Since the bike shifts from side to side and the screen tilts forward and back, a tablet may not be entirely stable here. There is also a small pocket for a phone inside the handlebars.
Water Bottle Holders
There are two cup holders on either side of the handlebar post. These are a bit flimsy and lightweight – they may not hold a Hydroflask or other heavy water bottle, but they'll support plastic bottles. This is an important safety feature on a bike because it is not a good idea to reach down off the bike to pick up a water bottle off the floor. Even though you're exercising at home, having water bottles close by and within safe reach is valuable.
Bowflex Velocore JRNY App
JRNY App & User Interface
Frankly, I was surprised by both the content and quality of the JRNY app. There are several innovative features that make the Velocore distinct in a field of competing studio-ride apps. First, if you subscribe to JRNY at $20/month, you have access to a few 3rd party apps. Netflix, HULU, Disney+ and PrimeVideo come preloaded. In order to use any of these, you have to have your own subscription – it is not included in the JRNY app. However, once you login to your personal account (let's say it's Netflix), you then have the option to select a preprogrammed ride to use while watching a program. This means that you can do more than just a manual ride while watching Bridgerton!
Riders can respond to the vocal cues of the audio trainer as they ride along to lean left, lean right, power up hills, adjust the resistance, etc. This makes it so you get a challenging workout while enjoying your favorite program. Most apps don't allow access to 3rd party options at all, and those that do simply allow you to watch in manual mode.
This is the first app I've used that allows riders to use a preformatted workout while watching a video. A small bar appears at the bottom of your screen that provides ride metrics throughout the workout. The programs themselves may only be 30 minutes long, so you may need to load another program and then resume your Netflix video if you want a programmed ride that matches the length of your show.
The other feature that pleasantly surprises me is the quality of the graphics. This is a high-def screen. The graphics are crisp with bright colors and clear images. I love the Explore the World feature with locations all over the globe. These are filmed live so you see people and cars pass by as you ride. There are over 50 scenic routes filmed in different parts of the world and counting.
Bowflex radio also has a good mix of music you can select prior to beginning your ride. There's an option for the '80s, '90s, country, classic rock, easy listening, etc.
JRNY Programming Overview:
The JRNY library is divided into the following categories:
Just for You

Workouts you may have completed in the past but not favorited.
Workouts similar to one you just completed
Basic workouts for intervals, hills, sprints you may like

Programs

Graph-based programs that provide vocal cues while riding.
Option to superimpose the program while watching a 3rd party app
Organized by length
Overview of Focus and Difficulty

Explore the World

Gorgeous outdoor routes all over the world
Some of these have an adaptive workout pre-programmed
Others are available for use with a program of your choice
Many are just drone-filmed landscape shots that you can ride at your own pace

Videos

Indoor studio rides led by an instructor
Cycling
Strength & Stretching

Favorites

Any program or route you've favorited

Learn

Simple 3min or less videos on How to Lean, bike setup, Bluetooth, creating a JRNY profile and using JRNY entertainment

Bottom of Screen:

Workouts – App library
Journal – Workouts completed & data history
Profile – Personal profile

Filters:

Time (10min – 60min)
Difficulty (Easy – Just Right – Hard)
The programs range in length from 10 minutes to 60 minutes. You can select options based on difficulty or length. The instructors are good. I found them to be engaging and provide good cues. Even though you can use a workout with vocal cues while watching Netlflix, I found the studio rides to be a bit more motivating and engaging simply because you don't get distracted or lose focus. The only drawback to selecting your own music is that it isn't integrated into the programming. Whereas Peloton rides are designed around the music, the JRNY app features good music, but it's more of a background component.
Bowflex Velocore Leaning Bike Ride Experience
If, like me, you presumed the lean feature to be a bit of a gimmick, be prepared to be pleasantly surprised. There are a few things I like about how Bowflex has designed the Velocore. The first is, the bike is equally functional with the lean feature locked or engaged. If you keep the frame locked to limit lean, you get a great ride on a stable bike. If you unlock the frame which allows it to lean, you get a more realistic riding experience. The lean feature really doesn't create a feeling of imbalance. While this may not be ideal for anyone with balance or vertigo issues, I didn't find it made me feel dizzy while watching the screen. The lean feature is more pronounced for taller, larger riders since it is weighted at the bottom. Those who have more weight to shift side to side will find a greater amount of lateral lean during the ride. I found the frame just kind of shifted a bit as I rode. In order to get it to really lean, I had to shift all my body weight to one side and even then, it restabilizes in a vertical position pretty quickly.
The lean feature does make riding more interesting and realistic – and, it doesn't require a separate motor! This means there is less to break or wear out over time. The lean feature is just a release mechanism that allows the frame to sway gently from side to side. It doesn't create any noise. This really is an innovative design that makes the bike fun and functional without adding something else to break.
---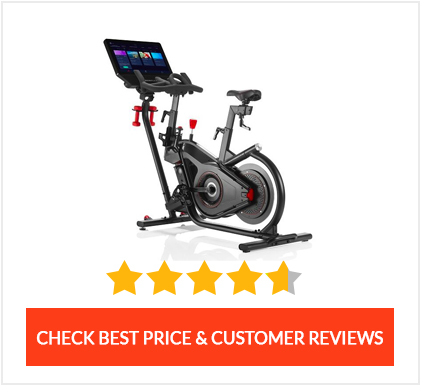 Bowflex Velocore Bike Review Summary:
We have enjoyed riding and testing the Velocore. It is an innovative design that adds an element of fun along with some extra core engagement! How much you can actually develop your core while riding this bike is up for debate, but it doesn't hurt to include the option. While long-term data on durability and repairs is limited, the Velocore feels stable, doesn't seem gimmicky, and provides excellent training with impressive programming. I'd put this one at the top of my list for new, fun indoor cycling options.