Last Updated: May 6, 2020
Want to lose fat and get your heart fit? What about shaving a few minutes off of your mile time and gaining endurance? Or, let's keep it real, wouldn't you simply like to climb up a few flights of stairs without wheezing? If your answer is "Heck yeah!" then get ready to lace up your sneakers, because there's no better exercise than walking, jogging, running or sprinting to get you feeling fit and fabulous.
Running outside can have its perks if you live in the right place. There's fresh air, pretty scenery, (and maybe you'll even pass someone cute while doing laps!). That being said, there are plenty of people who can't run outside due to weather, safety, or overly-crowded sidewalks. Before you give up and drown your sadness in a bucket of french fries, check out the great treadmill options reviewed in this article.


Here are the Best Treadmills of 2020 – by Awards
See the details, Pro's and Con's and why each treadmill made our best list below.
Honorable Mention
Weslo Cadence G 5.9 – Honorable Mention for Best Treadmill Under $500
Peloton Tread – Honorable Mention
Nordictrack 2450 – Honorable Mention for Best High End
Why Buy a Treadmill?
Buying a treadmill means no more working out in a sweaty, crowded gym, or having to change in those funky-smelling locker rooms. No more dodging piles of dog waste on the sidewalk. And no more close-calls with drivers not paying attention while you're out for a morning jog.
Plus, treadmills aren't just a one-trick pony. You can switch up your workouts to include a variety of cardio that includes walking, jogging, sprinting and running. Commit to that combo and nothing will stop you from losing weight, improving your heart health, gaining muscles, and increasing your endurance!
Moreover, you can also talk on the phone, work on your PC or Laptop, and watch television while working out on the treadmill at home. As multitasking is possible with the treadmill, your exercise becomes more fun and appealing.
Are you getting pumped? Great! We've put together a list of the best treadmills available in 2020. But, before we break down each model, we'll briefly go over the different types of treadmills to help you make an informed purchase decision.
Finding the Perfect Treadmill: Factors to Consider
The task of finding the perfect treadmill to suit one's needs is a real challenge. Most people assume that finding a treadmill is an easy task, but this is far from the truth. In order to make this task of yours easier, our Treadmill Review Guru team has provided below the main factors that one should consider while buying a treadmill:

Do You Want to Run, Jog, Sprint, or Cross-train (or do all 4)? This is the first question you need to answer before you purchase a treadmill. We see all the time consumers purchase a cheaper treadmill thinking that they will be able to sprint on it because of some random Amazon review that said so. Don't fall for that trap – identify what your needs are, and then go from there. That's why we've broken down our treadmills in to needs-based categories below. And remember, budget treadmills are meant for walking, jogging, and light use – not training for your upcoming Boston marathon 🙂
How Much Do You Want to Spend?Now that you know your need/purpose for the treadmill, the next step is to set your budget. It's easy to get carried away, but it's also easy to not spend enough. What do we mean by that? If you don't buy a treadmill that will help you achieve your goals, then you are not going to use it. If you overspend, then you are going to create even more stress and that stress is going to negatively affect your health.
*NOTE – some of the best manufacturers are offering great 0% interest on treadmills for up to 36 months. This is a GREAT opportunity to purchase the treadmill you need and spread out the costs without paying interest to do so. Again, just don't go crazy, but utilize that opportunity to get the features you need to keep you motivated.
Where Is the Treadmill Going to Go?This is the third question you need to ask yourself. If you have a dedicated area and can leave the tread platform down 100% of the time, then we'd recommend looking at a non folding option, like the NordicTrack incline trainers. However, if you are someone who needs to be able to keep your treadmill in a small space, or just like the idea of not having a 3' x 6' area dedicated to the treadmill, then a folding option is your best bet.
Now that you have answered those initial questions, below are the key features to consider before purchasing your treadmill:
Running Surface Area – It's one of the first features to consider, especially if you are a tall person with long-running stride, or if you heal strike. Look for a treadmill with a large deck area (at least 55 inches long and 20 inches wide). Ideal size is 60 inches by 22 inches – you will be surprised at how much difference the extra 2" make on the width.
Motor Size – The more powerful the motor, the longer the treadmill will last and the better it will perform at high speeds.
Technology – A treadmill is an investment, and it's an investment that you want to make sure gets used routinely. Technology such as bluetooth/WiFi connectivity, large touch-screens, USB ports, heart rate monitoring, enhanced running programs, and other features enhance your workout and push you to train harder.
Construction Quality and Durability – You want to purchase a treadmill that will last a long time. Look for a treadmill with a good weight capacity, as that is an indication of how well built the machine is. You also want a treadmill that won't require you to replace parts and that is backed by a good warranty (by good we mean a warranty that is longer than 1-2 years and is honored by the manufacturer). One reason we recommend to purchase your treadmill online is because you can purchase direct from the manufacturer so you don't have to go through the customer service of your local sporting goods store if you do have warranty issues.
Manufactures Quality and History – One of the first things you should consider when buying a treadmill is the quality of the manufacturer. How long has the company been making treadmills, and what do people say about their products?
Keeping all these factors in mind, we have selected the top 10 treadmills of 2020 and have ranked them accordingly. You can check out the detailed review of every machine highlighting the pros and cons along with the features provided by the machine. You will notice that our top recommended treadmills are generally in the $1,500 to $2,000 range. This price range allows you to get a machine that is built extremely well, will allow you to train hard, and has the technology needed to keep you motivated and using your treadmill for years to come.
Sneak Peak of Best Treadmills:
Best Treadmills of 2020 – Our Experts Top Picks
Here is the list of top picks for best treadmills of 2020 by Treadmill Review Guru – you can't go wrong with any treadmill on this list.

The NordicTrack x32i is not only our favorite high-end treadmill, but is our favorite treadmill overall for 2020. Basically, if someone has the $$$ this is our top recommendation. The x32i has it all. It inclines all the way to 40% (and trust us, if you want a KILLER workout, just try running at 40% for more than 2 minutes – I bet you can't do it), has a monstrously awesome 32" interactive touch screen, and a very powerful 4.25 CHP Smart-response motor. Basically, the x32i is not just a treadmill. It's a full home gym that provides HIIT training, killer run workouts, and more.
The reason we awarded the x32i as the best treadmill for 2020 (along with the best high-end treadmill award) is that is has all the quality parts you need for top-notch workouts, but then adds some of the best technology and features that you will find in the treadmill industry. No matter what your fitness/running/HIIT goals are, the x32i from NordicTrack will ultimately be the best option. And, given that NordicTrack even offers 0% financing for up to 3 years on this model, we've seen a ton of people end up saving money by canceling their gym membership and buying the x32i instead.
Another element that makes the x32i the best high end treadmill is the quality instruction and limitless options you get with iFit. iFit comes built into the machine, and is free for 1 year so you can try it out for a quite a while without cost. Combining iFit with the x32i truly gives you a premium, high end workout that we haven't found anywhere else. Sorry Peloton, but without that 40% incline your programs just don't push us as hard as iFit's do, and iFit is cheaper!
Click here to read our detailed review of "NordicTrack Commercial x32i Treadmil Full Review".
Pros
40% INCLINE to 6% DECLINE. We can't say enough how much this transforms your normal running workout into something on a whole new planet. The 40% incline can give you up to a 5x calorie burn vs regular running!
Sled push feature that further enhances your cardio/strength workout like you've never experienced on a treadmill before
0-12 mph, and an interactive machine that speeds up and slows down automatically with the program you are running
Huge 32" screen
One of the most (if not the most) comfortable running decks we've tested. Very low impact running compared to running outside.
Powerful 4.25 CHP DurX Motor
Very large 22" x 65" running surface – one of the largest in the industry, and great for taller people with long strides
Free iFit bluetooth chest strap included
Nice workout fans that actually work!
Cons
Doesn't fold, so it takes up a little more space than folding treadmills (76.5" x 40.0" footprint)
Heavy – don't move by yourself
You might become addicted to your machine 🙂
32" HD touchscreen
Bluetooth enabled
Two 3" speakers
Dual workout fans
Reflex™ Cushioning
iFit enabled
16,000+ on demand workout programs through iFit
50 on board workout programs (non iFit)
iFit bluetooth chest strap included
Non Folding
4.25 CHP DurX™ Commercial Plus Motor
Reinforced steel construction
-12% to +40% incline
0-12 MPH speeds
2.5" rollers
300 lb weight capacity
Footprint – 76.5" L x 40" W x 73" H
Warranty – 10yr (fram), 2yr (parts), 1yr (labor)
22" x 65" running surface/tread belt
The NordicTrack x32i is our top rated high-end treadmill for 2020 (and our favorite overall treadmill for those who can afford the $$$). With the 32" HD touchscreen and 40% incline it's an almost addicting machine that will push your workouts to limits you didn't think possible from a treadmill.

The NordicTrack Commercial 2950 is one of the best treadmills you can buy and has won the 2020 award for best treadmill for running. From the 22" high-definition touchscreen to the durability of this running machine, anyone that decides to buy this treadmill will not be disappointed.
Some of the main features of the NordicTrack 2950 is the 4.25 CHP DurX Commercial Plus motor. And even though it has a beefier motor it is also one of the quietest treadmills on the market. This makes it a great treadmill for home use, especially if you plan to use it during the early morning or late evening hours when someone might be sleeping.
The cushion on the deck of this treadmill is awesome. It has the NordicTrack-patented Runners Flex cushioning which allows you to control how soft or how rigid you want your running experience to be. This not only helps to make the 2950 quieter, but also is easier on your joints while running, jogging, and walking. Going through intense workouts on the NordicTrack 2950 will not only be comfortable, but also really fun because of 22" interactive touchscreen.
Some other great features of the 2950 are the 40 built-in workouts and the ability to access the iFit Coach, which can take your home workouts to another level. It also has a -3% decline to 15% incline range.
Click here to read our detailed review of "Nordictrack Commercial 2950 Treadmill".
Pros
Come with the NordicTrack-patened Runners Flex adjustable cushioning
Pick from 40 different built in workouts
Powerful 4.25 CHP DurX Commercial Plus motor
22-inch high-definition touchscreen display
Easily folds up and down
One of the largest treadmill belts at 22" wide and 60" long
You get a free year of iFit Coach with your purchase
The decline and incline range is great
Cons
Requires WiFi to run iFit programs
Higher priced folding treadmill
Commercial Motor that is powerful
One of the quietest treadmills we have tested
Great decline and incline range
One of the largest treadmill belts you can get
Very durable machine with a great warranty
Excellent user weight capacity
Folds up and down super easily with the EasyLift assist
Excellent sound quality from the speakers
Large 22″ high-def touchscreeen
Use either the 40 built-in workout programs or use your free year membership to iFit Coach.
Motor: 4.25 CHP
Incline: -3% to 15%
Speed: 0.5-12 MPH
Dimensions: 79.5" L x 32.9" W x 66.6" H
Folding: Yes
Running Area: 22" W x 60" L
Max User Weight: 300 lbs
Treadmill Weight: 364 lbs

The NordicTrack Commercial 1750 treadmill is the perfect treadmill for anyone looking to walk, jog, or run, and get an intense workout at home. It comes with a powerful 3.75 CHP smart-response motor that is strong enough for tough workouts. Whether you are wanting to train indoors during cold months for the Boston marathon, or want to get in a quick 30 minute run while the baby is asleep, the NordicTrack 1750 is a great machine.
The NordicTrack 1750 is also the best selling treadmill for the past several years, and for good reason. It is the entry level machine into NordicTrack's 'Commercial' series line of home treadmills.
We rank it as the number 1 home treadmill for the following reason: Bang for your $$$. At under $1,800 you get the power you need to train hard enough for a marathon. With iFit built in (and free for an entire year), you get the technology that makes running and working out fun!
In addition, you can get the 1750 with 0% financing for 36 months. I don't typically recommend financing things (I didn't even finance a car until I was 35). However, given that financing rates are 0% there really isn't much downside – and we get a lot of people saying they are going to cancel their gym membership and buy this instead, in which case you exchange a gym payment for the payment to NordicTrack! Click here to see latest pricing and details.
Click here to read our detailed review of "NordicTrack Commerical 1750 Treadmill".
Pros
Great bang for your buck! All the features a serious runner would need at a great price.
Large running surface: 22" x 60". In this price range you will see a lot of models with just 20" wide running decks, which really isn't wide enough for anyone wanting to run a lot/fast. The extra 2" matters a lot more than you would think and is a great bonus on the 1750.
Powerful 3.75 CHP tried and true motor. NordicTrack has been making treadmills as long as anyone, and there is a reason why they are the leader in the space.
10" touch screen w/ iFit built in. Everyone LOVES iFit here because of the great workouts. Did we mention that the iFit is FREE for 1 year? It's pretty obvious that NordicTrack is wanting to build their user base of iFit – so take advantage!
15% incline | 3% decline – giving you a life-like running experience.
0-12 MPH capabilities, with easy touch-button controls to change the speed. We also like how smooth the changes in speed are.
Low-impact runners flex cushioning. Running can be hard on your joints (especially if you don't run correctly). Runners flex cushioning doesn't feel exactly like the 'real road-running experience' that Nordictrack touts…but that's because it's more forgiving and is less impactful. Think about it the difference between running on the sidewalk vs the road – that's about the same difference between the road and the 1750.
300 lb capacity.
50 on-board workout programs – yes this can be used even without iFit after your first year that's free.
Lifetime warranty on the frame and motor.
5 year warranty on parts and electronics.
2 year warranty on labor.
Cons
Price just increased by about $100-$200 (when they introduced the larger screen and upgraded a few things, so it's not fully negative).
Less fans than the more expensive 2450 and 2950 – Nordictrack removed the fans on the lower tray that they used to put on the older models.
No USB ports.
10" High Def Touchscreen
iFit enabled
Bluetooth Audio
2 3" speakers
NordicTrack's Runners Flex Cushioning
2 'Auto Breeze™' workout fans
EKG pulse grip + chest strap monitor included
OneTouch™ controls
50 on-board workout programs
Small footprint due to SpaceSaver™ design and EasyLift™ assist
22" x 60" commercial tread belt
3.75 CHP DurX™ Commercial Plus motor
300 lbs capacity
2.5" precision balanced rollers (for quiet, balanced running experience)
Footprint: 78.8" L x 39.2" W x 63" H
Warranty: Lifetime (frame and motor); 5 years (parts and electronics), 2 year (labor)
0-12 MPH Speed
-3 to + 15% decline/incline range
The NordicTrack 1750 Commercial Treadmill is our top rated treadmill for 2020. There is a reason why the 1750 is the best selling treadmill on the market today – great features, excellent quality, and a great price set this treadmill apart from it's peers.

The ProForm Smart Pro 2000 is the entry level treadmill in ProForm's 'Pro Series', and is a great option for anyone:
Need a treadmill fit intense running/training
Looking to spend less than $1,500 on a home treadmill
Want the ability to have access to the iFit technology and classes
Given the ProForm Smart Pro 2000's price, we were very close at rating this our top treadmill overall, so if budget is a concern then we would absolutely recommend the 2000. In addition to the great price, ProForm is currently offering zero percent, 18 month financing – making this a super good deal for anyone who wants to cancel their gym membership and start working out at home instead.
The ProForm Smart Pro 2000 comes with a powerful 3.5 CHP Mach Z™ motor (gotta love all the different names manufacturers give to the different motors). It also has a great running deck that's 22" x 60", and can support people up to 300 lbs. As such, it's built perfectly for runners who are looking for more intense training (long jogging, hard running, sprinting).
The only reason we didn't give the ProForm 2000 our top pick is because first, we do like the feel of running on the 1750 just slightly more (and by slightly, we mean very slightly). Second, the tech (touch screen, fans, etc.) on the 1750 are just a little better as well. However, beyond those two elements you will actually find a lot in common between the ProForm Smart Pro 2000 and the NordicTrack 1750. There are of course other slight differences, but overall you can't go wrong if you want to save around $400 and purchase the Smart Pro 2000.
Click here to read our detailed review of "ProForm Smart Pro 2000 Treadmill".
Pros
Possibly the best value for your money than any other treadmill – great features and technology at a great price!
Great for running, jogging, or walking.
3.5 CHP Mach Z Commercial motor to support long, challenging workouts without slowing down or overheating.
7" touchscreen with built in iFit coach. In addition, your first year of iFit membership is included free.
Large 22" x 60" running surface.
Ability to decline -3% and incline 15% (running at a +15% is much harder than you think, and it's really nice to be able to train running downhill for marathons and other long runs).
Comfortable running deck via ProForm's ProShox™ cushioning.
Easy to raise and lower.
50 pre-installed workouts, so you don't have to continue with iFit if you don't want to after the first year.
Great warranty – Lifetime (frame & motor), 5-Years (parts), and 2-Years (labor).
High weight capacity (300 lbs).
Cons
You have to upgrade to the Pro5000 to get a larger touch screen.
Cushioning is slightly less effective when compared to the NordicTrack 1750. However, it's still great cushioning and much, much better than running on the sidewalk or road. We'd also say it's more comfortable cushioning-wise than the Sole F80.
iFit enabled (and included free for first year) + 50 built-in workout programs to provide you with the variety to work on high-intensity training, speed goals, incline training and to burn calories in ways you may have never experienced before. With iFit, you can enjoy high-definition workout videos, unlimited variety of workout programs, workout programs tailor-made by top fitness trainers like Jillian Michaels, virtually exercise with a celebrity personal trainers, compete against other iFit members, get personalized diet advice and create personalized workouts.
The 7" HD display that keeps track of your workout data and displays information such as speed, distance covered, heart rate, calories burned and time elapsed.
Quick incline/ decline control with settings from -3 to 15% to target muscle groups and result in burning of more calories.
ProShox™ cushioning system aims to lower the impact of training on joints and provides comfort so that no matter how hard you go on this treadmill, in the end, you will feel less pain as compared to running on asphalt.
iPod/ MP3 compatible sound system consisting of two 3" digitally amplified long-throw speakers with digital volume control.
Motor: 3.5 CHP
Decline/Incline: -3% to +15%
Speed: 0-12 MPH
Dimensions: 39.15" Wide x 79" Deep x 71.4" Tall
Folding: Yes.
Running Area: 22″ W x 60″ L
Max. User Weight: 300 lbs
The ProForm Smart Pro 2000 is a powerful, well-engineered treadmill that comes with great technology built in. It's one of the most popular treadmills and offers great value for the price – possibly the best value for your dollar than any other treadmill on the market today. The ProForm SMART Pro 2000 is a great pick for those looking to save some money but not sacrifice on technology or build quality.

The Sole F80 treadmill is designed to provide you with a commercial-grade workout experience at home. We love how sturdy Sole treadmills are and the F80 is no exception. If you are looking for a treadmill that's easy to operate, doesn't get super tech-heavy, and just works, then this is your machine.
Being a folding treadmill with the EasyAssist option, it can easily be folded and stored after you are done with your workout session. The Sole F80's 3.5 CHP commercial grade motor is very powerful and easily supports intense running workouts – even when inclined to the 15% max level.
Not being super tech heavy is a plus for some consumers, as we find many people just wanting a treadmill that they can jump on, push an actual button, and start running. The Sole F80 provides this with it's numerous built-in workout programs, physical buttons to adjust speed and incline levels, and an excellent build quality.
The F80 treadmill by Sole also offers quality cushioned running deck that reduces joint impact up to 40% vs running on asphalt (although we would say that the cushioning is not as good as what we find with the NordicTrack runners flex cushioning). The F80 comes with a lifetime warranty on frame, motor and deck, 5 year warranty on parts, and 2 years warranty on labor.
Click here to read our detailed review of "Sole Fitness F80 Treadmill".
Pros
Folding treadmill with EasyLift Assist technology.
Powerful, quiet 3.5 CHP commercial grade motor. The F80 is great for even the most serious runners.
10 built-in workout programs.
Pulse grip & wireless chest strap for heart rate monitoring included.
CushionFlex Whisper Desk.
Bluetooth connectivity for music and fitness apps.
USB port for charging phones and tablets.
Additional features like two bottle holders, tablet holder, accessory tray, and cooling fans to enhance the workout experience.
High weight capacity of 375 lbs.
Great warranty.
Cons
Not super tech heavy / no touch screen options. Again, this isn't necessarily a negative for some people – mainly those who don't want to mess with tech in order to get a good workout in.
The Sole F80 treadmill side rails are not as long as some runners would like.
The fans are not as strong as we personally like.
10 pre-defined workout programs available including six classic workout programs, two heart programs, and two custom programs.
A 7.5-inch LCD display to display your workout progress in terms of speed, distance covered, calories burned, heart rate and time elapsed.
Automated incline up to 15% to add more intensity to your workout sessions.
CushionFlex whisper desk shock absorption system present to reduce the impact by up to 40% on joints and muscles.
Reversible deck to absorb the sound of each step and let you have a noise free workout.
Being Bluetooth enabled, it can easily connect to fitness apps and your smartphone.
iPod/ MP3-compatible sound system to keep you entertained during workout sessions.
Motor: 3.5 CHP
Incline: 0-to-15%
Speed: 0.5-12 MPH
Dimensions: 80″ L x 35″ W x 58″ H
Folding: Yes
Running Area: 22″ W x 60″ L
Max. User Weight: 375 lbs
Treadmill Weight: 278 lbs
The Sole F80 Treadmill gives you everything you need for a great workout. The sturdy construction and powerful motor allow you to walk, job, run, and even sprint as your train for everything from the city 5K to the Boston marathon.

A powerful and impressive treadmill, the NordicTrack Commercial x22i Incline Trainer should appeal to users of all fitness levels.
One of the first things you notice with this incline trainer treadmill is that it is huge. You will want to be sure you have the room for a non-folding treadmill before you purchase the Commercial x22i. But, there is an excellent reason for its large size.
The NordicTrack x22i treadmill comes with a massive incline range for you to take advantage of when you workout. You can easily go from 0% incline level and range from -6% decline up to 40% incline. With the smooth, powerful 4.0 CHP DurX commercial plus motor that the NordicTrack Commercial x22i Incline Trainer comes with, you can easily move between incline levels and speeds with no problem.
You can even turn the speed to 1 MPH and use the x22i treadmill like a manual treadmill, as the sled grips and push bar are perfectly positioned to allow you to dig into your workout. Also, if you are looking to dig into workouts other than manual workouts, you have plenty of options when it comes to the Commercial x22i Incline Trainer.
There are 44 on-board workouts that come with the x22i Incline Trainer that will allow you to challenge your fitness and make the best use of the speed and incredible incline range. Along with these programs, you can also use the free year membership subscription to iFit Coach to push your health and fitness to greater heights.
If you haven't heard of iFit Coach, then you are in for a treat when you buy the x22i treadmill. From the excellent 22" high-definition touchscreen that comes with this treadmill, you can access thousands of workout programs. Many of these programs have personal trainers leading you through beautiful areas during your workouts or you can use Google Maps to take a run along a new area virtually.
Click here to read our detailed review of "NordicTrack Commercial x22i Incline Trainer/Treadmill".
Pros
Massive 22" HD, Smart touchscreen
Incline range of -6% to 40% to help train for hill races and burn calories faster
Excellent warranty coverage
Free year of iFit Coach membership with purchase
Wide variety of built-in exercise programs
Can act as a manual treadmill as well as an automatic treadmill
Supports users who weigh up to 300 lbs
Powerful workout fans to keep you cool
Reflex cushioning that reduced impact shock
Frame is reinforced steel
Heart rate monitoring adjustable chest strap is included in purchase
Large, 4.0 CHP motor makes very little noise beyond a steady hum
Plenty of running space on the treadmill belt
Cons
Very heavy and large treadmill that does not fold
Price point is fairly high and may call for financing
The x22i comes with a reinforced steel frame and is constructed along commercial lines which increases its durability.
Push every workout to the next level when you use the massive incline range on the x22i that goes from -6% all the way up to 40%!
Use the included iFit Bluetooth chest strap for accurate heart rate monitoring.
Opt for one of the thousands of workout programs you can find on iFit Coach, as a free year membership is included in your purchase. There are also tons of other benefits to iFit Coach, ranging from health information tracking to motivating challenges.
Along with iFit Coach, you will also have 44 built-in exercise programs to help you increase your fitness.
The weight capacity on this treadmill is 300 lbs.
With the Reflex cushioning, those at peak fitness and others who are recovering from injuries can comfortably use this treadmill.
Motor: 4.0 CHP
Incline: -6% to 40%
Speed: 0.5-12 MPH
Dimensions: 70.2" L x 39.6" W x 71.6" H
Folding: No
Running Area: 22" W x 60" L
Max. User Weight: 300 lbs
Treadmill Weight: 397
When it comes to superior features, the NordicTrack Commercial x22i Incline Trainer treadmill has it all. With challenging incline levels that are guaranteed to help you burn calories faster no matter you speed to the excellent workout programs you can use, the x22i is a great investment for any walker, jogger, or serious runner.

Want the Nordictrack T 6.5 s (comes without the display screen) – click here
The NordicTrack T 6.5 S is one of the brand's most affordable home treadmills and one of the best treadmills you can buy in this price range. It is well-built, reliable, and comes with solid features that will make your workout sessions more productive than ever before.
The T 6.5 S comes equipped with 20 built-in workout programs designed by NordicTrack to improve cardiovascular fitness and increase calorie burn. However, this particular model does not come equipped with iFit. Instead, you get more of a classic treadmill screen (5" backlit display). The treadmill is iFit compatible, so you can connect to iFit through your phone or tablet and use those workouts with the treadmill.
Other aspects of the NordicTrack 6.5 S that I like include a solid 2.6 CHP motor that allows for walking, jogging, and running workouts from 0 to 10 MPH. In addition, it comes with a 300 lb weight capacity – which is much higher than we typically see in this price range.
Easy lift technology makes it super easy to raise and lower the treadmill, and this particular model is very easy to move around by simply tilting the machine onto the 2 back wheels and rolling to wherever you need.
The handlebars of T 6.5 S come with Dual CardioGrip™ heart rate sensors, enabling you to easily monitor your heart rate during a workout. Its FlexSelect cushioning system allows you to personalize your workout experience with the capability to turn the cushioning on or off as per your desire. In addition, it also has an intermix acoustic sound system with iPod/ MP3 compatibility to play your favorite fitness playlist and keep you motivated.
This treadmill can be seen with a lifetime warranty for the frame, 25 -years warranty for motor and 1 – year warranty for parts and labor.
Click here to read our detailed review of "NordicTrack T 6.5 Si Treadmill"
Click here to read our detailed review of "NordicTrack T 6.5 S Treadmill".
Pros
Folding treadmill with EasyLift Assist technology.
2.6 CHP motor with self-cooling capability to support your strenuous workouts without failing.
A wide variety of pre-set workout programs.
Heart rate monitoring capability via Dual CardioGrip sensors provided on handlebars.
FlexSelect™ cushioning with on/ off function.
iFit compatible.
iPod/ MP3 compatible sound system.
Additional features include two bottle holders and a tablet holder.
High Weight Capacity of 300 lbs.
Pretty good warranty considering its low price.
Cons
No cooling fan.
No option for heart rate monitoring through wireless chest-strap.
Max speed of 10 MPH
20 pre-set workout programs designed by a certified personal trainer to improve your cardiovascular fitness, boost your metabolic rate, and burn fat.
The 5-inch backlit LED display to track and display your workout progress regarding speed, time passed, distance covered, heart rate and calorie burn.
Automated inclination up to 10% to burn more calories, activate and stimulate different muscle groups.
iFit technology allows you to connect with Google Maps to provide you with a feel of actually walking, jogging or running somewhere outdoor along with numerous other additional program options.
FlexSelect cushioning with on/ off function. When turned on, it provides a soft and cushioned surface to reduce the impact on your joints, knees, and back. When turned off, it provides a stiff surface to simulate an outdoor track.
Intermix Acoustic Sound System consisting of dual 2-inch speakers and an audio port with iPod/ MP3 compatibility.
Motor: 2.6 CHP
Incline: 0 – 10%
Speed: 0.5 – 10 mph
Dimensions: 67.5″ L x 35.75″ W x 73″ H
Folding: Yes.
Running Area: 22″ W x 55″ L
Max. User Weight: 300 lbs
Treadmill Weight: 198 lbs
If you need a sturdy and reliable treadmill with the essential features to undertake consistent daily cardio at home, build stamina, tone muscles or lose weight then the NordicTrack T 6.5 S may just be the right option for you. It is available at a wallet-friendly price and saves enough space without compromising on the quality.

The Sole Fitness F63 treadmill is currently the most affordable treadmill that Sole Fitness has available. However, its affordable pricing doesn't mean that you should disregard the F63. On the contrary, the Sole F63 is an excellent treadmill for walkers and joggers, though it may not be the right treadmill for a regular runner.
You can find the basic Sole features on the F63, ranging from the Cushion Flex Whisper Deck technology to the 10 preset workout programs. Starting with the cushioning, the Cushion Flex Whisper Deck technology helps to reduce the impact of your body while you workout on the F63, helping to prevent injuries that tend to occur when working out on hard surfaces.
With the 10 preset workout programs, you can select and start six of these programs with the press of a button. Two of the other programs require you to wear the Sole Fitness heart rate monitoring chest strap that comes with the F63, as they are heart rate-based programs.
As for the last two exercise program spots, you can custom-build your own treadmill workouts to access later once you save them to these programmable spots. Also, with the ability to turn up the incline level from 0% up to 15%, you can turn even custom walking workouts into something that will help hone your fitness level.
As for the motor on the Sole F63, it is a good, 3.0 CHP motor, which is around where you want the motor strength to be when using a treadmill for walking, jogging, and occasional running. This treadmill may not have the strength for someone doing serious running training, but if your mileage is under 30 miles a week, the F63 can be a decent option.
Click here to read our detailed review of "Sole F63 Treadmill".
Pros
Sole F63 has a good incline range that similarly-priced treadmills don't have available.
Comes with a free Sole Fitness chest strap for heart rate monitoring.
Patented Sole Fitness cushioning on the deck.
The Sole F63 has good warranty coverage.
Easy Assist folding technology built into the Sole F63.
Tablet holder and USB charging port are available to facilitate entertainment during a treadmill workout.
Reasonably compact treadmill that can fit into most homes.
Able to offer a higher weight limit than many other treadmills in its price range.
Good, 3.0 CHP motor that operates quietly even at higher speeds.
Bright workout screen that is easy to see as you exercise on the treadmill.
Cons
Minimal technology features, which isn't an issue if you are looking for a simple treadmill.
Airflow from fan is very low and often isn't felt during more intense workouts.
Users who weigh up to 325 lbs can use the F63 safely.
The console comes with a 6.5" LCD screen that is white and backlit.
Ten preset workout programs are included on the Sole F63.
USB port is built into the console.
Convenient spots like cup holders and a device shelf are available.
The Sole F63 includes handlebar heart rate monitoring and an adjustable chest strap.
There is a fan at the top of the treadmill console.
Cushion Flex Whisper Deck technology comes with this treadmill.
Treadmill belt measures 20" wide by 60" long.
Welded steel treadmill frame.
Easy Assist Folding Deck Design is included with the Sole F63.
Can sync with Sole Fitness app for specialized control and workout tracking.
The F63 has Bluetooth speakers.
Motor: 3.0 CHP
Incline: 0% to 15%
Speed: 0.5-12 MPH
Dimensions: 82" L x 35" W x 57" H
Folding: Yes
Running Area: 20" W x 60" L
Max. User Weight: 325 lbs
Treadmill Weight: 254 lbs
When it comes to the Sole Fitness F63, plenty of people should find this treadmill appealing thanks to its affordable pricing and solid features. If you are searching for a highly durable treadmill that you can use for indoor walks and jogging, the F63 is a good treadmill to consider for your next addition.

The Horizon Fitness T101 is a well-engineered yet less expensive treadmill made by Johnson Fitness. It's one of the best-selling models in it's price range, and is a great option if you are looking for a treadmill for walking or jogging. You can also do some running on it, but I wouldn't recommend it if you are looking for more serious training (training for a marathon, etc.).
The Horizon T101 is built to impress with its sturdy construction, a decent range of workout programs, energy saver mode, and whisper-quiet operation. These features make it a great treadmill for casual home use.
The 2.25 CHP motor of T101 is very quiet and is powerful enough to power prolonged workouts in the 0.5 – 10 mph range. With an incline range that goes from 0 to +10%, you also have the ability to increase the intensity of your workouts and is a feature we don't always find in this price range . The T101 also has Horizon's "FeatherLight™" hydraulic lift system with two hydraulic shocks to assist you when lowering and raising the deck vertically for convenient storage.
Horizon T101-04 is equipped with an amazing range of workout programs (40 total) so that you never get bored and stay engaged throughout your workout sessions. It's 3-zone Variable Response™ cushioning is also better than most other 'cheap' treadmills. No, the cushioning isn't what you find on more expensive models. However, it is much more comfortable running on the Horizon T101 than it is running on the pavement.
Other key features I like about the Horizon T101 include the pulse grip heart rate sensors located on the treadmill's handlebars. These are very easy to use, and have been very accurate at providing my heart rate in my testing. I also really like the MP3/iPod/Phone compatible audio jack that lets me play my favorite music or podcasts while I work out.
Lastly, this affordable, entry-level treadmill comes with a great warranty. There is a lifetime warranty on frame and motor, and a 1 year warranty on parts, labor, and cushioning.
With some of the other brands not offering treadmills in this price range any more, the Horizon T101 is a great buy for those looking for a cheap, yet very capable treadmill.
Click here to read our detailed review of "Horizon T101 Treadmill".
Pros
Folding treadmill with FeatherLight™ technology.
2.5 CHP motor with whisper-quiet operation
A very wide variety of workout programs (40 total built-in programs).
Heart rate monitoring via pulse-grip sensors on handlebars.
Variable Response™ Cushioning.
Bluetooth/USB enabled speakers.
High Weight Capacity of 300 lbs.
Great warranty coverage on motor and frame
Cons
No wireless heart-rate monitoring
Fans are a little weak and don't provide too much airflow
40 pre-set workout program options where you can choose from different goal workouts
0 to 10% incline for more intense workout options
3-Zone Variable Response Cushioning to provide you the ideal amount of flex and support through all phases of your stride.
Quality 2.5 CHP motor
External device holder (tablet, phone, etc.)
Bluetooth connectivity to stream content (music, podcasts, shows) through treadmill speakers
Easy raising and lowering of treadmill deck
Motor: 2.5 CHP
Incline: 0 – 10%
Speed: 0.5 – 10 mph
Dimensions: 70″ L x 34″ W x 55″ H
Folding: Yes
Running Area: 20″ W x 55″ L
Max. User Weight: 300 lbs
Treadmill Weight: 165 lbs
The Horizon T101-04 is a great affordable treadmill that is one of our best rated cheap treadmills for 2020. If you are in the market for a treadmill that is great for walking, jogging, and light running then I would highly recommend the T101 from Horizon.

The ProForm Smart Performance 600i treadmill is an affordable treadmill that comes with some really great features and is very well built. If you are looking for a more affordable treadmill to walk, jog, or run on then you should consider the Performance 600i by ProForm.
One of the biggest selling points of the Smart version of the 600i is the technology that comes integrated with the treadmill. With a 10" HD, iFit enabled touchscreen you have the ability to train with one of the many iFit trainers all across the world from the comfort of your own home. From running in Hawaii, to jumping off the treadmill and doing a yoga workout, you essentially get your own personal assistant with iFit – and that comes included with the 600i. At this price point, that's a great deal (also, right now iFit is free for your first year w/ purchase of the 600i).
Of course, all the great workouts that iFit offers don't do much if the treadmill can't keep up. That's not the case with the ProForm Smart Performance 600i. With a 2.5 CHP "Mach Z" motor, a strong yet comfortable treadmill deck, 0-10 mph speed options, and 0% to +10% incline options you can get in a great workout with this machine. This is especially true given it price, and is the reason we ranked it as one of the best cheap treadmills for 2020. Just keep in mind, when we say 'cheap', we simply mean 'affordable', as in this treadmill won't break your bank account or drain your wallet.
In terms of build quality, we are big fans of ProForm and really like the lifetime warranty on the frame, 25 year warranty on the motor (although I don't get why they don't just say lifetime warranty, as no one will return a motor after 24 years of use), along with a 2 year warranty on parts and a 1 year warranty on labor. The ProForm Smart 600i is also very easy to move, and is very easy to fold up and store with the EasyLift™ hydraulic system by ProForm.
Click here to read our detailed review of "ProForm Performance 600i Treadmill".
Pros
Folding treadmill with EasyLift™ Assist
2.5 CHP Mach Z™ motor operates quietly and smoothly
Comes with a wide range of great workout programs (50 onboard workouts)
Heart rate monitoring through dual-grip sensors on the handlebars
ProShox cushioning system with four shock absorbers
iFit coach ready and enabled
iPod/ MP3 compatible sound system
Additional features like two bottle holders, tablet holder, and CoolAire workout fan to ensure better workout experience.
High weight capacity of 300 lbs
Good Warranty
Cons
No option for wireless heart-rate monitoring
For more intense workouts we prefer a 60" tread deck vs 55"
50 built-in workout programs and iFit certified personal trainers to keep you motivated and help you achieve your maximum potential.
The 10" HD touch screen is easy to read and use.
Inclines up to 10% to add more resistance to your workout session so that you can burn more calories and increase muscle tone.
iFit technology to provide you with a feeling of walking, jogging or running in the real-world by displaying different routes from Google Maps. Moreover, the incline of the treadmill adjusts automatically to match the route that you have selected. You can run anywhere in the world, just pick your route and get started!
ProShox cushioning to reduce stress on your knees, ankles, joints, back and to provide you with comfortable walking, jogging or running experience.
Built-in sound system consisting of dual 2" speakers and iPod/ MP3 compatible music port.
Motor: 2.75 CHP.
Incline: 0-12%.
Speed: 0.5-12 mph.
Dimensions: 79.62″ L x 36.63″ W x 59.25″ H.
Folding: Yes.
Running Area: 20″ W x 60″ L.
Max. User Weight: 325 lbs.
Treadmill Weight: 224 lbs.
If you are looking for an affordable treadmill with high-quality construction and advanced technology then go for ProForm Performance 600i Treadmill. It's a great machine that is perfect for anyone looking for a more affordable option for walking, jogging, or running workouts at home.
Best Treadmills By Category and Need
Best Treadmills for Runners
Best Treadmills for Home Use
Best Budget Treadmills
Bottom Line: Cost and Features Make or Break Which is the Best Treadmill for You!
All the treadmills above are good options depending on your budget and needs. We hope that after "running through" the top 10 treadmill models for 2020, you're feeling confident about which model hits the sweet spot between delivering all the features you want, and at a price that you can afford.
With that in mind, here are a few tips to help you have a better workout no matter which treadmill you choose:
Start off slow to warm up your muscles, then gently increase your speed as your muscles start to comfortably loosen up.

Once you've increased to jogging speeds, increase the incline to at least .5 to decrease the shock to your knees as each step lands.

Are you looking to increase your cardiovascular health? If so, take shorter strides at a quicker speed to get your blood pumping.

Are you more interested in developing muscle tone and endurance? Then stretch those stems out for longer strides (swinging your arms with each step if walking), to increase your fast-twitch fibers.

If you start to experience lower back pain, you're likely landing each step on your heel. Instead, switch sure that you're striking down with the toe-ball of your foot to relieve discomfort.

When you're starting to feel fatigued, don't just hit "Stop." It's important to cool down at a slow pace for five minutes to avoid any leg cramps. (And, of course, to revel in your awesome workout.)
The bottom line? Treadmills are a fantastic investment for anyone looking to get into (or keep up) their fitness levels. You can workout anytime you like, no matter the weather or traffic conditions outside, and even sneak in a few extra miles throughout the day. No matter which treadmill model you choose, your heart will thank you!
---
Honorable Mention Treadmills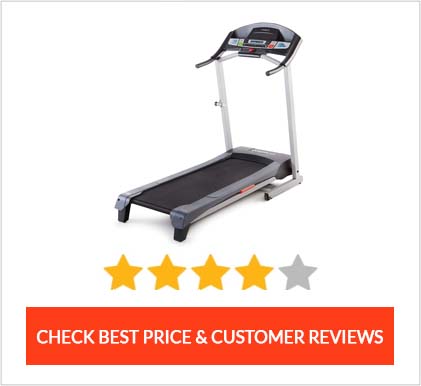 The Weslo Cadence G 5.9 is one of the most popular cheap treadmills on the market today (by clicking the link above you'll see it's one of the best selling treadmills on Amazon). If you are someone looking for a good walking, jogging treadmill for your home and don't need a lot of technology built-in then you should consider the Weslo G 5.9.
With a 16" x 50" treadmill deck, the G 5.9 is built primarily for those looking to walk and jog on their treadmill. The treadmill does allow you to go from 0 to 10 MPH, but we'd recommend keeping this more around the 5-6 MPH range given how narrow the tread belt is (at least, unless your running form is very tight and you are not prone to heal striking while running). We've had some success running at 10 mph on this machine, as the 2.5 CHP motor is more than capable. However, we also run on A LOT of treadmills and our form is pretty tight.
The main thing we like with the Weslo 5.9 is the price and the fact that he treadmill does come with some decent features for this price range. The main features we like are the 0 to 10 MPH range, the 2-position adjustable incline, and the 6 workout apps which were designed by a professional trainer. No, you don't get the tech you find on other models like the ProForm 600i or the NordicTrack S 6.5, but you also don't find this kind of price on those models, either.
If you are someone with a tight budget, but need a solid walking treadmill for your home, then you should consider purchasing the Weslo Cadence 5.9 treadmill.
Click here to read our detailed review of "Weslo Cadence G 5.9 Treadmill".
Pros
Available at a very wallet-friendly price, while providing all the necessary features required for an efficient workout
Compact size with folding design makes it suitable for the small homes/apartments
2.5 CHP motor for walking and jogging
6 personal trainer workout programs
Heart rate monitoring option through digital pulse sensor provided on the console
Comfortable cell cushioning
Cons
Only meant for walking and jogging, not running
Short-term warranty coverage
No fans
6 built-in workout programs designed by a certified personal trainer to guide you towards your fitness goals, keeping you fit and healthy.
The easy to read Blue-tinted LCD display to provide you with your workout progress in terms of speed, distance, time and calories burned.
2 positions manual inclination option (1.5% and 6%) to make your workouts more challenging and effective.
Comfort Cell Cushioning to provide you with comfortable walking or jogging sessions by reducing the strain on your knees, joints, and back.
Being compact and lightweight it can be moved from one place to another effortlessly.
Motor: 2.25 HP.
Incline: 2 – position manual incline.
Speed: 0.5-10 mph.
Dimensions: 64.5″ L x 29″ W x 55.5″ H.
Folding: Yes.
Running Area: 16″ W x 50″ L.
Max. User Weight: 250 lbs.
Treadmill Weight: 119 lbs.
If you are new to treadmills and are looking for a very affordable option that lets you walk or jog from the comfort of your home, then the Weslo Cadence G 5.9 Treadmill could be the one for you.

The NordicTrack Commercial 2450 treadmill is a fantastic treadmill for serious runners looking to take their training indoors. With a 22"x60" tread belt and a 4.0 CHP DurX Commercial plus motor, you have both the space and power to run hard and long. In addition, at a current price at just under $2,000 you get fantastic value with the 2450 by NordicTrack.
While some runners may not need the motivation, another aspect of the Commercial 2450 that we really like is that it comes with a free 1-yr subscription to iFit. So many treadmill manufacturers are shifting resources to these online training platforms because consumers love them. iFit is engaging, keeps you motivated, and pushes you to train harder. And with a 14" color touch screen you can really take advantage of all that iFit has to offer.
In summary, we've awarded the Commercial 2450 the 'best treadmill for runners' because of its strong motor, great warranty, high weight capacity, and ability to take the constant pounding from serious runners up to 300 lbs. In addition, just like the 1750, right now you can get 0% financing from NordicTrack that also gives you free iFit for 1 year, which is a great deal.
Click here to read our detailed review of "Nordictrack Commercial 2450 Full Review".
Pros
Strong, durable motor (4.0 CHP DurX). A capable motor might be the most important piece for serious runners.
Large running surface (22"x60"). If you are running a lot, the extra space is nice in case your form starts to slip on those longer running days and your foot placement gets a little sloppy.
Larger 14" interactive touch screen, with iFit built in. Seriously, you want a great running workout? iFit has it.
Nice range of incline/decline – 15% incline down to 3% decline
0-12 MPH speeds
High weight capacity (300 lbs)
Live speed and incline changes. As you do an iFit program, the 2450 will automatically adjust speed and incline/decline according to the program.
Very comfortable running deck. If you are someone who struggles running outside you will appreciate the low impact cushioning that you get with NordicTrack's 'Runners Flex Cushioning'.
Two 3" speakers (that are actually pretty clear and loud). No, they aren't Bose, but they are really good.
Great warranty – 10 yr frame, 2 yr parts, 1 yr labor
Great financing option with 0% for 36 months
Folds very easily and safely with EasyLift Assist feature
Cons
Fairly big and heavy. Make sure you have the muscle needed to move this around if you ever need to.
NOt a cheap treadmill (but at least it will last)
14" Touchscreen (HD)
iFit integrated
Two 3" speakers
Runners Flex™ Cushioning
Dual workout fans
Tray holder
16,000+ workouts with iFit | 50 on-board workout programs
EKG pulse grip (heart rate monitoring)
Easy Assist lift
22"x60" running surface
3% decline to 15% incline
0 to 12 MPH speeds
4.0 CHP DurX™ Commercial Plus Motor
300 lb user weight capacity
Warranty – 10yr (fram), 2yr (parts), 1yr (labor)
Footprint – 81.2" L x 39.2" W x 69.9" H
2.5" rollers
The NordicTrack 2450 is our top rated treadmill for runners for 2020. With its strong motor and build quality, it's a fantastic treadmill for anyone looking to do some serious training at home.
The Tread is Peloton's signature treadmill. It uses a slat belt design where the running surface is comprised of horizontal rubber slats that rotate around the tread deck. The Tread also features a 32" touchscreen, manual sled push mode, speed and incline knobs with jump buttons, and a minimalist console. The Tread looks imperious. It is not a small machine, tipping the scale at over 450 pounds! However, it will incline to 15% which is impressive considering it's mammoth size. Boasting a 12.5mph max speed and Peloton's expansive collection of classes and content, the Tread is certainly a contender with other incline trainers and high-end treadmills.
We tested the Peloton Tread to see how it compares with conventional models. The feel of the slat belt is impressive underfoot. The surface feels sturdy and the rubber slats do absorb some impact shock. However, it is not nearly as cushioned as the less-expensive NordicTrack incline trainers, so don't expect the same degree of travel or give in the deck. The 32" touchscreen is impressive and as always, the Peloton content is entertaining and engaging. Running trainers, similar to bike instructors, are good at giving cues and direction to a digital audience. We love the digital content and streamlined console design, but be aware this machine is priced over $4000, so it is for dedicated runners who plan to use and enjoy it for many years.
Click here to read our detailed review of "Peloton Tread Treadmill".
Pros
Impressive slat design is unique and solid underfoot
Peloton content is always updated and engaging
Peloton online community connects people via Leaderboard, shout outs, high fives and various social groups
Crisp graphics on huge interactive touchscreen
Zippered storage area under deck
Minimalistic console keeps design simple and clean
Slat design closely mimics outdoor surfaces
One $39/family Peloton account will work for both bike and Tread
Cons
The most expensive treadmill on our list; currently priced over $4000
Slat belt is not as cushioned as comparable incline trainers
Class only options; no outdoor runs led by a trainer
No free trial period for app. $39/month begins the first month you own it
5 megapixel front‑facing camera
0-12.5mph Speed
0-15% Incline
Free Mode
Screen Adjustment: 0-30 degrees vertical tilt
3.5 mm jack for wired headphones
Bluetooth audio-ready for external devices
Requires Peloton subscription ($39/month)
Footprint: 72.5" L x 36.5" W x 72" H
Total Weight: 455 lb
Motor: 2 HP AC
32" 1080p HD touchscreen
One-touch wake/stop/sleep button
Speed and Incline knobs with jump buttons
One-touch Free Mode button
Front-facing Volume up/down buttons
2 water bottle holders
20 W soundbar with 70Hz to 20KHz frequency response
USB charging for wireless headphones
The Peloton Tread is well-suited for those who love Peloton, have extra cash, and are used to running outdoors. We would not recommend the Tread to those with joint or back issues as the limited impact shock could be a problem.
---
Learn More:
Types of Treadmills
There are two different types of treadmills: manual treadmills, and motorized treadmills. The key difference is in the motor. Namely, a manual treadmill doesn't have one, and motorized treadmills do. (Pretty simple, right?)
Instead of being powered by a motor, the belt on manual treadmills is turned by your movement. This means that manual treadmills can only go as fast as you do. Because there's no motor attached, manual treadmills also tend to be smaller and lighter. That means that they take up less space and can be moved from room to room a little easier. Most fold up for convenient storage, too. Finally, manual treadmills tend to be much less expensive than motorized versions.
On the downside, moving the belt manually can be hard on your hips and knees. Additionally, to help users gain momentum, manual treadmills are usually set at an incline, which means you're constantly moving up-hill. Finally, manual treadmills rarely have all the nifty features of motorized versions, so it's important to understand that your manual treadmill experience won't be the same as on those fancy machines at the gym.
Want to learn more about manual treadmills? Check out our article here: Best Manual Treadmills – Everything You Need to Know About!
Motorized treadmills are less-portable but much more-popular than manual treadmills. Motorized treadmills are usually large, heavy machines made to imitate the experience of running on a variety of terrains and at a range of speeds. They let the user adjust the speed and incline automatically with just a push of a button during the workout session.
Motorized treadmills are best for walking, running (especially sprinting), and training situations. In addition, they are best for extended usage and for consumers who appreciate high-tech features. The vast majority of treadmill consumers choose motorized treadmills over manual treadmills.
To help you better understand which treadmill is best for your situation, we have subdivided treadmills into three different categories which are as follows:
Budget Folding Treadmills

Budget folding treadmills are less expensive and can get great options for those wanting to simply walk or jog lightly at home. As the name indicates, these treadmill can be folded and set to the side of your room (or inside a walk-in closet if you have the space).
On the flip side, with budget-level treadmills (generally around $600 or less), consumers compromise on the quality and features of the product. With budget level models you won't typically find hi-tech features such as video-enabled touch screen monitors and advanced heart-rate monitoring. They are also generally made of lighter, less durable materials.
Pros
Inexpensive.
Take up less space.
Great for walking and jogging.
Cons
Lower quality parts and materials
Less durable
Lower weight capacities (typically under 250 lbs)
Smaller deck sizes, making it hard for taller people and those who drift a little while running to not step on the edges of the machine
Folding Treadmills

Folding treadmills are not just budget level – you can find some very sturdy, high-end models as well. Moving up from the budget folding models you will find more (and better) features, more technology, and better build quality.
One of the biggest reasons you might want to consider spending more around the $1,500 level is the ability to do intense workouts. From walking and jogging to all-out sprints, you will be able to get in a great workout on these treadmills. In addition, standard technology includes bluetooth, wifi connectivity, heart rate monitoring via chest strap and handles, and larger displays.
Pros
Don't take up a lot of space
Great for walking, jogging, AND running
Great build quality (depending on the model and brand, of course)
Still fairly budget-friendly (many companies offer 0% financing as well)
Cons
More expensive than budget-level treadmills
Non-Folding Treadmills

Non-Folding Treadmills are typically built for those who need a higher weight capacity, don't need to have a folding option, and want a treadmill that is very stable and powerful.
Sturdy decks, frames, and a large running surfaces are some of the features you should look for in a good non-folding treadmill.
You will very often find non-folding treadmills being used at places like gyms, hotels, clubhouses, etc. There are also some consumer/home models available from brands such as Sole.
Pros
A rough and tough choice for frequent runners
Heavy duty commercial grade motor (depending on the manufacturer and price point)
Higher weight capacities
Good warranty
Cons
Can be quite expensive, especially for a gym-level model
Not portable, can't be moved easily
Take up a lot of space
Not necessarily more sturdy that a similarly priced folding option
Overall, you typically find true commercial grade treadmills to be non-folding. Of course, commercially certified treadmills need to be durable enough to have people running on them all day, every day. Home users won't need that type of endurance and can save several thousand dollars by purchasing a folding treadmill instead.
Best Treadmills Review 2020 By Our Fitness Experts
NordicTrack Commercial x32i Incline Trainer

NordicTrack Commercial 2950 Treadmill

NordicTrack Commercial 1750 Treadmill

ProForm Smart Pro 2000 Treadmill

Sole Fitness F80 Treadmill

NordicTrack x22i Incline Trainer

NordicTrack T 6.5 Si

Sole Fitness F63 Treadmill

Horizon Fitness T101-04 Treadmill

ProForm Performance 600i Treadmill
Summary
After reviewing more than 30+ treadmill brands and 90+ treadmills, our fitness experts have selected the 10 best treadmills of 2020 and have categorized them according to their features, durability, weight capacity, user interface and of course price to help you choose the right one according to your needs and budget range.