*TreadmillReviewGuru helps consumers find the best home fitness products. When you buy a product we recommend, we may earn a commission.
Last Updated: May 4, 2023
Air Bikes are a CrossFitter's dream since they have no max resistance and are designed for intense interval training. The burly Rogue Echo Airbike provides both upper and lower body conditioning and is a great cardio tool to supplement your lifting practice. This bike is arguably overbuilt, with reinforced steel beams and tubing throughout. The design is similar to the Schwinn Airdyne or Assault Airbike but it's much beefier. Rogue Fitness created the Echo Airbike to sit in the corner of your garage gym and intimidate all the other equipment. The Echo Airbike has a huge flywheel with steel blades, a belt drive system, sturdy pedals and footrest pegs, and extra beefy rotating arms for a hefty upper body challenge. The console is suspended between the handles for easy reach and visibility. Even the seat post and carriage are reinforced and extra thick making this the ideal workout bike for your home gym set up.

Air Bike Award: Best Over Built Air Bike
The Rogue Echo bike has taken one of the top spots on our list of best air bikes coming in at a close second to the AssaultBike Elite. One of the most popular air bikes on the market and one of the most durable and beefy bikes you can buy for your home or garage gym. The Echo bike has just about everything you can ask for when it comes to a fan bike and that's why we put it close to the top of our list.
Who It's For: Serious athletes who want the sturdiest airbike on the market to add to their garage or home gym
Rogue has manufactured the Echo Airbike with several key features that make it a good buy for users who:
Want top of the line quality and durability
Are looking for an Airbike that will develop both cardio and strength
Appreciate the upgraded belt drive system that is quieter and more durable
Can mount and sit on the bike to exercise
Want more upper body training to coincide with cardio conditioning
Use HIIT sessions interspersed with their strength training routine
Have space for this hearty machine
Pros
Burly and overbuilt, this bike will out work and out last you
Preferred by power lifters and CrossFit athletes for full body conditioning
Isolate upper or lower body systems by just moving handles or pedals
Console provides targeted training goals for distance, time, calories and HR
Priced under $1000, this is significantly less expensive than indoor studio cycles with much more full body activation
Heavy and sturdy — it will fit right in with your other Rogue equipment
Looks good in any home or garage gym
Cons
Bike is heavy
Handles are 1.5mm thick which may be too wide for some users
Console is not backlit
Limited 2 year frame and 1 year parts warranty
---
Quality Steel Construction for Dependable Stability

This bike isn't just hearty — it's overbuilt. Every part of it has been reinforced or enlarged for both a beefy look and exceptional durability.

Footprint: 52" H x 58" L x 29" W

The bike is a good size. It has wheels, but can be difficult to move due to size and the 127lb weight.

Belt Driven Steel Fan

Unlike traditional air bikes which use a chain drive, the Echo Airbike has a belt drive system which is more durable and quieter.

Metal Pedals

In keeping with the overall burly frame design of the Echo Airbike, the pedals are all metal with cleats along the edges to hold your shoe. The pedals are flat and will work with any athletic shoe.

350LB weight limit

The Airbike supports up to 350 pounds of user weight

Console displays metrics for: Intervals, Targets, Heart Rate, Watts, RPM, Calories

The console display is clear but not backlit, so it can be hard to see in the dark. There are clear metrics for important targets.

20/10 or 10/20 Interval sessions

The console has quick buttons for intervals:

20 seconds of work with a 10 second rest
10 seconds of work with a 20 second rest

Targets for: Time, Distance, Calories, HR

Targeted training allows each athlete to set goals for time, distance, calories or heart rate right on the console

Large flywheel fan with 10 blades

Even the fan is burly with more blades and a wider girth than comparable air bikes.

Great for HIIT training and upper and lower body conditioning

This bike cranks out a serious calorie burn with full body — upper and lower — conditioning. The fan resistance also makes those 10 second HIIT intervals feel killer.

Console is battery powered.

The Echo Airbike does not require electricity and does not need to be placed by a wall outlet. The console is battery powered — and everything else is just you.

Pedals or foot peg options

There are pegs attached to the flywheel to rest your feet when you want to isolate upper body motion by just moving the handles.
Construction:
Quality Steel Construction for Dependable Stability
Height: 52.75″ (to top of handles)
Length: 58.875″ (overall with seat in position furthest from fan cage)
Width: 29.875″ (at handles – widest point)
Footprint: 44.5″ x 23.75″
LCD Console Display (Batteries Included) with customizable modes
Belt Driven Steel Fan
Adjustable Seat with 8 height and 5 front/back settings
1.5" diameter rubber grip handles
Metal Pedals
Texture Black powder coat finish
Rubber Leveling Feet
All Hardware & Assembly Tools Included
Bike Weight: 127LB
350LB weight limit
Console:
Rogue digital console display (not backlit)
Metrics for: Intervals, Targets, Heart Rate, Watts, RPM, Calories
20/10 Interval session
10/20 Interval session
Custom workout option
Target Time
Target Distance
Target Calories
Target HR
Functionality:
Beefy steel frame
Large flywheel fan with 10 blades
Great for HIIT training
Upper and lower body conditioning
Pedals or foot peg options
Pull/push handles for arm, back, chest strengthening
Console hovers over flywheel for easy reach
Great for CrossFit or supplemental HIIT sessions
Warranty:
2-year limited warranty on bike frame
1-year parts warranty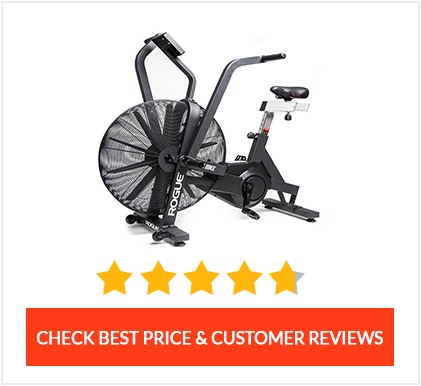 In-depth Review of Rogue Echo Airbike
---
Construction

Frame
Steel Frame
Go ahead and admit it — the Echo Airbike is sexy. This jacked air bike will sit in the corner of your garage gym with its chest puffed out and shoulders wide. This thing was built to challenge you and it knows it. The reinforced steel frame is impressive and the added weight from all that steel anchors the bike to the floor. Regardless of what you throw at it, the Airbike doesn't feel like it's going to topple. Stabilizers on both the front and rear provide balance and both stabilizers have leveling feet underneath to adjust for more stability. The seat post is supported by an angled steel bar that connects to the rear stabilizer. A horseshoe steel bar loops over the top of the flywheel and connects to the front stabilizer. A hearty drivetrain cover protects the belt drive from dust or other debris. The handlebars attach on either side of the flywheel for upper body work and the console hovers just above the flywheel at chest height. Even the handles and pedal cranks are thicker than standard. Overall, the Echo Airbike is a beefy addition to any gym or CrossFit box. We are impressed with the quality and durability, but sometimes the Airbike almost feels too big. Smaller users have complained that the width of the handles is too large and the weight of the bike makes it difficult to roll and move.
Seat Adjustment
The Airbike has two points of adjustment. The seat moves up and down as well as forward and aft. The handlebars are one solid piece and do not adjust up or down. The Airbike isn't designed for long slow cardio so it doesn't have as many "comfort" features as a studio bike. Don't get us wrong — it's plenty comfortable to sit on — but if you're not quickly uncomfortable due to the difficulty of the workout then you're missing the point.
Flat Metal Pedals
The flat metal pedals will support any athletic shoe. There is not a strap over the top of the pedal, so make sure and connect the ball of your foot securely to the pedal while riding. The pedals do have a rubberized surface and knobs along the sides so your foot doesn't slip.
Plug
The Echo Airbike does not plug in. The console is battery powered. You can place your Echo Airbike anywhere without needing close proximity to a wall outlet.
FlyWheel

Steel FlyWheel with 10 Airblades
Like all the other components on the Echo Airbike, the Flywheel is beefier with thicker fan blades than comparable models. The 10 steel blades move through the flywheel at a speed that is determined by the rider. The faster you pedal and pull the handlebars, the faster the air blades move. This unique flywheel design is what makes air bikes so popular for HIIT intervals. Like an air rower, there is no max resistance. The blades respond to user power, so whether you are a new rider just getting used to the Echo bike, or an experienced CrossFitter who wants to go all out — the Echo Airbike will respond accordingly. The flywheel is connected to both the pedals and handlebars — so you can isolate either upper or lower body as desired. If you want to work your arms during one interval, you can place your feet on the pegs attached to the sides of the flywheel. If you want to just pedal, remove your hands from the handlebars and you can isolate lower body strength. The combination of both upper and lower body training along with max resistance makes the Echo Airbike a fantastic training tool. It is not designed to be easy. Some of the strongest athletes in the world use this bike to train so if you're out of breath and dizzy after the first three intervals, rest assured, that just means the Echo Airbike is doing its job.
Saddle
Comfort and Design

The Echo Airbike saddle is padded and slightly wider than comparable racing saddles. This seat is comfortable for an indoor bike. Rouge designed the bike to challenge your strength — not your tush, so there's plenty of padding for comfort during your ride.
The saddle cannot be swapped out for a different seat but you could add a gel seat cover if desired. If you do this, make sure to adjust the height of your seat stem as many gel covers add a few inches of depth.

Two Seat Adjustments

You can raise and lower the saddle as well as move it forward and aft. Ideal positioning keeps a gentle 25-35 degree bend in the knee with the foot flat in the pedal.
Handles


The handlebars are a squared, powder coated steel tube with a thick handlebar grip at the end. These handlebars are hefty and add a bit to the overall resistance feel. They are stable and stay inline as you pull and push. Feel free to put your full strength into moving the handlebars — they can take about all the energy you can muster. These are wider than the grips on the Assault AirBike and may be uncomfortable to riders with smaller hands.
Console/Controls
Console

Computer Display

The bike console displays:

Speed
Miles per Hour
Watts
RPM's
Defined Targets: Distance, Miles, Time, Calories
Heart Rate

Buttons along the side of the console are for customized target and HIIT intervals.

20/10 interval button for 20 seconds of work, 10 seconds of rest
10/20 interval button for 10 seconds of work, 20 seconds of rest
A custom button also allows riders to set their own intervals as desired
There are also four targeted training buttons for Time, Distance, Calories and HR

You can set your own targets for any or all of these metrics and work towards them throughout your training.

The console is battery operated and does not require a wall outlet.
One complaint is the console is not backlit, so if you are in a garage or dark room, the digital numbers can be hard to see.
Optional Accessories

Tablet Holder

There is no tablet holder since this is not designed for long distance riding.

Phone Holder

You can order a phone holder from Rogue that clips just beneath the console for easy visibility. It should hold most sized phones securely.
Water Bottle Holder
There is also a water bottle holder you can purchase separately from Rogue. It attaches to the console stem just above the flywheel.
Functionality
Performance
The Rogue Echo Airbike is a hearty air bike with a reinforced steel frame, comfortable seat, and extra thick air blades. The flywheel is bigger and wider than comparable air bikes and the wider air blades create more resistance. The Echo Airbike is heavy and difficult to move, but it feels very sturdy while riding. Compared to other air bikes, there is no rocking motion side to side even when pulling the handlebars as hard as possible. We find the Echo Airbike to be absolutely solid. The stabilizers are wide and have adjustable leveling feet underneath.



One thing we love about the Echo Airbike is the foot pegs on the side of the flywheel. These pegs spin gently for foot comfort. You have the option of isolating your upper or lower body as desired. For upper body only, simply place your feet on the pegs and pull the handlebars to move the airblades. Or you can just focus on lower body conditioning by removing your hands from the handlebars and just pedaling. Also, the resistance generated by the airblades and flywheel makes this an ideal training machine for athletes at all conditioning levels.
The console has great features for HIIT training, but it isn't as feature-rich as others we've seen. It also isn't backlit and may be hard to see in low light.
Resistance
As mentioned, the Echo Airbike uses air resistance — the harder you pull and pedal, the more air resistance is generated by the air blades. This is not an easy machine to use. Since the air blades are so thick and wide, they are heavier and move more air per stroke. If you are looking for intense conditioning and resistance that will always challenge you, the Echo Airbike is an excellent training tool.
Pre-programmed workouts
Interval Programs

20/10 Intervals: 20 seconds of work with 10 seconds of rest. This is a traditional Tabata style workout with a rest segment that is half the time of the work segment. This is extremely challenging since you have very limited recovery in between intervals. Eight 20/10 intervals takes 4 minutes and by the end we promise you will be completely out of breath! Use these for full body conditioning, or isolate upper/lower as desired.
10/20 Intervals: 10 seconds of work and 20 seconds of rest. This inverted Tabata interval program provides more rest which allows you to go all out during that 10 seconds. Don't think this is easy! If you give it your all those 10 seconds are killer.
Custom Intervals: if you want to do 40/20's or 45/15's, you can set the interval work/rest intervals as desired.
Targeted Training: This allows you to customize your workout to achieve certain goals. You can set the Target to be distance, time, calories or HR. If you want to ride 2 miles, set your Target for Distance and then work hard to achieve that Target. The same is true for Time, Calories or HR. The Targeted training programs work well for users of various conditioning levels since you can set targets that are challenging for you.
Heart Rate Training: the console is Bluetooth enabled so it will sync with any compatible chest strap for targeted heart rate training. Heart rate training is a more accurate way to measure your exertion since your heart rate will respond to how hard your body is working. Heart rate training is very valuable on the Rogue Echo Airbike. The console provides a digital readout of your heart rate in real time.
Noise Level
The Echo AirBike is designed with a belt drive system rather than a chain drive. Even though there is a bit of "whooshing" noise as the air moves through the flywheel, the bike itself is very quiet. There's no noise from the pedals, handles, or drivetrain. Like other air resistance machines, the fan noise is present, but it coincides directly with speed. For an air resistance bike, the Echo AirBike has a surprisingly subtle noise output. The noise is smooth and rhythmic. It does not thud like a treadmill or squeak and rattle like other air bikes.
Storage / Folding


The Echo Airbike bike does not fold up. There are wheels under the front stabilizer so you can tip the bike and gently roll it out of the way. Remove any water bottles or phones before moving your bike. Also, the Echo Airbike is heavy due to its steel frame and solid construction, so this isn't one we recommend moving frequently.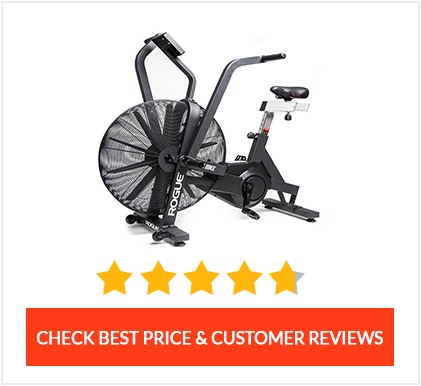 Bottom Line: Rogue Echo Bike Review
The Rogue Echo Airbike is one of the heartiest, heaviest air bikes we've tested. It has a fully reinforced steel frame with a wide flywheel and extra thick air blades. The belt drive system is quieter than a chain drive and doesn't require ongoing maintenance, which is a huge perk. The console has both preset and customizable programs. The Echo Airbike is not a dainty airbike that will politely wait to be used. This thing means business and anyone interested in hard core cardio training to supplement a strength training program will find the Echo Airbike to be an excellent option. We could use a bit more functionality in the console, but since this is mostly designed for quick HIIT training, you don't need a lot of training programs or options — just get on and go. The Echo Airbike will humble even the toughest athletes with its challenging resistance for both upper and lower body. This bike feels sturdy underneath you and does not rock or shake while in use. You will need a dedicated space since it is rather large, but it doesn't require a plug so you can place it anywhere. One complaint we have heard is the handles are a bit wide and may be uncomfortable for those who don't have large hands. But otherwise the bike should accommodate most sized riders and works well for athletes at any conditioning level. We are impressed with the Rogue Echo Airbike and recommend it as a great option for HIIT training!