*TreadmillReviewGuru helps consumers find the best home fitness products. When you buy a product we recommend, we may earn a commission.
Last Updated: August 22, 2023
The Assault AirRower Elite is a commercial grade rower used in CrossFit boxes and big box gyms but is now available for residential use. The AirRower Elite is an air resistance rower with a dual-stage chain and belt drive which reduces noise and creates a smooth rowing stroke. In this review, we'll take a look at the AirRower to evaluate the quality of construction and components and see whether it deserves a head-to-head go-around with the Concept2 air rower!
The Assault AirRower is on par with the Concept2 rower in many regards. It has a Bluetooth enabled backlit console that is easy to see with a smooth track and sturdy frame. Rowing strengthens the upper and lower back, legs, triceps, deltoids, pecs, glutes and abs for a dynamic, full body workout.
The AirRower Elite was specifically designed for HIIT training since the dual chain-belt drive allows for a quicker recovery and more strokes per minute. This quality rower is priced higher than comparable models, but it weighs more and feels like a tank. The AirRower has a powder coated frame and sleek monorail along with a slightly elevated seat which makes it easier to get on and off. The console is Bluetooth enabled to sync with heart rate chest straps.
There are also 8 preloaded rowing programs built into the console. The AirRower does not have a damper on the flywheel and the console is not as advanced as we'd expect on a machine at this price point. But, in general, we feel this is a sturdy rower that will challenge you to improve your form, power, and speed while you build muscle and cardiovascular strength.
Rowing Machine Awards: Best Rower For Larger Athletes
The AssaultRower Elite is a strong, durable, and beast of a rowing machine. It packs a punch and has extremely durable construction which is why we gave it the award of best rower for larger athletes on our list of best rowing machines.
Our AssaultRower Elite Video Review
---
Pros
Rugged, athletic frame design
Reinforced steel and aluminum frame and monorail
Supports up to 350 lbs of max user weight
Dual chain and belt drive is smooth and quieter than comparable rowers
Has front wheels
Cons
Air resistance rowers can be loud
There is no damper on the flywheel
---
Rower Features
Rower Specifications
19" steel air resistance fan

The large steel resistance fan is housed in a black protective cover but you can see the blades spinning throughout the stroke. This is a hearty fan that will produce as much resistance power as you can pull.

LCD Console with Bluetooth

The compact console sits just above the catch on an adjustable arm for easy visibility. The placement of the console allows for proper spine alignment. It is backlit and easy to use.

8 Preloaded programs

Users can select a HIIT training program, create a target goal, or a custom heart rate program on the console. The console displays time, rate, distance, pace, calories and heart rate.

Heart Rate Chest strap compatible

The AirRower console will sync with Bluetooth compatible heart rate chest straps for accurate heart rate training and real time HR metrics.

Height range: 5'0" to 6'4". Max weight: 350 lbs

This is a hearty machine, but it will support most size users.

Footprint: 92" L x 20" W x 49" H. Rower weight: 125 lbs

The rower itself takes up a bit of space. Most rowers are long and narrow, but this one is built like a tank with steel frame and components throughout. The added durability brings the rower weight up to 125 pounds, which is more than comparable rowers.

Backlit battery powered console

The AirRower does not require an electrical power source. The console is battery powered with supplemental power drawn from the rowing motion. You don't need to place the AirRower next to a wall outlet which makes it easy to use anywhere in your home or garage gym.
Custom positioned with adjustable monitor arm
The adjustable arm angles up and down for perfect visibility regardless of the user's height. This also allows users to maintain proper form while rowing so you can keep your spine in alignment without having to lean forward to see the console.
Construction:
Resistance: 19" steel air resistance fan
Seat: Comfortable seat
Pedals: Ergonomic pedals
Screen: LCD Console with Bluetooth
Programs: 8 Preloaded programs
Heart Rate: Chest strap compatible
Height range: 5'0" to 6'4"
Max weight: 350 lbs
Footprint: 92" L x 20" W x 49" H
Rower weight: 125 lbs
Warranty: 5-years frame; 3 years parts; 1 year labor
Console:
Backlit battery powered console
Metrics for: distance, speed, pace, calories burned, and watts
Various games, programs and rowing distances
Connects to wireless heart rate monitors
Bluetooth enabled
Custom positioned with adjustable monitor arm
Warranty:
5 year frame warranty
3 years parts
1 year labor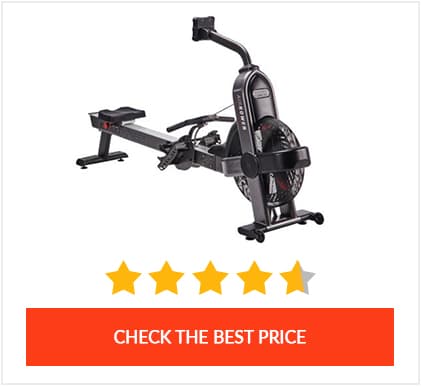 Quick Summary
The Assault Fitness AirRower Elite is a hearty commercial rower built to withstand whatever you can throw at it! This rower doesn't have the established history of the Concept2 rowers, but it provides a reputable option if you're looking for something a bit heavier. You pay a bit more for Assault products, but they are built to last and offer some of the best training tools. We like the dual chain and belt drive that is quieter than comparable models and allows for more strokes per minute for advanced HIIT training. We are missing a flywheel damper and the console doesn't have as many features as we would like, but in general, the AirRower Elite is worth a look if you are in the market for a top of the line rower to upgrade your conditioning and training regimen.
In Depth Review of the Assault Fitness AirRower Elite Rower
---
Construction
Frame
The Assault AirRower Elite has an elevated monorail that is straight and does not angle down at the catch, which makes it a little easier to get on and off. The frame is steel and the whole rower weighs 157 pounds, which is 100 pounds more than the Concept2 Model D! The aluminum monorail feels sturdy under the seat and there is a fluid feeling throughout the rowing motion. The flywheel fan is especially impressive with cool red blades that show through the fan grating. You can see the flywheel spinning as you row, which kicks up a cooling breeze during your workout. As with other resistance rowers, the harder you pull, the more resistance is generated by the fan. There are leveling feet under both the front and rear stabilizers so you can adjust the legs while it sits on your floor. This prevents rocking during use. There are also front mounted transport wheels so you can lift the backend and pivot the rower to roll when needed. The Assault AirRower requires a bit more assembly than other rowers, but it isn't too difficult. The total footprint is 92" long by 20" wide and 49" high. This frame will support up to 350 pounds and work for anyone from 5 feet to 6 feet 5 inches tall.
Foot Boards
The pedals can be lengthened or shortened depending on the user's foot size. A ledge runs along the base and side of the pedal for foot support. Since the pedal itself is separate from the footboard, there is a bit of flex for your toes during the rowing stroke. These pedals should work with any athletic shoe. An adjustable strap secures the bridge of the foot for security while rowing.
Handle
The AirRower Elite handle is wide and contoured for a comfortable hold. It is just thick enough to work for most sized hands. Assault Fitness recommends keeping your thumb wrapped around the handle at all times and the width is just right to allow for this. The handle is slightly more contoured than other rower handles with two side grips and then a center area to place one hand for unilateral rowing. Rather than vents for individual fingers (like on the Concept2), the AirRower handle has one large open center section. This probably works better for those with large hands since you don't have to thread each finger through a specific hole. The handle is sweat and moisture proof and can be wiped down to sanitize.
Seat
Like other high-end rowers, this seat is gently contoured and just wide enough to provide necessary support without creating friction spots. A divot in the rear of the seat accommodates your tailbone so it doesn't rub the seat during the drive and finish. Proper seat ergonomics makes a difference when rowing especially since the user must lean back during the drive and finish. If the seat is uncomfortable or if there are weird contact points, it can cause friction sores while rowing. The seat on the AirRower is gently padded with appropriate leg and tailbone contouring. Like the handle, it is moisture and sweat resistant and can be easily wiped down after use.
FlyWheel
The steel flywheel is 19" in diameter and we personally like the red blades that spin inside the fan. This isn't a super quiet rower, but the harder you row the more of a breeze you generate! One drawback to the AirRower is there is no damper, so you cannot change or adjust the amount of air flowing through the fan. While you could argue that a damper isn't vital on every rower, it is hard to understand why Assault Fitness wouldn't include this feature which is on the Concept2 rowers that are much less expensive. A damper makes a significant difference in the feel of the row stroke, so even though it doesn't affect resistance, it changes the nature of the rowing session by removing a key variable. Experienced rowers or those who want to compete on a competitive level may find the absence of a damper to be a deal breaker on this rower.
Air Resistance
At first glance, it is easy to see that the AirRower Elite is exclusively an air resistance rower. There are several advantages to air resistance rowers. First, air resistance is easy to calibrate and measure. Air resistance is also inexpensive and does not require electricity. This type of resistance is also unlimited — which means, the harder you pull, the more resistance is generated by the flywheel. As mentioned above, one drawback to air resistance is it is noisy. The AirRower is not a quiet machine and we recommend it be placed in a designated workout space or other area where its use won't negatively affect those in close proximity. The advantages of air rowers are well documented, but users need to be aware of the tradeoff in overall noise output.
Console/Controls
Display
The AirRower display is kind of a watered down version of the PM5. It is easy to use and has some nice features, but you're missing some functionality here on a rower at this price point. The main data screen displays:
Time
Rate
Distance
Pace
Heart Rate
Calories
Buttons
There are raised, tactile buttons on the console to access different features. Aside from the display screen on the left side of the console, there are several buttons on the right for:
1. Interval
2. Target
3. Heart Rate
4. Connect (Bluetooth and ANT+)
5. Toggle (Select programs and options)
6. Split (for HIIT training)
7. Speaker (regulates the volume of the "beeps" when you hit a button or achieve a goal)
There are also slightly larger buttons at the bottom for:
1. Enter
2. Start
3. Stop
4. Up/Down arrow keys
The console is relatively easy to use. Tactile buttons are nice because you can feel the button respond when you press it. However, with time, we find that raised, tactile buttons can get dirty and/or stuck. The functionality of this console doesn't compare with the PM5 and since the AirRower is more expensive than the Concept2 rowers, we would like to see more features and functionality. The ability to upload workouts via USB or other connection would make it so AirRower owners could compare workouts and goals. More customizable programs and/or games would also add interest to the console.
Bluetooth
The AirRower console is bluetooth enabled to sync with heart rate chest straps. A designated box on the console screen will display your heart rate during your row session.
Power
The console requires battery power. Monitor power is supplemented by the spinning flywheel to extend battery life. You do not need to be close to a wall outlet to use the AirRower.
Noise Level
As mentioned, all air rowers create noise as air passes through the fan blades. The Assault Fitness AirRower Elite chain is quieter than others we've used due to the hybrid chain belt drive. However, the rush of air moving through the fan blades is quite noticeable. As more people begin to exercise at home, noise volume matters. If the AirRower is placed in a designated workout area such as a separate room or home gym, the noise is not an issue. But we wouldn't recommend placing this in a central location with the idea that you'll watch Netflix while rowing. It would be a bit too loud for that. In general though, the AirRower isn't much louder than comparable air resistance rowers.
Storage / Folding
The AirRower does not fold up nor does it come apart into two separate pieces for storage. The monorail does not hinge to fold in half at the base of the flywheel. However, the front of the fly wheel has a flat spot on the cover so you can easily store this rowing machine upright to save floor space. There are also large wheels on the front stabilizer you can use to roll the rower when needed. We recommend users plan for the floor space needed for this rower. Since proper rowing form requires that you lean back during the drive and finish, the rower needs plenty of room behind it as well, so do not place the back end of the rower against a wall — you will hit the wall when rowing. Also, there are some exercises that can be done by using the seat for plank extensions or lateral lunges, so keeping the surrounding area clear and open enables you to use the rower in various ways.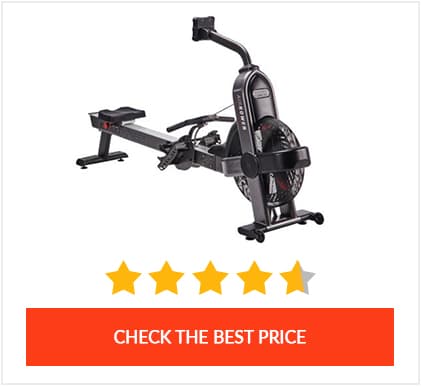 Bottom Line Review: AssaultRower Elite Air Rower
The Assault Fitness AirRower Elite rower is a large, rugged air rower designed for commercial or residential use. It has a steel 19" flywheel that generates significant air resistance and provides a cooling breeze while rowing. The aluminum monorail is sleek and the seat slides smoothly back and forth along the rail. The seat is contoured and slightly padded and the handle has multiple hand positions.
The overall look is impressive with powder-coated steel legs and stabilizers. Front-mounted transport wheels allow you to roll it when needed and there are four leveling feet (two under each stabilizer) to adjust the rower for your floor. We like the overall design of the AirRower, but have a few concerns about the console and lack of a damper on the flywheel. For a rower at this price point, we'd expect to see a bit more functionality in the console and the addition of a damper would reintroduce a valuable training variable. However, we love that the console, chain, and flywheel have all been customized for HIIT training.
This is a great rower for conditioned athletes who want to improve their strength and rowing performance by adding high-intensity intervals to their regimen. Air rowers are the gold standard for rowing resistance since the rower will generate power commiserate with each rowing stroke. The stronger you pull, the harder the resistance. This makes the AirRower a perfect rower for either new or conditioned athletes. We also love that it doesn't require an outlet to operate — which means you can put it anywhere in your home without the need for a plug or extension cord. The narrower is a good option for those looking for a high-end rower for their home workout area or garage gym.