*TreadmillReviewGuru helps consumers find the best home fitness products. When you buy a product we recommend, we may earn a commission.
Last Updated: May 9, 2023


The Bowflex M6 Trainer is a full body fitness tool that features a stair stepper motion with an elliptical feel for low impact training. Stair steppers torch tons of calories, but they are often exhausting to use and can cause a bit of hip and/or knee discomfort from all the stepping motion. The Bowflex M6 Trainer has solved this issue by changing the motion of the pedals — rather than simply a repeated up/down motion, the pedals on the M6 lift up under your foot, supporting your motion throughout the movement. This way, you get the benefit (and calorie burn) of a stair stepper, but not the fatigue and joint discomfort. The supportive pedal design creates a smooth, elliptical-like feel where the pedals move with you. Both static and dynamic handlebars also allow users to engage upper body muscles, or hold hands stationary while you focus on lower body conditioning. The Bowflex M6 has both free onboard workouts and more video based workouts available with the JRNY subscription. There are also 16 levels of resistance and a clean, intuitive console. The M6 is Bowflex's entry level model in their Trainer lineup, but you get a lot of bang for your buck here. Upgrades to the M8 or Max Trainer add a few more features, but the solid design and comfortable motion on the M6 makes it a great training tool for athletes at any conditioning level.
Who it's For: Users looking for a smooth full body trainer with a compact footprint and multi-position handlebars
Compatible with Bowflex JRNY™ App (free 2-month trial, then $20/mo)
Larger repositioned console
Magnetic media rack for tablet or smartphone
USB charging port
Bluetooth® compatible for heart rate monitors, fitness apps and personal tablet
16 levels of resistance
Unique burn rate display
Multi-grip, dynamic handles
Built in heart rate monitor (integrated contact grips on stationary handles)
Pros
Compact and multi-function trainer good for both upper and lower body conditioning
Multi-position handlebars for both a stationary grip and active motion when desired
M6 includes a free trial for Bowflex's JRNY app which includes customized training plans and Max the virtual trainer
Comes with preloaded programs don't require a subscription
16 Resistance levels for targeted goals
Most affordable model in Bowflex's Trainer series
Cons
JRNY app requires a subscription ($20/mo) after the two month free trial
The M6 Trainer can be very noisy when in use — may not be ideal for working out in a bedroom if others are sleeping
3-year warranty offers limited coverage for a machine in this price range
---
Smooth elliptical motion on a compact stair stepper frame

Get the best of both worlds with the supportive elliptical style pedals that augment the stair stepper design. Your feet stay connected to the pedal at all times for enhanced balance and support. Also reduces impact discomfort and joint fatigue.

Ergonomic Grips with two moving handlebars

Moving handlebars have extensions that angle up, in front of the console, and down towards the user's hips so you can find the right hand placement each time. Use the bars to pull, engaging the lats and triceps — or push with biceps and deltoids.

Static Handlebars with HR sensors attach to console

If you want to focus on stability and isolate your lower body, grab the static handlebars attached to the console. These also have HR sensors for an accurate heart rate readout on your display.

"Max" the virtual trainer

The Bowflex Max trainers (M6, M8, and Max Total) are designed to use AI technology that responds to and designs workouts customized for each user. The name of this AI system is "Max". When you first begin using the M6, you can take a fitness assessment that will determine your level of fitness and help you establish appropriate workout goals. Each time you use your M6, "Max" will customize that workout to correspond with your particular needs and conditioning level. This virtual trainer program is available in the onboard workouts but more advanced capabilities come with the JRNY subscription.

Footprint: 49″ L x 30.5″ W x 65.5″ H

The M6 provides extensive training on a compact footprint. The frame sits vertically in front of the user with steel support beams underneath.

Product weight: 148lbs Max User weight: 300lbs

While the M6 is sturdy with a product weight of 148lbs, it will support up to 300lbs and is a good option for users of all sizes and conditioning levels.

Oversized pedals textured for comfort

The pedals have a solid footboard for support and a textured surface that keeps your shoe attached to the pedal and reduces foot fatigue.

5" LCD Color display is bright and easy to see

Use your JRNY subscription, or just the preloaded programs on the console. Digital metrics make it easy to assess your status and progress over time.

Button on Console controls the 16 Resistance Levels

You get 16 levels of resistance on the M6 so you can tailor your workout to be as easy or difficult as you want. Crank it up for some high intensity resistance or keep it light to increase speed.

Includes Bowflex JRNY™ app free with 2-month trial subscription

JRNY app features real-time feedback, tracking, and rewards
"Max" the Trainer virtual coach provides personalized training and encouragement
Trainer-led video programs with JRNY subscription provide abundant training options

Free programs built into the console (do not require a subscription)

Workouts range from 4 to 30 minutes and come preloaded on your machine, so you don't have to pay for the JRNY app to use the M6.

Bluetooth® enabled for heart rate monitors

Sync your personal HR chest strap or use the sensors to get accurate HR metrics for targeted training.
Construction:
Footprint: 49″ L x 30.5″ W x 65.5″ H
Backlit LCD display
Ergonomic Grips with two moving handlebars
Static Handlebars with HR sensors attach to console
Wheels under frame
Product weight: 148lbs
Max User weight: 300lbs
Four adjustable levelers under the frame
16 Levels of Resistance
Oversized pedals
Console:
5" LCD Color display is bright and easy to see
Button on Console controls the 20 Resistance Levels
Includes Bowflex JRNY™ app free with 2-month trial subscription
Real-time feedback, tracking, and rewards
"Max" the Trainer virtual coach
Free onboard programs do not require a subscription
Customized Training programs with JRNY subscription
Bluetooth® enabled for heart rate monitors
Pre-programmed and individualized workouts
Workouts range from 4 to 30 minutes.
Functionality:
Elliptical motion on a stair stepper machine
Low impact, high intensity
Quick console button toggles through all 16 Resistance levels
Workouts are customizable for each individual
Bluetooth soundbar below screen will play music from your phone
Additional hand grips allow you to target different muscles in your back and arms
Touch sensors on handlebars for HR tracking
Warranty:
3 Year Parts Warranty
90 Days Labor Warranty
In-depth Review of Bowflex M6 Trainer
---
Construction
Frame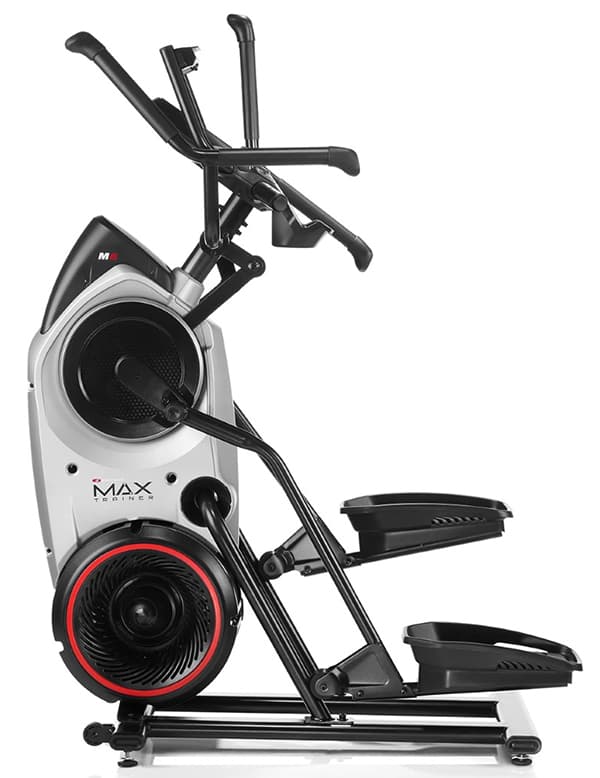 The M6 Trainer frame is supported by two stabilizers (front and rear) and two center beams. Under both the front and rear stabilizers are four levelers which can be individually adjusted so your Trainer sits firmly on the floor without shifting or rocking. There are also two wheels on the front of the machine so you can tilt and roll it as needed. The pedal legs attach to the frame assembly and move inline with the handlebars. The right and left pedals connect to the frame assembly, so when one moves the other does as well. The wide, ergonomic foot pedals have an elevated rim so your shoe doesn't slide forward or shift side to side while stepping. There is also a textured surface for stability and traction. The pedals and handlebars move in conjunction with each other which creates a very coordinated feel while in use.
There is some noise when using the M6 Trainer, so this is something to be aware of. As the pedals and handlebars move it creates a bit of a "whooshing" noise that increases with your cadence. This isn't as quiet as other ellipticals/stair steppers. But the frame does feel mostly stable with minimal rocking.
The multi-position handlebars allow users to hold lightly and focus mostly on the lower body — or really push and pull, activating more upper body during your workout. Pressing and pulling on the moving handlebars targets the deltoids, lats, biceps and triceps. But if you want to just walk and focus on your lower body muscles, you can accentuate pedal motion as well.
Geometry
The Bowflex M6 Trainer has a vertical design, so most of the frame sits upright rather than under you. This keeps the footprint smaller. The stair stepper pedal motion also makes it so your feet move up and down rather than forward and back, reducing the amount of floor area and open space required surrounding your M6 Trainer. Be advised, however, you do need a bit of overhead clearance (Bowflex recommends a minimum of 16") to accommodate for the up/down motion while stepping. Also, even though the M6 Trainer has a compact footprint, leave enough room around your machine for safe clearance while in action. The moving parts could harm or damage furniture or other items if they are placed too close.
Pedals
The foot pedals are extra-wide and designed to work with any size shoe. There is a slight ledge around the perimeter that holds your foot on the pedal. The surface is textured so your shoe doesn't slip.
The supportive pedal motion makes this feel more like an elliptical even though the motion is that of a stepper. The oversized pedal glides easily up and down the track. The fluid motion of the M6 Trainer makes it so even though you are working hard, lifting and pressing down with each step, the pedal supports your foot throughout the motion. This reduces any impact or discomfort that may emerge when exercising on the M6 Trainer.
Handles
There are three handles on the M6 Trainer. One pair of stationary handles attach to the console and do not move. There are EKG grips on the stationary handles. If you plan to do a workout that emphasizes the lower body, you could use the stationary handles and then really focus on working your quads, glutes, and hamstrings as you push against heavy resistance.
There is also a pair of moving handles with two different extensions so you can find the right grip. One set of the handlebar extensions angle vertically in front of the console providing an upright grip. These provide a symmetrical grip so you can keep your wrists, elbows and shoulders in alignment while in use. The upward grips challenge your shoulders, chest and lats. Another extension of the moving handlebars angle downward toward the user's ribs. These are better when you want to target triceps as you press and biceps as you pull. The handlebars have plastic caps at the bottom for security and comfort.
As mentioned above, the handles work in conjunction with the pedals so motion is streamlined between hands and feet.
Resistance
The M6 Trainer offers 16 different resistance levels so you can adjust your workout each time. A button on the console makes it easy to adjust levels up or down. The console also displays your current resistance level at all times.
The M6 Trainer offers 16 different resistance levels so you can adjust your workout each time. A button on the console makes it easy to adjust levels up or down. The console also displays your current resistance level at all times.
---
Console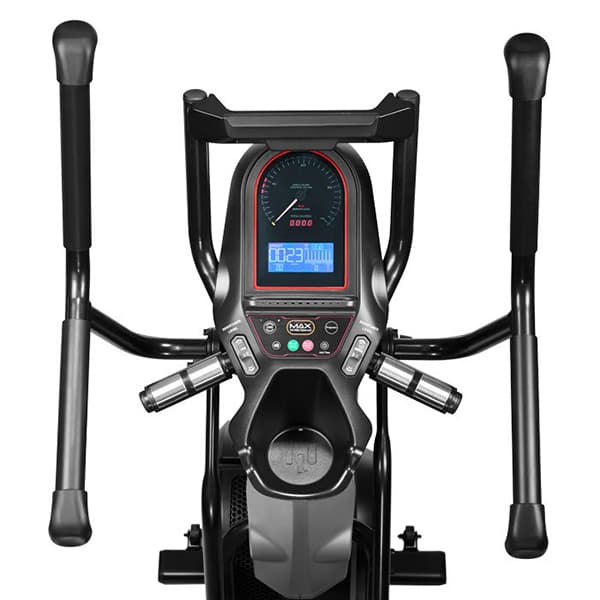 The M6 Trainer has dual LCD/LED screens. The LCD screen displays your personal metrics such as time, distance, resistance level, etc. The LED screen looks like a speedometer and adjusts based on your "Burn Rate" which is essentially how hard you are working at any given time. Since the M6 provides targeted training, you will be prompted to achieve a certain burn level within the workout itself — this is an easy way to do interval training since you know exactly where you should be both during and after each interval. The Burn rate monitor helps users stay engaged as you can see the arrow point to where you are — or where you need to be.
Display Screens
LCD Screen
The LCD screen displays your currently selected workout, including your individual metrics:

Sprint/Pace
Time
Workout Graph
Heart rate
Resistance level

LED Screen
The LED screen displays:

Total Calories
Target Calorie Zone
Burn Rate of calories per minute
Console Layout
Buttons
Max Button

To quickly start the MAX 14 minute interval program, just hit the Max button. Based on the results of your fitness assessment and previous workouts, the Max program will adjust to provide you a targeted Burn Rate zone for interval training. At Max's direction, push that cadence and HR up during the intervals and then allow yourself to recover afterward.

User Button

There are two user profiles on the M6, so two different users can access customized workouts based on their assessment, goals, weight and height.

Programs Button

To toggle through other program options, use the Programs button.

Add Time

Quickly add more time to your program at any point with the Add Time button.

Enter/Start and Pause/Stop

To select and begin or stop a program at any time, use the Green Enter button or Red Stop button.

Resistance Control Buttons

On both the left and right side of the console there are Resistance Control buttons that allow you to increase or decrease your resistance at any time. Current resistance level is displayed on the LCD screen.

Storage/ Water Bottle Holder

One large water bottle cup or storage area sits just below the console. It is oversized, so it should hold most water bottles. It is also a convenient place to drop a phone or other item as needed.

Tablet / Phone Holder

There is a ledge just below the screens where you can set your phone or tablet. Depending on the size of your device, it may block the screen, but it won't affect the functionality or metric tally during your workout.

Fans

Unfortunately, there is no fan on the M6 Trainer. Fans are a nice addition to cardio equipment since users tend to get quite sweaty when exercising. We'd love to see Bowflex add a fan in the future.
Noise Level
The M6 Trainer has a moderate decibel level. It is not as quiet as magnetic resistance bikes (which are virtually silent), but it is certainly quieter than a treadmill. However, as you pedal and move the handlebars, there is a bit of impact and movement noise that may be loud enough to be noticeable to those around you.
Storage / Folding
The M6 Trainer is not designed to fold. It weighs 148 pounds and is rather heavy to lift, so we recommend at least one strong person or two people work together to lift and move the machine. There are two wheels on the front stabilizer that allow you to roll it as needed, but it is a good sized piece of equipment that is a bit cumbersome and heavy to move. We recommend finding a good spot for it in your home where you can use it without having to move it regularly.
JRNY and Onboard workouts
Pre-programmed workouts

There are pre-programmed workouts on the machine that will guide you through various intensities and resistance. The onboard workouts are sufficient to keep you active and provide plenty of training variables. This is a perfect exercise machine for users who want targeted training and extensive metric readouts. You get a lot of information with the Bowflex Max trainer. Even if you don't pay for the JRNY subscription, there are classes and content that can be used on the machine.
Workouts range from 4 minutes up to 30 minutes and provide targeted goal training for users at different conditioning levels.
JRNY Subscription $20/month (after the 2-month free trial)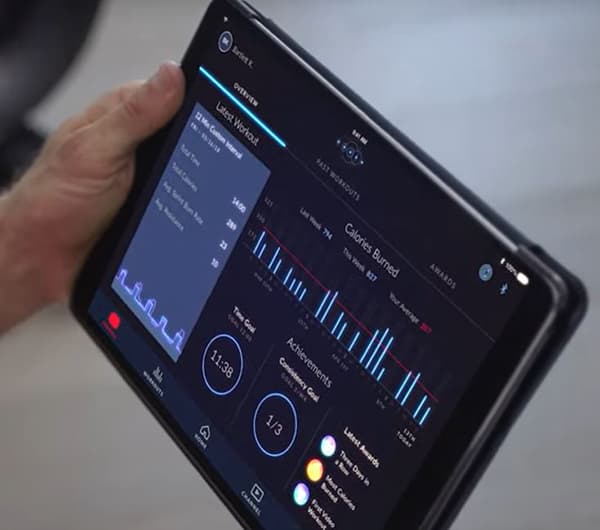 The Bowflex JRNY™ App free two-month trial ($20/month after free trial)
Access the JRNY app on your personal tablet (tablet not included)

Once you have logged into the app, you can place your tablet on the tablet shelf for use during your workout. Be advised, your tablet will block the LCD screen — but not the control buttons.

Dynamic Coaching with "Max" the virtual trainer

Max speaks directly to you, coaching and motivating you through personalized workouts.
Max creates customized workouts based off of your prior workout history. The goal of these workouts is to help you burn the most calories and improve your fitness, all while staying within your personal capabilities. By adjusting the difficulty (target burn rate) and length (time) of each workout, Max can provide a tailored program that is perfect for you.
For users who may not be achieving their calorie-burn targets, Max provides instructions to slow down or speed up to ensure that you're staying on target. Of course, there are lots of awards and accomplishments you can earn along the way.

Customized Workouts

Based on the results of your personal Fitness Assessment, Max provides customized workouts that are appropriate for your conditioning level.
According to Bowflex, this is accomplished via "a complex algorithm based on your previous calorie-burn history." Max measures how many calories are burned and how quickly they are burned, then uses this data to create workouts tailored to each user's fitness level.

Premium Video Workouts

Max offers a library of instructional, trainer-led videos recommended to you based on where you are in your fitness journey.
There are no videos available on the M6 without subscribing to the JRNY app. These can only be accessed via JRNY on your tablet or phone.

Compatible Devices

The Bowflex JRNY™ App is compatible with Apple devices on iOS 12.0 or greater and most Android devices with version 6.0 or greater.
The app will sync your workout metrics in real time to the app.

Within the JRNY app, there are several screens for different features and content

Channel Screen displays video-led workout programming and entertainment content. This content is designed to help you enjoy your workout.
Home Screen displays your customized workouts and featured content.
Workouts Screen allows users to choose from the pre-programmed (non-customized) workouts
Journal Screen displays users' workout history along with awards and other accomplishments.
Bottom Line:
The M6 Trainer is the entry-level elliptical/stepper machine in Bowflex's Trainer lineup. Beginning with M6, moving up to M8, and peaking with the Max Total, Bowflex provides several Trainer iterations. We like the M6 because it provides pretty much the same full body training as the M8 and Max Total at a significantly lower price. If you opt to use the JRNY app on your personal tablet, you can get all the extra classes and videos found on the Max Trainer. These simply appear on your tablet rather than a built-in screen — but the functionality is essentially the same, making the M6 a great deal when compared with its more expensive siblings.
The JRNY app is different from other fitness apps since it provides customized training. The JRNY fitness assessment program initially determines your conditioning level and then Max guides users through a range of training sessions designed to propel you towards your fitness goals. As you progress, Max uses your personal metrics to create a targeted workout plan individualized just for you. As you get stronger, the workouts become more challenging, further propelling you towards your fitness and weight loss goals. This personalized system is a step up from comparable fitness apps that have a more one-size-fits-all method of training.
There is a bit of noise when using the M6, so be aware of noise output if that's an issue for you. The M6 Trainer is heavy and it does not fold up, so you will need a dedicated workout space. But it does have a surprisingly compact footprint for such a functional machine. The warranty is underwhelming — we'd like to see a warranty more in line with what other manufacturers offer on equipment over $1500. However, the M6 is an excellent choice for anyone looking for high intensity, low impact training as it is easy on your spine and joints with smooth, elliptical-like motion and stair stepping action. The JRNY app costs $20/month after the two month free trial, which is less than comparable subscription programs and the customized training with Max the virtual trainer is uniquely adaptable. In general, we are impressed with the M6 and find it to be an affordable, full-body training machine that is fluid and easy to use.