*TreadmillReviewGuru helps consumers find the best home fitness products. When you buy a product we recommend, we may earn a commission.
Last Updated: November 21, 2023
Are you fed up with your inactive lifestyle which is making you unhealthy? Do you want to dedicate some time daily to your fitness regime but can't due to your hectic work schedule? Do you sit for hours per day? Do you deal with lower back pain or stiffness? Chances are your problems are created or worsened by prolonged sitting.
Inactivity is a huge contributor to obesity and studies show that sitting for prolonged hours is not only hard on your back, it can reduce your overall metabolic rate! Under-desk treadmills are a great option to keep you active while working at home or the office. Now you can walk gently while you work at your computer, talk on the phone, or even just read emails.
This is where under-desk treadmills come into the picture. An under-desk treadmill is an efficient solution that can help you stay active and healthy while maintaining your busy work schedule or routine.
We have researched the Best Under Desk Treadmills on the market. Check out some great options below to get those muscles moving while you work!
These page is focused specifically on Under Desk Treadmills. If you're looking for a other types of workout equipment to stay active while you're working, you can find the best under desk ellipticals and the best under desk bikes. Or if you're hoping to find a full on treadmill for your workspace, you can check out the best treadmills or the best quiet treadmills for your home or office.

Why You Should Trust Us
Here at Treadmill Review Guru, when we're not testing fitness equipment, we can be found at our desks behind our keyboards. We know what it's like to feel chained to our computer screens and anchored in our chairs for hours on end.
To say we were eager to test under-desk treadmills while we worked on our computers, is an understatement. We tested these treadmills to see how well they functioned under our desks as well as how loud they were, and their other features.
Best Under Desk Treadmills – Our Top Picks for 2023
What is an under-desk treadmill?
Under desk treadmills are designed to slide underneath a standing desk. These treadmills operate at a lower speed, usually .5mph to a max of between 2.5 and 4mph so you can maintain your balance as you work at your desk. Walking treadmills are also designed to be used continuously for longer periods of time (up to several hours) as opposed to some of the best treadmills we've tested for running.
There are two types of Under Desk Treadmills: Tread only and Combination Units of Tread + Desk.
Tread only options provide just the walking treadmill. You can use your own standing desk or buy one that will fit over the top of the treadmill. Many of these companies provide standing desk options as well so you can mix and match for your needs.
Tread + Desk units provide both the walking treadmill and an accompanying desk that fits snugly over the treadmill for ease and convenience.
Under desk treadmills vary in specs, components, size and quality, so take a look at the list below for the best overall Tread Desk reviews.
Editors Note: The November 21, 2023 update was to make sure that all of these under desk treadmills are in stock and available to purchase through the holiday season. We also added our Best Under Desk Treadmills video to this page as a resource to help you choose the best option for your situation.
Sneak Peek of The Best Under Desk Treadmills:
Our Best Under Desk Treadmills Video
---
Top 10 Under Desk Treadmills – Our Expert Picks


Lifespan TR5000-DT3 features a heavy-duty treadmill base, console, and textured walking belt to provide reliable and long-lasting usage. Lifespan recently changed the name of this treadmill to the TR5000-GlowUp, but also still refers to it as the TR5000 DT3 on their website. Its low-profile design helps it to fit even under tight spaces with ease. It is designed to suit its use in the most demanding office environment and you can use it for hours and hours without worrying about its functionality. We love this treadmill and have named it the best under-desk treadmill overall, because of its design and workhorse motor.
The 3 HP continuous duty motor of TR5000-DT3 works quietly with utmost efficiency. It can be operated between the speed range of 0.4 – 4.0 mph. The operation of the motor is so quiet that LifeSpan had to add belt markings to let the users know that it is moving.
LifeSpan TR5000-GlowUp features two consoles to choose from. They both sit on your desk and are used for controlling the treadmill and tracking your metrics like speed, distance, calories, time, and steps. The Omni-Hub console is the more expensive and compact console. It has a more up-to-date design. The Retro console takes up a bit more space on your desk but is a little bit cheaper. Both are intuitive to use with clear buttons for your speed and displays to read your metrics.
LifeSpan TR5000-DT3 has been developed introducing the legacy of innovation such as integrated step counting that comes with the onboard Intelli-Step technology. The Intelli-Guard technology present ensures a safe work environment and makes sure the treadmill operates only when you are actively walking on it. Moreover, it is Bluetooth enabled which allows you to sync your workout activity and track your progress over time with the LifeSpan Active Track fitness app.
What makes this treadmill superior to other LifeSpan office treadmills is the high-quality construction, heavy-duty motor with longer running time, high weight capacity, 1" thick reversible walking deck, and high mileage maintenance-free Habasit walking belt that doesn't require much maintenance or lubrication.
Like most of the other LifeSpan office treadmills, this one too absorbs impact at six points and comes fully assembled out of the box so that you can start walking right away. It features a 10-year frame warranty, a 2-year parts warranty, and a 1-year labor warranty. Lastly, this beast of a treadmill by lifespan has won the hearts of thousands of government agencies, universities, health centers, and businesses that have adopted an active-office lifestyle.
When you purchase the TR5000, you have the choice between purchasing just the treadmill, or a standing desk to go with. LifeSpan offers a few different desks to choose from.
Click Here for an in-depth Review of LifeSpan TR5000 Under Desk Treadmill.
TR5000 Specs:
Motor: 3 HP Continuous Duty DC.
Speed Range: 0.4 – 4.0 mph.
Dimensions: 63″ L x 28.5″ W x 7.25″ H
Running area: 20" W x 50″ L
Step-Up Height: 5.25″
Weight capacity: 400 lbs.
Model Weight: Treadmill: 119 lbs
Warranty: 10-years frame, 2-year parts, and 1-year labor
Pros
Quiet 3.0 HP commercial grade motor works silently keeping you focused on the task at hand
Wide speed range option from 0.4 – 4 mph
6 Impact absorbing compression shocks reduce the impact on joints, knees, and ankles
High mileage habasit walking belt which doesn't require any maintenance or lubrication
Advance features like Intelli-Step & Intelli-Guard
Safety emergency stop key
No continuous running time limitations – can be operated as long as you want during the day
Bluetooth option to sync your daily workout data to Active Track App to track your overtime progress
Inbuilt USB charger port to charge your wireless mobile devices
High Weight Capacity of 400 lbs
Good warranty
Cons
Weighs 119lbs, so it is a bit heavy for an under desk treadmill
---

The LifeSpan TR1200-DT3 is LifeSpan's top-selling walking desk treadmill base, which is ideal for single users or small teams. This treadmill also got a new name and is referred to as the TR1200-GlowUp as well as the TR1200-DT3 on LifeSpan's website. This compact treadmill fits under standing desks, so it is easy to convert your standing desk into a treadmill desk. The TR1200 includes a 2.25 HP motor, a wide walking belt, and a low-profile design. It's comparable with the TR5000, so that's why we've awarded it as the best runner-up under desk treadmill on this list. Either portable console option is small enough to fit on your desktop without taking up too much space. The console displays steps, time, distance, calories, and speed. The TR1200-DT3 is quiet when in use which makes it great for professional or home office environments.
The TR1200 has 6 impact-absorbing shocks which dampen walking noise and provide extra cushioning in the deck. This enables users to walk longer without fatigue. The sturdy frame will support up to 350 lbs.
Like the TR5000, the TR1200 comes with your choice between the Omni-Hub console and the Retro console. The Omni is the more expensive choice, but it's an upgrade from the Retro. The Omni also fits better on your desk, especially if you don't have a lot of empty space on your desk.
The TR1200-DT3 comes fully assembled out of the box. It maintains a low 5.25" profile, so it fits well under existing standing desks or in tight spaces. It is easy to roll the treadmill under your desk when needed.
Integrated step counting keeps track of your steps while walking and LifeSpan's Intelli-guard safety feature makes it so the treadmill stops moving if you step off it. This way you don't have to pause the treadmill each time you step off to handle other work.
Business savvy and wellness-ready, LifeSpan technologies are devoted to improving your experience. Onboard Intelli-Step technology detects each footstep taken, keeping you aware of your daily step count. The integrated Intelli-Guard safety feature ensures the treadmill only operates when you are actively walking supporting a safe work environment.
The TR1200 is a treadmill with a console, but it does not include a standing desk. LifeSpan offers several desk options that pair with this unit if you want to upgrade from just the treadmill.
Click here for an in-depth review of the LifeSpan TR1200 Under Desk Treadmill.

TR1200 Specs:
Speed Range: 0.4 – 4.0 mph
Footprint: 63″ L x 28.5″ W x 7.25″ H
6-Shock Absorbing Dampers in the deck
20" by 50" walking belt
Supports up to 350 lbs.
2.25 HP motor
Treadmill Weight: 114 lbs
Warranty: 10-years frame, 2-year parts, and 1-year labor
Pros
Whisper quiet 2.25 HP continuous duty motor works quietly without impacting the productivity.
Wide speed range option from 0.4 – 4 mph.
6 compression shock absorbers to reduce the impact on your knees and ankle joints.
Advance features like Intelli-Step & Intelli-Guard.
Safety emergency stop key.
6 hours of continuous running time.
Bluetooth option to sync your daily workout data to Active Track App for viewing in chart form.
Inbuilt USB charger port so that you don't run low on power while watching your favorite movie or song during the workout.
High Weight Capacity of 350 lbs.
Pretty good warranty for affordable treadmill.
Cons
It is larger than some of the other treadmills on this list, and harder to move.


Unlike other walking treadmills which are just gym treadmills that have been converted to a slower max speed, the UnSit treadmill by InMovement was designed specifically for office use. There are a few things that make the UnSit unique, including the shape and size of the treadmill. You'll notice right off that rather than the traditional long, narrow frame of a standard treadmill, the UnSit has a shorter, wider frame. This allows users to have more lateral width when working at their desks. Also, the treadmill doesn't stick out as far behind you in the workspace.
The UnSit has a 2.75 horsepower motor, is super quiet, and has an appropriate max speed of 2.0 mph which is ideal for office environments. It also has a minimalist console since most of the treadmill's functionality is integrated into an app you can download on your phone. The app feature is another element of the UnSit that makes it unique. Rather than having a large console that takes up a lot of space on your desk, the app allows users to access information right on their phones. This keeps the console itself quite small. It is really just a dial with lights that indicates how fast you are walking. The use of your phone as a supplemental device also helps streamline information between apps if you keep track of your steps, distance, calories, or other metrics. These can be easily transferred to Apple Health+ or other cadence-tracking apps.
We found the cushioning in the UnSit treadmill to be supportive with a gentle give under the deck to mitigate the impact. Too much cushion could actually be counterproductive on a treadmill since users need good support for proper body mechanics. The thick deck and composite material provide the necessary flex that would be sufficient for users of different sizes and weights. This treadmill can also work for different types of shoes. The cushioning helps reduce foot noise while walking.
The UnSit is priced over $2000 — which is a bit more than comparable models that don't include a desk, but with InMovement you are getting a different size and quality that provides enhanced functionality and maintains necessary space in your office. You can also purchase a standing desk or stool in addition to the treadmill. For this reason, we find the UnSit to be worth the price and the best high-end under-desk treadmill on this list of best under-desk treadmills.
Check out our full review of the InMovement UnSit Under Desk Treadmill, here.
Unsit Treadmill Specs:
Dimensions: 39″ wide x 56″ Long
Walk Surface: 30″ wide x 40″ long
Step up Height: 5″
Weight: 162 lbs
Speed: 0.3 – 2.0 MPH
Max Load: 400 lbs.
Electrical: 120VAC – 60Hz – 6amp – 600 watt
Outlet: 120VAC – 20 amp (dedicated circuit recommended)
Motor: 2.75 CHP with 4,000 RPM Treadmill duty
Warranty: Lifetime for the frame, 2-years for parts, and 1-year for labor
Pros
This treadmill is wide, making it more convenient to use at large desks, especially if you use more than one computer monitor.
The UnSit is silent when in use, so you can use it in a shared office space
The powerful 2.75 HP motor is self-cooling and supports hours of walking.
The max speed is designed to allow for safe walking while standing at a desk
5" step up height makes it easy to get on and off
Will only turn on for users over 70 pounds so children and pets cannot activate it accidentally.
Two wheels under the motor housing on the front end make it so you can tilt and roll the treadmill under your desk or out of the way when needed.
Cons
It is heavy, which makes it harder to move.
Higher priced than comparable walking treadmills.
---

The WalkingPad C2 Foldable Walking Treadmill has a unique folding feature. The deck folds in half to save you space when you're not using it. It is because of this feature that we recommend the C2 as the best folding under-desk treadmill. It is ideal if you want to get in some steps at your desk and then be able to fold it up and store it out of the way. You can store it under a couch, bed, or cupboard since it is only 5.35" tall when laying flat. We're really impressed by this design and how simple it makes using an under-desk treadmill.
The WalkingPad C2 comes in multiple colors so you can coordinate it with your workspace. It has a 47" long by 16" wide deck to walk on. The walking surface is large enough to walk on, yet small enough to fit under most desks. Keep in mind that the WalkingPad only comes with the treadmill and no desk. The C2 goes up to 3.7 mph to give you some speed to walk fairly briskly if you want. It can handle up to 220 lbs of user weight, too.
The motor is pretty quiet so if your work area has others in it, you won't be disruptive. You also shouldn't have trouble moving the WalkingPad C2 because it only weighs about 62 lbs. Plus, it has wheels, so you don't have to carry it, although you could.
The display on the motor hood allows you to switch between automatic and manual modes, and the speed is controlled by a small remote. You can also download the KS Fit app to pair the C2 to your phone through Bluetooth and track your walking sessions. The app will keep track of your average speed, estimated calories, step count, and distance.
Check out our full review of the WalkingPad C2, here.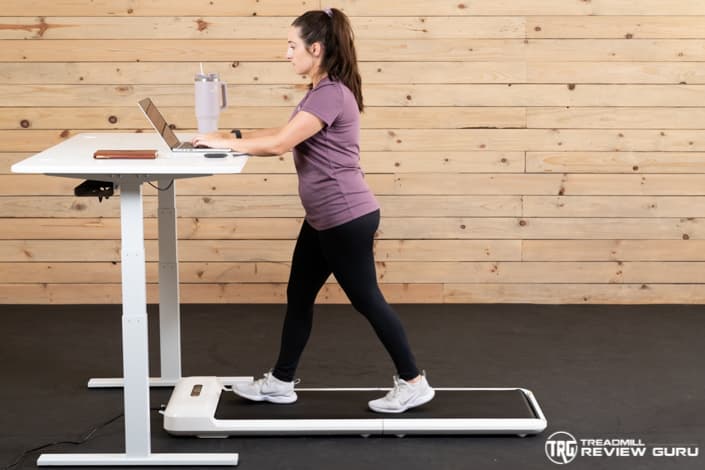 WalkingPad C2 Specs:
Unfolded Footprint: 56.88" x 20.39" x 4.92" (L x W x H)
Folded Footprint: 32.48" x 20.39" x 5.35" (L x W x H)
Walking Belt Size: 47.24" L x 15.75" W
Brushless Motor
Adjustable Speed: 0.5-3.72MPH
Weight capacity: 220 LBS
Product Weight: 62 LBS
Comes Fully Assembled
Bluetooth Enabled
Warranty: 1-year
Pros
The deck folds in half so it can be easily stored when it's not in use.
It is small and lightweight to fit under pretty much any sized desk.
It is narrow but large enough to walk on.
Slim profile to fit under most couches and beds.
Connects with the KS Fit App to track your progress.
Cons
The deck might be too narrow for some users.
It can only handle up to 220 lbs.


The most compact and affordable under-desk treadmill from LifeSpan is the TR1000. It's referred to as the LifeSpan TR1000 DT3 and TR1000-GlowUp. Even though this LifeSpan treadmill is cheaper than the TR5000 and TR1200, it is still said to handle up to 6 hours of use per day. So, if you're looking to primarily walk while you work at your desk, then this is a good option.
The biggest difference between LifeSpan's other models is its size. The belt is 20" wide and 44" long. It goes up to 4 mph, however, if you have a long walking stride, this option might not be best for you. For walking at slower speeds under 3 mph, most users should have plenty of room on this deck. Plus, the shorter deck can fit in smaller spaces. The TR1000 has an impressive 2.25 HP motor and a 350 lb weight capacity.
Depending on your budget, the LifeSpan TR1000 comes with the Retro or Omni-Hub consoles. Both are designed to fit on your desk, in order for you to control the pace of the treadmill. They are both Bluetooth-compatible to sync with the LifeSpan Club App.
Like the other LifeSpan treads, the Intellistep system syncs with the console for an accurate step count, and Intelliguard keeps you safe when you step on and off the treadmill.
One of the best things is the TR1000 comes pre-assembled, so you can just take it out of the box and slide it under your desk! This treadmill is well-priced and features a low profile, so it is a great addition to any office space.
You can choose from multiple desks at LifeSpan or purchase the TR1000 by itself. If you purchase it with a desk, you have 3 different styles of desks to choose from. This way you can coordinate it with your office.
LifeSpan TR1000 Specs:
Motor: 2.25 HP Motor
Speed Range: 0.4 – 4.0 mph.
Treadmill Footprint: 58″ L x 28.5″ W x 7.25″ H
Walking area: 20" wide by 44" long
Step-Up Height: 5.25" high
Weight capacity: 250 lbs.
Model Weight: Treadmill: 117 lbs
Warranty: 10-years frame, 2-year parts, and 1-year labor
Pros
2.25 HP motor is capable of handling up to 6 hours of use a day.
Good speed range of .4 – 4.0 mph.
Good for single users looking for a compact walking treadmill with a high weight capacity.
Features Intelli-Step sensitivity to monitor and count your steps.
Intelli-Guard will stop the treadmill when you step off it, so it doesn't keep running if you step away.
---

This under-desk treadmill only weighs 55 lbs and can handle up to 220 lbs. Its flat, compact design and transportation wheels allow you to easily move it around. The Sunny Health & Fitness Walkstation comes with the treadmill only, there is no desk included. This treadmill has earned the title of the best small under-desk treadmill on this list. We love that it takes up minimal space.
The Walkstation doesn't include handles, so you use an included remote to control your speed. The treadmill arrives fully assembled and ready to slide under your desk. You can go up to 3.75 mph, so you'll be at a nice brisk walking pace while you work. The 14" x 5" LCD monitor screen displays your time, distance, calories, speed, and steps, in order to track your workouts easily.
If you leave your Sunny Health & Fitness Walkstation idle for more than 10 minutes the power-saving technology will switch to the power-saving mode to save life on the Lithium-ion battery that is included. You will need to plug it into an electrical outlet as well.
Specs:
Treadmill Footprint: 50" L x 21.5" W x 6.5" H
Belt Size: 39" L x 14" W
Motor Size: 1.5 Peak HP
Max User Weight: 220 lbs
Screen Size: 14" x 5"
Remote Control Included
Integrated Shock Absorbers
2 Transportation Wheels
Speed: 0.5-3.75 mph
Warranty: 3 years for the frame, and 180 days for other parts and components
Pros
Lets you walk just about anywhere, slide it under your desk or use it in front of the TV
Has shock absorption to lessen the impact on your joints
Only weighs 55 pounds!
The treadmill will automatically pause after it detects no one on it after 5 seconds
Cons
It doesn't come with handles or a desk
It only handles users up to 220 lbs.
---

With the larger 2.25 HP motor, this 2-in-1 treadmill lets you get up to 7.5 mph. When you lift up and lock the handles, you can use it as a regular treadmill and even jog on it. You can also fold the handles down and slide them under almost any standing desk and walk at a speed of up to 4 mph. Among these best under-desk treadmills, we've named this one as the best 2-in-1 under-desk treadmill option.
This under-desk treadmill can also be stored under your bed, or leaned against a wall when it's not in use and has wheels for easy transporting. The Redliro comes with the treadmill only. The belt has a nonslip design with included shock absorption.
The deck size is 41" x 15", and the LCD display screen is at the front of the deck and it shows your time, speed, steps, calories, and distance. There are 12 preset training modes and a holder for your phone on the handles.
Read the full Redliro Under Desk Treadmill Review Here.

Redliro Under Desk Treadmill Specs:
Product Dimensions: 51.9" L x 24.8" W x 42.1" H
Belt Size: 41" x 15"
Product Weight: 57 lbs
Weight Capacity: 220 lbs
Motor: 2.25 HP
Adjustable Speed When Folded: 0.5-4mph
Adjustable Speed Unfolded: 0.5-7.5mph
12 Preset Training Modes
Pros
Affordable
Use as a walking treadmill under your desk, or as a stand-alone treadmill for jogging
Good size walking platform that doesn't take up too much room
Can store flat or upright
The deck has cushioning built-in for shock absorption.
Comes fully assembled
Comes in multiple colors
Cons
The deck is too small to properly run at higher speeds.

The WalkingPad R2 is another 2-in-1 under-desk treadmill. We love how versatile it is. The 2-in-1 design means it can be used under a desk and on its own. The handles are adjustable to be upright or flat, depending on how you're using the R2. When flat, the handles lie all around the deck, including behind the belt. They lock into place so you can roll the R2 under desks of pretty much any size. When you want to use it on its own, the handles raise upright so you can actually use them as handles. You can also adjust the height of the handles depending on how tall you are.
This treadmill is our pick as the best walking pad because it comes with the main features that we love about WalkingPad. The deck folds in half, like the WalkingPad C2. When you fold it and lay the handles flat on either side of the deck, you can position the treadmill upright when it's stored. This makes it a great space-saver option.
The WalkingPad R2 isn't as compact as the C2, but considering it goes up to 7.5 mph, we're glad it's a little beefier in comparison. With the 2-in-1 design, the R2 only goes up to 3.7 mph when it's used under a desk. It goes up to its max 7.5 mph when you're using it on its own with the handles upright. If you're looking for a versatile treadmill that can be used in a variety of spaces for different purposes, check out the WalkingPad R2.
Read the full review of the WalkingPad R2 Under Desk Treadmill Here.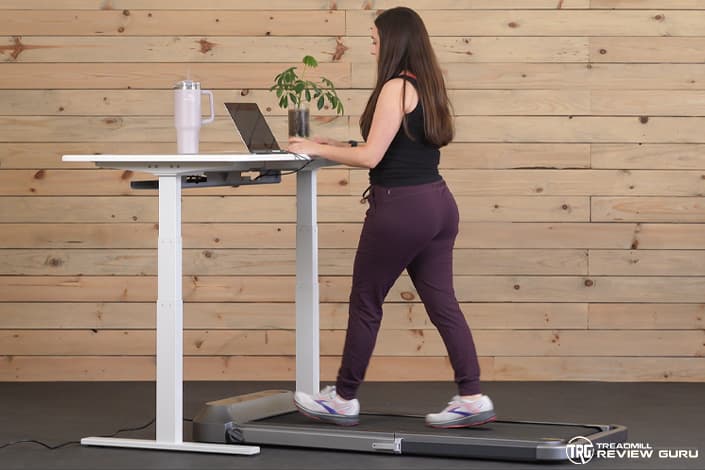 WalkingPad R2 Specs:
Footprint: 57.1" L x 28.3" W x 40.6" H
Folded Footprint: 39.4" L x 28.3" W x 6.3" H
Belt Size: 47.2" L x 17.3" W
Product Weight: 89 lbs
Weight Capacity: 240 lbs
Brushless Motor
Adjustable Speed When Folded: 0.5-3.7 mph
Adjustable Speed Unfolded: 0.5-7.5 mph
Connects To KSFit App
Warranty: 1-year
Pros
The deck folds in half and can be stored upright.
The 2-in-1 design makes this appropriate for use under desks and on its own.
The handles adjust for different heights when using the treadmill on its own.
The deck is long enough for walking and some jogging for most stride lengths.
It goes up to 3.7 mph at a desk and 7.5 mph on its own.
It is Bluetooth-enabled to connect with the KSFit App for additional metrics tracking.
Cons
The belt might not be long enough for some users to jog and run.

Another compact 2-in-1 treadmill is the GoPlus. The handles fold flat and upright so you can stick this under most sized desks, as well as use it on its own. Because of its versatility and price point, the GoPlus is a great value treadmill. We've picked it as the best budget under-desk treadmill.
It's compact to fit under most sized desks, yet has a belt that's long enough for walking at different speeds. When it's used under a desk and the handles are folded flat around the deck, it maxes out at 2.5 mph. Considering using an under-desk treadmill can take some getting used to, and I know for me personally it is hard to type and walk sometimes, this speed range should be plenty. When it's unfolded, the max speed is 7.5 mph. Since the desk isn't very long, some users might not be able to use the GoPlus at its max. However, lightly jogging for most should be appropriate.
The motor is pretty impressive at 2.25 HP. It's a little bit wider than other under-desk treadmills on this list, but considering you can use it for walking and jogging, we expect this. If you have a small desk, however, you'll want to factor in its size. The handles take up more room when they're folded down. The GoPlus 2-In-1 Folding Treadmill does come with removable side handles in case you need more stability. They attach on either side of the handles when they're upright, and they need to be removed to fold the handles flat.
The GoPlus has an intuitive design. It comes with a handheld remote and a display mounted at the top of the deck that reads your time, speed, distance, and calories while you're using it. The handles have a device rack for your phone to watch whatever you want. You can also play your own music through the speaker built into the treadmill. If you're looking for a versatile budget-friendly treadmill, we recommend looking into this one.
Learn more in our review of the GoPlus SuperFit 2-In-1 Treadmill.
GoPlus 2-In-1 Folding Treadmill Specs:
Product Dimensions: 49" x 27" x 42" (L x W x H)
Walking Belt Size: 40" x 16" (L x W)
Motor: 2.25 HP
Adjustable Speed Folded: 0.6-2.5 mph
Adjustable Speed Unfolded: 0.6-7.5 mph
Weight capacity: 265 lbs
Product Weight: 69.5 lbs
Warranty: 3 months
Pros
This 2-in-1 treadmill is affordable and a good bang for your buck.
The handles fold down to use under desks of most sizes.
When upright, there are side handles that attach to the handle for more balance assistance.
There is a device rack for your phone and a speaker to play music through the treadmill.
Cons
When unfolded, the handles aren't adjustable so they might be too short for some.
The belt moves up to 7.5 mph, however, there might not be enough room to use it at this speed if you have a long stride length.
The warranty is a bit limited.

Rounding out our list of best under-desk treadmills is the Urevo 2-in-1 Under Desk Treadmill. We like this treadmill because it can be used under a desk and also on its own. The uprights and console fold flat to place the Urevo under your desk to use, or unfold the treadmill and park it anywhere in your home when you want to get away from your computer. While you could use this treadmill in an office, we've awarded it the best under-desk treadmill for home use because it's highly convenient to use in any home.
When the console is upright with the handles available for balance to use as a standalone treadmill, the belt can go up to 7.6 mph. When the handles are folded down and the treadmill is used under a desk, the speed goes up to 3.8 mph. When used this way, the treadmill is adjusted with an included handheld remote control. You can use the console to adjust the treadmill's speed when the handle, console, and uprights are unfolded.
Users should have plenty of space to use this treadmill as an under-desk treadmill and as a standalone. The deck is 16.9" wide by 42.5" long. The Urevo can support up to 265 lbs of weight, too. We appreciated the versatility of this treadmill and that it's compact.
Urevo Specs:
Footprint: 54.7" x 26.4" x 5.1"
Walking Belt Size: 42.5" x 16.9" (L x W)
Frame: Alloy Steel
Motor: 2.5 HP
Max Speed Folded: 3.8 MPH
Max Speed Unfolded: 7.6 MPH
Weight capacity: 265 LBS
Arrives Fully Assembled
LED Display & Remote Control
Warranty: 12-Months
Pros
It has a collapsible console that folds and unfolds.
The treadmill can be used folded or unfolded.
It fits under a desk when folded and goes up to 3.8 mph.
When used as a standalone and the console upright, the speed goes up to 7.6 mph.
There is a device rack on the console to watch whatever you want.
The front transportation wheels allow you to roll this treadmill when needed.
It comes fully assembled.
Cons
Not all of the features are available when using the remote control.
The handle and console sit directly behind the belt when using this treadmill folded, which could cause users to trip.
Under Desk Treadmill Buying Guide – Features to Consider
Walking on an under desk treadmill is a simple way to introduce exercise and activity to your workday. Tasks like talking on the phone, responding to emails, typing, and conference calls can be performed effortlessly on an under desk treadmill if you keep certain things in mind while buying it.
Noise: Check if it operates silently so that you can work efficiently without any hindrance.
Console: It should have a good build quality as it's the one that you will have to interact almost every time you need to alter any function or setting.
Safety: Look out for the safety features the under desk treadmill comes along with to ensure your safety in case of any potential accident.
Space: Look whether the space occupied by under desk treadmill suits your room area or not.
Weight Capacity: Check if the under desk treadmill has a stable and sturdy desk that can easily handle your weight.
Warranty & Service: Look for how the company covers you in case your under desk treadmill malfunctions.
Benefits of Using a Under Desk Treadmill
Some of the health benefits which you can receive from regular walking on your under desk treadmill are listed below:
Regular walking increases the metabolism that helps you burn your calories and build lean muscles. It is the simplest of the methods that bring your body into shape by shedding your extra weight off your body.
Regular walking improves your coordination and balance. A proper coordination and balance helps you in almost all of the areas of your life. It makes your body synchronize with the muscular movements and thus giving better control over your body.
If you are feeling low, walking improves your state of mind and makes you feel great. It boosts your confidence level and cognition which brings a good sleep and higher morale.
Regular walking strengthens your muscles and bones. Since it improves the blood circulation, which in turn generates more energy in the form of ATP which is used by the cells and muscles to make themselves strong.
Regular walking makes your blood circulation normal. This increases your cognitive abilities with which you can give focused attention to the details which in turn increases your productivity by 27%.
Regular walking lowers your risk of heart diseases, hypertension, and type 2 diabetes by more than 50%.
Regular walking improves your posture and removes any undue pressure exerted on joints and muscles, thus relieving you of joint and lower back pain.
Creative minds have an increased benefit of walking that inspires through stimulation of mind. As a result, one gets new ideas and horizons in life.
Conclusion
Sale and retail jobs create a majority of jobs that the people are employed to. It is expected that this margin will increase even more in the years to come. These jobs are mostly deemed to be done in front of a computer and don't include the figures for blue-collar and professional jobs.
According to the studies, there are indications that sitting for a longer time period gives rise to cardiovascular diseases and other health problems like high blood pressure, obesity, and high cholesterol levels. On the brighter side, studies have also suggested the countless health advantages that an individual experiences due to regular walking. It is now a fact that a regular brisk walk of only twenty-five minutes adds up to seven years straight to your lifespan.
The prominent reason that drives the inspiration to buy an under treadmill desk comes from the need to increase the time of physical participation and thus pare down the tendency to suffer from health issues that result from a sedentary and inactive lifestyle.
An under-desk treadmill, therefore, is your best bet if you are the kind of workaholic who doesn't finds ample time to exercise. With under desk treadmill, you have the opportunity to walk even as you do your office work. It will keep you active, and invigorated and your productivity in the workplace will also be greatly enhanced.
Frequently Asked Questions
Are under desk treadmills good for running?
The fastest the under desk treadmills on this list go is 4 mph. Under desk treadmills are meant more for walking. Most don't have front or side handles either, which is important to have on a treadmill when you're running in case you lose your balance. We recommend walking at a pace that's comfortable for you when using an under desk treadmill.
Are treadmill desks safe?
As long as you are at an appropriate pace for you to use your under desk treadmill and work at your desk, it should be safe to use one. Make sure when you're first starting out, to go slow.
Is it hard to type on a treadmill desk?
Typing while walking can definitely take some getting used to. You might type a little slower than when you're sitting or just standing because it requires you to multitask a bit. Adjusting your speed level might help you be able to comfortably work at your desk while walking on your treadmill.
What is an under desk treadmill?
An under-desk treadmill is a small walking treadmill that you can use while you work at a desk. They are designed without arms or handles and are meant to be placed under standing desks. Some even come with the option to purchase a desk to use with the treadmill. Under-desk treadmills have slower speeds so you can work at your desk and walk at the same time.
Our Under Desk Treadmill Experts Who Contributed
About the Author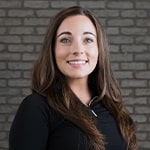 Sydney Kaiser, ISSA-CPT, ISSA Nutritionist Certification
Sydney is a certified fitness instructor, personal trainer, and sports nutritionist who combines her passion for fitness, health, and wellness with her passion for writing. After graduating from UC Riverside with a Master of Fine Arts in Creative Writing, she began teaching indoor cycling and Lagree Fitness group fitness classes to people of all ages and abilities. Raised in Central Michigan, Sydney grew up training and competing on the Arabian Horse Association circuit through both Regional and National levels in Dressage and Sport Horse classes. In college, Sydney went on to compete at the collegiate level as a Division 1 equestrian athlete. Here at TRG, Sydney relies on her extensive background in fitness when reviewing and recommending all kinds of fitness, recovery, and health-related products.