*TreadmillReviewGuru helps consumers find the best home fitness products. When you buy a product we recommend, we may earn a commission.
Last Updated: January 5, 2023
The RW700 is one of Nordictrack's newest rowers with a generous 14" touchscreen, bevel resistance controls, an adjustable angle arm, hybrid air, and magnetic resistance and a folding track. Rowing is an excellent low-impact full-body workout that conditions both the cardiovascular system as well as key muscle systems in the legs, core, chest and back. Many people have discovered the advantages of rowing and are now looking to access this impressive training regimen at home. As with Nordictrack's other equipment, the RW700 comes with iFit free for the first 30 days so you can enjoy all the rowing content and programs when you first get the machine. iFit includes indoor training routines to help you perfect your rowing form and outdoor sessions that are filmed right on the water.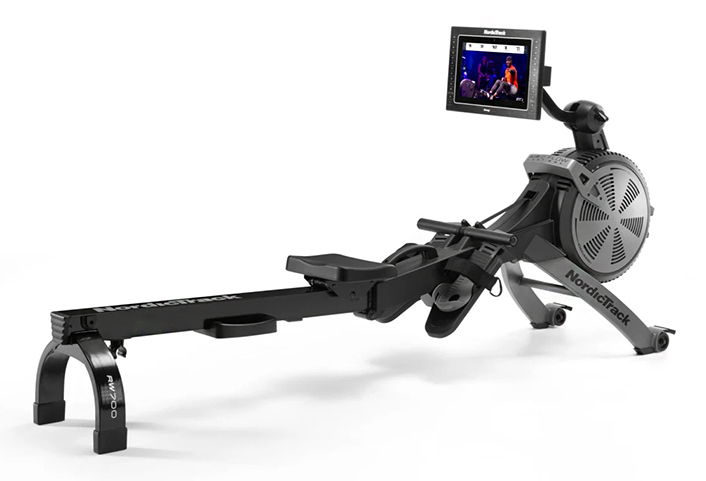 Aside from the large touchscreen and training content, the RW700 rower also features hybrid resistance which is a combination of magnetic and air resistance. There are 25 digital resistance levels programmed into the console. On top of that, users can customize the amount of air that flows through the flywheel to further tailor the feel of the pull stroke on the RW700. Magnetic resistance is quiet while air resistance is infinitely customizable. To create magnetic resistance, magnets inside the machine oppose the motion of the rowing stroke which creates silent, frictionless resistance. Air resistance can be customized via the lever on the side to allow for more or less airflow through the flywheel. More air = more resistance, so you can get a very nuanced rowing stroke from the combination of the preset digital resistance levels and adjustable air resistance as well. The use of magnetic and air resistance makes the RW700 quieter than traditional air rowers. Also, the RW700 track folds in half so it can be tucked out of the way when you are finished using it. If you want to see how the RW700 compares to other rowers, check out our list of best rowing machines.
Who It's For: Those who want the benefits of rowing on an affordable machine with impressive subscription content.
The NordicTrack RW700 is designed for those who:
The RW700 rower is great for those looking to strengthen their core since rowing incorporates more abdominal muscles than other cardio exercises
The RW700 rower is quiet, and is a good option for people who are in apartments, condos or other shared living space and need something that won't disturb those around them
The new 14" touchscreen brings your rowing sessions to life with crisp pictures, fun music and impressive professional rowers.
The RW700 provides a well-rounded workout that is low-impact. This works well for users with joint issues or other impact-related injuries who need something that is easy on the spine and joints
The RW700 folds in half, so it is a good option for anyone with limited space who want to fold up and move the rower out of the way when they are finished
Pros
New 14" touchscreen with bezel controls
Has both magnetic and air resistance
Is quieter than air rowers
Has modifiable resistance with digital resistance levels and adjustable air flow
iFit includes both indoor classes and outdoor rowing sessions on the water
iFit is included free for the first 30 days
Folds up when not in use
Seat and pedals are comfortable
Cons
It does require a bit of space when fully open
iFit requires a monthly subscription after the first 30 days
Getting on and off the RW700 requires users to be able to bend at the knees and sit low on the sliding seat. If you have limited mobility, we recommend verifying with your physician that using a rower is safe for you.

---
New 14" Touchscreen

The RW700 touchscreen is crisp, easy to see and easy to reach. The indoor and outdoor classes are vibrant and make you feel like you are actually out on the water or participating in the class.

Includes 30 day NordicTrack iFit® membership**

iFit includes hundreds of rowing classes and outdoor routes to enjoy while on your rower. The first 30 days are free which allows users to access and evaluate content before having to commit to a subscription.

Adjustable SMR™ (Silent Magnetic Resistance) with 26 Digital Resistance Levels

Magnetic resistance is created without any friction on the flywheel, so it is silent and doesn't cause wear on the drive system. 26 preset resistance levels gives you exact resistance each workout.

Adjustable Air Resistance

The RW700 also uses air resistance that is created from a fan at the front of the rower. The amount of air moving through the fan is adjusted via a lever on the side. The more air you allow through the flywheel, the more resistance is generated. This allows users to access the magnetic resistance as well as use adjustable air resistance.

Oversized Steel Seat Rail and Ergonomic, Molded Seat

The seat slides cleanly forward and aft along the seat rail. Powering through the rowing drive is smooth and feels natural.

Oversized, Pivoting Pedals and Adjustable Nylon Foot Straps

The pedals are a molded plastic overlay that covers a solid surface underneath. This provides underfoot support while allowing for some flex side to side to reduce tension in the ankles and feet.

SpaceSaver® Design folds when not in use

Like most rowers, the footprint is long and narrow when open, so you do need to have a dedicated space to get the full functionality out of the rower. However, it folds up when not in use. Wheels underneath allow you to move and roll it as needed when you are finished.

10-Year Frame Warranty

The RW700 is covered with a 10-year warranty on the frame, which is good coverage for a rower.
TECHNOLOGY:
14" HD Touchscreen
Includes 30 day NordicTrack iFit® membership**
Auxiliary Music Port
Two 2" Digitally Amplified Speakers
ENGINEERING:
Inertia-Enhanced Flywheel
Adjustable SMR™ (Silent Magnetic Resistance)
26 Digital Resistance Levels
250 Lb. User Capacity
COMFORT:
Oversized Steel Seat Rail
Ergonomic, Molded Seat
Oversized, Pivoting Pedals
Adjustable Nylon Foot Straps
SoftTouch™ Ergonomic Handle
CONVENIENCE:
Front-mounted Transport Wheels
SpaceSaver® Design
117lb total weight
Footprint: 87″ L x 22″ W x 47″ H
WARRANTY:
10-Year Frame Warranty
2-Year Parts Warranty
1-Year Labor Warranty
---
Bottom Line:
The NordicTrack RW700 is one of NordicTrack's newest rowers. iFit has expanded over the past few years with substantially more content and classes. Outdoor rowing routes transport users out of their homes and into some of the most beautiful lakes and rivers in the world. There are also indoor rowing classes that help users develop good form with step-by-step instructions and examples. All classes and rowing sessions are led by a professional rowing instructor or personal trainer. The extensive content offered on the RW700 makes it an excellent option for users looking to develop good form, improve their cardiovascular training, and strengthen their main muscle systems as well. This rower is sleek, functional, and well-priced. We look forward to doing a full, in-depth review in the near future!
Related Rowing Machines Reviews: