ProForm is a leading fitness company that has been producing fitness equipment for home use from many years. The Pro 2000 treadmill by ProForm is programmed with many features that tend to offer a smooth training experience. It does not matter whether you are a beginner that is asking for the best start possible or an athlete who wants to add more intensity to its training.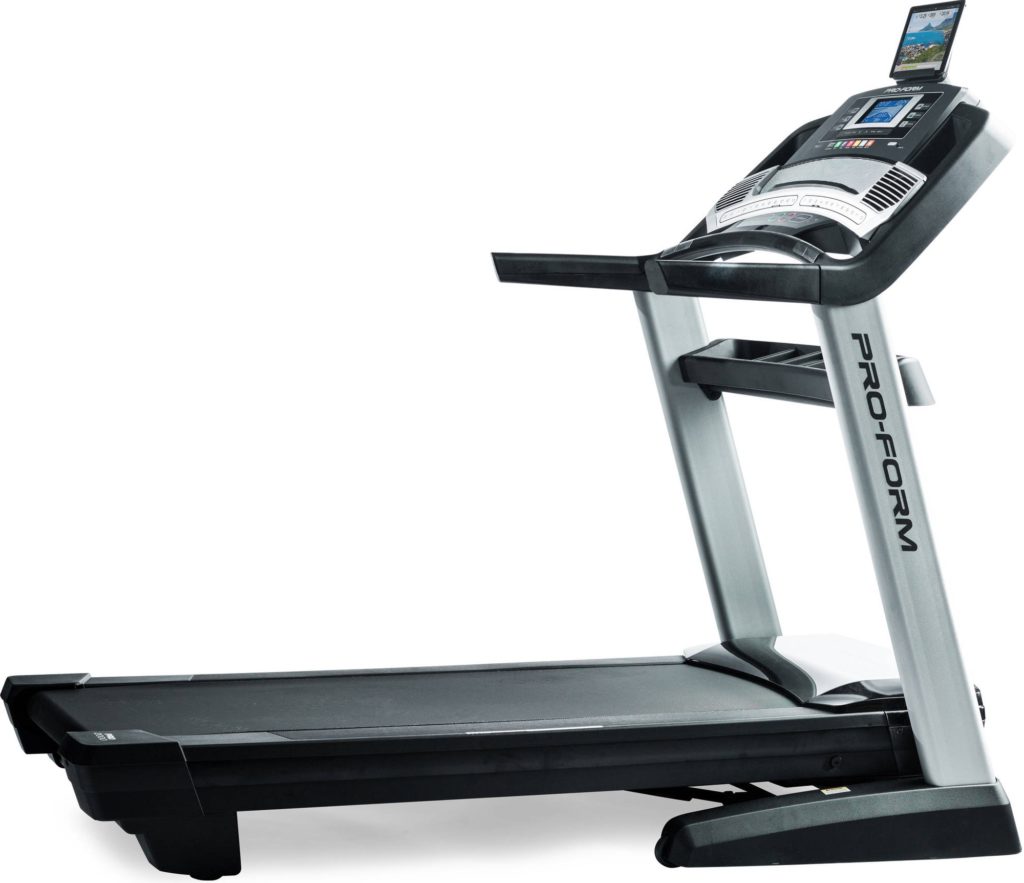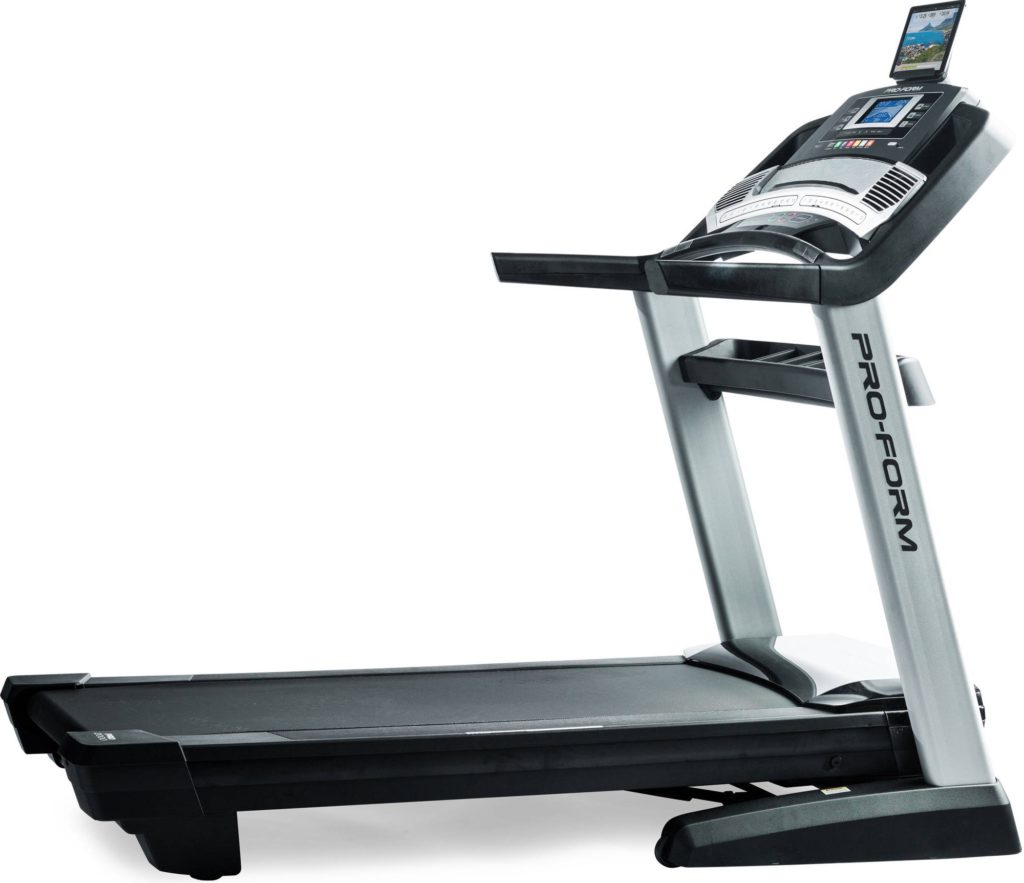 ProForm Pro 2000 is the cheapest model in the Pro series and is one of the most highly rated folding treadmill. It comes with a lifetime warranty on 3.5 CHP Mach ZTM Commercial Pro Motor which works quietly without creating any disturbing sound during the workout. The treadmill offers incline/ decline settings from -3% to 15% and it has a speed range from 0.5 to 12 mph, making it suitable for walkers, joggers as well as runners. Its dimensions are 80" long x 39.5" wide x 63" high, and it has a running surface area of 60" x 20".  This running machine weights around 291 lbs and can handle a whopping 350 pounds.
Moreover it gives you the possibility to walk, jog or run in an indoor place and feel like you are actually somewhere outdoor with the help of iFit technology. You just need to choose a route from google maps and iFit will pull the terrain data to tailor a run based on speed/incline that's close to what you will find if you run that actual route.
Pros
A folding treadmill which can easily be folded and stored after use, which makes it highly suitable for home use.
It has a powerful 3.5 CHP motor which works quietly without creating any noise.
It has a high speed limit, incline and decline capability.
Heart rate monitoring option through grip sensors or wireless chest strap.
It has a spacious and thick belt that offers comfort to all users.

ProShox Cushioning which plays the role of lowering the workout process painful effect.

It comes with Intermix Acoustics 3.0 Sound System to keep you entertained during workout.
It is equipped with a 8″ cooling fan which has three speed settings to keep you cozy and fresh during your workout.
It has a high weight capacity of 350 lb.
It offers lifetime warranty on motor and frame , 5 years on parts and 2 years on labor.
Cons
When it comes to its disadvantages Pro 2000 is one of the most perfect treadmill. The only problem that the clients have had when buying it, is the costumer service which has been described as slow.
The monitor required for iFit is sold separately for $99. Another solution for the iFit monitor is to use your tablet.
To make the folding easier, this space saver treadmill is featured with EasyLift Assist Technology which itself lifts the deck with just an easy push. There's no need for effort as the device does most of the job for you.
ProForm Pro 2000 has one of the most powerful, self-cooling motor of 3.5 CHP to provide you with a pleasing experience of walking, jogging or running while training.
Decline & Incline Controls
Incline/ Decline settings from -3% to 15% help you to burn more calories, activate and stimulate different muscle groups.
The treadmill is equipped with a high quality two-ply belt which has a 60"x 20" surface area, making it suitable for users of all heights.
ProForm Pro 2000 possesses 32 built-in programs. Some of them have a purpose to help you in burning calories, whereas others focus on incline training, speed goals and high intensity training. These programs are designed to automatically adjust the speed and incline/ decline level to help you accomplish your specific goals.
The 7" backlit display keeps track of your workout data and displays information such as: distance covered, heart rate, speed, calorie burn and time. You can also connect your smartphone or tablet to view more engaging workout stats.
Now you can stay right in the training zone with the wireless heart rate monitoring, it automatically communicates your heart rate to your treadmill as you exercise. Proform Pro 2000 also features 2 hand-grip sensors that are conveniently built-in to the handlebars to monitor the heart rate.
The iFit technology allows you to connect with Google Maps to provide you with the feeling of training in the real-world, which will make your training really entertaining.
HD video workouts with famous personal trainers in various exotic places, Google Maps visualization, healthy diet recipes and daily download of workouts such as the 30-Day Fresh Start or 60'Day Weight Loss is available through iFit Coach Membership.
This treadmill reduces the impact on your knees, back and joints for a more comfortable workout and easy recovery. Thanks to the ProShox Cushioning which makes it possible, it absorbs impact with every step for a more powerful toe-off.
Intermix Acoustics 3.0 Sound System
You can enjoy listening to your favorite song while working out with this built-in sound system that produces a broad range of frequencies and rich, equalized sound.
ProForm PRO 2000 treadmill comes with a lifetime warranty on motor and frame, 5 years on parts and 2 years on labor.
Motor: 3.5 CHP.

Incline: -3 – 15%.
Speed: 0.5 – 12 mph.

Dimensions: 80″ L x 39.5″ W x 63″ H.

Folding: Yes.
Running Area: 20″ W x 60″ L.

Max. User Weight: 350 lbs.

Treadmill Weight: 291 lbs.
Benefits
Benefits are numerous when it comes to ProForm Pro 2000. It is really ultimate machine for toning up your muscles and adding velocity to your steps. The greatest benefit in this treadmill comes with the iFit Coach membership which will provide you with unlimited variety of training programs created by professional experienced trainers and which will be associated with views form Google Maps in order to make your experience more enjoyable. Another benefit to be mentioned is the suitable dimension of the running surface which accepts users of any height and can easily be used by any member of the family.
Moreover this running machine comes with an awesome sound system which will keep you motivated and concentrated towards your fitness goals.
Final Verdict: ProForm Pro 2000 Treadmill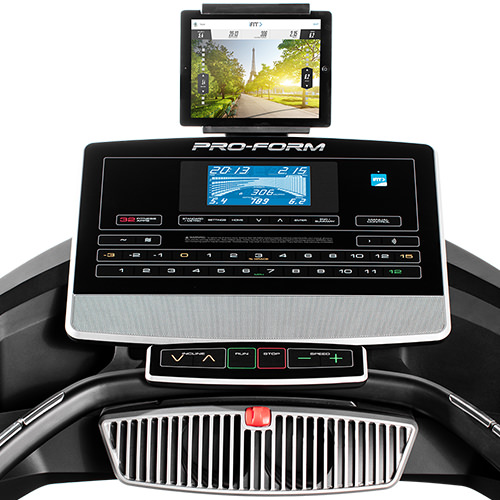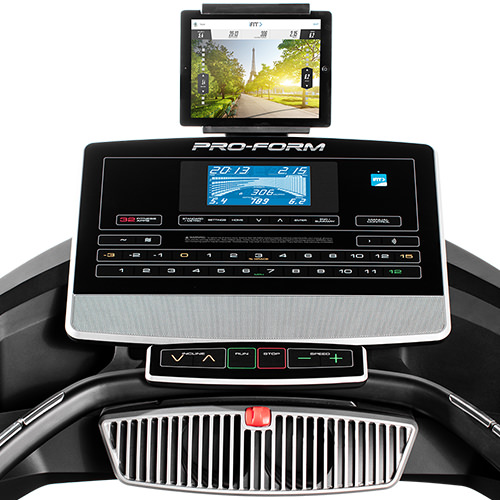 While reading this review there are many things that make you like the treadmill, but when it comes to making a decision some people hesitate. For all of them who are in two minds we suggest reading this paragraph.
First of all the main reason of purchasing the treadmill is the unlimited number of programs and the daily training videos which will undoubtedly help you in achieving your fitness goals. Also, the motor is really powerful compared to many other treadmills and the high speed and incline range perfectly justify the price.
Furthermore, there are other common features that certainly make ProForm Pro 2000 a more complete treadmill such as: EasyLift Assist, ProShoxTM Cushioning System, workout fan, heart rate monitors, the backlit display and the sound system. In addition, it also remains to be mentioned that those small minuses only make the treadmill a bit less imperfect, but in the end it is really worth the money!.
What We Like?
Folding treadmill.
Powerful and silent motor.
High speed limit.
High incline/decline power.
Wide range of programs.
iFit Technology.
Heart rate monitoring.

ProShox Cushioning.

Two-ply belt.
Sound system provided.
Cooling fan with three speeds settings.
High weight capacity.
Good warranty.
WHAT WE DON'T LIKE?
Slow costumer service.
Extra charge of $99 for iFit monitor.
Conclusion
The Pro 2000 treadmill by ProForm has already made many customers happy!. Its a fantastic machine and one among the top picks by numerous fitness experts.
To sum up, ProForm Pro 2000 is the best treadmill possible you can get with a price less than $2000. This is can be seen by both features and reviews. It will give you what you are asking for, whether you are a beginner or a professional and the best thing about it is that it is built using high durable material which will last for decades to come.
Related Treadmills Review: 
Summary
Reviewer
Review Date
Reviewed Item
ProForm Pro 2000 Treadmill
Author Rating