The most affordable of all of the Sole treadmills, the Sole F63 treadmill can be an excellent addition to your home gym. Even being the most affordably priced treadmill from Sole, the F63 is just as sturdy as some of the more costly models and has many similar features, from its cushioning to the workout programs that come pre-equipped.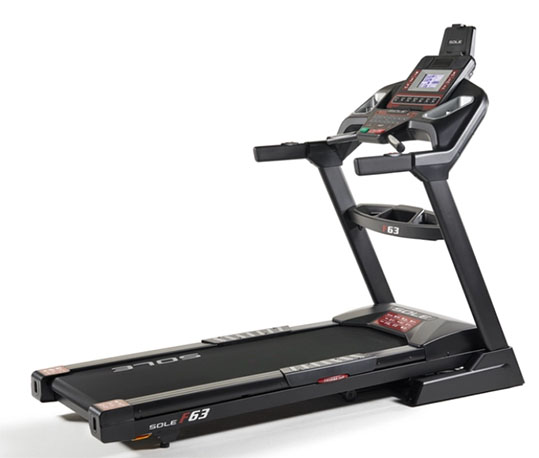 Many people worry that when they buy a more affordable treadmill model, that means the quality is lower. But when it comes to the F63, that is not the case in the least. The welded steel frame is one of the first things you notice when this treadmill is taken out of the box. While the steel makes the F63 treadmill heavier and tougher to move, it does provide a high amount of stability.
With greater stability, all types of treadmill users can feel comfortable using the F63 treadmill. It has a max weight limit of 325 lbs, which is higher than other treadmills in this price range. Along with the greater weight capacity, the durable treadmill frame means you can feel comfortable during any kind of workout, whether you are walking or doing sprint intervals.
The buttons on the Sole F63 treadmill makes it easy to shift between speeds and inclines, as there are quick control buttons on the treadmill console as well as convenient keys on the treadmill arms. While these keys take up a bit of the treadmill arm space, the easy control keys make it simple to craft your ideal workout.
Also, with the 2019 edition of the Sole F63, you can have access to quality-of-life upgrades to this already excellent treadmill. For one thing, a tablet holder has been added to the top of the treadmill console for a safe place for either a tablet or smartphone, and you can sync your smart device with the F63 to use the Bluetooth speakers. The Bluetooth speakers are considerably better than the older plug-in speakers, though you can still plug in directly to the F63.
While it may not be up for intense running and is a little simple when it comes to technology, the Sole F63 is a highly durable treadmill that can support you through walking, jogging, and running workouts.
Pros
The F63 has a good warranty available.
Good incline range when compared to treadmills in the same price range.
Strong 3.0 CHP treadmill motor built into the F63.
Free Sole chest strap comes with the F63 treadmill.
Has a USB charging port and tablet holder for easy entertainment during a workout.
Built-in cushioning on the deck of the treadmill.
Bright, backlit workout screen.
Higher weight limit available on the Sole F63.
Easy to fold and unfold treadmill.
Cons
Weak airflow from the one fan located at the top of the treadmill.
Not much technology available, which isn't a con for those who want a straightforward treadmill.
The standard treadmill weight limit is 300 lbs, but the Sole F63 beats this by being able to support a user who weighs up to 325 lbs. Even if you are close to this weight limit, you can feel confident on the F63, as it has a strong steel treadmill frame to hold up to tough workouts.
Equipped on the Sole F63, you will have a backlit, 6.5" LCD screen. With the clear backlighting, you can easily see your workout progress, which is essential if you are doing a treadmill exercise that relies on changing speeds and inclines at particular intervals.
From the F63 display, you can track your incline, speed, calories, heart rate, distance, and pace. There is also the visual tracker, where you either have a ¼ track visible or a peaks and valley graph, depending on the workout.
There are two custom workout programs you can design to fit your parameters, and they will be part of the 10 built-in treadmill programs. Another two programs are heart rate-based, and you will need to wear the heart rate chest strap to activate these exercise programs.
Along with these workouts, you will have six pre-made programs that you can use to enhance your exercise routine.
Two Heart Rate Monitoring Features
Tracking your heart rate is a critical part of knowing just how much energy you are actually exerting. The Sole F63 offers two different ways for you to track your heart rate as you use this treadmill. First, you can use the handlebars on the front of the treadmill, which has sensors built into them, though they aren't entirely accurate. Or you can use the chest strap.
The F63 includes a wireless, Bluetooth heart rate monitoring adjustable chest strap with your purchase of this treadmill. With this chest strap on, you can accurately track your heart rate, which is essential for heart rate zone training.
Cushion Flex Whisper Deck
4
To reduce the impact of walking, jogging, and running on your body, the F63 comes with Cushion Flex Whisper Deck technology. With this Sole-patented technology, the F63 is able to support you through workouts without you facing the same overuse injury risks that you would have with outdoor training.
The incline range on the F63 goes from 0% to 15%, which is a higher incline level than other treadmills at the same price point. With this extra incline range, you can turn up the intensity of your workouts and enjoy becoming fit faster.
You have space to move on the Sole F63, thanks to the 20" wide by 60" long treadmill belt. With this space, even those who are taller can feel comfortable working out and not feeling like they are cramped or going to fall off the back.
Easy Assist Folding Deck Design
Sole has some of the best folding design. The treadmill deck lifts up easily and will lock into place and stay upright when you lift it high enough. And with the hydraulics built into the base of the treadmill, you can pull the yellow release lever to let down the treadmill deck and allow it to go down without you needing to touch it.
There is some engaging technology you can use with the F63, namely, the Sole Fitness app. With this app, you can sync your F63 to your smart device and control your treadmill, build workout programs, and save your workout data to a user profile. The app is a bit glitchy and temperamental, but when it works, it is a great addition to the F63.
Another quality feature built into the F63 is the Bluetooth speakers. These crisp and clear speakers are powerful enough to be easily heard even when you are doing a hard workout. Also, if the smart device you are using to stream music to the F63 is low on battery life, you can use the USB port that comes with this treadmill to charge it back up.
Motor: 3.0 HP.
Incline: 0-15%.
Speed: 0.5-12 mph.
Dimensions: 82" L x 35" W x 57" H.
Folding: Yes.
Running Area: 20″ W x 60″ L.
Max. User Weight: 325 lb.
Treadmill Weight: 254 lb.
Benefits
One of the main benefits of buying the Sole F63 is the high quality and durability of this treadmill. No one wants a machine that will fall apart after a few months, but that's exactly what cheaper treadmills do. But that's not what you get with this treadmill.
The welded steel frame of the F63 is a signature of Sole treadmills, as is the sturdy console. So, if you feel tired during your treadmill workout, you shouldn't be afraid to lean on the F63, it is fully strong enough to support you.
Another clear benefit is the great warranty package that comes with the Sole F63. While some treadmills in this price range offer limited coverage, the F63 comes with a lifetime motor and frame warranty, 3 years of warranty coverage on the electronics, parts, and deck, with 1-year of labor coverage.
Final Verdict: Sole F63 Treadmill
The Sole F63 is a straightforward treadmill that as ideal for those who want a tough treadmill that will hold up under plenty of use. There are some great, standout features on the F63 like the free heart rate monitoring chest strap, higher incline range of 0% to 15%, and the strong 3.0 CHP motor. So, while it lacks some of the high-tech features you would find on a similarly-priced NordicTrack or ProForm, the Sole F63 is perfect if you don't care about tech.
You can also house the F63 fairly compactly. While you likely can't move it too easily as it is a heavy treadmill, this treadmill has reasonable dimensions that will allow it to fit into most homes, especially since it comes with the easy folding design. All of these features come at an affordable price point, so overall, the Sole F63 has cemented its place as a top treadmill.
WHAT WE LIKE?
Good and moderately quiet motor
Great price vs. features balance
Compact size
Folding treadmill
Two forms of heart rate monitoring
Convenient usage features
A bright screen that's easy to read
Higher weight limit
Good cushioning on deck
WHAT WE DON'T LIKE?
The weak fan might as well not be there
Not much technology built-in
Conclusion
As one of the Best Treadmills of 2019, the Sole F63 is an excellent treadmill, especially for its blend of features and price. While there are treadmills with more features at the F63's price, none of them can come close to the durability and sturdiness of this treadmill.
Related Treadmills Review: