*TreadmillReviewGuru helps consumers find the best home fitness products. When you buy a product we recommend, we may earn a commission.
Last Updated: August 4, 2023
Echelon creates exercise equipment with great tech compatible with the brand's subscription training content. We have the entry-level Echelon Stride Treadmill which is one of our favorite compact treadmills to recommend to consumers. The Echelon Stride-s is the step-up model with some nice features and similarities to the Echelon Stride. This midrange model is still compact while being a little bigger in size for pretty much all running strides. We recommend the Stride-s for lighter to moderate use and primarily walking and jogging, although most people should have enough room to run, too. We love that this treadmill comes with a 10" touchscreen for good metrics tracking, compatibility with an Echelon Premier Membership for trainer-led live and on-demand studio workouts and that the console and handles fold flat against the deck to be about 10" when you're done. Keep reading our review of the Echelon Stride-s Treadmill to learn more.

Why You Should Trust Our Review Of The Echelon Stride-s Treadmill
Although we don't have the Echelon Stride-s Treadmill in our studio yet, we've heavily used the Echelon Stride which shares a lot of similarities with Stride-s, so we feel confident in creating this spec review for you. We'll update this once we get the Stride-s in for testing. We also have been testing and reviewing fitness equipment, including all kinds of treadmills, for several years so we know what to expect based on a list of specs. So, we relied heavily on our experience testing treadmills, especially the Echelon Stride, to analyze the Stride-s and compile this spec review.
---
Pros
The console and handles fold flat against the deck to be just 10" tall.
This is a compact treadmill that is large enough for most users for jogging and running.
The 2.0 CHP is best for lighter to moderate use consisting of primarily walking and jogging with some running.
The 10" touch screen is enabled with Echelon's subscription training content consisting of live and on-demand instructor-led workouts.
The 12 mph max speed and 10% incline offer good training options.
Cons
This treadmill isn't best for heavy use, like distance training.
It might not be powerful enough to handle larger users.
The warranty is only 1 year and this treadmill is a little pricy.
---
Features:Specs:
10" HD Touchscreen
Compatible With Echelon Premier With Membership
Live and On-Demand Trainer-Led Classes With Leaderboard
Collapsible Handles and Console
8 Included Workout Programs
Quick-adjusting Buttons
Device Rack
Bluetooth Connectivity
2-Watt Speakers
Pulse Grips
Phone Holder
No Fan
2 Cupholders
Transportation Wheels
Rear Transport Handle
Stores Upright
No Assembly Required
Footprint: 74" L x 31" W x 53" H
Folded Footprint: 74" L x 31" W x 10" H
Motor: 2.0 CHP
Running Surface: 59" L x 20" W
Treadmill Weight: 176 lbs
Weight Capacity: 300 lbs
Max Speed: 12 mph
Max Incline: 10%
Warranty: 1-year parts & labor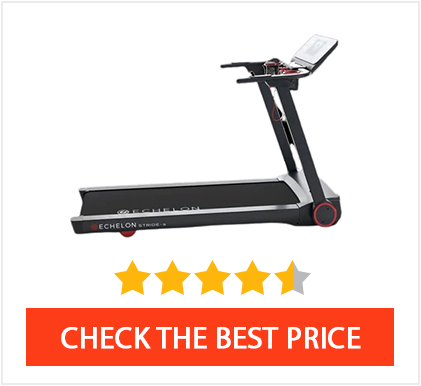 ---
In-depth Review of the Echelon Stride-s Treadmill
---
Echelon Premier Membership
Echelon, like other brands such as NordicTrack, ProForm, and Peloton, have their own subscription training content. Echelon offers live and on-demand workout classes led by instructors and filmed in indoor studios. Here is what comes with an Echelon Premier Membership.
Echelon includes cycling, rowing, strength, HIIT, yoga, and running classes with a membership. The membership is available to use on all of their fitness equipment. There are over 30 instructors, thousands of on-demand workouts, and over 40 live classes added per day. With one membership, you can have up to 5 user profiles and you can sync apps like Strava, Zwift, Apple Health, FitBit, and Spotify.
All of the classes are filmed indoors with the camera facing the instructor. There are some outdoor routes that feature a camera moving down a trial in different locations, too. Echelon is most known for their indoor classes led by instructors, though.
Echelon also features a leaderboard, like Peloton, to compete against other members. Your ranking on the leaderboard, as well as workout stats, are shown on the screen in real-time as you take a workout.
Echelon does a good job of incorporating music in their workouts so it is a part of the class rather than a background component like other training platforms. The music features a wide variety from several different artists like Lady Gaga, Pitbull, and Luke Bryan.
We recommend looking into a subscription when purchasing Echelon equipment. There are also onboard workout programs available to use as well as a manual mode on the Stride-s. These should be pretty standard like they are on the Echelon Stride.
Console
The console is sleek, minimal, and collapsible on the Echelon Stride-s. Even though it folds down along with the handles and uprights, the console still features a great amount of tech and a 10" touch screen.
The console adjusts so it folds flat when being stored and it angles back upright for good viewing while you're on the treadmill. It is decently tall at around 53", but it isn't adjustable to move the console and handles up or down. Most users will look down a little bit at the screen. We anticipate the screen and console to be easy to see and reach, though.
The touch screen is centered on the console with window displays to show metrics like your time, distance, estimated calories, speed, and incline surrounding the screen. There are also preset speeds of 3, 6, and 9 mph and 3, 6, and 9% inclines on the screen. These are preset buttons to jump to these speeds and inclines when pressed, to make adjusting the treadmill a little more seamless. We wish there were more of these buttons though for faster adjusting.
You can also adjust to specific speed and incline increments using the incline and speed buttons below the touch screen. This is also where you'll find the start and stop/pause buttons, program button, and mode button.
The console has speakers and Bluetooth connectivity. Were unsure of how loud the speakers go though without using the Stride-s.
There are also 2 cupholders with mesh bottoms to hold a standard water bottle. They look a little small compared to others. The left cupholder has a phone holder where you can slip your phone into to keep it nearby. This spot doesn't allow you to stream content from your phone though.
Overall, we're actually surprised with the amount of storage, functionality, and tech on the console considering it can be folded down on the deck to be just 10" for storing.
Construction Quality/ Durability
The Echelon Stride-s is a midrange model from Echelon. It has a very similar build to the Stride, it is just a little bit bigger in size and a little more powerful. This treadmill is still fairly compact, especially with the folding flat feature that makes it very storable.
The weight limit is pretty fair at 300 lbs. For Treadmills of this size, we don't expect high weight capacities, and other models like the ProForm City L6 only have a 250 lb limit. The Echelon Stride-s should work for people up to the 300 lb limit.
The Stride-s is a little pricy compared to other treadmills in its class. Comparable treadmills in this price range are typically larger in size with more powerful motors. Considering the compact size and storing options though, that is really what you're paying for on the Stride-s.
Frame
The frame is the same on the Stride-s as it is on the Stride. Overall, the Stride-s has a similar design (when unfolded) to other treadmills. It has a floor frame under the front part of the deck and two uprights that extend up to the handles and console. It is the fact that the handles, uprights, and console fold down that makes it unique. Most folding treadmills have decks that fold up. The folding mechanism is automatic so the consoles should lower to the deck themselves. In theory, you could store the Stride-s under a bed – with a high enough clearance of at least 10". It can also store upright against a wall, too.
There are front transportation wheels and a handle mounted at the rear base of the deck so you can tilt it up to engage the wheels. The Stride-s is around 176 lbs, so it shouldn't be too hard for most people to move, however, it might be difficult for some. It also shouldn't be hard for one person or maybe two to lift it up for storing it upright as well.
I like that the Stride-s has two side handles for more balance assistance. Most compact treadmills that fold flat only feature a front handle that is often the console, too. There isn't much surface to grab the front of the console by the screen, so these two handles are really the other option for balance anyway. I think these should work for most. If you do have balance issues, you might want to look into a model with longer handles and a front handle, but not many treadmills of this size have large handles.
Motor
The motor is 2.0 CHP. This size we recommend for mainly walking, and some jogging and running. We don't anticipate this motor being best for high-intensity training or long-distance use. Light to moderate use like 1-4ish miles a day is probably a more realistic expectation.
We like that the Stride-s offers a 12 mph max speed and 10% incline range. Often compact treadmills don't incline or only feature a manual incline that is hardly noticeable, so we like the power incline and its high range on the Echelon. 12 mph is also a pretty high speed that we normally only see on larger home treadmills and even commercial treadmills. It is a running, if not sprinting, pace for most.
Deck
The deck is pretty spacious, despite this being a compact treadmill. It is 20" wide and 59" long. 60" is what we consider to be ideal for most people to run comfortably. The 1" difference shouldn't be noticeable. This width is also what we see on a lot of folding treadmills so it should be plenty wide enough for most people. I think most stride lengths will be able to jog and run on the deck.
It's hard to know how firm or soft the cushioning is on the Stride-s. We assume it is probably fairly firm since the deck sits so low to the floor.
Warranty
Echelon includes a 1-year warranty for parts and labor with the purchase of the Echelon Stride-s. This warranty is less extensive than what we see from other brands.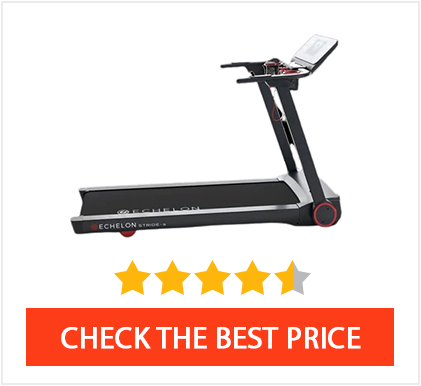 Bottom Line Review: Echelon Stride-s Treadmill
The Echelon Stride-s is a compact treadmill that folds flat to be stored under a bed or upright against a wall. It folds to be about 10" high. The console, uprights, and handles fold against the deck, but the console still has nice functionality and features that make it feel pretty high-tech. You can take onboard workouts or stream classes from Echelon's fitness platform with a membership to take classes led by trainers. This treadmill should work well for lighter to moderate amounts of primarily walking. Most users should be able to jog and lightly run on it, too. It has a nice-sized deck, a 2.0 CHP motor, and a 10% incline which should make for some great workouts!
Related Treadmill Reviews: