*TreadmillReviewGuru helps consumers find the best home fitness products. When you buy a product we recommend, we may earn a commission.
Last Updated: May 6, 2023
The NordicTrack FreeStride Trainer FS10i is a versatile and sturdy 3-in-1 elliptical machine. In this review, we'll take an in-depth look at everything it offers. The NordicTrack FreeStride Trainer series of ellipticals provide an interactive, trainer-led, and low-impact workout.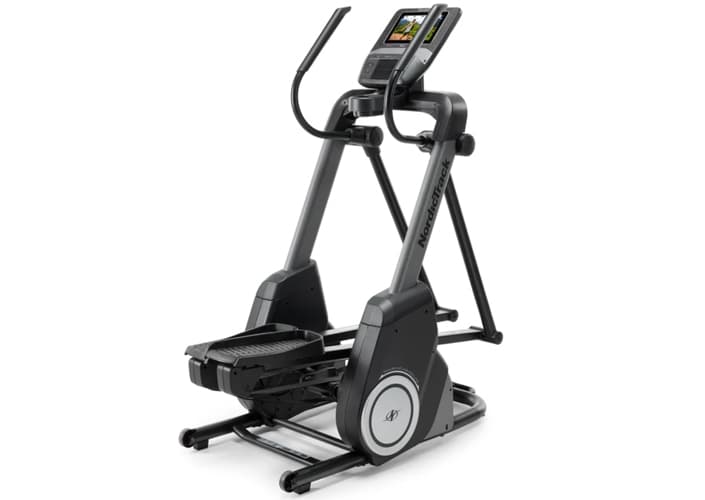 With connected iFit training (and 35 onboard workouts), a 10% decline and incline range, 24 resistance levels, and a 10" Smart HD touchscreen, you'll never get bored. The silent magnetic resistance means you won't be bothering anyone in your house while getting an energetic, calorie-torching workout in.
The FS10i replaces the older version FS7i, which has a 7" touchscreen display. This is a review of the newer FS10i with a larger 10" HD touchscreen display.
Elliptical Award: Best Hybrid Elliptical
The NordicTrack FS10i has been awarded the Best Hybrid Elliptical. This versatile machine, paired with the iFit enabled touchscreen make this a great low impact workout machine. This multi-function trainer allows you to control your movement and exercise at your own pace. Along with this, the build quality and the overall functionality is why we award this as the best hybrid elliptical of 2023.
Who it's For: Anyone who wants a trainer for a low-pact, full-body workout with the option of using it as an elliptical, stepper, or treadmill.
Pros
24 resistance levels and 10% incline and decline options offer workout variability
Large 10" Smart HD touchscreen for ease of use.
Comfortable oversized pedals to fit everyone.
Three different pedal functions: Elliptical, Stepper, or Treadmill action
Free iFit subscription for 30 Days
Wheels to transport
Smooth gliding arms and pedals make for a vigorous, full-body workout
Silent magnetic resistance ensures a quiet environment
375-pound weight capacity
Cons
A large footprint needs considerable space
No stationary handles can make it challenging to get on

---
10″ Smart HD Touchscreen

The 10" Smart HD Touchscreen is at the center of the console and brings your interaction with your machine and trainers to life. The console features wireless technology that allows you to connect to iFit.
iFit gives you access to an extensive library of workouts, helps you create your workouts, tracks your workout stats, and gives you access to many other features. The console contains a collection of onboard workouts. Each workout digitally controls the resistance of the pedals and the incline as it pilots you through each exercise session.

30 Day iFit® Membership Included

Top Trainers: Some of the best personal trainers in the world are right there in your workout space. There is an ever-expanding library of workouts to choose from. With so many to choose from, it'll be easy to find the right trainer to motivate you!
Global Workouts: See the world while exercising as you virtually tour the continents with your favorite personal trainer. The incline-matching technology digitally adjusts your resistance to match the real-world terrain you'll see on the screen.
Studio Classes: Take part in studio classes with an array of trainer-led workouts.
Personalized Workouts: Three tailored workouts based on your fitness level and interest are sent to your equipment every day.

Automatic Trainer Control

The Automatic Trainer Control takes the guesswork out of the mix when putting in your best effort. On select trainer-led workouts, the incline and resistance are controlled for you to mimic the crisp real-world terrain seen on the screen.

Bluetooth® Audio Capabilities3

The Bluetooth Audio Capabilities3 allows for wireless connectivity between your Bluetooth device and the console. Once paired, the audio from your Bluetooth device will play through the console's speakers.

Two 2" Digitally Amplified Speakers

The images on your HD screen look great, so the audio should sound great as well. The two digitally amplified speakers allow the audio signal to remain in its true digital form, from the digital file or broadcast right to your ears. This gives you a truly enhanced listening experience to go along with those crystal clear images.
Construction:
Center Drive
20 Lb. Effective Inertia-Enhanced Flywheel
SMR™ Silent Magnetic Resistance
32″ Auto-Adjustable Stride
24 Digital Resistance Levels
Power-Adjustable Incline
0 – 10% Incline
Commercial Solid Steel Construction
Oversized Levelers
375 Lb. User Capacity
Transport Wheels
284 Lb In Box Product Weight
58.5″ L x 29.5″ W x 74″ H Footprint
Console:
10" Smart HD touchscreen
OneTouch® Controls
Water Bottle Holder
Bluetooth compatibility
Warranty:
10-Year Frame Warranty
2-Year Parts Warranty
1-Year Labor Warranty
In-Depth Review NordicTrack Freestride Trainer FS10i
---
FS10i Construction
Frame
The NordicTrack Freestride Trainer FS10i has a rugged commercial solid steel construction frame. Sized at 58.5″ long x 29.5″ wide x 74″ high, it needs plenty of space to operate. At 284 lbs, it's relatively heavy but has wheels in the back and a front handle to help you maneuver it into place.
We love the 375-pound weight capacity. This allows everyone in your household to enjoy this machine.
The center flywheel and steel beams underneath make this a sturdy frame that will lead to a smooth workout experience. Solid handlebars are connected to the pedals, providing an excellent full-body workout. A 10-year warranty on the frame brings peace of mind.
Pedals
Oversized cushion pedals make this a comfortable experience. The pedals are 16" long, and 6" wide and are nicely textured so you won't slip or slide. Ensure you have plenty of wall space in front of the FS10i, as the pedal motion is lengthy. The 32" pedal stroke is longer than most–which is fantastic if you have a long stride. But it isn't so great if you have a small space.
The pedals and handlebars are connected, giving you the option of using both your upper and lower body. However, neither the pedals nor the handlebars lock in place–making mounting the machine tricky.
Motor
The center drive motor balances this elliptical perfectly. Paired with the 20 Lb. Effective Inertia-Enhanced Flywheel it's virtually noiseless, no matter the resistance level. Even though the flywheel is only on one side, the performance is even and rock solid.
To get an effective and varied workout, you need to adjust the pedal resistance. The FreeStride Trainer FS10i features SMR™ Silent Magnetic Resistance technology. When you increase resistance, you are essentially braking, like riding a bicycle with its brakes engaged.
The magnets on silent magnetic resistance systems do not physically move — they produce a magnetic field, which generates eddy currents and creates friction against the flywheel. The more you ramp up the resistance, the stronger the magnetic field, which results in more pedal resistance. This is where the silence comes in. The more resistance usually would cause more sound, but not with Silent Magnetic Resistance technology. You are free to burn calories in silence!
Console
It's all about the experience when you step on this trainer. This console offers a lineup of features designed to add some punch to your workouts and increase your enjoyment in the process. The wireless technology featured on the console allows you to connect to iFit.
iFit gives you access to an extensive library of workouts, helps you create your own workouts, tracks your workout statistics, and gives you access to many other features. The console contains a collection of onboard workouts. Each workout can digitally control the resistance and incline of the pedals as it pilots you through each exercise session.
While in manual mode, you can change the resistance and the incline of the frame with a simple touch of a button. A glance at the 10" display will give you your current stats as it provides continuous exercise feedback.
The optional chest strap heart rate monitor is an excellent add-on for those serious about their performance. The monitor can be linked to the console to track your progress as you attack those more demanding workouts. You can also tie in your favorite music or audiobooks with the console sound system while you exercise. You can do this via a 3.5 mm male-ended accessory plug or via Bluetooth.
10 inch Smart HD Touchscreen
Studio Workouts– Thousands of high-energy studio classes are available at any time during the day, each with trainers who have control of your incline and resistance.
Explore From Indoors– Explore all seven continents from inside your home while trainers digitally adjust your incline and resistance to match your current terrain.
IFIT Interactive Personal Training – complete workouts with cross-training options
Stat Tracking- Check out your heart rate, distance, intensity, and customize your workouts to achieve your fitness goals.
Fan & Other Accessories
SoftTouch™ Upper Body Grips–helps keep your hands comfortable on the handlebars.
AutoBreeze™ Workout Fan–four settings keep you cool and comfortable. Tilts to your height.
Oversized Cushion Pedals-impact absorbing, safe, and roomy for feet of all sizes.
Two 2" Digitally Amplified Speakers–excellent sound easily controlled on the touchscreen display
Optional chest strap heart rate monitor- ties into the console via Bluetooth technology to add your heart rate to the other vital statistics.
Optional tablet holder–holds your tablet safe and sound with a clip.
Storage
Onboard water bottle holder/accessory tray and small device ledge for a phone or tablet. You may purchase an optional table holder with a clip to keep your table secure.
Functionality
The NordicTrack Freestride FS10i feels super smooth and is easy to operate. Your trainer can automatically control twenty-four resistance levels and 10% decline and incline levels—no delay with the levels changing quickly and easily. You can manually override the levels if you want.
This 3-in-1 versatile elliptical machine can perform like a stepper and treadmill as well. The pedals are oversized and comfortable. By changing your natural motion, you will unlock the differences offered by three machines, activating more groups of muscles and pushing you towards your goals.
32-inch Auto-Adjusting Stride Transform your workout by simply adjusting your stride—no micro-management. Your machine will intuitively follow your movements. You're in control.
The handlebars are attached to the pedals, giving you the option of getting a full-body workout in. The one thing we don't like is that this elliptical machine can be tricky to mount since neither the handlebars nor pedals lock. They will move when you get on. And with a step-up height of 17", this isn't an elliptical for anyone with balance issues. Hopefully, NordicTrack will change this in the future.
There are two speakers near the bottom of the console. The volume can be adjusted by buttons on the touchscreen display. In fact, the entire machine–including resistance levels–can easily be controlled by using the display.
When adjusting the resistance or incline levels, you'll find they change quickly and smoothly within seconds. The 24 levels of resistance provide a tough workout, especially as you move up close to the highest levels. Even people in excellent shape will be challenged.
For comfort, there is a built-in fan with four settings. The fan also tilts so you can adjust it to your height.
If you're someone who likes to use your tablet while exercising, the FS10i has an optional tablet holder with a clip to keep it safe for an additional cost. However, it comes with a convenient spot for a small tablet or phone on the console's center below the display. There is a water bottle holder which can double as an accessory tray.
Subscription Options
iFit 1-Year Individual Membership gives you access to all of iFit's virtual workouts, nutritional health tips, workout tracking, and sleep advice for 12 months. Supports up to 4 adult profiles on each 1-Year membership. One or two-year memberships are available.
Storing
Because of its size and weight, we recommend having someone help when you need to move it. Use the front handle to raise the machine until the rear wheels contact with the floor. Once you have it where you'd like it, simply lower the front end to the floor. The smoother the surface, the easier it will be to maneuver it to the new location.
---

Bottom Line Review: NordicTrack FS10i
The NordicTrack Freestride Trainer FS10i elliptical is an excellent multifunctional piece of equipment with loads of training options. The high-quality frame and construction paired with exceptional versatility make this device a simple choice for those with room for it.
We like the 375 lb weight capacity and roomy, non-slip pedals, making this an option for your entire family. When you add in the free iFit subscription for 30 days and 35 onboard workouts, you'll never get bored with the FS10i.
NordicTrack has done an excellent job with its Freestride Trainer series of ellipticals. This company produces high-quality exercise equipment which has been used in commercial gyms and homes for decades–and the FS10i is no exception.
If you're in the market for a quiet, versatile, low-impact, and high-quality elliptical trainer, we highly recommend the NordicTrack Freestrider Trainer FS10i.
Related Elliptical Reviews: