Whether you are a hardcore runner or just looking to shed some pounds, the NordicTrack Commercial x22i Incline Trainer Treadmill can help you reach your goals. From its highly sturdy base to the immersive console, this treadmill was designed to help just about everyone engage in satisfying treadmill workouts while challenging their bodies with incredible incline levels.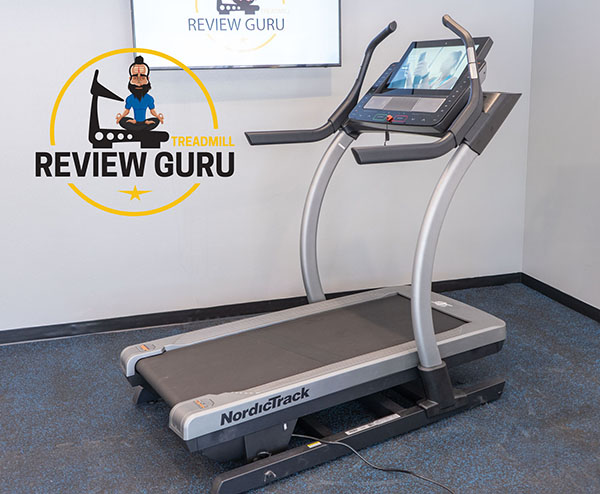 There are so many excellent features on the Commercial x22i Incline Trainer, and different ones are likely to appeal to you, depending on your health and fitness goals. One feature that is a major draw to almost everyone is the incredible incline range you can use. Can you imagine being able to go from -6% up to 40% incline? Well, with the NordicTrack x22i, you don't have to imagine. With the ability to add that much incline to your regular workouts, not only will you train and tone your muscles faster, but you can also dramatically increase your calorie burn.
Other ways you can enjoy greater fitness on the Commercial x22i treadmill is through the 44 built-in exercise programs. These exercise programs have been designed to make the most of the fantastic incline range and the speed range of 0.5-12 miles per hour. That way, you can engage in workouts ranging from beginner to advanced, with something for every kind of user on this treadmill.
Also, if you have been concerned about your joints or prior injuries due to your treadmill use, you don't have to worry when you use the NordicTrack Commercial x22i Incline Trainer. This treadmill comes equipped with Reflex cushioning that provides excellent impact cushioning for treadmill users of all abilities. With this treadmill deck cushioning, your joints will be excellently protected so that you won't feel too sore to workout the next day.
You can also feel safe in your treadmill investment when you choose the x22i treadmill as it comes with a generous warranty. Not only does the highly durable frame come with a lifetime warranty, but the motor does as well. The parts and labor warranties are also great, so you can feel confident as you use your NordicTrack Commercial x22i Incline Trainer Treadmill to the fullest.
To learn more about the specifics of this treadmill and what we do and don't like, be sure to read the rest of our review.
Pros
Has a durable, reinforced steel frame
The Commercial x22i has excellent workout fans with multiple speeds
Enjoy a free year of iFit Coach membership with your purchase
Comes with a free iFit Bluetooth heart rate monitoring chest strap
Immersive 22" HD touchscreen on the NordicTrack x22i
Push bar and sled grips for manual training mode
The Commercial x22i treadmill comes with a speed range of 0.5-12 MPH
Very powerful, yet quiet, 4.0 CHP commercial treadmill motor
Has 44 exercise programs built-in
Able to be used by people weighing up to 300 lbs
Wide treadmill belt workout space measuring 22" wide by 60" long
Can use the dual, 3" speakers for a headphones-free run
Cons
A somewhat high price point that may require you to use a financing option
Does not fold up and is very heavy as well as tough to move
There's a powerful motor under the hood of the NordicTrack Commercial x22i treadmill. This 4.0 CHP (continuous-duty horsepower) commercial plus motor can stand up to tough workouts, whether you want a challenging hike or are doing interval training. Even better, it is not a noisy motor. While some treadmills can sound like jet engines, the Commercial x22i has a surprisingly silent motor, especially considering its overall size.
A new innovation for the 2019 model of the x22i treadmill is the inclusion of the sled grips and push bar. If you have been looking to engage your muscles differently, then these features should interest you, as they are there to help you as you put the x22i into "manual" mode. By setting the speed for 1 MPH, you can power your workout with the force of your own muscles. While this move would normally be very damaging for a treadmill motor, the x22i treadmill has been designed to do this type of workout as well as automatically powered workouts.
22" HD, Smart Touchscreen
If you have ever been annoyed that a workout screen was too small, you won't feel that way about the Commercial x22i Incline Trainer. This treadmill has a massive 22" high-definition touchscreen. With this huge touchscreen, you can easily see your workout data, navigate through the many workout program options, and enjoy the exercise videos you can access from the touchscreen. It is also water-resistant, so don't worry about some sweat hitting the screen.
Free NordicTrack iFit Coach Year
Another huge bonus you can receive when purchasing the x22i Incline Trainer is that you can access iFit Coach free for a whole year. While you likely need to register your device with NordicTrack to start your free year, once you do that, you will have access to an incredible library of personal trainer-designed workout videos. With these videos, you can do everything from studio workouts or hike Machu Picchu from the comfort of your own home. Along with the many running exercise videos you can choose from, there are also excellent cross-training videos to help round out your workouts.
44 On-Board Exercise Programs
As well as having access to iFit Coach, the NordicTrack x22i treadmill also comes with 44 exercise programs already installed in the treadmill. These workout programs are set up to allow all ranges of users to be able to find a workout appropriate for their fitness level. You can also select workouts based on things like distance, calories burned, intensity, and more as you prepare for your workouts.
Aside from other NordicTrack Incline Trainers, there are no residential treadmills that come even close to touching the excellent incline range offered by the Commercial x22i Incline Trainer. This treadmill allows you to range from -6% decline as well as allowing you to reach 40% incline. If you have never tried to work out at 40% incline, you are in for a major challenge. Even at the lower incline levels, even a walking treadmill workout can help you burn a major amount of calories.
Two Heart Rate Monitoring Options
There are handlebar grips for heart rate monitoring on the upper handlebars, though these kinds of grips are only useful for heart rate approximation. Instead, you can opt to use the included iFit Bluetooth chest strap for your heart rate monitoring needs. With this adjustable chest strap, you can accurately track your exertion levels as you use the treadmill.
Located just under the touchscreen, the NordicTrack x22i has two speakers built into the console. These 3" speakers have excellent clarity and allow you to enjoy working out without any headphones or earbuds in the way. You can also connect your own audio to the x22i by using the audio jack located along the side of the console.
One of the significantly impressive aspects of the Commercial x22i treadmill is the high-end cushioning on the deck of the treadmill. The Reflex cushioning doesn't make the deck feel mushy, but it does help significantly reduce the impact of your footstrike. With the reduction in impact, you don't suffer from the same level of joint, muscle, and the bone-jarring impact that you would have while running on other treadmills or outside on concrete and asphalt.
A commercial tread belt comes with the x22i Incline Trainer. This belt is highly durable and should hold up to intense workouts and high usage. The area of the treadmill belt measures is 22" wide by 60" long, make it a comfortable length for most users.
Those who weight up to 300 lbs can use the Commercial x22i Incline Trainer to help themselves lose weight. Pair the weight limit with the incline range, and heavier users don't even need to start running before they start shedding pounds.
To protect your investment, the NordicTrack x22i treadmill comes with excellent warranty coverage. For the motor and frame, you will have a lifetime warranty. With that warranty, you will have 6-year coverage on the electronics and parts of the x22i. As for the labor to care for your treadmill, the x22i comes with a 3-year labor warranty.
Motor: 4.0 CHP
Incline: -6% to 40%
Speed: 0.5-12 MPH
Dimensions: 70.2" L x 39.6" W x 71.6" H
Folding: No
Running Area: 22" W x 60" L
Max User Weight: 300 lbs
Treadmill Weight: 397
Benefits
There are so many benefits to purchasing the NordicTrack Commercial x22i Incline Trainer Treadmill. One of the main draws for people looking into this machine is the potential that the incline range of -6% to 40% represents.
For instance, say that you are a runner who lives in a flat area, and you want the benefits of hill training. Well, with the x22i, you can push your body as far as you can handle, as running uphill at even 20% can be incredibly difficult. However, the incline range also benefits those who aren't looking to run races. If you are low on time but want an effective workout, turning up the incline level on your workout—whether you are walking or jogging—can help you increase your calorie burn and muscle engagement.
The Commercial x22i treadmill is also packed with other exciting types of fitness technology, all aimed at improving your workout experience. That way, your treadmill won't become a coat rack in a few months.
Final Verdict: NordicTrack Commercial x22i Incline Trainer Treadmill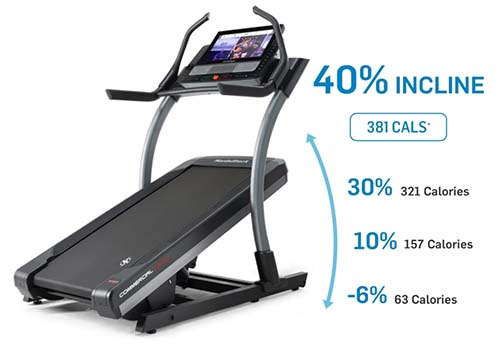 When it comes to my final verdict on the NordicTrack Commercial x22i Incline Trainer Treadmill, I would highly recommend this treadmill for all users. It has the ability to accommodate individuals ranging from walkers looking for ways to lose weight walking to intense runners who need a tough, cushioned treadmill for heavy workouts.
With the incredible range of fitness technology features and the excellent warranty coverage offered by the x22i treadmill, it makes sense to choose this treadmill if you have the ability to add it to your home gym.
What We Like?
Excellent built-in speakers
Massive, high-quality touchscreen
Tough, steel frame
Largest incline range
Powerful motor for smooth workouts
High-grade cushioning
Combo of free iFit Coach and plenty of workouts
Great warranty
WHAT WE DON'T LIKE?
Heavy and hard to move
Fairly pricey treadmill
Conclusion
As one of the Treadmill Guru's best treadmills, the NordicTrack Commercial x22i Incline Trainer Treadmill will be a fantastic addition to anyone's home gym. It does take up a good bit of space and doesn't fold, so be sure you measure the area you are hoping to put this treadmill in before you buy, as it will take up a good portion of your home. But overall, bringing the x22i treadmill into your home may be one of the best fitness decisions you ever make.
Related Treadmills Review: 
Summary
Reviewer
Review Date
Reviewed Item
Nordictrack Commercial x22i Incline Trainer Treadmill Review
Author Rating