*TreadmillReviewGuru helps consumers find the best home fitness products. When you buy a product we recommend, we may earn a commission.
Last Updated: July 31, 2023
WalkingPad makes small, foldable treadmills. The WalkingPad A1 Pro is an under-desk treadmill that's compact to fit under most standing desks. It also folds in half when you're finished. With a clear LED display on the motor hood, handheld remote control, and a simple plug-in design, the A1 Pro is very simple to use so all you need to worry about is reaching your step goal. In our review of the WalkingPad A1 Pro Under Desk Treadmill, I'll take you through how it performed for us and what you can expect.
Why You Should Trust Our Review Of The WalkingPad A1 Pro Under Desk Treadmill
Our expertise is testing and reviewing all kinds of fitness equipment, including under-desk treadmills. Our team not only runs on treadmills in our studio, but we walk on treadmills at our desks. We've tested several under-desk treadmills, with many of those models being from WalkingPad. To compile reviews like this one, we use the treadmill for an extended period of time to assess if it's worth it and who it is best for.
When creating this review of the WalkingPad A1 Pro, we pulled out the WalkingPad C2, C1, R2, as well as the LifeSpan TR1200, and Redliro 2-In-1. How these models compare to the A1 Pro is sprinkled throughout this review.
Our WalkingPad A1 Pro Under Desk Treadmill Video Review
---
Pros
This is a compact, foldable under-desk treadmill.
It is compatible to fit under most desks and works in most office settings.
The two transportation wheels and lightweight design make it easy to move around and transport when needed.
It tracks your time, distance, speed, and steps and is controlled with a remote or the free KS Fit App.
It allows you to walk up to 3.7 mph and then fits under a bed or couch when you're done.
Cons
The deck might be too small for some people.
It isn't meant for jogging, running, or using for long periods of time.
---
FeaturesSpecs
Deck folds in half
LED Panel Display
Handheld remote included
Manual Mode allows for adjusting the speed yourself
Automatic Mode uses intelligent speed control to adjust based on your pace
Bluetooth enabled to connect to the KS Fit app
Displays: time, speed, distance, calories, and steps
The belt automatically stops once you step off with the No-Load Stop feature
The Child-Lock feature prevents the machine from starting
Comes in black
Comes fully assembled
Available in different voltages
Footprint Unfolded: 56.37" L x 21.5" W x 5" H
Footprint Folded: 32.5" L x 21.5" W x 5" H
Brushless Motor
Construction: High Precision IML Injection Molding
EVA Shock Cushioning
Treadmill Weight: 62 lbs
Weight Capacity: 300 lbs or 230 lbs (depending on the model purchased)
Walking Surface: 47" Lx 16.5" W
Speed: 0.5 – 3.75 mph
Transportation Wheels
Warranty: 1-year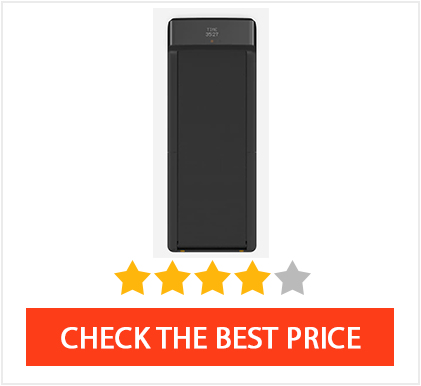 ---
In-depth Review of the WalkingPad A1 Pro Under Desk Treadmill
---
Construction Quality/ Durability
We love that WalkingPad makes very small treadmills that can be used under most-sized desks. While we highly recommend only using the WalkingPad A1 Pro under your desk, it can be used on its own, too. If need balance assistance I recommend placing the A1 Pro near a tall table, counter, or wall if you prefer to not use it under a desk.
Its deck, motor, and speed don't allow it to be used for jogging and running.
Frame
The A1 Pro sits directly on the floor and has high-precision IML injection molding in the construction. The treadmill itself only weighs 62 lbs. It's comparable in size and weight to the C2 and C1 from WalkingPad. It is a little heavier than these treadmills, but only by a few pounds.
Walking on the A1 Pro feels similar to the C1 and C2, too. It is sturdy without any rocking and feels pretty solid, considering its small stature. One thing I'm a little wary of is the 300 lb weight limit. All other under-desk treadmills that we've tested of this size have a 220 lb limit, including ones from WalkingPad. Even the R2, which is a larger treadmill that can handle jogging, only has a 240 lb capacity. The A1 Pro does come in two different weight limits depending on which model you purchase. They're available in different voltages with 300 lb limits and 230 lb limits. Since there aren't any apparent differences in the size and specs, I'm leaning more that the 230 lb weight limit is a little more accurate. This is the amount I would factor in to help ensure more longevity of the treadmill.
While I'm glad that WalkingPad is creating compact treadmills that can work for larger users, I caution users over 250 lbs or so from using the A1 Pro, especially if you want to walk at your desk for over a few miles or more per day.
I suggest checking out bigger under-desk treadmills like the ones from LifeSpan, instead.
Motor
The WalkingPad A1 Pro has a brushless motor that is capable of moving the belt up to 3.7 mph. 3.7 mph might not seem very fast, and on a larger treadmill it is only a casual or maybe brisk walking pace for most, but for under a desk, it is ideal.
When using the A1 Pro at our desks, it makes some noise but it isn't excessive. The motor noise also gets a little louder when you increase the speed, which is typical for most treadmills.
Deck
The deck is 16.5" wide and 47" long. It is definitely compact and might not be wide enough for some people. If you work at a large desk or have two computer monitors, you might find that walking on the A1 Pro feels a little limiting with space. While you'll most likely get used to it, it can feel a little constricting and maybe a little challenging for some at first. I tend to peek down at my feet occasionally on tiny treadmills like this one, to make sure I don't step off the deck.
Our tallest reviewer is 6'5" and he's able to walk on the A1 Pro, too. The length of the deck is plenty to accommodate most walking strides.
The WalkingPad A1 Pro is said to have an EVA cushioning layer in the deck. Since this treadmill sits directly on the floor, we didn't expect it to have much, if any, cushioning. It feels firm underfoot and comparable to walking on a hardwood floor. The belt has a good texture that doesn't feel slippery.
What makes the A1 Pro perfect for most homes and office spaces is that it is only 5" high when it's folded and unfolded. The highest point is the motor hood at the front of the deck, so it is actually a couple of inches lower than this to step on and off of the belt. This makes the A1 Pro very easy to use and compatible to use under most standing desks.
Console
The display flashes between showing your time, distance, speed, steps, and estimated calories. This is the same as the C2 and Redliro 2-In-1, among others.
The only problem with this design is that you'll need to purchase a replacement remote if you lose it, in order to use the A1 Pro. Although, you can also pair it with the KS Fit App to control it using your phone too. The remote is very easy to use with "+" and "-" buttons for the speed and a center button to stop and start the belt. There's also a button at the bottom to switch between the modes.
App And Other Features
The KS Fit App isn't anything special, but it is nice to be able to see previous workouts and adjust the A1 Pro by using my phone. Fortunately, this app is free and easy to connect to the treadmill through Bluetooth. In the app, you're able to track your metrics and utilize settings like child lock and the No-Load Stop feature which turns off the belt when you step off of it. These features are nice for extra safety for you and those around you, like pets and children.
Something to keep in mind is that you have to pair the A1 Pro with the KS Fit App in order to unlock the max 3.7 mph speed. If you don't, the treadmill will cap out at about 1.75 mph. Once you connect it and change the max speed in the app, you don't have to do this again though.
Performance & Functionality
The WalkingPad A1 Pro performed as expected. We've used many of WalkingPad's treadmills at this point, so we already had an idea of how the A1 Pro would perform. Overall, we're pleased with this tiny treadmill and think it works for most home and office spaces.
The motor feels solid, adjusts smoothly, and is fairly quiet. No treadmill, even one as small as this one, is silent so with whatever under-desk treadmill you choose, know that it will generate some type of noise. In our office, we often find the sounds of the motor and repetitive foot noise fall into the background and are not very noticeable when we're working.
It also is only 5" high, even when folded, so you can wheel it under a bed, couch, or in a closet when you're not using it, too.
This one is easy to move and simple to use so it should work well in most settings.
One thing to keep in mind with the folding design is that the fold hinge where the deck folds in half can be felt underfoot when you're walking on the treadmill. We've noticed this on all of the other WalkingPad Treadmills we've used and it really is the nature of the design. Over time though, you'll get probably used to it and notice it less.
Also, like other WalkingPad Treadmills, the A1 Pro has a manual mode and an automatic mode. Manual mode is where you can control the treadmill's pace using the remote or your phone with the KS Fit App. Automatic mode is where you can control the pace with your feet. When you walk on the front of the deck up by the motor hood, the speed will increase. The speed will decrease when you walk toward the back of the deck. I like this feature but I think it could use a little tweaking. When I walk towards the back of the deck, the belt turns off and it's hard to keep a steady pace on the belt. I think this is because the surface area of the deck is so small that if you already have a stride that takes up the majority of the length of the deck, it is hard to control the pace.
Manual mode works just fine and I think most will find that using the remote is easy.
Warranty
The WalkingPad A1 Pro comes with a 1-year warranty. It also comes fully assembled out of the box so it's ready to go as soon as you get it.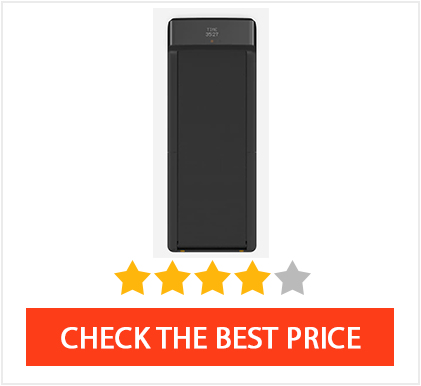 Bottom Line Review: WalkingPad A1 Pro Under Desk Treadmill
The WalkingPad A1 Pro Under Desk Treadmill is a very compact, lightweight model that folds in half. It works well under most sized standing desks and can be stored under a bed or a couch when you're not using it. Using the A1 Pro is straightforward and intuitive with the handheld remote. You can also pair your phone to the free KS Fit App to control the treadmill with your phone and track your previous and current workouts. Although I'd caution users who weigh over 250 lbs from using the A1 Pro, it is a good choice if you're looking for a small, minimal under-desk treadmill.