*TreadmillReviewGuru helps consumers find the best home fitness products. When you buy a product we recommend, we may earn a commission.
Last Updated: January 3, 2023
The brand TRX, which stands for Total Resistance Exercises, was founded by former U.S. Navy Seal Randy Hetrick. TRX is headquartered in San Francisco, California, and was founded in 2005. They make products and programs that work for everyone at any fitness level.
What To Expect From TRX
TRX is best known for their suspension trainers, but they offer a wide variety of strength and resistance products widely used in home and public gyms. TRX's large variety of equipment serves to help strengthen the body from head to toe. All of their products are great for functional fitness training to help consumers live healthier lifestyles.
TRX also makes fitness accessible because their products are versatile and can be used in almost any setting from the gym, at home, and even outside. You can expect, functionality and durability in TRX's products. TRX has a training app as well to follow along with knowledgable trainers for mat workouts as well as using the suspension trainers.
---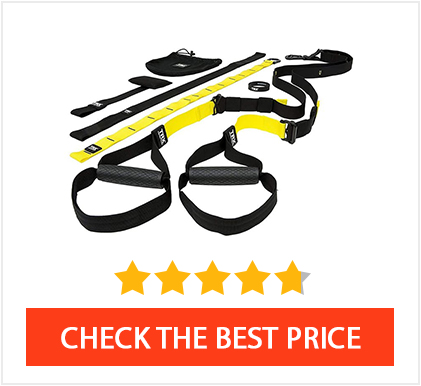 The TRX Pro4 Suspension Trainer System is a premium suspension trainer that you can use practically anywhere. The straps are incredibly durable to withstand up to 350 lbs of user weight. It also has a locking carabiner D-ring clip that can hold over 700 lbs. The Pro4 System comes with two anchors: the suspension anchor and the door anchor. These allow you to fasten the suspension trainer to almost any appropriate object, like a doorway, squat rack, fence pole, or even a tree.
When anchored, the TRX Pro4 has two straps that meet at the top equalizer loop. This keeps the straps at equal lengths when you're using the suspension trainer. The straps are adjustable so you can fit them for various heights depending on where you mount them. The TRX straps have textured, rubber handles and adjustable foot cradles. The handles feel really nice in your hands and provide an excellent grip no matter the exercise you're performing. The foot cradles are perfect for training with or without shoes.
The TRX Pro4 System comes in the standard yellow and black straps, and also in camo print. The TRX Tactical Gym is the best option if you plan to use your suspension trainer primarily outdoors. It is designed to handle military training and has more of a rugged look than the other systems.
If you're looking for a more affordable suspension trainer from TRX, go with the TRX Home2 System. It doesn't come with quite as durable handles as the others, but it is at a lower price.
TRX Pro4 Specs:
Adjustable Straps
Suspension Anchor
Door Anchor
Xtender Strap
Equalizer Loop
Locking Carabiner Clip and Key (Holds more than 700 lbs)
Weight Capacity: 350 lbs
Rubber Handles
Adjustable Foot Cradles
Mesh Carry Bag
Warranty: 10-Years
---

Speaking of functional, the TRX XD Kevlar Weight Vest is a highly functional training product. You can wear this weight vest while doing activities like walking and add intensity to bodyweight exercises like pushups and pullups. It has adjustable velcro shoulder straps and an adjustable strap around the waist so you can get a good fit. Users can adjust it to fit circumferences of 36" up to 60", so this capable weight vest is great for most sizes.
We've rated the TRX XD Kevlar Weight Vest as the best-weighted vest overall on our best-weighted vests list. It comes in three different weights: 10 lbs, 20 lbs, and 40 lbs. When you purchase the 20 lb vest, it comes adjustable in 1 lb increments, and the 40 lb vest adjusts in 2 lb increments. This makes the TRX weight vest customizable so you can wear an amount of weight that challenges you.
Another weighted wearable option at TRX is the TRX XD Kevlar Weighted Belt. It's more minimal than the weighted vest because it simply fits around the waist. It is a 10 lb weight belt that adjusts in ½ lb increments up to 10 lbs. The TRX Weighted Belt is perfect for adding intensity to lower body workouts. It's perfect for lifting heavy on leg day, and on walks and hikes.
TRX XD Kevlar Weight Vest Specs:
Comes in 10, 20, and 40 lbs
20 lb Adjusts in 1 lb Increments
40 lb Adjusts in 2 lb Increments
Adjustable Mini Weight Plates
Fits 36" to 60" Body Circumferences
Velcro Straps
Warranty: 6-Years
---

The TRX RIP Trainer is a unique training product that uses resistance to strengthen the body and add intensity to bodyweight exercises. It's essentially a weighted pole with a resistance bungee cord attached to one end. It comes with a door anchor for you to mount to get resistance from the cord. The door anchor allows you to anchor it at the top, bottom, as well as each side of a door when it's closed. The D-ring clip on the end of the resistance cord also lets you attach the TRX RIP Trainer to a variety of stationary objects like a chain-link fence outdoors or to equipment in the gym.
The RIP Trainer comes with a medium resistance cord, but there are heavier cords sold separately if you want more tension. The end of the bungee cord attaches to the other end of the weighted pole as well. The TRX RIP trainer can be used to perform a wide variety of exercises like rotational movements as well as presses. It's lightweight so you can take it almost anywhere, plus it is made to be versatile and durable as it's backed with a generous 6-year warranty.
TRX RIP Trainer Specs:
Weighted Pole
Medium Bungee Resistance Cord
Door Anchor
D-Ring Clip
Safety Strap
Carrying Bag
Warranty: 6-Years
---

The TRX XD Kevlar Power Bag is a pre-filled weight bag that's designed to be durable and handle all kinds of workouts. It comes in 10, 15, 20, 25, 30, 35, 40, 45, 50, and 60 lbs. The bag comes with a pre-filled weight and has five straps for you to grip and use the bag for all kinds of lifting workouts. We've even seen it strapped to TRX's suspension trainers.
The TRX XD Kevlar Power Bag can give you a total body workout by adding weight to bodyweight exercises. Even though it's weighted, it is designed to be pretty compact, so most users should get a lot of use out of it. The TRX XD Kevlar Power Bag is also made to keep the weight pretty even and still, so you can focus on strengthening your core, upper and lower body while using the Power Bag.
Another more affordable option is the TRX Power Bag. It's made with a water-resistant vinyl covering, as well as seven different handles to use the weight bag in a variety of ways. The TRX Power Bag is only available in 10, 20, 30, and 40 lbs, but this should be enough for most users to lift with.
All of TRX's Power Bags come with a 6-year warranty.
TRX XD Kevlar Power Bag Specs:
Weight Sizes: 10 lbs Up To 60 lbs
Made With DuPont Kevlar Fiber
5 Nylon Handles
Reinforced Stitching
Pre-Filled Weight
Warranty: 6-Years
---
Pros / Cons of TRX Suspension Training Equipment
Pros
You can expect innovative, durable constructions.
All of the equipment is designed to add resistance and weight to bodyweight workouts.
The equipment is very versatile.
You can use TRX equipment indoors and outdoors.
It is rated to use in home and gym environments.
Most equipment comes with a generous warranty.
Cons
Some of the equipment is pricier.
Other TRX Resistance Equipment:
TRX has numerous resistance bands available. There are resistance bands made from rubber in small and large sizes, as well as fabric glute bands. For even more versatility with the TRX Strength Bands, you can purchase the TRX Bandit to attach to them. This is a versatile rubber handle that clips onto one or more Strength Bands to use them in tons of different ways. All of TRX's resistance equipment is designed to be functional, compact, and add resistance to your workout routine.
Other TRX Weight Equipment:
On the weights side, TRX offers all kinds of weighted equipment. Dumbbells and kettlebells are found in their lineup, as well as wall balls and medicine balls. The TRX XD Kevlar Medicine Ball comes in 10" and 14", as well as 4, 6, 8, 10, 12, 14, 16, 18, 20, 25, 30, 35, 40, 45, and 50 lbs. This way you can select a weight that's appropriate for you. The surface of the TRX Medicine Ball is tacky for a good grip, too.
Another way to level up your conditioning and total-body training is by using the TRX Battle Rope. It's hearty and available in two lengths: 30 feet and 50 feet. It's 1.5" in diameter and has a durable, tightly braided construction so it's less prone to unraveling and fraying over time. The rubber handles help you keep a good grip when you attach the other end of the TRX Battle Rope to a sturdy object.
Overall Rating of TRX Suspension Training Equipment:
TRX Suspension Trainers are popular for a reason. When you purchase a piece of equipment from TRX, you're getting a highly durable and functional product. The innovation that TRX has put into their suspension training equipment is impressive and makes working out very versatile. Training with TRX's equipment means you can use them pretty much anywhere, be it your house, the gym, while traveling, or outside. You'll have no excuse but to get incredible total body strength and cardio workouts when you use TRX Suspension Training Equipment.