*TreadmillReviewGuru helps consumers find the best home fitness products. When you buy a product we recommend, we may earn a commission.
Last Updated: February 24, 2022
ProForm is a subsidiary of Icon Fitness, which is also the parent company of NordicTrack, iFit and FreeMotion. In the winter of 1975, Edward and Florence Pauls of Chaska Minnesota built the first indoor ski machine in their garage. Ed wanted a way to train indoors during the brutal Minnesota winters. Their indoor ski trainer was so successful, the Pauls soon found themselves running a thriving manufacturing business that expanded to include treadmills, ellipticals, and other cardio equipment. The Pauls ran this company out of their home until they retired. In 1998, the company was acquired by IconFitness located in Logan, Utah. Icon is now one of the largest manufacturers of health and fitness equipment.


What To Expect From ProForm Treadmills
ProForm is really great at offering quality designs and features, while also considering space and budget. We like that you can access all the same classes on iFit like you can on NordicTrack's treadmills, but for a fraction of the cost. iFit lets you train with several personal trainers who guide you through countless classes on and off the treadmill.
If space is a factor for you when buying a treadmill, know that all of ProForm's treadmills fold up to leave you more room when they're not in use. ProForm also makes their treadmills sleek, yet straightforward and easy to use.
ProForm Pro Series Treadmills
The Pro Series is ProForm's top line which offers more deck cushioning, larger motors, touchscreens on each model, and -3% decline to 12% incline. These treadmills fall between NordicTrack's T-Series treads and the higher-end Commercial Line, with enhanced shock absorption and iFit enabled touchscreens. The Pro Series line keeps pricing under $2000 for all models, so this is an excellent mid-range option.
---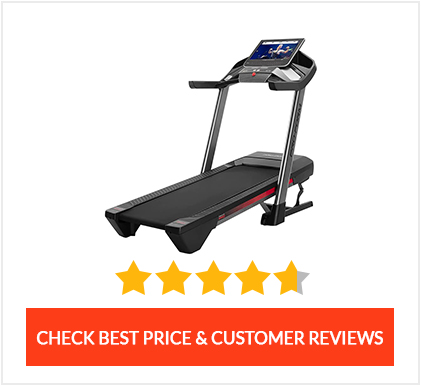 The Pro 9000 tops ProForm's Pro line with a whopping 3.6HP motor. This is their highest-powered machine and best suited for runners and walkers looking for increased incline training. Offering a -3% decline up to a 12% incline, the 9000 has great features for a folding treadmill. It has a 20" wide by 60" long belt, which is about as long as you can get on a folding deck. ReBound Pro cushioning increases comfort with each foot strike so you can run longer with less fatigue and joint discomfort. The 9000 keeps it under $2000 and closely rivals NordicTrack's ever-popular 1750.
iFit® Enabled, 30-Day Membership Included
22" HD Touchscreen Display
3.6 CHP* Mach Z™ Commercial Plus Motor
20" x 60" Tread Belt
0 – 12 MPH
-3 to 12% Digital Quick Incline™
ReBound Pro™ Cushioning
SpaceSaver® Design with EasyLift™ Assist
CoolAire™ Workout Fan
300 Lb. Weight Capacity
Footprint: 35" W x 77" D x 59" H
Read our full review of the ProForm Pro 9000
---

The Pro 2000 is currently one of ProForm's best selling treadmills due to the affordable price and great features. The Pro 2000 has a 3.25HP motor, 20″ by 60″ belt and ReBound Pro cushioning with a 10" touchscreen. It also has a -3% decline, which is a nice feature, and it lifts to 12% incline, which is a bit more than on comparable models. The weight capacity is 300lb user max, so this will work for most users. Again, this folding treadmill has EasyLift assist and hydraulic release for convenience.
iFit® Enabled
10" Smart HD Touchscreen
40 On-Board Workouts
3.25 CHP* Mach Z™ Commercial Pro
Tread Belt 20" x 60"
Speed 0 – 12 MPH
-3 to 12% Digital Quick Decline™ & Incline™ Control
ReBound Pro™ Cushioning
Folding Deck with SpaceSaver® Design and EasyLift™ Assist
CoolAire™ Fan
Weight Capacity 300 Lb.
Footprint 35" Wide x 77" Deep x 60" Tall
Read our full review of the ProForm Pro 2000
---
ProForm Carbon Series Treadmills
The Carbon Series is ProForm's mid-range line of treadmills, geared for light jogging and walking. These treadmills are well-suited for new users looking to buy their first treadmill or those who need a small, foldable treadmill that will easily fit in small rooms, apartments, condos, dorms, etc. The Carbon series treadmills feature respectable components and tech with cushioning in the deck full-color iFit enabled touchscreens.
---

The Carbon T10 is part of ProForm's Plus program which offers the equipment free when you sign up for a 3 year subscription for iFit. The Carbon T10 is our favorite treadmill for those who want something usable and cushioned for little to nothing up front. This treadmill has a 10" screen that will showcase all iFit classes and content. ProShox cushioning in the deck mitigates joint impact by gently flexing underfoot. The 2.75 HP motor is strong enough to attain and maintain a top speed of 10mph and up to 12% incline. This treadmill motor works well for light jogging or walking, but may not support heavy training or extended running mileage.
iFit® Enabled, 3-Year Membership Included
10" HD Touchscreen
2.75 CHP motor
20" x 55" Tread Belt
10 MPH Max Speed
10% Incline
Deck Cushioning
Folding Deck with SpaceSaver® Design
Weight Capacity 300 Lb.
Footprint 35" Wide x 74" Deep x 64" Tall
Read our full review of the ProForm Carbon T10 Treadmill
---

The Carbon T7 has 10% incline, a 10MPH max speed, ISO Flex cushioning and a 7" touchscreen. The Carbon T7 has a 2.6 HP motor which will support light to moderate jogging, but may not be sufficient for homes with multiple users or those who want to train more intensely. The Carbon T7 does have EasyLift assist, so the deck is easier to lift and will descend gently when you release it.
iFit® Enabled, 30-Day Membership Included
7" HD Touchscreen
Motor 2.6 CHP Commercial Motor
Tread Belt 20" x 55"
10 MPH Max speed
12% Digital Quick Incline
ISO Flex Cushioning
Folding Deck with SpaceSaver Design with EasyLift Assist
Footprint 35" Wide x 73" Deep x 57" Tall
Read our full review of the ProForm Carbon T7 Treadmill
---
ProForm City Line Treadmills
The City Line currently only features the City L6 treadmill which features a fully collapsible console. Since the console folds down directly onto the deck, this treadmill has the smallest footprint of any on our list. The ProForm City L6 is a great option for those who have roommates, live in a small space, or have other size restrictions in their home.
---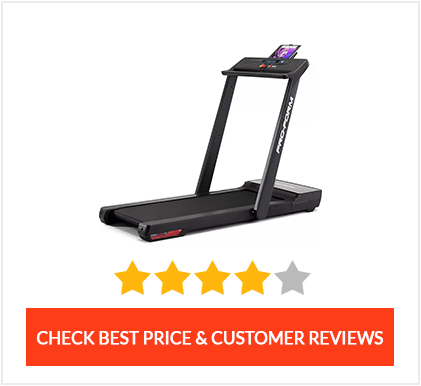 The City L6 has a unique design we rarely see on motorized treadmills: the fully collapsible console. This compact treadmill is not the most powerful, but it is a great option if you need something small and quiet to walk on at home in your own bedroom or office. The total footprint for the City L6 is 29" Wide x 70" Deep x 44" Tall and it only weighs 125 pounds. This compact unit is perfect for petite users with a 17.5" x 45" walking deck and 1.6 HP motor.
iFit Enabled, 30-Day Membership Included
1.6 HP motor
Tread Belt 17.5" wide by 45" long
Top Speed 8 MPH
No Incline
Weight Capacity 250 Lb.
Total treadmill weight: 125 Lb.
Footprint: 29" Wide x 70" Deep x 44" Tall
---
In addition to treadmills, ProForm has an extensive line up of Ellipticals, Exercise Bikes, HIIT Trainers, Rowers and Hybrid Trainers
---
Pros / Cons of ProForm Treadmills
Pros
ProForm finds a comfortable middle ground between the higher priced NordicTrack treadmills and budget oriented treadmills under $1000
With an extensive line up of options that range from $1000 – $2000, you have lots of options to find the right treadmill for you.
We love that even the Pro 9000 still comes in under $2000.
While staying affordable, the ProForm treadmills still feature iFit, which is a great database of classes and options.
ProShox cushioning, incline and decline, and respectable motor size keep the ProForm treads as viable options that remain affordable and foldable.
Consoles are streamlined for maximum functionality but minimal clutter.
Cons
While these treads all stay under $2000, there may be higher-grade models available from NordicTrack that are better suited for intense training.
Overall Rating of ProForm Treadmills:
ProForm has established a market position that caters to users who want a quality treadmill under $2000. Even the base model 400i features some innovative tech, so you get a certain level of quality with each ProForm machine. We like how ProForm strikes just the right balance, staying in between NordicTrack's EXP Series and Commercial Line treadmills to offer more options for users in this price range. With ProShox cushioning, iFit capacity, streamlined consoles and increased incline and decline range on the higher-end machines, the ProForm treadmills are consistently solid, well-designed machines.