*TreadmillReviewGuru helps consumers find the best home fitness products. When you buy a product we recommend, we may earn a commission.
Last Updated: May 8, 2023
Echelon has emerged as a viable contender in a field dominated by powerhouses Peloton and NordicTrack. The Echelon EX-5s features a 21.5" full-color interactive touchscreen which is roughly the same size screen as the NordicTrack s22i and Peloton bike. Echelon's FitPass app also offers similar content with classes for both on and off the bike. The V-shaped frame design offers more expanse between handlebars and saddle, which works well for taller riders. In this review, we'll take a look at the Echelon EX-5s bike to see some of the features and tech.
Awards: Best Rear Flywheel Exercise Bike
Rear flywheels are appealing because they are placed conveniently out of the way so you don't drip sweat and water on them while you ride. If not wiped down after your workout, this can lead to damage and corrosion on the time to bikes with front flywheels. The flywheel is heavy and smooth on the Echelon EX-5s. We've awarded it as the best rear flywheel exercise bike among our other top recommended exercise bikes.
Why Trust Our Review Of The Echelon EX-5s
When it comes to testing exercise bikes with touch screens, it's important to consider the overall construction, noise level, and bike adjustability, as well as the screen and content. We believe that users should enjoy and know what they're getting into when they purchase a bike and subscribe to workout content with a membership. Our thorough review of the Echelon EX-5s delves into everything you need to know about this exercise bike.
During our testing, we compared the Echelon EX-5s to comparable bikes on the market. These included the Peloton Bike, Peloton Bike+, NordicTrack S22i, and BowFlex Velocore.
Our Video Review
---
Pros
EX-5s bike and Echelon Fit app offer a competitively priced option in a field of expensive subscriptions
32 Levels of magnetic resistance are precise and quiet
Wide, ergonomic seat is more comfortable than most
Weight racks are positioned behind the saddle out of the way
21.5" Touchscreen is large, easy to see and reach
The Fit app offers Daily classes and off-the-bike training options that can be watched from any phone, tablet, TV, or device
Dual pedal options allow riders to clip in or just use athletic shoes
Four points of adjustment
Cages hold your feet securely when using the flat pedal
Tension knob is directly below the handlebars
Cons
Rear flywheel design is unfamiliar to some riders and may take getting used to
Uses a resistance knob rather than preset buttons
Screen graphics are not as crisp as on comparable bike screens
The one year warranty is a bit limited
---
Magnetic Resistance

Magnetic resistance is silent and easily regulated electronically through preset resistance levels. Magnets oppose the motion of the flywheel to create frictionless resistance. A belt connects the flywheel to the pedal crank, so the pedal motion is smooth. Magnetic resistance does not cause wear on the flywheel and is quieter while riding and braking.

32 Resistance Levels

Abundant resistance options are built into the EX-5s so you can incorporate hills, sprints, and intervals into your workout.

22" Touchscreen with 180 Swivel

The 21.5" touchscreen is large and easy to see. You select your Fit program via the touchscreen, which reduces clutter on the console. Display metrics are also adjusted on the touchscreen.

Dual pedal options

The pedals feature SPD cleats on one side with a flat pedal and cage option on the other side. This way you can clip in if desired or ride with any pair of athletic shoes. SPD cleats are those typically found on indoor bikes and mountain bikes. By comparison, the Peloton bike uses Delta LOOK cleats which are compatible with road bike pedals.

Bike only weighs 124 pounds

This is surprisingly light for a piece of workout equipment which makes it easy to move and roll when needed.
Construction:
Steel Frame with solid uprights and comfortable saddle
Flywheel is in the rear of the bike, out of the "sweat zone"
Handlebars adjust both up/down and forward/aft
Hybrid pedals feature SPD Clip-in cleats on one side and a flat surface with cage on the other
Resistance is Magnetically generated to be silent and smooth
Adjustable seat moves up/down and forward/aft
Bike weighs 124 pounds
Weight capacity is 300 pounds
Console:
21.5" Full-color display with touchscreen functionality
Screen rotates 180° for good visibility on or off the bike
No buttons or controls on bevel, all navigation is integrated in screen
Functionality:
Touchscreen features Echelon Fit app
Belt Drive produces quiet flywheel motion
Magnetic Resistance with 32 Digital Levels
Accessories:
Two 3 Lb. Dumbbells behind saddle (Weights sold separately)
Warranty:
Parts and Labor: One Year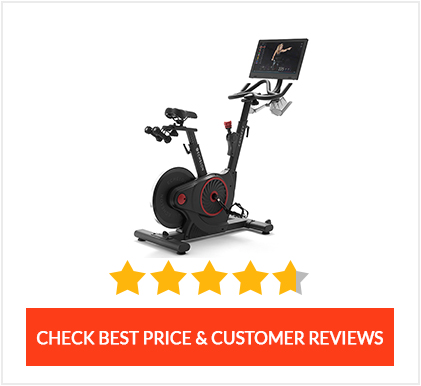 Overview of Echelon EX5s
---
Construction
Frame
Frame is powder-coated steel with four points of adjustment. The bike feels sturdy when riding and doesn't wobble or rock when riding in or out of the saddle. The rear flywheel design is a little different than traditional exercise bikes. The seat post and handlebar post angle outward slightly, which increases the span between handlebars and seat as you increase the height. Frame should fit most sized riders, although those over 6 feet tall may want to try out the bike to verify sufficient leg range.
FlyWheel
The 29 pound, rear-mounted flywheel pulls the weight back, under the rider, which may provide more stability. The flywheel is nice and heavy with good motion in the drive which feels smooth underfoot. There's no drag on the wheel from brake resistance so the feeling is fluid as you pedal along.
Handlebars
Handlebars are coated to repel sweat. There are multiple hand positions and an aero loop in the center. I find these handlebars to be comfortable. The upward angle helps and the widened area at the base of the horizontal bar provides a soft rest for forearms if you ride in an aero position. The handlebars do not impede the screen.
Saddle
Comfort: This is a comfortable saddle. Exercise bike saddles are notoriously hard and narrow, but the EX5s seat is surprisingly comfortable.
Adjustments: You can adjust saddle height up or down via the seat post and adjust the saddle forward/aft on the carriage post.
Console/Controls
Screen
Size: 21.5"

The screen was clearly designed to rival Peloton and NordicTrack's bikes with a screen that's nearly the same size. Lower Echelon models only offer a tablet holder. The EX5-s and EX7-s are the only Echelon bikes with a screen.

Screen Movement


The screen tilts up and down. It does not rotate side to side.
The screen is stable and doesn't wobble when you ride.
The screen is attached to the handlebars, so when you raise the handlebars, the screen lifts too. This isn't often a problem, but you might have to adjust handlebars slightly to get the right screen position.

Screen Height

You can raise and lower the screen but you cannot move it forward or aft.

Resolution

Resolution is adequate. This isn't the clearest screen we've seen, but it's easy to reach.

Touchscreen

Yes, this is a touchscreen which is really nice as it reduces the number of buttons and controls on the bike or the bevel.

Functionality

Overall, functionality is good. The magnetic resistance is displayed on the screen so you know your resistance level, calorie burn, RPM's, etc.
Accessories
Water Bottle Holder
Weight Cages behind the saddle for two, 3lb weights
There is no tablet holder or anywhere to set a phone. You could set a phone in the water bottle trays below the screen but it may slide out.
Functionality
Performance
The Echelon EX5s has a nice feel to it. There are a few geometric issues that could present a problem if you are tall or have really long legs, but for most people the fit and feel of the bike is comfortable. Resistance is quiet and the programming keeps you engaged.
Incline / Decline range
There is no incline or decline on Echelon bikes.
Resistance Levels
32 Resistance levels are adjusted via a tension knob on the down tube. I love the feel of a knob in my hand, but it isn't as precise as preset numbers. I'm not opposed to it though, and it doesn't negatively impact the experience, but it does make jumping between levels or finding a specific level a little more challenging. The dial is not overly sensitive. I gave it a big turn and only jumped two levels. This keeps you from increasing resistance inadvertently — but it also makes it so you have to turn it quite a bit to feel a difference.
Pre-programmed workouts
There are no pre-programmed workouts on the EX5s. All functionality is integrated through the app. If you aren't interested in Echelon's programming, we recommend looking at a different bike.
Subscription Options
The Echelon Fit app is $39/month, which is the same cost as the Peloton app. However, Echelon frequently runs discounts, especially if you are buying the bike at the same time. The Fit app has:
Live Classes
On-Demand Classes
Outdoor Routes (silent drone-videos – no instructor or format)
Leaderboard with several filters to adjust the rankings
Other classes off the bike such as stretching, weight training, yoga, etc.


In general, I found this app to be very similar to the Peloton app. The instructors give shout-outs to various riders during the class, there is a Leaderboard and the metric display on the bottom of the screen is almost identical. The instructors are not quite Peloton celebrities, but they are engaging enough. The music is fun. You can join different challenges and the class library is extensive.

The only element I could find that is different from what other companies offer is the wide variety of outdoor rides. These are not led by an instructor so there's no formatting in them. They are simply drone videos of locations all over the world that you can watch while you ride. I personally liked this option.

Storage / Folding

The bike does not fold, but it has wheels on the bottom, so you can roll it out of the way when needed. It only weighs 124 pounds, so it is noticeably lighter than comparable models. Be sure to remove any weights before you tilt the bike!

---

Recommendation:

The Echelon EX-5s is a solid contender in the crowded spin bike market. It competes well with other high-end brands and offers similar features and content. It also includes 4 adjustment points, which is an unusual benefit on an in-home exercise bike. If you are in the market for a fun, quiet spin experience, the EX5-s could be perfect. It's also more affordable than many competitors which is a nice benefit as well.