*TreadmillReviewGuru helps consumers find the best home fitness products. When you buy a product we recommend, we may earn a commission.
Last Updated: January 5, 2023
The NordicTrack RW900 is NordicTrack's premier indoor rowing machine. With a 22" touchscreen secured over the flywheel, this is a high-tech machine with magnetic resistance and comfortable geometry that can be stored upright when not in use.
iFit has thousands of classes that are led by encouraging instructors to take your fitness to the next level. The silent magnetic resistance makes the NordicTrack RW900 Rower perfect for those in shared spaces, too. In this review of the NordicTrack RW900 Rower, I'll guide you through the ins and outs of this rower so you can decide if it's right for you.
Rowing Machine Awards:
The NordicTrack RW900 Rower is awarded our most affordable high-tech rowing machine on our list of best rowing machines. Because of its large 22" touch screen that lets you row in locations all around the world. We gave it a 4.5-star rating out of 5 stars.
Why You Should Trust Our Review Of The NordicTrack RW900 Rower
We test out rowing machines like we test our other equipment, side by side with our reviewers switching back and forth between models. We have the unique opportunity to have a lot of equipment available to us for testing, including numerous rowers. This way, when we get a new rower in, we can pull out the ones we have to see how it compares.
We compared the NordicTrack RW900 Rower to the Hydrow, ProForm Pro R10 Rower, and the Concept2 rower. We compared everything from the seat, handle, pedals, content, resistance, and overall build and performance to bring you this review. Our goal is to help you find the best rower for you.
Our NordicTrack RW900 Rower Video Review
---
Pros
The large 22" touch screen lets you get guided iFit workouts on and off the rower with the adjustable screen.
The magnetic resistance of the flywheel is extremely quiet to use, making it perfect for apartments and condos.
It feels very stable due to the oversized steel monorail and steel stabilizers.
iFit has thousands of classes to choose from and is a comprehensive training app that will let you train your entire body and mind.
The velcro foot straps make strapping in and out really quick and simple.
There are front wheels for transporting and the rower can be stored upright.
Cons
There are no adjustment buttons on the console to change the resistance. Everything is accessed through the touch screen.
This machine isn't best for advanced or strong rowers because some users can out-row the magnetic resistance.
The weight capacity is 250 lbs which is on the lower end compared to other rowing machines.
---
22" Smart HD Touchscreen

This 22" touchscreen is crisp and bright, positioned directly over the flywheel for perfect visibility and can be tilted and pivoted for workouts off the rower.

Includes 1 Month Free iFit membership and 30 On-board Workouts

Take an iFit rowing class or outdoor river excursion anywhere in the world right on your touchscreen. 30 onboard workouts are also available.

Inertia-Enhanced Flywheel

The flywheel is quiet and provides magnetic resistance and uses a belt that is attached to the handle to pull against.

SMR™ Silent Magnetic Resistance with 26 Digital Resistance Levels

Quiet resistance with 26 preset digital resistance levels make it easy to select and navigate between levels on the touch screen.

Ergonomic, Molded Seat and Oversized, Pivoting Pedals

Seat and pedals are extra wide for added comfort and to accommodate users.

82″ L x 22″ W x 54″ H Footprint

The rower is long and narrow, but you will need extra space behind it for floor exercises in iFit. It can also be stored upright.
TECHNOLOGY:
22" Tilt & Pivot Smart HD Touchscreen
Adjustable Console
Includes 30-day free iFit membership
30 On-board Workouts
Auxiliary Music Port
30W Premium Sound System
ENGINEERING:
Inertia-Enhanced Flywheel
SMR™ Silent Magnetic Resistance
26 Digital Resistance Levels
250 Lb. User Capacity
COMFORT:
Oversized Steel Seat Rail
Ergonomic, Molded Seat
Oversized, Pivoting Pedals
Adjustable Nylon Foot Straps
SoftTouch™ Ergonomic Handle
COMFORT:
Oversized Steel Seat Rail
Ergonomic, Molded Seat
Oversized, Pivoting Pedals
Adjustable Nylon Foot Straps
SoftTouch™ Ergonomic Handle
CONVENIENCE:
Front-mounted Transport Wheels
82″ L x 22″ W x 54″ H Footprint
Warranty:
10-Year Frame Warranty
2-Year Parts Warranty
1-Year Labor Warranty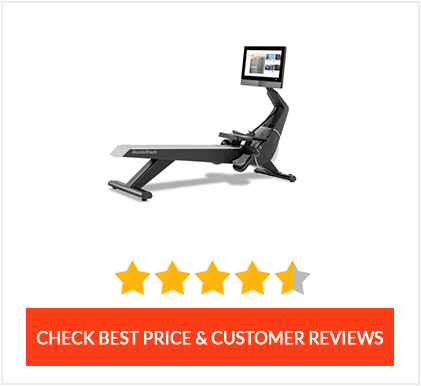 In-depth Review of NordicTrack RW900 Rower
---
iFit and Onboard workouts
Pre-programmed workouts
There are 30 pre-programmed workouts on the machine that will guide you through various intensities and resistance. There is also a featured workout of the day from iFit that is free for non-subscribers, so you can enjoy whatever class or outdoor rowing route is promoted. The onboard workouts are sufficient to keep you active and provide plenty of training variables. But if you are willing to invest in the gorgeous 22" touchscreen, we suggest using iFit, since it makes the RW900 much more enjoyable.
iFit Subscription

The rowing classes and outdoor routes on the RW900 are expansive. The classes are led by an instructor and feature a leaderboard to compete against other users. For rowing, there are two kinds of classes you can take:
Studio Rowing Classes: These classes are filmed in a studio with a trainer on a rower in front of you and other participants rowing alongside. Trainers are excellent at cueing form since it can be easy to develop sloppy form when rowing. The resistance is automated, so it will automatically adjust to whatever the trainer is doing.
Outdoor Routes all over the world: This is where the RW900 really shines. You can choose courses from rivers all over the world. You see the perspective of the rowing trainer with an occasional drone shot or an overhead view of the water and surroundings.
The ProForm Pro R10 is also iFit enabled and we find it to be very beneficial on this rower as we do with the RW900 Rower. The Hydrow has its own workout platform that has outdoor rowing classes led by instructors too. Comparing iFit with Hydrow, the biggest difference I notice is what direction the camera is placed. Hydrow points the camera at the instructor as they row backward, so they can talk to the camera versus mainly seeing the perspective of the instructor.
I like how both are filmed and don't have a personal preference of which view I like to see. Both add a lot of value to each of these rowers. iFit however offers numerous other types of classes that use other equipment or just a yoga mat. This makes iFit more of a complete training app where you can work out your body and mind. The meditation, TED talks, and other mindful classes are impressive and valuable as well.
Console
The console pretty much entirely consists of the 22" touch screen. It's important to note that all of the functionality of the RW900 Rower is within the screen. The screen is where you'll access iFit, manual mode, and the pre-programmed workouts. It's also where you adjust the magnetic resistance and volume. You can also adjust the volume of the iFit content just below the screen in between the front-mounted speakers. These speakers are nice and loud.
The 22" touch screen tilts so you can avoid any overhead glare and keep the screen within eye level while using the RW900. The screen also rotates so you can use it for iFit classes off the rower like Pilates and strength training.
For additional accessories, the NordicTrack RW900 Rower doesn't come with any. There isn't a fan or a tablet holder attached to the console. This is another reason why I suggest getting a subscription to iFit.
Construction Quality/Durability
We are impressed with how solid and sturdy the NordicTrack RW900 is. We are a little disappointed that it only has a 250 lb weight capacity with its new design for 2022. Users up to that limit should be able to use the RW900 rower just fine though.
Frame
The large, stable design is mainly due to the steel stabilizers and oversized steel monorail. This makes the RW900 feel incredibly stable when you're on it. Underneath the front and rear stabilizers are adjustable leveling feet to plant the rower firmly on the floor and eliminate any movement of the machine.
Instead, the movement is entirely created by you when the seat glides smoothly over the monorail during your workout.
There's also minimal noise from the seat as it moves over the steel rail. This rail is more heavy-duty than the ProForm Pro R10 Rower, but it doesn't fold up as the ProForm does.
Geometry/Dimensions
Footprint: 82″ L x 22″ W x 54″ H
Pedals: 13" L
Monorail: 53" L x 15" H
Saddle: 12" wide x 10" deep
Belt Drive: 29" from where the belt feeds out to the ground
Footboard & Pedals
I'm a fan of the velcro foot straps. They're easy to adjust and I'm able to put them on and take them off very quickly. They keep your feet secure when in use. The pedals also help to secure your feet in place. They're adjustable to fit your foot size, and the back holds your heels in place. The pedals do allow some ankle flexion while staying gripped to your shoe.
I did find the pedals to be a little sticky to adjust at first, but it gets easier with use. The footboards are nice and large to accommodate a wide variety of sized users, too.
Handle
The handle on the NordicTrack RW900 is slightly angled and has a nice texture that doesn't feel slippery. It isn't completely round, but more of an oval shape so it doesn't allow for other gripping or single-armed rowing like the Concept2. It would be nice if it was a little longer, our largest reviewer wished he could have a little wider grip on it. I do prefer a rounder handle like on the ProForm Pro R10 rower but didn't have any problems using the RW900 handle. My hands didn't get fatigued or feel discomfort after working out either.
Seat
The seat is lightly padded and minimally contoured. The Hydrow has more contouring for tailbone support, which we prefer. The padding on the RW900's seat is enough though so I don't find it too hard or uncomfortable to sit on.
The NordicTrack RW900 Rower sits pretty high off the ground. This makes it ideal for those with mobility issues that inhibit them from sitting low on the ground. It's also easy to get on and off. The seat is 19" high from the top of the seat to the floor when measured in the middle of the rail. In comparison, the Concept2 air rower seat sits about 14" high off the ground. This makes the NordicTrack RW900 a little more convenient to get on and off.
FlyWheel
The RW900 Rower uses a belt that's attached to the flywheel and the handle. This is where you get the tension to pull from. The belt is a significant reason why the RW900 is so quiet to use. Other rowers use a chain drive which can make a clanking noise when rowing. All of the other rowers we tested it against have a belt except for the Concept2 which has a chain.
The flywheel is inertia enhanced so it keeps the entire stroke smooth. We did notice that the belt does lose a little bit of tension in the recovery after the finish. There isn't slack in the belt like the ProForm Pro R10 Rower has with larger users, but it doesn't keep the tension quite as much as the Hydrow.
This isn't a huge problem, but we do discourage advanced and really strong rowers from using the RW900. This shouldn't be an issue for more beginner and intermediate users. The former might be able to out-row the magnetic resistance as well.
Resistance
The NordicTrack RW900 uses adjustable magnetic resistance. This makes it extremely quiet to use. It is actually quieter than the Hydrow which also uses this type of resistance. As mentioned above, some users might not find the tension from magnetic resistance to be enough for them to row against. If this is the case for you, we recommend checking out air and water rowers. The harder you pull with these rowers, the more tension you get, and air rowers offer unlimited resistance.
Air rowers are loud though and might not be suitable for some spaces. The RW900 is perfect for any home setting because it makes little to no sound. The only sound is from the speakers when you're using iFit or the preprogrammed workouts.
The magnetic resistance has 26 levels of resistance. You can adjust this on the screen in manual mode and in any of the iFit workouts.
Performance & Functionality
The NordicTrack RW900 feels incredibly stable to use. All of our reviewers found the RW900 to be comfortable and solid. It performed well for us as well.
We do feel like this rower is best for beginners and intermediates. The magnetic resistance has a maximum resistance which might not be suitable for some users. It also only has a 250 lb weight capacity, so we don't recommend it to be used by people over that limit. Our largest reviewer is 6'5" 230 lbs and he was able to use the RW900 just fine though.
I'm majorly impressed with the swiveling touch screen. A big factor for me is if I can reach the screen when I'm strapped in. I can easily navigate iFit while having my feet strapped into the pedals. For some rowers, I have to unstrap my feet to reach the screen, but the RW900 is close enough so I don't have this problem.
I do wish there were quick touch buttons on the console though. This would make changing the resistance more accessible than having to access it through the screen. The ProForm Pro R10 Rower has a row of buttons under the screen to quickly click which resistance level you want to row at.
The new design for the RW900 Rower doesn't fold up. It can be stored upright, however. Plus, there are 2 wheels on the front so it can be moved around if needed.
Warranty
NordicTrack offers a 10-year warranty for the frame, a 2-year warranty for parts, and a 1-year warranty for labor on the RW900 Rower.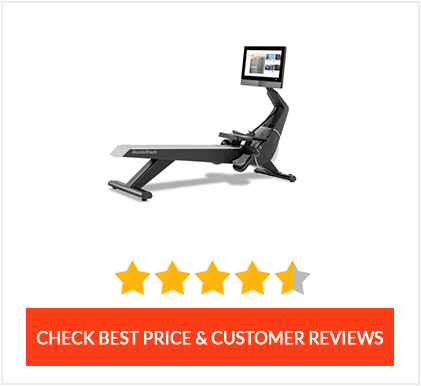 Bottom Line Review: NordicTrack RW900 Rower
The NordicTrack RW900 Rower is NordicTrack's top-of-the-line rower. It uses magnetic resistance so it's pretty much silent when you're using it, making it perfect for all home gyms. The belt drive also contributes to how quiet this rower is.
We're impressed with its solid design and large 22" touch screen. The touch screen swivels and tilts so it can be used on and off the rower for a well-rounded training experience. The screen is also iFit enabled with access to thousands of classes led by knowledgeable, engaging instructors for guidance during your workouts. We definitely recommend subscribing to iFit in order to get the most out of this rower.
The RW900 can be stored upright as it doesn't fold. There are wheels on the front so it can be moved as well. It also sits up pretty high off the ground so it's pretty easy to get on and off of. We did notice the belt loses a little bit of tension at the finish and recovery, so it might not be best for advanced and strong rowers. It also only has a 250 lb weight capacity so it isn't best for larger users.
The NordicTrack RW900 is perfect for beginner and intermediate users, and also users who want guided training. Overall, we're impressed with these features and the heartiness of the construction and think the RW900 Rower is an excellent option for home rowing machines.