Do you suffer from back pain or sciatica? If you do, then you are part of the 80% (plus or minus) of all adults who suffer from various types of back pain during their lives and could benefit by owning an inversion table and implementing a daily practice of inversion therapy.
*Click here to skip to the bottom-line if you just want to see our top picks for best inversion tables. However, if you are new to inversion therapy and need to be convinced that an inversion table will do amazing things for getting rid of your back pain then keep reading*
Here at treadmillreviewguru, our team is very active. We all run a lot, and as runners we oftentimes pay the price in terms of back pain. Personally, I first suffered from lower back pain and sciatica when I trained for my first marathon 10 years ago.
So what did I do to get rid of my back pain? Well, I first went to the orthopedic doctor. Why? Honestly, I was young and just assumed that's where you start. When I learned that surgery was not really a good option, I then when to a physical therapist and then to a chiropractor. The latter two helped me a little bit but I still was suffering from back pain every time I ran. And then a co-worker sold me her husband's Teeter inversion table. With just one week of inversion therapy my back pain was gone (and I also learned that I loved the meditative practice of hanging upside down). My life was changed, and to this day I have an inversion table at my office and one in my closet at home so I can keep my back pain at bay.
As TreadmillRevewGuru.com has grown, we have decided to expand outside of treadmill reviews and information to help runners (and everyone really) live a more healthy life and recover from the physical problems that arise when you live an active lifestyle. One of those areas that we find people need help most is with getting rid of back pain – and that's why we have created our list of best inversion tables for 2019. We've reviewed more than 15+ inversion table brands (most brands suck to be honest) and 40+ inversion tables to find only the best options for you below.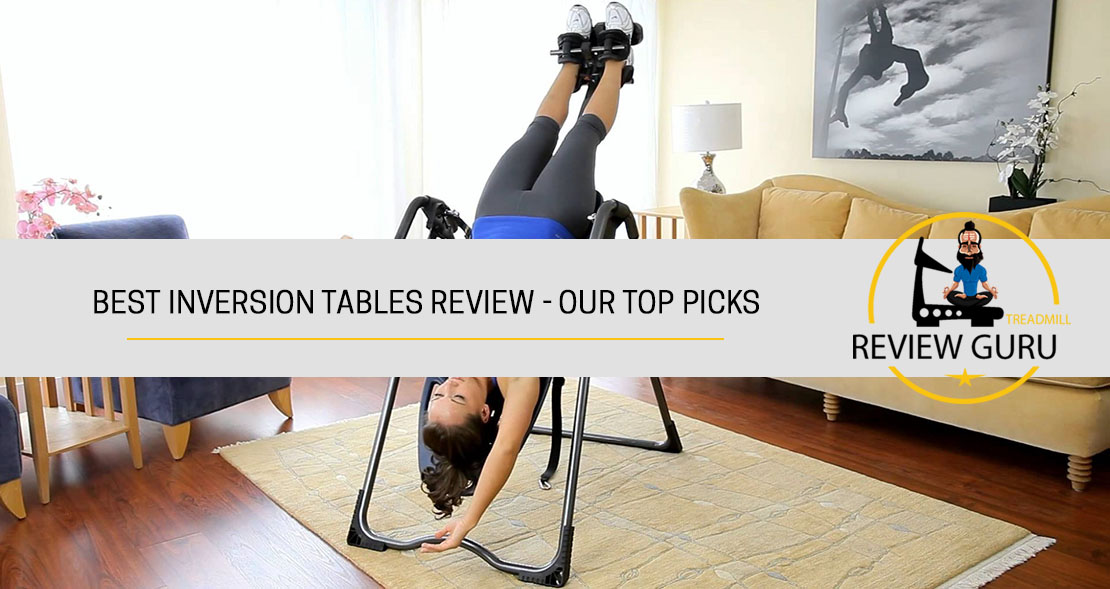 How We Rate Inversion Tables
Our inversion table reviews and ratings are based on the following:
Functionality. A good inversion table obviously needs to do what it's supposed to – comfortably allow you to hand upside down so you can stretch out your back and get rid of your back pain (or meditate, as I do every morning as I hang upside down).
Features. My original inversion table was pretty basic. Fast forward 10 years and there are tons of great features you can find on inversion tables that increase the effectiveness. We'll show you which features matter and why.
Build Quality / Durability. If you are hanging upside down you need 100% assurance that you will be safe and not fall and break your neck. The first time you invert it's a little scary. Every one of our top rated inversion tables are built exceptionally well, with the best materials, and have been safety tested according to industry standards (or higher).
Comfort. One of the most common questions people as us is if inversion tables hurt their feet. The answer is that they shouldn't, but some do (the crappy ones). The ones on our list are very comfortable and you won't have a problem using them once you get used to inversion therapy (it will take a few times, but we have some advice on how to invert for the first time as well).
Price. Inversion tables are actually very cheap when compared to other back pain relief options (chiropractic care, surgery, physical therapy, etc.). Trust me, I know. However, you still don't want to pay more than you need to when buying an inversion table.
Best Inversion Tables 2019 – Top Picks By Experts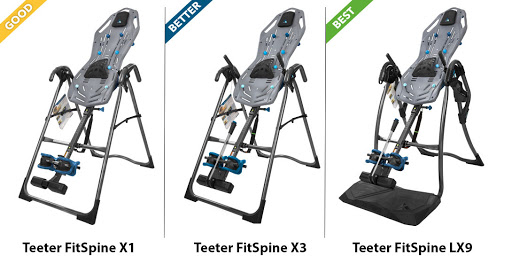 When people think inversion tables, most people think of Teeter. This is not only due to the founder's name being perfect for a machine that literally allows you to teeter back and forth, but it's because Teeter was the man/company who pioneered the modern day inversion table way back in 1981 after suffering from debilitating back pain. As an engineer, Roger Teeter then set out to build the best quality inversion tables for back pain – and we think that is exactly what Teeter has done.
We rate the Teeter FitSpine series (X1, X3, and LX9) as our top-rated inversion table for 2019 because of:
Teeter's commitment to quality and durability. The Teeter FitSpine X1, X2, and LX9 are all independently certified by the industry's highest UL safety standards. In fact, I still have my original Teeter inversion table I bought used over 10 years ago!
An inversion table that does exactly what it should do every time. Inverting on the Teeter FitSpine is very controlled, safe, and easy. One of the challenges with other inversion tables is figuring out the right balance point so you can get the most out of inversion therapy. This includes inverting at different angles, but also being able to teeter-totter back and forth between inversion angles. Teeter does a great job with all their products with this – and is one of the main reasons we rank the Teeter models so high.
One of the most comfortable ankle locks in the industry. A lot of people complain that inversion tables hurt their feet. Not so with the Teeter EP-560.
Great value for your $$$. Teeter does have a few inversion tables with more features, and if you can afford them then we highly recommend the upgrade. However, you get everything you need for safe, effective inversion therapy with the Teeter EP-560, and you do save some extra money vs their other models.
30 day in-home trial. I know this isn't technically part of the inversion table, but I think it's a great way to allow people who are suffering from back, neck, and sciatica pain try the product before they commit 100% to it.
60 day money-back guarantee. Again, this just shows you how much Teeter believes in their product, and you should take them up on that offer.
What is the difference between the the FitSpine X1, X2, and LX9?
Essentially, the main difference between the Teeter FitSpine X1, X2, and LX9 inversion tables are some of the 'extras' and accessories. With all FitSpine inversion tables you get the following:
UL Safety tested inversion table. The FitSpine inversion table is strong and rated for people between 4'8" 0 6'6" and up to 300 lbs.
60 day money-back guarantee (and they stand behind that 100%, Teeter is great company you can trust)
Financing options, so you only have to pay $14.95 for your 30-day trial. That is about ¼ the cost of a cheap chiropractor!!
Additional, free accessories (if you purchase now):
Acupressure nodes, that help you work out knots and other kinks while you invert
Lumbar bridge for extra support for your back and hips, which can make inverting more comfortable and effective
A guide for how to build a healthy back and core
Inversion Table routines/how-to-guide to help you develop a healthy back
FlexTech table bed that works jointly with the lumbar bridge and acupressure nodes
If you upgrade to the FitSpine X3 option (that is the one I recommend the most), you also get:
EZ-reach ankle system. This is a handy bar that makes it so you don't have to bend down all the way to lock your ankles in place.
EZ-Stretch tracking handles. These handles let you push 'downward' as you are hanging and further enhance the traction therapy. I love these!
EZ-Angle tether. This basically just makes it a little easier to set you max inversion angle. Personally, I don't think this is a big deal.
With the FitSpine LX9 you also get the following:
Stretch Max handles. These handles make it a little easier to get up and out of your inversion table. If you are someone with very limited mobility these can help.
Boarding platform base. Again, another add-on that simply makes getting into and out of the inversion table easier.
Storage caddy, for holding a water bottle or keys/phone/other personal items. This one I'm just going to say I don't get. Love, love, love the inversion table, but don't get the storage caddy. However, if you can figure out how to drink water while hanging upside down, please tell me down in the comments and I'll recant this statement!
*Also, remember, The Teeter FitSpine (very similar to their EP-560 model) is for those who suffer from back pain, sciatica pain, spinal degenerative joint disease, degenerative disc disease, and other back issues. Teeters machines have also been shown to help reduce the need for surgery by 70%!

Pros
3 Different options based on your needs and budget
UL tested and certified to the highest industry standards
300 lb weight capacity
Can fit users from 4'8" to 6'6"
Very comfortable, effective inversion table
Only inversion table registered with the FDA as a 510(k) Medical Device
Easy to assemble (average time 20-30 minutes)
Easy to store while not in use
Heavy-duty, UL tested and certified
EZ Angle Tether strap to control the inversion range.
Full 5-year warranty
Free Shipping
Registered with the FDA as a 510(k) Medical Device
Cons
Won't work for people above 6'6", or 300 lbs
Takes a few minutes to set up (just be sure to watch the DVD and you won't have a problem)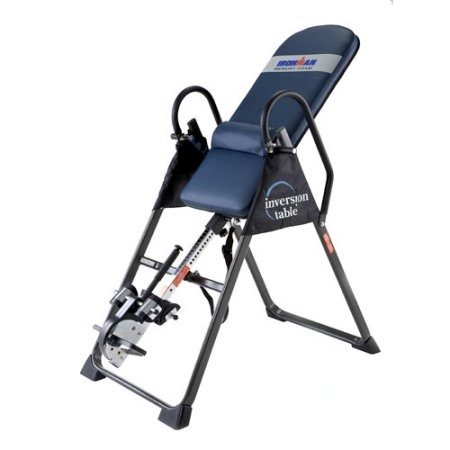 Looking for inversion table with a high weight capacity? IRONMAN Gravity 4000 is the ideal choice for heavy individuals, who are interested in trying inversion therapy. As the name only suggests, this inversion table is quite famous for its high weight capacity. It is made up of high quality durable tubular steel frame with a scratch resistant powder coated finish and can support weight up to 350 lbs.
This inversion table is folding type product which can be folded and stored when not it use. Being a space saver it does not acts as a hindrance to room cleaning and can easily fit in your small home or apartment. It has dimensions of 49 x 26 x 65 (LxWxH) and it comes with many exciting features to provide safety and comfort to the user.
IRONMAN Gravity 4000 is a sturdy and strong inversion table and it weights about 75 lbs. Its backrest is covered with 2 ½ inches of padded Memory-foam vinyl adding extra cushion and comfort to the head and back. The double stitched vinyl side panels provide protection to the hands. It is equipped with tough rubber non-skid floor stabilizers for stability, enabling you to invert without any fear.
This model has extra long handles on the foot clamp for easy return to upright position and tether strap system for locking inversion angles. The IRONMAN Gravity 4000 advanced palm activated ratchet ankle locking system does not requires you to bend down as far to release the heel holders.
Moreover, Gravity 4000 has a removable head pillow attached to the backrest by Velcro and can be easily removed when not required. This product is easy to assemble and is available at an affordable price as compared to other types of inversion tables. It comes with 1 year warranty for frame and 90 days for parts.
Pros
Folding type inversion table.
Multi-layered memory foam adds extra cushion and comfort.
Advanced palm activated ratchet ankle locking system.
To control the inversion range, the safety tether strap is present which is very easy to adjust.
Long handles to secure ankles easily.
Tough rubber non-skid floor stabilizers.
Ergonomically molded ankle cushions.
Removable lumbar support pillow.
Suitable for the users up to 6'6″ height.
High Weight Capacity of 350 lb.
Its available at an affordable price.
Cons
Not easily portable being 75 pounds.
No set positions to lock into, you won't be able to lock into any position after inverting. In order to do so you need to make good use of the adjustable nylon strap with safety hooks at both ends.
Innova's ITM4800 inversion table is among the latest modern inversion tables in the market. It is built using heavy duty steel tubing and any individual weighting up to 300 pounds can go for this product.
Innova ITM4800 has 4-position side inversion pin which allows you to control inversion range and adjust the table to any inversion position according to your comfortable without the use of old style strap. For this all you need to do is to place the pin in the desired decline position according to your comfort. It is equipped with isolated heat and vibration therapeutic massage feature which relaxes and heats the area of your body that you want to stretch out taking inversion therapy to another level.
Extra long soft foam contoured handles are provided on the foot clamp for easy return to the upright position. The cushioned foam cuff style rear ankle support pads provide support, protection and comfort for your feet during inversion. It has a removable head pillow which can be removed when not required. With its folding design it can easily be folded and stored when not in use.
All the features that are listed above make this inversion table one among one of the most therapeutic and advanced tables in the market. This inversion table is a must have if you want to feel what inversion therapy is all about. It has the therapeutic effect every user needs. Lastly, it is an affordable inversion table and the features it provides are worth the price as compared to other inversion tables that may not offer you up to half of the features it has.
Pros
Folding type inversion table.
Equipped with isolated heat and vibration therapeutic massage options, taking inversion therapy to next level.
Multi mode massage settings with auto and manual selection for a complete massage experience.
Four position side inversion pin locking system rather than older strap system.
Soft foam countered long handles for easy return to upright position.
Cushioned foam ankle support pads for support, protection and comfort.
Large foam backrest with removable head pillow.
Suitable for the users from 4'10″ to 6'6″ height.
High weight capacity 300 lbs.
This sturdy inversion table is built using high quality durable material and comes with 1 year warranty.
Easy to assemble as it comes with its legs already pre-assembled.
Affordable Price.
Cons
Difficult to move being 57 pounds.
Don't expect that extreme level of massage like recliners with such price range or else you'll be disappointed.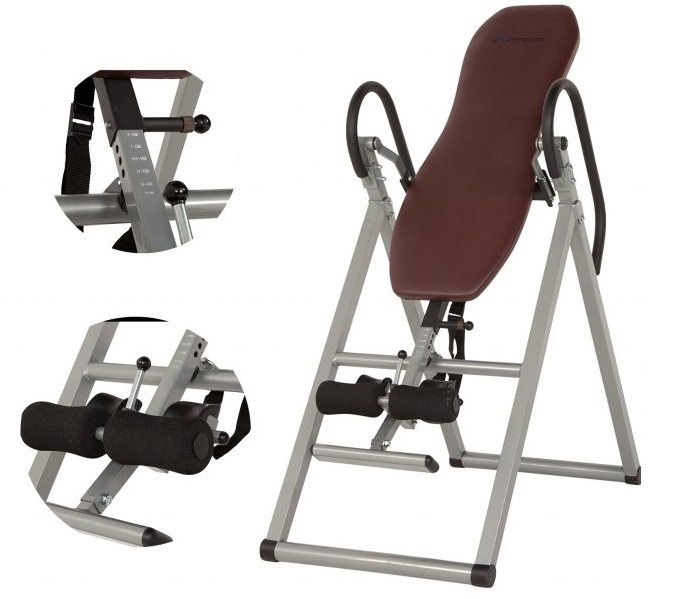 Exerpeutic Inversion table features a deep burgundy color making it more appealing to eyes. It has a high quality 1.5-inch square steel frame with scratch resistant powder coated finish making it more durable. You don't need to worry about the quality of this product as it is manufactured by Paradigm Health and Wellness Inc, which manufactures sturdy as well as affordable products.
Exerpeutic Inversion table weights about 55 pounds and it has a weight capacity of 300 lbs. It comes with foam vinyl covered backrest which provides comfort to the head as well as back. The backrest is easy to clean and does not allows you to slip or slide during inversion. With adjustable safety tether strap you can invert to any angle according to your comfort.
It has extra long heavy duty U-shaped safety handles that makes it easy to return yourself to an upright position. The table has foam rollers and ankle cushions with easy pull pin ankle system to hold your ankles firmly and provide maximum security. Being a folding table it can easily be folded and stored when not required. Another great thing about this product is that it arrives with fairly thin manual and tools inside for an easy assembly.
Pros
Folding type inversion table.
Easy pull pin ankle release system.
Foam rollers and ankle cushions to hold your ankles safely and comfortably.
Adjustable tether strap to control the inversion range.
0.75-inch soft foam vinyl padded backrest which is easy to clean and provides comfort.
U-shaped extra long foam covered handles for easy return to upright position.
Suitable for the users from 4'10″ to 6'6″ height.
Built using high quality durable material and comes with 1 year warranty.
This inversion table comes with all the necessary tools required for easy assembly.
High Weight Capacity of 300 lbs.
Affordable Price.
Cons
This table weights 55 pounds and moving it around can be a tedious task.
Not easily folding table, as for folding it first you need to take off the backrest which in itself is a tedious task.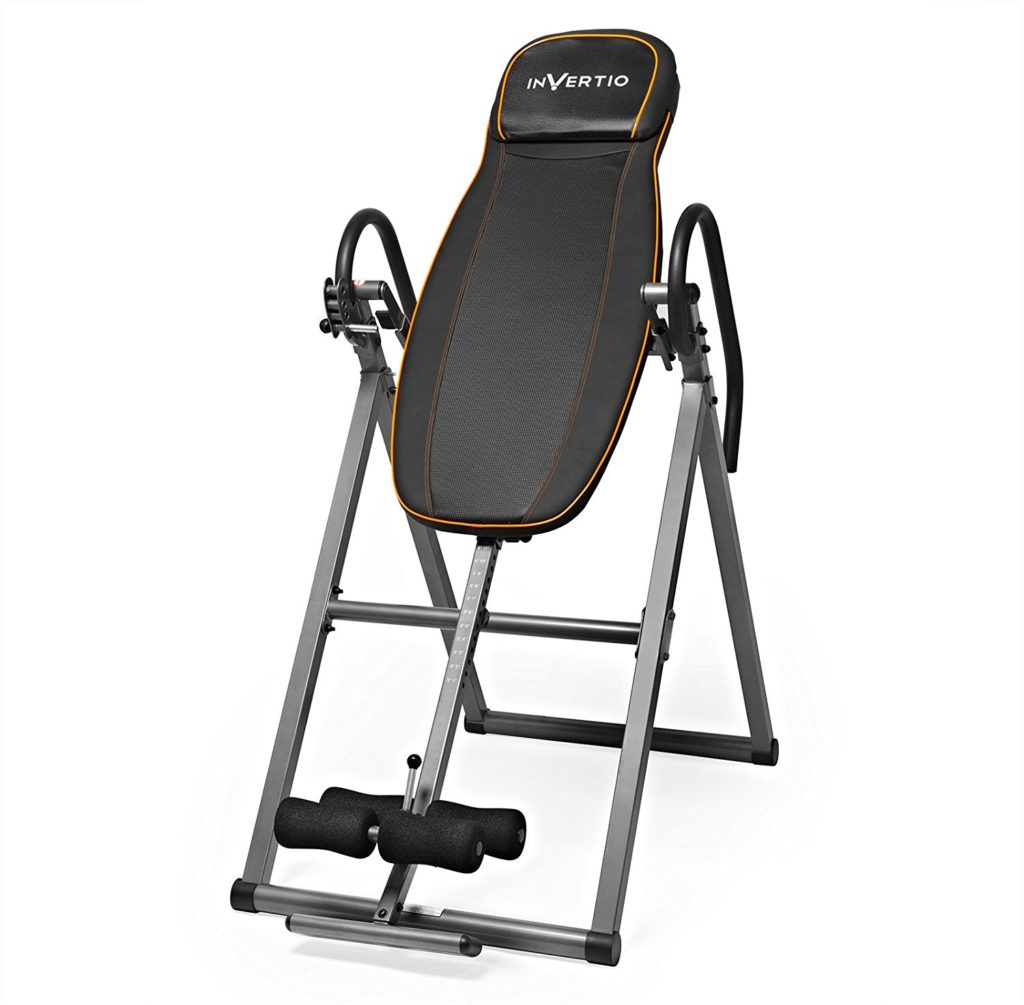 Cheaper than ordinary inversion tables, Inverto is equipped with a quite unique feature set. People tend to think of a fraud situation once they notice the low price, but this is not the case. Despite its cost, the makers of the product haven't reduced its feature set. Its low cost and amazing feature set is what makes this product unique.
Invertio premium folding inversion table is built using 1-1/4" diameter ultra high-strength tubular steel and weights about 52 pounds. Unlike other inversion tables, this has 26-easy-to-use height adjustments and can support up to 250 lbs weight.
It comes with padded backrest and 8-position adjustable premium ankle support for a quick and perfect fit for any size user to hold ankles firmly, thereby providing comfort and protection during inversion. Because of its 3-position pivot joints you can easily control your inversion speed.
The handrails are well padded and 40 inches long to help you in easy and safe inverting and returning to the upright position. With the high-tensile strength limiting strap you can pre-set an exact desired inversion angle according to your comfort level.
This inversion table is non-skid and non-marring to provide stability during inversion, keeping itself fix and immovable. It can easily be folded and stored after use. Moreover it comes with 1 year warranty and anyone can assemble it easily within few minutes.
Pros
Being a folding type inversion table it can easily be folded and stored when not required.
41 ½ inches x 15 ¾ inches measuring large and luxurious padded backrest.
3-position pivot joints to control inversion speed.
8-position adjustable premium ankle support to perfectly match user of any size.
40 inches long well padded handrails for easy return to upright position.
High-tensile strength limiting strap to control the inversion range.
Suitable for the users from 4'10″ to 6'6″ height with 26-easy-to-use height adjustment options.
This sturdy inversion table comes with 1 year manufacturer's warranty.
Easy to assemble, includes instruction manual.
Available at an affordable price.
Cons
This inversion table is not very portable being 55 pounds.
Assembling instructions are a bit hard to follow only because the diagrams included in the manual are not very big.
Benefits of Inversion Therapy
Inversion therapy through the use of inversion table, elongates the spine increasing the space between the vertebrae, which relieves the pressure on discs, ligaments and nerve roots. Less pressure means back pain relief.
A study has shown that people who suffer from back pain are more likely to get better if they perform inversion therapy compared to other ways of treatment. For instance, 78% of people who received physical therapy still had to perform a surgery, whereas from those who followed inversion therapy only 23% had to operate.
Sometimes joints tend to experience stress after heavy workout sessions. This is where inversion therapy helps in reducing the build-up of excess stress on the joints. Hanging upside down elongates and stretches the muscles surrounding the joint area, thereby eventually reducing the pain. Moreover, there may be potential miss alignments caused due to one-sided activities like tennis. Inversion therapy eventually corrects any miss alignments that may have occurred. Also, people with arthritis can incorporate this therapy in their daily routine for a reduction in join pain.
Detoxifies Lymphatic System
Hanging upside down detoxifies the lymphatic system by draining down toxic fluids and wastes. The fluid waste travels in one direction through the entire system. So, hanging upside down effectively stimulates the system and eliminates wastes like lactic acid which cause pain.
Improves Blood Circulation
As we all know blood flows in one direction throughout the body due to gravity. By hanging upside down, the blood is better circulated. Due to better circulation, nutrients are able to reach throughout the body. Also, inversion therapy helps in decongesting the internal organs. Since inversion therapy promotes proper circulation across the body, the chances of developing varicose veins are also reduced significantly.
While standing in an upside down or an invert position the blood fills up your upper lungs, differently from its usual routine in which it fills your lower lungs. As a result, more oxygen is produced. Also, the diaphragm gets stronger when you invert so after performing inversion therapy for some time you will feel the change even in the way you breath.
Finding Perfect Inversion Table: Features to Consider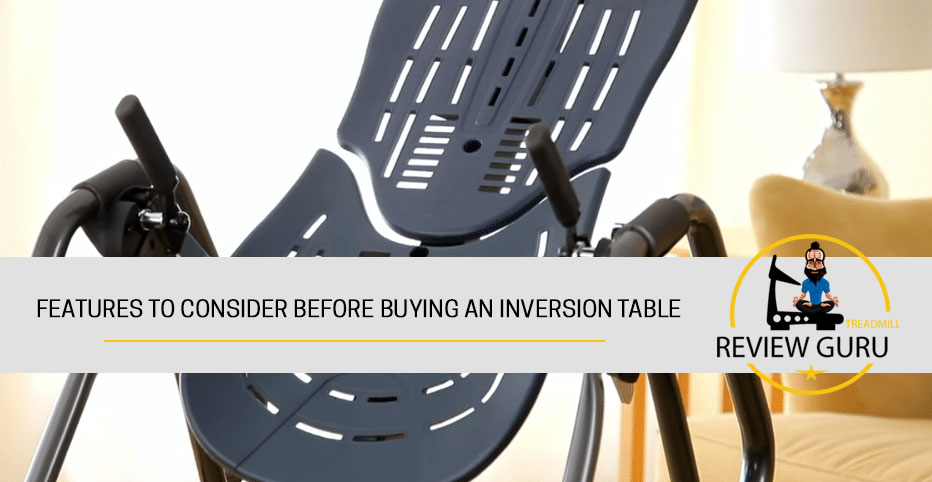 Nowadays companies are offering varying kinds of inversion tables thereby leaving the buyers confused. However, when deciding on an inversion table there are certain important features mentioned below that should be kept in mind.
Construction Quality – How the equipment was constructed plays a very important role in making the right choice. Inversion table built using low quality material can result in some serious injuries while inverting that's why inversion table designed using heavy duty steel framework must be preferred. It's even better if it's padded with a quality foam which provides comfort and protection to the sensitive areas of your body such as back, neck, and head.
Stability – One should look for an inversion table that offers the best stability even when at 90-degree inversion.
Hi-end Features – While investing good amount on inversion tables, users should look for at least some of the features like comfortable backrest, soft foam rollers and ankle cushions, inversion pin locking system etc. Inversion tables with hi-end features like isolated heat and vibration therapeutic massage are also preferable.
Height & Weight Limit – It is important that the height and weight limits of the inversion table must be considered because it will keep the user safe and secure. A lot of tables out there support a height range from 4'10" to 6'6″, and body weight between 250 lbs to 350 lbs.
Warranty Period – Regular usage of inversion table will undoubtedly wear out the table with time. However, products that have long warranty coverage must be preferred. This will protect buyers against defects caused on the manufacturer's part.
Manufactures History: One of the most important thing a buyer should consider while buying a inversion table is the manufacturer's history. While analyzing the inversion table manufacturer's details, one must look at how long the company has been producing inversion tables and what good things people have to say about their products. 
Conclusion
The wondrous inversion therapy has been doing the rounds in promoting a healthy lifestyle for some time now. From easing off back pains, improving body posture and balance, reducing arthritis pain to promoting blood circulation and reducing stress levels, inversion therapy offers it all. The above-mentioned products come at an affordable price range and are tested by our fitness experts based on safety, motion, comfort, durability and features.
Safety precaution for all users of inversion tables: 'if you are suffering from heart disease, high blood pressure, glaucoma that is, eyeball pressure, pregnancy and other crucial health conditions, please contact your doctor or physician before using inversion tables'. Moreover, you may need the assistance of one or two persons to guide you during inversion therapy sessions. You are advised to always read instructions on the machines before using them, especially if you are a beginner.
Summary
Reviewer
Review Date
Reviewed Item
Author Rating