*TreadmillReviewGuru helps consumers find the best home fitness products. When you buy a product we recommend, we may earn a commission.
Last Updated: May 10, 2023
NordicTrack is one of the fitness industry's oldest manufacturers. In 1975, Edward and Florence Pauls built a ski machine in their garage in Chaska, Minnesota. Ed wanted to train indoors during the brutal Minnesota winter. The ski machine was so successful, the Pauls found themselves running a thriving manufacturing business that expanded to include treadmills, ellipticals, and other cardio equipment. In 1998, NordicTrack was acquired by Icon Fitness located in Logan, Utah. Icon, which is now called iFit Health & Fitness, is also the parent company of ProForm, Weider, and FreeMotion. iFit is one of the largest manufacturers of health and fitness equipment.
NordicTrack offers a plethora of highly functional treadmills and we enjoy getting to test and review these machines. Check out the lineup of NordicTrack treadmills below.


What To Expect From NordicTrack Treadmills
We really like NordicTrack's treadmills because they were designed with innovation, while also keeping your body in mind. Running is high-impact and can be tough on the joints, especially when you run on concrete. The cushioning on NordicTrack treadmills is among some of the softest we've tested, which really helps absorb the impact that comes from running and minimize the pain that can come with that.
Even their basic model treadmills are iFit compatible to ensure you're able to get the most out of your training. From studio-style classes, to outdoor hikes and runs around the world, to classes off the treadmill, iFit offers countless options to keep you engaged and motivated. Even apart from their features and content, when you step on a NordicTrack treadmill you can feel the stability and experience the hearty motor power that can withstand your training for years to come.
NordicTrack Incline Trainer Reviews
NordicTrack's Incline Trainers are their top-of-the-line treadmills that feature steep incline and decline, extra Reflex Cushioning in the deck, magnificent full-color touchscreens, hearty motors, and extras such as sled push bar and manual mode. The Incline Trainers do not fold up, but their enhanced stability enables them to offer more features.
---

NordicTrack's x32i is king of the mountain when it comes to overall design and functionality. The 4.25HP motor is smooth and powerful and you get an extra 5" of length on the tread belt! This is the perfect set-up for anyone who wants a bit of extra space or for tall runners who may need additional kick-back length. The 32" touchscreen is NordicTrack's largest with graphics that are crisp and colorful. The screen takes up the full space on the front of the treadmill, so you do have to reach behind it to grab water bottles. One touch controls to the side of the screen make navigation easy; you can quickly move from a 6mph speed to 9mph speed and drop incline from 30% to 6% with just the touch of a button. NordicTrack's one touch controls are my favorite on any console. The x32i is a powerful, impressive machine that will make your training enjoyable and beneficial.
0 – 40% Incline
0 – 6% Decline
0 – 12 MPH Speed
4.25 CHP DurX Motor
300 Lb. User Capacity
32" Touchscreen, iFit compatible
Does not fold
22" x 65" Tread belt
76.5" L x 40" W x 73" H Footprint
Read our full review of the NordicTrack X32i Incline Treadmill
---

I seem to like the mid-range models the best and this is also true for the x22i. This is my favorite incline trainer by far. It offers a great combination of gorgeous 22" touchscreen, 40% to -6% incline and decline, 12mph max speed, good size tread belt and enhanced Reflex Cushioning. It also measures slightly smaller than the x11i. The difference between the 10" touchscreen on the x11i and the 22" touchscreen on the x22i is like night and day. Whereas the x11i is adequate, the x22i is gorgeous. The screen is the perfect size so you retain the one touch controls for speed and incline along the side. This touchscreen really pulls you in and makes it feel like you are right there, in the iFit class or on an outdoor route, enjoying the scenery and exercise. A powerful fan in the console has four settings and speakers under the screen offer good sound. Water bottle holders on either side of the screen are easy to reach and a lip above the speakers provides the perfect place to see a phone or tablet. I love training on the x22i and I bet you will too!
0 – 6% Decline
0 – 40% Incline
0 – 12 MPH Speed
4.0 CHP DurX Motor
300 Lb. User Capacity
22" Touchscreen, iFit compatible
Does not fold
22" x 60" Tread belt
70.2" L x 39.6" W x 71.6" H Footprint
Read our full review of the NordicTrack X22i Incline Treadmill.
---
NordicTrack Commercial Treadmill Reviews
A step up from the EXP- Series, the Commercial line treadmills feature longer running decks, more cushion, incline and decline, and larger touchscreens. The Commercial treads have bigger motors to support more intense training and multiple users. The Commercial series treadmills all fold, which makes them NordicTrack's best-selling line.
---

The NordicTrack 2450 is a folding treadmill with impressive features and a streamlined design. It has a large 22" touch screen that lets you view iFit classes very easily not only because of how crisp the screen is but also because of how adjustable it is. The touch screen can be tilted up and down and pivoted up to 360 degrees from side to side. This way, if you're taking a treadmill boot camp class or want to utilize the screen for off-the-treadmill training like yoga and strength, you can! We personally love the quick-touch buttons on either side of the screen that makes using the treadmill very straightforward. The 2450 has soft cushioning, paired with a 20" x 60" running surface that accommodates all user abilities and sizes up to 300 lbs. The 3.6 CHP motor is quiet and can handle all kinds of use, too.
0 – 3% Decline
0 – 12% Incline
0 – 12 MPH Speed
3.6 CHP Motor
300 Lb. User Weight Capacity
22" Tilt & Pivot Touchscreen, iFit compatible
Folding
22" x 60" Tread belt
78.5" L x 35.6" W x 65" H Footprint
Read our full review of the NordicTrack Commercial 2450 Treadmill..
---

The 1750 hits a sweet spot for the best combination of features at just the right price. Consequently, it is one of NordicTrack's best-selling treadmills. The Commercial line offers decline in addition to incline, so you can drop the front of the deck -3% for downhill training or gentle knee strengthening. It's unusual to find a decline on a folding treadmill, so we love the innovation here! Again, 12 mph speed is about the most anyone should need and the 3.5 CHP motor keeps the power flowing through speed changes and incline adjustments. You get all this for a reasonable price, which makes the 1750 consistently popular. We love the 14" touchscreen and sleek design as well.
0 – 3% Decline
0 – 15% Incline
0 – 12 MPH Speed
3.5 CHP Motor
300 Lb. User Capacity
14" Tilt & Pivot Touch Screen, iFit compatible
Folding
22" x 60" Tread belt
80" L x 38" W x 65" H Footprint
Read our full review of the NordicTrack Commercial 1750 Treadmill.
---

A new addition to the Commercial Series is the 1250. This is the lowest-end model in this lineup. Even though it's the most affordable, the NordicTrack 1250 still comes with impressive features like the 10" tilting and pivoting touch screen to stream iFit from, and the -3% decline and 12% incline. The 3.0 CHP motor and 60" long belt makes this treadmill a great option for running. We appreciate that this treadmill offers a lot of the same features as the 2450 and 1750, but at a lower price point.
0–3% Decline
0-12% Incline
0-12 MPH Speed
3.0 CHP Motor
300 Lb. User Capacity
10" Tilt & Pivot Touch Screen, iFit compatible
Folding
20" x 60" Tread belt
78.5" L x 35.6" W x 64.7" H Footprint
Read our full review of the NordicTrack Commercial 1250 Treadmill.
---
NordicTrack EXP Series Treadmill Reviews
The EXP Series is NordicTrack's basic line of in-home treadmills. These treadmills are foldable and more compact, so they work great for apartments, small homes, students, etc. All these treadmills will support a 300 lb max user weight. The EXP Series all have touchscreens that are iFit compatible. EXP Series treadmills will support light to moderate use, but they are not designed for intense running, multiple users, or heavy use.
---

Starting out at the top is the NordicTrack EXP 14i Treadmill. It has a 3.0 CHP motor and a 55" long deck that can handle walking and jogging for most users. The 20" wide deck is spacious enough to use yet takes up less space in your home. Plus, the deck folds up and locks into place. The 14" touch screen fits well into the console around the quick touch adjustment buttons and is sufficient for viewing iFit's content. It has two cupholders for storage to hold your water or phone. The 12 mph max speed and 12% incline should be enough to challenge most users as well.
0-12% Incline
0-12 MPH Speed
3.0 CHP Motor
300 lb User Capacity
14" Tilt HD Touch Screen, iFit compatible
Folding
20" x 55" Tread belt
70.8" L x 34.9" W x 59.7" H Footprint
Read our review of the NordicTrack EXP 14i Treadmill.
---

We love how the EXP 10i is affordable but still offers a lot of great features. The 10" touchscreen is sufficient for streaming iFit's classes, so you're getting great functionality here at a reasonable price point. The cushioning in the deck is comfortable and the 20" wide by 55" long tread belt is enough space for walking and jogging for some. The NordicTrack EXP 10i is a great option for first-time treadmill owners, students, or anyone in a small space or apartment. It's quiet, folds up, and doesn't take up too much space when in use. The deck is lightweight and easy to lift by one person.
0-12% Incline
0-10 MPH Speed
2.75 CHP Plus Motor
10" Tilt HD Touchscreen, iFit compatible
Folding
300lb max user weight
20" x 55" Tread belt
70.8" L x 34.9" W x 59.7" H Footprint
Read our full review of the NordicTrack EXP 10i Treadmill
---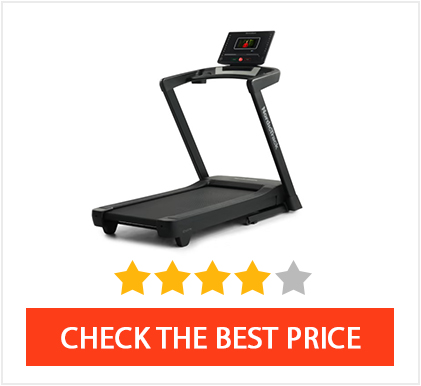 The EXP 7i is the most affordable model in the EXP Series with a 7" touchscreen and comfortable walking deck. This is a great option for users who want to walk and jog while enjoying good content on a solid treadmill at a reasonable price. The 7" can be a bit small for some users but it's still nice to have a screen. We love the great combination of features that provides an excellent in-home exercise experience for any budget.
0-12% Incline
0-10 MPH Speed
2.6 CHP Plus Motor
7" Tilt HD Touchscreen, iFit compatible
Folding
300lb max user weight
20" x 55" Tread belt
70.8" L x 34.9" W x 59.7" H Footprint
Read our full review of the NordicTrack EXP 7i Treadmill..
---
Other NordicTrack Exercise Equipment(bikes, rowers, ellipticals)
In addition to treadmills, NordicTrack also offers exercise bikes, ellipticals, rowers, and other fitness equipment.
---
Pros / Cons of NordicTrack Treadmills
Pros
NordicTrack treadmills are consistently at the top of our best list due to impressive features and solid engineering
NordicTrack does not believe that one-size-fits-all. They offer multiple treadmill models and options so users can find the right combination of features for their needs
The NordicTrack EXP Series and Commercial series treadmills all fold up, which is a huge benefit to users who may need to clear floor space when not using their treadmill
NordicTrack has streamlined functionality so console layout and navigation are similar on all their machines. It is easy to understand and use any NordicTrack machine.
iFit runs on all NordicTrack treadmills, from the affordable EXP 7i model to the high-end x32i incline trainer. This means users are all getting the same excellent workout classes and options, even if they can't afford a high-end machine.
NordicTrack has been engineering and manufacturing exercise equipment for decades, so the company knows what works and what doesn't. NordicTrack components and design are tried-and-true.
NordicTrack treadmills feature some impressive cushioning. The Incline Trainers have the most amount of cushioning out of NordicTrack's entire lineup, but even the EXP Series has more cushioning than what we typically find in entry-level models.
NordicTrack has amplified its incline/decline feature. Even some of the folding treadmills will drop to a -3% decline and up to a 12% incline. This enhances calorie burn and muscle strengthening so users can walk on an incline, and stay low-impact, but still get great cardio conditioning.
Cons
Some of the higher-end treadmills can be difficult to put together and require at least two people to do so. We recommend purchasing the "White Glove" assembly from NordicTrack which covers set-up and removal of all packaging material.
iFit requires a monthly subscription to access the full library of classes, however, there is content available for free on the treadmills without a subscription to iFit.
iFit Review:
iFit is Nordictrack's subscription service. It currently costs $39/month for a family plan (up to 5 profiles), and $180/year for the yearly individual plan (1 profile). NordicTrack currently offers a free 30-day iFit subscription with the purchase of any exercise equipment. iFit includes thousands of different workouts and classes for both on and off the treadmill. All Nordictrack treadmills have touchscreens that will support iFit, which makes it so all Nordictrack have access to great content. Here are a few features we love.
Automated incline/decline and resistance
When you start an iFit program, the treadmill is automated to do what the trainer directs, which means users can run (or walk) hands-free while the treadmill automatically adjusts to match the class incline or resistance. This is a huge benefit and makes it easy to enjoy a class without having to constantly play with the controls.
Abundant indoor class options both on and off the treadmill
iFit classes are not limited to running on the treadmill. There are also walking classes, interval training, and hundreds of other classes off the treadmill such as resistance training, yoga, stretching, aerobics, combo classes, HIIT classes, etc. You can log into iFit on your machine or from any personal device so you can take a class at any time in any location.
Outdoor running and walking routes all over the world
You are also not limited to indoor classes! iFit has running and walking routes all over the world! One of my favorites is the London walking series where you walk along as a trainer navigates the streets of London. Another option takes you through the mountains of Thailand. Outdoor routes are led by a personal trainer who gives instruction, cues upcoming inclines or speed changes, and offers informative tips about local culture or geography.
Professional personal trainers lead and instruct as you work out
Each class, indoor or out, is led by a professional personal trainer. These trainers are engaging and make the content and programs helpful and interesting.
Updated and engaging content
Class content is updated regularly. New classes and routes show up consistently. Series classes may take you through various stages of an event, such as the Boston Marathon. You can select one of the different filmed routes in that event.
Create your own routes
The Google Map feature lets you pick anywhere on the map to train. On the map, you simply draw a route and the feature creates the route and then shows Google Images of the location while you workout. This lets you explore real-life places all over the world.
Check out our full review of iFit to learn more.
Overall Rating of NordicTrack Treadmills:
NordicTrack is one of the top-selling treadmill manufacturers in the world. We are consistently impressed with the quality, construction, and components of NordicTrack treadmills. There's a model or option for every user, from their EXP treadmills to the ever-popular Commercial line, all the way up to the Incline Trainer Series. We love the way NordicTrack has capitalized on decades of experience engineering and manufacturing fitness equipment to offer the best at-home treadmills on the market.