*TreadmillReviewGuru helps consumers find the best home fitness products. When you buy a product we recommend, we may earn a commission.
Last Updated: May 10, 2023
Calling all runners, athletes, and fitness enthusiasts who want a treadmill that can handle a lot of use and doesn't require electricity. The TrueForm Trainer is the one to check out! TrueForm has created high-end manual treadmills that are durable and designed to help improve your running form. The TrueForm Trainer is the more affordable alternative to the practically indestructible Runner. How did the Trainer perform for us and what is it like to run on? Keep reading our review of the TrueForm Trainer Treadmill to find out.
Awards: Best Manual Treadmill For Athletes
We consider the TrueForm Trainer to be one of the best manual treadmills on the market. We've awarded it as the best manual treadmill for athletes. Not only is the Trainer durable, but it has a shallow curved belt that is proven to help improve your running form. This isn't your typical plug-in treadmill that has a motorized belt to keep up with. The TrueForm Trainer is fully manual and designed for runners and athletes of all levels. On this capable machine, you can run as fast as you want and work on bettering your balance and running overall.
Why You Should Trust Our Review Of TrueForm Trainer Treadmill
When we create reviews of treadmills, we draw from our experience using the machine and from our years of testing. As for who "we" are, we're personal trainers, fitness instructors, and exercise enthusiasts who love everything related to home fitness. Our goal in our reviews is to help you make informed decisions when determining which treadmill is best for you. We know that most treadmills can't be tested before you take them home, so we do that work for you. You can trust that we've spent time using every treadmill that comes into our studio and that our reviews reflect our team's experience.
Another factor that helps us compile reviews is comparing them to other models. When testing the TrueForm Trainer, we compared it to the TrueForm Runner, and AssaultRunners, among others. This way we could give you even more insight into how the Trainer compares to other popular models.
---
Our TrueForm Trainer Review Video
---
Pros
This treadmill is non-motorized so you control the pace of the belt with your feet. It can move as fast as you can.
The shallow curve of the deck is designed and proven to help promote correct running form.
It's excellent for home use and for runners and athletes.
The rubber slat belt absorbs the impact on joints to make for a comfortable running experience.
It doesn't require being plugged in and is lightweight to move and use pretty much anywhere.
The design can handle up to 400 lbs while walking and running, so it will work for most people.
This model is the affordable alternative to the Runner which is found in commercial gyms and has been used in competitions like the CrossFit Games.
Cons
The console doesn't track very many metrics and isn't backlit.
It has plastic components so it isn't as heavy-duty as the TrueForm Runner.
There isn't any storage for a device or water bottle.
---
Curved belt is shallow to encourage a midfoot strike and proper running form.
LCD display is battery operated; no outlet is required to use the treadmill.
Metrics displayed: pace, speed, distance, time, and heart rate
Rubber slat belt provides shock absorption for joints
Rear metal handle and transportation wheels for easy moving
No cupholder or device rack
Footprint: 64" L x 31" W x 63" H
Non-Motorized
Running Surface: 17" W x 64" L
Step Up Height: 14"
Treadmill Weight: 300 lbs
Weight Capacity: 400 lbs
Responsive Belt Technology
Unlimited Max Speed
No Incline
112 Sealed Steel Ball Bearings
Inner Frame: Formed and Welded 7 Gauge/4.5 mm Steel
Outer Frame: 2" /5cm Steel Tubing
Handles: Steel
Warranty: 10-years for frame, 2-years for tread mechanism, surface, display, and 90 days for labor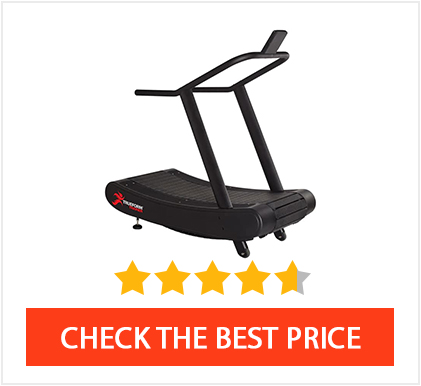 In-depth Review of TrueForm Trainer Treadmill
---
Console
When it comes to manual treadmills, they can typically be used just about anywhere because they don't require an outlet to use. Some people even roll them outside – weather and climate permitting. This is due to their lack of motors and battery-powered consoles. The TrueForm Trainer has an LCD display that uses batteries. When the belt starts moving, the console turns on.
Even though we expect simple consoles on manual treadmills (their lack of electricity is their appeal), the Trainer's console is more basic than most.
For starters, it only displays your pace, speed, distance, time, and heart rate (when connected to a compatible Polar heart rate tracker). Unfortunately, metrics like calories aren't tracked. You can change the distance and speed from miles to kilometers and vice versa, though.
There is a mode that lets you create your own intervals, too. You can only set time and/or distance goals in this setting.
As far as storage, you won't find any on this treadmill. There isn't a place for your phone or water. I do think that eliminating distractions, like watching your device for instance, is maybe intentional on TrueForm's part. Less room for distractions and more room to focus on your running and improving as an athlete. Not a bad idea if this is your goal. Although, a water bottle holder would be nice.
Overall, this console is underwhelming and could use some upgrades. The console on the AssaultRunner Elite has a lot more functionality in comparison. The console isn't a huge dealbreaker for the TrueForm Trainer though. I promise you, this is a worthy contender for any runner. Keep reading to find out why.
Construction Quality / Durability
Now let's dive into the construction. The TrueForm Trainer is the less expensive little brother to the TrueForm Runner which is built for use in public gyms. The Trainer is made for home use, but in our testing, is still very durable.
Among other components of the construction, one aspect that has us impressed is the weight capacity. The TrueForm Trainer is rated to handle up to 400 lbs. This means most people should be able to use this machine.
Frame
A big difference between the Runner and the Trainer is the frame materials and weight. The Runner is heavier because the outer frame is made up of steel, while the Trainer is made up of steel and plastic. This makes the Trainer significantly lighter than the Runner at 300 lbs and easier to move. There's a built-in steel handle at the base to make tilting up the backend to engage the front wheels, more convenient. Being our smallest reviewer, I'm able to move the Trainer, however, it is still pretty heavy and might be hard and potentially impossible for some to move, so keep this in mind.
The frame is made up of welded 7 gauge steel with steel uprights and handles. A molded thermoplastic makes up the side rails and outer part of the frame. There are also 112 sealed steel ball bearings under the deck, as well as large pulleys that control the direction and motion of the belt. In order to walk backward, for instance, you have to turn around and face the rear of the treadmill.
The handles are metal and extend back on either side of the deck while you're running to provide balance assistance when you need it. They can be used as leverage when getting into a full sprint, too. Overall, the TrueForm Trainer feels as durable as competitors like the AssaultRunners, but it feels a little bit different to use which I'll get into below.
MotorLess
A big aspect that makes manual treadmills unlike electric ones, is the fact that they don't have motors. The Trainer doesn't have a motor. Instead, your feet control the speed. What makes this treadmill, and other curved manual treadmills, ideal for running, especially at high speeds, is the fact that the belt will go as fast as you do. The TrueForm Trainer has an unlimited max speed. It also requires significantly less maintenance than motorized treadmills because of its lack of a motor.
Deck
The deck is unique to not only motorized treadmills but to other curved, manual treadmills because of its shallow curve to the belt. TrueForm claims that they have the shallowest curve in their decks compared to other manual treadmills. From the highest to lowest points on the deck, there is only a 2.5" difference. The shallower curve is definitely noticeable when the Trainer is lined up next to others, like the AssaultRunner Elite.
TrueForm says that less of a curve makes for more "natural and neutral" running form. TrueForm has designed their treadmills (both the Trainer and Runner), to help improve form and encourage a midfoot strike. There was even a study showing how effective the TrueForm Runner is at correcting runners' gaits. The Trainer and Runner have the same angle of the curve and pretty negligible differences in the belts unless you customize the Runner with turf, so rest assured you can experience the benefits of correct running mechanics on the TrueForm Trainer, too.
As far as the cushioning, the belt is made out of rubber slats that help absorb the shock that comes with running. From our experience, motorized treadmills with less cushioning can result in sore joints. This happens to me when I run on certain brands with firmer decks, however, the rubber slat belt on the Trainer doesn't make my joints ache like this. So, if you're an outdoor runner who needs a break from running on concrete from time to time, the Trainer will feel nice underfoot because of the shock absorption.
Regarding width, manual treadmills are known for having narrower decks to help keep you running in a straight line. This deck is plenty long for all stride lengths whether you're just walking or at an all-out sprint.
Performance & Functionality
Overall, the TrueForm Trainer is a high-quality piece of cardio equipment that will certainly help improve your running and take it to the next level.
As far as using the Trainer, (and any other curved, manual treadmills) there is a little bit of a learning curve when you're a beginner. Being able to control the belt yourself feels different than using an electric treadmill. When you first start, keeping a steady pace can be a little difficult. With time though, you get used to running on the deck. If you're new to using manual treadmills, just expect that they're going to feel different than using standard motorized treadmills.
Compared to running on the AssaultRunner Elite, the Trainer's belt feels more challenging to get going. More of your posterior chain is recruited to move the belt. The AssaultRunners have heavier belts than the trainer, so they're easier to get going. The shallower curve on the Trainer also contributes to requiring more effort to move. In our opinion, AssaultRunners are best for most people and typically preferred for sprinting because their belts are easier to run on. The TrueForm Trainer is the better option for runners and athletes striving to improve their form. It's more challenging to run on with poor form, stride imbalances, and if you heel strike.
If you're wanting to reduce your risk of injury, improve your balance and speed, as well as your running overall, this is the treadmill to get. The TrueForm Trainer is also a great option if you want a treadmill where you set the pace, rather than having to keep up with the pace set. We recommend it for athletes and home fitness enthusiasts because it's durable, versatile, and an excellent home treadmill that you can run as fast and as long as you want on.
Warranty
TrueForms offers a 10-year warranty for the frame, a 2-year warranty for the tread mechanism, and console, and a 90-day warranty for labor. This is a pretty standard warranty that is similar to what we see from other brands. For an easier assembly process, the Trainer should be set up by at least 2 people.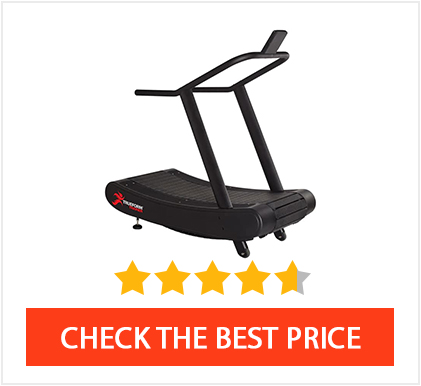 ---
Bottom Line Review: TrueForm Trainer Treadmill
If you're looking for a hearty, non-motorized treadmill for your home, then you're at the right place! After thoroughly testing the TrueForm Trainer, we have determined that this is a durable treadmill that's excellent for home use. It's fairly lightweight to move around when needed, although it's probably best to stay in a designated area in your home. The rubber-slat belt absorbs the impact on your joints so your lower legs don't feel discomfort or fatigue. The shallow, curved belt is specifically designed to encourage a midfoot strike and proper form, plus it will go as fast as your legs can. While the monitor doesn't track as many metrics as we would like, the TrueForm Trainer doesn't require electricity to use. We recommend this model to runners, athletes, and individuals who want a treadmill that will help them excel at running.