Last Updated: October 20, 2020
The NordicTrack Freestride FS14i Trainer is the premier trainer in NordicTrack's elliptical lineup. Like the FS7i and FS10i, the FS14i is a hybrid elliptical/stair stepper combo that allows users to move in three different ways. You can slide the pedals straight forward and back for a treadmill feel, or you can lift your feet up and down to mimic a stair stepper. A combination of the up/down and forward/back movement gives you a challenging, but low-impact workout. The FS14i declines to a -10% and inclines to 10%, has 26 resistance levels and a 32 inch stride length forward to back. This allows for a wider stride than comparable treadmills. The FS14i also has a large, 14" touchscreen. This hybrid elliptical gives you a lot of training options, but it is priced on the higher end for workout equipment and it does require a bit of dedicated space. Read our review below for more in depth information.

Who it's For: Users who want a hybrid elliptical that functions as a treadmill, elliptical or stair stepper with a 32 inch stride for full range of motion
3 in 1 design allows you to use the FS14i to target various muscle groups.
Low impact movement still provides high-intensity training
10% Power incline and 26 levels of digital resistance
Pedals have a 32 inch stride length — which is roughly double other ellipticals
Moving handlebars allow users to train upper body muscles as well
FS14i has a 14 inch touchscreen with front-facing speakers so you can see and hear the program easily as you workout
Pros
3 in 1 design allows the FS14i to be used as a stair stepper, elliptical or treadmill based on how you move the pedals.
Drops to -10% decline and pivots to a 10% incline for a full range of incline challenges.
Regardless of how you use the FS14i, it provides a nice low-impact workout
The resistance is silent and does not generate any noise regardless of your resistance level.
Flywheel is centered under the user's body weight for upright posture and back support
iFit is included free for the first year with a full database of classes and content
Includes a fan in the console that provides a nice breeze while in use
The 14" touchscreen is bright and easy to see
Cons
This machine has a compact footprint — but the 32 inch stride range requires significant space both in front of and behind the machine.
There is a monthly subscription cost for iFit after the first year
---
Includes 1-Year NordicTrack iFit® membership

The FS14i includes one year of iFit free which includes the full database of workout programs and up to 5 profiles. With the 14" screen, having iFit on the FS14i makes sense and we like how it is included free for the first year so users can see and test all the options and classes.

32″ Auto-Adjustable Stride

This is roughly double the stride length of comparable ellipticals. It allows you to get a full leg extension on the FS14i. However, this does require a bit of space both in front and behind the machine — so make sure you have enough room for the pedal motion.

26 Digital Resistance Levels

The FS14i has 26 silent magnetic resistance levels for minimal noise output during use. Unlike a treadmill that makes quite a bit of thumping noise, the FS14i is relatively quiet since the resistance is silent.

Power Adjustable -10% decline to 10% Incline

The FS14i will decline to a -10% grade so you can target anterior muscles and vary your workout. It will also incline up to 10% to make the workout more challenging for a higher calorie burn.

20 Lb. Effective Inertia-Enhanced Flywheel

The flywheel on the Freestride FS14i is centered under the user's body weight, for an upright posture with smooth resistance.

Oversized Levelers and Cushion Pedals

Upright handlebars are well positioned and easy to hold. Pedals and handlebars are coordinated for synchronized motion. You can pedal forward or backward.

Steel Frame and 375 Lb. User Capacity

We love this max user weight! 375lb indicates a strong, well-built machine. Ellipticals have to be sturdy and reinforced to hold that max user weight up off the floor throughout the workout. We are impressed with NordicTrack's design and functionality.

AutoBreeze™ Workout Fan

A workout fan in the console is super nice! There are multiple speed options so you get the right amount of air flow.

10-Year Frame Warranty

This extensive warranty reflects NordicTrack's solid design and construction.
Construction:
Oversized Cushion Pedals
Center Drive
20 Lb. Effective Inertia-Enhanced Flywheel
SMR™ Silent Magnetic Resistance
Commercial Solid Steel Construction
Oversized Levelers
375 Lb. User Capacity
Transport Wheels
58.5″ L x 29.5″ W x 74″ H Footprint
Console:
14" Smart HD Touchscreen
Pivoting Integrated Tablet Holder
Auxiliary Music Port
Two 2" Digitally Amplified Speakers
AutoBreeze™ Workout Fan
SoftTouch™ Upper Body Grips
OneTouch® Controls
Water Bottle Holder
Functionality:
Includes 1-Year NordicTrack iFit® membership**
32″ Auto-Adjustable Stride
26 Digital Resistance Levels
Power Adjustable 10% Decline to 10% Incline
iFit® Bluetooth® Smart Chest Strap Included
Warranty:
10-Year Frame Warranty
2-Year Parts Warranty
1-Year Labor Warranty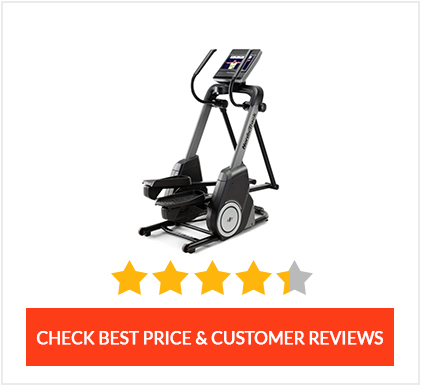 In-depth Review of NordicTrack Freestride FS14i
---
Construction
Frame
The frame on the FS14i is steel with oversized levelers underneath that hold the base stable and powder coated uprights support the handlebars and console
The pedals are oversized with a textured footrest and plastic overlays protect the flywheel and joints.
Some users have complained about rocking motion on the FS14i — we didn't experience this, but it may be due to shifting body weight side to side. If you find the FS14i rocks a bit, try to limit your side-to-side motion and make sure you have a mat or carpet underneath to prevent the machine from shifting on the floor.
375lb user capacity is impressive and opens the FS14i up to most users.
Geometry
The FS14i is a center drive flywheel system, with the flywheel positioned to the side of the pedals. This allows users to stand upright and provides better balance with less forward-leaning motion than on front or rear drive systems.
However, there are no stationary handles on the FS14i, so it can be challenging to get on and off the elliptical since the pedals don't lock. Because the pedals are designed to move both up and down as well and forward and back, there is more motion than users may be expecting the first time. We recommend users hold on to the uprights when stepping onto the pedals.
The pedals and handles move in line with each other for a synchronized feel. Due to the extended 32 inch pedal range, the horizontal pedal bars do extend both in front and behind the FS14i. We recommend not positioning the FS14i directly in front of a wall or door. Also, warn people who may walk behind or in front of you that the pedals extend forward and back.
Handles engage the upper body so you get more of a full body workout on the FS14i. Pulling the handles towards you engages the biceps, anterior deltoids, and lats. Pressing the handles forward engages the triceps, rear delt, and forearms. This feature makes the FS14i beneficial for multiple muscular systems since you can develop both lower body and upper body conditioning all at once.
Pedals
The foot pedals are wide with extended length and extra support under foot. Large steel horizontal beams underlie each pedal which attach to the handles.
The pedals have an extended range of 32" which enhances your range of motion significantly. Users can move pedals forward and backward with ease so the workout is in your muscles not your joints.
Foot pads are molded with a ledge around the sides and front to keep your foot from slipping forward or side to side.
Gently textured surface provides a nice foot-hold for any athletic shoe. The pedals are plenty large and will support users of all sizes.
Handles
The handles on the FS14i angle upward to keep your wrists, elbows and shoulders in alignment while in use. A spongy grip material adds a bit of cushion to the steel beam bars.
Handles connect down to the pedal beams so motion is streamlined between hands and feet.
From the base of the console, the handles extend 8" vertically to provide plenty of area to hold whether you are pedaling up and down or front to back.
FlyWheel
This is a center drive system. The Flywheel is effectively 20 pounds so rotation is pretty smooth. There is a flywheel beneath each pedal for a balanced feel underfoot. Heavier flywheels generally produce smoother motion, but we didn't notice any jerkiness or heaviness in the pedal rotation. Both flywheels are covered with a plastic overlay to protect the drivetrain from sweat, debris, dust or damage.
Incline
Most ellipticals do not incline. The FS14i both inclines and declines — so you can work uphill or downhill like you would on a treadmill. This increases training variables for a more well-rounded workout. Users can move the pedals in an up/down stair stepper motion with the drive angled to a 10% grade for one glute-killing workout. The combination of incline and resistance makes the FS14i a great training machine.
Incline is automated in any iFit or onboard programs, so you can start any class and the machine will adjust for you as you progress. This allows users to keep their hands on the handles at all times.
Resistance
The FS14i uses magnetic resistance which is quiet and smooth. Magnets adjacent to the flywheel oppose the wheel's rotation to create resistance. There is no friction which reduces both noise and wear on the flywheel.
26 resistance levels are digitally set to be precise and consistent. Resistance is automated to sync with both the iFit classes and onboard programs, so you have the option to manually adjust resistance or allow it to follow the course of the workout without having to adjust it. This lets users keep their hands on the handlebars throughout the workout.
This many levels augments the functionality of the multi-directional design. Most people are strongest in the sagittal plane when motion is forward, so using the FS14i as a treadmill or elliptical is easier than as a stair stepper since pulling the feet up and down tends to be more challenging. Having several different resistance options not only enhances the functionality of the FS14i as an elliptical, it makes it more usable as a stair stepper or treadmill as well.
Console/Controls
Screen
14" Screen

The 14" touchscreen on the FS14i is a game changer. The FS10i and FS7i are similar machines, but the larger screen on the FS14i makes all the difference. You can both see the iFit program — and manipulate the touchscreen controls better thanks to the larger screen.
Users who purchase this machine will most likely use the iFit programs even after the initial free year, so having a larger touchscreen makes the FS14i more enjoyable to use.
The touchscreen is embedded in the center of the console. This position makes it easy to see and touch when needed. The speakers
Touchscreen functionality reduces the buttons needed on the console which also cleans up the overall design and keeps it clutter-free.
At times this screen feels rather small. Although it is nice to have a full-color touchscreen, it is hard to see the smaller metric numbers or options in iFit. A slightly larger screen would be a useful upgrade.
Resolution
The screen is crisp and resolution is adjustable in the settings tab under the main menu.
Touchscreen Capabilities
The touchscreen controls are good. Toggling through class options or screen controls is easy and navigation is intuitive in both the iFit and onboard programs.
Resistance levels, incline grade and volume can be adjusted via the touchscreen.
Metric Display
A white display bar along the top of the screen provides the following stats:

Calories burned/Calories per hour
Strokes/Strokes per minute
Time Elapsed/Time Remaining
Distance
Functionality
The overall functionality of the FS14i is greatly enhanced by the touchscreen. It makes all the difference in creating an engaging and motivating workout. The size and functionality of the 14" touchscreen makes a big difference.
Accessories
Fans

A multi-power fan is located in the console of the FS14i which you can control via buttons on the console or in the touchscreen.
The fan has four settings: low, medium, high and auto. The auto feature syncs the fan speed with your cadence and resistance, so the harder you work, the more air the fan blows.
Noise Level
The FS14i makes very little noise. The only real noise is generated from the iFit program and/or music volume, but not the machine itself.
Storage / Folding
The FS14i does not fold up and even though the footprint itself is rather compact, the machine requires a significant amount of forward and rear space for the 32 inch stride length. This is not a small machine. It is heavy and hard to move, so we recommend placing the FS14i where you plan to use it and don't move it regularly.
There are wheels under the frame to roll the FS14i when needed, but moving it regularly is not recommended.
iFit and Onboard workouts
Pre-programmed workouts
There are pre programmed workouts on the machine that will guide you through various intensities and resistance. There is also a featured workout of the day from iFit that is free for non-subscribers, so you can enjoy whatever class or outdoor route is promoted. The onboard workouts are sufficient to keep you active and provide plenty of training variables. However, we find iFit workouts to be a great way to stay interested and motivated, so it's nice to have one free year to determine how much you will actually use it.
iFit Subscription
iFit is included free for the first year with up to five profiles. Elliptical classes are filmed in a studio with a trainer in front of you and other participants working out alongside. There are also outdoor hiking, walking, and running routes. The resistance is automated, so it will automatically adjust to whatever the trainer is doing.
The outdoor routes really make a difference on the FS14i — since you can enjoy the scenery and outdoor landscapes of areas all over the world, it makes it feel more engaging to workout. Our personal preference is the hiking trails offered in some really beautiful locations.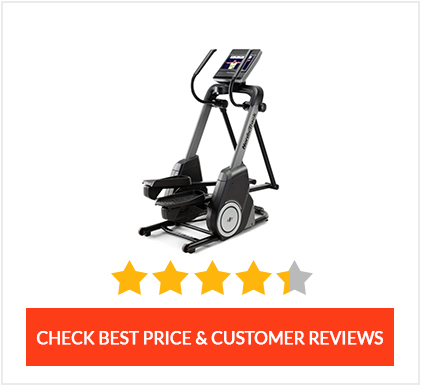 Bottom Line:
The NordicTrack FS14i is a hybrid 3 in 1 trainer that can be used as an elliptical, treadmill or stair stepper. The iFit classes and programs help target different areas and different movement patterns in each workout. The handles move in line with the pedals for streamlined motion between hands and feet. The FS14i also inclines to 10% grade and declines to a -10%. This makes hiking both uphill and downhill more realistic and it targets different muscle groups in the legs. Uphill work targets the posterior chain: glutes, hamstrings and calves. While downhill training focuses more on the anterior groups of the quads and anterior tibialis.
The NordicTrack FS14i is a good elliptical trainer, but it sits at the top end for price, so that is something that should be factored in to your decision. It also takes up a bit of space and requires about four feet of clearance both in front and behind the machine. However, the 26 digital resistance levels and extended range of motion make this a great option for those who need a low-impact but high-calorie burning workout. As a center drive elliptical, the FS14i allows users to stand upright for better balance and more posterior engagement. The 20lb flywheel motion is smooth so both pedals glide evenly. iFit classes and content are varied and interesting. iFit now offers live classes, outdoor routes and has a Leaderboard as well.