*TreadmillReviewGuru helps consumers find the best home fitness products. When you buy a product we recommend, we may earn a commission.
Last Updated: January 7, 2021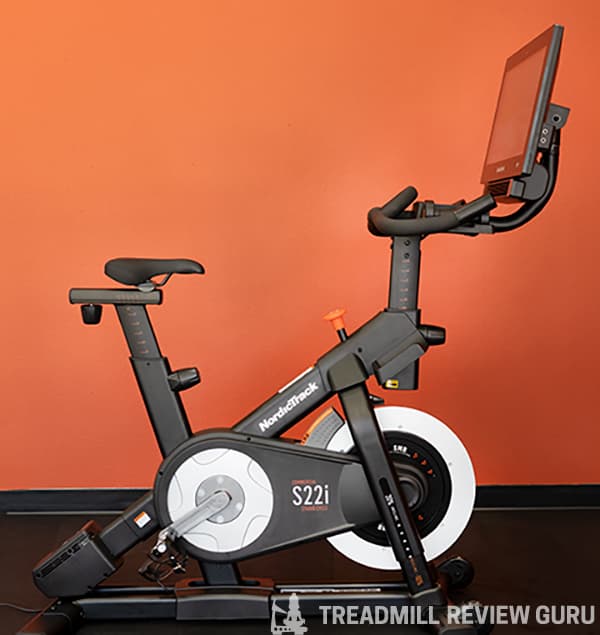 Exercise Bike Awards: Best Exercise Bike Overall 2021


The NordicTrack s22i is our #1 Best Bike for 2021! This is an amazing bike with innovative technology. The s22i has a motor that will tilt the bike up to reach a +20% Incline or angle it down to a -10% Decline. NordicTrack cycles are the only bikes on the market with this feature. As you follow an iFit class or route, the bike will automatically lift and tilt to match the terrain! In addition, the s22i also features a 22" HD Touchscreen, handlebar controls for resistance and incline, built in fan, and included 3lb hand weights for upper body work.
Who It's For: Cyclists looking for an indoor spin experience that closely mimics outdoor riding
This is a top-end machine with innovative features, such as:
Motor on rear stabilizer lifts bike to create actual Incline/Decline
Automated adjustments so bike will incline, decline and change resistance to match actual terrain or follow trainer
One-Year free subscription to iFit, with hundreds of classes & biking routes all over the world
22" High Definition touchscreen with clear graphics
Select any outdoor route via Google Maps
Indoor studio-based rides with engaging personal trainers
Other training classes like combo workouts, hills and drills, strength training routines, and even stretching for off the bike.
Our Video Review
---
Pros
Innovative tech with automated Incline/Decline that adjusts as you ride. This syncs with all outdoor routes and any iFit class.
The combination of Incline and Resistance is more challenging and enhances calorie burn significantly
Bright 22" High Def Touchscreen
Stat bar at the top of screen displays readouts for wattage, speed, calories, duration, etc.
iFit is included free for one year, a value of around $400!
iFit features over 16,000 workouts including outdoor routes and indoor classes as well as cross-training options all led by certified personal trainers
Manual controls for Resistance and Incline sit at the end of the extension grip handlebar for easy access.
There are two fans situated under the screen with four power settings
Bike frame offers 3 points of adjustment (seat up/down and forward/aft, handlebars up/down)
The 32lb flywheel feels smooth underfoot and generates a fluid motion
Handlebars have multiple resting points with a spongy coating for comfort
Front and Rear Stabilizers with leveling feet hold the bike stable while you ride
Cons
Seat feels a little stiff (but it can be swapped out)
Console speakers are in the back of the screen rather than the front
We would like to see closed captioning in iFit programs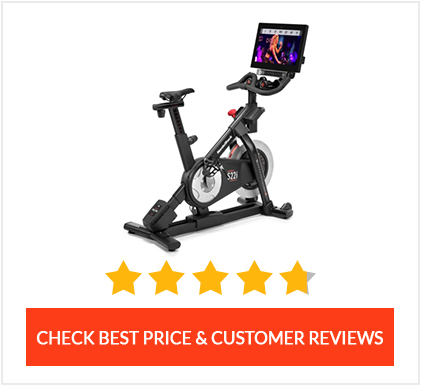 ---
+20% Incline to -10% Decline that is automated in iFit
The +20% incline to -10% decline is a revolutionary feature on a spin bike. A motor on the rear stabilizer and motorized arm under the pedal crank lift and tilt the bike to simulate outdoor grades.

On standard indoor cycling bikes, the bike frame is secured in one position while variable tension on the flywheel creates more or less resistance. Typically, an increase in resistance simulates a hill climb while less resistance simulates a flat road or descent.
NordicTrack added actual incline and decline on the s22i. The bike literally tilts up and down to match the grade of your ride. The combination of this incline feature in addition to 24 levels of magnetic resistance makes the s22i as close as you can get to outdoor riding.
This feature also significantly increases training variables as you can now combine resistance, speed and incline to create greater climbing challenges.
Silent Magnetic Resistance with 24 Digital Levels and Convenient Handlebar Controls

Magnets situated adjacent to the flywheel oppose the motion of the flywheel to create frictionless resistance.
Magnetic resistance is silent and easily regulated electronically through preset resistance levels. It does not cause wear on the flywheel.
The s22i has 24 levels of resistance. Specific resistance adjustments are nice on an indoor cycling bike. Many spin bikes have a tension knob, but no specific resistance settings, so you can't regulate or measure the resistance. It is hugely beneficial to be able to select a specific resistance level on this bike. It translates into more accurate wattage stats and allows the rider to always find the same resistance at the same setting.
Resistance can be adjusted manually on the handlebar controls or on the touchscreen. I love the handlebar controls on the s22i! Just a quick flick of your thumb and you can regulate resistance and incline instantly.
When using an iFit or onboard program, the resistance will automatically adjust for you. Manual controls override automated controls when needed.
32 Pound Inertia-Enhanced flywheel for fluid wheel motion

This feature regulates flywheel motion so the pedal stroke is smooth and uniform throughout the rotation. This helps avoid any jerky, downward momentum in the flywheel that can pull your feet forward and make it feel like the bike is pedalling you. This also creates continuous motion regardless of speed or resistance.
A break knob at the base of the handlebar stem will slow the flywheel manually. Press down to stop the flywheel at any time.
3 adjustment points to fit most size riders

The seat can be adjusted forward or aft via the carriage knob. The span between the tip of the saddle and the horizontal handlebar grip should be about a forearm's length. You can increase this span if you have a long torso, but don't decrease it less than that. Pulling the seat too close to the handlebars will bring your knees out of alignment and too close to the front of the bike. Knees should be in line with the midline of your forward foot when pedaling.
The saddle stem can also move up and down. For proper bike fit, the saddle should be about hip height when you are standing next to the bike. The stem post is angled back on the s22i so when you raise the stem, it will move the saddle back slightly. This increases the span between the saddle and handlebars and keeps body position aligned so taller riders' knees are directly over the pedals. If your knees jut forward during riding, extending past the midline of the foot, it can produce unwanted knee tension.
Handlebars can also be adjusted up or down on the handlebar post knob. Handlebars should be roughly the same height as your saddle. Set an appropriate saddle height first and then adjust the handlebars to match. More experienced riders can set the handlebars lower, decreasing torso angle, but this is per rider comfort. Do not set handlebars so low that your diaphragm is restricted.
All adjustment areas (seat post, carriage, and handlebar post) are clearly marked with orange inch measurements so you can find the right position each time.
Touchscreen Controls for incline and resistance

In addition to the QuickTouch controls on the extension grips, you can easily manipulate resistance and incline on the large 22" touchscreen. Located in the lower corners of the screen, an electronic readout tells you exactly where incline and resistance are set. The QuickTouch controls only feature +/- and <,> buttons, so the screen display is nice for instant readout.
Comes with iFit, free for the first year:

NordicTrack includes a family plan package of iFit free for the first year — a value of over $400. After that, iFit costs $15/month for one user or $33/month for up to five users (family plan). iFit enhances the overall experience on the s22i. It includes a database of over 16,000 different workouts including both classes and outdoor rides that are constantly updated. You need a WiFi connection to run iFit.
Compact footprint doesn't take up much space

Indoor exercise equipment can be heavy and large. The NordicTrack s22i Studio Cycle is a fantastic machine with a remarkably small footprint. Standing just 57" high and 55" long, it provides great training options in a compact piece of equipment.
Two fans are attached at the bottom of the screen

It might seem silly, but the fan built into the screen on the s22i is a must-have for me! The fans produce good airflow and are situated at just the right height. I didn't find the fans overly noisy.
Construction:
Wheels under Front Stabilizer make it easy to move
4 Leveling Feet — Front 2 are Adjustable
Frame is All Steel and Corrosion Resistant
Padded Racing Saddle
Footprint: 55.0″ Long x 21.9″ Wide x 56.9″ High
Console:
22" High Def Touchscreen
Power Readout with Wattage
Aux Port for Music
Two 2" Speakers, Digitally Amplified for clear sound
2 Water Bottle Holders
AutoBreeze™ Workout Fan with four power settings
Functionality:
-10% to + 20% Incline
SMR™ Silent Magnetic Resistance
OneTouch™ Controls on grip extensions
24 Resistance Levels
Inertia-enhanced 32lb Flywheel
Compatible with Standard Road Bike Pedals & Seat
Automated Incline & Decline Drive System
Spongy-coated multi-position handlebars
2 Points of Seat Adjustment (up/down & forward/aft)
Two 3 Lb. Dumbbells are included
Max User Weight: 350 Lb
Warranty
Frame: 10-Year Warranty
Parts: 2-Year Warranty
Labor: 1-Year Warranty
In-depth Review of NordicTrack S22i Exercise Bike
---
Construction
Frame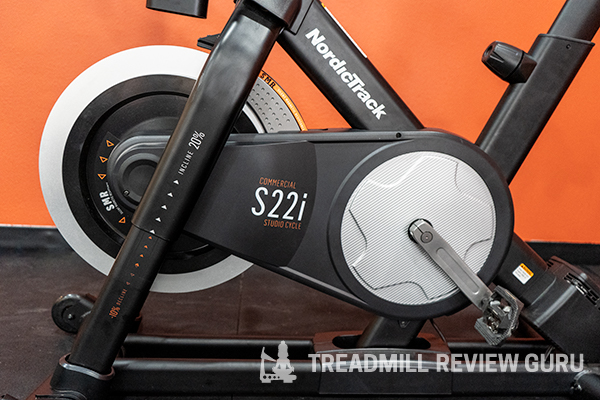 The base, stabilizers and posts on the s22i are all steel. Handlebars are coated with a soft grip material. Black plastic molding protects intersecting joints and post shafts. Some serious engineering went into designing this bike. As opposed to other indoor cycling bikes that look like someone bought a spin bike and attached a TV to the top, the s22i has been designed from the ground up. Wires and cables are internal, the drive train is quiet, and the frame is surprisingly solid for a bike that pivots up and down. I felt very stable as I rode both in and out of the saddle.
Points of Adjustment are well-designed. There are three adjustment points on the s22i to help different size riders find proper bike fit:

Forward/Aft adjustment on the seat carriage moves the saddle forward and back.

Up/Down adjustment via the stem post lifts and lowers the seat carriage.

Up/Down adjustment in the handlebar post lifts the handlebars to the appropriate height.

You can tilt the seat slightly up or down by loosening the bolt on the seat carriage. Retighten when you find the right angle. This adjustment requires a wrench.
Geometry: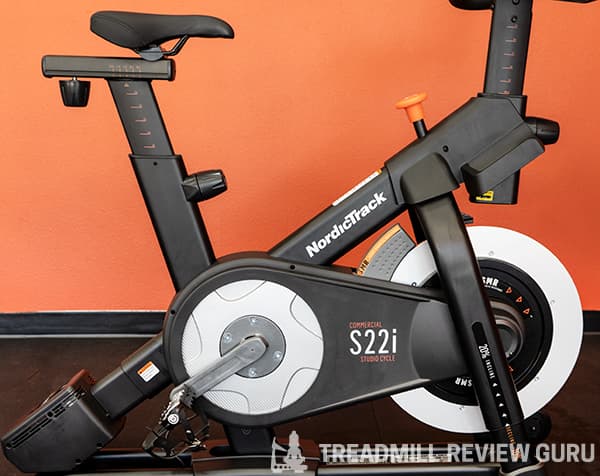 S22i Studio Bike geometry resembles a road bike. Unlike traditional upright bikes where the seat is set lower than the handlebars, the design on the s22i more closely resembles the structure of a road bike. Handlebars are designed to be in line with the saddle. Rather than angle up at a 120 degree angle, the s22i handlebars extend forward parallel to the floor and so riders lean forward while riding rather than sit up. This position might seem uncomfortable initially, but it facilitates greater hamstring and glute engagement as opposed to a repetitively quad-dominant downward stroke. It also more similarly mimics outdoor road bike riding.
25" (63.5cm) Span from Handlebars to Saddle: There is a 25" span between the seat tube and the head tube when the handlebars are set at their lowest height, parallel with the saddle. This span will decrease if you pull the seat forward, but it will increase when you raise the seat because the seat tube is angled back slightly. This range should provide adequate room for most riders. Click here for a quick video on proper bike fit.
19" (48.25cm) from center of pedal crank to center of flywheel (belt drive)
14" (35.5cm) from center of pedal crank to floor
20" (50.8cm) from center of flywheel to handlebar stem
FlyWheel: 32 Pounds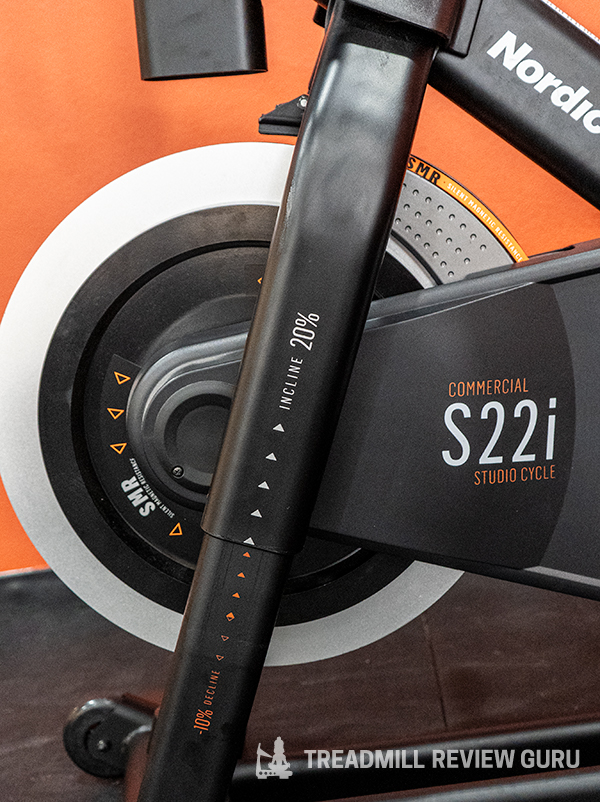 The flywheel on the s22i is 32 pounds, which is a good weight for a home-use indoor studio cycle. Commercial bikes used in gyms have flywheel that weighs closer to 50 pounds. In general, a large, heavy flywheel creates smoother movement and better resistance on a stationary bike. However, because the s22i has both an inertia-enhanced flywheel and magnetic resistance, it can produce fluid motion with minimal noise and ample resistance — all while weighing less. This makes it easier to move while maintaining functionality.
The s22i uses Magnetic Resistance. This is a more expensive type of resistance because of thematerials and mechanics involved. It is usually found on higher-end models. There are several benefits to magnetic resistance:

No need to replace parts. There are no brake pads or friction points on the belt or flywheel with magnetic resistance. This reduces the need to replace parts that wear out due to friction.

Magnetic resistance is practically silent. Because there is no contact or friction, the flywheel doesn't make noise while spinning or braking. Conversely, flywheel resistance from either wind resistance or brake pad contact produce substantial noise.

Magnetic resistance can be specifically calibrated and measured. This enables the s22i to provide 24 levels of resistance that are always the same. Have you ever taken a spin class and all the instructor says is, "Turn up your resistance!" What does that mean? How much is a turn? Is it a quantifiable resistance? This kind of variability is not helpful to riders looking for accurate wattage and consistent settings. Specificity in resistance levels is a definite benefit on the s22i.
Saddle: Adjusts forward/aft and up/down. Replaceable.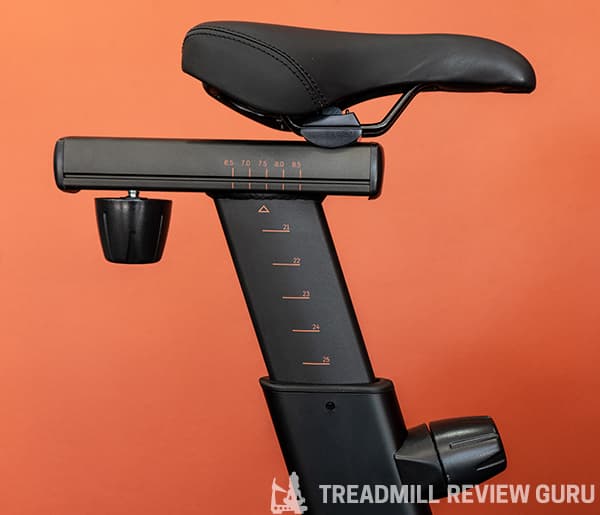 Comfort: One area the s22i could use a bit of improvement is in saddle comfort.

Typically, on an indoor bike you want a narrow, very slightly padded seat with a smooth surface to prevent moisture build-up. A narrow design allows the leg to move freely with each pedal rotation without too much thigh friction from the saddle itself. Overly wide or padded saddles feel better initially, but they are more likely to cause friction sores on the inside of the thigh due to increased surface area.

The s22i saddle is designed well, but it feels a little stiff. Comparatively, the Peloton bike has a more comfortable seat.
Compatibility: Saddle can be replaced with any compatible bike seat.
Pedals: Flat with cages. Replaceable.
Included pedals have a flat surface with cages for secure foothold
Pedals can be swapped out for clipless pedals (road or SPD) if desired
---
Console/Controls
Screen: 22" Touchscreen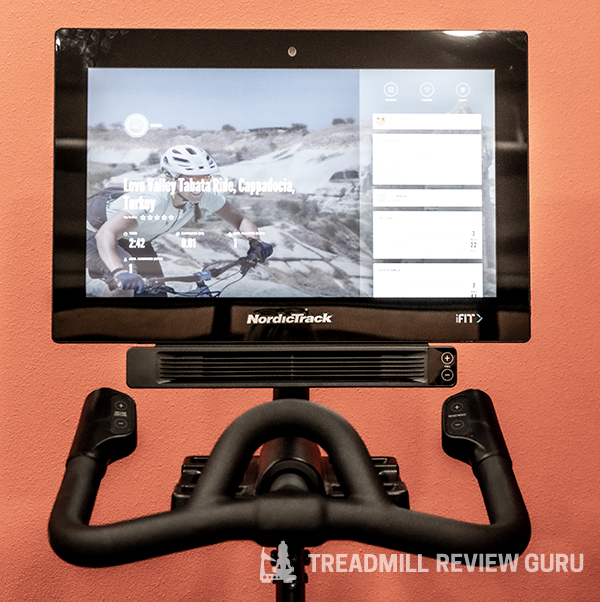 Size: The 22 inch touchscreen is large and impressive. It makes you feel like you are in the class or on the road with a trainer. The screen sits 12" behind the handlebars. While it is positioned to be within arm's reach, I didn't feel it encroached on my head space while riding up out of the saddle. If you feel like the screen is in your face while standing, check the saddle position to make sure your knees aren't too far forward as this will bring your head too close to the screen.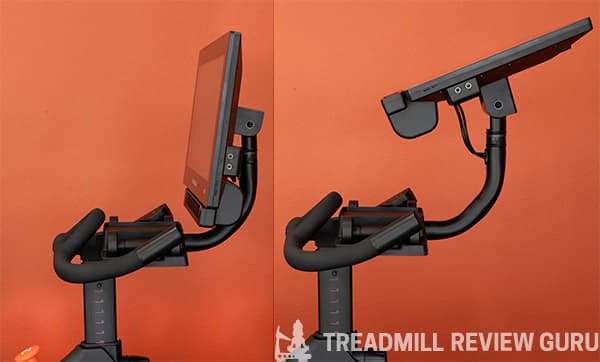 Screen Movement: The screen rotates side to side and pivots up and down so you can find the right height and angle. By comparison, the Peloton screen only pivots up and down, it will not rotate from side to side. The pivot feature makes it so you can see the screen regardless of height (and avoid glare from overhead lights). NordicTrack also makes the screen swivel so you can do iFit workouts off the bike and rotate the screen for easy view.
Resolution: The display is crisp with good graphics. I had to adjust the settings a little to get the resolution I wanted. On the home screen, select the main menu icon and then go down to equipment settings. From here, you can increase or decrease the brightness and select your resolution level. The bike comes with settings standardized for a moderate-speed internet connection, so you may want to turn it up if you have a good connection and like the highest resolution. If you find the video buffering a long time or lagging a bit, turn the resolution down to see if that helps (or get a stronger internet connection – the iFit videos are amazing with good resolution).
Touchscreen: The touchscreen capabilities on the s22i make navigating the bike and the onboard programs easy and intuitive. It is easy to reach the screen while seated in the saddle. You can use the touchscreen to change incline and resistance or toggle through display options on the white stat bar. I like how NordicTrack has incorporated much of the functionality of iFit and the onboard programs into the touchscreen so there aren't extra buttons on the bike or screen bevel.
Functionality: The screen enhances the functionality of the bike by bringing touch controls within easy reach. Adjusting resistance, incline, screen settings, volume, stat readout or any other feature is intuitive on the touchscreen. My only complaint is the speakers are in the back of the screen so the volume projects out rather than towards you. If you set your bike in a corner, this should create a nice surround sound as the volume bounces back. If you plan to set your bike up facing the room, be aware that the speakers are in the back and will project into the room.
Handlebars: Adjust up/down. Multiple grips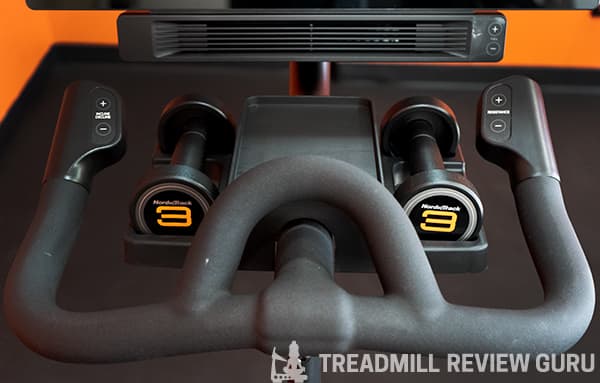 Design: The handlebars have a horizontal grip bar, tri-position resting loop, and grip bar extensions that angle up gently on either side.
Comfort: The handlebars are coated with a spongy grip material that is soft on hands and arms. The overall design and comfort of the handlebars facilitates good position while riding.
Measurements:

18.5" (47cm) Span between Handlebar Grips: The span between the bar grips is 18.5 inches, with about 9 inches of width on each side. When reaching forward to grab or rest on the handlebars, you want your elbows to stay in alignment with your shoulders. A good span between handlebars facilitates proper resting form. For smaller riders, the horizontal bar provides a narrower option; while the bar grip span works for those with wide shoulders.

11" (28cm) Depth of Handlebars: From the front of the horizontal bar to the back of the bar grips is 11 inches. I could use a bit more depth here, because the QuickTouch controls are positioned on the end of the grips, but the depth is sufficient.

12" (30.5cm) Span from Screen to handlebars: There is a 12" span from the front of the horizontal handlebar and the screen. Two, 3-pound weights rest in between the handlebars and the screen. I recommend placing the weights on the floor whenever you adjust the head tube to raise the handlebars.
Accessories
Fans: The fans attached below the screen produce good airflow. You can adjust the direction of the fans by tilting the screen.
Weights: Two, 3 pound weights are included with the bike. These rest on a tray in between the handlebars and screen.
No Tablet holder or shelf for phone storage.
Storage
Storage Cups: Two storage cups are positioned just underneath the handlebars. These will hold a moderate-sized water bottle or other accessories
---
Functionality
Incline / Decline range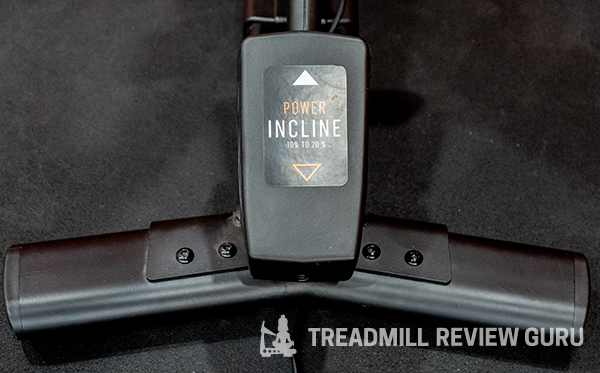 The NordicTrack cycles are the only bikes on the market that provide incline and decline in addition to resistance. A motor on the rear stabilizer lifts and lowers the bike frame to simulate actual hills and descents. You feel like you are really riding outside as the incline/decline automatically adjusts for you.
The incline/decline also adds variability to your training routine. Rather than just ride in a linear plane with variable resistance, you now have to compensate for body angle as the bike moves. This engages and strengthens the powerhouse muscles of the lower body.
Incline/Decline also enhances calorie burn when combined with resistance because it makes the workout more challenging. You will get more metabolic stimulus in a shorter amount of time when incline is combined with resistance.
Resistance Levels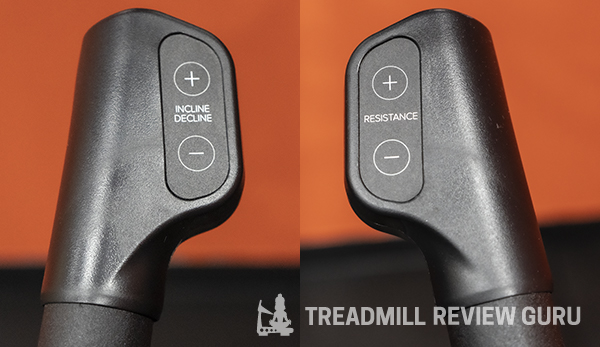 22 Resistance levels provide enough range on the s22i (but not too much). By the time you get to level 22, the magnetic resistance creates heavy push-back on the pedals. Comparatively, the Peloton bike has 100 resistance levels — which is too many — you have to increase by 10 just to feel a difference. Magnetic resistance is a significant upgrade because it is consistent and accurate, reduces noise, and doesn't cause any friction or wear on moving parts.
Resistance can be adjusted on the QuickTouch control on the bar grip or on the touchscreen.
Pre-programmed workouts
The s22i features 35 onboard workouts that are not a part of iFit.
Manual Workout: A white track and stat bar display stats and distance. You can manually adjust the incline and resistance to create your own workout.
Maps: Select from an array of full-color Google map images anywhere from Lake Como, Italy to the beach in Cambodia. Display options include: Street View; Map View; Satelite; and Rotate (which toggles between views). The images update every few seconds as you ride. The bike will automatically adjust resistance and incline to match the geography of each location. There is no audio included, so these are a great option when you want to listen to your own playlist or podcast.
Featured Workout of the Day: This is one of the Google map locations featured for that day. The white state bar can be displayed at the top while you ride, or you can select full screen mode.
Interval, Strength, Speed, Calorie Burn: Pre-programmed workouts display a graph of the overall routine. The bike will adjust incline and resistance to match your selected workout. These are of varying length and intensity.
Tour de France images and stage maps: More Google map images for specific stages in the Tour de France.
Subscription Options

iFit is included free for the first year with up to five profiles. The s22i is designed to feature and respond to iFit rides and classes. The database of over 16,000 options is impressive and the graphics on the outdoor rides are unmatched. Workouts include the following:

Personal Trainer Led Cycling Classes: These classes are filmed in a studio with a trainer on a bike in front of you and other participants riding alongside. Class options include a range of options such as: Intervals, HIIT, hill climb, calorie burn, sprint sessions, etc. Trainers are engaging and the bike will automatically adjust to whatever the trainer is doing. If you begin a hill climb, your bike will automatically incline for you. Resistance is also automated in iFit. You control your speed. Manual controls on the screen or handlebars will override automation at any time should you need to adjust it. These classes are not live like they are in Peloton; iFit classes are pre-recorded and music is pre-set. But class participants are real people so you feel like you are part of a class. iFit will keep track of your stats for you, but there is no real-time Leaderboard.

Outdoor Routes all over the world: This is where the s22i really shines. No other program can compete with the extensive iFit rides all over the world. You can select a route in Bangladesh, London, or even just the mountains of Southern Utah. A trainer rides a bike ahead of you while another cyclist rides behind with a camera. You follow along from this perspective so you can see and hear what the trainer is doing. Again, incline and resistance is automated on the bike to match the terrain and grade of the ride. The videography on these rides is impressive. You not only watch from the perspective of the second rider, iFit will also occasionally add a drone shot or overhead view of the city or landscape while you ride. Peloton has a handful of outdoor routes but they are filmed from a drone, not a cyclist, they do not include direction from a trainer and there is no accompanying sound.

Studio-Based Combo Classes: These include options where you ride for part of the time, get off the bike and do weights or plyometrics, and then ride again. They are filmed the same as the all-bike classes with other participants and background music.

Studio-Based Classes for off the bike: Other classes such as strength training, yoga, stretching, or even classes for pregnant mothers can be accessed through iFit and watched on your screen or from any computer or tablet for convenience.
Noise Level
When pedaling: The s22i is remarkably silent. The magnetic resistance doesn't create much noise at all while pedalling or when braking.
When adjusting incline: There is a motor noise when the bike adjusts incline, but this isn't constant and it isn't too loud. I would compare it to the noise made by a treadmill when it inclines or declines.
Speakers: The speakers produce good volume, which is nice when riding, but it could be loud to others in the room, especially since the speakers are in the back of the screen. Play around with the volume a little initially to determine where you want to place your bike. Positioning the bike facing a corner will mitigate how much volume you project into the room.
Storage / Folding
The s22i doesn't fold up. It weighs 210 pounds, but it has wheels on the front stabilizer so you can tip it towards yourself and pull it across the floor. One person can move it easily. The bike itself is really pretty compact considering all the features it offers. With the handlebars raised to full height it is 60" high and 56" long.
---
Items of Note
The s22i is a great piece of exercise equipment. It has been thoughtfully designed and engineered. My only real complaint was the factory seat is slightly uncomfortable, but this can be fixed by replacing it with your own or buying a gel seat pad to go on top.
---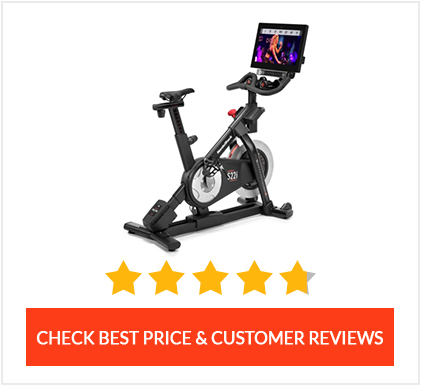 Bottom Line:
The s22i is best indoor exercise bike on the market. The bike is engineered from the ground-up to provide extensive training on a sleek indoor cycle. It is impressively designed with internal wiring and streamlined geometry. The expansive touchscreen, generous iFit workout library, automated incline/decline, smooth flywheel and impressive design make the s22i the best bike you can get. You can't go wrong with the NordicTrack s22i!