*TreadmillReviewGuru helps consumers find the best home fitness products. When you buy a product we recommend, we may earn a commission.
Last Updated: May 10, 2023
The Bowflex Treadmill 10 is a substantial treadmill with awesome training capabilities and plenty of entertainment options. The inclining/declining deck folds up to save you some room while you're not using it. When you are using it, a 10" touch screen enabled with JRNY gives you plenty of options for streaming. You can choose to take a trainer-led class, explore outdoor locations, and even log into your Netflix and HBO Max accounts to watch your favorite shows. The T10 is a large and heavy treadmill with a unique frame that makes it feel like a tank. This is just a quick overview though. To learn more, keep reading our Bowflex Treadmill 10 review.
Why You Should Trust Our Review Of The Bowflex Treadmill 10
Our team works hard to get all kinds of treadmills from various brands into our studio for testing. Looking closely at the top image, you might notice that the treadmill is actually the Bowflex Treadmill 22. Although we don't officially have the T10 yet, these two treadmills are very similar, so we can rely on our experience using the T22 to create this review. As far as differences, there are only a few areas where the two differ. I'll talk about how they're different and guide you through what to expect from the Bowflex T10. We've been testing treadmills for several years, and have used countless models at this point, so we have a great idea of how the Treadmill 10 works based on the fact that we've heavily tested and reviewed its big brother.
---
Pros
A subscription to JRNY comes free for the first year with the treadmill to offer app streaming from Netflix and Hulu, outdoor-filmed routes, trainer-led content, and more from the 10" touch screen.
The deck is spacious for running and folds up when you're finished to save room in your home.
It can handle a lot of use and gives you a 15% incline and -a 5% decline to vary your training.
The triangular-shaped steel frame and uprights make this an incredibly stable treadmill.
The 400 lb weight limit means that most users can get a lot of use out of this model.
Cons
The screen size isn't the largest for streaming content.
We wish there were more numbered quick-touch buttons on the console for easier adjusting.
---
Adjustable 10" HD touch screen
Free 1-year trial to JRNY subscription included
JRNY offers: adaptive workouts, app streaming (Netflix, Hulu, Amazon Prime Video, Disney+, and HBO Max), Explore the World workouts, and trainer-led video workouts
Pulse grips
Included Bluetooth HR armband
Built-in adjustable fan
SoftDrop Folding System
Additional speed and incline knobs and quick touch buttons
Storage tray
2 cupholders
Device rack
Footprint: 85" L x 39.6" W x 65.3" H
Motor: 4.0 HP
Running Surface: 22" wide x 60" long
Construction: Steel with Chrome Accents
Treadmill Weight: 323 lbs
Weight Capacity: 400 lbs
Speed: 0.5-12 mph
Incline/Decline: -5%-+15%
Adjustable Leveling Feet
Warranty: 15 years for the frame and motor, 5 years for mechanical parts, 1 year for electronics, and 2 years for labor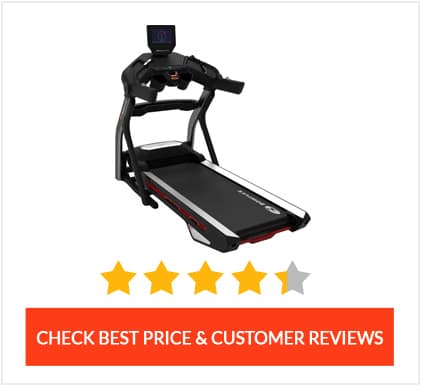 ---
In-depth Review of Bowflex Treadmill 10
JRNY Overview
JRNY is the subscription content that comes enabled on Bowflex equipment. When you purchase the Treadmill 10, JRNY comes free for the first year. After the first year, it requires a monthly fee to access all the content. You can use the T10 without JRNY, but here's what you get with the subscription.
JRNY is a fitness platform that features structured workouts tailored to you, trainer-led video workouts, outdoor-filmed routes, and streaming from 3rd party apps. Starting with the structured workouts, JRNY has what they call "adaptive workouts". These consist of preselected speeds and inclines for you to follow along with. It's suggested to take JRNY's fitness assessment. This way, the adaptive workouts will adjust to work for you and your fitness level. As you progress, they adapt with you, too.
When you take the fitness assessment you are also given a burn rate. This is shown in a meter at the bottom of the screen along with your other workout metrics like speed, distance, and time. Parts of the meter are highlighted so you can try to move the needle to be in this section as you work. The idea is to help keep you at specific intensities during workouts.
These feature an instructor who guides you through a workout. These aren't of the same quality as Peloton and iFit, but they're a nice option to have if you like having guidance in your workouts.
The Explore The World workouts let you do just that, explore the world. These feature a camera that moves through various locations around the world. The camera even slows down, stops, and speeds up when you do on the treadmill. These don't have an instructor that takes you through the location, like iFit, but if you want to keep your workout structured you can pair it with an adaptive workout.
I love that JRNY allows you to stream Netflix, Hulu, Amazon Prime Video, HBO Max, and Disney+. All you need to do is log into your existing account on each of these apps and start watching while you use the Bowflex Treadmill 10.
The option to stream from these apps is only available during manual mode and adaptive workouts. Another entertainment option to use during these modes, as well as the Explore The World routes, is music streaming. JRNY uses radio-esque music streaming of preselected playlists of songs that are split into different genres. The music plays in the background of your workout. Unfortunately, music isn't integrated into some of the workouts, like the trainer-led videos, but we appreciate that JRNY offers a wide range of content for entertainment.
OnBoard Workouts
If you don't want to subscribe to JRNY, that's totally fine. Subscription content on a treadmill isn't for everyone and you shouldn't have to pay an additional fee on top of the treadmill if you don't care to take trainer-led workouts or stream from Netflix on said treadmill. Manual mode as well as some onboard workouts are available without a subscription to JRNY. The onboard workout programs include 5k distance, 8-minute intervals, 16-minute intervals, endurance, stairs, strength, heart health, fat burn, and calorie burn. These workouts have preset speeds and inclines for you to follow along while you exercise.
There are also a couple of Explore The World routes of different locations available to take without a subscription to JRNY.
Console
The 10" touch screen is where you'll access JRNY, the onboard workouts, manual mode, and track your workout metrics. The size of the screen obviously isn't very large like the Bowflex Treadmill 22, but it should be adequate for viewing the content on the screen. We've used other comparable treadmills with 10" touch screens like the NordicTrack 1250, and ProForm Pro 2000 and we're able to navigate and see them just fine, so you should be able to see the T10's screen, too.
Although the T10 isn't as tall as the T22, the screen sits up fairly high on the console so users shouldn't have to look down at it too much. If you're tall, you'll still probably look down at it, but not as much as other models with lower-positioned touch screens. The screen should tilt up and down slightly, too.
As far as adjustment buttons, the Treadmill 10 has the same buttons as the Treadmill 22. I think this layout could use a little work. The numbered buttons on the center of the console are convenient, but since every speed and incline/decline level isn't available, they make adjusting to specific settings less streamlined than other treadmills, like NordicTrack models. For instance, quickly adjusting to 6 mph, is a little clunky because there isn't a number 6 button. As much as I like having these buttons for adjusting, I wish there were more of them.
There are buttons on the front and side handles to adjust the speed and deck grade. The right handles are for setting the speed, and the left is for the incline and decline. When I'm using the Treadmill 22, I used the buttons on the front handles next to the pulse grips the most because they're conveniently placed. The switch buttons on the side handles feel a little sticky to use and sometimes require me to push them twice to change the belt speed and incline of the deck.
The speaker is front-facing and should be plenty loud. It is smaller than the speaker on the T22, however. The fan appears to be the same as on the T22 so we expect it to be powerful, yet tiny.
If you need water or other small items nearby you have plenty of room to do so. Under the screen is a textured area with a ledge at the bottom (above the quick-touch buttons) to put your phone or tablet. Your device should stay put here, at least our phones did when we put them on the T22.
The T10 is Bluetooth enabled so you can pair it with Zwift for more content and training options. You'll just need to pair and stream Zwift from your own device.
Construction Quality & Durability
In our testing, we've found the T22 to be built like a tank, so expect the T10 to feel and perform similarly. Considering the T10 comes with an impressive 400 lb weight limit and the same 15-year frame and motor warranty as their premium model, these are good indications that we're right.
Frame
The Bowflex Treadmill 10 is about the same weight as the T22 at 323 lbs versus 336 lbs. It's also the same length and width. This is a large treadmill and it's also heavy, so it's important to keep that in mind for your home. I'll get into folding and moving it in the functionality section below.
On either side of the deck, the steel frame forms triangles where the uprights connect to the frame on the floor. I think this was intentional on Bowflex's part because triangles are the strongest shape. It's stable, especially considering the weight of the treadmill, too. Console shake is commonly found on other treadmills that have a touch screen attached. We don't experience any shake on the T22 so the T10 should be just as steady, if not more so because the screen is smaller. The steel crossbar under the storage tray below the console most likely helps make the screen, console, and treadmill, in general, feel more stable, too.
The Treadmill 10 doesn't have upper handles like the T22, however, you don't need them because the deck doesn't incline as high. The lower and side handles should offer plenty of areas to grip when you need balance.
Motor
The one area that is a little bit of a mystery, is the motor size. Bowflex doesn't include treadmill motor sizes on their site. In our research and testing of the T22, it's said to be 4.0 HP. It feels comparable to other treadmills with this sized motor. The Bowflex T10 could also be 4.0 HP, at least that's what it's said to be by others online, but it's difficult to know for sure. On midrange and lower-end models from other brands, the motor sizes are typically smaller than the premium models. If this is the case for the T10, we'd guess the motor is anywhere from 3.0 to 4.0 HP. Probably closer to 3.5 to 4.0.
With this range of motor sizes, the Bowflex T10 should handle heavy use like long-distance running, well. 3.0 to 4.0 HP motors are the sizes we recommend for running.
The Bowflex Treadmill 10 goes up to 12 mph and has a 15% incline and -5% decline. This is an impressive decline range that helps add to your training options. The 15% incline isn't quite as high as the 20% on the T22, but a 15% grade is still challenging and effective for engaging your posterior muscles.
Deck
For folding treadmills, this is usually the largest-sized deck we see. It is 22" wide and 60" long. In our testing, we've found this to be plenty large for all running strides so users should be able to run if not sprint on the deck.
The cushioning is pretty firm underfoot. It isn't as soft as treadmills from NordicTrack, which have some of the softest cushioning we've tested. Instead, the cushioning feels closer to Sole Treadmills. If you have joint discomfort and pain, you might want to look into a model with softer cushioning, however, if you like to run on firmer surfaces, this is a good pick. It certainly feels softer than running on pavement and it does have shock absorption to help lessen the impact that comes with running.
The Treadmill 10 has a pretty low profile of just 10" high from the floor to the top of the side rails when the deck is flat. It isn't the lowest step-up height, 8" is what we've seen from some brands of treadmills of this size, but it should be sufficient for use in most homes' ceiling heights.
Performance & Functionality
Considering all of the similarities that the Bowflex Treadmill 10 has with its premium version, the Treadmill 22, they most likely perform similarly. The T22 has exceeded our expectations and feels like a tank to use because of its design and weight, so the T10 should perform about the same.
It's hard to say for certain if the T10 is as quiet as the T22, but it most likely has a low noise output. The incline/decline is especially soft on the T22 (to the point where you can barely hear it over the drive motor) so we assume the T10 will be quiet, too. It's because of this that the T10 should be appropriate for most home spaces when it comes to noise.
We also recommend the T10 if you have multiple users in your household who want to use a treadmill for walking and running. It is best for you if you have a designated place to keep it, too. The T22 is difficult to move, and the T10 is probably as well. These are large and heavy treadmills so it's best to keep them in the same place you're using them.
To appropriately fold up the deck, it says to decline it fully in the manual. We've folded it up declined and at a flat 0% grade, and the deck folds up much more compact when declined. This is probably due to the design of the deck.
This gives the deck the ability to hinge when it's inclined, declined, and folded up. To move the T10, you'll need to tip it back to engage the transportation wheels. As I mentioned, it is hard to move to keep that in mind.
Warranty
The Bowflex Treadmill 10 comes with a nice warranty. Bowflex includes a 15-year frame and motor warranty, 5 years for mechanical parts, 1 year for electronics, and 2 years for labor. Set up isn't the easiest because there are a lot of parts, so having 2-3 people for assembly is a good idea.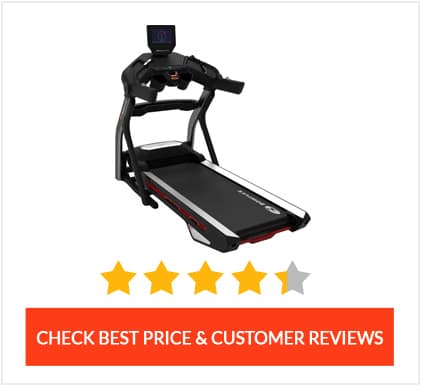 Bottom Line Review: Bowflex Treadmill 10
We've loved our experience using the Bowflex Treadmill 22, and considering how similar it is, the Treadmill 10 should perform similarly. The deck is spacious, foldable, and offers an impressive amount of decline. The 15% incline and 12 mph max speed are enough to keep your workouts varied, too. This hefty treadmill is heavy at 323 lbs and handles users up to 400 lbs so it's a beast and durable to handle a lot of use. We recommend having a designated space for it because of its size and weight. The 10" touch screen is sufficient for streaming JRNY and tracking your workout metrics. This model should be quiet and appropriate for most home spaces, and especially great if you have multiple users in your household who want to run indoors a lot. We've been pleased with the premium T22 model, so we're sure the Bowflex Treadmill 10 is just as hearty and powerful.