The Horizon T101 is one of the most popular entry-level treadmills in the industry that comes at an affordable price but still offers impressive features.
The Horizon T101 has gone through a few different versions over the years, as this well-known treadmill manufacturer has tried to hone their equipment. This is the latest version of the popular T101 treadmill, and it's been quite a success due to its uniqueness, performance, and the convenience it has been granting to the users. This machine has even won our Best Buy award in the 400 – 600$ price category. Is this the home treadmill you've been looking for?.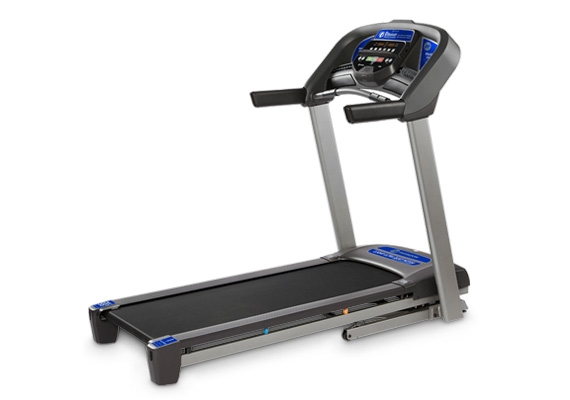 The Horizon T101 is not a commercial grade treadmill like the ones at the gym or health club, but it does have a sturdy construction that should be more than adequate for home use. It is equipped with a 2.5 CHP motor that strikes a good balance between being powerful and quiet – something a lot of home users need in a treadmill. And without creating any disturbance this whisper quiet motor provides you with a maximum speed of 10 mph and you can incline anywhere from 1 – 10% to increase or decrease the intensity of your workouts.
This treadmill has a staggering range of different programs than any other rival treadmill in the market today to enhance the effectiveness of your workouts. The special 3-zone variable response cushioning makes this machine easy on your joints while still providing a strenuous workout where required. Interestingly, you can also wirelessly connect your media device with the T101's integrated sound system and listen to your favorite playlist during the workout.
Plus – and this is important for home users – the running deck effortlessly folds up and out of the way when not in use with the help of FeatherLight hydraulic folding system, minimizing the space the treadmill takes up.
Lastly, the treadmill arrives in four separate hardware bags with user manual, troubleshooting guide, lubricant oil, screws, and other required sets of tools for assembly and maintenance over time.
If you are just embarking on a fitness regime for the first time in your life or looking to maintain average level of efficiency with your training, the Horizon T101 is an ideal choice.
Pros
Offers all the essential features at a price that's far more manageable for home users.
Folding design with FeatherLight™ hydraulic folding system for effortless folding and unfolding process.
Heavy duty 2.5 CHP motor to support prolonged use without the problem of heating or slowing down.
30 different workout programs to keep you working out and making progress.
Heart rate monitoring via pulse sensors located on the hand grips.
3-Zone Variable Response Cushioning provides the ideal amount of flex and support to enhance your stride and reduce the risk of injury.
Sonic sound system with Bluetooth compatibility.
Additional features like rapid-charge USB port, tablet rack, two water bottle holders and a Cool fit fan to keep you cool and energized for longer.
Unbeatable lifetime warranty on frame and motor, 1 – year warranty for parts and labor.
Cons
The T101 allows you to monitor your heart rate by grabbing its two pulse grips. It doesn't allow for heart rate monitoring through a chest band like some other treadmills.
The deck is 55" long, which is long enough for most people. But if you're particularly tall, you may find that it's not quite long enough for your stride.
The console is how you interact with your treadmill, so it's important to get it right. The Horizon T101 Offers a central control console that is clean and easy to use for a very simplified interface.
One-touch keys allow you to easily adjust the speed and incline to customize your workout. But if all that sounds like too much work, there is also a quick start feature so that you can start using the treadmill right away. This ease-of-use makes it a good option for older users and also for those who are less technologically inclined.
FeatherLight™ Folding System
Okay, so you are thinking to get home a treadmill to exercise. But that doesn't mean that you have to sign up for an extra heavy lifting.
The Horizon T101 has an ingenious FeatherLight™ Folding System that takes most of the weight of the running deck for you. Thanks to the system, practically anyone can fold this treadmill up after use. It's a great way to save space and keep your house from looking like a place for muscular guys in tank tops to drink protein shakes, just like your local gym.
There's not a lot of point in investing in a treadmill that is too puny to give you the workout you need. The motor of T101 is 2.5 HP continuous duty horsepower that should last for a long time as it's not an off-the-shelf motor purchased from any third party but is built by the Horizon itself especially for this treadmill.
The speed is limited to 10 mph, but that's more than enough to for a decent workout experience. Best of all, this motor runs surprisingly quiet given its power. This is especially important in a home setting, where you don't want to disturb the whole house every time you decide to exercise. Many a failed marriage started with an interrupted Netflix binge.
The central console is the closest thing to a brain your treadmill has, and it's the LCD display screen that lets you see what's going on inside the machine's cold mechanical mind.
The LCD display screen of T101 provides you information related to how long you've been working out, distance covered, speed, calories burned, heart rate, incline and fan settings. Also, the display is Blacklit so that you don't lose sight of your workout stats in low light conditions (early morning and late evening workouts).
One of the main reasons for people abandoning an exercise regimen is that they simply get bored. We're not made to do the same thing every day, and when we do, fatigue often sets in. Plus, just as your mind gets bored with the same exercise over and over again, so does your body. Your muscles learn to adapt to the same tasks and become more efficient at doing those specific jobs, meaning that you actually get less out of your workout. To combat this, the Horizon T101 offers 30 different workout programs. These can be categorized into four separate divisions; calorie-goal (6), distance-based (10), step-goal (10), and intervals (3).
Calorie-goal: When this treadmill asks you what you weigh, it's not being rude. It's important to be honest with your answer because that's how this machine can tell you how many calories you've burned on any given workout accurately.
The T101 allows you to choose from 6 calorie-burn workouts, each designed to burn a specific amount of calories (100, 200, 300, 400, 500, and 600).  It provides a great way to manage your weight and feel a real sense of accomplishment from your time on the treadmill.
Distance-based: The distance-based workouts are, as the name implies, based around covering a certain distance. This is great if you have a specific training goal in mind. Maybe you're planning for a 5K, 10K or full marathon.
There are 10 different distance based workouts present on the T101, which include: 1 mile, 2 miles, 5K, 5 miles, 10K, 8 miles, 15K, 10 miles, 20K, and half marathon. You can choose any distance-based workout among them to start practicing reaching that distance.
Step-goal: You've probably heard that we should all be taking 10,000 steps per day. But if you spend your work days sitting, you might struggle to hit that target. The step goal feature of this treadmill allows you to choose a number of steps to get you to your target, from 1000 all the way up to 10,000. It's great for a top-up to stop your fitness app making you feel guilty.
Intervals: Of course, the more you train, the better physical shape you'll be in, and the more you'll need to train to continue making progress. There are 3 different types of interval workouts present on Horizon T101 which include: speed intervals, peak intervals, and endurance intervals.
Intervals are great for people looking for more intensity in their workout. Interval training not only burns a large number of calories but also increases your cardiovascular health.
There's also the classic 'manual' mode which allows you to select the speed, incline and time duration for your workout, rather than following a set plan.
Variable Response Cushioning
The last thing you want to do is injure yourself in the name of getting into better shape. Treadmills are great for getting more exercise, but they can be hard on the joints. That's why it's important to choose one that has a well-cushioned deck on which you will be walking, jogging or running on.
The Horizon T101's Variable response cushioning divides the deck into three different zones to give you an ideal amount of flex and support in all phases of your stride. The front of the deck has the most flex since that's where your feet will be landing during your workout. The middle of the deck is more neutral since that's where your feet will slide back as you step forward. The back of the deck is firmer than the other zones, giving you a solid base to push off into your next stride form. This mechanism ensures soft footfalls by greatly decreasing the force exerted on joints and helps in juicing out an extra mile or two.
Using this treadmill will certainly get your heart rate up. That's partly the point, after all. And with pulse sensors provided on the handgrips of this treadmill, it can easily keep track of your targeted heart-rate as you exercise. Not only does this allow you to see the workout that you are getting but it can be useful for those with heart conditions.
After strenuous workouts, it's easy to forget to switch your treadmill off. Fortunately, this treadmill comes equipped with an energy saving mode which will automatically switch the treadmill off after 15 minutes of inactivity. This helps save money on your power bills, especially if you're the forgetful type.
There's nothing like music to keep you motivated. And listening to music can help you to work out harder and get better results. The Horizon T101 comes equipped with its own speaker system, and you can wirelessly connect to the speakers via Bluetooth to play your favorite music directly from your media device through the treadmill. Plus, there is also an audio input jack to play music from devices without Bluetooth compatibility and a headphone jack so that you don't have to let the world know what's on your embarrassing playlist.
Integrated Tablet Holder & USB Charger
Maybe your tablet is your music device. Or maybe music alone just isn't enough for you. Perhaps you want to catch up on your favorite shows while you exercise. Well, you're in luck. This treadmill has an integrated tablet holder that also incorporates a USB charger so that you won't run out of battery in the middle of a workout. You can watch TV shows, or even YouTube videos of runs from around the world so that you'll feel like you're there.
Overheating is a real problem. Sometimes, it's not so much the workout that exhausts you, but the heat your body generates from performing at a high level over a long period of time. The treadmill's fan keeps cool air blowing over you as you work out, wicking away sweat and keeping you comfortable so that you can exercise for longer.
Motor: 2.5 CHP.

Incline: 0 – 10%.
Speed: 0.5 – 10 mph.

Dimensions: 70″ L x 34″ W x 55″ H.

Folding: Yes.
Running Area: 20″ W x 55″ L.

Max. User Weight: 300 lbs.

Treadmill Weight: 165 lbs.
Benefits
Exercise is crucial for maintaining health, but it's not just the physical side of things you need to consider. Studies have found that regular exercise has an enormous effect on mental health, boosting your mood and decreasing stress. 
When you have a treadmill like Horizon T101 in your home, there are no more excuses. You can squeeze a workout in whenever you have time, without the need to plan a visit to a gym. And it's a lot harder to forget to work out when your machine is right there in front of you.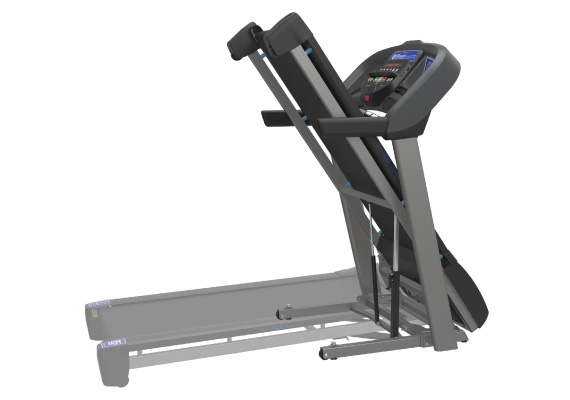 With 30 different workout programs, the T101 will help to keep you from getting bored of the same workout over and over again. And the ability to listen to music or even watch TV while you exercise will keep you at it for longer.
The energy-saving mode isn't something you would necessarily consider right away, but it's actually a good feature to have. Over time, it will help offset the cost of the machine by saving you money on power bills. It also acts as some sort of a safety feature. By cutting the power to the treadmill when it's not in use, you can be confident that this machine won't accidentally hurt your pet or else overheat and get damaged if you forget to turn it off after the workout. 
The running costs of this treadmill are actually lower than you might think. This is due not only to the energy-saving mode but also to the fact that you only need to lubricate the machine every 200 miles in order to keep it running smoothly. In addition, the motor and the frame carry a lifetime warranty from the manufacturer. If something breaks, simply call them and get it fixed for free. Not having to worry about repair costs makes it easier to spend the money on the treadmill in the first place.
Final Verdict: Horizon T101-04 Treadmill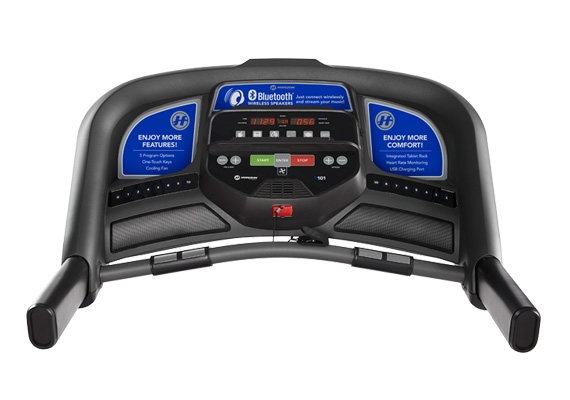 After reading this far, you may be in two minds as to whether the Horizon T101 is the treadmill for you or not. Sure, it has some impressive features. But is it going to fit your specific needs? Well, here's our final verdict.
This treadmill is built around a solid and sturdy frame with a powerful motor attached. The manufacturer's warranty is impressive, and the maintenance requirements for this machine are low. Handled correctly, this is a machine that could give you many years of service. Additionally, it's robust build quality also ensures a very stable surface to walk or run on. A lot of entry-level treadmills can't provide that. Nor do they provide a lifetime warranty, offering instead only 90 days in many cases.
You will also struggle to find any other treadmill in the entry-level section of the market that provides 30 different workout programs. 5, 10 or even 20 in some cases, but not 30. As a result, you will not get easily bored with the T101 treadmill, and can essentially have a new workout every day for a month. Remember, In the end, it's only persistence that makes the difference when it comes to getting into shape.
In that same vein, while many treadmills allow you to connect a music device to them, not all treadmills in this price range offer a wireless connection. The T101 does that. And it also has an old-fashioned audio jack in case you want to play music from an older device that doesn't have Bluetooth compatibility. It means you can play music from just about anywhere. And with the integrated tablet stand, you can also watch TV. Not many entry-level treadmills can do the same.
Is it perfect? No. For one thing, while the T101 can monitor your heart rate through sensors on the grip handles, it doesn't offer a chest strap heart monitor. Therefore, it can't continuously monitor your heart rate, and can only display it when you grip the handles. For the vast majority of users, it isn't going to be a problem. But it's something to be aware of.
Also, the running deck isn't as big as you might find on a professional machine. At 20" x 55", the deck isn't exactly small. But for people taller than 6' 2", it may not be long enough to accommodate a full running stride. This may not be the best treadmill for the tall guys out there. But for the rest of us, it's plenty big enough.
Generally speaking, while the T101 is not without its drawbacks, it's more than good enough for most home users. Only exceptionally tall people may need to look elsewhere. If you're looking to add a treadmill to your home with some of the features you're familiar with from the machines at the gym, the T101 offers a good compromise between quality and affordability.
Conclusion
As an entry-level budget treadmill, the T101 is perfect for anyone looking to get into walking or running for exercise at home. The price is low enough not to be off-putting for a beginner. So if you just looking to start a new exercise regime, this treadmill would be perfect for you.
But the special features of the T101 give it uses that go beyond the needs of the beginner. With its sturdy construction and a wide variety of pre-programmed workouts, this is a treadmill designed to be used for a long time. In fact, it's a treadmill that can grow with you, providing an increasing level of challenge as your fitness improves.
For those on tighter budgets or who are just looking to dip a toe into exercising at home, the Horizon T101 could be one of the best deals out there.
Related Treadmills Review:
Summary
Reviewer
Review Date
Reviewed Item
Horizon T101-04 Treadmill
Author Rating