Sole Fitness F80 treadmill is designed to provide you with a commercial-grade workout experience at home. This treadmill has a spacious area of 22" x 60" for walking, jogging or running. It is equipped with a 3.5 CHP motor which is actually more powerful than a normal treadmill motor and provides a speed range from 0.5-12 mph.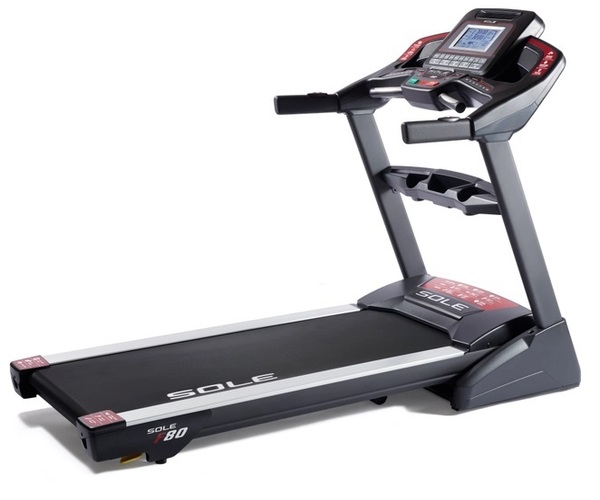 Furthermore, its desk area has an adjustable holder where you can securely dock your computer tablet or smartphone for multitasking like watching movies, reading news and also to use sole fitness app. With this fitness app, you can control programs and download your workout information. In addition, it also has a folding desk with EasyAssist option, you just need to toggle the switch and watch desk fold itself.
Sole F80 treadmill high-tech features include a 9" blue backlit LCD display, 10 pre-defined workout programs, heart rate monitoring through pulse grip sensors or wireless chest strap, iPod/ MP3 compatible sound system and Bluetooth option to sync your device with the fitness app. Lastly, the machine itself is made of strong durable material with the bottom having zinc coated steel transportation wheels for moving the treadmill around with great ease.
With all the qualities mentioned above maybe the question "Why Should I Buy This Treadmill" still remains. It is a must to say that whatever work we are doing we need to perform it in a quiet place. With such a powerful motor it is great that it does not create any disturbance. Another reason why this device may be the right one for you is that it comes with a reversible CushionFlex Whisper Deck which reduces the impact on joints by up to 40% as compared with outdoor training surfaces, Hence can be used by people of all ages as it doesn't adversely impact the joints.
If you still are not convinced, you are pleased to keep on reading. In the end, we want you to know what you are purchasing.
Pros
Being a folding treadmill is doesn't occupies much space, which makes it highly suitable for home use.
Sole F80 Treadmill has an EasyAssist button which you can toggle to fold and unfold the treadmill, rather doing it manually.
Sole F80 Treadmill has a series of features like Bluetooth connectivity, automated inclination up to 15%, automated folding and unfolding, stereo speaker system, cooling fans, two bottle holders, accessory tray and 10 pre-defined programs.
Sole F80 Treadmill has a track of 22" x 60" which is wider than other treadmills, can be used by athletes, serious runner's as well as by tall peoples comfortably.
This Treadmill allows 375 pounds' maximum weight which is huge. Plus, the lifetime warranty on frame, motor and deck depicts that this treadmill is a rough and tough machine.
Cons
Sole F80 treadmill siderails are not as long as some runners would like.
Assembling instructions are a bit hard to follow only because the diagrams included in the manual are not very big.
Besides being easily foldable, the Sole F80 treadmill is a heavy machine and moving it requires excessive strength. So, it is not recommended to move the treadmill from its position very often.
Sole F80 Treadmill has a 3.5 CHP (Continuous-duty Horse Power) motor which is more powerful as compared to other treadmills in the same price range. The high power gives this treadmill a higher speed range and it also does not creates noise, so you can enjoy working out in great silence without any interference of noise.
Sole F80 Treadmill has an EasyAssist option which makes the treadmill open up and fold itself. You don't have to manually fold and unfold the treadmill, but you can do that by toggling a button.
Sole F80 Treadmill has a 9" Backlit LCD Console with stereo speakers and music port, which lets you have a joyful experience with its Bluetooth feature. The Bluetooth can also be used to transfer your workout data to your smartphone or any other smart device.
Sole F80 Treadmill comes with built-in fitness programs, you choose any program according to your body and heart among the 10 present programs in which 6 of them are designed for a classical workout, 2 of them are cardio trained programs (controls and monitor heartbeat rate) and the other 2 programs are user-defined. User defined programs let you have the workout your way.
Sole F80 comprises of automated 15% incline that can be adjusted with the touch of a button to give you a more challenging workout at your disposal.
Along with all the great features, Sole F80 also has a pulse grip and wireless chest strap heart monitor to monitor your heart rate.
The Sole F80 treadmill has 2.7"high-quality rollers which provide the user with soundless running experience.
This Sole F80 CushionFlex Whisper Desk reduces the impact on the joints by 40%, proven to be one of the best shock absorption system.
Sole F80 Treadmill has a wider belt (22" x 60" area) compared to other treadmills, which gives you a natural experience of running, jogging or walking.
Sole F80 Treadmill is made up of highly durable steel frame coated with anti-corrosive paint.
Sole F80 has an incredible weight limit of 375 lbs.
Sole F80 comes with a lifetime warranty for Frame, Motor and Deck. It also has 5 years warranty for parts and electronic equipment and 2 years warranty for the labor.
Motor: 3.5 CHP.
Incline: 0-to-15%.
Speed: 0.5-12 mph.
Dimensions: 80″ L x 35″ W x 58″ H.
Folding: Yes.
Running Area: 22″ W x 60″ L.
Max. User Weight: 375 lbs.
Treadmill Weight: 265 lbs.
Benefits
For different people, there is a different rate for the pain they feel after long workout sessions, but no one can deny that the pain exists. The good thing about the Sole F80 Treadmill is that it reduces this pain up to 40% due to the presence of cushion flex whisper deck.
Being a folding treadmill it can be fitted in different environments and it also doesn't act as a hindrance to room cleaning. The real benefit stays at the fact that because of such a powerful low noise motor with speed range from 0.5 to 12 mph, 15% incline and all the modern features mentioned above this device can help you lose some pounds in a short time span with strong dedication towards workout and can make you fit to run for the next marathon.
Final Verdict: Sole F80 Treadmill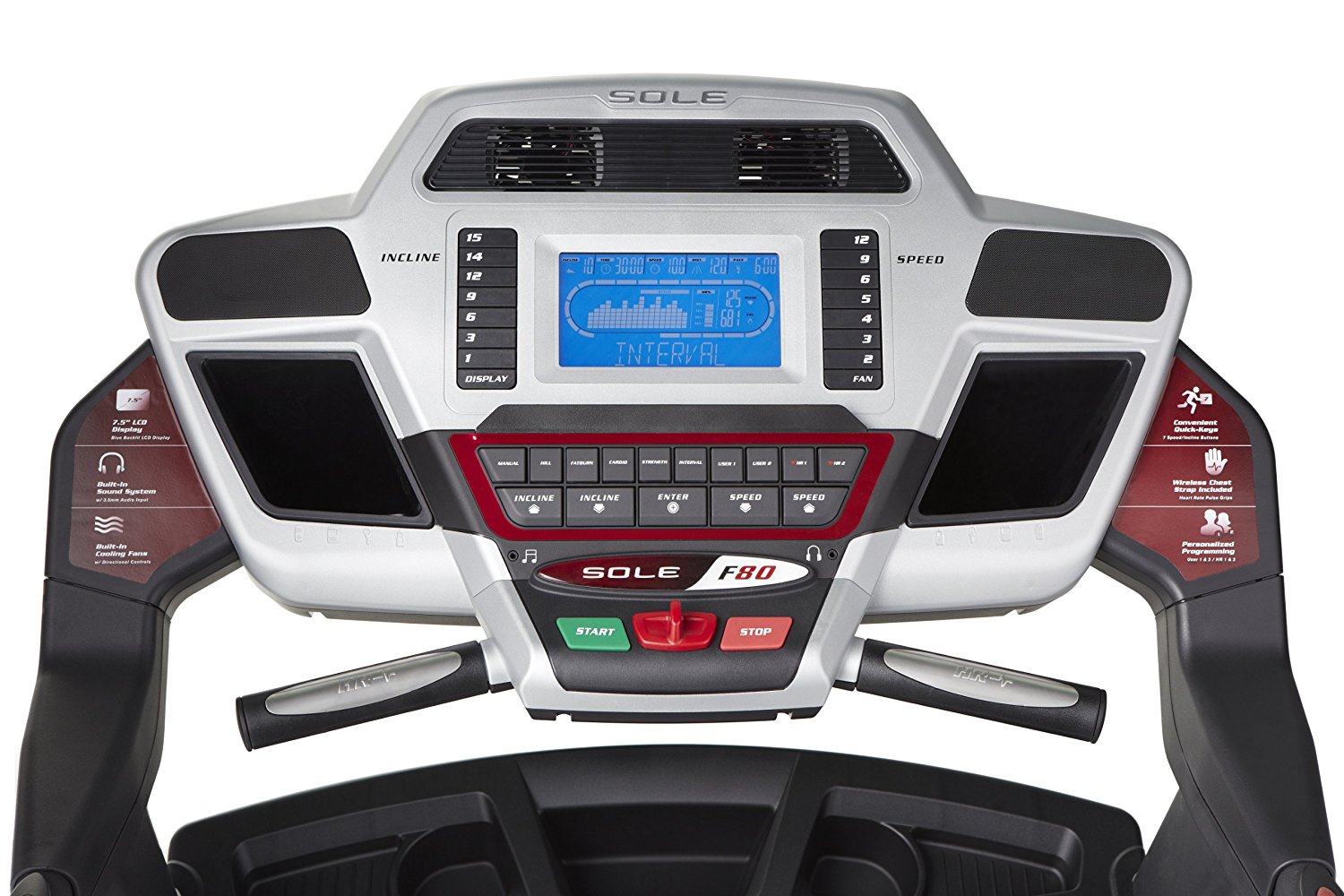 Sole F80 is a heavy-duty treadmill, which has all the great features which can turn your workout session into something fun. The high-tech features of this machine allow you to watch a movie, read the news and carry out various multimedia activities. The Incline gives you a more challenging exercise experience if you are looking to work out vigorously.
The solid steel frame with Cushion Flex Whisper desk contributes to shock absorption system so that it doesn't adversely impact your joints. This Treadmill is ideal for frequent runners and peoples who are looking for an intensive workout.
What Do We like?
Easily foldable.
Large running area.
Powerful motor.
High-speed limit.
CushionFlex Whisper Desk.
Heart Rate Monitoring.
Hi-tech safety features.
Bluetooth compatible.
Built-in-stereo speakers that allow you to connect any MP3 player.
Long Warranty.
Assembly instructions provided.
What We Don't Like?
Short Siderails.
Foldable but not easily portable being a heavy machine.
Conclusion
Being one among the top picks, Sole F80 Treadmill has all the latest unique functions and speed range that is ideal for walking, jogging as well as running. It's worth owning this product because of its multiple advantageous features and user-friendliness. To those who wish for a device which can offer the benefits of different types of workouts and yet be comfortable to use, this product is the best choice.
Related Treadmills Review:
Summary
Reviewer
Review Date
Reviewed Item
Sole F80 Treadmill Review
Author Rating