The Sole Fitness F80 treadmill is designed to provide you with a commercial-grade workout experience at home. This treadmill has a spacious area of 22" x 60" for walking, jogging or running. It is equipped with a 3.5 CHP motor, which is actually more powerful than your average treadmill motor and provides a speed range from 0.5-12 MPH.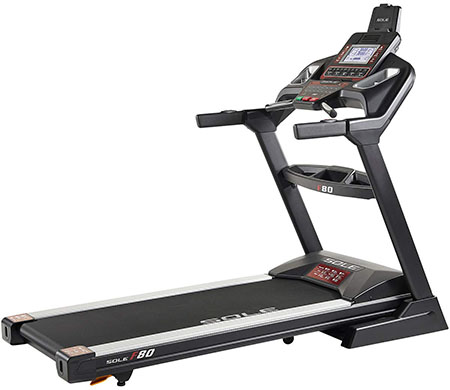 Furthermore, this treadmill an adjustable holder where you can securely dock your tablet or smartphone for multitasking like watching movies, reading news, and also to use the Sole Fitness app. With this fitness app, you can control programs and download your workout information. In addition, it also has a folding deck with EasyAssist option. You can release the deck by pulling on the latch and allow the deck to go down without putting a hand on it, and it will touch down light as a feather.
Sole F80 treadmill high-tech features include a 9" white backlit LCD screen, 10 pre-defined workout programs, heart rate monitoring through pulse grip sensors or a wireless chest strap, iPod/ MP3 compatible sound system, and a Bluetooth option to sync your device with the fitness app. Lastly, the machine itself is made of commercial-grade, durable material, with the bottom having zinc-coated steel transportation wheels to help you move the treadmill around.
With all the qualities mentioned above, maybe you still have the question, "Why should I buy this treadmill" in your mind. This treadmill is a must if you need a quiet treadmill that won't bother as you exercise. With such a powerful motor, it is great that the F80 does not make as much noise as you might expect.
Another reason why this device may be the right one for you is that it comes with Cushion Flex Whisper Deck cushioning technology. This technology reduces the impact on joints by up to 40% as compared with outdoor training surfaces, as claimed by Sole. With this feature, the F80 can be used by people of all ages and ability, as it is less likely to adversely impact the joints.
If you are still not convinced, please keep on reading the rest of the review. In the end, we want you to know exactly what you are purchasing and why the Sole F80 is right for you.
Pros
Being a folding treadmill, it doesn't occupy as much space, which makes it highly suitable for home use.
Sole F80 treadmill has an EasyAssist button which you can toggle to unfold the treadmill, rather than doing it manually.
Sole F80 treadmill has a series of features like Bluetooth connectivity, automated incline up to 15%, the ability to fold and unfold easily, stereo speaker system, cooling fans, two bottle holders, accessory tray and 10 pre-defined programs.
Sole F80 treadmill has a track of 22" x 60" which is wider than many other treadmills, can be used by athletes, serious runner's as well as by tall people comfortably.
This treadmill allows for a maximum weight of 375 lbs, which is a huge advantage that other treadmills don't usually have. Plus, the lifetime warranty on frame, motor, and deck show that this treadmill is a rough and tough machine.
Cons
Sole F80 treadmill side rails are not as long as some runners would like.
Assembling instructions are a bit hard to follow only because the diagrams included in the manual are not very big.
Besides being easily foldable, the Sole F80 treadmill is a heavy machine, and moving it requires a good deal of strength. So, it is not recommended to move the treadmill from its position very often.
Sole F80 treadmill has a 3.5 CHP (Continuous-duty Horsepower) motor which is more powerful than many other treadmills in the same price range. The high power gives this treadmill a quicker response time, and it also does not create as much noise as you might expect from a large treadmill motor, so you can enjoy working out with minimal noise to disturb you.
Sole F80 treadmill has an EasyAssist option, which makes it far easier to fold up and unfold this treadmill. With its EasyAssist technology, the weight of the deck is reduced, making it easier for you to lift and lock in place once it is high enough. When you want to release the deck, just pull the yellow lever and allow the deck to go down on its own.
Sole F80 treadmill has a 9" white backlit LCD screen built into the console with stereo speakers and a music port, which lets you enjoy your audio experience with its Bluetooth sync feature. The Bluetooth can also be used to transfer your workout data to your smartphone or any other smart device that has the Sole Fitness app active on.
Sole F80 treadmill comes with built-in fitness programs. You can choose any of the programs among the 10 preset programs. However, only 6 of them are designed for classic treadmill workouts, 2 of them are heart rate exercise programs, and the other 2 programs are user-defined. User-defined programs let you have the workout your way and save your custom exercise parameters.
Sole F80 has 0% to 15% incline levels that can be adjusted with the touch of a button to give you a more challenging workout at your disposal.
Along with all the great features, Sole F80 also has a pulse grip and wireless chest strap heart monitor to track your heart rate as you workout.
The Sole F80 treadmill has 2.5" high-quality rollers which provide the user with soundless running experience.
This Sole F80 CushionFlex Whisper Desk reduces the impact on the joints by 40% according to Sole Fitness and is claimed to be one of the best shock absorption system.
Sole F80 treadmill has a wider belt, 22" x 60" area, compared to other treadmills in its price range, which gives you a natural experience of running, jogging or walking.
Sole F80 treadmill is made up of highly durable, welded steel frame, coated with anti-corrosive paint.
Sole F80 has an incredible weight limit of 375 lbs, which no treadmills in its price range can even come close to matching.
Sole F80 comes with a lifetime warranty for the frame, motor, and deck. It also has a 5-year warranty for parts and electronic equipment, as well as a 2-year warranty for the labor.
Motor: 3.5 CHP.
Incline: 0-to-15%.
Speed: 0.5-12 mph.
Dimensions: 82″ L x 37″ W x 57″ H.
Folding: Yes.
Running Area: 22″ W x 60″ L.
Max. User Weight: 375 lbs.
Treadmill Weight: 265 lbs.
Benefits
For different people, there is a variable rate for the pain they feel after long workout sessions, but no one can deny that the pain exists. The good thing about the Sole F80 treadmill is that it can reduce running impact pain up to 40% due to the presence of Cushion Flex Whisper Deck technology that Sole has built into this treadmill.
Being a folding treadmill, it can be fitted in different environments, and it also doesn't act as a hindrance to room cleaning. Also, one of the real benefits is the fact that because of such a powerful, low-noise motor with a speed range from 0.5 to 12 mph. Along with having great responsiveness, you also enjoy the incline range of 0% to 15% and all the modern features mentioned above. With these features, this treadmill can help you lose some pounds in a short time span when you approach your workouts with dedication and can help you get fit to run in your next marathon.
Final Verdict: Sole F80 Treadmill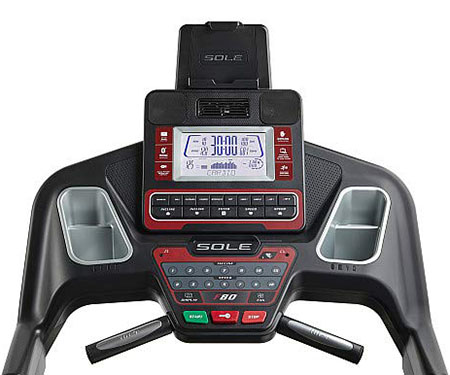 Sole F80 is a heavy-duty treadmill, which has a wide variety of great features which can turn your running workout session into something fun. The high-tech features of this machine allow you to use a smart device to watch a movie, read the news and carry out various multimedia activities as you workout since you can use the USB charging port and adjustable tablet holder. The incline also gives you a more challenging exercise experience if you are looking to work out vigorously.
The solid steel frame with Cushion Flex Whisper Deck contributes to the overall shock absorption system so that it is less likely to adversely impact your joints as you exercise. This treadmill is ideal for frequent runners and people who are looking for an intensive workout, as well as those looking for a treadmill with a high weight capacity.
What Do We like?
Easily foldable.
Large running area.
Powerful motor.
High-speed limit.
CushionFlex Whisper Desk.
Heart Rate Monitoring.
Hi-tech safety features.
Bluetooth compatible.
Built-in-stereo speakers that allow you to connect any MP3 player.
Long Warranty.
Assembly instructions provided.
What We Don't Like?
Short side rails.
Foldable but not easily portable, heavy machine.
Conclusion
Being one among the top picks, Sole F80 treadmill has all the latest unique treadmill functions and a speed range that is ideal for walking, jogging as well as running. It's worth owning this product because of its multiple advantageous features and user-friendliness. To those who want a treadmill which can offer the benefits of different types of workouts and yet be comfortable to use, this treadmill is a great choice.
Related Treadmills Review:
Summary
Reviewer
Review Date
Reviewed Item
Sole F80 Treadmill Review
Author Rating