*TreadmillReviewGuru helps consumers find the best home fitness products. When you buy a product we recommend, we may earn a commission.
Last Updated: May 6, 2023
The Xterra TRX4500 is a respectable midrange treadmill. It has a lot of the same features as the Xterra TRX5500 Treadmill but at a more affordable price. The TRX4500 checks all our boxes for aspects that we look for in powerful treadmills suitable for all fitness levels. Xterra also backs it with an applaudable lifetime warranty for the frame and motor. This, married with the max 350 lb weight capacity- color me impressed.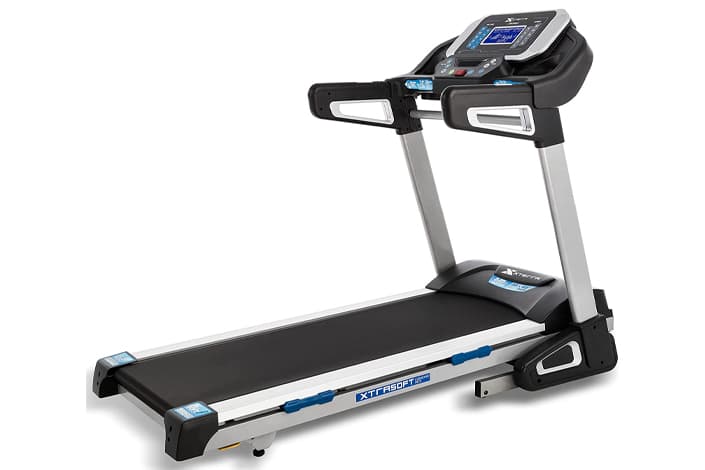 ---
It does have fewer entertainment options than its big brother, the TRX5500, but the console has quick-touch adjustment buttons which we love to see on treadmills. These buttons make things like HIIT training convenient, and really just add more functionality and control to treadmills. We're happy to see them included on the TRX4500 and anticipate that overall it is a functional, yet solid treadmill. In this spec review of the Xterra TRX4500 Treadmill, I'll give our take on all of its specs and features and how we anticipate it will perform.
Why You Should Trust Our Review Of Xterra TRX4500 Treadmill
All of our reviewers here at Treadmill Review Guru, test and use treadmills extensively. In order to review treadmills, we must know how to examine all aspects of a treadmill and how it should perform. In our years of experience, we typically know what to anticipate about a treadmill before we're even able to use it..
In the case of the Xterra TRX4500, we have a really good idea of how it works based on our thorough testing of the TRX5500. It's with this experience, that we've used to create our spec review of the TRX4500, and other treadmills in Xterra's lineup.
---
Pros
We love that it is a hop-on-and-go type of treadmill, meaning it doesn't require a subscription or even wifi to access the 30 onboard workouts.
It has Bluetooth capabilities that allow you to use your device to connect to apps like Zwift and Kinomap
Walkers, joggers, and runners alike should get a lot of use out of the 3.25 HP motor and 20" x 60" deck.
The console is designed with additional quick-touch buttons handy for interval training, as well as side handrail adjustment buttons that are right under your fingers.
The lifetime warranties for the frame and motor back up a well-constructed machine.
The deck folds and unfolds with the built-in Safe Drop and Lift Assist, so you can store it out of the way when needed.
Cons
The airflow in the fan is minimal and weak.
The Bluetooth capabilities don't let you connect your device to play content through the treadmill's speakers.
---
30 preprogrammed workout programs, 2 custom workout programs, and heart rate control
Bluetooth Connectivity to connect to apps like Zwift, Kinomap, WAHOO SYSTM, and the Xterra App
Included Heart Rate Chest Strap
Pulse Grips
Quick-Touch Controls for quick speed and incline adjustments
Folds up with Safe Drop and Lift Assist
2 Cupholders
Cooling Fan
7.5" LCD blue/backlit Display
Motor: 3.25 HP Motor
Footprint: 77.2" L x 35.5" W x 56.1" H
Running Surface: 20" x 60"
25 mm Running Deck Thickness
XTRASoft Deck Cushioning
Treadmill Weight: 214 lbs
Weight Capacity: 350 lbs
Incline: 15 levels
Speed: 12 mph max
Transportation Wheels
Warranty: lifetime for the frame and motor, 5-years for the deck, 2-years for parts, and 1-year for labor

In-depth Review of Xterra TRX4500 Treadmill
---
Preprogrammed Workouts And Third-Party Apps
More and more treadmills are coming out with what looks like televisions attached to them. When there's a large screen attached, we usually know to expect an additional monthly cost to use it. Fitness subscription content is extremely popular and often embedded into large touch screens on treadmills so you can follow along with the brand's programming which is often in the form of instructor-guided workouts.
If following along with a trainer is your jam, then we have plenty of treadmills to recommend to you. If it's not, however, and you are looking for a more straightforward treadmill to do your own thing, then the TRX4500 from Xterra is a nice option. There are 30 onboard workouts that have preselected speed and incline levels for you to choose from, as well as 2 custom modes, and a heart rate mode. The TRX4500 comes with an included chest strap monitor so you'll be all set for heart rate training on this treadmill. Plus, it doesn't require an internet connection.
With this amount of preprogrammed workout modes, you'll have lots of choices. Plus, you can simply jump into manual mode and have full control of the speed, incline, and duration of your exercise.
If you do want a bit more training choices and tech capability, there is also Bluetooth connectivity. You just need your phone or tablet and you can connect to the Zwift app, Kinomap app, and the Wahoo SYSTM app. You can also use the Xterra app to save and share your workouts on the TRX4500 with apps like Strava, Fitbit, Map My Fitness, and Apple Health. With these apps, you'll see the content on your device, not on the LCD screen.
Console
The overall design of the console is strikingly similar to the Xterra TRX5500. The TRX4500 has a 7.5" LCD screen instead of a touch screen though. We anticipate that it will be easy to see since it's backlit, too. All your workout metrics are shown at the top so you can track your progress as well.
There is additional speed and incline adjustment buttons on either side of the display. We miss these on the TRX5500. The speed buttons are on the right, while the incline buttons are on the left. They're numbered for you to press and quickly change your speed and incline. If I were to press the number 4 on the left, the front of the deck would lift to level 4 and change the grade at which I was using. If I were to press the number 6 on the right, the treadmill would change the speed to 6mph.
We get excited when we see these buttons on treadmills because it makes using them that much easier. They're also really handy to have when you're doing interval training and bouncing back and forth between various speeds/inclines. Of course to change your speed and incline using the buttons below the screen, too. Here, the up and down arrowed buttons change your speed in 0.1 increments and your incline level by 1.
From our experience with the fan on the TRX5500, we assume this fan will perform similarly. We expect the fan to be pretty weak and noneffective. You'll most likely need to plug in your own fan if you want to cool off while using the TRX4500.
The 2 cupholders on either side of the console should hold your water bottle still. The device rack below the screen is where you can place your device to connect to Bluetooth or even watch whatever content you want.
You'll definitely have a lot of training flexibility as well as functionality on this console.
Construction Quality / Durability
The overall construction of the Xterra TRX4500 is extremely comparable to the TRX5500, that we know and enjoy using. They have the same motor size, deck size, step-up height, speed, and incline ranges, so we are under the assumption that they'll feel very similar to use.
The 350 lb weight capacity on the TRX4500 is excellent for users of all sizes, especially larger users. The deck also folds up to save space when you're not using it, and there is a handle to pull that releases the deck when it's folded. This makes the TRX4500 more compatible with smaller home spaces. It also has transportation wheels in case you need to move it.
Frame
The steel frame and uprights are necessary for ensuring a stable experience and handling all levels of use. We are impressed with the additional steel crossbar secured in between the uprights under the console, too. This component helps to keep the console in place even when you're running at high speeds. You shouldn't have to worry about experiencing any movement of the screen while using this treadmill. We're sure the steel construction will help make the TRX4500 feel stable to use.
The plastic coverings over the side handrails appear to be identical to the TRX5500. I love that pulse grips and speed/incline adjustment buttons are on the side handles also. An additional front handle would be nice on the front, especially for users with balance issues though.
Motor
The Xterra TRX4500 has a 3.25 HP motor. This is a hearty-sized motor that should be able to handle all kinds of use from walking and jogging to running and sprinting. You should also be able to get a lot of use out of it. We expect it to be quiet and consistent when adjusting, too. The incline function should also perform similarly. We found the incline on the TRX5500 to be extremely quiet so the incline on this treadmill should be as well. You'll also have plenty of variability between the 12 mph max speed and the 15 levels of incline.
Treadmill Deck
The treadmill deck is 20" wide and 60" long. 60" long-running surfaces are plenty sufficient for most users to run on comfortably. Some users might want a bit more room width-wise though. If that's the case, we recommend checking out treadmills with 22" wide decks. That extra 2" can provide a lot of extra room. When we test decks of this size though, it is plenty large for all of our reviewers to use the treadmill for all kinds of training.
One aspect that we did notice when testing the TRX5500 is that the side rails on either side of the deck are a little narrower than we're used to. Since they appear to be the same on the TRX4500, know that you might need to watch where you place your feet so they don't catch the side of the deck while it's moving. Xterra claims the step-up height (height of the deck at a flat 0% grade to the floor) to be 7.75". This is accurate with the TRX5500, so we're sure the TRX4500 should have a slim profile as well. This makes it easier to step on and off the treadmill, as well as better for lower ceiling heights.
Warranty & Customer Service
We're impressed with Xterra's warranty package. They offer a lifetime warranty for the frame and motor, a 5-year warranty for the deck, a 2-year warranty for parts, and a 1-year warranty for labor. For set-up, we assume you'll need at least 2 people to put the TRX4500 together.

---
Bottom Line Review: Xterra TRX4500 Treadmill
The Xterra TRX4500 has a lot of impressive qualities and is very similar to the Xterra TRX5500, that our team enjoys using. The hefty 3.25 HP motor and 60" x 20" running surface should handle your walks, runs, and sprints with ease while handling users of all abilities. The 350 lb weight capacity should accommodate users of most sizes, too.
If you're looking for a straightforward treadmill that doesn't require a subscription or a wifi connection to use, then the Xterra TRX4500 is a solid option. With over 30 onboard training options, and heart rate training with an included chest strap, you'll have plenty of choices. You can always place your device on the rack and stream your own content or connect to apps like Zwift through Bluetooth for additional options, too.
With a 12 mph max speed, 15 levels of incline, and additional quick-touch buttons built into the console, you'll have no problem getting sweaty on this treadmill. You might need to plug in a separate fan to cool off though. Everything the Xterra TRX4500 has to offer indicates that it is a hearty treadmill that you should consider, especially if you're looking for one that folds up and can be moved around.