*TreadmillReviewGuru helps consumers find the best home fitness products. When you buy a product we recommend, we may earn a commission.
Last Updated: May 7, 2023
The ProForm Pro R10 is a great-looking, sturdy, interactive rowing machine and it easily folds for portability and storage. Currently, it is free with a free 3-year subscription to iFit through ProForm+. The ProForm Pro R10 rower is the top-of-the-line rowing machine in the series and is an excellent addition to Proform's lineup of interactive cardio machines.
With an advanced 10" touch screen display, 24 magnetic resistance levels, and unlimited iFit workouts, it has everything to take your workouts to the next level. In this full ProForm Pro R10 Rower review, we will dig in and take an in-depth look at what it has to offer.
Why You Should Trust Our Review Of The ProForm Pro R10 Rower
Our team here at Treadmill Review Guru, do thorough tests of our rowers just like all of the other equipment we review. When we test we determine how comfortable, easy to use, and durable the rower feels, as well as see how engaging their content is if they have any.
To comprise this review of the ProForm Pro R10, we compared it to the NordicTrack RW600, the Echelon Smart Rower and the Concept 2 Model D air rower.
Video Review – ProForm R10 Indoor Rower
---
Pros
The integrated touchscreen streams iFit workouts and will adjust the resistance to follow the instructor.
The flywheel is practically silent and smooth so it can be used in shared spaces.
It folds up when not in use and transports easily with 2 front wheels.
You can get the rower for free through the ProForm+ program when you purchase a 3-year family membership to iFit. This is great for multi-user households who want to take classes and use a solid rower.
The foot pedals are sturdy and the velcro straps are easy to put on and take off.
Cons
The belt loses some tension when you're fully extended.
The handle can get in the way when adjusting the foot pedals.
The weight limit is only 250 pounds, so it's not suitable for larger rowers.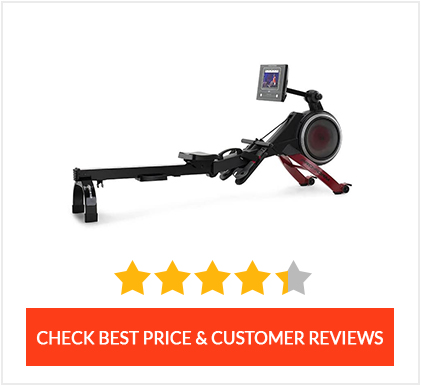 ---
Rower Features
Specifications
24 Digital Resistance Levels

If you love rowing, this indoor magnetic rower will match your fitness demands with its 24 levels of adjustable resistance. Because it's a magnetic rower, it's virtually silent compared to other rowing machines that use air or water resistance, making it perfect for in-home use. You can adjust the intensity easily without interrupting your workout or bothering those around you.

10" Smart HD Touchscreen

This crisp high-definition 10" touchscreen will keep you motivated as you plow through each workout. You can swipe through and view your workout stats as you go.

iFit® Enabled

iFit gives you access to an extensive library of workouts, helps you create your workouts, tracks your workout stats, and gives you access to many other features. The console contains a collection of onboard activities that will take you around the globe. Each workout digitally controls the resistance of the rower as it pilots you through each exercise session.

Ergonomic, Molded Seat with Oversized, Steel Seat Rail

If you're not comfortable, you aren't going to give your best effort. With the Pro R10 Rower, you will work hard with a realistic rowing feel, but comfortably. The solidly engineered seat rail is steel and will never give in no matter how intense your workout.

Multi-Position, Adjustable Handlebars

Another important aspect of comfort on a rower is the all-important handlebars. The Pro R10 Rower comes ergonomically designed with soft-touch handlebars, which cut down on fatigue and provide comfort so you can continue rowing. No worries about how far you can pull back with each stroke. The 90" pull strap gives you plenty of length to help you complete the deepest of strokes.

Oversized Pivoting Pedals with Adjustable Nylon Foot Straps

Solidly designed to keep your feet in place, the pedals on the Pro R10 Rower are specifically built to increase your stability, keeping you in place throughout your entire workout. The adjustable nylon foot straps provide a snug, secure feeling.

SpaceSaver® Design

Not everyone lives in a loft apartment or has a spacious workout area for a nearly 7ft rower. Fortunately, the Pro R10 Rower has a SpaceSaver® Design making it easy to fold up in place or stash away. Simply lift the handle, and the machine does the rest folding in upon itself.

Audio Auxiliary Port

No need for your ear pods. The auxiliary audio port allows you to plug in and listen to your favorite workout music, audiobooks or ensure you hear the on-screen trainer as well as possible. The onboard dual 2-inch speakers get the job done without taking up any additional space in your workout area.

Front-Mounted Transport Wheels

Once folded up, the front-mounted transport wheels make it a breeze to roll your rower wherever it needs to go.
Construction:
Open Dimensions: 22" Width x 86.5" Depth x 45.5" Height
Resistance System: Inertia-Enhanced Flywheel
Seat: Ergonomic, Molded Seat with Oversized, Steel Seat Rail
Weight Capacity: 250 pounds
Display:
10" Smart HD Touchscreen
Control resistance right from the screen
Displays distance, time, calories, stroke count, and strokes-per-minute.
Functionality:
Silent magnetic flywheel for steady, smooth resistance operation
Handle Bar with soft grip.
Molded seat with steel seat rails
Large 10" touchscreen display with easy access to your stats
24 levels of resistance
Pedals engineered to increase stability
Duel 2" speakers
Warranty:
Frame: 5 Years
Parts & Labor: 1 Year
In-depth Review of ProForm Pro R10 Rower
---
Workout Content and iFit
When you purchase the Pro R10, ProForm is offering 3 years free of an iFit family membership through their ProForm+ Program. An iFit membership allows you to get the most out of the 10" touchscreen.
However, you can use the manual mode without an iFit membership, and even without being connected to the internet. This way if you just want to row, you can see your metrics and adjust your resistance for an intense workout.
We recommend taking advantage of ProForm's current promotion, and subscribing to iFit though. With the membership you'll get up to 5 profiles so other members of your family/household can use iFit on the Pro R10 as well as the mobile app. Everyone will have their own profile to submit their stats, take classes, schedule future classes, and track their workout history.
iFit has a robust library of content that extends beyond rowing to other types of machines as well as classes off of equipment entirely. Some of the other classes include running, cycling, meditation, strength, yoga, and more. On the ProForm Pro R10 Rower, iFit's rowing classes help keep you motivated, engaged, and they offer guidance.
Most of iFit's classes are led by knowledgeable world-class instructors. When taking a rowing class with Alex Gregory in the Caribbean, he gave positioning cues that beginners, and even more seasoned rowers could appreciate. Plus, the camera panned to show more of the landscape which made the class more engaging and interesting to take.
We love iFit for their outdoor classes because they are filmed in real locations all around the world. There are also indoor studio classes to mix it up. The filming is of high quality and there are live and on-demand classes to choose from.
Another great feature is that you can follow along with the trainer to have the Pro R10 adjust the resistance based on the trainer's cues. This way, you can have a hands free experience and continue rowing the entire time. If you do need to change the resistance in class, you can override this feature at any time.
Console
One thing I noticed right away is that I can reach the screen when my feet are strapped into the pedals. I'm about 5'1" tall so I have problems on other rowers with reaching the touchscreen (if one is attached). I do wish the screen swiveled like the Echelon Smart Rower, and the newer Echelon Row-s. They both have the option to see the screen from multiple areas off of the rower, which is beneficial when taking mat classes.
A nice feature about the screen is that the neck can be lowered or raised to your eye level. So, no matter your height, you'll be able to see the screen. We've tested rowers that have too high or low screens, so it's nice that you can adjust this one. There are probably some who will think the 10" screen is a little too small, which is fair. However, I found it to be sufficient and I could see the iFit content.
I could also hear the music and my iFit trainer well. The built-in speakers can go pretty loud. You can also use the audio auxiliary port on the console.
I didn't have a problem changing my resistance while rowing because I can reach the console. As a team, we really like quick touch buttons, and we've become accustomed to using them on treadmills, so we like having them on the Pro R10 Rower, too.
There are eleven of these buttons to quickly jump from different resistances that range from 2 to 24, which is the max resistance level.
Construction Quality/ Durability
Something to keep in mind is that it only has a 250 lb weight capacity, so it won't work for larger users. Users up to that size should be able to get plenty of use out of this compact rower though.
Frame
The steel components of the frame definitely add to the overall quality of the R10. When unfolded, the rower sits firmly planted on the floor with no rocking. The monorail is also made of steel and the seat glides over it smoothly and quietly.
Geometry
Footprint: 86.5"L x 22"W x 45.5"H
Pedals: 12"L
Saddle: 12"W x 9"D
Belt Drive: 24"H from where the strap emerges
Monorail: 13"H x 40"L x 3.5"W
Footboard & Pedals
We like the velcro adjustable foot straps. They make strapping and unstrapping your feet quick and efficient. They're also pretty thick. We didn't have to worry about the straps becoming loose even when we really pushed our feet against the footboard. Your heels should stay planted in the pedals while working out too. They offer nice ankle flexion and are about 12" long to handle a wide variety of users and any type of athletic shoe.
Handle
The handle is round and nicely padded for comfort. It isn't angled however like the Echelon rower. It's more similar to the RW600 from NordicTrack. It also doesn't allow you to do any single arm rowing, unlike the Concept 2 that has vents in the middle for your fingers to allow for this.
Even though it doesn't have these features, I found it to be slim enough for my smaller hands to grip, and I didn't experience any discomfort or fatigue in my hands from using it while rowing.
Seat
The seat is slightly molded to support your tailbone. It's similar to the RW600 rower. It does have some padding and we didn't find it uncomfortable to use. It might be a little too small for some users, however.
It sits about 15" high off the ground which is a nice height for rowing. There are other rowers that sit lower that can make getting on and off more challenging. This seat height is easier to get on and off.
Flywheel
It is connected to the handle by a belt which also helps to cut down on noise. The Concept 2 uses a chain instead of a belt so you get a little noise output when using it.
The 90" pull strap is plenty long for users. We did notice at the end of the drive the belt gets a little loose, especially when at a lighter resistance.
Resistance
The main reason for the lack of noise from the Pro R10 is because it uses magnetic resistance. The flywheel works against a magnetic brake and can be adjusted for more or less tension to pull against. While magnetic rowers are really quiet, if not silent like this ProForm one, their max level of resistance might not be enough for some users. This is especially true if you're really strong or even just used to air rowers like the Concept 2 Model D that has unlimited resistance.
Air rowers do make quite a bit of noise compared to magnetic rowing machines, so where there's one upside there's also a downside. The NordicTrack RW600 is a hybrid rower that uses both, but it still generates some sound.
Because the ProForm Pro R10 is so quiet we recommend it for apartments, shared spaces, and homes where noise could be a problem.
Performance & Functionality
We really like that the ProForm Pro R10 basically folds in half and can be stored pretty easily. It also has 2 transportation wheels for convenient moving. The 2 handles make it simple to maneuver.
We're also impressed with how sturdy this rower feels. We do wish it had a higher weight capacity, but our largest reviewer at 6'5" 230 lbs could use it just fine. Our reviewers did notice that the seat is a little unsteady side to side if you shift your weight that way, but this doesn't affect the seat's movement over the rail when rowing.
We do feel like iFit is definitely an added bonus on this rower because it makes it a lot more interactive. That's why we recommend it for iFit members and users who want to take trainer-led classes.
Warranty/Customer Service
ProForm offers a 5-year warranty for the frame and a 1-year warranty for labor, which is fair. The frame warranty is half as long as NordicTrack's, but ProForm's is more extensive than Echelon's.
Bottom Line Review: ProForm Pro R10 Rower
We are pretty impressed with the ProForm Pro R10 rower. It gives you everything you need for an upscale gym experience right in the comfort of your own home. Interactive fitness machines are all the rage right now, and with the extensive iFit library and 10" touchscreen, the Proform R10 rower fits the bill.
The advertised free 3-year iFit membership is an excellent deal, and we recommend taking advantage of the membership to get full functionality out of the Pro R10. iFit has thousands of trainer-led classes that are filmed all around the world, so you'll never get bored while working out.
This extremely quiet indoor rower works well for someone doing cardio in a shared space or in homes where noise needs to be minimal. This allows you to exercise at a challenging level without bothering your partner or neighbors. Although it's not best for larger users because it has a limited weight capacity, it folds up and can be stored out of sight when you're not using it.
We recommend checking out the ProForm Pro R10 rowing machine if you want a quality, foldable rower that is quiet and comes with engaging content.
Related Rowing Machines Reviews: