*TreadmillReviewGuru helps consumers find the best home fitness products. When you buy a product we recommend, we may earn a commission.
Last Updated: May 15, 2023
The TrueForm Runner is a premium manual treadmill that can be found in homes, garages, and commercial gyms. This motorless treadmill can be used almost anywhere. It's beloved among elite athletes, sports facilities, and home and public gym-goers. The slat belt has a shallow curve which is proven to promote correct running mechanics. It's also customizable. You can purchase the Runner with a standard rubberized slat belt, an artificial turf slat belt, or a rubberized running track, depending on your sport, activity, and preference. This TrueForm Treadmill is a beast with an all-steel frame that supports up to 700 lbs of user weight while walking and 450 lbs running. In our TrueForm Runner Treadmill review, I'll go over everything that you need to know, as well as discuss how it performed for us so you know what to expect.
Why You Should Trust Our Review Of TrueForm Runner Treadmill
We test all kinds of treadmills and have been for several years. We do this to help you make informed buying decisions. A treadmill is an investment not only in your health but in your wallet so it is our goal to help you find one that you not only love but use regularly. Our team consists of fitness instructors, personal trainers, garage and home gym owners, and commercial gym-goers so we're experienced in all kinds of fitness and training realms which helps us to be able to recommend specific treadmills to certain people.
Along with extensively using a model and putting it to the test during our review process, we also like to draw some comparisons between popular models. When testing the TrueForm Runner we also pulled out the TrueForm Trainer, AssaultRunner Elite, and Bells Of Steel Blitz Manual Treadmill. You'll see some comparisons of these models with the Runner throughout this review.
---
Our TrueForm Runner Treadmill Video Review
---
Pros
This is a heavy-duty treadmill that can be used in homes, garage gyms, and commercial gyms.
It can be customized to purchase in different colors and running surfaces like turf and rubberized track for sports training.
The shallow curve to the deck helps to promote good running mechanics.
The treadmill doesn't have a motor so it doesn't have a max speed allowing you to run as fast as you want (and can).
The all-steel frame makes this treadmill heavy and extremely durable to handle a lot of running.
It requires little to no maintenance and doesn't require electricity to use.
Cons
The console has limited metrics tracking and functionality.
It might be too overbuilt and heavy for what some home users need.
It's a splurge but worth it if you have the budget.
---
The shallow-curved belt is designed to promote a mid or forefoot strike.
Bright LED Display with a rechargeable battery; no electricity required
Metrics displayed: pace, speed, distance, and time
Different running slat belt surfaces are available including rubber, artificial turf, and rubberized red or blue running track
Available in different frame colors
Rear metal handle and transportation wheels for easy moving
No cupholders or device rack
Compatible with the TrueForm Runner Performance Adapter (sold separately)
Footprint: 64" L x 36" W x 63" H
Non-Motorized
Running Surface: 17" W x 64" L
Step Up Height: 11"
Treadmill Weight: 350 lbs
Weight Capacity: 700 lbs (walking) or 450 lbs (running)
Responsive Belt Technology
Unlimited Max Speed
No Incline
106 Sealed Steel Ball Bearings
Inner Frame: Formed and Welded 7 Gauge/4.5 mm Steel
Outer Frame: Formed and Welded 7 Gauge/4.5 mm Steel
Handles: Steel
Warranty: 20 years for frame, 2 years for tread mechanism, surface, display, and 90 days for labor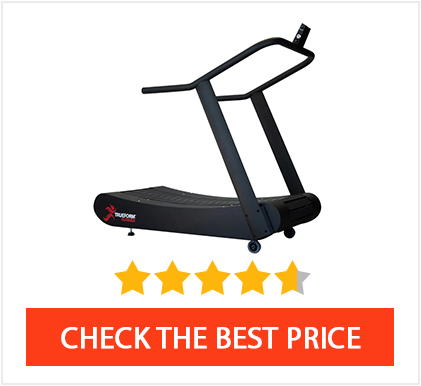 ---
In-depth Review of TrueForm Runner Treadmill
Console
Like other manual treadmills, the TrueForm Runner has a simple console that's battery-powered. This means that the Runner doesn't require being placed near an outlet to use. The console is a bright white LED display that uses a rechargeable battery. It comes with a cord to charge the console.
It is more basic than what other manual treadmills offer as far as functionality and metrics tracking though. It only tracks your pace, speed, distance, and time. Metrics like calories, heart rate, and watts aren't calculated on the screen like they are on other non-motorized treadmills. There aren't any onboard workouts available either. You also can't create your own intervals and set time and distance goals on this console like you can on the TrueForm Trainer.
There is an on and off button behind the console to turn it on and off. This helps to avoid draining the battery. On the other side is a reset button to clear your metrics when you want to start a new workout fresh.
We wish there was a place to put your water bottle, but unfortunately, you'll need to set that on the floor or a shelf near the treadmill. There's also no place for your phone, but I think this helps to eliminate any distractions while using the Runner. Since this isn't a good treadmill to zone out on, I'm okay with the lack of a device rack.
The console doesn't have any connectivity to outside apps like the AssaultRunners or heart rate monitors. While it is simple and easy to use, it can use some improvements, such as more metrics tracking, training options, and connectivity.
TrueForm consoles are pretty accurate with a +/-5% accuracy rate.
Construction Quality / Durability
I'm going to start out by saying that the construction of the TrueForm Runner is impressive. There are heavy-duty treadmills and then there's the Runner.
This is a premium manual treadmill, so it's a splurge, but well worth it if you're looking for a practically indestructible motorless treadmill. The Runner is also proven to be durable by its popularity in commercial gyms and homes, as well as its previous use in CrossFit competitions.
Starting with the weight capacity, the TrueForm Runner can handle up to 700 lbs of user weight when walking and 450 lbs when running. These aren't typos. Once you learn more about the construction you'll understand why this treadmill is so powerful.
Frame
All the way down to the frame is where you'll see the difference between the Runner and other manual treadmills. Like its more affordable alternative, the TrueForm Trainer, the Runner is made with a formed and welded 7 gauge steel inner frame. The Runner also has the same steel on the outer frame and cover that fits over the frame and makes up the side rails of the deck.
Other manual treadmills like the Trainer and AssaultRunner Elite are lighter and have fewer steel components, besides the frame. The TrueForm Runner weighs 350 lbs, so it's heavy in addition to being overbuilt.
The steel uprights connect to the steel frame. The handles are steel tubing. They're simple but provide balance when you need it. The steel is also powder-coated to protect against corrosion.
MotorLess
The TrueForm Runner is a manual treadmill which means that it doesn't have a motor. The motorless design allows runners to run as fast as they want. The belt won't reach a maximum speed because it is controlled with your feet rather than propelled with a motor. You set the pace of the belt and therefore the Runner will allow you to run as fast as you can.
Motorized treadmills require a lot of maintenance to the motor and the belt. Non-motorized treadmills require little to no maintenance because they don't have motors and the belts don't require lubrication or adjusting. So, the TrueForm Runner is a great option if you're looking for a low-maintenance treadmill that can handle a lot of use.
Instead of hearing sounds from the motor, the only noise that the Runner generates is from the sound of the belt moving under your feet. It isn't the quietest noise, but it's pretty on par with other manual treadmills. You can hear the thuds as your feet hit the deck too, but it isn't excessively loud. The Bells Of Steel treadmill is a little quieter in comparison, but the Runner sounds similar to AssaultRunners.
Deck
The deck is what sets the Runner apart from flat-motorized treadmills and other curved manual treadmills. At the time of writing this review, treadmills from TrueForm have the shallowest curved decks of all manual treadmills on the market. Why is this important? Well, the minimal angle of the curve has been proven to encourage proper running form and mechanics.
The TrueForm Runner specifically was involved in a study that found it can efficiently help promote better balance, posture, stride length, and foot strike while running. So, if you're looking to improve these aspects, the Runner is a great investment. After all, it's important to run in a healthy position for your body to help prevent injuries.
Aside from running with better form, the deck is also customizable. The slat belt can be purchased with the standard rubber coating (which is on the model we have), artificial turf, or a rubberized running track that comes in red or blue. The frame is also available to buy in different colors to coordinate with the belt and your gym.
The artificial turf is great for warming up and training for sports like football, soccer, and field hockey. This means athletes can run in their cleats to better train for games. The turf can also be used to run barefoot. The track belt does the same thing for track athletes. It allows runners to train off the track by wearing running shoes or track spikes. Both options mean athletes don't need to change shoes while running on a treadmill. Having this customization is immensely beneficial for sports teams, facilities, and commercial gyms.
Since we have the standard rubber slat belt on our Runner, I'm only going to talk about how the cushioning feels underfoot on this belt. For cushioning, the belt feels very similar to other manual treadmills like the AssaultRunners and the Bells Of Steel Manual Treadmill. The rubber coating on the belt is designed to absorb the impact from each footfall. This helps to prevent discomfort and can serve as a "spring in your step" that you don't get from road running outside. It gives you that extra spring without feeling bouncy because it still feels firm underfoot.
The belt also feels smooth to move because of the 106 sealed steel ball bearings and pulleys that pull the belt in a singular direction. For training in reverse, you'll need to face the rear of the treadmill.
Performance & Functionality
The TrueForm Runner performed really well for us. We were expecting this because it's popular and proven to be durable. It feels similar to the Trainer which we've also heavily tested. As far as how it compares to the AssaultRunners and other non-motorized treadmills, it feels more challenging to get the belt moving and to run at higher speeds.
AssaultRunners and other manual treadmills have higher-angled curved belts which are easier to get moving and to run at faster speeds for most people. The angle of the curved deck is about 2.5" from the lowest to the highest point on the TrueForm Runner. When the Runner is next to other treadmills like the AssaultRunner Elite and Bells Of Steel Blitz, the shallower curve is noticeable visually.
For beginners, non-motorized treadmills can take some getting used to because you control the speed of the belt yourself. A good rule of thumb is that running towards the front of the deck will help you increase your speed while running in the middle of the deck which is the lowest point of the curve, will help you maintain your pace, and running further back will help you decrease your speed. Foot placement is really important and impactful when using a manual treadmill. Having a higher angle on the front of the deck, like on the Blitz treadmill, gives you more leverage to get the belt moving. Since the Runner has less of an angle on the front, it doesn't give you the added leverage to move the belt.
If you're like me and heel strike when you run, you might also find that you fatigue faster on TrueForm treadmills than other treadmills (both manual and motorized). The Runner is said to promote a midfoot and forefoot strike. Considering the Runner is also said to improve your gait and any imbalances you have when running, it is a great treadmill to consider if you want to improve your running mechanics.
Compared to motorized treadmills, TrueForm claims that the Runner will burn up to 43% more calories. Manual treadmills in general require more energy output so this statement is most likely true. So, if you're looking for a practically bomb-proof treadmill that will give you a killer workout, the Runner is it. You can also purchase the Performance Adapter for resistance running at an additional cost to really step up your performance and enhance your training.
With its insanely durable construction and heavy weight, the Runner is hard to move, as you might have guessed.
I wish it had a singular bar at the back to grab when lifting it. Instead, there is a handle built under each side rail. The Runner is possible to move, but it's really best to keep it in a designated space. Also with its weight, the Runner isn't appropriate to use on upper-level floors.
Warranty
TrueForm includes a great 20-year frame warranty with the purchase of the Runner. A 2-year warranty for the tread and console and a 90-day labor warranty is also included. We love that TrueForm helps to instill confidence in the USA-made steel construction with its warranty. For assembly, having two people put it together is a good idea because it's a beast!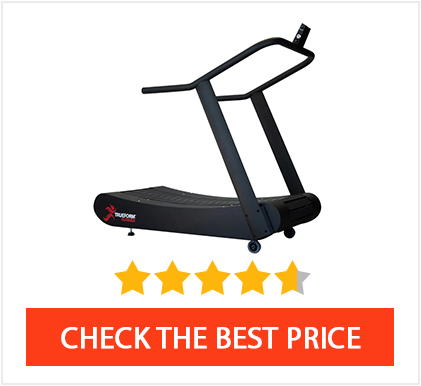 Bottom Line Review: TrueForm Runner Treadmill
If you're looking for a practically indestructible treadmill, then the TrueForm Runner is it. This non-motorized treadmill requires little to no maintenance and lets you run for as long and as fast as you want. It can take some getting used to if you haven't used a manual treadmill before, but once you get running on it, you'll reap a lot of benefits that you don't get on other treadmills, both non-motorized and motorized. The shallow curved deck and rubber slat belt serve as a way to improve running mechanics. Running with proper form is a great way to reduce injury, so the TrueForm Runner is an excellent treadmill for runners, athletes, and fitness enthusiasts of different levels. You can also customize the belt to include turf or a rubberized running track depending on your activity and sport, to more efficiently train on a treadmill. Although the TrueForm Runner Treadmill is a splurge, it's absolutely worth it if you want an insanely high-quality machine that will last.