*TreadmillReviewGuru helps consumers find the best home fitness products. When you buy a product we recommend, we may earn a commission.
Last Updated: May 7, 2023
If you are looking for something that is well-powered and works for running, jogging, walking and hiking, the ProForm Pro 9000 is a good option. The ProForm Pro 9000 is iFit enabled so you'll get access to thousands of high-class workouts and get to explore areas all over the world with the impressive 22" touch screen.
With the 12% incline and -3% decline, you'll get a lot of variability in your training. The Pro 9000 also folds up when you are finished to clear floor space in your home. In this ProForm Pro 9000 Treadmill review, we'll give you insight into how this treadmill works so you can feel confident in your purchase.
Why You Should Trust Our Review Of The ProForm Pro 9000 Treadmill
We know with all the home treadmills on the market nowadays, it can be a bit overwhelming to find the right one for you. That's why we create these reviews to help you make informed buying decisions. We have the opportunity to use treadmills from all kinds of brands, so when we hop on a treadmill we can immediately determine what we like and dislike about it. Our reviewers also have different backgrounds, body stats, and preferences so we bring these multiple perspectives into every review.
We also compare treadmills to each other so you know how they all weigh up to one another. For the Pro 9000, we compared it to the Sole F85, Horizon 7.8 AT, and both the NordicTrack 1750 and 2450.
Our ProForm Pro 9000 Treadmill Review Video
---
Pros
The 22" touch screen is clear and crisp, making iFit content very interactive and valuable on this treadmill.
The 12% incline and -3% decline lets you train at varying grades to work even more muscles in your body.
When taking an iFit class the treadmill can automatically adjust the speed and incline levels for you, so you get a hands-free experience.
The deck folds and unfolds easily with lift assist to save space when it's not in use.
iFit has over 16,000 live and on-demand classes that you can take on and off the treadmill. It's like having your own personal trainer on the screen.
It's easy and uncomplicated to use.
Cons
The weight capacity is 300 lbs which makes it less suitable for larger users.
The console has some movement when running, which causes some shaking of the screen.
---
Treadmill Features
Treadmill Specs
Console with 22" Touchscreen

The 22" touchscreen is noticeably larger than the previous model. It has faster processing time for faster loading time and fewer issues with buffering or a delay.

ReBound Pro Cushioning

This cushioning feature reduces foot strike impact by 30% compared to road running — which is a huge benefit! Joint impact and overuse injuries are common in runners as the downward force from each step can be more than double a runner's weight. The cushioned feel on the Pro 9000 is impressive and noticeable. Gentle flexibility in the deck mitigates foot impact while a stable surface provides a solid toe-off for each step.

30-day ProForm iFit® membership

iFit comes with over 16,000 classes that are Live, indoors, outdoors, off the treadmill and even features TED talks!

12% Incline to -3% Decline

Seriously, the 12% incline provides plenty of grade to engage glutes and hamstrings as you hammer out steep hill training. The 12% to -3% incline/decline range also provides multiple training variables at different inclines so you don't get bored training on a flat road.

0 – 12 MPH Speed

12mph is an impressive speed and probably faster than most of us need. However, a wide speed range matters when running intervals, doing sprints, or training for those fast downhills at the -3% decline. Both the QuickTouch and manual speed adjustments are smooth so there's no jerkiness when increasing or decreasing speed.

SpaceSaver® Design with EasyLift™ Assist

The Pro 9000 folds easily using a handlebar at the base of the deck. The deck will lock in place in a vertical position and stays locked when not in use. Unlocking is also easy using a foot-release on the underside of the deck. A hydraulic release system gently brings the deck back down to the floor so you don't have to worry about it dropping too fast.

3.6 Horsepower Motor

The Pro 9000 is built on a solid frame that houses a 3.6 CHP motor. CHP stands for "continuous horsepower," which means the motor can sustain and maintain power over a long workout. The self-cooling feature allows it to support back-to-back workouts by multiple users without overheating.
Pro 9000 is Bluetooth® Audio and Chest Strap Compatible
Bluetooth Audio allows you to pair your phone with the treadmill so you can listen to your music or podcast on the speakers.
Construction:
3.6 CHP grade motor
1.9" precision balanced rollers
ReBound Pro Cushioning
20" wide x 60" long running surface
Footprint: 35.3" wide x 77.3" long x 59.6" tall
263lb in box treadmill weight
Console:
22" Smart HD Touchscreen
Bluetooth® Audio Capabilities
Syncs with Bluetooth Wireless Headphones
Digitally Amplified Speakers
Two water bottle pockets on either side of the console
Functionality:
+12% Incline
-3% Decline
12 MPH Speed
Quick Touch Speed and Incline Controls
300 Lb. User Capacity
Heart Rate Sensor Grip
CoolAire Fan in console
SpaceSaver® Design with EasyLift™ Assist
Warranty:
10-Year Frame Warranty
2-Year Parts Warranty
1-Year Labor Warranty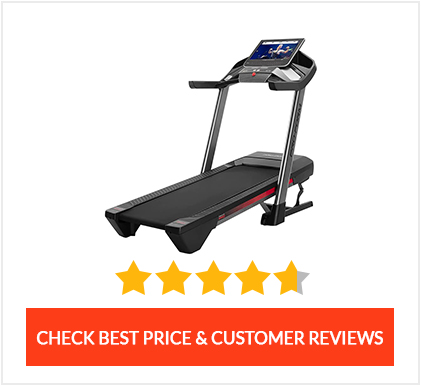 In-depth Review of the ProForm Pro 9000 Treadmill
---
iFit Subscription
When you purchase the ProForm Pro 9000, it comes with the fitness app iFit free for the first month. iFit has a growing library of over 16,000 classes. We highly recommend getting the monthly subscription to iFit when you purchase the Pro 9000. That way you'll get full access to all that this treadmill has to offer.
When you take an iFit class, you can choose from studio and outdoor content as well as live and on-demand classes. The studio classes are filmed in a studio with a trainer who provides direction as he/she works alongside you and other participants in the studio. The outdoor classes are also led by a trainer who guides you through scenic locations all over the world.
The camera also will pan to show you the surrounding landscape. Your trainer might even give you a few fun facts about the area the class is taking place, too.
In addition to the countless live and on-demand classes on the treadmill, there are also classes in strength training, yoga, cycling, rowing, meditation, and more. iFit offers plenty of choices for you to exercise your body in many different ways. You can also exercise your mind with iFit, too. New classes are added regularly. There's even a search option where you can search for certain classes and use filters to narrow down your class choices.
There's also challenges and series. These usually include a group of classes all filmed in the same location, or with the same instructor, or they might all just have the same theme. I recently did part 2 of the Ragnar Race, which was part of a real-life race that iFit instructor, Ashley Paulson, took me through.
One of my favorite things about iFit is the AutoAdjust feature that changes the treadmill's incline/decline and speed levels as the instructor cues them. You can override this at any time by using the controls yourself, but I find it really handy to use. It's important to note that you need a wifi connection to use iFit, and an iFit subscription isn't required to use the ProForm Pro 9000 treadmill.
Preloaded Workouts
If you don't want to pay for a monthly subscription for iFit, there's also a free version of it on the Pro 9000. When you click manual mode from the login screen, it will take you to the available classes. There are some trainer-led outdoor and studio classes, as well as preset programs not led by an instructor.
For the minimalists out there who just want to set a speed and run — you can easily skip the preset programs. When in manual mode, the screen displays a white track to give you an idea of lap speed and distance. The white display bar stays at the top of the screen.
A white display bar at the top of the screen provides a readout of incline, speed, time, distance and calories burned. You can adjust these options to show the stats that matter to you. This display is shown when you're using any of the preset programs, manual mode, and when you're taking any of the iFit classes.
Console
This screen really brings the iFit programs to life. I personally love the hiking programs in iFit and the large screen makes such a difference when following a trainer along on an outdoor location.
The screen is perfectly lit — not too bright, not too dim. It can also be tilted a bit to reduce overhead glare. I honestly felt like I was on the road as I ran along. An easy-to-read display bar at the top keeps track of calories, distance, incline, etc. You can toggle through several different display options on the bar and select those most important to you. In all, I found the screen to be one of my favorite components on this treadmill. When running however, there is a little bit of a shake with the screen and movement in the console. A steel crossbar under the console, in between the uprights would possibly prevent this movement and we think it could be a valuable addition to this treadmill.
This extra movement in the console isn't overly noticeable or distracting when viewing content on the screen though. The console is easy to navigate. Just below the touchscreen are two rows of buttons for both speed and incline. These are easy to see and reach, but a little wonky to use at first. When I first used the Pro 9000, I accidentally hit one of the incline buttons when I meant to change the speed. We prefer the layout of the quick touch buttons on the NordicTrack 1750 and 2450 treadmills. Manual buttons for incline and speed are also located on the lower panel which allow for smaller incremental adjustments. The manual button will increase or decrease your speed by .1mph and incline by .5%.
We are a little disappointed that a heart rate monitor isn't included with the treadmill, though. Instead you have to purchase the SmartBeat Forearm Heart Rate Monitor separately. With this heart rate monitor you can get an accurate reading and be able to sync it with iFit to display your heart rate in real time on the screen.
I'm impressed with how effective the fan is on the ProForm Pro 9000. With four power settings, you can select a suitable air flow for your workout. The fan sits at the bottom of the console and hits my chest and neck. I'm 5"1' for reference. Even though it worked for me, it didn't for our reviewer, Matthew, who is 6'5". He could feel the air, but the fan hit his torso and he said he'd need to plug in another fan if we wanted to cool off.
The console also has enough storage for items like your phone and water bottle. There are two large pockets on either side of the screen. My water bottle does rattle a little bit when I place it in them, but they're large enough to hold more items if need be.
Construction Quality / Durability
In addition to some impressive features and functionality, the ProForm Pro 9000 has a solid frame and easy to use design.
Frame
Built on an all-steel frame, the Pro 9000 has a sturdy feel.
The steel components give this treadmill a stable feel, especially when running. We do wish it had the crossbar with maybe even a storage rack on top like the Horizon 7.8 AT and the Sole F85, just to make it feel even more sturdy and prevent shaking.
Motor
On a treadmill, the motor is the engine that drives the machine — and the 3.6 CHP motor in the Pro 9000 enables the machine to achieve and maintain a smooth pace with even incline adjustments. The motor performed well when I challenged it with multiple speed and incline adjustments. I didn't lag during speed segments or slow down when adjusting the incline.
In a comparison test against the other treadmills, the Pro 9000 landed in the middle of the pack at about 23-24 seconds for it to go from 1 mph to 12 mph. The Horizon AT 7.8 was the fastest at around 18 seconds, and the Sole was the slowest at 40 seconds.
When you're on the Pro 9000, the motor is really responsive and handles changes in the speed and incline well. It goes up to 12 mph and inclines up to a 12% grade. We like that it also declines to -3%, too. Neither the Horizon or the Sole offer decline options.
Deck
The 20" x 60" belt provides enough room for running. This is roughly on par with other folding treadmills. It is 2" narrower than the other treadmills we compared it to. This width difference doesn't make any of our reviewers feel limited, but some users might want a little bit more room. The 60" of length offers enough forward step and kick back length so even taller users should be able to get a full stride on the Pro 9000. There is also plenty of space for walking and hiking as well.
The 1.9" rollers pull the belt along the running surface and then underneath the deck. When roller diameter is large, less belt tension is necessary because there is additional surface area to grab the belt and move it along. In machines with smaller rollers, the belt must be strung very tight which wears out the belt and increases foot drag.
The ReBound Pro cushioning claims to reduce foot impact by 30% as opposed to outdoor surfaces, which means running doesn't have to be painful. I like this cushioning and didn't have any discomfort in my legs, even after running a race on it. It doesn't feel as soft as the NordicTrack treadmills we compared it to, but it doesn't feel quite as firm as the Sole F85 either.
Pro 9000 Functionality
The ProForm Pro 9000 is overall pretty quiet and straightforward to use. When we tested the Pro 9000, it performed well for us. All of our reviewers were able to walk, jog, skip, run, and sprint on the deck. When each of us used it, the motor responded well to changes with the incline, decline, and speed. The motor remained quiet during every workout and during adjustments with the speed and incline levels, too.
After using the Pro 9000, we think that it's suitable for all fitness levels from long distance runners, sprinters, power walkers, gentle walkers, hikers or anyone who wants to improve their training and fitness.
It has a pretty low profile at about 10" when it's at a 0% grade. The Sole F85 has a slightly lower profile at about 8", but the ProForm Pro 9000 should still work well for most homes and ceiling heights.
Another handy feature with ProForm Pro 9000 is that the deck can fold up and down, and it can be moved. The two transportation wheels are on the front, so it can only be moved when it's folded up. To move it, you tilt it back gripping from the top of the deck, and once on the wheels the treadmill wheels around easily.
Warranty & Customer Service
ProForm offers a nice 10-year warranty for the Pro 9000's frame, a 2-year warranty for parts, and a 1-year warranty for labor. Even though it isn't as extensive as the lifetime warranties offered at Horizon and Sole, the 10-year frame warranty backs up the solid construction on the ProForm Pro 9000 treadmill.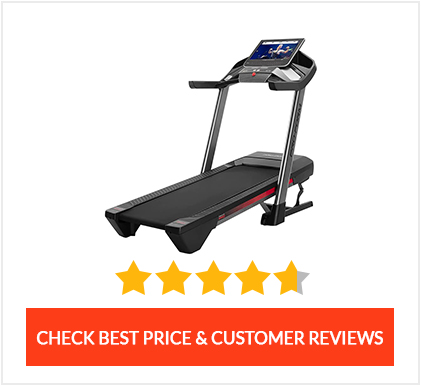 Bottom Line Review: ProForm Pro 9000 Treadmill
The ProForm Pro 9000 is one of our favorites and definitely a best buy. We like the large 22" touchscreen which makes a huge difference in the overall experience on this treadmill. If you are looking for something that folds up to save space, the Pro 9000 is a good option since it has a 20" wide and 60" long deck but will fold and lock into place when you're finished. The free, 30 day iFit subscription with running, walking, hiking and strength training workouts enhances the value and interactivity. Those in the market for a quality treadmill with a crisp 22" touchscreen will enjoy the ProForm Pro 9000 treadmill.