*TreadmillReviewGuru helps consumers find the best home fitness products. When you buy a product we recommend, we may earn a commission.
Last Updated: May 1, 2023
In our experience using Horizon treadmills, they are easy-to-use, comfortable, workhorse machines. We regard them so highly that their entry-level and premium models are both on our best treadmills list. We know Horizon makes affordable equipment that is backed with impressive warranties. The Horizon 5.0 IC Indoor Cycle is just that. This exercise bike is a great budget buy and it comes with an outstanding lifetime frame warranty. Before we dive into the review of the Horizon 5.0 IC Indoor Cycle, some notable things to know about this bike are that it doesn't require a subscription to use, connects to various tracking apps, has a 28.6 lb flywheel, and offers 100 levels of adjustable magnetic resistance.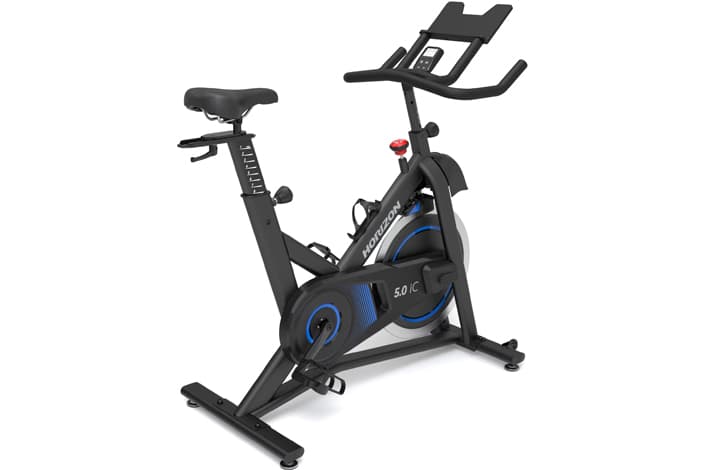 ---
Why You Should Trust Our Review Of The Horizon 5.0 IC Indoor Cycle
We have extensive experience testing exercise bikes. Our reviewers are indoor cycling enthusiasts and instructors who spend a lot of time pedaling in the saddle. Even before we get a new model in our studio, we have a really good idea of how it is going to perform based on the features, specs, and our experience using other equipment from the brand. Although we don't have the Horizon 5.0 IC in for testing yet, we can give you insight into how we expect it to perform. We've been testing equipment for years, so you can trust that we know what we're talking about.
---
Pros
This bike is affordable and backed by an impressive lifetime warranty.
The console displays metrics for tracking your rides and connects to third-party apps.
The hybrid pedals allow users to wear regular tennis shoes or SPD cycling shoes.
The handlebars offer multiple grip options to ride in various positions.
The resistance is adjustable with 100 different levels for you to vary the intensity of your workouts.
The device rack holds your phone or tablet so you can choose what kind of entertainment or workout tracking you want for every ride.
Cons
It is only rated to handle users up to 250 lbs.
The bike is lightweight which should make it easy to move around, but it might not feel as sturdy as other models.
The handlebars only adjust up and down, not forward and back.
---
1.65" x 1.26" LCD Window Display
Workout Metrics Tracked: Cadence, Calories, Distance, Heart Rate, Resistance Level, Speed, Time, and Watts)
Bluetooth Enabled (Connects To Peloton App, Zwift, Google Fit, Apple Health, Fitbit, and Strava)
Device Rack
Water Bottle Holder
Energy Saver Mode
3-Way Adjustability (Seat Adjusts Up/Down & Forward/Back, Handles Adjusts Up/Down)
Footprint: 47" L x 21" W x 45" H
Bike Weight: 85 lbs
Weight Capacity: 250 lbs
Adjustable Leveling Feet
Front-Mounted Transport Wheels
Hybrid Pedals (SPD Clips & Toe Cages)
Aluminum Flywheel: 28.6 lbs
Multi-Position Handlebars
Road-Style Saddle
ECB Magnetic Resistance
0-100 Resistance Levels
Warranty: Lifetime Frame, 1-Year Parts and Labor

---
In-depth Review of the Horizon 5.0 IC Indoor Cycle
3rd Party Apps
In our experience testing and using exercise bikes, budget exercise bikes under $1000 tend to not include touch screens. The Horizon 5.0 falls at this price point and doesn't include an attached touch screen. This is a good thing if you don't want to be tied into a subscription or if you want the option of which fitness platform you can stream classes from.
The 5.0 IC has Bluetooth connectivity to pair with apps like Peloton and Zwift to show your cadence in the app. You can also sync your workout metrics to Google Fit, Apple Health, Strava, and Fitbit.
This gives you all kinds of options when you're riding. The device rack that is positioned above the console should hold your phone/tablet in place and be within view while you ride. You of course don't have to follow along with a workout instructor or use an app for tracking. By having the option to use your device while you ride, you can stream whatever you want. You could even place the Horizon 5.0 IC in front of your television if you want to watch something from a larger screen, too.
However you enjoy riding an indoor cycling bike, you have all kinds of options and aren't tied into a monthly fee if you don't want to be on the 5.0 IC Indoor Cycle.
Console
The console appears to be small and simple. The console displays your cadence, estimated calories, distance, heart rate, resistance level, speed, time, and watt output. The LCD window display is a little smaller than comparable bikes like the Bowflex C6. The metrics should be visible for most, but the screen is pretty tiny. We're also unsure whether it is backlit or not, so it might not be best to use this bike in a dark room unless you don't care about tracking your resistance level and other metrics.
While you can track your heart rate on the console, you will need to purchase a heart rate monitor separately to do so.
The navigation buttons on the display seem pretty self-explanatory with the start/stop, change display, and up and down arrow buttons. We don't expect this console to be difficult to use.
Something to make note of those is that there aren't any onboard workouts built into the console. The console is used for tracking your metrics and connecting to third-party apps. It also appears to be how you adjust the magnetic resistance, too.
The Horizon 5.0 IC does have a red knob but it is a brake to stop the flywheel when you're pedaling. To adjust the magnetic resistance, you have to use the up/down arrows on the console. Since there are 100 different levels of resistance, using the buttons will be easier to get to a specific resistance level. The downside is that it might take longer to change the bike's resistance from low to high and high to low levels.
In addition to the device rack for your phone, there is a holder for your water bottle. It's located below the brake. It appears plastic and reminds me of the one on the NordicTrack S27i. It might be a little flimsy but should work fine with most standard water bottles. I like this placement, however, you should probably use caution when getting on and off the Horizon 5.0 IC so you don't accidentally kick your water bottle.
Construction Quality & Durability
Overall, the Horizon 5.0 IC Indoor Cycle is a nicely designed budget option. At well under $1000 this bike is at a nice price point to appeal to a wider range of users. Something to keep in mind is that this bike is only said to handle up to 250 lbs. This is similar to the ProForm CX. If you're looking for an affordable bike with a higher limit, we recommend looking into the Bowflex C6.
We anticipate that this is a great bike for beginners and intermediate indoor cyclists.
Frame
The frame is pretty standard with two stabilizers to support the bike. Under each stabilizer seems to be adjustable leveling feet to help prevent the bike from rocking. Just from looking at spec photos, it is unclear exactly how stable and hearty the 5.0 IC Indoor Cycle will be though. With a weight of only 85 lbs, this exercise bike is pretty lightweight. Other comparable bikes typically weigh over 100 lbs. This should make it easy to move the bike. There are front transportation wheels that are meant to engage when the back end of the bike is tilted up.
With the frame being as light as it is though, we are unsure of how durable it will feel when riding. Since this is a new model from Horizon, it is unclear how it will hold up over time, too. If it is anything like their treadmills though, durability and stability shouldn't be an issue. Plus, we love the confidence Horizon gives with the lifetime warranty backing the frame.
FlyWheel
The flywheel is front-mounted and weighted which should make it smooth and consistent to ride. On exercise bikes at this price point, we like to see flywheels of at least 20-30 lbs. The 5.0 IC has a 28.6 lb flywheel. This amount of weight should make the pedal stroke feel smooth and contribute to the overall stability of the bike.
The Horizon 5.0 IC also uses magnetic resistance which is less damaging to the flywheel over time. Friction resistance which uses felt pads that can wear down and generate sound require more maintenance than bikes that use magnetic resistance. This type of resistance is a good indication that the 5.0 IC is probably pretty quiet to use. We assume it will be appropriate for riding in most home spaces.
Drive System
On the inside of the 5.0 IC is the drive system that connects the flywheel to the pedals. This is how you feel the resistance that is generated by the magnets on the flywheel. The 5.0 IC has a belt drive system which should make the bike quiet to ride. Chain drive systems are commonly found on indoor cycling bikes. The chain requires regular maintenance and can make a grinding sound when pedaling. Belts require little to no maintenance and are practically silent (if not silent) to use.
I love that the Horizon 5.0 IC has hybrid pedals. One side of the pedals is toe cages that you can use with an athletic shoe. Your foot fits into the toe cage and the adjustable strap holds your foot in place. On the other side of the pedal is an SPD-compatible clip to use with cycling shoes. SPD clips are fairly common on indoor and outdoor bikes, so most cycling shoes should work.
Handlebars And Saddle
The handlebars appear to be nice and offer a lot of grip options. For riding in 1st, 2nd, and 3rd positions, it looks like you should have a lot of options for hanging onto the handles. The coating on the handles looks to be smooth, but it is hard to say from the pictures that are available of the 5.0 IC Indoor Cycle. The handles seem to have a nice amount of width for larger users.
When it comes to saddle comfort, this can be really subjective. We also don't know how comfortable the saddle is since we haven't sat in it. Typically on exercise bikes though, they aren't known for being the most comfortable. From experience, they can definitely take some getting used to, especially if you're new to indoor cycling.
The 5.0 IC saddle looks to be narrow and lightly padded so we expect users should be able to ride for long periods of time without having to worry about saddle sores.
For adjustability, the saddle moves up and down and forward and back. Unfortunately, the handles can only be adjusted vertically, not horizontally. In a future model, we would like to see 4-way adjustability on the 5.0 IC. With 4 adjustment points, users can get better bike fits. Most people should be able to fit on the 5.0 IC, but adjusting the handles horizontally would be nice to see in an update.
Warranty
You can't get much better than the warranty that Horizon offers with the purchase of the Horizon 5.0 IC Indoor Cycle. The lifetime warranty for the frame instills confidence in the build and the 1-year parts and labor warranty is pretty standard compared to what other brands offer.
For delivery, you can choose between curbside shipping, in-room, and white glove. This way you can decide if you want to assemble the 5.0 IC yourself or have it put together by someone from Horizon.

Bottom Line Review: Horizon 5.0 IC Indoor Cycle
The Horizon 5.0 IC Indoor Cycle is a new exercise bike to hit the market. It is affordable and we anticipate it to be quiet and appropriate for beginners, intermediates, and those looking for a budget bike. Although we haven't tested it yet, the 5.0 IC looks to be a well-made bike with thoughtful features like hybrid pedals, multi-grip handlebars, and a heavy flywheel. We love that the frame is backed with a lifetime warranty and that the console connects to third-party apps through Bluetooth. If you're looking for a budget indoor cycling bike, that checks all these boxes, then we recommend considering the Horizon 5.0 IC.