*TreadmillReviewGuru helps consumers find the best home fitness products. When you buy a product we recommend, we may earn a commission.
Last Updated: September 22, 2023
The AssaultRunner Pro also referred to as the AirRunner, is the base model from AssaultFitness. Although it isn't a premium model, the AssaultRunner Elite is, it isn't a treadmill to pass up. The Pro has similar qualities to the Elite, but it costs a good deal less. The AssaultRunner Pro is a curved, manual treadmill which means it doesn't require electricity and the speed of the belt is controlled by the runner. Manual treadmills overall help you burn more calories than motorized treadmills and require less maintenance. There are many benefits to manual treadmills, and the Pro is our top recommendation when it comes to this kind of treadmill. In this review of the AssaultRunner Pro, I'll take you through everything you need to know so you can determine whether it's for you.
Awards: Best Overall Manual Treadmill
We know a great treadmill when we use one. The AssaultRunner Pro is just that. You can find it in commercial and residential settings. As far as a manual treadmill, this is one that is appealing to the majority of users because it has a belt that's extremely durable and built to last. For running, and sprinting especially, this model is preferred. Plus, it's very comparable to the AssaultRunner Elite, but we love that it's more affordable to appeal to the masses. You can run as fast and as long as you want on this treadmill and it's good for 150,000 miles! All of this is why we've awarded the Pro as the best overall manual treadmill on our list of best manual treadmills.
Why You Should Trust Our Review Of AssaultRunner Pro Treadmill
Our team consists of personal trainers, group fitness instructors, former D1 college athletes, and fitness enthusiasts who have been testing treadmills for years. From motorized to non-motorized and everything in between, we've used it. We have extensive experience using the AssaultRunner Elite, so we've relied on that to help us test and review the AssaultRunner Pro. We've also spent time using comparable treadmills like the TrueForm Trainer and Bells Of Steel Blitz Manual Treadmill, so we've relied on our experience using other treadmills to create this review of the AssaultRunner Pro. You can find comparisons of these machines throughout this review.
---
Pros
This is a durable treadmill that comes in at an affordable price point compared to manual treadmills of similar quality.
The belt is powered by the runner, so it doesn't have a max speed and is great for distance training, intervals, and all kinds of running and walking.
This model can be found in homes and public gyms, so it can handle a lot of use.
The console is battery-powered, Bluetooth enabled and comes with built-in training programs.
The 350 lb weight capacity and 62" long running surface make this ideal for most users.
It's sturdy, yet transportable with the front wheels and rear handle.
It requires little to no maintenance compared to motorized treadmills.
Cons
There is a learning curve when using the deck, so this isn't a treadmill for zoning out on.
There aren't any cupholders available on the console.
---
FeaturesSpecs
Hi-Contrast LCD Display
Connects to Assault Fitness App
Bluetooth Enabled
Onboard Workout Programs
Metrics Displayed: time, calories, distance, speed, watts, pace, and heart rate
Transportation Wheels
Rear Transporting Handle
Footprint: 69.9" L x 31.7" W x 64.4" H
Running Surface: 17" x 62"
Non-Motorized
No Incline
Treadmill Weight: 290 lbs
Weight Capacity: 350 lbs
Construction: 100 Precision Ball Bearings
Solid Steel Frame & Handrails
Corrosion Resistant Hardware
Warranty: 5 years for the frame, 3 years for moving parts, and 150,000 miles for the belt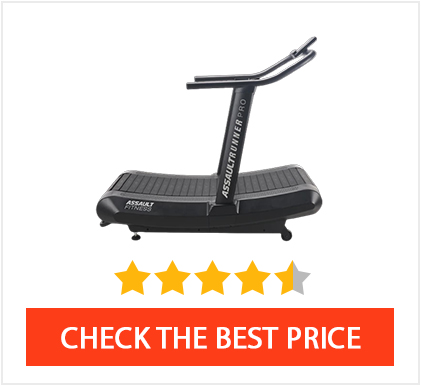 ---
In-depth Review of AssaultRunner Pro Treadmill
---
Preprogrammed Workouts and App Connectivity
Like other manual treadmills, the AssaultRunner Pro doesn't require electricity to use and the console is battery-powered. When the belt starts moving the console will turn on and start tracking your running. The AssaultRunner Elite and Pro have the same consoles, and compared to other manual treadmills they offer a bit more functionality.
The Pro's console tracks your time, distance, estimated calories, speed, watts, pace, and heart rate. Along with metrics tracking, the Pro's console includes onboard workout programs. There are set intervals for Tabatas, reverse Tabatas, custom intervals, and targeted training settings.
The targeted programs let you set goals based on your time, distance, calories, and heart rate. The AssaultRunner Pro is Bluetooth-enabled to connect with a compatible heart rate tracker.
It can also connect to the Assault Fitness App to offer even more guidance and workout options. The Assault Fitness App offers challenges and programs to take whenever you want. The Assault Fitness app has programs that are meant to be taken over the course of a couple of weeks to months to progress your fitness.
Even though this is a simple console, it comes with more training options than other manual treadmills like the TrueForm Trainer.
Console
The console is easy to use and offers more functionality than most. The buttons on the left and bottom are clearly labeled.
The console is fixed so it doesn't adjust like the Bells Of Steel Blitz Manual Treadmill. You'll also notice that there isn't any storage on the console besides a ledge to place your phone. The Elite comes with 2 built-in cupholders, whereas the Pro doesn't have any place to put your water. It's nice to have a spot for a phone, especially if you plan to use the Assault Fitness App or Fiit App, but it would be nice to have a cupholder or two, too.
Construction Quality / Durability
As far as quality and price, the AssaultRunner Pro really appeals to the majority of people. It has a similar construction to the Elite but is less expensive. The Pro can be found in homes and gyms and is proven to be durable by its extensive use in commercial settings, like Crossfit Gyms.
It doesn't have quite as high of a weight capacity as other treadmills like the TrueForms, the Elite, and the Blitz, but at 350 lbs it can handle most users.
Frame
The overall look of the Pro is similar to the previous discontinued model from Assault, the AirRunner. The Pro has an all-black design, however. The Pro is often referred to as the AirRunner because the machines are so similar.
The frame is made out of steel and the treadmill itself weighs 290 lbs. It's similar in weight to the Elite. These treadmills are a little lighter than other manual treadmills like the TrueForm Runner and Bells Of Steel Blitz, which weigh over 300 lbs each. The lighter weight doesn't affect the integrity of the AssaultRunner Pro and it is definitely stable and feels really hearty.
The AssaultRunner Pro has front transporting wheels and a rear handle for when you need to move it. Many manual treadmills have front wheels and a rear handle so we're glad to see this on the Pro as well. The built-in handle makes moving it easier so all you need to do is lift up the backend to engage the front wheels. Of course, lifting up the backend of a 290 lb treadmill isn't for everyone, so make sure you know your limitations before attempting to move the Pro.
The uprights and handles remind me of the TrueForm Trainer. The side handles extend back to the midpoint of the deck near where you'll be when running so they're well within reach for balance when you need them. The handles wrap around and connect at the front, so you can hold onto them here to get leverage when getting the belt up to speed if that's how you like to start sprinting.
Motorless
The AirRunner doesn't have a motor. Because it doesn't have a motor, it requires much less maintenance than electric treadmills with motors. On motorized treadmills, the belts need to be lubricated and adjusted regularly, and the motors need maintenance and can even break. The motorless design of the Pro doesn't have electrical components that can break down.
Instead, you control the pace with your legs. So, rather than a motorized treadmill that sets the pace of the belt for you to keep up with, you're in control. This means that you can run as fast as you can and want to on the Pro. You'll also burn more calories and activate more muscles on the Pro than on a motorized treadmill.
The Pro is proven to be durable and commonly found in residential and commercial settings so if you want to run marathons on it, or do a lot of intervals, this one is a good pick.
Treadmill Deck
The angle of the curve is the same as the AssaultRunner Elite. The belt is easy to get up to speed and up to a sprinting pace. In comparison, the TrueForm Runner and Trainer have the shallowest curvature in the deck, which makes it harder to get the belt moving. When we compared the TrueForms to the Pro, we found that it requires less effort by the runner to get the belt moving on the Pro. The TrueForm Treadmills encourage proper form and a midfoot strike, so if your form could use a little work, you will probably fatigue faster on these models.
The AssaultRunners are widely favored for CrossFit and speed work because they don't require your form to be as technical. That's why we recommend the Elite and the AssaultRunner Pro to the majority of users looking for a manual treadmill.
For newbies to manual treadmills, keep in mind that they can take some getting used to. The Pro isn't your average treadmill that you can hop on and zone out on. It might even feel a little weird at first because controlling the belt yourself rather than keeping up a set pace is an entirely different experience.
The width of the Pro's belt is only 17", which can take some getting used to, too. This width is comparable to TrueForms, the Elite, and the Bells Of Steel, as well as other popular manual models. It's more narrow than your average electric treadmill, but it's designed to keep your body aligned and in a linear running pattern. The length is 62" which offers plenty of room for most running strides. So, if you want to run, and all-out sprint, pretty much anyone can on the AssaultRunner Pro.
Performance & Functionality
When it comes to the AssaultRunner Pro, we love this treadmill because you get all of the same benefits and quality as the higher-end Elite, but at a cheaper price. It also doesn't hurt that AssaultRunners, including the Pro, are proven machines and widely used in homes and public gyms.
The Pro is a great treadmill for most people because it is a versatile treadmill that doesn't require much maintenance and can last with a lot of use. You don't have to worry about using it near an outlet, so if you want to use this in your garage gym, you can even pull it out into your driveway on nice days. This is also a treadmill that most people can hop on and run on.
The belt feels firm to run on. The rubber slats on the belt help with shock absorption while running. It is the curvature of the deck, as I mentioned, that really differentiates your experience on the Pro from other manual treadmills. The belt feels very easy to get moving, so it can take some time to get used to when it comes to controlling your speed.
As far as noise, you don't hear the sounds of a motor, instead, the only noise that is heard is your feet on the belt and the belt moving underneath you.
Warranty
One noticeable difference between the AssaultRunners is that the Pro has a less extensive warranty. When you purchase the Elite it comes with a 10-year frame and lifetime belt warranty, whereas the Pro comes with a 5-year frame and 150,000-mile belt warranty. The belt warranty is still very impressive on the AssaultRunner Pro and definitely instills confidence in the durability of the machine. Factoring in the lower price of the Pro, it's understandable that the warranty isn't as long. The warranty also includes 3 years for moving parts.
The Pro is pretty straightforward to put together, however, you'll probably want a hand with assembly, especially taking it out of the box.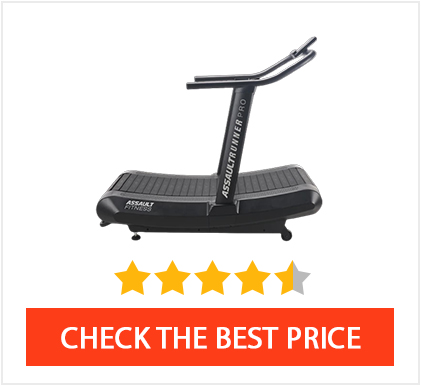 Bottom Line Review: AssaultRunner Pro Treadmill
The AssaultRunner Pro Treadmill is our top recommendation for most people that's why we've awarded it as the best manual treadmill overall. Whether you want to run long distances, incorporate sprints into your workouts, or use this treadmill in your CrossFit training, the Pro has a durable design that is also more friendly on your wallet than other comparable models. This is a fully manual treadmill that requires less maintenance than motorized options and allows you to run as fast as you want and can. You set and control the pace of the belt, so you can't outrun it. The AssaultRunner Pro can handle users up to 350 lbs and has a belt that's good for 150,000 miles. We love that the console is simple and battery-powered yet Bluetooth-enabled for connectivity with the Assault Fitness App and a compatible heart rate monitor. This popular treadmill is commonly found in commercial gyms and would make a great addition to your home or gym.