*TreadmillReviewGuru helps consumers find the best home fitness products. When you buy a product we recommend, we may earn a commission.
Last Updated: September 14, 2023
The best treadmill for you is determined by your budget, training, needs, and goals. Our list below outlines our pick for the Best Manual Treadmills. We have labeled our list based on what attributes each treadmill offers as they are all just a little different. We feature hybrid treadmills, manual slat belt treads, curved treads, and even simple non-motorized treads that are great for walking and fold up when you are done.

Here are the Best Manual Treadmills of 2023 – by Awards
See all the details including Pros and Cons on each of these treadmills below!
Why You Should Trust Us
Our reviewers here at Treadmill Review Guru, have extensive experience using all kinds of treadmills. We all know that how you want to use a manual treadmill should be at the forefront of things to consider when shopping for one.
We kept that in mind when we compiled this best list and broke down the in's and out's of each treadmill. Whether you're a seasoned manual treadmill user, or a newbie trying to figure out what kind is best for you, rest assured that our team is here to help. Testing treadmills is our thing, and we work to bring you the knowledge you need to know so you can take home a quality manual treadmill that you will crush your goals on.
What is a Manual Treadmill?
Most treadmills use an electric motor to move the tread belt along the surface of the deck which creates a feeling of forward motion. These motorized treadmills require a power source (wall outlet) to operate as the belt will not move unless the motor is powered. Motorized treadmills are the standard treadmills you see in most homes and gyms. These treadmills often have different speed settings, some may incline or decline, and they usually have a handrail or handlebars for support. Console design may range from minimal to high-tech. You can also check out our list of best motorized treadmills.
A manual treadmill does not have a motor and therefore does not require electricity. Fully manual treadmills can be placed anywhere since they don't rely on a wall outlet for power. Hybrid manual treadmills have a motor but also a manual feature so they can be used either with or without power.
Different types of manual treadmills:
Traditional Manual Treadmills
Manual Treadmills do not have a motor. These treadmills have a belt that moves in response to the user's cadence. There are two types of manual treadmills. Some are extremely simple, with minimal tech and a folding design. These are marketed to home users who want a very basic machine that doesn't require electricity to walk on at home. These types of lightweight manual treadmills can be placed anywhere since they are usually not heavy and don't have to be close to a wall outlet.
A lightweight, folding manual treadmill is best for:
Users who just want to walk
The ability to place your tread anywhere since it is lightweight and doesn't require a plug
Those who don't care about extra tech
Walkers looking for something simple that is easy to get on and off
Slat Belt Manual Treadmills
There are also very high-end manual treadmills that are some of the most technically engineered and expensive treads on the market. These often feature a slat belt design that uses horizontal rubber slats which rotate around the deck (they kind of look like a tank wheel). These types of manual treads tend to be very heavy and are targeted to professional training facilities and athletes.
A heavy, slat belt manual treadmill is best for:
Athletes or professionals who want to take their training to the next level
Runners who want to get greater calorie burn while running
Those whose focus is running form and strength who don't need or require a screen or tech
Gym owners with experienced users
Slat Belt Curved Treadmills
Curved Treadmills usually have a slat belt design. The original curved treadmill is the Woodway tread, which was designed in Germany in 1974. A curved treadmill uses the biomechanics of running to propel the belt forward and is designed to stimulate more muscle engagement in the legs and torso. (Curved treads are often compared to a hamster on a wheel — the faster you run, the faster the wheel spins.) Curved treadmills are more difficult to use and can even be dangerous if used inappropriately (the risk of falling is much higher). However, the advantages of curved treadmills have made them more popular in the last few years.
Curved Treadmills are best for:
Experienced runners who will use and appreciate the unique design
Those with good balance and muscle strength
Those who have researched and understand the benefits of a curved frame
Coaches and gym owners who train conditioned athletes
Runners who want more advanced training and biofeedback
Hybrid Treadmills
Hybrid Treadmills are treadmills that have a motor, but also have a manual option where the user can disengage the belt from the motor to use it manually. There are several different versions of a hybrid treadmill — some only allow users to walk or "push" the belt along — while others may allow for running. There are both flat and curved frame hybrid treadmills.
Hybrid Treadmills are best for:
Homes with multiple users at different conditioning levels
Those who want to walk and run, with added manual challenges
Users who want the benefits of added tech with manual functions as well
Walkers who want incline options for a low-impact challenge
Coaches and gym owners with varied clientele
Still not sure what to look for when buying a treadmill? Check out our treadmill buying guide to learn what to look for in your purchase of a treadmill.
Sneak Peak of Best Manual Treadmills
Best Manual Treadmills of 2023 – Guru's Top Picks
Here is the list of top picks for best manual treadmills of 2023 by Treadmill Review Guru – each machine on our list received an award.
Key Features: Curved frame, slat belt, fully manual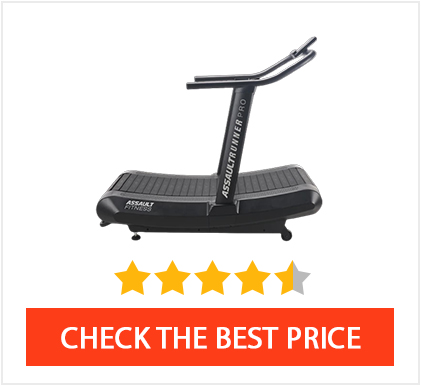 The AssaultRunner Pro is our pick as the best overall manual treadmill. The Pro is well-priced with solid construction that makes this manual treadmill durable and built to last. When it comes to a reliable, yet affordable manual treadmill, the AssaultRunner Pro is an excellent option.
The AssaultRunner Pro is completely manual so you don't need to plug it into an electrical outlet to use it. The Pro has a solid steel frame and handrails which help contribute to how durable it is. Speaking of durability, the AssaultRunner Pro comes with a belt warranty that is good for 150,000 miles! This way you're sure to get a lot of use out of this impressive treadmill. There are rubber slats on the curved belt that is powered completely by your legs. The belt is also curved to help promote proper running form, and is preferred by many athletes for sprinting and running at high speeds. This design helps to keep you centered on the belt and looks chic as it's all black.
It weighs 280 lbs, so it's pretty light compared to other manual and motorized treadmills. Plus, there is a steel handle on the back and two transport wheels on the front so it can be moved around easily if needed. The 350 lb weight capacity means this hearty manual treadmill is best for most users. Elite runners and athletes are often seen using the AssaultRunner Pro in training facilities.
For an excellent manual treadmill to use in your home, we highly recommend checking out the AssaultRunner Pro – it will take your training to the next level!
Read the full review of the AssaultRunner Pro Treadmill, Here

Pros
Solid design and hearty warranty for the belt
Aids in improving running form and mechanics
Affordable, yet made to be incredibly durable
The belt is controlled by your feet so there is no maximum belt speed
Can be moved easily and is lighter than other manual treadmills
Comes with a 150,000-mile belt warranty
Doesn't require a wall outlet
Has plenty of onboard workout programs
Battery-powered console with Bluetooth connectivity
Cons
No cupholders
Doesn't fold up
Hi contrast LCD display
Weight capacity: 350lbs
Running surface size : 17″W x 62″L
Footprint : 69" L x 33" W x 64" H
Non-folding
Curved belt
62 rubber slats
5-year frame warranty
3-year moving parts warranty
150,000 mile belt warranty
The AssaultRunner Pro is our best manual treadmill pick to use in your home. The solid design and weight capacity make it a great option for most users, especially if you're looking for a well-priced manual treadmill that will last for miles and miles.
Key Features: Curved frame, slat belt, fully manual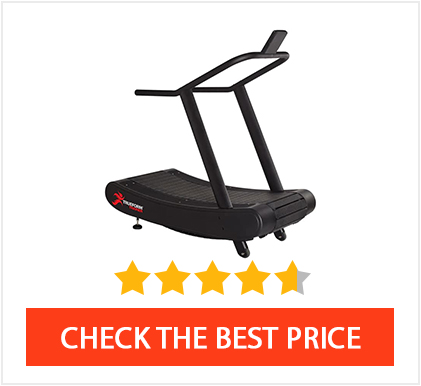 The TrueForm Trainer is another fully manual curved trainer. We love both the price point here and the design. As the best manual treadmill for athletes, the Trainer has thoughtful features. This machine is marketed to serious athletes looking for a manual curved treadmill that is a bit easier to use. The TrueForm Trainer has a gentler curve than comparable models which makes it more accessible for new users; it is easier (and safer) to use but still retains the benefits of curved training. This does make it harder to run on, however, so you're in for a serious workout.
TrueForm includes their Responsive Belt Technology in the Trainer making it more responsive to a runner's balance, posture, hip position, and foot strike. This is a motorless treadmill so you control the pace of the belt. You can run as fast and as long as you want on it. While helping to improve your running gait, the belt reduces impact stress due to the absorbent slat belts making it ideal for athletes who spend many hours in training. The fact that it has a slightly subtler curve makes it great for training athletes of all abilities; new users won't feel as unstable and experienced runners will gain the benefit of the curved design while helping to correct their form.
If you're looking for a customizable manual treadmill, then check out the TrueForm Runner. This treadmill has a customizable belt to purchase with a rubberized track or turf so you can train in your track spikes or cleats on the deck. This treadmill can also be purchased in different colors to coordinate with your home gym or sports facility. The TrueForm Runner is also practically indestructible with an all-steel frame and heavy-duty design. It features the same shallow-curved deck as the Trainer so athletes, runners, and fitness enthusiasts can benefit from correcting their running mechanics. Check out both the Trainer and Runner if you're an athlete looking for a manual treadmill.
Read the full TrueForm Trainer Review here!

Pros
The shallow curve is designed to promote proper running form.
It's great for home use for athletes and runners who want a low-maintenance treadmill.
Handles up to 400 lbs so it will work for most.
The rubber slat belt absorbs impact to prevent discomfort in your joints.
Affordable price point, especially compared to the TrueForm Runner.
Fully manual treadmill has no max speed.
Does not require a plug or wall outlet.
Cons
The console doesn't track as many metrics as others.
There isn't any storage built into the console.
Battery-Powered LCD Display
Footprint: 64" L x 31" W x 63" H
Treadmill Weight: 300 lbs
Max Weight: 400 lbs
Inner Frame: 7 gauge Steel Formed & Welded
Outer Frame: 2"/5cm Steel Tubing
Bearings: 112 Sealed Steel Ball Bearings
Warranty: 10-years frame, 2-year tread, surface, display, and 90-day labor
With a highly responsive belt that is engineered to not only improve your running and performance, it promotes a stronger core and better balance as well. For athletes of all levels, the TrueForm Trainer is at a nice price point, so you can focus on performing your best.
Key Features: Flat frame, traditional belt, hybrid with motor and manual option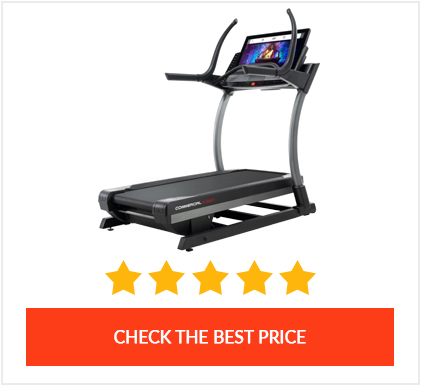 The NordicTrack x32i is a great treadmill for its overall useability. This is a hybrid, motorized treadmill with a manual option. The x32i is gorgeous to behold. It has a wide deck with generous cushioning that will work for any user. Grandma can easily get on the x32i and enjoy a lovely stroll. Then, your dedicated teenage track star can train for her next win with an hour-long session of alternating incline intervals and varied 6mph to 9pmh sprints. Preset buttons on the console make it so you can easily jump from one speed or incline to another. When they're done, you can disengage the belt, and use manual mode for a sled push finish that will torch calories in seconds. The options are endless on the x32i!
Default mode in the NordicTrack x32i is the motorized function. This treadmill has a standard tread belt that slides over the track and an incline/decline feature in the deck. The frame is built of reinforced steel, and the x32i features a 4.25HP motor. In the manual setting, users can disengage the belt from the motor and then use footpower to move the belt manually. This allows users to challenge lower body muscles as you work to push the belt along, as well as work upper body muscles on the sled push and horizontal grip bars. The manual mode on the x32i is designed to mimic a sled push exercise or horizontal parachute workout. This full-body workout will have you dripping in no time!
Be advised, you cannot sprint in manual mode — the x32i manual setting is designed for low-speed resistance work and full body training. But we love the well-rounded nature of the x32i since it offers a motorized setting for running, walking or jogging with a manual mode for sled push or parachute resistance.
The x32i motor is powerful and quiet. Since this is a hybrid treadmill with a motor and manual option, the x32i inclines to 40% and declines to -6%. It has a 12mph top speed and a cushioned deck, which reduces joint impact and lengthens your training time before the onset of fatigue. This makes it a great option for athletes who want to enhance their training and also those with joint issues or mobility concerns.
The NordicTrack x32i also features a 32" full-color touchscreen in the console which displays iFit workouts with a Leaderboard, and metric bar, as well as incline and speed settings. iFit has over 16,000 workouts for running, HIIT, endurance, walking, hiking, and off the tread classes such as strength training, yoga, and stretching. There are also combo classes where you spend some time on the tread doing cardio work and then step off for a bit of strength training, and then back on again. iFit also has outdoor routes all over the world! You can run through remote Icelandic Mountains or hike the gorgeous peaks of New Zealand. All iFit classes and routes are guided by a personal trainer who gives instructions, cues, and points out architecture and geography along the way!
Learn more about the NordicTrack X32i in our review.
Pros
Motorized and manual mode options
40% incline to -6% decline
12mph max speed
iFit included free for one month
Standard tread belt design
32" Full Color Touchscreen
4.25HP Motor
22" wide by 65" long belt
Fans in console
Cons
Doesn't feature a manual mode for sprinting
Doesn't fold up
4.25HP motor
Manual mode with Sled push feature
22" x 65" Commercial Tread belt
32" Touchscreen
Workout fans in console
40% incline to -6% decline
Reflex cushioning in the deck
12 mph max speed
30-Day iFit subscription free
Onboard workouts
300 lb user capacity
10-year frame warranty
2-year parts warranty
1-year labor warranty
The NordicTrack x32i gives you the best of both worlds with great motorized functionality and a manual mode as well! This machine would work great in a home with multiple users at varied levels of training. This makes it our pick for the best all-around hybrid treadmill.
Key Features: Curved, fully manual slat-belt with 6 resistance levels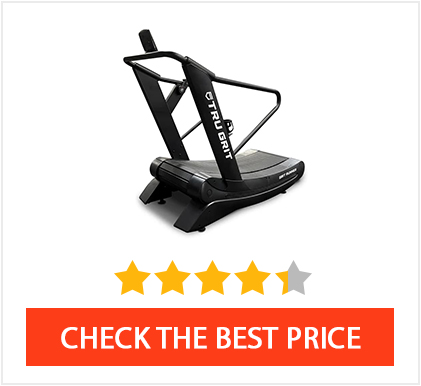 For those looking for a curved, slat-belt manual treadmill on a budget check out the Tru Grit Runner Curved Manual Treadmill. At under $2500, it is a nice affordable alternative. This manual treadmill doesn't require electricity to use, and the battery-powered console turns on when you start moving the belt.
The LCD screen sits in the middle of the wrap-around handles and displays your time, calories, speed, tempo, watts, and distance. There are also interval training modes to choose from for guided training.
The Grit Runner has a steel and aluminum frame that's all-black and can handle up to 400 lbs of user weight. It does have a big footprint so be prepared to have a large enough space for it in your home. We also recommend having a designated place for this treadmill to stay. It can be moved with the front transportation wheels when needed though.
The rubber slat belt is plenty long and wide to handle all stride lengths and user heights. While the belt is non-motorized, it has 6 resistance levels to choose from when you train. Levels 1 and 2 are meant for high speeds, 3 and 4 give more tension when you're walking, and levels 5 and 6 provide the most amount of resistance for sled-push training. The resistance is magnetic and adjusted with the dial on the side handle.
Read our full review of the Tru Grit Runner Manual Treadmill Here
Pros
This is an affordable, curved-belt manual treadmill.
The belt has rubber slats for shock absorption and 6 levels of magnetic resistance to diversify your training.
It doesn't require electricity to use.
The console tracks your metrics and has interval modes to choose from.
The speed of the belt is controlled by your pace.
It is backed with a lifetime warranty.
Cons
It has more plastic components around the base than what we like to see.
There isn't any storage or cupholders on the console.
It has a larger footprint than other curved, manual treadmills.
Cordless LCD screen
Footprint : 78"L x 34"W x 55"H
Steel and aluminum frame
6 levels of magnetic resistance
Weight capacity: 400lbs
Rubber slat-belt
Non-folding
Textured side rails
Lifetime warranty
The Tru Grit Runner is your best bet for an affordable curved-belt manual treadmill. If you want a treadmill that is straightforward and provides you with a design that's excellent for improving your running form, then the Grit Runner is one to check out.
Key Features: Curved Frame, Slat Belt, Fully Manual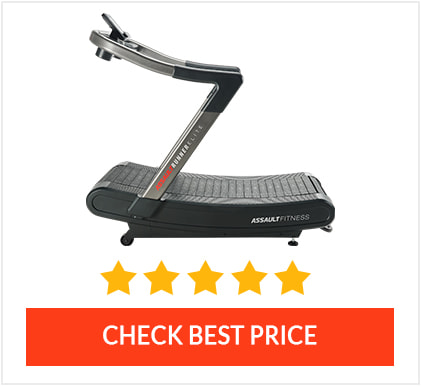 The AssaultRunner Elite is our pick for the best high-end manual treadmill. The AssaultRunner Elite is fully manual and requires no electricity to run. It is built with a steel frame and handrails, powder-coated uprights, and corrosion-resistant hardware. The non-motorized slat belt is covered with a lifetime warranty! The slat belt is created from rubber slats that run horizontally along the track rather than a single belt that slides underfoot. Unlike motorized treadmills that hold a constant speed, the Assault Fitness treadmill responds to your foot cadence, so when you speed up, the belt goes faster. This allows for a very natural feel while running. You do not have to adjust the speed of the belt to do sprints or HIIT training — simply run faster or slower at your determined intervals! The Assault AirRunner weighs 290 pounds, which is on the lighter end for manual or hybrid treadmills. The footprint of the Runner Elite is 70" long, 32" wide, and 64.5" high. The max user weight is 400 pounds, so it will support almost all users. It comes with a high-contrast LCD console that is Bluetooth enabled and displays metrics for time, calories, distance, speed, watts, pace, and heart rate. There are also preset programs for interval training, specific target training, heart rate training, and competition mode.
One challenge new users will notice on the AssaultRunner is the curved shape of the frame. The curved design supports a true upright running position and is supposed to accentuate a healthy foot strike. If you run too close to the front of the treadmill, the curve will naturally move you back to the center, which enables runners to utilize the full length of the track for full forward foot reach and kickback stride. However, curved treadmills do require greater balance control and core support, so they take some time to get used to. Most runners feel unstable at first, but with use, and appropriate positioning, the curved design quickly becomes a benefit and helps promote proper running form.
The AssaultRunner Elite is Assault Fitness's premium treadmill that's rated for personal and professional use. This is an excellent choice if you're looking for a commercial-quality design to use in your home.
Check out our full written review of the AssaultRunner Elite

Pros
Fully manual, requires no electricity
Curved slat belt design enables a healthy foot strike and toe off
Excellent price for a slat belt treadmill
Only slightly larger than a commercial treadmill
No max speed — it will go as fast as you do
Low carbon footprint since it uses no electricity
The belt is covered with a lifetime warranty
Easy to move
Cons
Doesn't fold up
Doesn't incline
No subscription content
Battery operated LCD screen
Bluetooth enabled
Rubber slat belt
Curved Running Surface
Upright handrails
Non Folding
Reinforced steel construction
No max speed — will go as fast as you do
400lb weight capacity
290lb treadmill weight
Lifetime Belt warranty
10-Year Frame warranty
3-Year Non-wear parts warranty
1-Year Labor warranty
The AssaultRunner Elite is an excellent manual treadmill! Whether you are a weekend warrior, triathlete, or just a casual runner looking for a premium manual treadmill on the market, this manual treadmill from Assault Fitness is a great option. Give it a try, we think you'll enjoy some of the unique benefits of this sturdy curved manual treadmill.
Key Features: Curved frame, slat belt, fully manual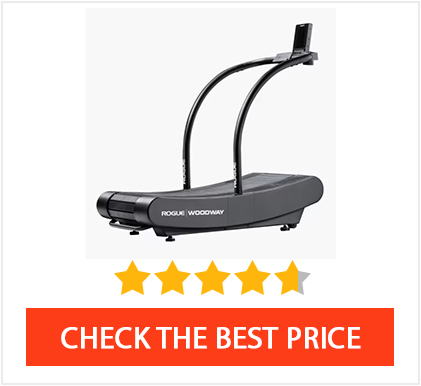 Our pick for the best manual treadmill for Crossfit is the Rogue x Woodway Curve LTG Treadmill. Both Rogue and Woodway are popular brands that create high-quality fitness equipment. Woodway has an impressive lineup of treadmills and Rogue is known for its strength and conditioning equipment. Rogue is also an official supplier of the Crossfit Games. The fact that these two brands have partnered to bring consumers this manual treadmill has us excited.
Woodway is known for its curved, manual treadmills and the Curve LTG comes with the brand's patented slat-belt design. The patented belt helps lessen the impact on your joints from running by providing nice shock absorption. The slats are covered in a thermoplastic elastomer that's a rubber-like material.
The console is a bit more tech-enhanced than the average manual treadmill. It tracks all your vital metrics and allows multiple users to track their stats. Plus, the console is Bluetooth-enabled to pair with a compatible heart rate monitor. We also like that it has a storage tray, a rack for your phone, and two holders for your water.
The curved deck has a fairly shallow curve of just 3 degrees which is said to put less stress while helping promote good running mechanics. The Curve LTG is the cheaper alternative to the Woodway Curve, so we're pleased to see it offered at Rogue. This treadmill is recommended for residential and small commercial gyms, and we expect users to get a lot of use out of it.
Read our full review of the Rogue | Woodway Curve LTG Treadmill Here
Pros
This is a more affordable alternative to a popular high-end treadmill.
The curved, slat belt is patented and proven to provide comfort and shock absorption.
It is made for multiple users due to the construction and the integration in the console.
The treadmill can be used in homes or small public gyms.
The deck is manual and controlled by your pace so it's ideal for walking, jogging, running, and sprinting.
It is rated to handle up to 350 lbs of user weight.
Cons
It is heavy.
It doesn't fold up.
Footprint: 67" L x 34" W x 70" H
Weight Capacity: 350 lbs
Treadmill Weight: 297 lbs
Deck Size: 62" L x 17" W
Curvature: 3%
60 Thermoplastic Elastomer Slats
No incline
LCD Display with Group/Circuit Mode
2 Cupholders
Device Holder
Check out the Rogue | Woodway Curve LTG Treadmill if you're looking for a quality manual treadmill that is backed by not one, but two, reputable brands. It has features we love from Woodway, such as the patented curved, slat belt, but is available for a more affordable price than the Woodway Curve.
Key Features: Flat frame, traditional belt, hybrid with motor and manual option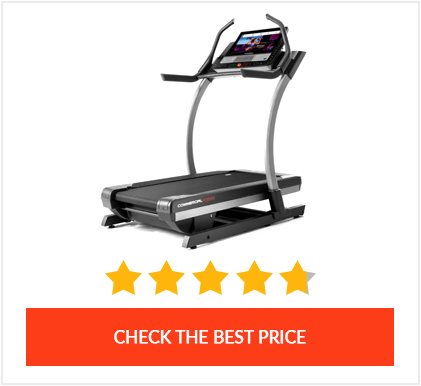 The NordicTrack x22i is the sister machine to the x32i with a standard tread belt and motor, but added manual mode for sled push and resistance work. However, this machine is the most affordable on our list of high-end manual treadmills. The x22i has similar functionality to the x32i so it will work for anyone in your home! For this reason, we have awarded it our best buy hybrid treadmill.
The x22i uses a traditional sliding belt running surface with a motor and incline/decline features. It also has a manual mode option that operates at 1mph for sled push and resistance work. This hybrid machine is similar to the x32i in that you cannot sprint in manual mode — but the resistance functionality is the same. This makes it a great option for those households looking for a hybrid treadmill that has both motorized and manual controls for both lower body conditioning and upper body strength. You get a lot for your money with the x22i!
In it's motorized setting, the x22i inclines to a spine-tingling 40% grade. Just walking at this incline torches calories! A study by NordicTrack determined that walking at a 40% incline burns five times as many calories as walking on a flat road for the same amount of time. Working that 40% incline, 200lb users burned 381 calories compared to just 63 calories with no incline. This allows you to get a high-intensity workout while staying low-impact, which is better for joints, spine, and anyone with limited mobility or those in injury recovery. The -6% decline allows for gentle downhill conditioning, rolling hill training, or specified strengthening for the quads and knees. The x22i also has a 12mph max speed with preset incline and speed buttons on the console for convenience. The large 22" wide and 60" long tread belt gives you plenty of training room.
The x22i has a lovely 22" touchscreen embedded in the console. It also includes a powerful fan with 4 settings and Bluetooth speakers in the console. NordicTrack includes their subscription app iFit free for 30 days with any purchase of the x22i. iFit includes over 16,000 different workouts for walking, jogging, running, hiking, and combo classes that include cardio work on the treadmill and strength training on the floor. There are even options for stretching, yoga and floor cardio — which can be easily viewed from the side of the machine thanks to the extra-large touchscreen.
In order to engage manual mode, drop the speed to 1mph and make sure the belt is on a flat 0% incline. From here you can use the sled push and parachute resistance modes. The sled push grips extend vertically off the handlebars and feature EKG sensors. A horizontal push bar spans the base of the console for parachute training. You have to dig deep to push the belt in manual mode as you engage upper body muscles for a challenging full-body workout! Just like much more expensive treadmills, the x22i gives you extensive training options and is a great treadmill for multi-user families with users at different conditioning levels.
Check out our full review of the NordicTrack X22i, here!
Pros
One of the most affordable high-end treadmills on the market at under $3000
Motorized setting has -6% decline and 40% incline!
12mph max speed
4.0 HP motor
22" wide by 60" long tread belt
Reflex Cushioning in the deck absorbs foot impact to reduce shock
Workout fans in the console
22" touchscreen is iFit compatible
Cons
300lb user capacity
Manual mode only works for sled push and parachute training (you can't run in manual mode)
22" x 60" Commercial Tread Belt
4.0 CHP DurX™ Commercial Plus Motor
Reflex™ Cushioning
70" L x 39" W x 72.5" H Footprint
22" Smart HD Touchscreen
Dual AutoBreeze™ Workout Fans
30 Day iFit membership
40% Incline and -6% Decline
12 MPH Speed
On-Board Workout Programs
10-Year Frame Warranty
2-Year Parts Warranty
1-Year Labor Warranty
The NordicTrack x22i is a traditional flat frame treadmill with a manual feature that disengages the deck for more upper-body and full-body conditioning. This is an ideal pick for homes with users at different levels of conditioning as it has an option for everyone. You can walk, jog, hike (lots of hiking routes in iFit), run, and use the manual sled push and parachute training options!
Key Features: Flat frame, non-motorized, lightweight treadmill that folds up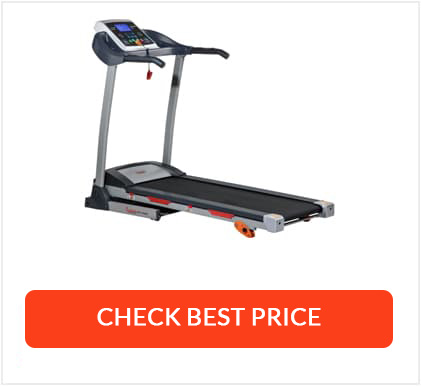 The Sunny Health & Fitness treadmill is made for walking. This folding, lightweight treadmill is excellent for small spaces. The compact running surface of 49in x 15.5in makes this treadmill ideal for power walking or light jogging. Although the belt is manual, you can create goal-specific workouts with the LCD monitor that allows the user to track time, speed, calories burned, and steps. The LCD "scan" option allows users to scan through performance data without lifting a finger! The treadmill's non-electric design makes it easy to set anywhere in your home or apartment without the need for a wall outlet. The compact belt has a sturdy non-slip running surface that supports a max weight of 220 lbs.
Manual treadmills are typically smaller and quieter than comparable motorized treadmills which makes them a great option for upper-floor apartments or condos. They also work well as a piece of rehabilitation equipment for those with joint or mobility issues. The slight incline helps activate your core and engages posterior chain muscles such as the glutes and hamstrings for a more well-rounded workout. A sturdy handrail supports walkers of all abilities who may need added balance support while walking. This is the perfect option for walking while you watch TV since it is a low-noise machine and won't interfere with TV program volume.
The small walking surface won't support jogging but it keeps it lightweight and movable. Full footprint is 50" long by 23" wide and 50" high to the upper handrail.
Pros
Compact
Lightweight
Easy to use
Non-motorized
Slight incline
Folds up
Cons
Not good for jogging or running
No cushioning in the deck
Very small
Walking surface: 49" x 15.5"
LCD monitor tracks time, speed, calories burned, and steps
Non-electric design
Max weight of 220 lbs
Treadmill Weight: 103 lbs
Footprint: 50" long by 23" wide and 50" high
The Sunny Health & Fitness treadmill is an affordable, lightweight manual treadmill that is perfect for walking. The smaller frame may not support jogging, so this is best suited for those who want to supplement their walking routine while indoors. You can place this in front of your TV and enjoy a gentle stroll during the news.
---
Benefits of Using a Treadmill
You can exercise anytime of day or night
Most of us have schedules that limit how much time we can exercise — and that exercise often gets bumped by work, kids, school, sports and just life! A treadmill allows you to workout anytime you can sneak it in. If you need that early coffee-fueled run first thing in the morning, a treadmill is always there, waiting for you. If after work is your me-time, that works too! Maybe you are a mom with young kids and naptime is the only hour you have to yourself! A treadmill makes it so you can walk, jog, run, train or just regain some sanity at your convenience.
You can moderate speed
If you are training for a specific event and have a goal pace, a treadmill can help you maintain and train at your desired pace. Many treadmills have preset speed buttons so you get a better idea of how fast to train for each run or event. Want to challenge yourself at a quick 8mph pace? A treadmill makes it easy to know just how fast you are going — and challenges you when you want to go just a bit faster.
You can use different training variables such as Hills, Sprints, HIIT and Endurance
You don't have to go find a hill for incline training or seek out a flat road for sprints — on a treadmill, you get multiple training variables right at your fingertips. Many treads incline to simulate hill work, and the speed controls allow you to jump from one speed quickly to another for some intense HIIT work. Long, slow endurance is also an option — just put your favorite movie on your TV and run.
You have control at your fingertips (or feet!)
Most treadmills have speed and incline controls on the console or handlebars. Manual treadmills respond to your foot cadence to set and maintain speed. A treadmill is designed to do what you tell it to do — it is your training equipment and you are in control.
Treadmills often provide feedback metrics
Treadmills often provide real-time metrics as you run. You get distance, time, calories burned, incline, decline, and even heart rate readouts! This biometric feedback is helpful to know how long and hard you have exercised. Many treadmills will also keep track of your stats for you, so you know your weekly, monthly and even yearly averages. This info also helps those who want to push themselves a little more or set challenges for each day or week.
You don't have to stop exercising in bad weather
Since weather is an issue for many people during the year, a treadmill allows you to workout indoors any time of year. In the winter runners can still enjoy the mental and physical benefits of cardiovascular exercise. And in the summer, you don't have to wake up and run at 5am to avoid the heat. A treadmill extends training options throughout the year.
Benefits of a Manual Treadmill
Manual treadmills respond to a runner's cadence
Since a manual treadmill belt will only move in response to your footstrike, they go as fast as you do. If you want to do sprints on a manual treadmill, there is no lag between when you hit a button and when the belt matches that pace. Just take off and the belt is right there with you. Want to slow down? Moderate your pace and the belt slows too. Rather than rely on a motor to drive you — with a manual treadmill you are the motor, which gives you complete control over the machine.
Manual treadmills are more challenging and therefore burn more calories
Since manual treadmills are not powered, you can't rely on a treadmill motor to supplement your speed. Manual treadmills have been shown to burn 30% more calories than traditional treadmills for the same workout. This is because extra body power is required to move the belt along. More muscle groups are also activated during a manual run: core muscles keep your torso erect; anterior chain quads and tibialis propel you forward and connect your foot with the belt; and posterior chain muscles such as glutes and hamstrings help push that belt along. This greater muscle activation both challenges the runner metabolically and stimulates more muscle growth and development during each workout.
Running on a manual treadmill requires both mental and physical focus
You can't just hit a button and then zone out — you'd better be paying attention to your pace! Manual treadmills require more focus and concentration to both stay on pace and stay on the machine! It's easy to get comfortable on a traditional treadmill as you settle into a comfortable pace and just go. On a manual treadmill this isn't as easy since greater muscle activation requires more engagement and staying balanced and in control requires greater proprioception. Both mental and physical focus are enhanced and strengthened when running on a manual treadmill.
Benefits of a curved treadmill
In 1974 when Willi Schoenberger developed the first manual curved treadmill known as the Woodway — he wanted to provide athletes with the best treadmill trainer possible. Schoenberger studied body mechanics, healthy running form, and the principles of force and inertia to design a curved treadmill that would both challenge and engage each runner. Since then, other companies have recognized and integrated a curved running platform to access these benefits as well. Curved trainers are not for everyone. In fact, some companies will not sell a curved treadmill to a non-licensed home user — they are reserved for certified coaches and training professionals who know how to use them safely. Curved treadmills require balance, focus, precision and muscle strength. These are great for conditioned users who want to take their training to the next level. They are not suited for anyone with muscular imbalances, mobility issues or joint problems.
What is the best treadmill for you?
After assessing your personal goals, conditioning and budget, we hope our list has helped you determine the best treadmill for you. Obviously, there are several fantastic manual treadmills that will augment and propel your fitness! There are also many simple, non motorized treadmills that are lightweight and easy to use for those who just want to walk gently in the comfort of their own home.
Frequently Asked Questions
Is a manual treadmill hard to use?
There can be a little bit of a learning curve when you first try a manual treadmill because your feet move and control the belt. This can make it slightly challenging for some users in order to keep the belt steady. We don't recommend a manual treadmill for someone who wants to "zone out" since they require a bit more concentration to use.
Once you get the hang of a manual treadmill, it's pretty easy to use.
Are manual treadmills quiet?
Although they don't produce the same type of sound as a motorized treadmill, manual treadmills still make noise when you're using them. You can expect foot noise when you're walking and running and noise when the belt moves. The noise output on a manual treadmill isn't excessive by any means, but know it isn't silent either.
How do you clean a manual treadmill?
We suggest wiping down your manual treadmill with a clean cloth after each use, especially if you get dripping with sweat. You want to keep your treadmill's belt free of dirt and debris and also regularly clean underneath it.
Can you walk on a manual curved treadmill?
Even though curved belt manual treadmills can help improve your running form and allow you to run as fast as you can, you can also use them for walking. Both curved and flat belt manual treadmills are great for walking.