Being pregnant is a very good feeling for every women and trying to have a very good one will be in the mind of all women's at some point in time. Thus, they will be trying ways to improve their lifestyle and deliver a healthy baby. One way will be to exercise at places where the joints tighten and where one can gain balance so that they are able to withstand the pressures they may face at some point in time. All of this ensures safe and efficient functioning of the body and here is a comprehensive guide as to what one needs to do for exercise matters during their third trimester.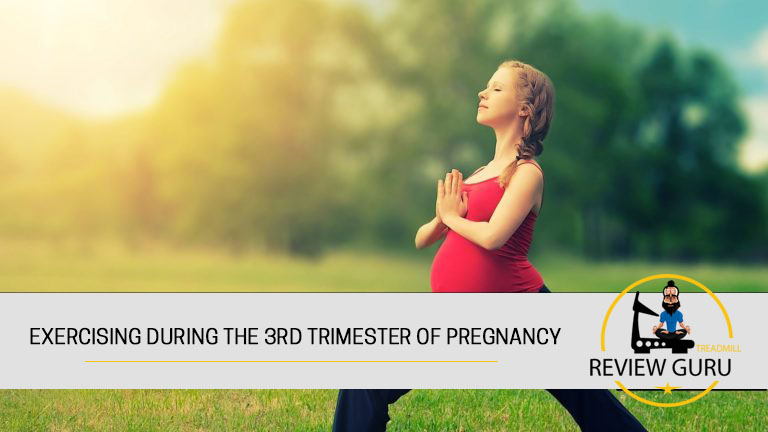 What is the third trimester?
The third trimester consists of the last 3 months which lead to the baby growing fully and is almost ready to come out of the mother's womb. This period is considered as the most important period in pregnancy as this is where one gains a lot of weight and that puts a lot of pressure on the back, joints and pressure places loosen and the baby starts kicking at times. This period though is nothing to worry about as it is considered as normal and one just needs to consult with a doctor for any serious issues encountered as they will help in any case.
Exercises to be done during the third trimester
Having a little exercise during the third trimester will be helpful and essential in boosting what is already a healthy baby. Here are some of the ways in which one can exercise in a safe manner and in the end, be very happy.
Walking and jogging are considered as two of the easiest exercises that one can do as it requires very little effort by one as they need to wear shoes and step outside their home to experience fresh air and can start a routine where they can measure themselves up to how much distance they have covered. Here one knows what their limits are and if they have reached them then they can immediately stop as it helps the pregnant body in a way or another.
Swimming is another popular activity one can take during their third trimester as it helps in reducing aches and pains in body, prevents overheating of body and even in certain conditions produces sweat and can even hydrate the body. Thus, it makes one feel more comfortable in various conditions every day.
Yoga, Pilates and much more
There are various exercises which have a low impact measure on the body such as Yoga, Pilates & Barre, they help targeting certain muscle groups in the body, helping one to feel fit and strong when they are getting ready for birth.
Also, these classes are customizable meaning that one is able to attend these classes based on their routine.
They also help in easing certain symptoms such as anxiety and depression which are encountered usually during the end of the pregnancy period and thus taking these classes helps one in improving their mood.
Yoga is an activity which even helps after pregnancy as weight can be lost through this method as well, so it is sometimes recommended that one should do yoga even after they have delivered the baby to have a flow and be healthy.
Doing heavy weight lifting and stressful exercises during this period can affect or impact the body in a very big way, so one should try to ease themselves by focusing themselves on toning certain areas of the body such as glutes or even the hips and thighs where almost 90% of the balance is required after the baby is born. After doing a lot of research one can also check out some exercises such as the most basic bicep curls, lateral raises or even triceps workouts to help enhance the strength which needs to be built early.
Last but not the least one needs to eat healthy to supplement the exercise that they are doing to enhance the body so that it helps them to gain that much amount of energy which is required for the pregnancy. Also eating healthy food helps the baby grow better in certain areas such as the immune system and it will fight any disease or microbe which looks to infect the body much better.
For your convenience we have also provided the third trimester infographic below which contains various points and advice's to keep your body healthy during pregnancy.

Share this Infographic on Your Site
Why Perform Exercises During Third Trimester?
Exercises are must for a pregnant woman, as they are required for the woman to enjoy possible health benefits that include cardiovascular fitness and weight control. Moreover, the baby grabs most of mom's energy during birth. So, it is vital for the mom to be tough enough to give energy and still save herself through the pressure and pain. Usually, exercises with moderate intensity are recommended during the third trimester. However, there are women who go for vigorous activities and that is possible only with the permission of the doctor.
During pregnancy, the joints become loose hence balance becomes a tough thing to sort out. Exercises keep the connections between the bones stable thereby preventing injury.
Conclusion
To conclude, though the third and final trimester of pregnancy can be considered as the most exciting time of pregnancy where one may encounter various stages leading up to D-Day. With walking, yoga, pilates and even basic muscle exercises one would have stressed upon the most basic muscle contact points in the body and will have gained the strength required to have a good delivery.
Even though there may be a little fear one can always check with experts for their opinion as they will have the best advice for them and can even prepare a well laid out plan to efficiently have a good life for the baby.