*TreadmillReviewGuru helps consumers find the best home fitness products. When you buy a product we recommend, we may earn a commission.
Last Updated: May 3, 2023
Are you looking for the best treadmill for runners? We can help you find the best treadmill for running, based on your specific training regimen. Every runner has different needs and abilities, so finding the right treadmill can be a challenge. We assembled this list of the best treadmills based on what actual runners need and look for in a treadmill.
If you are a distance runner, marathoner or triathlete, you'll want a treadmill with a powerful motor. Larger runners or those with a long stride need plenty of deck span for a healthy gait. Those who enjoy HIIT will need a treadmill that is fast and responsive. We consider all these factors when evaluating the best treadmills for runners. If you're in the market for a new treadmill, take a look at our updated list for 2023!
If you would like to see our list of best treadmills overall, click here
Why You Should Trust Us
We test all kinds of treadmills here at Treadmill Review Guru. We're experts when it comes to determining who a treadmill is best for. We're also fitness enthusiasts and personal trainers who run a lot. So, we know what to look out for when it comes to finding a treadmill for running. Whether you're a casual runner, sprinter, long-distance runner, or new to running, we have compiled this list of best treadmills for runners to help you find the best one for you.
Best Treadmills for Runners 2023:
Sneak Peek Of The Best Treadmills For Runners:
Best Treadmills For Runners – Our Experts' Picks
Check out our list of best treadmills for runners. Each treadmill is recommended for specific running purposes and has received an award.

The NordicTrack Commercial 2450 tops our list as the best treadmill for runners because it checks all the boxes. This powerful treadmill has a 3.6 CHP motor, 60" × 22" running deck, 15% incline and -3% decline, some of the softest cushioning we've tested, and a gorgeous 22" tilt and pivoting touchscreen. Personally, I love the 2450 because it feels expansive and makes running enjoyable. Rather than dread my training regimen for the day, I look forward to getting on the 2450. The adjustable touchscreen transports you to locations all over the world so you can run through central Spain, traverse the mountains of New Zealand, or enjoy a quick jaunt through the cobblestone streets of London (without having to navigate actual cobblestones!). Plus, you can utilize the screen for training off the treadmill. Best of all, the 2450 folds up when you are finished to save space in your home.
This is a fantastic treadmill for runners of all fitness levels. The cushioning makes it comfortable for new runners while the deck provides the right amount of support to facilitate a healthy running gait. Weekend warriors will love the 2450 because they can train for any outdoor event with the GoogleMaps feature. On the touchscreen, draw out any map, anywhere in the world, and then save it in iFit to run later! The 2450 will automatically incline and decline to match the actual terrain of your route and you can watch Google images of each location as you run along.
Even long-distance marathoners will love the NordicTrack 2450. The cushioning provides excellent shock absorption for your joints, and an overall really comfortable running experience. The 60" long deck provides plenty of room and the 22" width allows for just enough lateral span. Distance and speed runners will particularly benefit from the 3.6 CHP motor since it can handle long running sessions and sprint sessions.
With all these features, we find the NordicTrack Commercial 2450 to be a fantastic treadmill for runners which is why we designated it our pick for Best Treadmill for Runners.
Check out our full review of the NordicTrack Commercial 2450 Treadmill here.
Pros
Large, cushioned deck
Powerful motor
Expansive, easy-to-use console with pivoting touchscreen
Wide side rails and handrails
Extensive training programs
15% incline and -3% decline
Folds up when not in use
Quiet
Responsive controls
Cons
The sleek console doesn't have much storage.
The 300 lb weight limit might not work for larger users.
Upgraded 22" Tilt & Pivot Touchscreen
iFit Enabled
Automatic Trainer Control
Improved HD Graphics Performance
Increased Processor Cooling
Faster Dual 2.4 GHz & 5 GHz WiFi Connectivity
Quiet Drive Incline Tech
Updated Android 9 OS
Construction:
3.6 CHP DurX™ Commercial Plus Motor
2.5" Precision-machined and Balanced Non-flex Rollers
22" x 60" Tread Belt
81" L x 39" W x 59" H Footprint
300 Lb. User Weight Capacity
Console:
22" Tilt & Pivot Touchscreen
Premium Audio Speakers
Quick -Touch Buttons
AutoAdjust Technology
AutoBreeze Workout Fan
Functionality:
+15% Incline
-3% Decline
12 MPH Speed
Includes 30 Day iFit® Family membership with up to 5 profiles
On-board Workouts
SpaceSaver® Design with EasyLift™ Assist
Removable CupHolders
Warranty:
10-Year Frame Warranty
2-Year Parts Warranty
1-Year Labor Warranty
The Nordictrack 2450 is our pick for Best Treadmill for Runners because of its large deck size, powerful motor, generous cushioning and impressive training app. This machine is great for runners, sprinters or even trail runners who want to enjoy a variable incline run through the mountains. You can customize your own route with Google Maps and the automated incline and decline will adjust to match the natural terrain. The 2450 is a great place to start if you're in the market for a durable and powerful treadmill for runners.
---

Second on our list is the newly updated Sole F85. Sole has long been one of our favorite manufacturers for durable, quality treadmills, but this year Sole added an impressive upgrade on the F85 with a full color touchscreen. Not only does this enhance the overall design of the console, the touchscreen will also display seven third party apps: Netflix, YouTube, CBS News, ABC News, NBC News, CNN and ESPN! You have to have your own subscription for any third party feature, but we love that Sole has included these options on the F85. The F85 is also compatible with Apple Health kit, FitBit, Google Fit, iHealth and Garmin fitness trackers.
The Sole F85 also includes a 4.0 horsepower motor with speed increments that range from 0.5mph up to 12mph. It has large rollers for consistent, quiet belt motion and is rated for users up to 400 pounds. The new console includes seven fitness tests, and twelve custom workouts. Incline levels from 1 – 15% provide plenty of training variables. There is also an integrated tablet holder so you can still use a personal device if you prefer. The console will also mirror a phone or tablet for more app options.
Sole is one of the few treadmills that will sync directly with Zwift, which is a popular running app used worldwide. You don't need a FootPod on the F85 since Zwift will integrate directly. The study deck provides added cushioning for comfort and joint protection.
While there are still a few glitches Sole is working out with the new console, we are happy to see this valuable upgrade. One request we hear frequently is for treadmill touchscreens to include access to external apps such as Netflix and web browsers. Sole is the first manufacturer which allows this without requiring a monthly subscription.
Take a look at the Sole F85 to see what else it has to offer
Pros
Powerful 4.0HP motor is quiet and responsive
Supports up to 400lbs
Folds up when you are finished
Updated console with a touchscreen and added programs
One of the most durable treadmills on the market
Excellent for running
Cushioning is adequate
Cons
Touchscreen interface still has a few bugs Sole is working out, but it's mostly functional
Not as cushioned as the 2450
Construction:
4.0 Horsepower Motor
15 Levels of Incline
Speed: .5 – 12mph
Open Footprint: 66" H x 82" L x 37" W
Folded Footprint: 71" H x 44" L x 37" W
Treadmill weighs 308 lbs
400 Lb. User Weight Capacity
22" wide by 60" long Deck
2.75" rollers
8" Step up height
Deck folds up
Console:
Bluetooth speakers
Integrated tablet/phone holder
6 Standard Programs
12 Custom Programs
7 Fitness Tests
HR Chest Strap compatible
10" Touchscreen Android+
USB Charging port
Bluetooth compatible for chest strap and headphones
Screen mirroring
Warranty:
10-Year Frame Warranty
5-Year Electronics Warranty
2-Year Labor Warranty
We are excited about the new Sole F85 and think it's definitely worth looking into if you are a runner. The upgraded console, sturdy deck and impressive durability makes the F85 a great option for runners of all abilities.
---

Rounding out our top three is the LifeSpan 5500i. This is probably the fastest machine you've never heard of. LifeSpan only makes a handful of treadmills, but they consistently offer good quality and impressive functionality. The 5500i has a max speed of 13.5mph making it the fastest treadmill on our list. We occasionally encounter runners who are qualifying for Boston or who do sprint intervals and need a sub five-minute-mile pace. Since most treadmills max out at 12.5mph, the 5500i is the only one that goes fast enough to get you a sub-2 hour marathon and sub 5-min-mile pace. It also has a 4.0 horsepower motor and 1" phenolic deck, so it can hold your pace and facilitates good running mechanics.
The console on the 5500i is rather simple. It does not have a touchscreen with video content like the 2450. There is a color display with an impressive number of training programs and three different dashboard options. This means you don't need a subscription to use it and all the programs are preloaded, which eliminates the need for internet access. 20 standard programs such as weight management, sports training and healthy living are included as well as a 5k and 10k race, Rockport Fitness test, and Navy Fitness test. The simple graph display is easy to read and metrics include time, calories, distance, total steps, heart rate, pace, etc.
While the LifeSpan 5500i isn't as sexy as some of the more tech-enhanced treadmills, it offers a lot of bang for your buck and is our preferred option for sprinters or those who need that top speed. The running surface is 22" wide and 60" long with 2.5" rollers, 13 levels of incline and 2 levels of decline. The 5500i also folds up when you are finished to save space.
Max capacity on this treadmill is 350 pounds, so it will support most runners. The machine itself weighs 240 pounds and has a low, 9" step up height. If you are a sprinter check out the LifeSpan 5500i to see if it would work for your needs.
Check out our full written review of the LifeSpan 5500i treadmill here.
Pros
Top speed of 13.5mph is a 4-minute mile and sub 2-hour marathon pace
Perfect for sprinters or those trying to qualify for Boston
Provides a solid running surface for good stride mechanics
Gently cushioned with a strong toe-off. No bounciness in the deck.
Low step up height of 9" is easy to get on and off
Simple console with lots of programs doesn't require WiFi
5k and 10k training options built in
Cons
Doesn't offer the updated content of a subscription
Doesn't sync with other 3rd party apps (no Zwift)
Construction:
4.0 Horsepower Motor
13 Levels of Incline
2 Levels of Decline
Speed: .5 – 13.5mph
Open Footprint: 73" L x 35" W x 56" H
Folded Footprint: 41" L x 35" W x 66" H
Treadmill weighs 270 lbs
350 Lb. User Weight Capacity
22" wide by 60" long Deck
2.50" front rollers, 2" rear rollers
9" Step up height
Deck folds up
Console:
Bluetooth speakers
Tablet/phone holder slot in console
20 Standard Programs
5k and 10k race options
Rockport and Navy Fitness Tests
Bluetooth HR Chest Strap compatible
Warranty:
Lifetime Frame Warranty
Lifetime Motor Warranty
5-Year Parts Warranty
2-Year Labor Warranty
The LifeSpan 5500i offers an impressive warranty to back up this solid machine. If you are looking for something durable with a simple console and extensive non-subscription based training programs, the 5500i works great. You don't need a WiFi signal for this to operate, so the 5500i can be used in a basement, garage, or upstairs room that may not have internet access. Just plug it in and you're ready to run…. really fast!
---

For those who have a bit more space, the Nordictrack x22i is the largest, most feature-rich treadmill on our list. This is the ideal training machine for trail runners. The x22i is technically an incline trainer since it inclines to a 40% grade and declines to -6%. It also has automated speed and incline, so the deck will adjust as you run along to match the natural terrain of your route. The gorgeous full color 22" touchscreen displays hundreds of outdoor running and hiking trails all over the world. I recently completed a trail run on the x22i that took me through the lush mountains of New Zealand. 45 minutes and over 500 calories later, I didn't want to get off the x22i and go back to real life.
A few things I love about the Nordictrack x22i include the console, deck size and feel, and the training options. This is a sister machine to the Nordictrack 2450. They have the same price, the same iFit programming, and the same size touchscreen. However, the x22i inclines significantly higher and has a slightly different console layout. While the 2450 is well-suited for distance running because the deck is solid and provides the right support for ideal running mechanics, the x22i provides more cushioning and is better for steep hill training. At high speeds the deck on the x22i can get a bit bouncy due to the extensive cushioning, so we don't recommend it for sprinting. However, if you are a trail runner looking to hold a consistent pace as you traverse trails all over the world, the x22i is supremely comfortable. Some of the featured series on iFit include trail runs through Zion National Park, the highlands of Iceland, back trails in New Zealand and other urban and rural runs throughout the world.
This sturdy treadmill is rather large and doesn't fold up, so make sure you have enough space for the 70" long x 39" wide x 73" tall footprint. Also, the step up height on this machine is 14" and the deck tilts to 31" off the floor when fully inclined, so make sure you have enough head clearance. However, once you are on the x22i you'll never want to get off. It is so fun to use this treadmill that it's my personal favorite and I opted to use this one in my home.
Check out our full review of the NordicTrack X22i Incline Trainer Treadmill here.
Pros
Excellent for trail running
Cushioned deck is very supportive
Ideal for anyone with joint issues or a history of stress fractures
iFit includes running, trail runnings and hiking trails all over the world
Crisp 22" touchscreen brings the world into your home
Excellent fans with four different settings keep you cool while you run
Inclines to 40% and declines to -6%
Automated integration adjusts for you as you run
GoogleMaps feature allows you to map out a route anywhere in the world
Cons
At high speeds the deck can get a bit bouncy
Requires WiFi and internet access for programming
Does not fold up
Construction:
22" x 60" Commercial Tread Belt
4.0 CHP DurX™ Commercial Plus Motor
2.5" Precision and Balanced Non-Flex Rollers
Reflex™ Cushioning
70.2" L x 39.6" W x 71.6" H Footprint
Console:
22" Smart HD Touchscreen
Bluetooth® Audio Capabilities
Two 3" Digitally Amplified Speakers
Dual AutoBreeze™ Workout Fans
One Touch® Controls
Functionality:
30 Day iFit® membership**
40% Incline
-6% Decline
0 – 12 MPH Speed
50 On-Board Workout Programs
300 Lb. User Capacity
Warranty:
10-Year Frame Warranty
2-Year Parts Warranty
1-Year Labor Warranty
If you are a trail runner or training for a multi-terrain event, the x22i is an excellent training tool. The incline and decline are impressive and the cushioning helps mitigate joint impact as well as make your run more comfortable. It's related to but not the same as the 2450 since they are suited for different types of training.
---

When it comes to running mechanics, manual treadmills are your best bet for helping to improve your running stride. The curved, manual deck has rubber slats for shock absorption while requiring more muscle engagement per stride. What also makes them appealing for runners is that they don't have a max speed. The deck moves as fast as your legs do and manual treadmills don't require being plugged into an outlet. This makes them more versatile to use indoors and out.
Our pick for the best overall manual treadmill is hands down the AssaultRunner Elite. This treadmill is impressively built with a steel frame and uprights, as well as a running belt that will last for 150,000 miles. So, this treadmill is ideal for runners and athletes who want a treadmill that can keep up with them as far as miles and pace. Plus, this deck will help encourage a healthy foot strike.
The AssaultRunner supports most users and handles up to 400 lbs of weight. This makes it perfect for runners of all sizes. The treadmill itself weighs about 290 lbs, making it a little lighter than some motorized treadmills. Just know that this is a big treadmill and it doesn't fold up. It is pretty easy to move with it's transportation wheels and bar that lets you tilt the deck to engage the front wheels.
We know Assault Fitness as a brand that creates really solid equipment that is built to last, and the AssaultRunner Elite is no exception. The console offers guided interval training and is bluetooth enabled. The console is an optimal size for most users to navigate and see their metrics like time, distance, speed, watts, and pace. Runners of all abilities will be able to track their workouts, burn more calories, log more miles, and run as fast as they can on the AssaultRunner Elite.
Pros
The curved belt encourages proper running form
Doesn't require electricity to use
The slat belt offers cushioning for your joints
The console has built-in programs and bluetooth connectivity
The deck supports up to 400 lbs
There is no max speed, so you can run as fast as you can
Cons
There isn't a fan in the console
The frame does not fold up
Construction:
17" x 65" Rubber Slat Belt
62 Individual Slats
Step Up Height: 12.5"
Treadmill Weight: 290 lbs
70" L x 32" W x 64" H Footprint
Weight Capacity: 400 lbs
Console:
LCD Console
Bluetooth Connectivity
Built-In Interval Programs
No Electricity Required
Functionality:
Manually Powered Belt
Narrow 17" Long Belt to promote proper running form
65" Long Deck is ideal for all running strides
Unlimited Max Speed
Curved Belt
Upright Handles
Warranty:
10-Year Frame Warranty
Lifetime Belt Warranty
3-Year Non-Wear Parts Warranty
1-Year Parts & Labor Warranty
If you're a running looking for a treadmill that is perfect for interval training and running at high speeds, then look no further than the AssaultRunner Elite. It is ideal for proper running for, encouraging a healthy foot strike, and will last you for miles and miles.
---

Horizon makes quality treadmills with some specific features that are excellent for HIIT training. The Horizon 7.4AT has a powerful 3.5 horsepower motor and QuickDial controls (more on those in a minute), custom interval keys, and one-touch speed and incline controls. The combination of these features makes the 7.4AT perfect for the quick changes needed in HIIT training. The 22×60" deck offers enough space for runners and supports up to 350 pounds.
HIIT training is predicated on short, hard work intervals interspersed with even shorter recovery periods. For example, a Tabata-style HIIT session includes 8 intervals of 20 seconds of work followed by 10 seconds of recovery. After the 4 minute session, you can do this again for up to 30 minutes. These quick, fast intervals have to be timed precisely for optimal training. As a result, a treadmill used for HIIT training has to adjust quickly. If a treadmill takes 10 seconds to adjust, it isn't going to work for HIIT training!
The 7.4AT uses QuickDial controls as mentioned above. These are blue dials on the top of the upright grips in front of the console. The QuickDials can be rolled up or down for instant speed and incline changes. These are proprietary to Horizon and are a handy feature when on the 7.4AT. Similarly, the custom interval keys allow users to set the perfect speeds for them and then quickly toggle between them. For example, if my sprint pace is a 6:45minute mile and my preferred recovery is an easy 10minute mile pace, I can set the custom keys to these speeds so I can instantly jump between the two when doing a HIIT session.
The Horizon 7.4AT motor is designed to be 33% more responsive. I don't know that this can be exactly quantified, but I do find this treadmill to be quick and responsive. Horizon has also integrated the Sprint 8 program into the console – which is a HIIT style training system.
If you enjoy interval training and want something that supports 3rd party apps as well, the Horizon 7.4 AT is a good tool. Check it out for more information.
Check out our full review of the Horizon 7.4 AT Treadmill here.
Pros
Syncs with 3rd party apps for multiple training options
Comes preloaded with Sprint 8 HIIT programs
QuickDial controls are easy to use and resonsive
Has a 3.5HP motor that is instantly responsive
Folds up when not in use
Allows user to set custom speed keys for interval training
Quieter than comparable treadmills
Cons
Console is a bit cluttered with two different displays and lots of buttons
Does not have a video touchscreen
Construction:
22" x 60" Running Surface
3.5 HP Motor
Gentle 3-Zone Variable Response cushioning
Open Footprint: 76" L x 37" W x 63" H
Folded Footprint: 42" L x 37" W x 71" H
Treadmill weighs 318 pounds
Supports up to 350 pounds
Console:
16 Digit Alphanumeric LED console
8.25" LCD Screen
Tablet holder designed to sync with console
Programs: 5k, Calorie burn, Custom, HR, Distance, Fat Burn, Sprint 8, Hill Climb
Bluetooth Chest Strap included
Bluetooth 4.0 receiver
Functionality:
15% Incline
0 – 12 MPH Speed
QuickDial Controls
Custom Interval Keys
USB Charging port
FeatherLight Folding system
Warranty:
Lifetime Frame Warranty
Lifetime Motor Warranty
5-Year Parts Warranty
2-Year Labor Warranty
If you enjoy HIIT training, the 7.4AT is a fantastic machine. HIIT training has been shown to be efficient for fat burning, improves VO2max, targets both the aerobic (oxygen) and anaerobic (phosphagen) energy systems, improves heart stroke volume and lung tidal volume.
---

Most runners are familiar with manual treadmills. Beginning with the Woodway in the 1970's, manual treadmills have long been a training tool used by professional athletes and weekend warriors. Unlike standard treadmills that have a motor, on a manual treadmill, horizontal slats glide along the top of the deck, propelled by the foot pattern of the runner. Many manual treadmills are also slightly curved to facilitate proper running mechanics and forward momentum.
The TrueForm Runner is one of our favorite manual treadmills for athletes because it is gently curved, and can be customized! Athletes who play a sport on turf (soccer, football, etc.) can opt for a colored turf surface on the slats. Those who run track can get a red track surface — and traditional athletes can opt for the standard rubberized slat. This allows athletes to train on the surface best suited for them. Similarly, the TrueForm Runner can be custom painted to match your gym or training facility — or even just branded with your favorite team logo.
As mentioned, the TrueForm Runner has a gentler curve than a standard Woodway treadmill so it is a little easier to run on, while still maintaining the benefits of the curved design. Athletes can burn up to 44% more calories on a manual treadmill since the belt is completely dependent on the speed of the runner for propulsion. The TrueForm Runner does not have a high-tech console, instead, a simple metric display attached to the front of the treadmill provides instant feedback.
The TrueForm Runner helps improve running form as well. You can't hide at the top of the deck, hugging the console for support. Unless you stand back in the center of the curved deck, the slats won't maintain an even speed. This forces runners to achieve a mid-foot strike with a solid toe-off and appropriate gait.
Unlike motorized treadmills where you have to tap a button and then wait for the speed to adjust, on a manual treadmill, the belt will speed up or slow down at the same time you do, allowing for a more natural feel. If you feel up to it, the TrueForm Runner is an excellent tool for HIIT training. Just don't expect to do more than a session or two! You'll be dead tired at the end.
Check out our full review of the TrueForm Runner Treadmill here.
Pros
Very sturdy. Supports up to 400 pounds of user weight
Customizable color and slat surface
Full lifetime warranty on the frame
Simple display is easy to see and use
Designed to improve running form
Excellent for conditioned athletes or those looking to enhance their training
Has no maximum speed
Instantly responsive to your pace – no time wasted waiting for a motor to respond
Lasts forever
Cons
Very heavy – not recommended for upper floors. Slab on grade main floor only.
Console has limited functionality for a treadmill at this price point
May not be enjoyed by all runners. More for high-intensity training than leisurely use
Construction:
Footprint: 64" long x 36" wide x 63" high
Running surface: 17" wide
Unit weight: 350lb
Max user weight: 400lb running, 700lb walking
Bearing frame: Hand welded 7-gauge steel
Cover: Welded .160" aluminum
Handrails: 2" formed steel tubing
Paint: Textured powder coat
106 sealed steel ball bearings
14 Belt Guide Rollers
Custom Paint: Over 300 RAL colors available
Belts: Polyurethane with steel radial
Tread Surface: Bonded Kraiburg Thermolast
Tread Lower: Fiberglass reinforced nylon
Tread options: Artificial Turf or rubberized running track
Bearings: 106 sealed steel ball bearings
Pulleys: Tooled solid aluminum
Console:
LCD Displays pace, speed, distance, MPH/KPH, time
Console is battery powered
Functionality:
Manual curved slat belt
Does not require electricity; no need to plug in
Belt is 17" wide and 63" long
There is no max speed, the belt will go as fast as you do
Upright handles for balance while running
Curved belt enables proper running form
Warranty:
Lifetime warranty on frame
5-year warranty on parts and components
2-year warranty on display
1-year warranty on labor
The TrueForm Runner supports up to 400 pounds of user weight, making it a great option for football players or other large athletes. This solid treadmill can handle anything you dare throw at it, so be ready for a calorie-torching, high-intensity workout!
---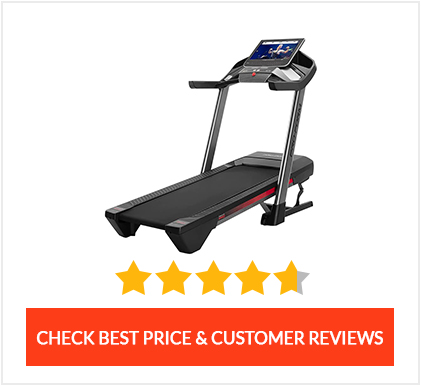 ProForm updated the Pro 9000 and we love it! When looking for updated tech and a large touchscreen, you usually have to look at a more expensive model. However, ProForm includes a 22" touchscreen on the Pro 9000 which is a feature usually only found on treadmills over $2000. We love that the Pro 9000 is well-priced and well-spec'd so you can get top notch training on a quality machine with fun tech.
Both ProForm and Nordictrack use iFit, so you are getting quality training and programming on the Pro 9000. iFit includes over 16,000 workouts for running, walking, jogging, hiking, bootcamp, strength training and even yoga! There are workouts that are 100% on the treadmill, some integrate a bit of cardio (on the treadmill) with body weight or weight training (off the treadmill), and others are 100% off the treadmill (yoga, exclusive weight class, etc.). Having a 22" touchscreen makes it so you can see and enjoy the class from anywhere in your room. If you are doing a bootcamp class where you get on the treadmill for a quick sprint and then step off for push ups or shoulder presses, you can still easily see and hear the touchscreen. Smaller touchscreens work fine for running only, but they can be hard to see when you step off to enjoy other classes.
The Pro 9000 is adequately powered for most types of training. With a 3.6HP motor, you'll be able to run, walk or jog at any pace. Serious marathoners or those who plan to train for hours per day may want to consider the Nordictrack 2450 or 1750, but for most users, the Pro 9000 offers plenty of power. Similarly, the size and cushioning of the deck is well-engineered. The deck will support up to 300 pounds, declines to -3% and inclines to a 12% grade for hill training as well.
If you are looking for something that is both fun, reliable and affordable, the Pro 9000 is a great place to start.
Check out our full review of the ProForm Pro 9000 treadmill here.
Pros
The only treadmill under $2000 with a full color 22" touchscreen
iFit features on and off-treadmill classes for varied training
Touchscreen is visible from anywhere in your room
Folds up when not in use
Deck size is compatible with other folding machines but at a reduced price
Supports up to 300 pounds
Good for hill training with both decline and incline features
Cons
Not as cushioned as the Nordictrack treadmills
Motor power is slightly below 4.0HP, so serious runners may need more power
Construction:
3.6 CHP2 Mach Z™
Tread Belt 20" x 60"
0 – 12 MPH with QuickSpeed® Button Control
-3 – 12% Grade with QuickSpeed® Button Control
ReBound Pro™ Cushioning
1.9" Precision-Balanced
SpaceSaver® Design with EasyLift™ Assist
Weight Capacity 300 Lb.
Footprint 35.3" Wide x 77.3" Deep x 59.6" Tall
Product Weight 263 Lb. In Box Product Weight
Console:
iFit Enabled, 30 Day Free Membership
22" Smart HD Touchscreen
CoolAire™ Fan
Bluetooth®3 Audio Capabilities with Dual 2" Speakers
Warranty:
10-Year Frame
2-Year Parts
1-Year Labor
Rounding out our list of Best Treadmills for Runners is the ProForm Pro 9000 with a lovely 22" touchscreen, solid 3.6HP motor and folding deck. For those who are looking to jumpstart their training or just want a quality machine for off-season training, the Pro 9000 offers great features at a price that won't break the bank.
---
What Should You Look For When Buying A Treadmill For Running?
Runners have specific needs that include power, size and cushioning. Here's a quick list of things to look for if you are in the market for a treadmill for running.
Enough Motor Power For Running
If you plan to walk, a smaller motor works fine. But runners need a strong motor to power long distances and fast speeds. For marathoners, sprinters or those who do HIIT, motor power is paramount. We recommend a motor that is at least 3.0HP for running and jogging. Closer to 4.0HP is better if you plan to do long distances, have multiple users or are training daily for a race or event.
Enough Speed For Your Run
Smaller treadmills usually have a top speed of 10mph which is a 6minute mile. If you run faster than this, then you'll want something with a top speed closer to 12mph. Most motorized, residential treadmills do not go faster than 13.5mph. If you want something with unlimited speed, check out a manual treadmill like a Woodway or TrueFit Runner. This type of treadmill will go as fast as you can run.
Response Time
The response time is how quickly the treadmill reacts when you change a speed or incline setting. For those who enjoy doing sprints or HIIT intervals, a 3-5 second lag may be too long in between settings. If you run steady-state and just want to adjust the speed or incline periodically, most treadmills are fine. We've found the most responsive motors are on the new Nordictrack treadmills (since they just upgraded the incline tech), and the Horizon 7.0-7.8AT lineup. These respond the fastest to incremental adjustments.
Incline and Hill Training
Training on an incline helps strengthen your posterior leg muscles for a more balanced musculature when running. Incline training is a valuable addition to any treadmill, so evaluate how high a treadmill will incline for variability. Newer treadmills with subscription programming will also include options such as hiking or trail running. NordicTrack and ProForm treadmills that feature iFit offer outdoor hikes led by a personal trainer, which is a great way to get a high-intensity but low-impact workout on your non-running days.
Finding An Affordable Treadmill For Running
At the end of the day, most of us have to factor price into any large purchase. Sure, you can spend a lot and get all the fancy features, but most buyers want to find the best – and most affordable – treadmill that will suit their needs. We provide a breakdown of both affordability and durability in our reviews so you can evaluate what you really need and want on your treadmill.
Size of the Deck
Having a running surface that is large enough to support a healthy running gait is important. Our treadmills are all evaluated based on how much room they provide to the runner (not just how big the machine is in general). Look for a running deck that is at least 20" wide and preferably 60" long. Treadmills that are 55" long will work for walkers or those under 6 feet tall, but may not provide enough leg span for runners or taller users.
Cushioning
Consider the cushioning as well. Larger runners will appreciate a bit more cushioning. If you run long distances, cushioning helps absorb some of the impact that can be hard on your joints and spine over time. Some deck cushioning can also be turned on or off which is an added benefit as well. The Nordictrack 2450 makes the top of our list because it offers enough cushioning to keep you comfortable, but not so much that energy is lost in your running stride.
Apps and Training Features
How do you like to train? Do you use Zwift? Do you prefer a subscription with classes and content? Some treadmills have full color touch screens while others are rather simple with preloaded training programs. Not all runners want to pay for a subscription, so consider the quality of the training programs included on a treadmill and how they can benefit you as a runner. And a quick reminder that any treadmill that requires a subscription is going to require wifi as well, so you'll need a good internet connection.
Ease of Use
Runners are typically busy people. When looking for a treadmill, consider how easy it is to use. Can you just hop on and go? Is the user interface simple to understand? Is the console streamlined or cluttered? Some subscription models have great programming, but if your internet connection is spotty it can affect how well (and how quickly) programs load on the machine. If you don't want to wait for video content, opt for something streamlined and simple.
Noise Output
When running indoors, noise matters! If you live upstairs from a neighbor or have a family or roommates, the noise of your treadmill may limit when and how often you can use it. Consider how noisy a treadmill is if you plan to train indoors. We include noise output in our reviews to help with this.
Roller Size and Belt Texture
These are things most people probably don't know about, but the roller size on a treadmill makes a difference. The rollers move the belt along the surface of the deck. If the rollers are small, there is more tension and friction on the belt. It can wear out faster and have performance problems. Look for rollers that are close to or larger than 2.0". The belt texture affects how the belt feels underfoot, so we recommend a belt be gently textured and 2-ply for durability.
Warranty/Durability
Runners need a durable treadmill. Since running is high-impact and requires a bit of motor power, look for a treadmill that has at least a 5-year warranty on the motor and frame. Most companies don't offer a full lifetime warranty anymore simply because finding the right parts after 10 years is a challenge. However, if the treadmill is covered by a 10-year warranty, it's a good indication that it is designed to last. If it has a limited 1-year warranty, then we recommend caution if you plan to use it for running.
---
Frequently Asked Questions
Does Running On A Treadmill Make You A Better Runner?
Surprisingly, running on a treadmill can in fact make you a better runner. There are a few reasons for this:
Runners who own a treadmill can run more often
A powerful treadmill allows runners to train anytime of day or night. If you work long hours, have kids or other responsibilities, or live in an area where weather limits training part of the year, a treadmill is a great solution. During quarantine this past year, runners with treadmills were able to continue to train even when gyms and running clubs were closed. A treadmill makes it so runners can run more miles in the safety and convenience of their own homes. New apps such as Zwift or Peloton even allow you to train with friends who may live across the country or in different time zones.
Motorized treadmills have preset speed settings
Rather than have to push yourself to hold a certain speed, a motorized treadmill can challenge you to keep up with a set pace. If you are working to improve your speed or time on a certain event, a treadmill is a great training tool. Eventually, your body will be able to match and hold the pace based on practice and improved conditioning. No need to check your watch every minute to evaluate your pace, just set it on the treadmill and get ready to go!
Treadmills allow for a greater range of incline training
If you are training for an outdoor event with lots of hills but live in a flat location, it can be hard to get the right training done. A treadmill allows you to build a route that will be challenging (or easy!) and provide the right training. Rather than drive to a set location to do hill training every morning, just hop on your treadmill and adjust the incline! It's safer and easier.
A cushioned treadmill will allow you to train longer without getting injured
Running is high-impact. Even young, fit runners can suffer stress fractures or shin splints from too much outdoor running. Most treadmills provide a modest amount of cushioning simply because they are inherently softer than asphalt or concrete. Higher-end treadmills tend to offer more cushioning which allows you to run longer without getting injured.
What Treadmills Are Best For Serious Runners?
Our list above outlines our take on the best treadmills for runners. However, what type of running you plan to do will influence which treadmill is best for you. We recommend finding a treadmill with at least 3.5+ horsepower. Look for a treadmill that has a minimum width of 20" and length of 60". Any smaller than this may not provide enough room for a full stride. If you are a sprinter, look for a treadmill with a top speed at least equivalent to your fastest pace. Serious runners need power, size and cushioning. Also, the type of training provided on the treadmill matters as well.
Are Treadmills Good For Running?
Running on a treadmill can be better than running outdoors. It is safer, more cushioned and can be done at any time of day. As long as the treadmill has sufficient motor power and is large enough to support your stride, a treadmill can be an excellent training tool for runners. However, outdoor runners often find treadmills to be debilitatingly boring. This is when video content can make a big difference. Many of the newer treadmills include video content that has been filmed outdoors. Larger screens that fill the console make it feel like you are actually on the road, training with friends or a trainer. Additionally, if a treadmill has automated integration, then it will incline and adjust speed automatically. This makes it so you can run hands-free like you would outside. Treadmills are no longer torture devices that sit in a dusty basement only to be used on gloomy, rainy days! You can use and enjoy a treadmill indoors to benefit your running outdoors.
Are Treadmills Bad For Knees And Joints?
Actually, a treadmill is better for your knees than running on concrete or asphalt. Many of the treadmills on our best list include generous cushioning that will absorb much of the shock from running. If you have sensitive knees or tender joints that could use a break from all the impact of running, using a treadmill is a great option.
How Fast Is 7.0 On A Treadmill?
7mph is about an 8:30min mile. Many treadmills will provide miles per hour, kilometers per hour and also minutes per mile metrics as you run. The 2450 offers this feature right at the top of the screen.