*TreadmillReviewGuru helps consumers find the best home fitness products. When you buy a product we recommend, we may earn a commission.
Last Updated: May 3, 2023
Have you ever thought about being able to exercise and to work on your computer at the same time? LifeSpan TR1200-DT5 Treadmill Desk makes it possible for you. Nothing beats it for convenience and choice. The treadmill base helps you burn calories, while the flexile table facilitates the process of working. Moreover, you will be able to keep track of  the steps, the distance and the burnt calories by the amazing Intelli-Step technology. All the data, displayed on the LCD console, can easily be transferred to your phone. Imagine how useful this is for busy people and even those who are house-bound and live a sedentary life.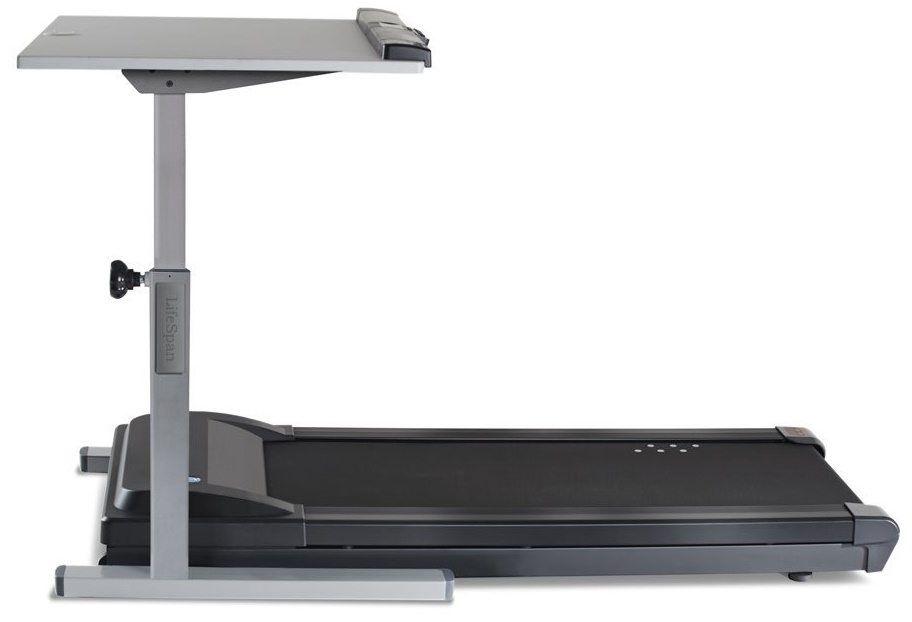 When it comes to its characteristics LifeSpan TR1200-DT5 Treadmill Desk offers a wide range of height settings and the machine's base and desktop are available in eight color combinations. The changeable desk has a height range of 16 inches and the walking surface can hold up to 300 pounds. Nor the cheapest, not the priciest LifeSpan TR1200-DT5 Treadmill Desk can operate for six hours continuously with a speed range from 0.4 to 4 mph.
Pros
It is easy to use because there are a small number of buttons. There is the switching button, the Enter/Mode button which is used to enter the scan mode, the Stop/Pause button for stopping the device, up and down buttons for changing the speed value and the Bluetooth button. Also, the data is easily controlled because it can be transferred to your phone.
It provides you with the facility to work while you walk or jog. While you walk to keep your body in a good shape to be healthy, you can keep operating on your computer or any other device. Also, the adjustable desk is the place where you can keep your cup of tea, a bottle of water and anything else which has an affordable weight.
It operates fast and quietly. The motor's power is 2.25 HP and it is built in a way that it will not be a noisy disturbance for you while you work or have phone calls.
Reasonably priced for such amazing features. The treadmill possesses the necessary features to ensure maximum safety while walking, it can work continuously for up to six hours with a speed limit from 0.4 to 4 mph which is really appropriate to work calmly while walking.
Good warranty. There is lifetime warranty for the frame, two years of warranty for the parts and one year for the labor.
The desktop is large enough to keep not only a computer or a laptop, but even a drink to associate your working progress or something else whose weight is resistible.
Cons
No Incline: LifeSpan TR1200-DT5 treadmill lacks incline.
It does not come assembled. Comes in five different pieces.  It can be a bit tiring because some of the parts are made of heavy metal. This process may require two people because the parts that need to be moved are too heavy for one person.
Powerful Motor
The 2.25 HP continuous-duty motor gives this device the power to run for 6 hours straight with its speed rang from 0.4 to 4 mph. This process is made quietly without causing any annoyance to the people around. Also the device goes off automatically whenever you feel the need for a break.
Changeable Height
The treadmill is suitable for exercisers of different height. One can change the height according to their size.
Shock Absorption
The aim of LifeSpan TR1200-DT5 Treadmill Desk is to make your training as much efficient as it can. In order to do that, the walking surface is provided with shock absorbers on six different points.
Modern Technology
Everything is much easier with LifeSpan TR1200-DT5 Treadmill Desk. The workout data registered in its console, can be transferred to your phone through Bluetooth in order to make it easier for you to control your workout progress.Also, this technology aims to ensure maximum safety. The integrated Intelli-Guard safety feature ensures the treadmill only operates when you are actively walking, supporting a safe environment.
Motor: 2.25 HP.

Folding: NO.
Speed: 0.4-4 mph.
Running Area: 20″ W x 50″ L.

Assembled: 68.5″ D x 38″ W.

Desktop: 38″ W x 29″ D.

Step-Up Height: 4.6″.

Max. User Weight: 350 lbs.

Treadmill Weight: 119 lbs.

Desk Weight: 60 lbs.
Benefits 
When was the last time you visited a gym? LifeSpan TR1200-DT5 Treadmill Desk helps you maintain a healthy and active lifestyle. Studies have shown that living a sedentary life is one of the most important causes of diabetes and heart diseases.
Some of us do not have enough time and others just feel too tired after a busy working day. However, none of those is important if you combine working and exercising at once. This is what this treadmill does. It aims to help you save time and stay fit. How is this possible? Well, according to surveys the real problem has to do with staying motionless for several hours. So, LifeSpan TR1200-DT5 Treadmill Desk improves your performance and helps blood circulation, while allowing you to work. Also, the treadmill is a great choice for all of you who suffer from back pain and is a solution to have a better sleep so as to wake up energetic in the morning.
Final Verdict: LifeSpan TR1200-DT5 Treadmill Desk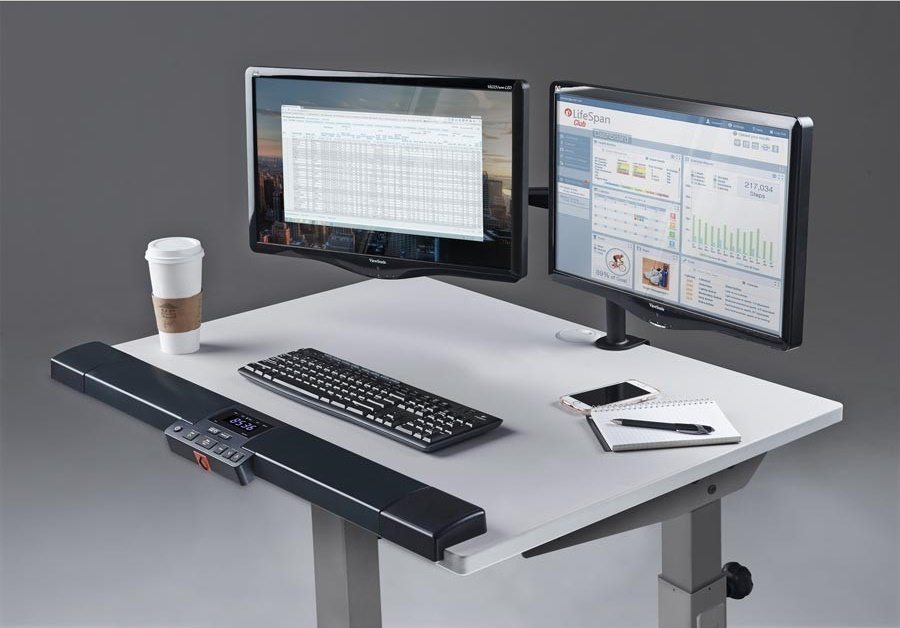 There's no doubt that this treadmill is the best solution for all of them who stay in front of the computer, whatever the reasons are. The real question is if LifeSpan TR1200-DT5 is better than the other treadmills. Taking into consideration every aspect we can surely say that it is.
This treadmill operates quickly and quietly so as not to cause disturbance while one is talking on the phone or doing other work on laptop or computer. It is provided with modern safety features for all exercisers, children and even your pet. Furthermore, you will be able to check all your workout data on your phone. It works for six hours constantly, which is a sufficient amount for daily training. With all these features, the price is also costumer friendly.
What We Like?
Beautiful modern design.
Quiet and powerful motor.
Safety Features.
Bluetooth Integration.
Adjustable height.
High weight capacity.
Offering comfort:  6 impact-absorbing compression shocks.
Good warranty: Three years for the motor, two years for parts and one year for the labor.
What We Don't Like?
No Incline.
Requires time to time maintenance to keep performing at its best.
Conclusion
LifeSpan TR1200-DT5 Treadmill Desk will make your life easier. Despite its small drawbacks, I believe that it will become an important part of your busy life. Because of all diseases caused by an inactive lifestyle, everyone is concerned about what the future holds.
However, there's no need to struggle in a gym when LifeSpan TR1200-DT5 can ensure you what you need for not becoming the next victim of a sedentary life.
It's the highly recommended product by many fitness experts. According to the customer reviews, most of the costumers feel really happy with this purchase. Be the next!
Related Treadmills Review: