*TreadmillReviewGuru helps consumers find the best home fitness products. When you buy a product we recommend, we may earn a commission.
Last Updated: May 3, 2023
LifeSpan TR3000i treadmill offers to be a heart-pounding machine which saves space due to its ability to fold into a compact set and complements efficiency. This treadmill is designed not only to help you in achieving your fitness goals, but also to make you feel comfortable while working out. Being provided with eight shock absorbers, iPod and MP3 compatible sound system, 3-speed cooling fan, 21 pre-defined workout programs and EZfold technology to assist in folding and unfolding the treadmill. It has a powerful 2.75 CHP motor, which works quietly without creating noise. Furthermore, it comes with a lifetime warranty for motor and frame, five years warranty for parts and one year warranty for labor.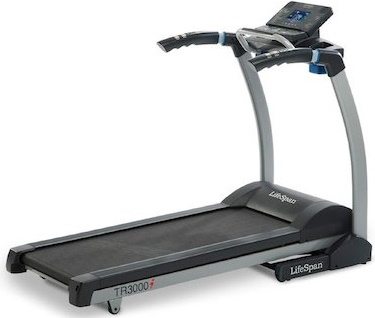 Pros
Being a folding treadmill, it comes with EZfold technology to assist in folding and unfolding the treadmill.
It has a highly quality powerful 2.75 CHP motor which will keep on going for years (Lifetime Warranty), quietly without creating any noise.
It is equipped with variety of programs related to a healthy living, weight loss, sport training and heart rate.
It offers 15% automated incline.
8 compression shock absorbers that provide safe, responsive cushioning for knees, back and joints.
Comes with USB option which can be used to transfer your workout data to your smartphone or any other smart device for viewing in chart form.
Heart rate monitoring option to monitor your heart rate through pulse grip and wireless chest strap.
It has controls on the handlebars so you won't feel the need to move your hands to adjust speed or incline levels.
You can listen to music using built-in speakers by connecting your iPod, MP3 or any other smart device.
LifeSpan TR3000i treadmill has great patented features Intelli-Guard, Intelli-Step and Intelli-Key.
LifeSpan TR3000i treadmill is built using high quality durable material and comes with lifetime warranty on motor and frame, 5 years warranty on parts and a year warranty on labor.
Cons
The running belt is not too spacious for taller runners. Its dimensions are 20" wide and 56" long, so if your height does not fit with this format, you should think again before purchasing it.
The handrails of this version of treadmill by LifeSpan are not as long as some runners would like.
LifeSpan TR3000i is equipped with 2.75 CHP heavy duty motor, which is quite powerful and comes with a lifetime warranty to power you through years of exercise. Despite being that powerful, it is noiseless.
LifeSpan TR3000i treadmill comes with 21 programs, created to help you achieve your fitness goals. Five of them are created with the purpose to make you lose weight, five others aim for healthy living, two heart rate control programs, seven sport training programs and last two programs are user defined. In addition, being a member of LifeSpan's Fitness Club gives you the opportunity to download personalized workout programs for four months without any charge. After that additional treadmill programs cost extra.
LifeSpan TR300i has a speed range from 0.5 to 12 mph making it suitable for walkers, joggers as well as runners. Along with this it comes with 15 incline levels which can be increased or decreased by 1%.
The console is equipped with a blue backlight LCD display, which is quite easy to read. What can you read there? Well, LCD display provides consumer with information regarding distance traveled, number of steps taken, calories burned, current speed, incline and heart rate.
8 Compression Shock Absorbers
The shock absorption system of this treadmill consists of eight shock absorbers which play the role of lowering the pressure on the body including knees, back and joints. Hence providing user with a comfortable workout experience while running, walking or jogging.
Along with all the great features, TR3000i treadmill is equipped with heart rate monitoring option to monitor your heart rate through pulse grip and wireless chest strap.
EZfold technology utilizes a hydraulic shock to assist in folding and unfolding the treadmill. After being folded its dimensions go to 42" L x 33" W x 56" H.
Intelli Step technology keeps track of the number of steps taken during workout session, so that it can provide you with the exact distance you have covered while walking, running or jogging.
Intelli Guard is a safety feature which automatically pauses the running belt if you step away from the treadmill.
Listening to music while doing any kind of physical activity is really important to most of the people. LifeSpan TR3000i makes it possible through built-in speakers, you just need to plug your iPod or MP3 player or any other smart device into the console to enjoy music and stay entertained during workout.
LifeSpan TR3000i possesses a three-speed cooling fan, which provides user with fresh air and comfort while running, walking or jogging.
There's no need to worry about your weight as LifeSpan TR3000i can hold up to 350 lb.
LifeSpan TR3000i treadmill comes with lifetime warranty on the frame and motor, five years warranty on the parts and a year on the labor.
Motor: 2.75 HP.

Incline: 

0-to-15

%.
Speed: 0.5-12 mph.

Dimensions: 71″ L x 33″ W x 56″ H.

Folding: Yes.
Running Area: 20″ W x 56″ L.

Max. User Weight: 350 lbs.

Treadmill Weight: 220.5 lbs.
Benefits
LifeSpan TR3000i treadmill offers numerous hi-tech features which are worth the price. It has various well-organized programs, without a doubt that even other features are really important but the main reason of purchasing this treadmill is the desire to get your fitness goals accomplished.
For this it comes with 21 pre-defined programs divided in four groups that have different aims. Five programs are designed to help you shed few pounds. Five others will aim to help you in achieving healthy lifestyle, seven programs are sport training programs, two of them are heart rate monitors and the last two you give you the chance to customize yourself.
Another important thing related to your health is the fact that you can listen to music during the workout session. This is a great solution, if you are one of those who get stressed and tired mentally during the workout process.
Final Verdict: LifeSpan TR3000i Treadmill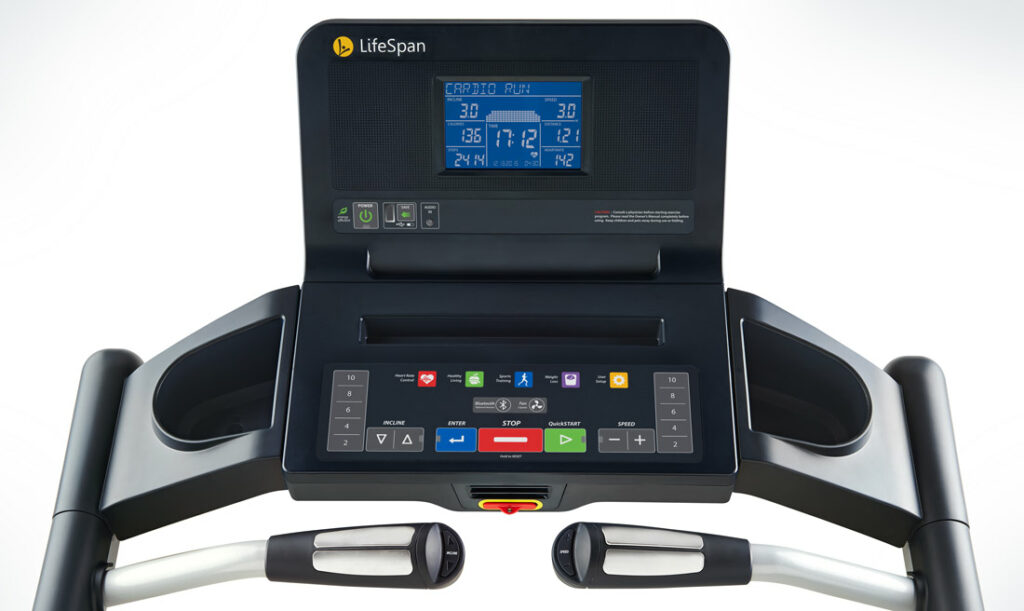 LifeSpan TR3000i operates fast and quietly. It has a speed range from 0.5-12 mph with an increase of 0.5 mph and an incline power from 0-15%, making it an ideal choice for walkers, joggers and runners.
The heavy duty motor is made of up high quality material and frame is made of solid steel, they both come with a lifetime warranty. Something else important is that you will feel safe while working, because of Intelli Guard Feature.
Also the LCD display is big enough where you can see all of your workout data and it also provides you with a option to transfer data to your computer or smartphone for viewing your daily progress in chart form.
LifeSpan TR3000i has a three-speed cooling fan which provides fresh air and keeps one concentrated for an efficient workout.
What We Like?
Folding treadmill with EZ technology.
Powerful motor which operates fast and quietly.
High speed.
High incline power.
Variety of programs.
Shock Absorption System.
Heart rate monitoring.
Sound system.
3-Speed cooling fan.
Good safety measures.
Good belt quality.
High weight capacity.
Long warranty.
Reasonable price.
What We Don't Like?
Small running belt (not suitable for taller runners).
Short handrails.
Conclusion
There are more advantages than disadvantages when it comes to LifeSpan TR3000i treadmill. It has a high-powered and silent motor, sound system, good warranty, a lot of pre-installed workout programs, 3-speed cooling fan, EZ technology, high weight capacity, high speed and incline limits.
While talking about the disadvantages, being a heavy machine you may require someone's help to move it around. Also the taller runners may find the running belt's dimensions and handrails not suitable for them. So, these disadvantages won't really effect you unless you are very tall runner.
Check out some of the best treadmills.
Related Treadmills Review: