*TreadmillReviewGuru helps consumers find the best home fitness products. When you buy a product we recommend, we may earn a commission.
Treadmills are the most important machines when it comes to workout and these are the ones which gets used on daily basis unlike other gym components. No matter how perfect your treadmill is, if you don't take good care of it, it won't function properly and won't last longer. That's why it's better to be safe than sorry and maintain your treadmill in as much efficient manner as you can.
Wondering about how to maintain your treadmill while sitting at home? Buying a treadmill and working with it is one thing but maintaining it is a completely different topic. Buying a treadmill is a huge investment and protecting this investment should be everyone's priority. A few tips on maintaining your treadmill are as follows: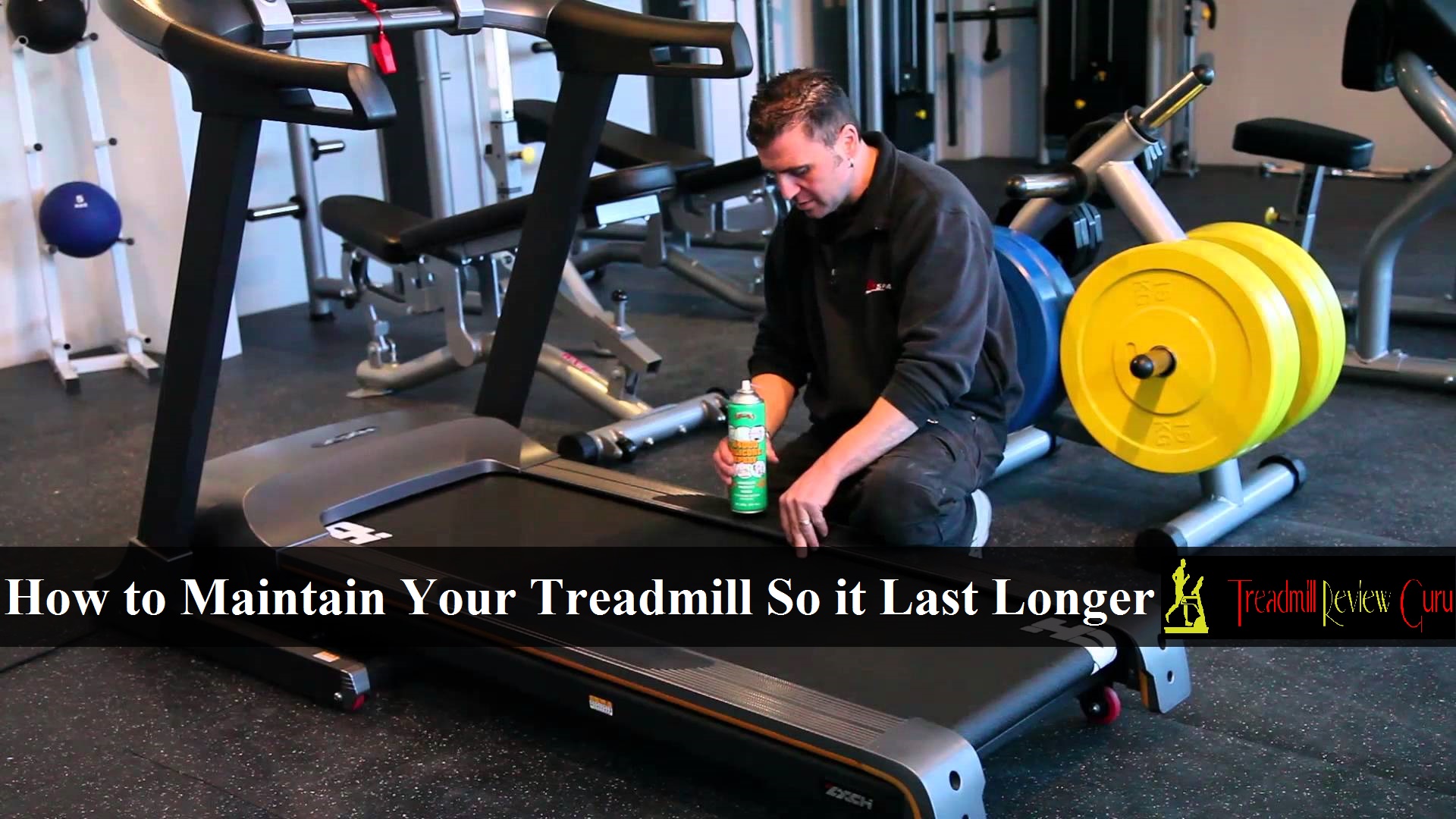 Keep your Treadmill Clean
Make sure your treadmill is dust free all the time. Cleanliness should be your priority. Most importantly, make sure that you wipe it after every workout. Use a dry cloth and wipe the handrails to remove all the sweat. This will prevent corrosion of your treadmill. Clean the belt and deck, to decrease wear and tear due to regular use.
Inspect your Treadmill Regularly
Make sure that your treadmill runs perfectly. Inspect your treadmill before and after each workout. Doing so will prevent major accidents. Take a close look at the belt, handrails and the frame. This helps you to identify any faults with the treadmill at an early stage and will give you time to fix it.
Lubricate the Belt
For a smooth workout, the movement of the belt needs to be smooth. If there is friction in the movement of the belt (between the belt and the frame), it might result in accidents or might cause a more serious problem in the treadmill. If the belt does not feel right while working out, then you're first step needs to be to lubricate the belt.
Tighten and Align the Conveyor Belt
Usually, the tension in the belt is pre-adjusted. But, it might become loose due to continuous usage. If you feel like you're slipping while exercising, then your first job is to check the tension of the conveyor belt. Tension of the belt plays a very important role in the proper functioning of the treadmill and also impacts your workout.
Tighten the Bolts on a Regular Basis
The treadmill is held together by screws and bolts. Checking them should be your first step while looking for faults in your treadmill. Also, it is important that you look for screws that have corroded. These rusted screws need to be replaced as soon as possible.
People with Pet need to take Extra Care
Clean your treadmill to remove hairs of you pet. That is the first rule for people with pets. Pets tend to wander everywhere and might accidentally step of the treadmill. Try to keep them away from the treadmill as much as possible for their safety.
Make Sure that the Electrical Components are Working Properly
This is the most important step. Check the display and the connection port for any malfunctions. Check for overload of the electrical components of your treadmills. This is very essential for the proper working of the treadmill.
Give it for Servicing on a Regular Basis
Although, you can maintain the treadmill by following the above-mentioned steps, it is important to show your treadmill to a professional for a regular basis. You might not be able to identify many technical faults with the machine when compared to a professional. So, make sure that you give it for servicing at least once in three months.
Following the above-mentioned steps will make your treadmill last longer and with less maintenance charges. Taking out 15 minutes of your time every day to clean your treadmill will give your treadmill a long life and will in turn enable you to reap its benefits.
Related: Ways to Stay Motivated While Running on a Treadmill
Treadmill Maintenance Accessories You Need to Know
A few accessories that can help you better maintain your treadmill are as follows:
Treadmill mat
Treadmill cleaning kit
Treadmill Mat

Treadmill Mat is one of the most important accessory for a treadmill that one should have and it acts as a safety device. These mats have many benefits, the most important of which is protecting your floor. If a treadmill is operated without a mat, it may slide around a bit due to the vibrations caused by the belt mechanism. This moving around can lead to scratches on the floor.
Treadmill Mat prevents the treadmill from sliding around, thus providing extra stability and guarding your floor. The treadmill mat significantly decrease the noise produced by a working treadmill as well. Thus, a treadmill mat is almost necessary to purchase if you own a treadmill.
Benefits of using a Treadmill Mat which makes it a very necessary component for Treadmill:
Treadmill Mat aids in reducing the numbers of dust and carpet fibers in the air, preventing any carpet, doormat, etc. fibers from entering the treadmill. Fibers entering a treadmill is very dangerous as it could lead to damaging the belt, motor, and other components of the treadmill.
Treadmill Mat is important as it decreases the noise caused due to vibrations of a working treadmill and even protects your floor from scratches, leakage of lubricants, etc.
Top 3 Treadmill Mats – Best Picks
Checkout the top 3 Treadmill Mats based on customers satisfaction, durability & price.

XMark Fitness XMat Ultra Thick Equipment Mat

Supermats Solid Heavy Duty P.V.C. Mat for Home Gyms/Weightlifting Equipment

Treadmill Cleaning Kit

Using a treadmill on regularly basis requires you to lubricate your treadmill often, which ensures the smooth running of your treadmill. However, most treadmills require proper cleaning before they can be lubricated. Thus, a proper cleaning kit is another necessary accessory for you to buy.
A general cleaning kit would consist of an applicator, a cleaning solution, and a scrubbing brush. A cleaning kit is effective, easy to use, and efficient as it dramatically reduces costs of repairs by professionals and prolongs the life of the motor and belt of your treadmill. It is advisable to purchase a cleaning cloth along with a kit to remove any dust that might gather on your treadmill.
Recommended: Lube-N-Walk Deluxe Treadmill Maintenance Kit
Checkout the Lube-N-Walk Deluxe Treadmill Maintenance Kit specially recommended by Treadmill Review Guru based on the amazon's choice, user reviews, satisfaction and price.


Other Important Aspects of Maintaining a Treadmill
Along with treadmill mats and time to time maintenance of your treadmill, there exist certain measures that one must take to properly maintain his/her treadmill. These include:
Proper Setup: One must set up treadmill on perfectly level ground. This is a simple step but an improper setup of your treadmill causes it to tilt may may lead it to break.
Tightening Belts: It is important for one to regularly tighten the treadmill belt as the belt is usually the first component to break down. Moreover, if the belt seem to wear down, it is advisable to replace it for one's safety.
Conclusion
It is essential to maintain your treadmill to ensure that it runs smoothly for a long period of time. As discussed in this article, this involves placing an adequate treadmill mat below your treadmill to protect the latter and your floor. Regular cleaning and subsequently lubricating your treadmill is of severe importance as well as both ensure that your motor and belt have a longer life. Adequate maintenance of your treadmill leads to its longer life, along with saving you a lot of money.