If you are looking for a treadmill that will support you through years of workouts and heavy running training, the NordicTrack Commercial 2950 treadmill should be high on your list. This treadmill comes fully equipped with a variety of features that have been designed to make your workouts more comfortable as well as more effective.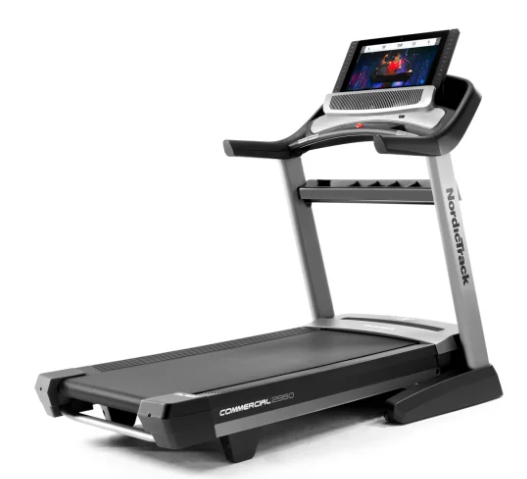 One of the immediately standout features on the Commercial 2950 treadmill is the touchscreen display. The massive display is a 22" smart HD touchscreen, allowing you to enjoy immersive exercise. While that may not be as useful, if you are used to just using treadmills on manual workout mode, the NordicTrack Commercial 2950 also comes with iFit Coach.
By using iFit Coach along with the extra-large touchscreen, you can enjoy many different workout videos shot with personal trainers in various locations around the world. Go on a run down the beaches of Hawaii, or run along the streets in Italy, all through using iFit Coach and the excellent touchscreen on the Commerical 2950.
Along with these features, the Commerical 2950 is built to withstand heavy usage, which many residential treadmills cannot claim. Not only is the frame thicker and more sturdy than your average treadmill, but this treadmill comes with a non-stretch, 2-ply commercial treadmill belt. With this belt, you won't have to worry that it will go bald if you do marathon training or if you have several family members that want to workout on the treadmill.
Also, while the NordicTrack Commercial 2950 treadmill comes with a powerful 4.25 CHP commercial motor, it is a surprisingly quiet treadmill. So, you can enjoy a tough workout while your treadmill quietly hums in the background.
There is far more to cover when it comes to the NordicTrack Commercial 2950 treadmill, so if you are interested in bringing this treadmill home, be sure to read the rest of this review.
Pros
Wide, commercial treadmill belt comes with this treadmill.
The NordicTrack 2950 can accommodate a user who weighs up to 300 lbs.
While a tough treadmill, the Commercial 2950 can still fold up easily.
Powerful motor that runs quietly as you exercise.
Massive 22" touchscreen with high-definition picture quality.
NordicTrack iFit Coach membership comes free for a year.
The Commercial 2950 comes with Runners Flex cushioning to protect you as you exercise.
Strong workout fans are built into the console.
Plenty of workout programs are built into the machine.
This treadmill is able to incline and decline.
Cons
Is a pricier treadmill.
Lacks a heart rate monitor chest strap.
Have you ever stepped onto a treadmill and been immediately frustrated with the fact that you pushed several buttons and nothing seems to have happened? Well, you won't have to feel that way on the Commercial 2950. This treadmill comes with a 22" touchscreen that makes using it a breeze.
With the responsive touchscreen, you can easily swipe through workouts, check workout data, open up your iFit Coach profile, or log in if you are not currently logged into the treadmill. As it is an HD touchscreen, you can enjoy great picture quality as you exercise, no matter what workout you choose to do. The touchscreen is water- and sweat-resistant, so you don't have to worry about a little water splashing it.
One of the things that many people enjoy when they buy the NordicTrack Commerical 2950 treadmill is the free year of access to iFit Coach. As mentioned above, this access gives you the ability to select from thousands of exercise programs that are in the iFit Coach library.
There is a huge variety of running workouts, some of which are training programs while others are beautiful location-shot videos with a personal trainer to accompany you on your run. The trainers will automatically change the speed and incline of your Commerical 2950, so you can keep pushing your fitness, though you can alter your incline and speed if it is currently beyond your abilities to keep up.
Along with these features, you can also use Google Maps to design your own run and go on a virtual run pretty much anywhere in the world. This feature is especially helpful if you are training for a run or want to experience running in different neighborhoods around the world. There are also many cross-training programs, from core-focused workouts to yoga that you can access through iFit Coach.
As the Commercial 2950 treadmill is built along commercial lines, it is a tough treadmill that can help a wide range of people at various weights. Unlike the cheap and flimsy treadmills that seem to be flooding the market, the Commercial 2950 can accommodate users who weigh up to 300 pounds without a problem.
As treadmill running is an excellent way to lose weight, it is very helpful that this treadmill can accommodate that level of weight. If you need higher weight capacity in a treadmill, you will want to look at our Sole treadmill reviews, as they generally can accommodate over 300 lbs.
Generally, when a treadmill comes with a large motor, it is usually a louder treadmill. But when it comes to the NordicTrack Commercial 2950, you get a powerful, 4.25 CHP motor that operates quietly without disturbing the rest of your household. That's a pretty excellent combination.
Add to that the fact that the motor is a DurX commercial plus motor. With a strong commercial motor, you can put a lot of mileage on this treadmill without worrying that you are going to burn it out.
Range Of Built-In Workout Programs
Along with the excellent access to iFit Coach, you also receive 40 workout programs built into your Commercial 2950 treadmill. With built-in programs available, you don't need to renew your iFit Coach membership if you don't want to after the free year access ends.
Instead, you can supplement your own manual training runs with the pre-programmed workouts, which are designed to push your current fitness level.
Wide And Durable Running Area
If you have felt cramped on other treadmills, then the Commercial 2950 should be an enjoyable change of pace. It comes with a 22" wide by 60" long treadmill belt. This belt provides you with plenty of room to move, especially if you use the incline feature. That way, you won't feel like you have to crowd up against the console to avoid falling off.
Also, if you have owned treadmills previously, you may have noticed that treadmill belts may not hold up as well as you'd hope. Well, this treadmill comes with a 2-ply commercial belt that is non-stretch. Since it is a thick commercial belt that won't stretch out over time, you don't have to worry as much about balding the belt with your workouts.
SpaceSaver Design With EasyLift Assist
The solidly built Commercial 2950 treadmill can be folded up when it is not in use. Outfitted with NordicTrack's space-saver design and EasyLift Assist, you can use the conveniently placed bar under the treadmill deck to lift it up and lock it into the upright position. The deck will lock automatically once you lift it up high enough.
To release the treadmill deck, all you need to do is slightly push up on the deck and press the labeled release latch. You don't need to hang on as it goes down, as it will descend on its own and land feather-light on your floor.
One of the benefits of working out at your own home is that you don't need to use headphones to muffle what you are listening to as you exercise. You can plug your audio entertainment into the Commercial 2950 and use its built-in speakers, which have crystal clear quality.
Also, as you follow personal trainers on iFit Coach workouts, you can listen to them as they lead you through workouts, all from the speakers of the NordicTrack 2950.
While it doesn't have the massive incline range of a NordicTrack Incline Trainer treadmill, the Commercial 2950 treadmill does come with a good amount of incline ability for most workouts. You can workout at 0% incline, or you can use the ability to decline to -3% or incline up to 15% incline to upgrade your running.
As you use the incline range, you can also increase your calorie burn, allowing you to lose weight faster and build up muscles that aren't always engaged when you run on flat surfaces.
An understated benefit of the NordicTrack Commercial 2950 treadmill is the truly excellent cushioning that it comes built into the treadmill deck. Running, even walking, on hard surfaces can take a toll on your body, leading to injuries. But with the Commercial 2950, you can enjoy a huge reduction in the impact of running thanks to the Runners Flex cushioning.
This cushioning can be adjusted, so if you prefer a more firm deck, you can use the adjustment knob to alter it to suit your preferences. Either way, by using this treadmill, you can reduce the strain that your body takes with standard workouts.

Motor: 4.25 CHP
Incline: -3% to 15%
Speed: 0.5-12 MPH
Dimensions: 79.5" L x 32.9" W x 66.6" H
Folding: Yes
Running Area: 22" W x 60" L
Max User Weight: 300 lbs
Treadmill Weight: 364 lbs
Benefits
As you can see from the listed features above, there are many benefits to owning the NordicTrack Commercial 2950 treadmill. Along with having excellent features as befits a premier treadmill, there are other benefits to owning this particular treadmill.
For one thing, it comes with fans. If you haven't used a treadmill without fans while in a home and not a gym, you don't know how great a benefit it is to have fans that can help keep the air around you circulating. You really don't want to be trapped in a stuffy room with rising humidity as you workout and the dual AutoBreeze fans built into the console of the Commercial 2950 help to combat this issue.
Also, surprisingly for all its solid commercial built, the NordicTrack 2950 isn't that massive a treadmill. Its footprint is 34" wide, 72.25" long, and 61" tall. When you consider the sturdy commercial build offered with this treadmill, that kind of footprint is surprising, though you should still measure the area intended to house this treadmill to be sure you have the needed room.
Final Verdict: NordicTrack Commercial 2950 Treadmill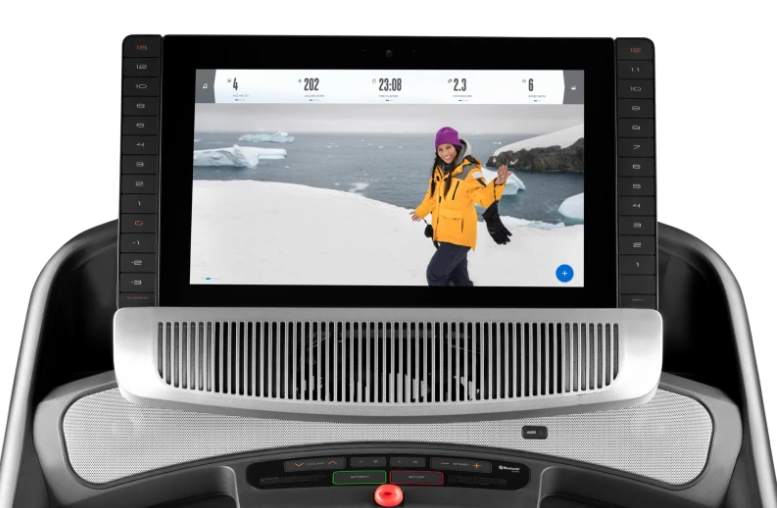 While the NordicTrack Commercial 2950 treadmill is more expensive than your average treadmill, it is definitely worth the price. This treadmill is packed with high-end features like a durable and strong motor as well as things that make your workout more comfortable such as powerful fans and great speakers.
Bundled altogether, there are many things which recommend the Commercial 2950 as your next treadmill. Also, if you aren't quite in the position to purchase this treadmill outright, NordicTrack does offer financing options to make it easier to bring this high-quality treadmill home.
What We Like
Giant touchscreen display
Easy to use touchscreen and controls
Powerful and quiet motor
Helpful incline range
Plenty of speed range
Built-in workouts are included
Free membership to iFit Coach for a year
High-quality deck cushioning
Reasonable footprint
Durable treadmill belt
Great weight capacity
What We Don't Like
No chest strap for heart rate monitoring
Higher price tag
Conclusion
Not only is the NordicTrack Commercial 2950 treadmill an excellent machine, but it is also on our Best, Quietest Treadmills page. So, if you are looking for a great treadmill that will hold up under plenty of workouts and will also not make much noise, then you should be strongly considering the Commercial 2950.
Related Treadmills Review: