*TreadmillReviewGuru helps consumers find the best home fitness products. When you buy a product we recommend, we may earn a commission.
Last Updated: May 5, 2023
The ProForm Bike Pro is in our top indoor cycles for 2023. It is sturdy, well-engineered and stable while riding. The Bike Pro features three points of adjustment, quiet SMR magnetic resistance and belt drive combination, steel construction, and 10" HD touchscreen.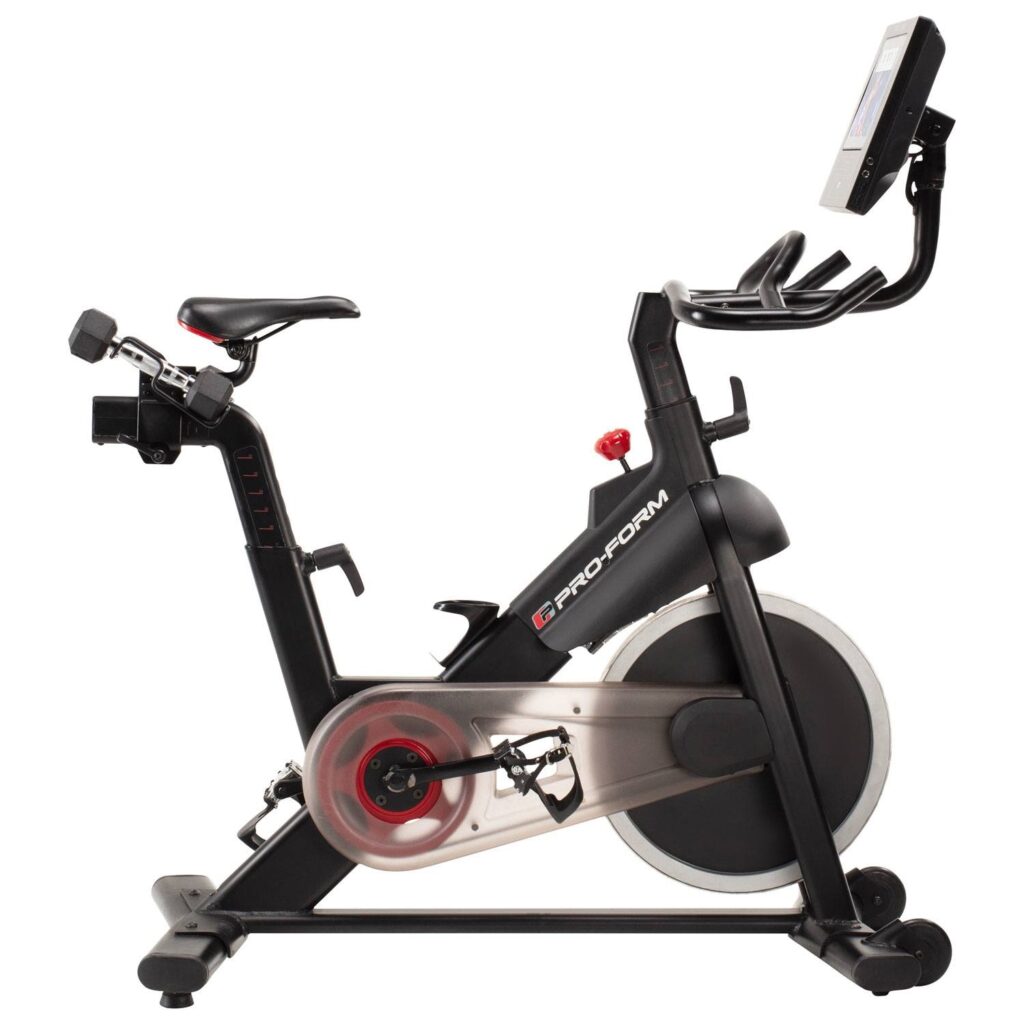 ---
Who It's For: Cyclists who want interactive training on a quiet, sturdy bike
The ProForm Bike Pro is best for athletes who want just enough tech on a silent bike. It includes:
SMR Magnetic resistance doesn't create friction on the flywheel. Pedalling and braking are quiet
Three points of adjustment allow you to raise and lower the handlebars, as well as move the seat forward and aft, and up and down
Seat and pedals can be swapped out for compatible road saddle or clipless pedals
The Bike Pro includes updated tech with a 10" touchscreen and iFit database with over 16,000 training options
Balanced geometry allows riders to pedal hard or stand up out of the saddle without the bike rocking side to side
Pros
Clear 10" touchscreen has crisp graphics and swivels side to side
iFit trainers and routes bring life and engaging videography to your ride
Two, 3-lb weights are included and these sit behind the saddle rather than on your handlebars, so they are accessible but not in your way
The combination of a drive belt (rather than a drive chain) and SMR resistance makes the ride quiet enough you can train at any time of day or night
22 Levels of digital resistance are consistent and provide accurate wattage for each ride
LIVE Resistance Control automatically adjusts resistance in iFit so you can focus on form and cadence rather than worry about manipulating resistance
Digital preset resistance buttons on the console make it easy to quickly move from one resistance to another without having to manually toggle up or turn a resistance knob ten times
Cons
No fans in console
Handlebars are not padded
No heart rate strap or EKG grips
Handlebars do not move forward and aft, only up and down
250 weight capacity is lower than comparable bikes
10" Smart HD Touchscreen Display

The 10" touchscreen is impressive on the Bike Pro. It brings iFit programs right to your view with clear visibility and good console design. Full-color graphics draw you into iFit classes and bright imagery makes the outdoor rides feel realistic. ProForm not only designs quality bikes, they also offer tech that is fun and engaging.
SmartSwivel™ Design rotates the screen 180º

Swivel design allows you to find the right angle while riding to avoid reflections or overhead glare. When watching an iFit program off the bike, you can swivel the screen up to 180 degrees so you can stand to the side and still see clearly. The swivel design is a valuable feature. Comparatively, the Peloton screen does not swivel so it is harder to see when doing off-bike exercises.
Digital Quick Resistance buttons on console

Large, digital buttons for each resistance level wrap the screen on the console. Numbers 1-11 on the left and 12-22 on the right make it so you can instantly adjust your resistance at any point. Buttons are easy to see and reach. I really like this feature. Some of the more expensive bikes have larger screens, but no quick touch buttons. I prefer the functionality of buttons on the console for both convenience and speed when making resistance changes.
Inertia-Enhanced Flywheel

A good sized 32lb flywheel at the front of the bike creates smooth motion. Inertia-enhanced design means the flywheel collects the energy from your pedal stroke so it will gain momentum as you ride. This keeps the wheel spinning smoothly with no jerkiness or lost energy at the bottom of the stroke. You can sit down and spin comfortably or stand up and still have plenty of motion in the flywheel.
22 Digital Levels of Resistance

Digital resistance levels are valuable when training because you always find the same amount of resistance at each preset level. On some bikes, friction resistance is created via a resistance knob at the base of the handlebars. When you turn the knob to increase the tension, resistance increases. But there is no way to calibrate or measure how much resistance is generated with each turn. Resistance varies as the pads wear down, and as users vary how much they turn the knob, so it can be challenging to know how much resistance you are pushing at any given point. Digital resistance is much better for assessing accurate wattage throughout your ride.
SMR™ Silent Magnetic Resistance

In the SMR system, magnets adjacent to the flywheel create frictionless resistance so there is no wear on the flywheel due to friction. It also keeps the flywheel rotation silent, even as resistance increases. This makes it so you can ride quietly with calculable resistance settings at any time of day or night.
ProShox™ Cushioning

ProShox cushioning in the deck reduces joint impact significantly. It is so much better than running outside! You can run in the comfort of your home with added cushion underfoot to mitigate any joint discomfort.
iFit® Enabled with LIVE Resistance Control

Currently, the Bike Pro comes free with a 3-year subscription to iFit. These specials change, but iFit is a valuable component to the Bike Pro experience. Rather than just sit on the bike and spin randomly, iFit brings classes, trainers, and outdoor routes to you on a clear 10" touchscreen. I have a regular bike and a trainer I use inside sometimes and even though I love to ride, I have a hard time keeping my heart rate up and my interest focused. With iFit, I can log in to a 30minute ride with significant resistance work, push my heart rate, and feel like the time flies by. iFit takes the monotony out of indoor training. Engaging content makes the experience more fun — you can work longer and harder without realizing it.
Padded Seat, Adjustable Handlebars, Pedal Toe Clips and Straps

The Bike Pro seat is ok, it's not the most comfortable, but it's not the worst either. You can swap out the seat and pedals for other compatible set if you'd like. The handlebars have a good design, but they are just powder-coated steel without any padding. I'd prefer a little more cushion in the handlebars for comfort.
Front-Mounted Transport Wheels

The bike pivots easily so you can roll it out of the way and even into a closet. One benefit of indoor cycling is the equipment itself is less-cumbersome than comparable treadmills or ellipticals. You can get a solid ride and burn lots of calories on the Bike Pro and then easily move it when you are finished.
Two, 3lb weights included

I love that the weights are included and they sit at the back of the bike! It's easy to reach behind the saddle to grab them. I dislike having the weights in front of the handlebars — I find it very irritating while riding. Not every rider will use the weights every time, so it's good to have them close but not in the way. My only recommendation is to make sure you take the weights off the bike before you move it! I had my weights fall off before when I tilted the bike to move it, so set them on the floor first!
Construction:
Upright Frame with Commercial-Grade Solid Steel Construction
Ergonomic, Padded Seat
Multi-Position, Adjustable Handlebars
Pedal Toe Clips and Straps
Front-Mounted Transport Wheels
Adjustable Leveling Feet
21.9" Width x 56.5" Depth x 52" Height Footprint
Console:
10" Smart HD Touchscreen Display
SmartSwivel™ Design rotates the screen 180º
Digital Quick Resistance buttons on console
Audio Auxiliary Port
Water Bottle Holder
Functionality:
Inertia-Enhanced Flywheel
22 Digital Levels of Resistance
SMR™ Silent Magnetic Resistance
iFit® Enabled
LIVE Resistance Control automatically adjusts resistance in iFit
250 Lb. Weight Capacity
Accessories:
Warranty:
10-Year Frame
2-Year Parts
1-Year Labor
In-depth Review of the ProForm Studio Bike Pro
---
Construction
Frame
The Studio Bike Pro has a sturdy steel frame with front and rear stabilizers and a support beam at the base to hold it steady. Adjustable leveling feet under the rear stabilizer can be tightened or loosened to match your floor. Two wheels on the front stabilizer allow you to pivot the bike forward and roll it out of the way. This has a slightly lower weight capacity than comparable bikes at just 250 pounds, so it may not work for all sized riders. However, with multiple points of adjustment and solid engineering, the Studio Bike Pro offers a comfortable ride.
Handlebars
The handlebars have multiple grips. You can sit upright and hold the horizontal bar, relax forward on the extension grips or grab the center loop which angles upward. My only complaint with the handlebars is they are not padded. I like to lean forward as I ride, and I have to place a towel over my handlebars to add a bit of cushioning. A gentle foam padding or spongy coating would add more comfort to the handlebars.
Points of Adjustment
The Studio Bike Pro has three points of adjustment:
Handlebars move up and down
Seat post moves up and down
Seat carriage moves forward and aft
FlyWheel
FlyWheel weight & functionality
A 32lb inertia-enhanced flywheel at the front of the bike creates smooth motion. Inertia-enhanced design means the flywheel collects the energy from your pedal stroke so it will gain momentum as you ride.
Type of Resistance
Resistance is generated via magnets that oppose the motion of the flywheel. There are no friction points and therefore reduced contact and wear on the flywheel. Magnetic resistance allows you to ride silently anytime of day or night.
Saddle
Comfort
This isn't the most comfortable saddle, but it's not the worst either. While ProForm advertises this as an ergonomic, padded saddle, it could use a bit more support and cushioning. The slick exterior surface keeps it clean so it won't absorb sweat or moisture and can be easily wiped off.
Interchangeable
This seat is interchangeable and can be swapped out for a different seat of your choice.
Console/Controls

Screen
10″ Touchscreen
ProForm and NordicTrack both use the iFit program which displays nicely on this 10" screen. Personally, I can't go much smaller than 10" — there is so much to see and enjoy in iFit, when you get down to a 7" screen, you miss a lot of the functionality. The Studio Bike Pro's 10" touchscreen is actually close to perfect. Because you sit so close to the screen on an exercise bike, you don't need it to be astronomically large to see everything. One nice thing about this screen is it leaves room along the bevel for control buttons, which is a really nice benefit.
Screen Movement
The screen pivots both up and down and swivels side to side. You can adjust as needed to reduce overhead glare or reposition when you stand up out of the saddle. The swivel feature also makes it so you can enjoy classes off the bike; just turn the screen to the side so you can easily hear and see what's going on.
Resolution
Resolution is good. For a screen this size, it's crisp and right in your line of vision.
Touchscreen
I love the touchscreen features! Aside from the button controls, the console is sleek and streamlined with most functionality embedded in the screen. This keeps the display clean and clutter-free. Touchscreen is responsive and I only had to tap the screen twice on one or two occasions.
Functionality
Overall the functionality of the console buttons and touchscreen is a nice combination. You can quickly jump between resistance or incline with just the touch of a button. Or, if you need more precise control,there are multiple display modes on the touchscreen.
Accessories
Fans
There are no fans on the Studio Bike Pro
Weights
Two, 3-pound weights come standard with the bike. These rest in a rack behind the seat. This is my preferred placement for weights. I don't like having them in the front between the handlebars and the screen, so this design is better. You can easily reach behind to grab weights when needed. Since most riders won't use weights every time, it's nice to have them slightly out of the way.

My only caution here is make sure to remove the weights before you tip and roll the bike! I've made the mistake several times of attempting to move my bike by rolling it forward and the weights come crashing down toward my toes. Place the weights on the floor before you roll your bike out of the way.
Tablet/Phone holder/Water bottle holder
There is no tablet or phone holder and no real storage on the bike at all. Since the handlebars are not padded, there's not even a spot to gently rest your phone.

There is a water bottle cage attached to the downtube that will hold one bottle.
Functionality
Performance
The Studio Pro is a nice, smooth ride. There are a few things that could be improved like saddle and handlebar comfort, but the flywheel has a nice feel and the pedal stroke is smooth. The bike syncs well with iFit programming so resistance is automated. I love this feature because it allows me to focus on the ride rather than have to constantly listen for prompts from the trainer.
Incline / Decline range
There is no incline or decline on the Studio Pro. Unlike the NordicTrack s22i or s15i, this bike has a set frame and does not pivot up and down.
Resistance Levels
22 Magnetic resistance levels give you lots of options. I love that the resistance is digitally calibrated! Too often really nice exercise bikes still use a friction-based resistance knob which is nearly impossible to specifically link to a resistance level. On the Studio Bike Pro you can select any level of resistance and it will be the same every time. This makes determining wattage and kilojoules much more accurate and it makes it easier to know exactly what level of resistance you are working against at any given time. Resistance can be adjusted via the control buttons on the console.
iFit Programming
Currently, if you sign up for iFit at $39/month membership for 3 years, you get your bike free! This deal is temporary, so watch for current promotions. iFit is a database of fitness classes and outdoor routes you can enjoy anytime of day or night! iFit includes over 16,000 workouts, such as:
Personal Trainer Led Cycling Classes: These classes are filmed in a studio with a trainer on a bike in front of you and other participants riding alongside. Class options include a range of options such as: Intervals, HIIT, hill climb, calorie burn, sprint sessions, etc. The bike will automatically adjust to whatever the trainer is doing. If you begin a hill climb, your bike will automatically incline for you. Resistance is also automated in iFit. You control your speed. Manual controls on the screen or handlebars will override automation at any time should you need to adjust it. iFit will keep track of your stats for you.
Outdoor Routes all over the world: No other program can compete with the extensive iFit rides all over the world. You can select a route in Bangladesh, London, or even just the mountains of Southern Utah. A trainer rides a bike ahead of you while another cyclist rides behind with a camera. You follow along from this perspective so you can see and hear what the trainer is doing. Again, incline and resistance is automated on the bike to match the terrain and grade of the ride. The videography on these rides is impressive. You not only watch from the perspective of the second rider, iFit will also occasionally add a drone shot or overhead view of the city or landscape while you ride.
Cycling/Weight Combo Classes: These include options where you ride and do weights at the same time. The 3-pound weights are easy to grab during strength-training portions of the workout.
Studio-Based Classes for off the bike: Other classes such as strength training, yoga, stretching, or even classes for pregnant mothers can be accessed through iFit and watched on your screen or from any computer or tablet for convenience.
Noise Level
The Studio Bike Pro is silent. We aren't exaggerating, this bike makes literally no noise while riding. The only noise generated would be from the iFit volume or your heavy breathing!
Storage / Folding
The bike does not fold up, but the front mounted wheels make it easy to move. (Just remember to remove the weights first!)
Bottom Line: ProForm Studio Bike Pro
The ProForm Bike Pro is a good buy. It offers features similar to that found on the $2000 Peloton bike such as: magnetic digital resistance, subscription-based trainers and classes, a good sized touchscreen, and solid bike ergonomics. However, with the Bike Pro you get all of this for significantly less money out of pocket. I would like to see some more padding on the handlebars and the seat could be softer too — but the seat can be swapped out if needed. The Bike Pro feels stable beneath you and doesn't wobble around like other in-home bikes, so I'm a little surprised at the lower weight capacity. However, I like that the weights are set behind the saddle — you can reach them, but they're not in your way. Digital buttons on the console are also a nice feature. I recommend the Bike Pro as a solid option for those who want good ergonomics, sleek design, and engaging content on an at-home cycling bike.